You have exactly one day in Cadiz, the oldest continuously inhabited city in the west of Europe. Andalucia's rising star is slowly gaining international recognition and is a fairly recent cruise destination.
One of Andalucia's most beautiful cities and a destination that gives you a true Andalusian feel. Jam-packed with historical remains, an imposing cathedral, seaside fortifications, dotted with green areas, and endless hidden gems, it's hard to know how to spend just a day in Cadiz.
I've spent a lot of time in Cadiz over the years, partying at the carnival, soaking up the sun at the beaches, and doing pretty much all the touristy and non-touristy stuff. In this post. I'll let you in on exactly what to see in Cadiz in one day.
If you have the chance to change your Andalucia itinerary, I highly recommend adding an extra day in Cadiz, so that you get the chance to explore some of the hidden gems in Cadiz as well as discover all the beautiful parks in Cadiz.
Read on to find out exactly how to spend one day in Cadiz Spain so that you can enjoy all the highlights of the city.
Disclosure: This post may contain affiliate links. That means that if you make a purchase through one of those links, I will get a small commission at no extra cost to you.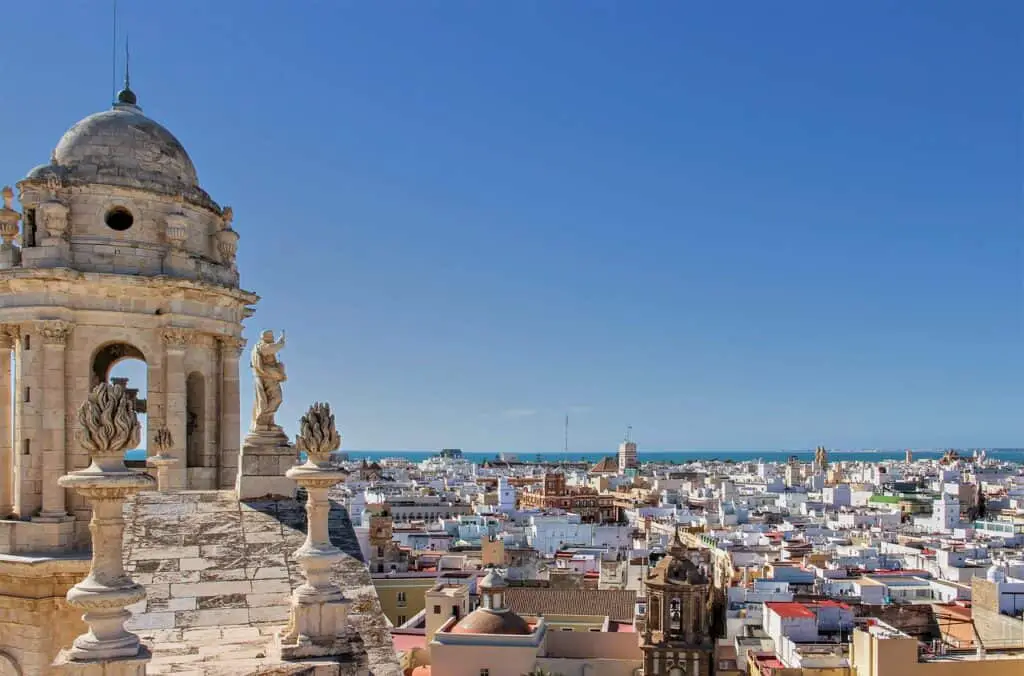 How to get to Cadiz
Cadiz doesn't have an airport, but you can fly to either Jerez de la Frontera or to Seville which is subsequently 30 minutes and 1 hour and 20 minutes by car.
There is a good train and bus connection between Cadiz and Jerez and Seville too, you can check buses and trains here.
If you travel by car, you will reach Cadiz easily, though note that free parking near the historical center is no longer available and parking in Cadiz can be a little tricky if you don't know where to go.
To avoid parking fees in the central underground parking houses, I suggest you walk 20-30 minutes from Playa de la Victoria, where you might find free parking along the beach and in some of the streets nearby.
Make sure you book a car in good time in advance so you secure the best deals.
Check for available cars and prices here
Where to stay in Cadiz
If you have a night in Cadiz, there are many excellent hotels in the city, and here are a few recommendations for different budgets.
Hotel Boutique Convento Cádiz – Stay at this centrally situated boutique hotel situated in a 17th-century convent with a large, stunning patio in the middle. Elegantly blending modern and old, this is a wonderful place to relax after a long day of Cadiz sightseeing.
Plaza de la Luz Cádiz – A wonderful option is this modern hotel situated next to La Caleta beach and within walking distance from Cadiz's old town attractions, restaurants, and bars.
Casa Patio del Panadero – Situated in the heart of Cadiz close to Plaza San Antonio, this is a beautiful establishment that offers both hotel rooms and apartments with kitchens. The interior patio is of charming Andalusian style, so typical for Cadiz.
Rosa de Los Vientos – This quaint hostel is perfect for budget backpackers that are looking for an economical place to stay with a shared kitchen to cook their own food. They offer 8-bed dorm rooms with shared bathrooms.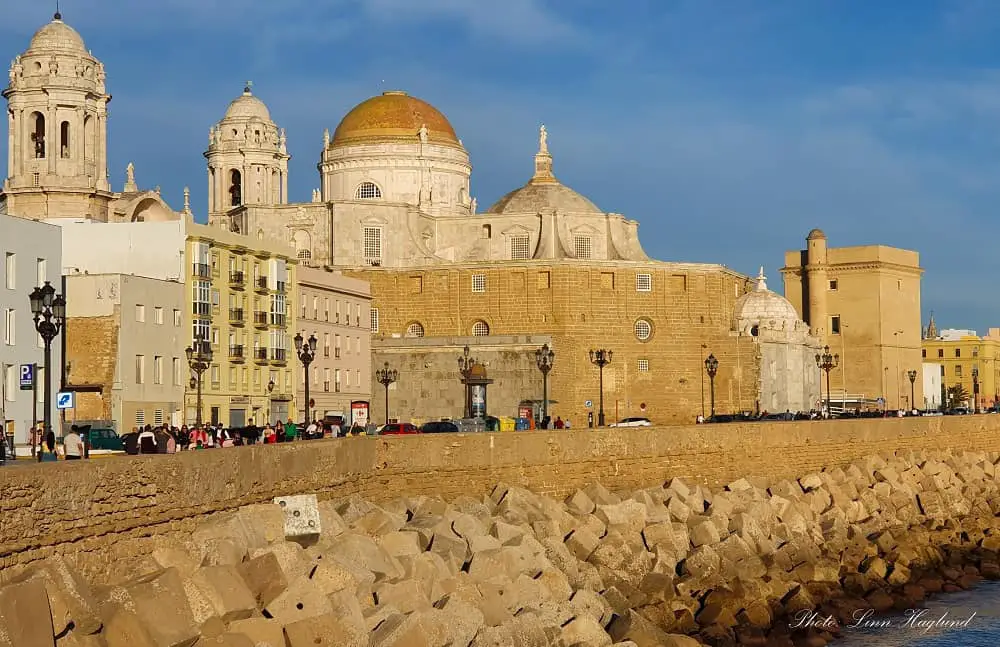 One day in Cadiz itinerary
Now that you have the practical information about your Cadiz visit under control, it's time to dig into your Cadiz itinerary.
Feel free to change up the itinerary, cut out places, and add places if you find it more attractive. That said, I've included what I think are the most important places to see on a day trip to Cadiz for first-timers. Get ready to explore one of the most stunning cities near Seville.
Cadiz Cathedral and tower
A good place to start your Cadiz one day itinerary is the cathedral, the most iconic building in the city. If you haven't had your morning coffee yet, why not have it on the square taking in the majestic cathedral views?
The baroque-neoclassical church was built between 1722 and 1838 and bears many names among the locals, among them, it's knowns as Santa Cruz Sobre el mar (Santa Cruz on the sea,) Santa Cruz Sobre las Aguas (Santa Cruz on the water,) and Catedral Nueva (New Cathedral.)
To explain the expression of the New Cathedral, the old cathedral was burned down by the English in 1596 and it took over 100 years before the building of the current cathedral took place.
The interior is more spectacular than the outside and the 7 Euros entry fee is absolutely worth the entry to the cathedral and the tower, where you can enjoy the sweeping view over Cadiz and the coastline. Among all the things to do in Cadiz, this is the number one!
Opening hours: Monday-Saturday 10:00-20:00 and Sunday 13:30-20:00.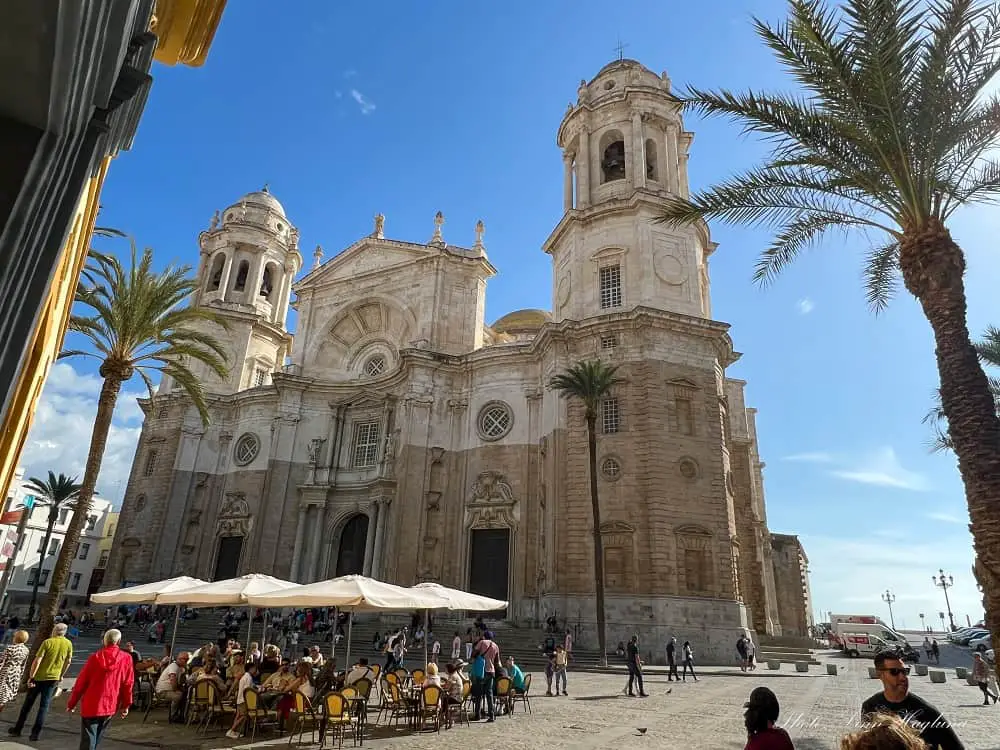 Throw a coin into Callejón del Duende
Next, walk through the Arco de la Rosa toward the Roman theater. Right around the corner from the Roman theater, you'll pass one of the hidden gems in Cadiz that's worth taking a quick peek at.
Callejón del Duende is the narrowest street in Cadiz, now closed on one side, and for conservation, there's a locked gate in front of it so that you can't enter, just look.
Inside, you'll see several statues and gnomes and elves that are connected to the many legends attached to the confined street, among them a dramatic love story. In fact, the neighbors claim to hear the moaning of the couple on the night of "Dia de los Difuntos" (Day of the Dead.)
Throwing a coin inside the street, brings good luck, so why not give it a try?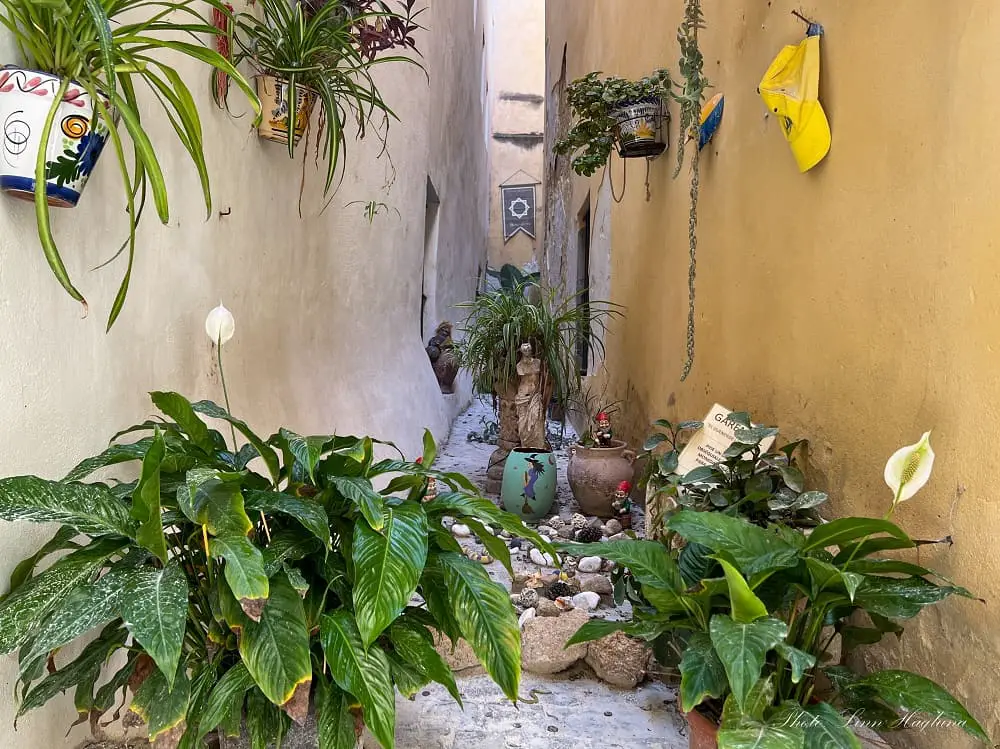 Roman Theater
Visiting the Roman theater is one of the coolest FREE things you can do in Cadiz. The remains weren't discovered before 1980, and it's still only partially excavated.
The Roman theater in Cadiz is the oldest Roman theater in Spain, right in style with the fact that it's situated in the oldest city. Further, it's actually the second largest after the one in Cordoba.
The entry includes a free visit to the museum where you can learn more about the archaeological finds, and the history of the site, and see several Roman artifacts and remains.
Jammed between houses, it was accidentally discovered during excavations of the Castillo de la Villa.
The theater was built in the year 70 BC when Cadiz's splendor as a trading city was at its most radiant.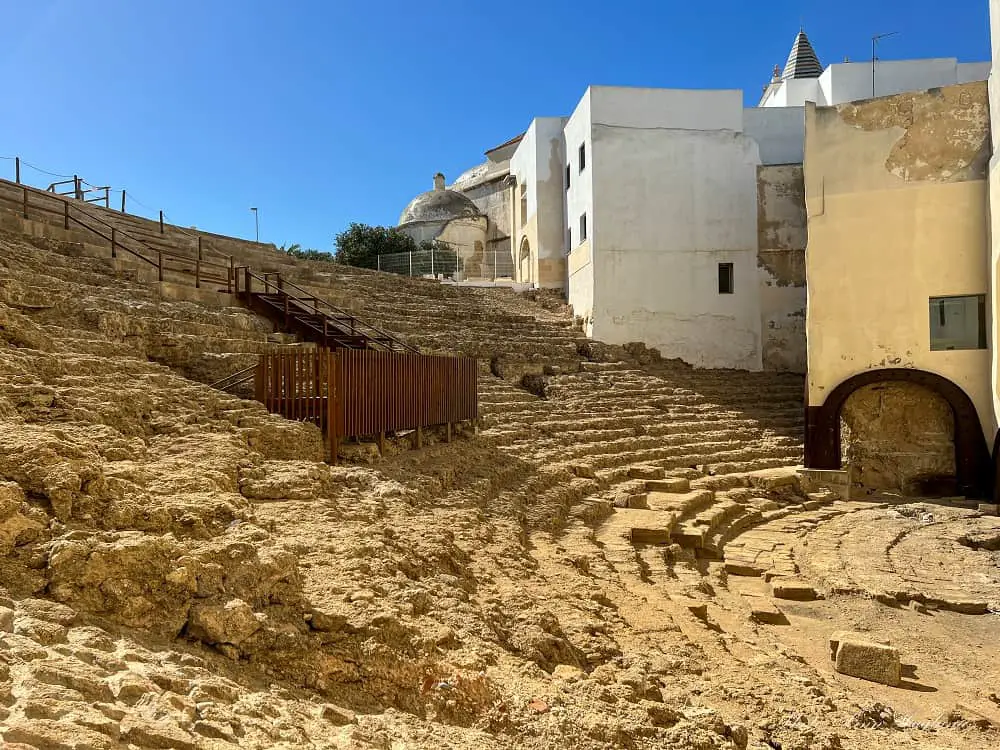 Take a peek inside Iglesia Santiago de Apostol
Back on the Plaza de la Catedral, it's worth taking a quick peek inside this church, recognized by its tower. It was built in the 1660s and has undergone several modifications after.
The spectacular golden decorations inside, particularly the altarpiece, are breathtaking. Since it's on the way to your next stop, it's worth taking a look inside.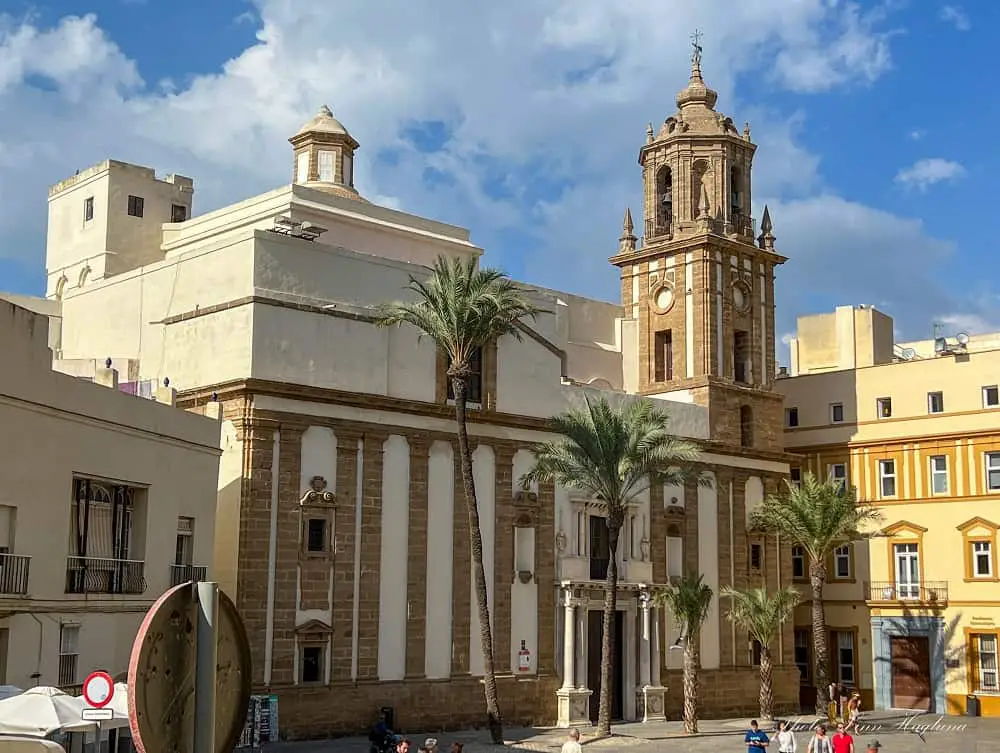 Climb the Tavira Tower
Climbing the 18th-century Tavira Tower is one of the must-do things on any Cadiz day trip. While the views from the cathedral tower are spectacular, you can actually see the cathedral from the Tavira tower which is pretty cool.
Especially if you love a good view as I do. The Tavira Tower is also the highest point in Cadiz city at 45 meters above sea level.
In the Tavira Tower, you'll also get a go at the Camara Obscura where you'll see the city from a different perspective.
The regular price is 7 Euros per person and definitely worth it for the views alone.
Opening hours: October-April 10:00-18:00 and May-September 10:00-20:00.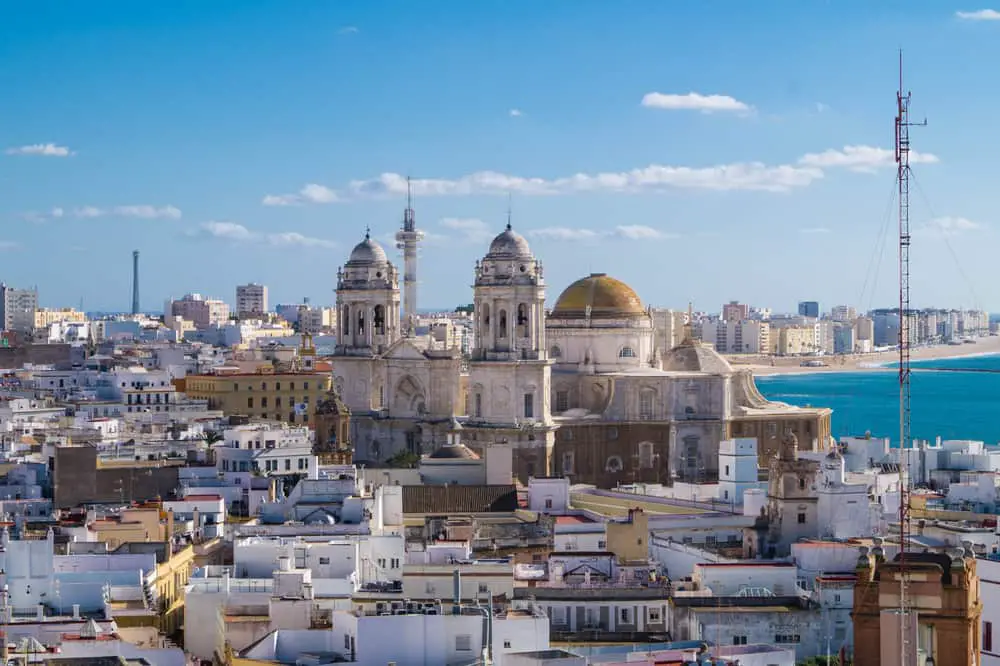 Grab lunch at a street restaurant
There are so many excellent places to eat in Cadiz that it would be hard to select one. My recommendation is to sit down at a place where you like the menu. Where you find a lot of Spanish people is usually a good sign.
There are many streets full of bars and restaurants around the cathedral where you can get a table and munch some tapas with a cold beer and I bet you might already have walked by a couple of places that you think look nice.
Note that lunchtime in Spain is usually around 13:30-16:30 so try to time your day so that you don't encounter closed kitchens.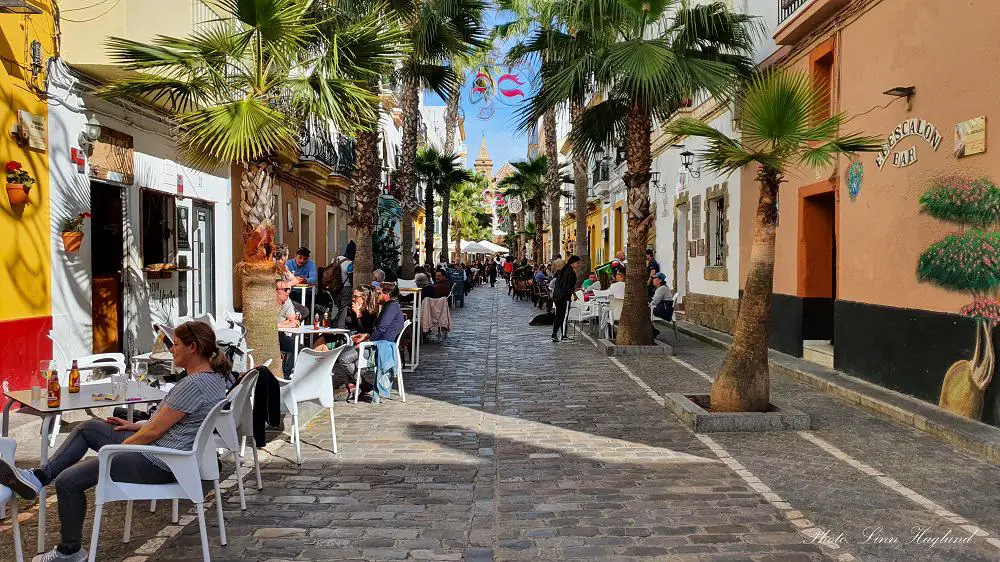 Stroll through Genovés Park
After lunch, head to the most popular and beautiful of the parks in Cadiz, the Genovés Park. There, you can discover a multitude of statues, and the most unique is the "Children Under an umbrella" fountain which you can find in the middle of the park near the café.
However, the main attraction is the big pond with a large rock with waterfalls and a tunnel running through it. You can also walk up on the top of the rock to get lush green views of the pond and the tree crowns covering the park.
In fact, there are 65 pieces of trees and plants in Parque Genovés, which is pretty impressive.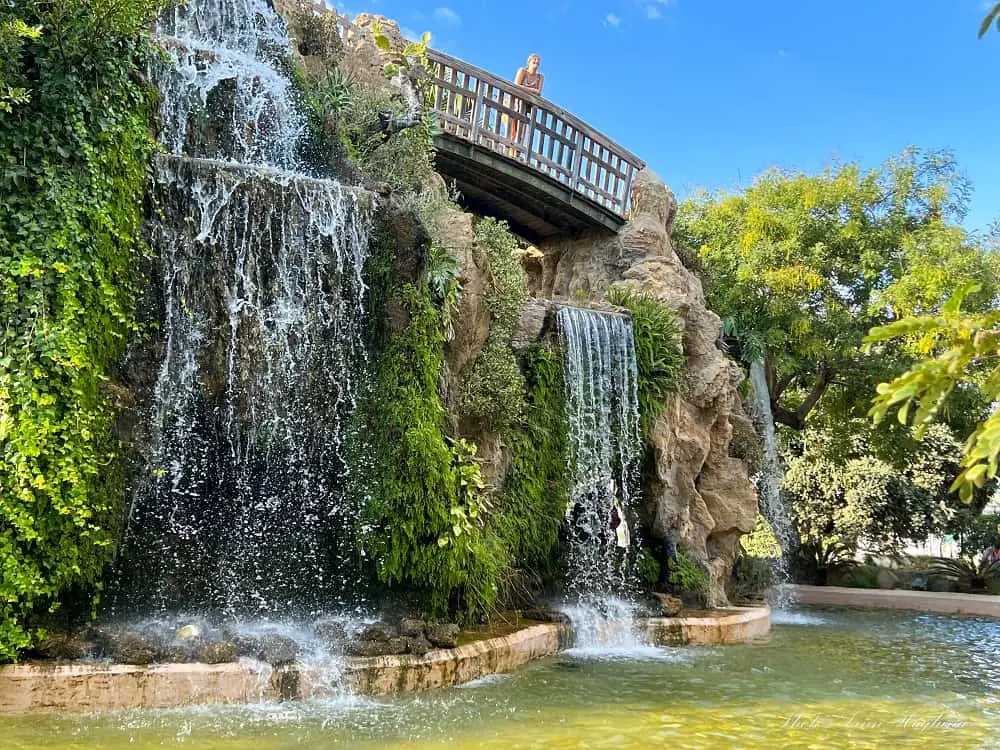 Visit Santa Catalina Castle
From the park, head to the 17th century Santa Catalina Castle, built on an outcrop into the ocean, it's of an impressive star-shaped build. Yet another epic place to visit for free, the former defensive castle is a must-visit when you visit Cadiz in one day.
The castle was built in the early 1600s and was in later years declared of Cultural Interest.
Inside, you find the statue of Virgen del Buen Camino/Viaje which means the Virgin of the good travel/trip. The baby Jesus is missing both his feet and the legend says that a sailor wanted to bring it with him to protect him on his voyage. However, he realized that he couldn't drag the entire statue with him, so he decided to take with him a small piece instead.
Santa Catalina Castle was used as a military fortification and later a military prison. But it also starred in James Bond's "Die Another Day" movie with Pierce Brosnan and Halle Berry.
Opening hours Monday-Sunday: March-October 11:00-20:00 and November-February 11:00-19:00.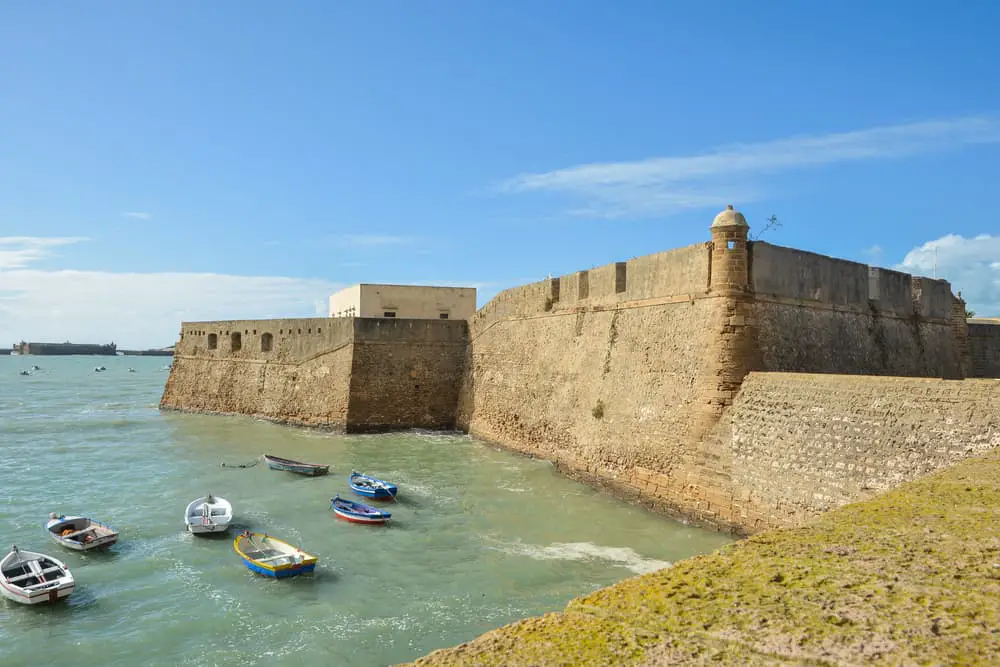 Stroll along La Caleta beach
Connecting Santa Catalina Castle and the causeway leading to San Sebastian Castle, La Caleta beach is one of the most visited beaches in Cadiz, but also the most "local" per see, as it's highly loved by its neighbors.
There's no reason not to stroll along the beach on the way to the next attraction of your Cadiz one day trip.
La Caleta beach is not only an aesthetically beautiful beach with stunningly beautiful structures lining the beach, but it's also of historical importance.
Due to the beach's strategic position, it's been used for the disembarkment of ships for as long as the Phoenician times.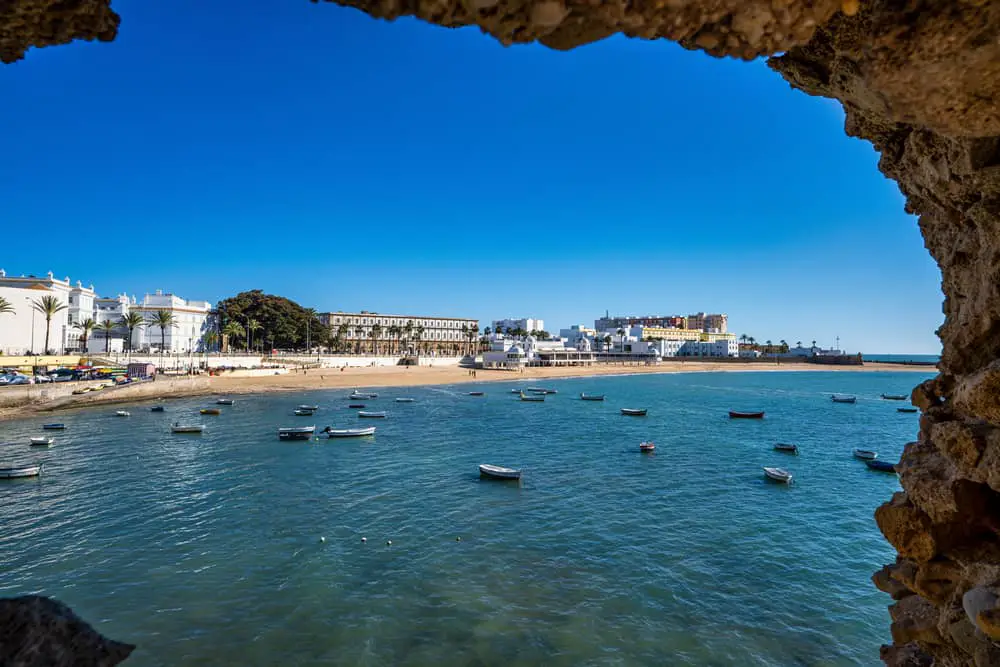 Walk the causeway to San Sebastian Castle
On the other side of La Caleta beach, you find the other defensive fortress on this side of Cadiz, San Sebastian Castle, which literally sits on a tiny island off shore.
The fortification is not open to visit, but it sits on the tip of a long causeway, Paseo Fernando Quinones, which makes for a picturesque walk.
The island has been home to a temple of the Greek God Kronos and a Moorish fortification before the 15th century when sailors of a Venetian ship took refuge on the island and built a chapel that was dedicated to San Sebastian.
The Castle of San Sebastian was along with Santa Catalina Castle declared a site of Cultural Interest.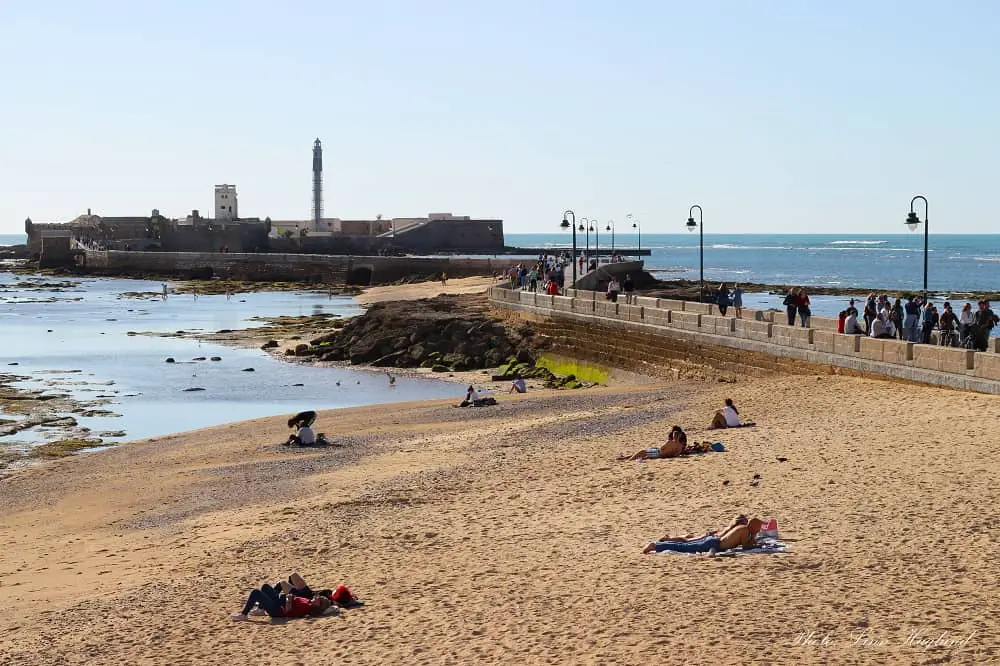 Snap the iconic picture of Cadiz Cathedral
Walk back to Cadiz Cathedral along the paseo from San Sebastian Castle. If you manage to time it with sunset, it will be even more spectacular as the golden light will reflect in the dome.
It's only a few minute's walk and you'll soon be back at the starting point of this itinerary and Cadiz in one day is over. If you have time for dinner, head into the historical center to look for a good feed.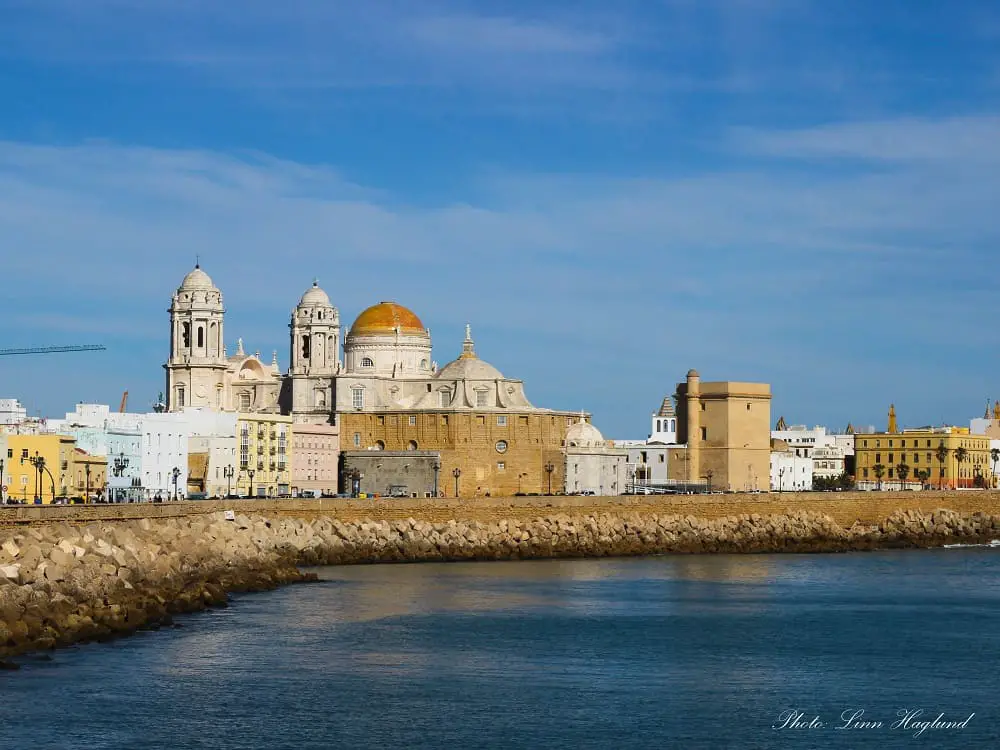 Reflections on a day in Cadiz
As you see, there is no end to what to do in Cadiz in one day and you can easily swap out one thing with another or spend more or less time at one attraction that you enjoy.
Personally, I think it's much better to not see everything and rather soak in the atmosphere, taking a little extra time getting lost in the streets, which might make you come across a hidden gem, which often results in being some recent archaeological find.
I really hope you enjoy this Cadiz itinerary for one day and wish you happy travels!
More one-day itineraries in Andalucia
FAQ – Frequently Asked Questions about Cadiz
Where is Cadiz Spain?
Cadiz Spain is situated about 120 kilometers south of Seville on Costa de la Luz in Andalucia.
Is Cadiz worth visiting?
Cadiz is the oldest city in Western Europe that has been continuously inhabited and has a whole lot of historical sites to see, a quaint old town, and exceptional beaches, so it's definitely worth visiting Cadiz.
What is Cadiz known for?
Cadiz is known for its distinctive cathedral and the oldest carnival in Spain.
Is Cadiz safe for tourists?
Cadiz is just as safe for tourists as any other Spanish city. Take precautions and hold on to your belongings, though, there are dishonest people in Cadiz like in other cities, and uncautious tourists are often an easier target than locals.
Can you fly to Cadiz?
There is no airport in Cadiz city. The closest is in Jerez de la Frontera which is a 30-minute drive away or Seville Airport which is 1 hour and 20 minutes away by car.
Is Cadiz a good holiday destination?
Cadiz is a wonderful holiday destination with spectacular beaches, historical buildings, intriguing archaeological remains, and a quaint old town.