If you're spending a few days in Cadiz and want to explore some green spaces in the city, there are a lot of wonderful alternatives. In fact, some of the best-hidden gems in Cadiz are some of the parks hiding ancient archaeological remains and a wide variety of plant species.
Considering that it is the oldest city in western Europe, it might not come as a surprise that there are so many archaeological finds spread around Cadiz. Park life is the second most popular activity after surfing and beach life in this lively city, so it is wonderful to see how they take care of these unique sites in a way that everyone can enjoy them.
After my last trip to the city, spending a month walking around looking for new, exciting places, I came across a number of Cadiz parks that I hadn't explored before. I found some new favorites too.
In this post, I'll share all my favorite parks in Cadiz so that you can enjoy these incredible spaces when visiting the city.
Disclosure: This post may contain affiliate links. That means that if you make a purchase through one of those links, I will get a small commission at no extra cost to you.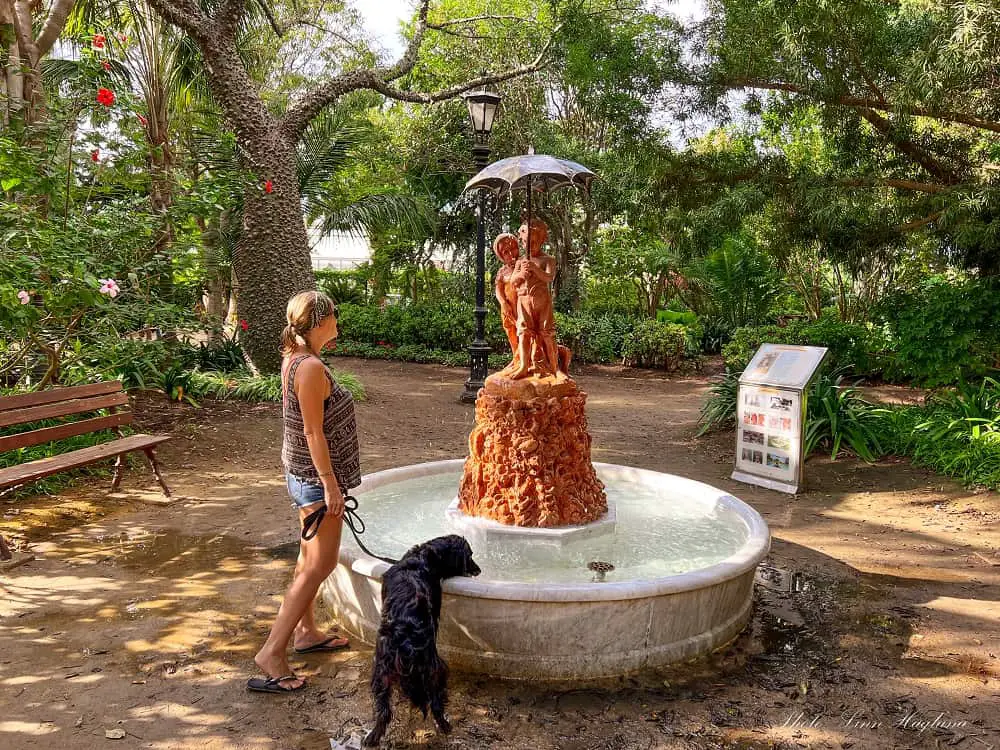 Cadiz parks
Genoveses Park
If you only have one day in Cadiz, this is the one park you should visit. Genoves Park is not only the most popular park Cadiz has on the shelf, but it's also the most beautiful.
Being home to more than 60 species of plants and trees, walking through its elegant alleys and shaded trails makes you forget that you are in the city for a moment.
There are also a number of fountains worth noting like the two children under the umbrella. The main highlight of the park though is the large waterfall plummeting into a lake.
It cascades down a sizable rock with a carved tunnel inside that gives you the opportunity to both explore behind the waterfall and walk above it. From the top, you can enjoy the green canopies stretching across the most popular Cadiz park.
This is a lovely place to take children too besides the playground next to it and it's only a stone's throw away from La Caleta beach.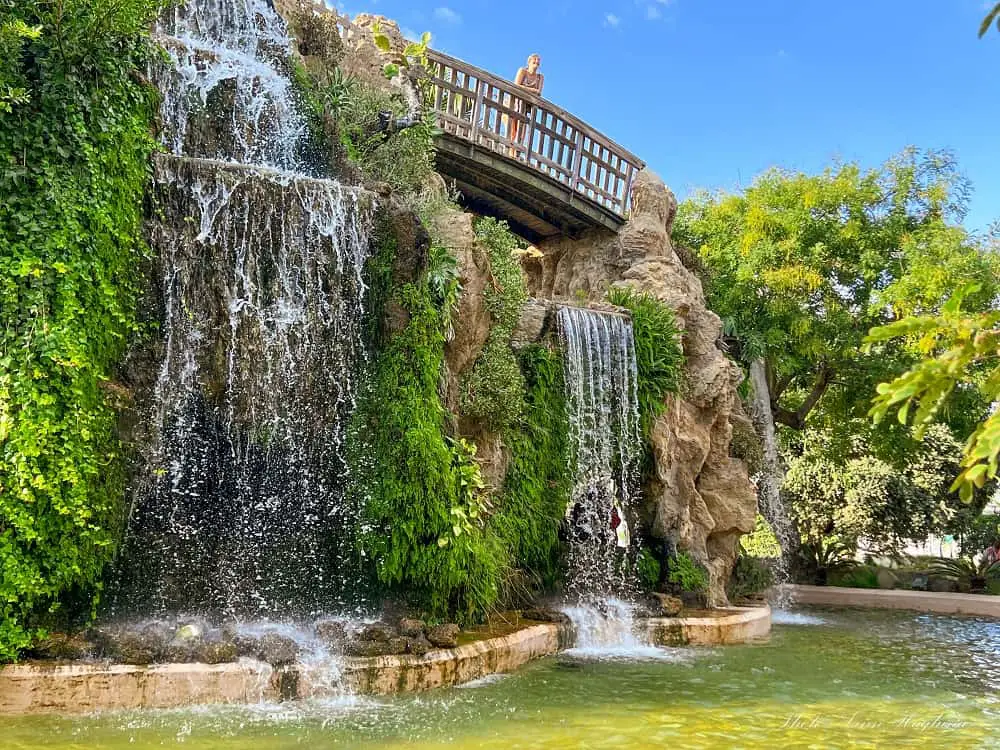 Alameda Hermanas Carvia Bernal and Clara Campoamor Garden
One of the best parks in Cadiz is without a doubt the Alameda Hermanas Carvia Bernal and Clara Campoamor Garden. With fountains, benches, flowers, and 100-years old trees, it is a popular hangout among the locals.
The park stretches along the promenade from the 17th-century Baluarte de la Calendaria fortress, which makes for beautiful ocean views.
There are a couple of cafés in the park where you can sit down and enjoy a drink on a hot day.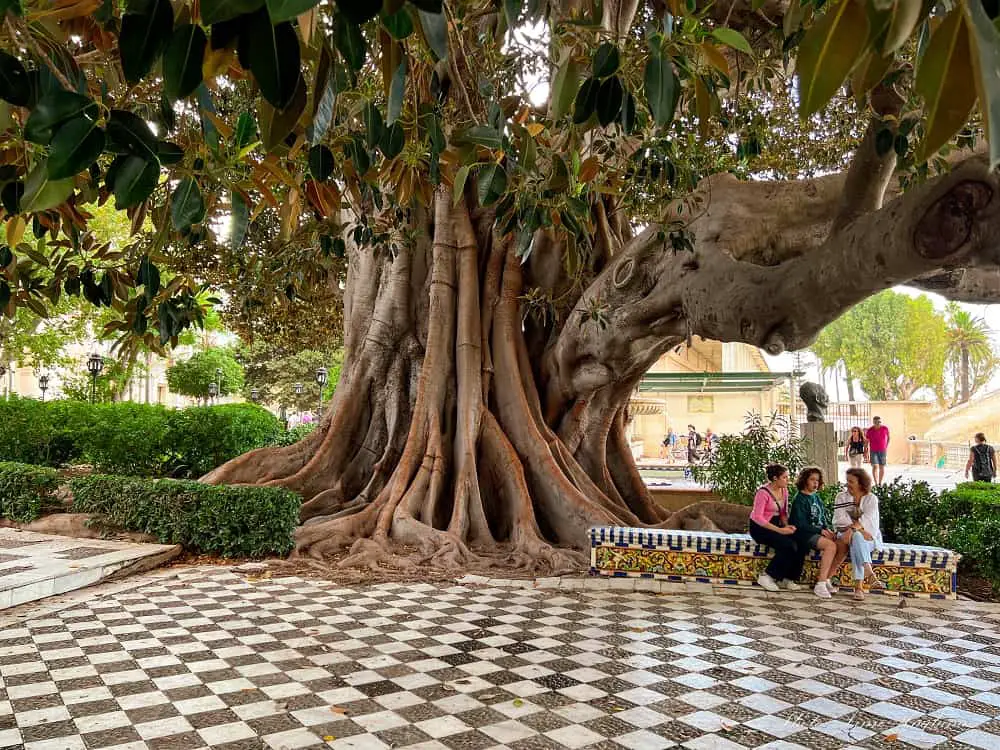 Jardin Erytheia Varela Norte
This is far from a green park, but it is well worth a visit considering it holds the remains of a Roman house. While most of the remains have been moved to Museo de Cadiz, you can marvel at the foundations marking the different rooms in the ancient villa.
Some of the rooms still have parts of the marble floor and there are a few pillars still standing or partly standing.
The park also has a playground so it is a great place to go if you travel with family and kids. However, dogs are not allowed in Jardin Erytheia Varela Norte as opposed to Parque Kotinoussa Varela Sur across the street.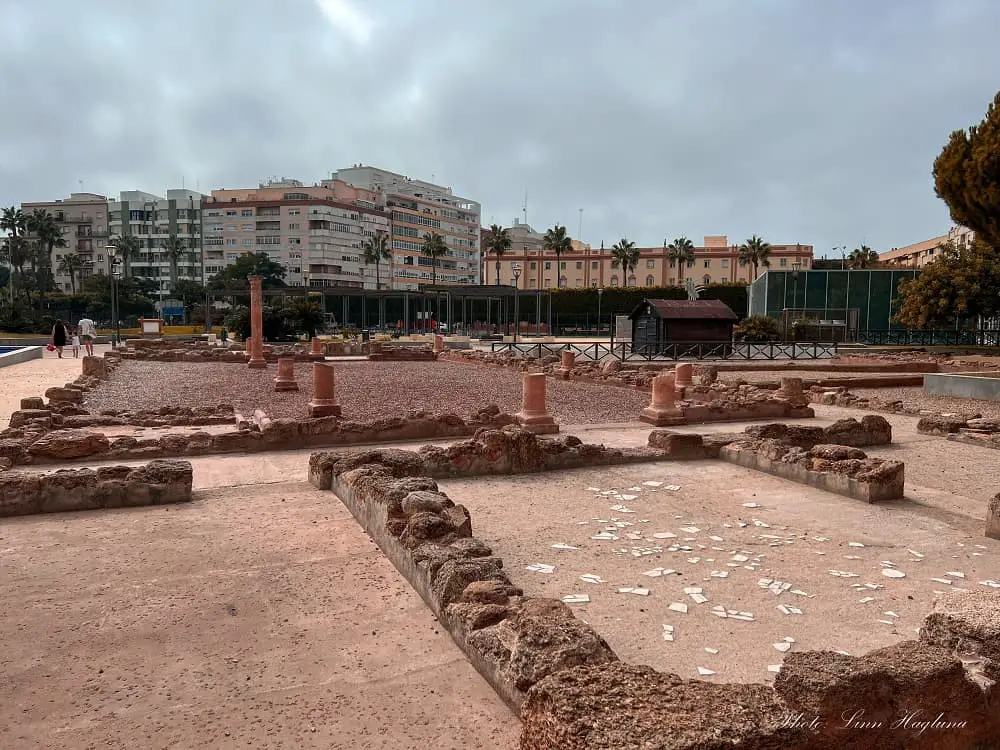 Parque Kotinoussa Varela Sur
This is might be the coolest Cadiz park I've come across yet. There are more than 10 archaeological finds and replicas scattered around the park with information signs (though mostly in Spanish) so you can do an educational route while exploring finds from the Phoenician and Roman times.
A multitude of plants and trees that were common during the times these communities were flourishing give a comfortable shade to the paths across the park and there is a drinking fountain for humans and dogs alike.
This is a popular park for dog owners to hang out to let their pooches run a little bit and socialize.
Besides this, there is also a large water fountain at one corner of the park.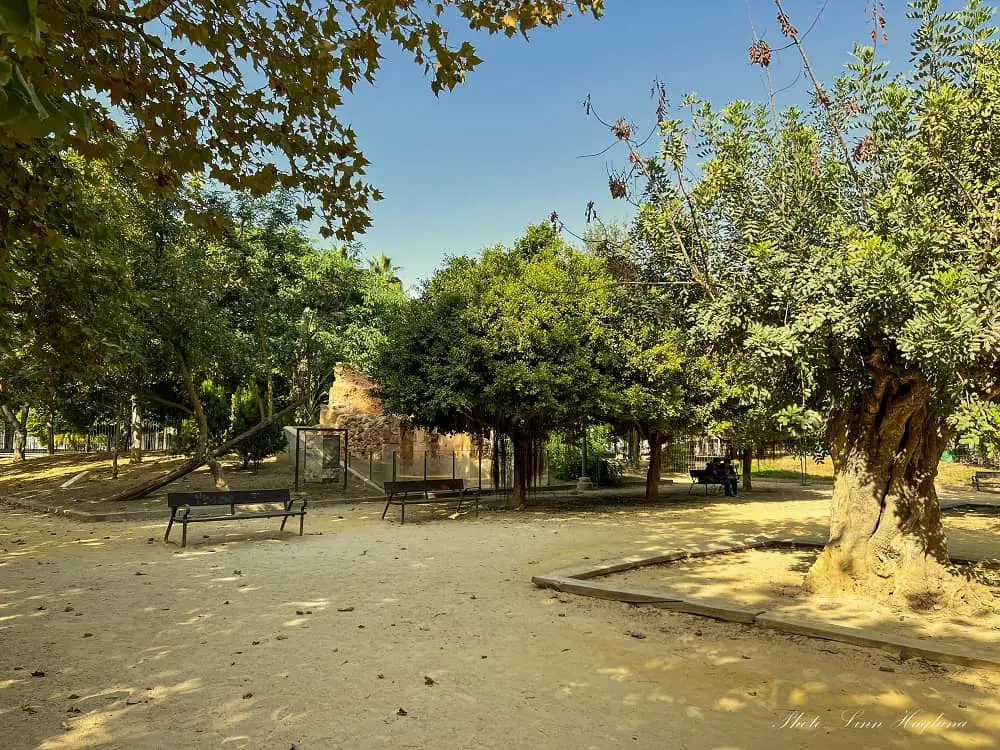 Plaza Asdrúbal
A Cadiz park you might not think much of when first entering turns out to be one hiding a cool archaeological find. A several meters long piece of what was the longest Roman aqueduct on the Iberian Peninsula that once transported water more than 75 kilometers from the springs of Tempul to Cadiz.
I love how these Roman remains remain scattered throughout Cadiz's parks and make the ordinary become exceptional.
The park is not far from the Varela parks which makes the three a cool trio to visit together, especially for those fascinated by archaeological finds like myself.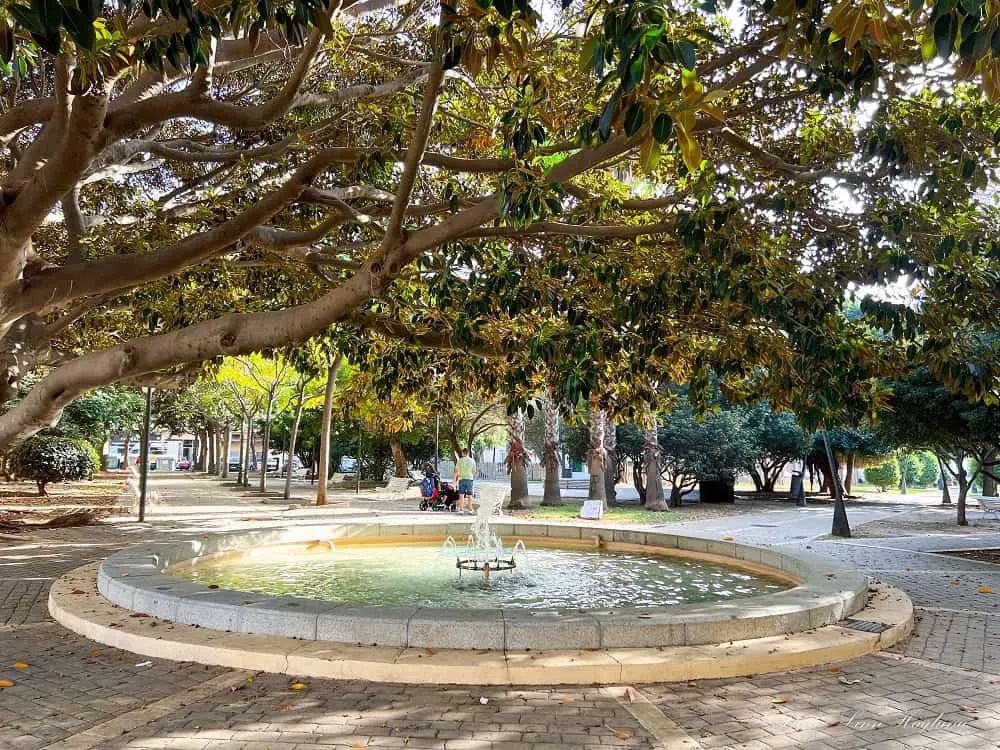 Plaza de España Gardens
Another spectacular Cadiz park is Plaza de España Gardens. Dominated by the Monument of the Constitution of 1812 which was raised 100 years after the constitution was signed, it is a nice park to relax and recharge energy before continuing your sightseeing in Cadiz.
The park is lovely with green grass, benches, and nice shade from numerous trees.
Note that in late 2022 the park was closed due to construction work and it's not clear to me when it might re-open.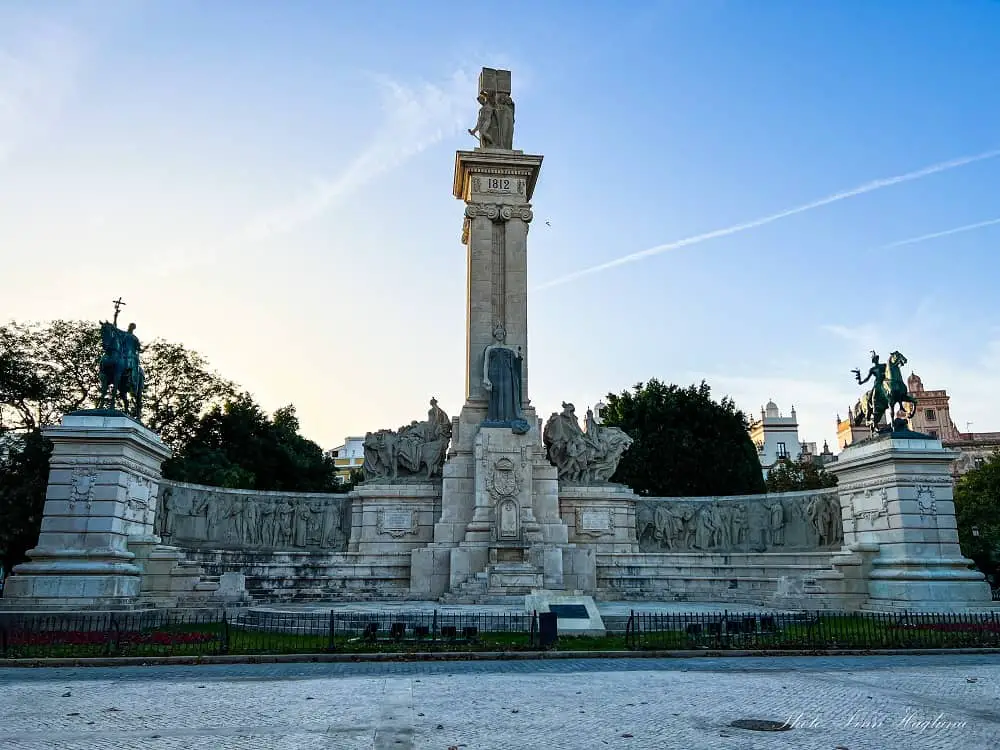 MORE FROM CADIZ: Complete guide to the Tavira tower
Reflections on parks in Cadiz
There is no doubt if you're looking for a park, Cadiz has plenty of resting places throughout the city from green havens to historical discoveries.
Though Cadiz is far from the hottest city in Andalucia, like Seville or Cordoba, it is incredibly nice to have these gardens scattered around the city so that you can rest while you're exploring the best things to do in Cadiz.
I hope this post helped you find a Cadiz park that you will enjoy, these are by far my favorites, and I would visit them again and again for their uniqueness.
Happy travels!