If you're considering traveling to Marbella in winter but are not sure if it's a good time of the year to go, this post is for you.
After all, Marbella is a famous summer destination, right?
Famed for its high-end beach clubs and luxurious yacht life, there is no wonder why you're hesitant about whether to use your vacation this winter in Marbella or head somewhere else.
Well, I've got good news for you. There are endless fun things to do in Marbella in winter and the fact that there are over 300 days of sun on Spain's Costa del Sol might just result in the perfect winter sun holiday you needed.
I've been based in Andalucia for 10 years and most of them in Costa del Sol. In fact, Marbella was one of the first coastal towns I used to go to when I lived in Seville the first time, and it has remained a favorite ever since.
The sweet scent of orange blossom fills the cozy squares in the old town, enchanting cobblestoned streets sweep past small art shops and local bars, and the salty sea breeze fills your lungs with renewed energy on the promenade.
Winter is also a wonderful time of the year to embark on several epic day trips from Marbella to Andalusia's Pueblos Blancos, the world-famous Caminito del Rey, or cross the border on a day trip to Gibraltar.
Seeing a lot fewer tourists than in the summer, Marbella in winter is a true delight. You'll have a lot of joy in one of the most classy resort cities in Andalucia.
In this post, I'll show you all the cool things you can do on your Marbella winter vacation and by the end of it, I'm pretty sure you'll be ready to book your flight already!
Disclosure: This post may contain affiliate links. That means that if you make a purchase through one of those links, I will get a small commission at no extra cost to you.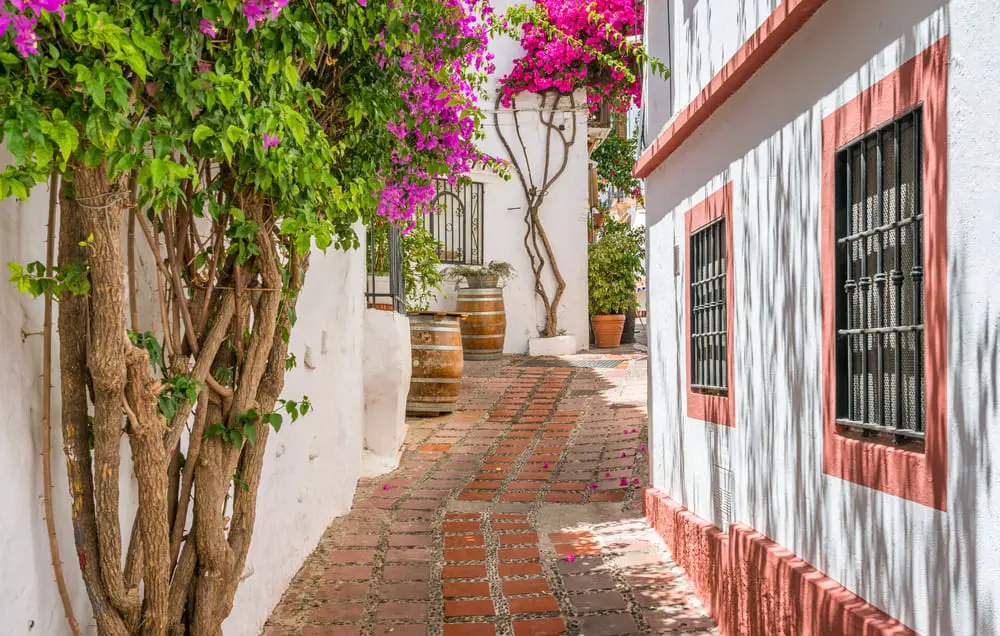 RELEVANT ARTICLES:
Marbella winter weather
But first, what can you expect from Marbella's winter weather? Having traveled to Marbella in winter on day trips from Malaga quite so often, but also spent a few days there at the time some winters, I've had it all.
Sunny, hot days with people in bikinis dotted on the beaches and rainy, grey days when the best choice has been to hide out in a bar drinking red wine.
Though Marbella is known for its sunny winter days, there is a general expectation of 4-5 rainy days a month in the winter. That said, my experience of Costa del Sol is that the end of November and the beginning of December very often "surprise" with a 1-2 week torrential rain where it's impossible to walk outside.
Not every year, of course, but quite more often than not. However, one to two periods like this might come later in the winter too. Except for these intense rainy periods, winters in Marbella are mostly sunny and warm being one of the most pleasant destinations to spend winter in Andalucia.
With daytime temperatures ranging from 15-20 degrees Celsius and dropping below 10 degrees Celsius at night, you can even go to the beach and sunbathe some days.
At the same time, this is the best time of the year to go hiking in the Sierra Blanca behind Marbella since it's not too hot.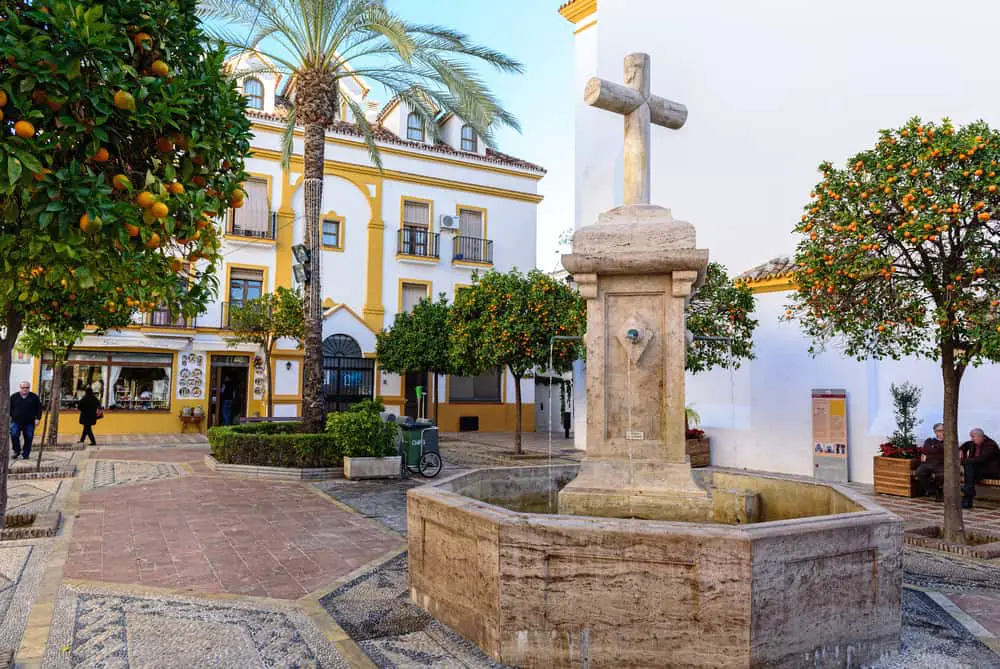 OTHER RELEVANT WINTER GUIDES
⭐Skiing in Sierra Nevada Spain
Things to do in Marbella in winter
Stroll around the old town
One of the best things to do in Marbella in winter is to stroll through the old town. Even if you are only on a day trip to Marbella, you should spend a few hours in the old town.
It's not too hot and in late winter you'll be blessed by the divine scent of orange blossoms filling the streets.
Enjoy the narrow streets when it's not too crowded as you'll often experience in the summer months. Blue-painted pots decorate whitewashed walls giving you the feel of a quaint whitewashed village more than one of the main cities in Costa del Sol.
Cute bars with outdoor tables invite for a beer or a glass of Sangria in the comfortable winter sun as you get a peek of the remains of Marbella castle or slip inside the Nuestra Señora de la Encarnación church.
If you're curious to learn more about Marbella Old Town's history, I suggest taking a guided tour with a local guide.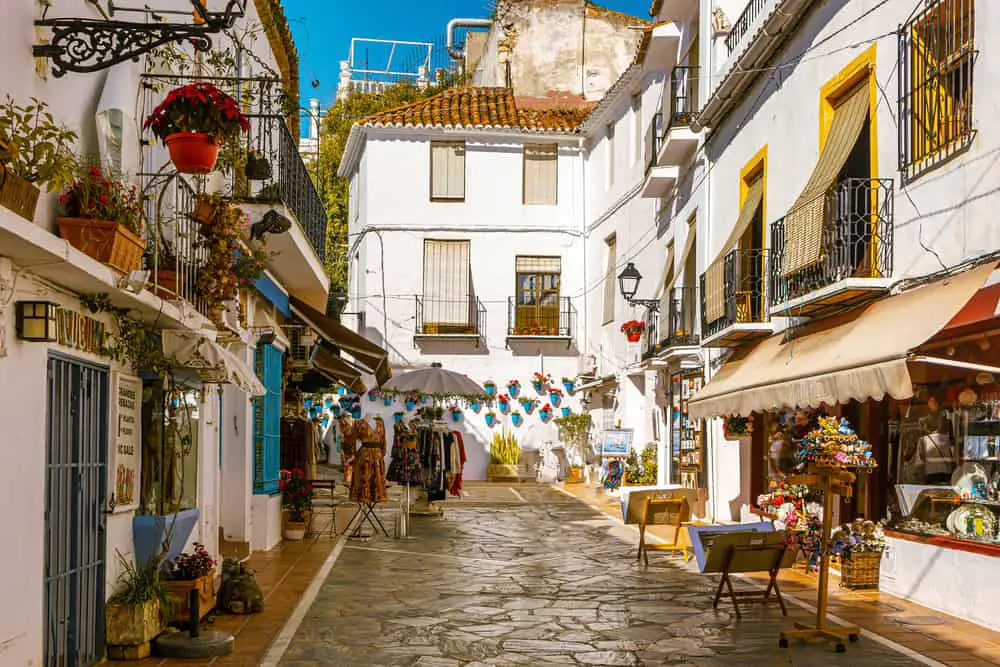 Hike to the best views of Marbella
Looming above Marbella you can see the iconic La Concha summit of Sierra Blanca. Together with Cruz de Juanar, which is a short detour halfway up to La Concha, it is the most popular hike in Marbella.
And oh my is it worth the views! Sweeping views of the Marbella coastline and the deep blue Mediterranean. On a clear day, you can even see across the Strait of Gibraltar and get a glimpse of Africa.
If you set out on a hike to La Concha, you shouldn't underestimate this beautiful mountain. With a section of great vertigo (if you're anything like me!) it can also be quite a strenuous hike if you're not used to walking in the mountain.
Both peaks are reached from Refugio de Juanar which is a 20-minute drive from Marbella, past the enchanting village of Ojén. Especially on the weekends, you must get there before 09:00 in the morning to secure parking as this is one of the most popular hiking spots on Costa del Sol and it fills up quickly even though there is plenty of parking.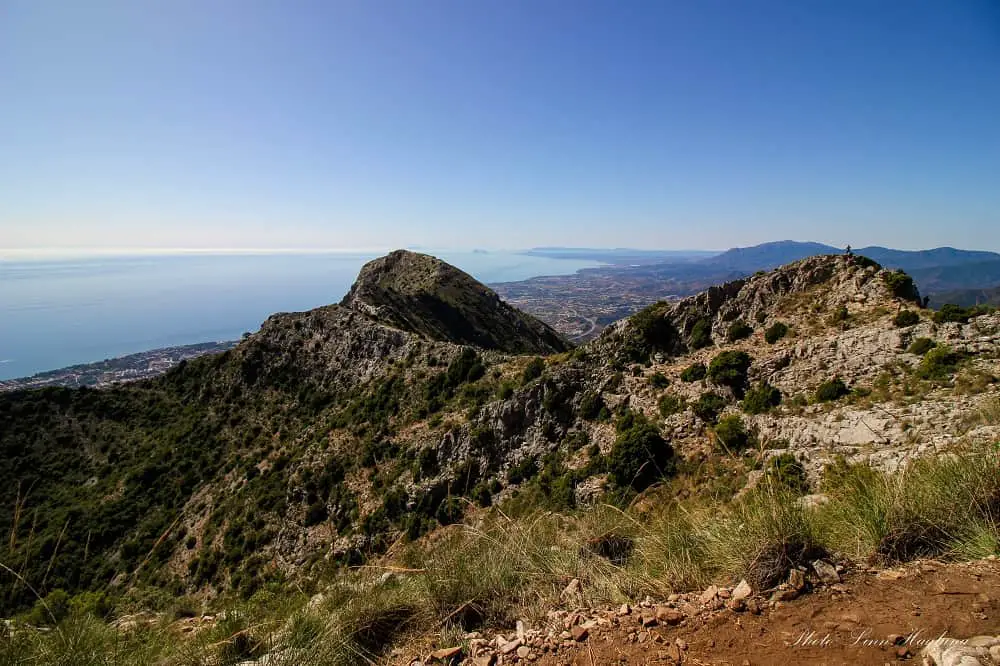 EPIC ACTIVITIES TO DO FROM MARBELLA IN WINTER:
Go shopping
There are so many cute shops in Marbella Old Town that you could easily spend a day browsing them and shopping for presents for yourself and your loved ones.
However, if you want to get away from the old town or it's a rainy day so you prefer walking in a mall, head to La Cañada Shopping Mall.
There you'll find a great variety of shops of all kinds and lots of different clothing stores. You can also take a break at any of the cafés fueling up with food and drinks whenever you need to sit down.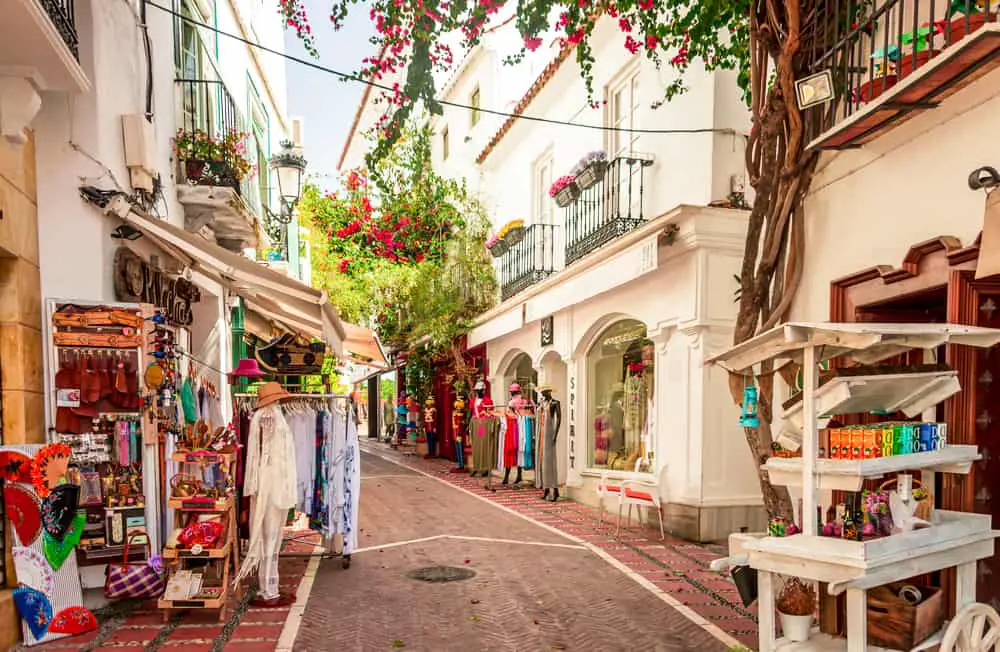 Stroll around Alameda Park
Alameda Park is a wonderful green space to go for a stroll in Marbella. Winter is just as good as any other time of the year.
Traditional tiled benches are dotted around the park and fountains trickle below the trees. This is one of my favorite parks in Marbella to relax and people-watch on a sunny day.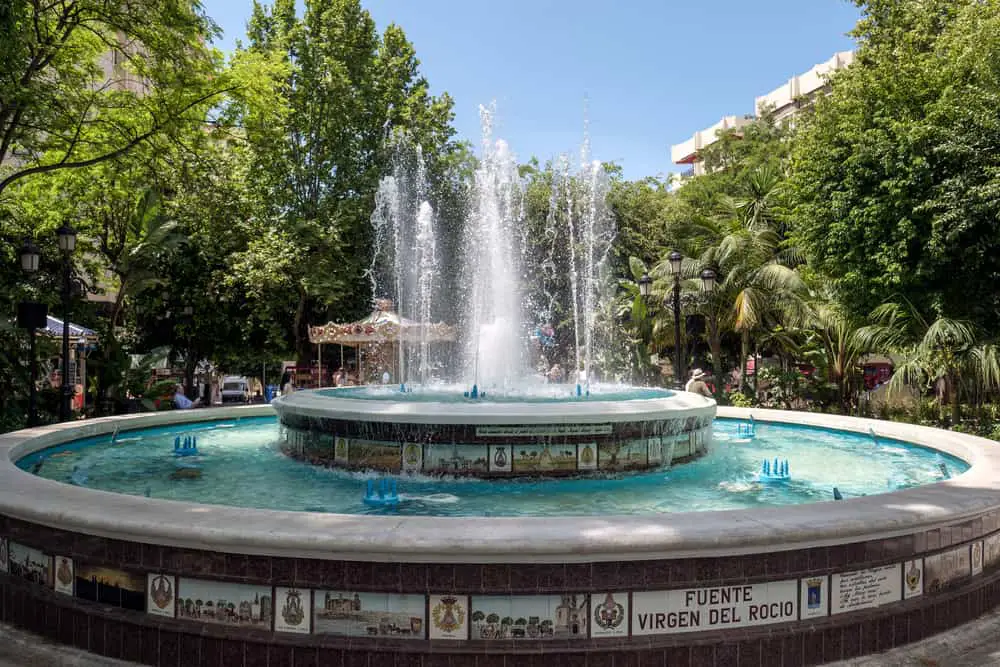 See the Christmas light show in Malaga
One of the most famous things to do in Andalucia in winter is to witness the light show in Calle Larios in Malaga. Only a 45-minute drive from Marbella, it's well worth the trip if you happen to travel in December.
It's also a good excuse to do some Christmas shopping in Malaga's famous shopping street.
The light show starts every night of December at 20:00 and is accompanied by Christmas music. This is most likely the most crowdy event in Malaga besides the Feria, so I suggest you go there early to secure a spot in the beautifully lit street.
If you don't have a rental car, there is an organized tour that takes you straight from Marbella to Malaga where you can browse the Christmas markets, walk through the lit streets, and finally see the Christmas show. See availability here.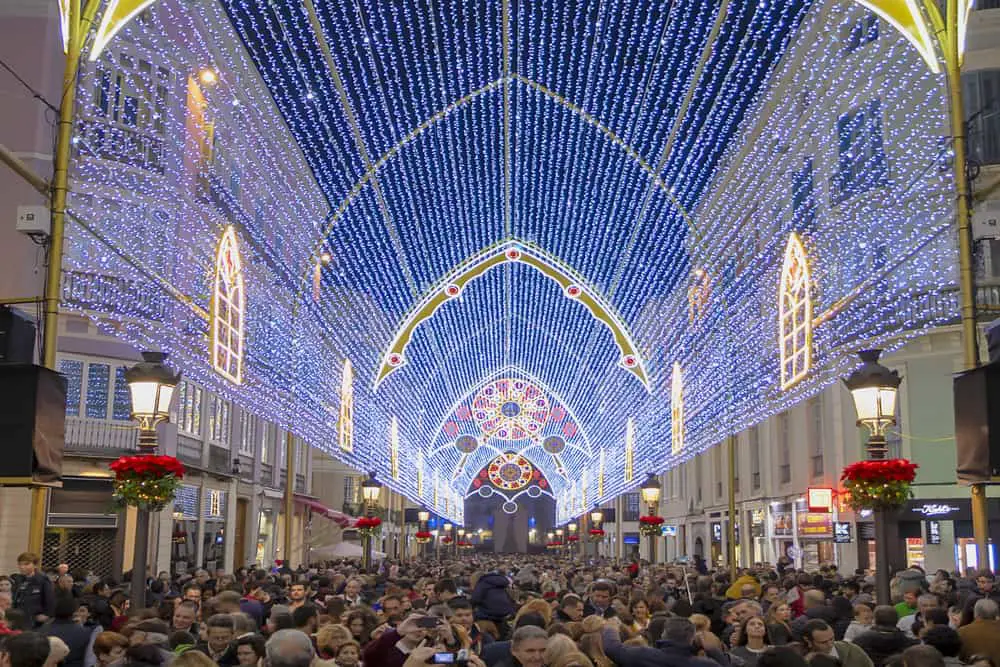 FUN THINGS TO DO FROM MARBELLA IN WINTER:
See the floats on the Three Kings Day
Spain celebrates Christmas a little differently than the rest of Europe. And instead of putting the focus on the 24th and 25th of December, they celebrate the 6th of January when the Three Kings came with presents for the baby Jesus.
On the evening of the 5th of January and the morning of the 6th, you can witness processions through the streets of Marbella featuring the Three Kings and other characters from the bible as well as fairy tale characters being carried around on large floats.
They play music and throw candy to eager kids in the crowds. If you travel to Marbella in the winter and happen to be there in the first week of January, you don't want to miss out on this!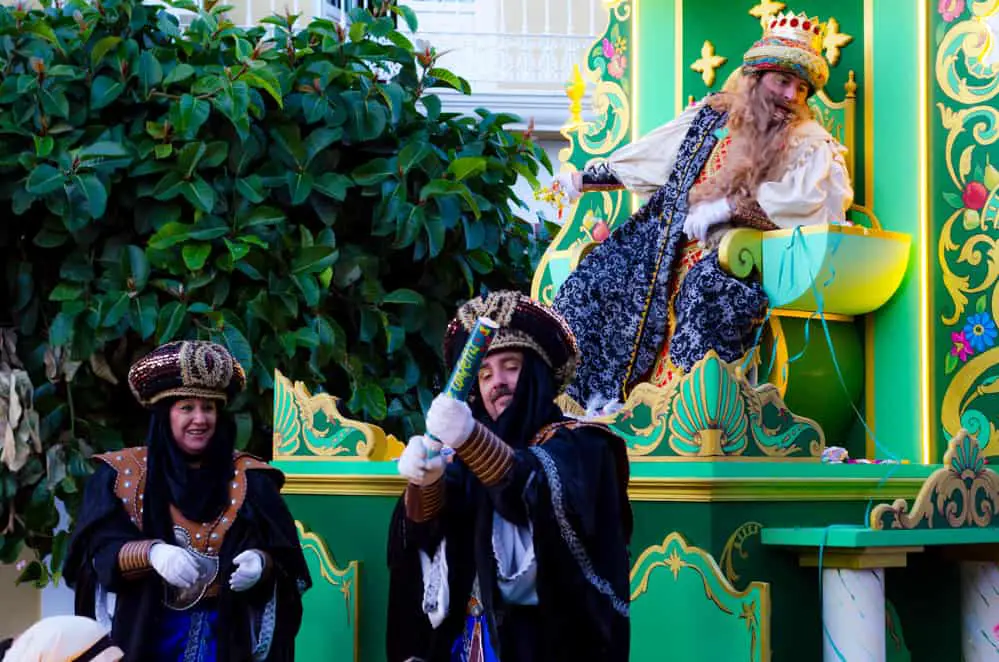 Ring in the New Year in Puerto Banus
There is no place better than Puerto Banus to ring in the New Year in Marbella. Winter might not be the first thing that you think of when you hear Puerto Banus. However, there is no better place for a luxurious party!
And New Year's Eve is no exception. Lined with high-end bars, you're guaranteed a fabulous celebration that will go in your book of best memories for sure.
Remember to buy 12 grapes (preferably seed-free) to join in on the Spanish tradition at midnight. You must eat one grape each second for the last 12 seconds to midnight. It's said to bring good luck.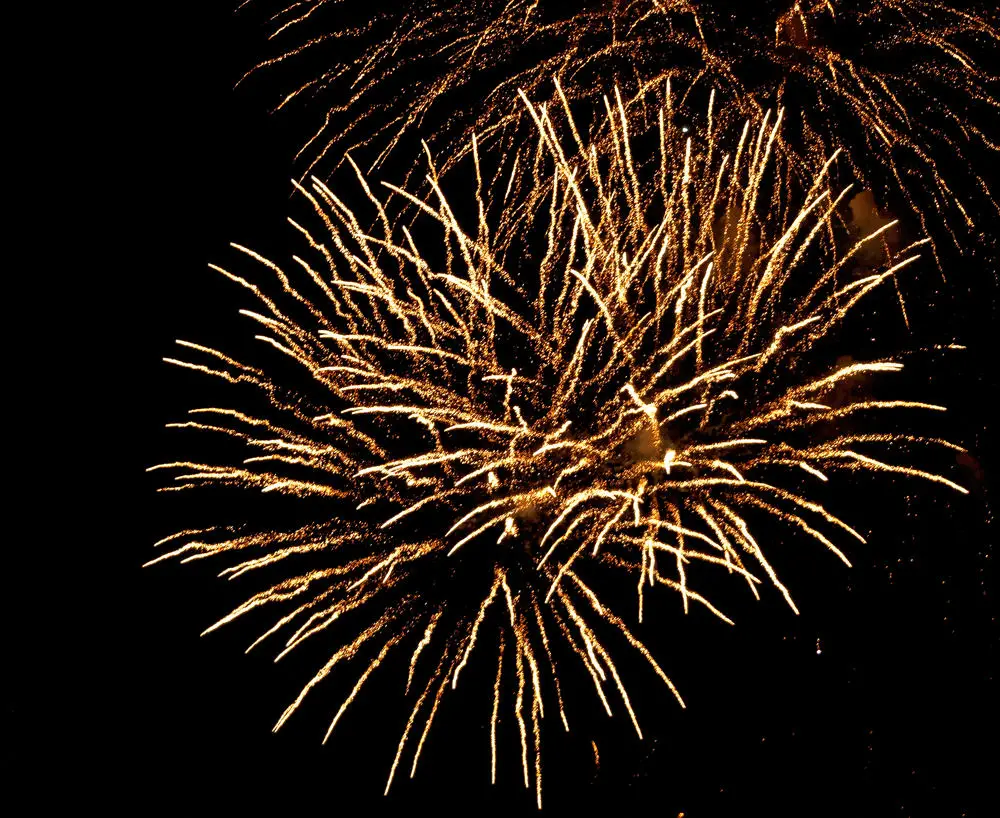 Walk the Caminito del Rey
One of the most epic walks in Andalucia, if not in Spain, is El Caminito del Rey and it's the perfect activity to do when you visit Marbella in winter.
It was once the most dangerous hike in the world, pinned 100 meters up the side of the vertical gorge. But in 2015, it reopened, renovated and safe and it's now turned into one of the most popular things to do in Andalucia.
It's an easy (for those without vertigo!) 2-hour one-way walk along the mesmerizing Gaitanes Gorge situated close to El Chorro Lakes where you can enjoy beautiful walks in the winter months.
Due to its popularity, you must book tickets in advance. If you don't drive, I recommend taking an organized tour with pick-up at your hotel, as there is no direct public transport from Marbella. You can check available dates here.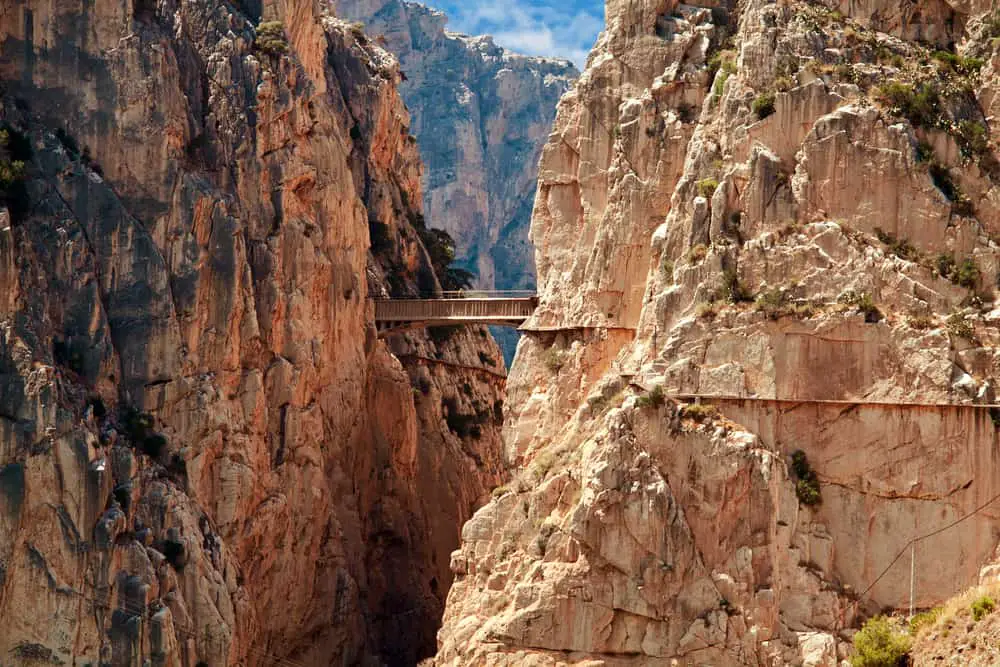 Day tour to Gibraltar
One of the best things to do when visiting Marbella in winter is to take a day tour to Gibraltar. the little British territory on the south tip of La Linea near Tarifa is the only place you can see wild monkeys in western Europe.
Famed for the Rock and its views, there are many things to do in Gibraltar. A tour will cover the best things to do on a day trip to Gibraltar from Marbella.
Saint Michael's Cave and riding the cable car to the Upper Rock are musts. And of course, try to snatch a selfie with a Gibraltar Ape – just be aware that they are wild animals and like any other wild monkeys that have learned that humans carry food, they can be quite sneaky. So watch your stuff and don't carry any food.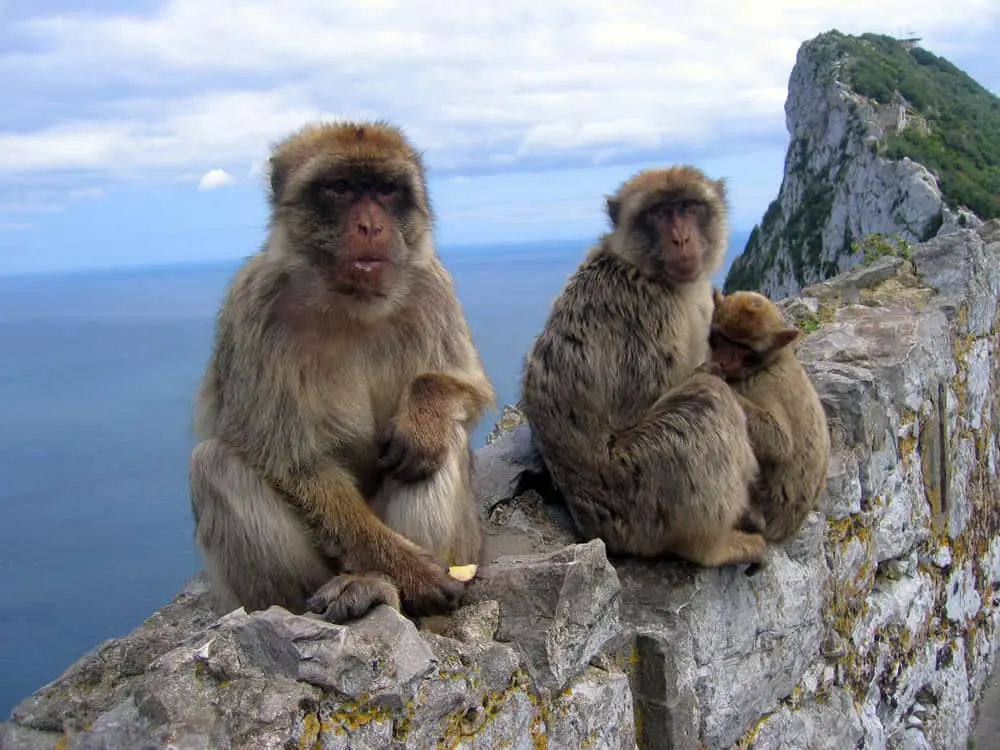 Go on a road trip to the Pueblos Blancos
In winter, Marbella is the perfect starting point for an Andalucia road trip to explore all the inland Pueblos Blancos. There are so many enchanting villages and towns in Andalucia that you can explore, but it's often too hot in the summer months to get inland.
Right behind Marbella, you can visit two favorites, Istan and Ojen which are among the prettiest villages in Costa del Sol. But a little further up, you have Serrania de Ronda boasting some of the best towns near Malaga like Casares, Gaucín, and Ronda.
But head a little further toward Malaga and you can see the hilltop villages of Mijas Pueblo and Frigiliana, the most popular white villages near Malaga.
Into Granada, discover the Alpujarras and drive through Lanjaron, Orgiva, Pampaneira, the witch town of Soportujar, and Capileira.
In Cordoba, make sure you don't miss out on Iznajar, Rute, Zuheros, and Priego de Cordoba, which are easily combined with Cuevas de San Marcos which offers spectacular hiking opportunities too.
Andalucia is simply jam-packed with epic villages that you can visit!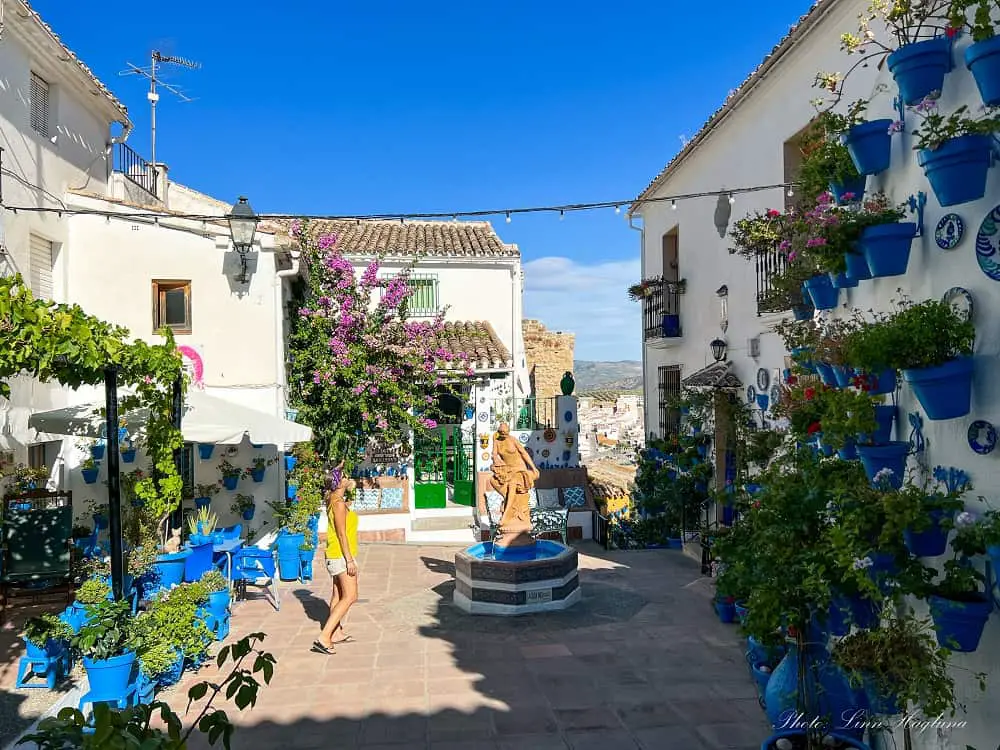 Reflections on a Marbella winter holiday
After reading about all the cool things you can do in Marbella in winter, I bet you're already packing your bags. With stunning winter weather (most of the time anyways!) and epic winter activities, there is no reason why your Marbella winter holidays should fail.
Marbella is truly one of the most charming cities in southern Spain and there is no better way to experience it than getting there off season to avoid the crowds.
Enjoy your trip!
FAQ – Frequently asked questions
Does Marbella shut down in winter?
Marbella stays open all year round, though most beach clubs close during the winter months, there are usually some that keep open even in the winter.
Is Marbella good in winter?
Marbella is blessed with some of the best winter weather in mainland Europe with 320 days of sun a year and temperatures up to 20 degrees Celsius in the daytime in the winter months.
What is the coldest month in Marbella?
January is the coldest month in Marbella with average daytime temperatures of 17 degrees celsius and nighttime temperatures of 8 degrees Celsius.
Can you swim in Marbella in winter?
The water gets cold in winter, though I see tourists swimming every winter. Sunbathing on the beach, however, is pleasant!
Is December a good time to visit Marbella?
December is a pleasant time of the year to visit Marbella with Christmas lights lighting up the enchanting old town.