Visiting Granada Spain in winter is very different from other Andalusian cities, especially because the temperatures are way colder than for example in Malaga or Marbella in Costa del Sol.
Yet, there are many reasons to visit Granada in winter.
The cool temperatures give a special touch to the cobbled streets in the historical center, lit up with Christmas lights and people chatting energetically in bars and restaurants.
Winter in Granada is perfect for indulging in sweet treats and taking in spectacular views of snowcapped mountains.
Even though I'm not a big fan of the cold, I always enjoy the Granada winter vibe and it's easily one of my favorite times of the year to visit the city.
In this guide, I'll go through the top reasons to visit Granada in the winter as well as everything you need to know before planning your trip.
Disclosure: This post may contain affiliate links. That means that if you make a purchase through one of those links, I will get a small commission at no extra cost to you.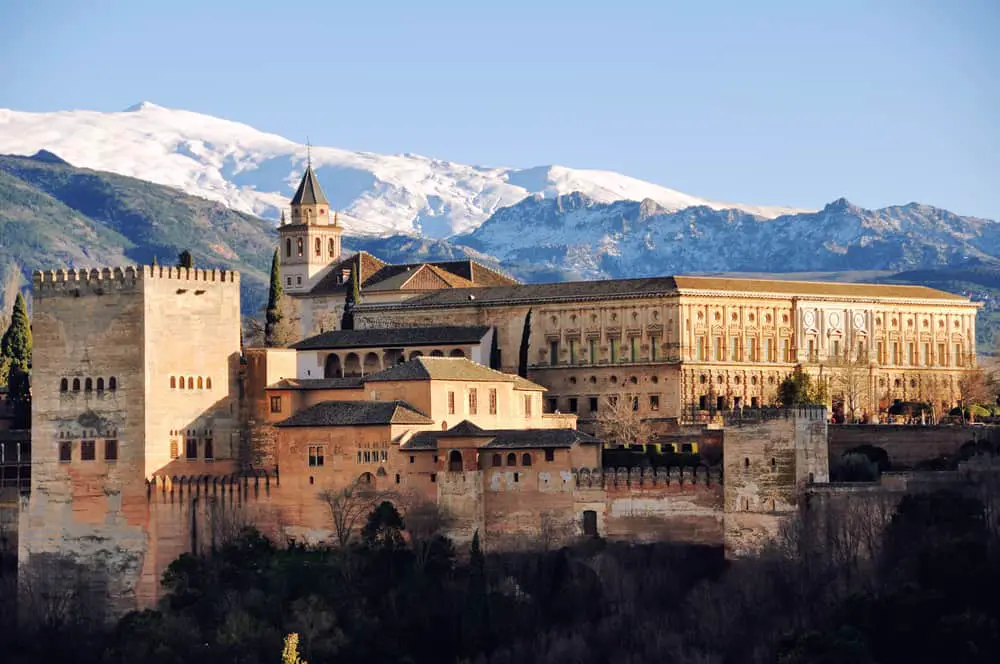 MORE ANDALUCIA WINTER GUIDES
Does it snow in Granada Spain?
Before we continue, let's stop for a moment to answer the question I get the most when it comes to winter in Granada Spain.
Does it snow in Granada Spain?
Well, it happens. In the city itself, it doesn't snow very often, and when it does, it's usually not a lot of snow. Personally, I've never experienced it.
But you don't have to go far to experience snow, as the ski resort of Sierra Nevada is only a 50-minute drive away.
And there, I've experienced snow more than once. In fact, I wasn't really sure how to get my car down once as I didn't have chains for my tires.
It is pretty magical, and if you're in luck, you might even experience a light snowfall over Granada's cobblestoned streets and old Moorish buildings.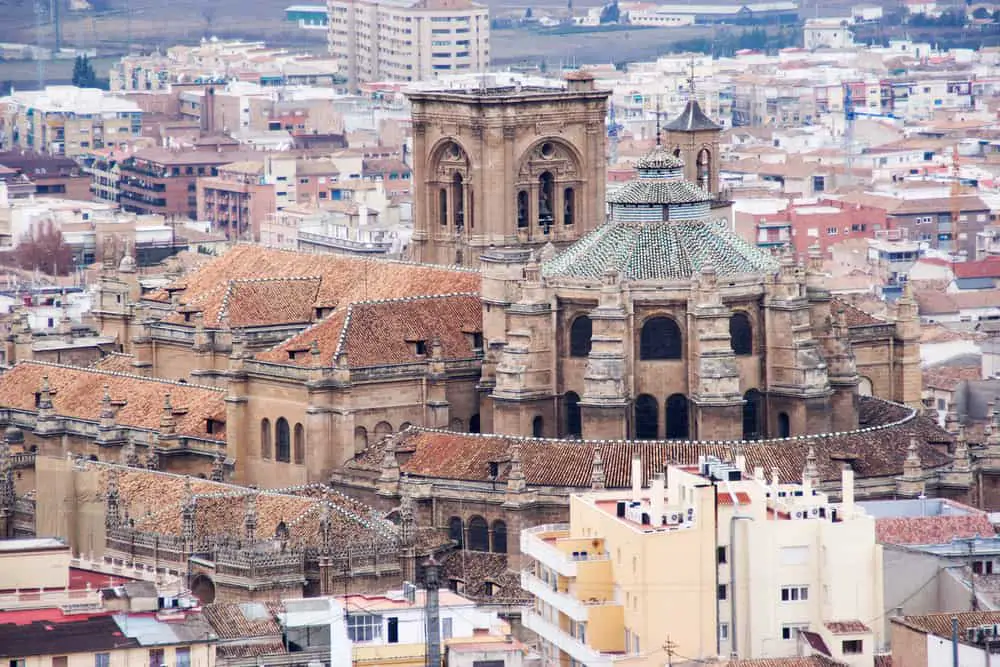 Granada Spain winter weather
Now that we've cleared that, we can look closer at Granada winter weather. Granada gets cold in winter and compared to other Andalusian cities on lower altitudes, it can feel biting cold.
While snowfall isn't very common and temperatures rarely go below zero, rain and wind can make the felt temperature lower than the actual temperature. It is also quite common with frost in the mornings from December to February.
That said, you can enjoy walking around the city and visiting Alhambra even on a rainy day. Granada winter temperatures generally mean you must dress warmer than other places in Andalucia in winter.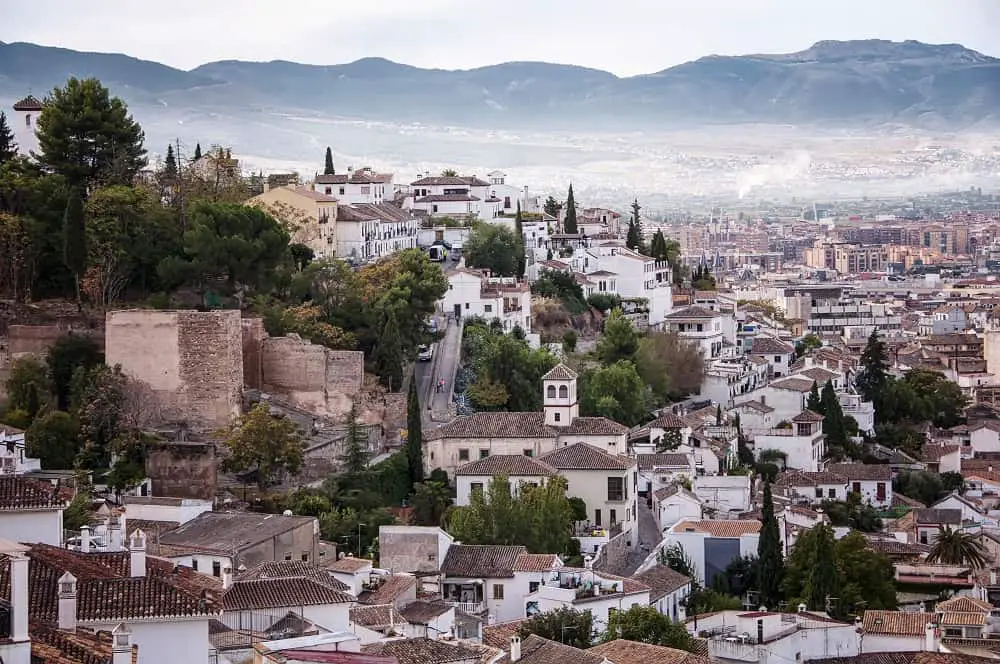 What to pack for a Granada winter break
Due to the cool temperatures in winter, Granada requires a heavier packing list than elsewhere in Andalucia. First of all, you must bring an umbrella, but I also recommend wearing warm shoes and a coat.
I'm usually just wearing trainers or Converse all year but in Granada the cold bites through.
Here are the basics to pack (other than toiletries and the obvious:)
Jacket
Warm, comfortable shoes
Umbrella
Beanie
Skarf
Mittens
Sweater
Long pants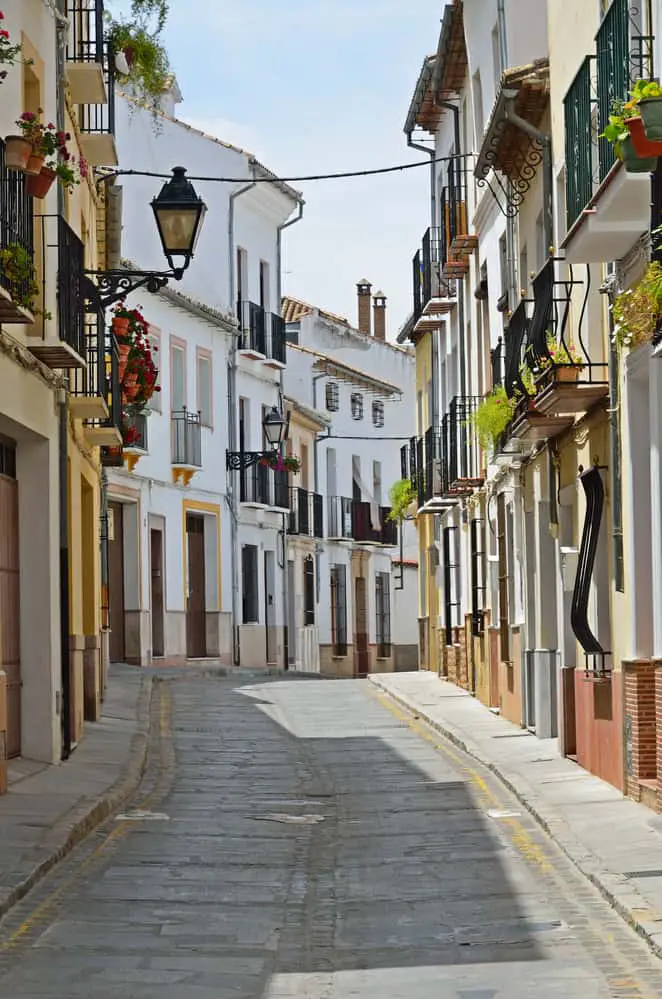 Where to stay in Granada Spain in winter
When looking for where to stay in Granada in winter, I usually recommend staying around the old town of Albaycín, especially if you only have a day in Granada or two.
This gives you the opportunity to walk to all the top attractions, including the Alhambra and the cave houses.
It is also great to stay in the modern center of Granada, where you can walk to Albaycín or take the bus in no time.
Here are my top picks for hotels in Granada.
LUXURY: Parador de Granada – Set inside the Alhambra complex, you will stay in a 15th-century convent with a restaurant, family rooms, private parking, and facilities for disabled guests.

MID-RANGE: Áurea Catedral by Eurostars Hotel – a modern and stylish hotel with family rooms and a restaurant on site. It also has private parking.

BUDGET: Palacio de Santa Inés – set in a 16th-century palace in Albaicín, this is a beautiful place to stay with an Andalusian courtyard. There are plenty of restaurants and bars within a short walking distance.
Reasons to visit Granada in winter
The views of Alhambra are spectacular
The Alhambra views are nothing short of spectacular, offering visitors a breathtaking panorama that combines nature, architecture, and history in one stunning tableau.
When gazing at the Alhambra from the right vantage point, you will witness the majestic Sierra Nevada mountains as a snow-capped backdrop, giving you a remarkable contrast to the earthy, warm tones of the palace complex.
If you are seeking the best viewpoint, the Mirador de San Nicolás is what you are looking for.
Mirador de San Nicolás is a picturesque square nestled in the historic Albayzin neighborhood that gives you a postcard view of the Alhambra.
The Alhambra is a UNESCO World Heritage Site that boasts a rich legacy with its beginnings dating back to the mid-13th century.
If you choose to visit the Alhambra itself, be ready to explore a mesmerizing blend of Spanish and Moorish history.
Note that you need to pre-book tickets to the Alhambra as they sell out quickly. To get a more immersive visit, I recommend a guided tour of the complex.
👉BOOK A GUIDED TOUR OF ALHAMBRA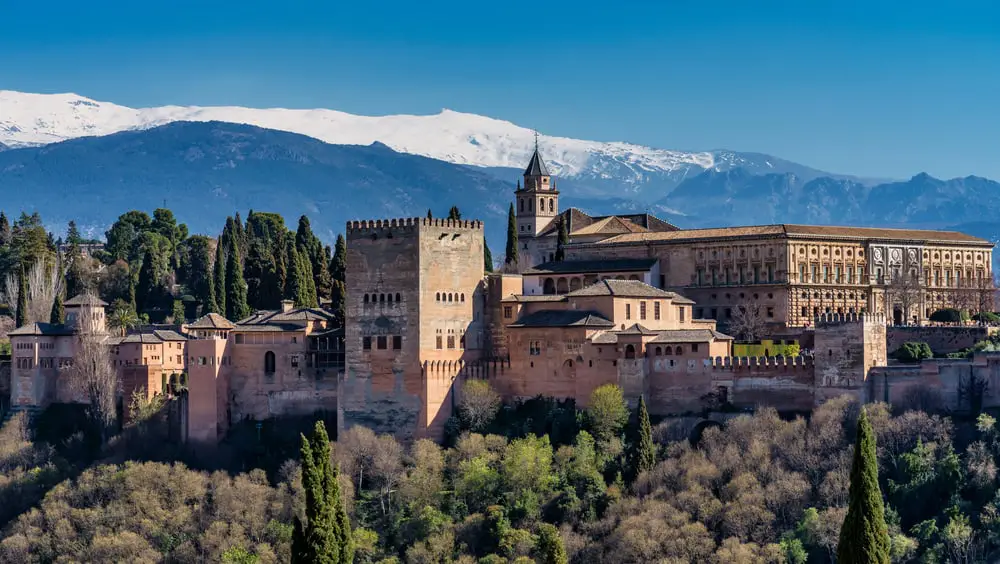 You can go skiing
Granada also offers you the unique opportunity to combine your cultural exploration with some thrilling outdoor adventures like skiing in Sierra Nevada.
Located approximately 45 minutes from Granada, Sierra Nevada offers an incredible Granada winter wonderland for all skiing enthusiasts.
The resort boasts an array of facilities like cozy mountain lodges, restaurants, and bars for all the visitors to enjoy.
Also, be ready to come across a range of slopes catering to all levels, regardless of whether you are a beginner or an experienced skier.
As a beginner, you can ski on the gentle, well-groomed slopes and can book skiing lessons with instructors who are always ready to help newcomers have an enjoyable experience.
As a seasoned snowboarder, there is plenty to satisfy your cravings, from challenging runs to off-piste opportunities.
And my favorite thing, the views! Endless white mountain views make it feel unreal that you're just a couple of hours from Costa del Sol where people are dipping their toes in the sea.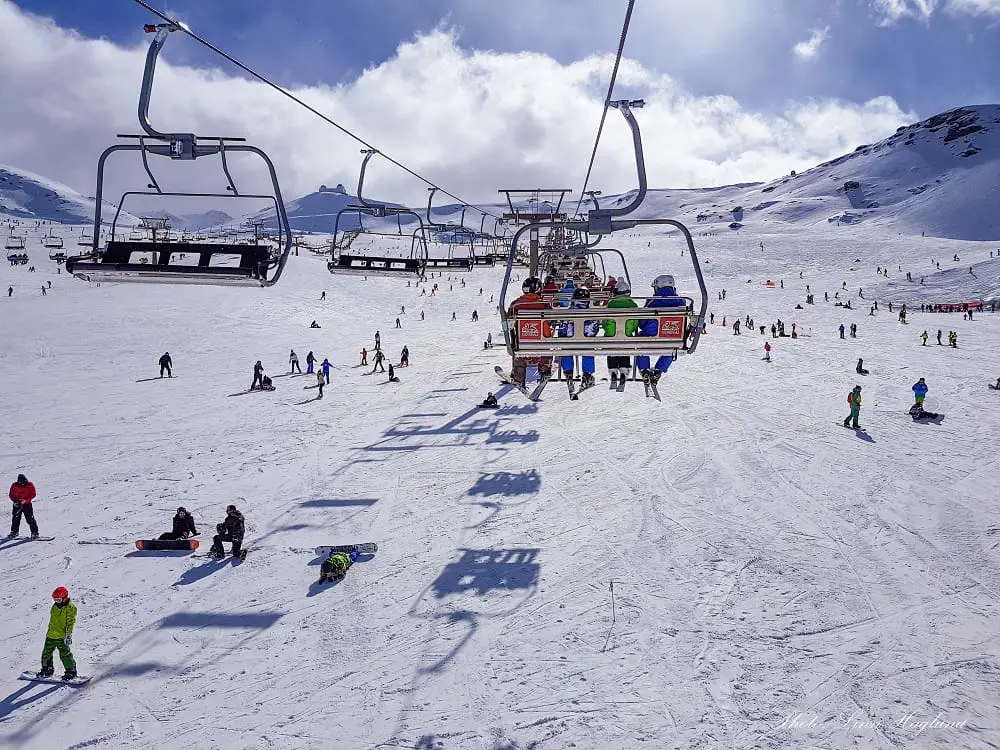 Visit the Christmas Markets
One of the most delightful ways to immerse yourself in the holiday spirit is to visit the Christmas markets in Granada. At the heart of the city, you will find one of the most enchanting markets: Plaza Bib-Rambla. The festive atmosphere here is incomparable, as it is filled with the joyful sound of carolers, the scent of roasted chestnuts, and twinkling lights that never seem to dull.
You can purchase some handcrafted gifts and decorations at the Christmas markets, from locally made crafts to intricate ornaments. Or, treat yourself to traditional Spanish sweets like nougat and shortbread cookies and savor your way during the exploration.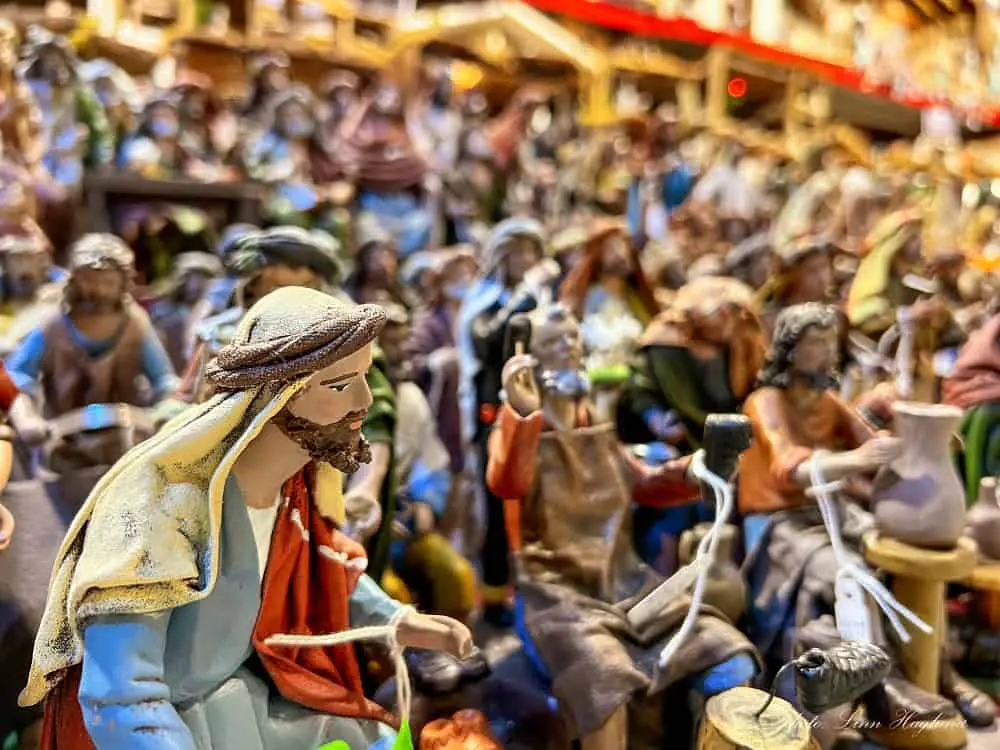 Enjoy the Christmas lights in the Old Town
The enchanting holiday spirit that the Albaicin neighborhood in Old Town carries is second to none. I'm sure I'm not the only one to fall in love with the festive vibes that a Granada Spain winter holiday entails.
The Old Town provides a captivating backdrop for the festive season with its labyrinthine alleys and centuries-old architecture for a festive experience like no other.
At sunset, twinkling lights drape gracefully through the narrow streets over the centuries-old Moorish buildings, leaving an inviting and warm glow.
This soft illumination enhances the intricate details of the architecture, leaving a captivating blend of holiday and history cheer.
Whether you are exploring the ancient cobblestone streets or just enjoying a festive meal at the local tavern, the Christmas lights in the Albaicin neighborhood and Old Town add an extra layer of enchantment to your visit.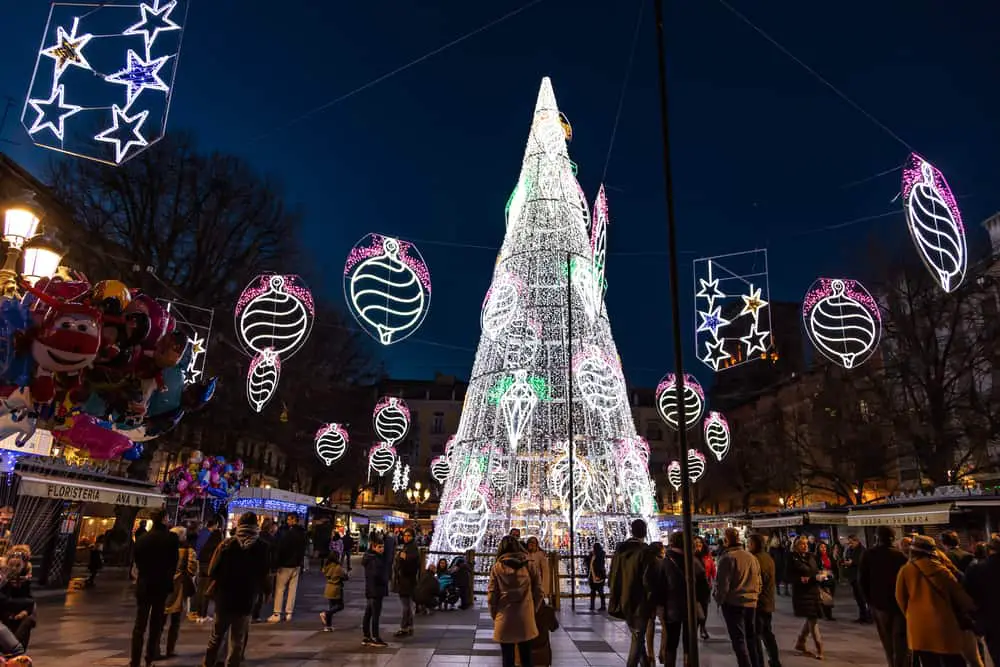 Go hiking in the lower Sierra Nevada
When the higher sides of Sierra Nevada are blanked in snow during winter in Granada Spain, try the lower slopes for an extremely different but equally thrilling experience.
You can hike through the lower Sierra Nevada for a fantastic way to explore the diverse landscapes and the natural beauty of the region.
One of the most captivating hikes that is just a short drive from Granada is the Los Cahorros de Monachil, which offers you breathtaking views and a dramatic gorge.
Be prepared to navigate some natural caves, rocky pathways, and multiple suspended bridges along the way. There are also group tours from Granada if you don't fancy going alone.
For a less challenging hike, try the Acequia de Fuente del Avellano, which follows an ancient irrigation channel that showcases the timeless beauty of Sierra Nevada's foothills.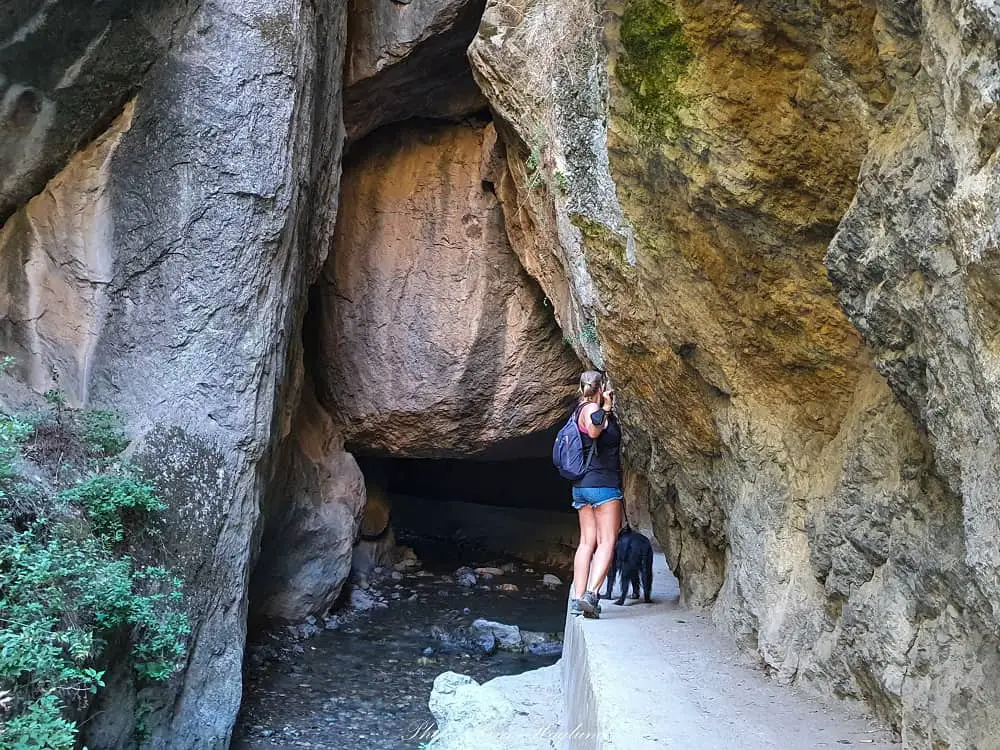 Ring in the New Year with 12 grapes
Do not miss the chance to partake in a charming Spanish tradition that promises you good luck for the coming year while visiting Granada for New Year's.
The twelve grapes of luck is a custom that involves eating one grape each time the clock chimes on the 12 last seconds leading up to midnight, symbolizing twelve months of joy and prosperity.
This communal and delightful experience is filled with cheers, laughter, and the sweet crunch of grapes.
Each grape is consumed with a resolution or wish for the corresponding month, adding a heartfelt touch to the ritual.
But trust me, you gotta be fast because one grape a second easily leaves you with 9 grapes in the mouth by the end of the countdown!
As the twelve grape disappears, the night sky in Granada lights up with fireworks, creating a dazzling spectacle that ushers in the new year.
This is a charming tradition that any visitor should consider doing, as it will leave you with sweet memories and a hopeful start to your year.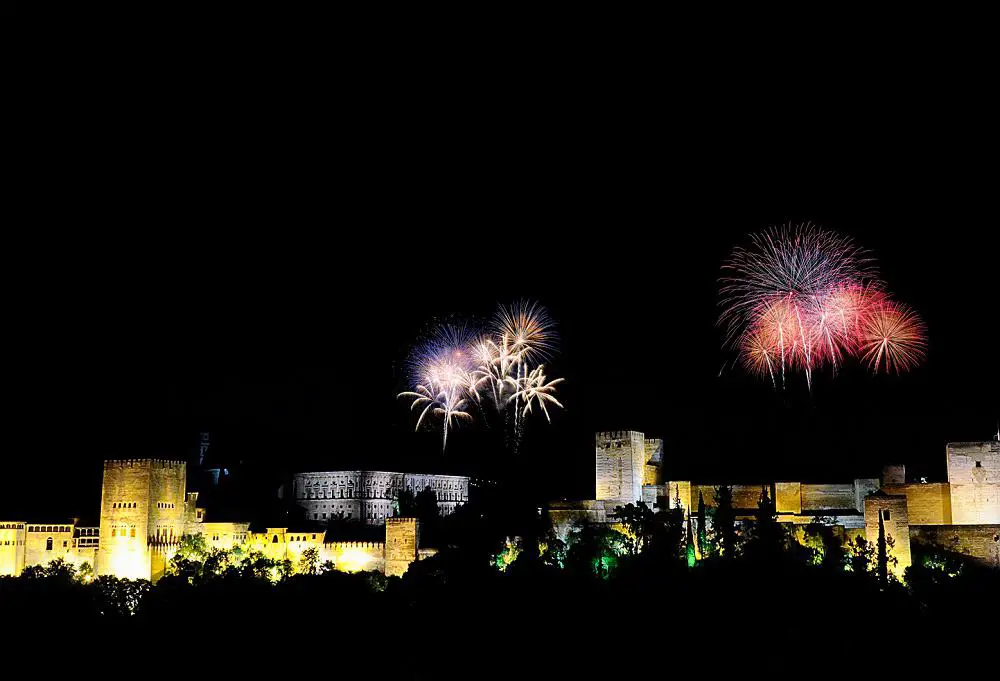 Experience the Reyes Parades
Tradition enthusiasts should not miss the experience of the Three Kings' Parades, also known as Cabalgata de Reyes.
This is a magic way to wrap up the holiday season and embrace the spirit of giving and celebration. These parades are celebrated on the 5th and 6th of January; the parades mark the culmination of the Christmas festivities.
The vibrancy of the events is signified by the elaborately decorated music, colorful costumes, and decorated floats that fill the area with festive cheer. The participants in the parade also have tons of candy that they throw out for eager spectators to collect.
However, the highlight of the room is the arrival of the Three Wise Men, who gift children in Spain.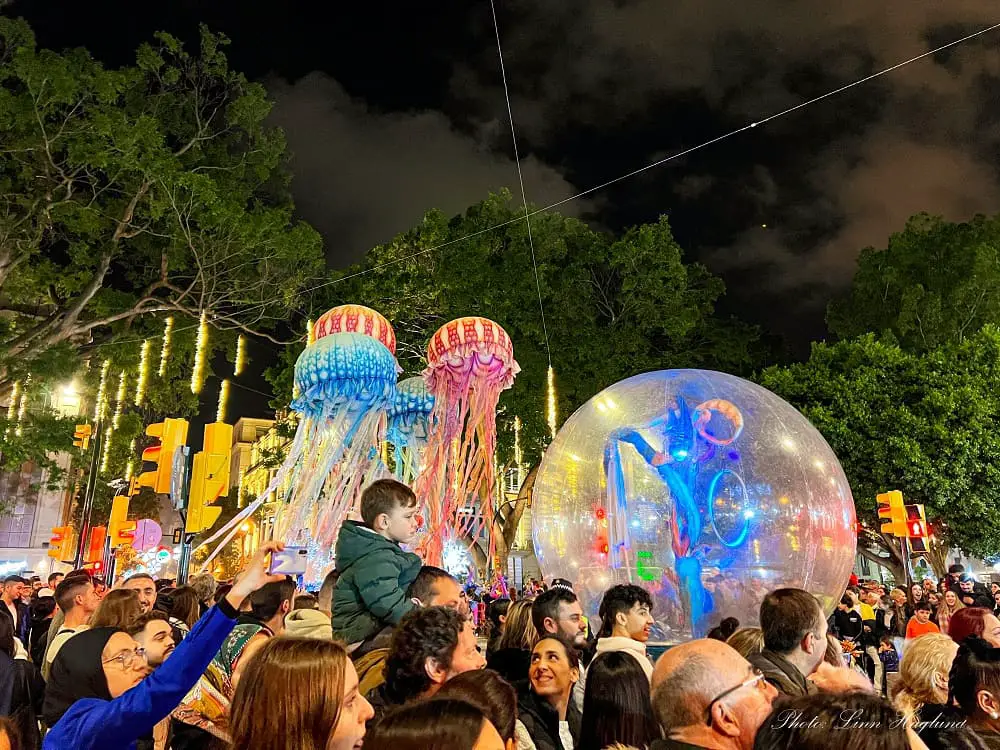 Take advantage of the January sales
The shopping extravaganza in Spain is not something to belittle. Once all the festive celebrations are done, you can immerse yourself in all the January sales, which begin after Reyes on January 6th.
Note that if the 6th happens on a Sunday, the Spanish move their public holiday to the coming Monday (the celebrations still happen on the 6th) and all shops will be closed.
Stores across Granada roll out enticing promotions and discounts for the city to recover from the holiday buzz. This is the ideal time to explore the charming boutiques and shops that line the historic streets.
Whether you are hunting for locally crafted souvenirs, fashion-forward finds, or just a new addition to your home décor, the January sales are an excellent opportunity to snag deals and take home a piece of Granada.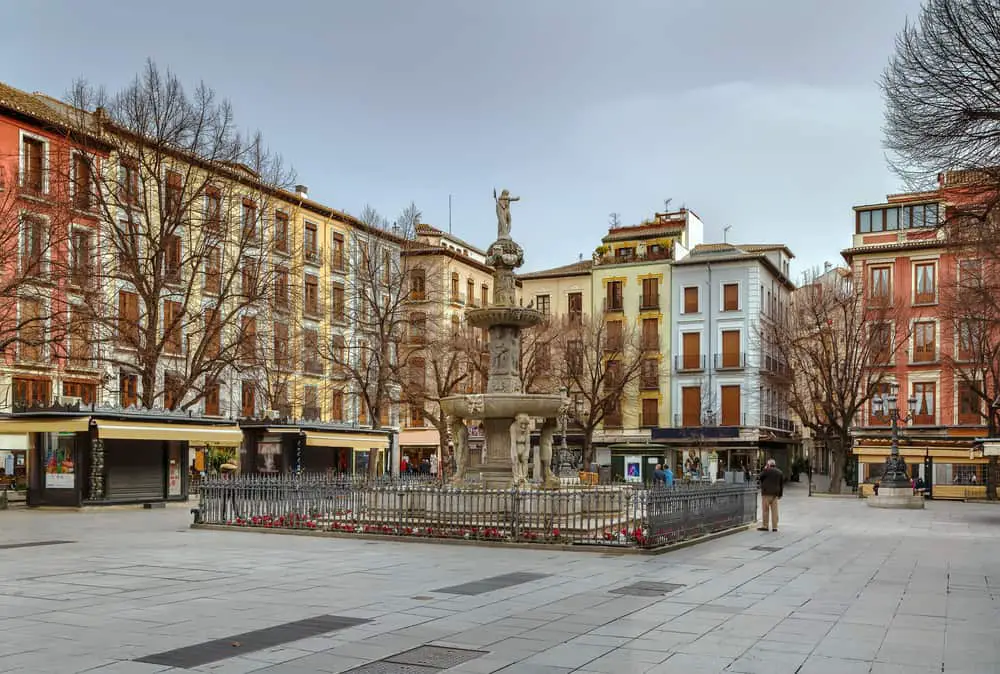 Try traditional Christmas sweets
A delectable way to bring the traditions and flavors to life during the holiday season, indulging in traditional Christmas sweets will leave you with a memory never to forget.
Turron is one of the most delightful savory confections that you can try. It is made of honey, almonds, and a hint of citrus to leave you with a crunchy, brittle, smooth bite.
You can also try "Roscon de Reyes," a ring-shaped cake filled with candied fruits and sometimes hides surprises like coins and figurines.
For a truly unique experience, venture into the historic monasteries of the city where skilled mins create exquisite sweets called Monjas (Spanish for Nuns.)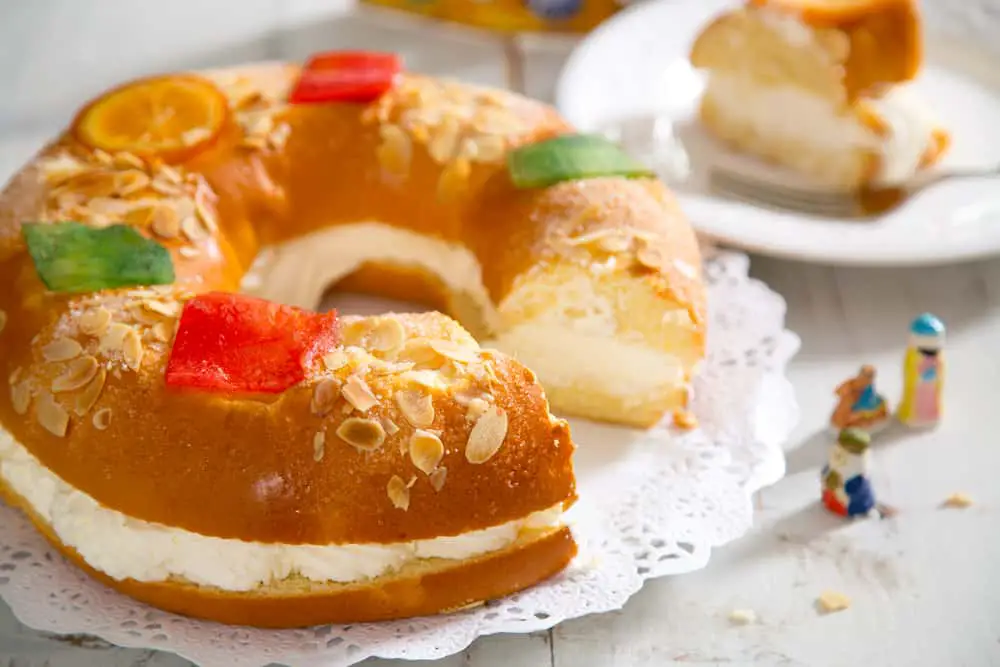 The perfect time of the year for Churros and Chocolate
Winter in Granada is the best time of the year to indulge in hot chocolate and churros. There is no better way to treat your taste buds and warm up than ordering a plate of churros and a steaming cup of chocolate.
Churros are long, golden-fried dough sticks that are crispy on the outside and amazingly soft on the inside.
They are a delight on their own but are magical when accompanied by a rich, velvety cup of hot chocolate.
But this is not just any hot chocolate; it is thick, almost like a pudding, and intensely chocolaty. The sweetness of this culinary experience perfectly complements the charm of Granada, Spain in winter.
Reflections on winter in Granada
Summed up, Granada in winter is a great trip that will stay with you for years to come. I love the vibe of the city, the old meets the ultimate holiday spirit and the cold gets warmed up by ancient walls.
If you're looking for a cultural and historical destination with a sprinkle of snow, Granada is a fabulous Andalusian place to visit.
Happy travels!