The stunning capital city of Andalucia is blessed with the refreshing Guadalquivir River making it the perfect place for a river cruise. Seville is wonderful from the river and both locals and tourists use the Guadalquivir frequently for water activities.
While you can't swim in the river, you will see groups of kayaks, paddleboards, and boats floating up and down the river all year round. So why not add one of the boat tours in Seville or other water activities to your Seville itinerary?
I have rounded up the best-rated Seville boat trips and water activities in this post so that you can start planning your trip whether you want to go for an affordable river cruise, an exclusive dinner experience, or get sporty on a paddleboard or kayak.
Get ready to see the city from a different perspective with these Seville river cruise experiences. Especially on a warm day, I love cruising down the picturesque river under the city's bridges and I dare say it's one of the best things to do in Seville!
Disclosure: This post may contain affiliate links. That means that if you make a purchase through one of those links, I will get a small commission at no extra cost to you.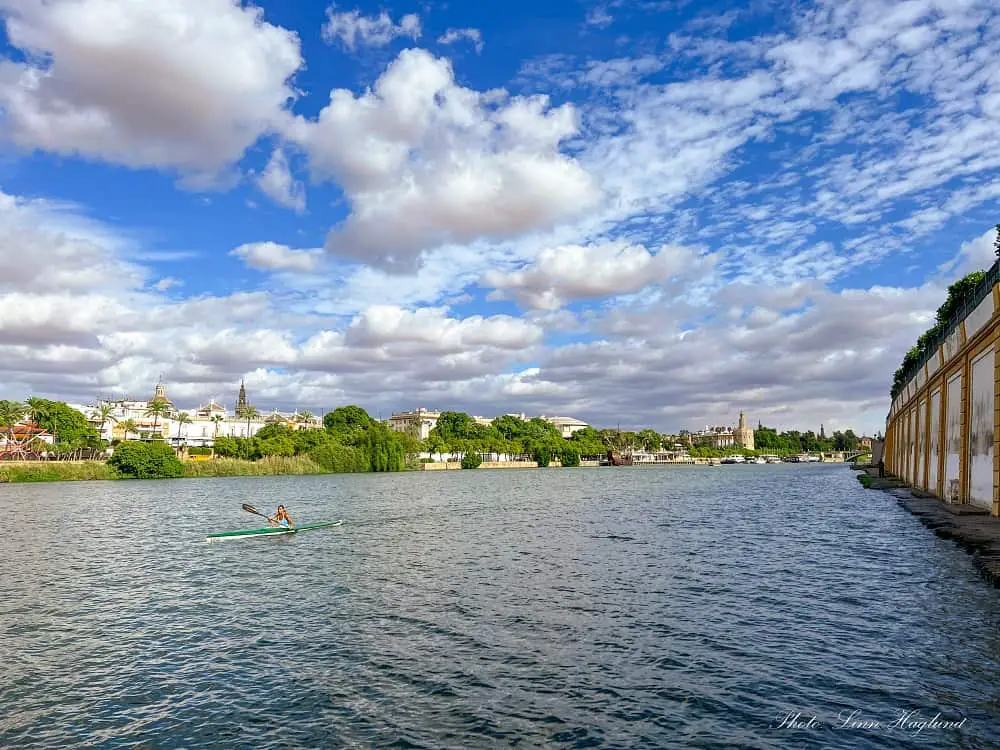 SEVILLE BOAT TOURS – MY TOP PICKS!
⭐Seville: Private River Cruise with Dinner and Drinks
⭐Seville: 1-Hour Guadalquivir River Sightseeing Eco Cruise
⭐Seville: 2–Hour Guadalquivir River Kayaking Tour
Boat tours in Seville
What's included in the boat tour:
commentary along the tour
café/bar onboard
What's not included in the boat tour:
A comfortable and eco friendly Guadalquivir River cruise, Seville at its best!
When it comes to boat tours, Seville doesn't have any other eco-friendly option, so this is my top choice. The company has multiple boats in different sizes depending on the number of guests, all eco-friendly.
This is a great Seville boat ride to take all year round, and they have heating for the colder months, as Seville in winter can get pretty cold. The boats have both outside and inside seating so you don't have to worry about cold wind in winter, and you will most likely enjoy the breeze in the warmer months.
The tour lasts an hour and there is a live commentary on board giving information about the history of the places you pass along the way.
Make sure you bring cash, as they have a little café and bar where you can get drinks and snacks to enjoy with the view.
If you care for the planet but want the comfort of a boat (as opposed to paddling yourself,) this is the best Seville boat tour on the Guadalquivir River – it is also one of the most popular options, so I recommend you to book your spot early, especially in high season.
👉BOOK ECO-FRIENDLY SEVILLE BOAT TRIP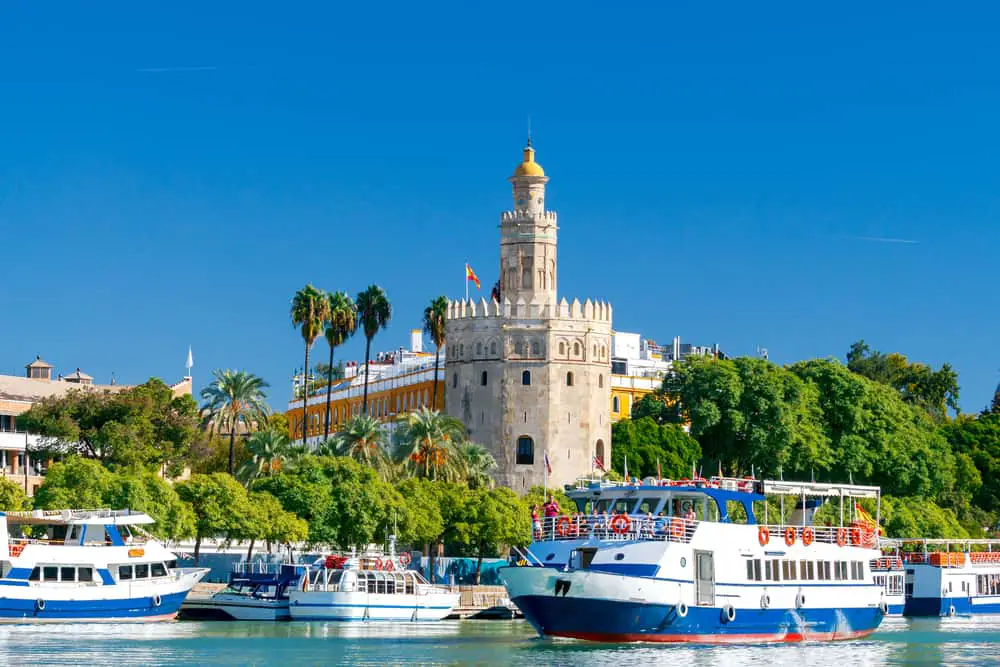 This is one of the most popular Seville boat tours and they have two options. A 1.5 hours cruise and a 2 hours cruise. I will note down the differences below.
What's included in the 1.5-hours boat tour:
welcome drink
Iberian ham and Cured cheese appetizer
music
What's included in the 2-hours boat tour:
multi-course meal
drinks
music
What's not included in the boat tour:
hotel pick-up and drop-off
A full-service experience with excellent food and drinks and a professional crew ready to pamper you!
For anyone looking for a 5-star yacht experience on the Guadalquivir River, this is a great boat cruise. Seville is a foodie destination and this boat tour is no exception.
They also cater to vegetarians, vegans, gluten-free, and other dietary restrictions with a 24+ hours notice.
It is hard to think of a better setting to have food and wine than cruising on the Guadalquivir River past the Triana neighborhood, under the picturesque Triana Bridge, and along the Cartuja.
To secure a spot on your travel days, make sure you book early, especially if you travel in high season as these Seville river tours sell out quickly.
Also, make sure you let them know as early as possible about any food restrictions to give them time to cook up something epic for you!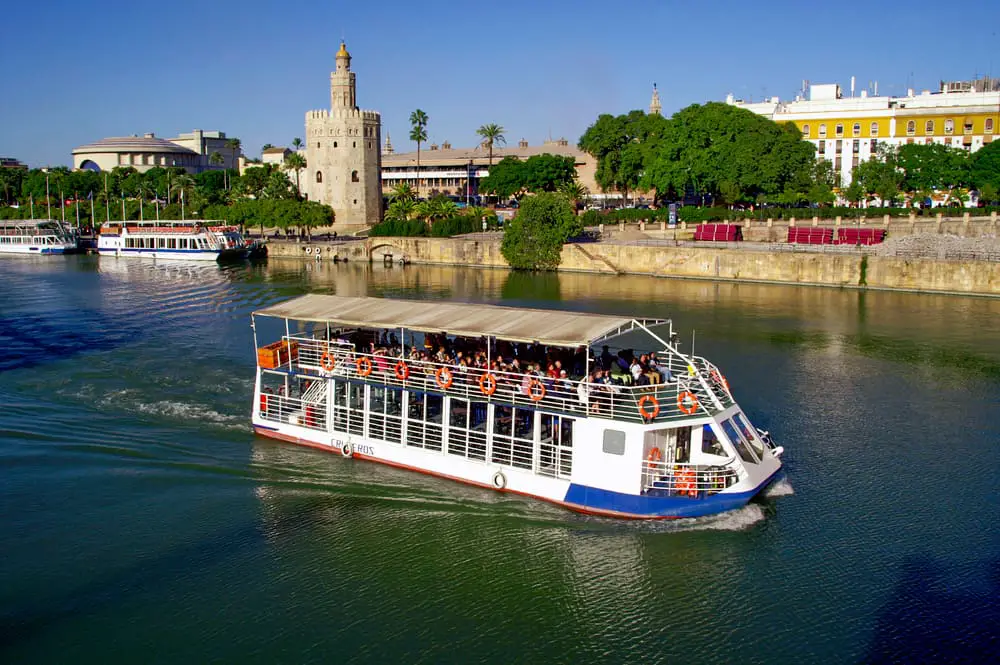 What's included in the boat tour:
commentary along the tour
cold tapas selection
1 drink per person
blankets
music
WiFi
What's not included in the boat tour:
pick-up and drop-off at the hotel
A great way to combine history, sightseeing, and tapas on the river on a budget!
If you want to experience an affordable Seville boat cruise with light tapas and a drink, this is a great choice. There is live commentary on the trip in both Spanish and English explaining the different places you pass and the history.
If you travel in winter, you can cuddle up under the blankets, which is great if it feels a little cold.
Some travelers have complained that the tapas are simply vacuum-packed meats and cheese. Yet it tastes good. For the price of this Seville river cruise, I don't think you can expect fresh tapas.
If you are looking for a more upscale food experience on your boat trip, Seville offers a lot of other options, some of them listed in this post.
What's included in the boat tour:
live commentary along the tour
What's not included in the boat tour:
pick-up and drop-off at the hotel
food and drinks
The most basic and budget friendly boat trips in Seville!
If you are on a budget and just want to go on a basic river cruise in Seville, this is a good option. The boats are large double-deckers with a large capacity. You will pass all the historical sites on the Guadalquivir River with a basic live commentary in different languages.
These are the most frequently running boat trips Seville offers on the river and start at Torre del Oro. Even though the boats are large and many, I recommend booking in advance.
I have had to wait for a long time when trying to book on the dock more than once. Especially if you only have one day in Seville, you want to plan your day carefully.
Note that you must change your reservation with a ticket in the ticket office before you can board the boat, so make sure you arrive early. Sometimes I have experienced long queues there, especially before a departure.
A good tip is to visit Torre del Oro before the boat tour, then you can fix your ticket first and visit Torre del Oro while you wait for your boat to depart.
👉BOOK A BASIC RIVER CRUISE SEVILLE SPAIN HERE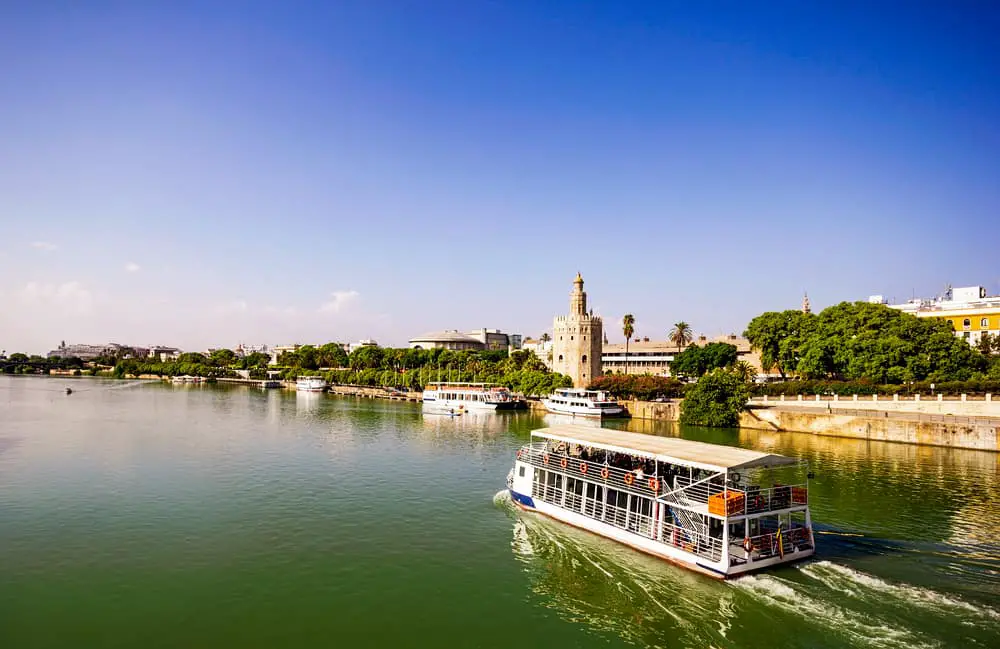 What's included in the boat tour:
cold food menu to share
2 drinks per person
music
Cava bottles can be bought upon request
What's not included in the boat tour:
pick-up and drop-off at the hotel
The most romantic evening river cruise in Seville!
For anyone traveling with their significant other and looking for a private and romantic experience, I can't recommend this river cruise in Seville enough.
You will be sharing a delightful cold food menu with drinks as you float on top of colorful reflections playing on the river surface.
The crew is discreetly attentive and will tell you about the sights you pass. This is a lovely activity for newlyweds, for a romantic proposal (make sure you let them know upfront so they can help you make the setting perfect!), or for celebrating any anniversary or birthday.
With this option, you are surely up for an exclusive boat ride. Seville is at its most captivating when the sun sets which makes for a unique experience on the dazzling Guadalquivir River and the crew truly knows how to make it special.
👉BOOK ROMANTIC BOAT CRUISE SEVILLE
Seville river tours: Best water activities
For anyone looking for an adventure beyond the above boar trips, Seville's river is also perfect for kayaking and paddleboarding. Here are my top picks.
Note, that you will need to bring a few extra things for these adventures no matter what time of the year you go.
sunscreen
towel
waterproof bag for your phone or a GoPro for pictures
comfortable clothes (change)
comfortable shoes/sandals that can get wet
What's included in the boat tour:
professional guide
An introductory kayak safety class before the tour
kayak and oars
changing room
water
snacks
What's not included in the boat tour:
pick-up and drop-off at the hotel
food and drinks
The best guided kayaking tour of the Guadalquivir River in Seville!
To uncover the Guadalquivir River and its history in a more adventurous way, I suggest going on a small group kayak tour. This tour includes a basic safety class for kayaking before you board while you also have your guide with you at all times.
During your kayak tour, the guide will give valuable information about the sites you pass and the city's history. Typically, you will stop under each bridge so that you get shade.
This is particularly pleasant on hot days, as you might use a fair bit of energy paddling if you don't have any stream helping you along.
👉BOOK YOUR KAYAKING ADVENTURE HERE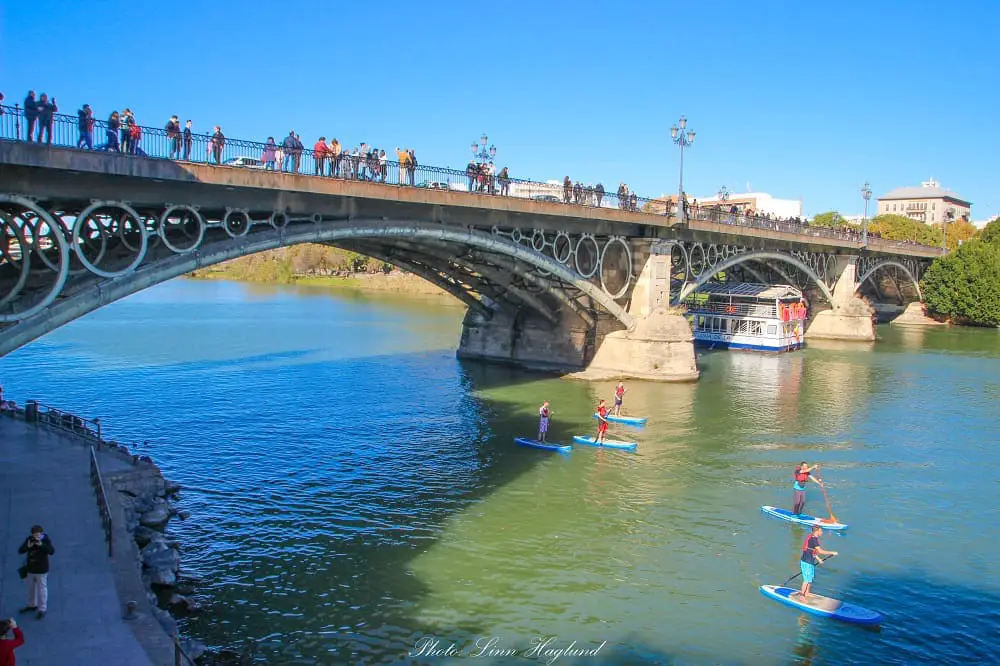 What's included in the boat tour:
paddleboard and oar
life jacket
insurance
water
photos and videos
professional guide
changing room
lockers
What's not included in the boat tour:
pick-up and drop-off at the hotel
soft drinks
snacks
Top Guadalquivir activity at sunset!
If you prefer paddleboarding over kayaking, this tour is for you! I love paddleboarding and paddling into the sunset on the Guadalquivir River is one of the most magical experiences to be had.
Do not worry if this is your first time paddleboarding as the guides will give you all the support you need and before you know it, you will be standing up.
The guides are also knowledgeable about Seville and the sites you pass along the way, so you will learn heaps. In my experience, there is no boat tour that can compete with this experience, but I'm also a very active person that loves to add adventure to my travels.
👉BOOK SUNSET PADDLE BOARDING TOUR HERE
What's included in the boat tour:
kayak and oar rental
life vests
kayak transport trolley to get the kayak to the water
safety briefing
Insurance
What's not included in the boat tour:
pick-up and drop-off at the hotel
instructor or guide
kayaking course
Best way to explore the Guadalquivir River on your own!
Finally, this is my favorite way to explore the Guadalquivir river at my own pace without a guide. You will get a security brief before you start your adventure and the personnel will explain the rules for kayaking in the river so that you can feel safe navigating in the same waters as the boats.
You rent the kayak for 2 hours which is just enough to explore one of the most important transport routes in Andalucia during the trading with the New World.
This is a particularly fun activity if you are traveling with friends or family, but note that children under 8 years old are not allowed to join and anyone under 18 must be accompanied by an adult. It is also (obviously) important that you're a strong swimmer in case you tip your kayak.
Reflections on the best Seville boat tours and water activities
There is no doubt you can experience the Guadalquivir River in many different ways. Personally, I'm an active traveler and really enjoy the kayaking and paddleboard options.
However, if you are planning a short stop in Seville on your Andalucia itinerary, one of the boat tours in Seville is likely a better option.
A sunset cruise is a very nice alternative, but if you are tight on time, I suggest taking a quick one-hour boat ride after seeing the Torre del Oro and before continuing to Triana.
No matter what suits you best and which tour you go for, I am sure that one of these boat trips in Seville's magnificent river will be a winner.
You might also like: Free things to do in Seville.
Happy travels!