You're planning to spend 3 days in Seville and not sure what to do. Then you're in good hands!
If there's one city that has a special place in my heart, it's Seville, Andalusia's charming capital city. When I first moved there in 2003, I remember sitting down on the footpath just enjoying the feeling of being home. The same feeling I get when I go to Rome, where my family is from.
Throughout the years, I lived there a second time and during the first 3 years I lived in Málaga, I spent most weekends in Seville. I have created the perfect Seville itinerary to show you how to get the best of Seville in 3 days so you can fall in love with this wonderful city too.
I assure you, 3 days in Seville is not enough. But anything less would be a waste for first-timers with so many amazing things to do in Seville.
However, if you only have the chance to go on a day trip from Malaga or Cadiz, you can get a taste of the city but surely you will long to come back! Adding Seville to your Andalusia road trip itinerary is also a must.
Seville is not off the beaten path as it once used to be, but that doesn't mean it doesn't deserve your attention. I have made sure to include all you need to know about traveling responsibly in Seville to make the most positive impact.
Most locals are more than pleased to meet foreigners, so do your part so that they keep that positive mindset.
Disclosure: This post may contain affiliate links. That means that if you make a purchase through one of those links, I will get a small commission at no extra cost to you.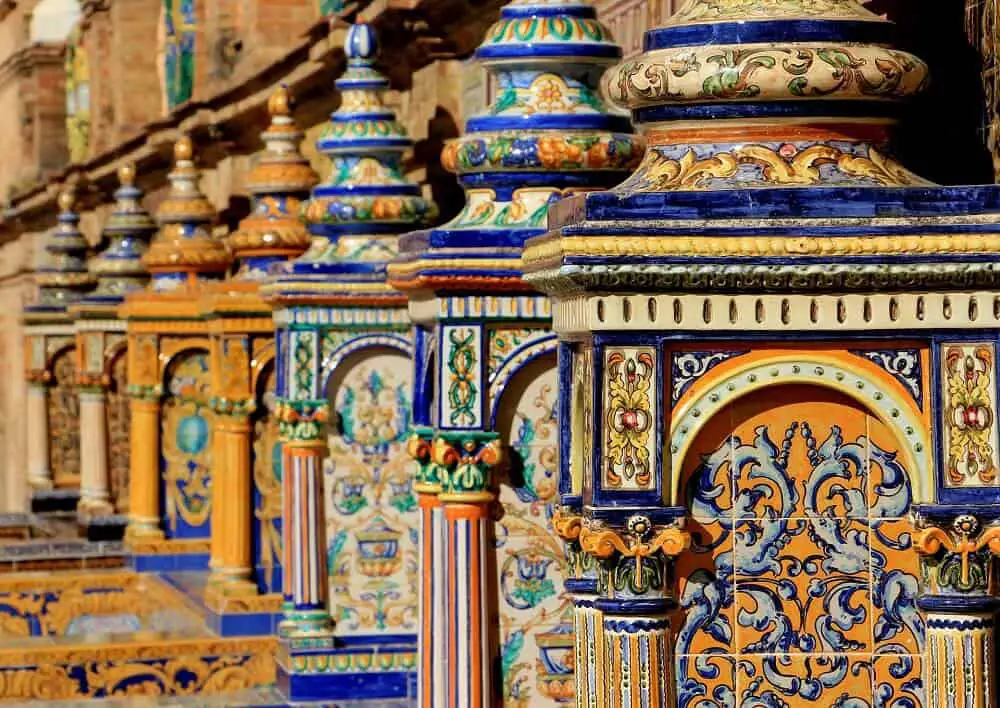 How to get to Seville
Seville has its own international airport and since it was ranked the top city to visit by Lonely Planet in 2018, tourism numbers have exploded and the airport has drastically increased its commuting destinations.
With this, you'll probably already get an idea that Seville is easy to get to by air. But you can easily reach the city by train, bus, and car.
Bus to Seville
If you want to travel by bus to Seville, the city is well commuted with all the Andalusian cities as well as larger cities like Madrid, Valencia, and Barcelona.
You can also travel by bus to Seville from the neighboring country, Portugal which has destinations much closer to Seville than Barcelona and Valencia. It's only a 3 hours and 30 minutes journey from Faro in southern Portugal. From Lisbon, it's a 7 hours trip.
The main bus station in Seville is Estación de Autobuses Plaza de Armas.
Train to Seville
It is easy to travel by train to Seville from all major cities with train connections in the country, like Malaga, Jerez de la Frontera, and Cadiz. There is even a speed train between Madrid and Seville which only takes 2 hours and 30 minutes.
The main train station in Seville is Santa Justa.
Car to Seville
If you travel by car to explore Seville 3 days, you'll want to check upfront that your hotel has free private parking included. The city can be a pain to navigate especially during rush hours.
It's not a huge city like Barcelona, but the GPS can be confusing as there are a lot of weird turns and if you miss it, you might have to continue far before you can turn around again.
There is a ring road around the city, so if your hotel is on the other side of the city, it's much better to continue on the ring road than to drive through the city center.
Otherwise, the roads in Spain are usually well maintained and the motorways to get into Seville from all parts are in good condition. Just be aware of speed cameras. They are all signed, so you just need to be alert when you drive.
Parking in Seville can be a hassle, though it is possible if you know where to go. I've written a thorough guide to free parking spots in Seville that you can read here.
TOP TIP!
Book your rental car in good time before your trip to assure the best prices.
Check prices and models available here.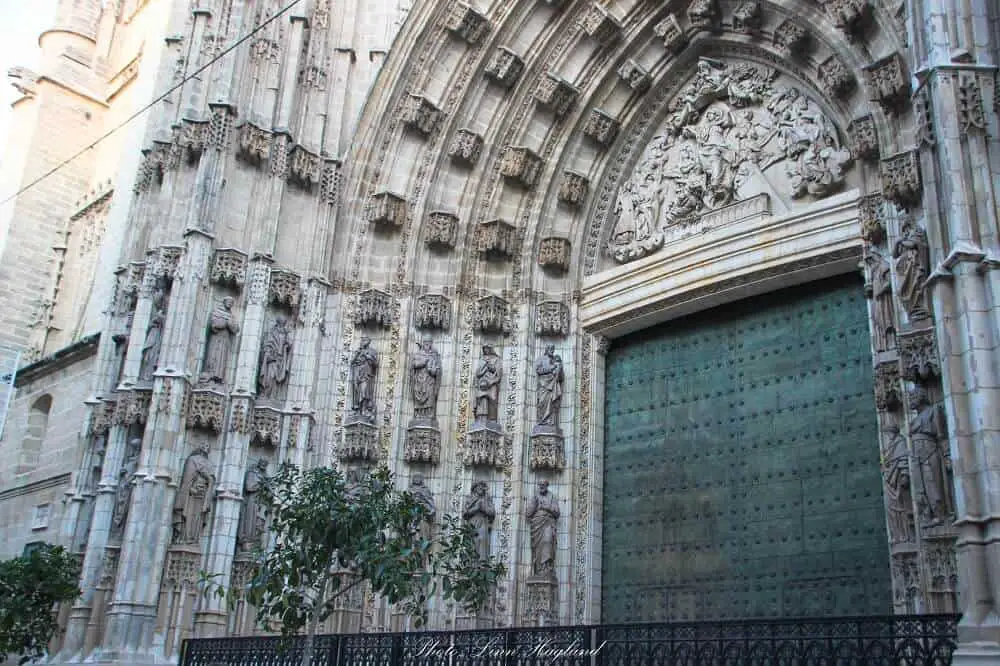 Best time to visit Seville 3 days
Seville is an inland city and the whole province has no coastline at all. It is definitely no summer city as temperature rise to become some of the highest in the whole country between mid-June and mid-September.
The rest of the year, though is perfect to visit Seville 3 days or longer. For temperatures that allow a light dress or a t-shirt, mid-April to mid-June or mid-September to October are the best months.
The winter months can offer 15-20 degrees Celsius in the daytime but become chilly at night with temperatures close to 2-3 degrees Celsius. In winter you should bring a warm jacket, though you'll notice that the locals dress up as if it was the north pole at day time.
The winter months are beautiful as the orange trees in every street are dotted with bright orange balls. They are not to eat, though. These oranges taste really bitter and are used to make jam.
In the spring, you can enjoy the sweet scent of purple flowers covering the trees, especially around the Plaza de España area.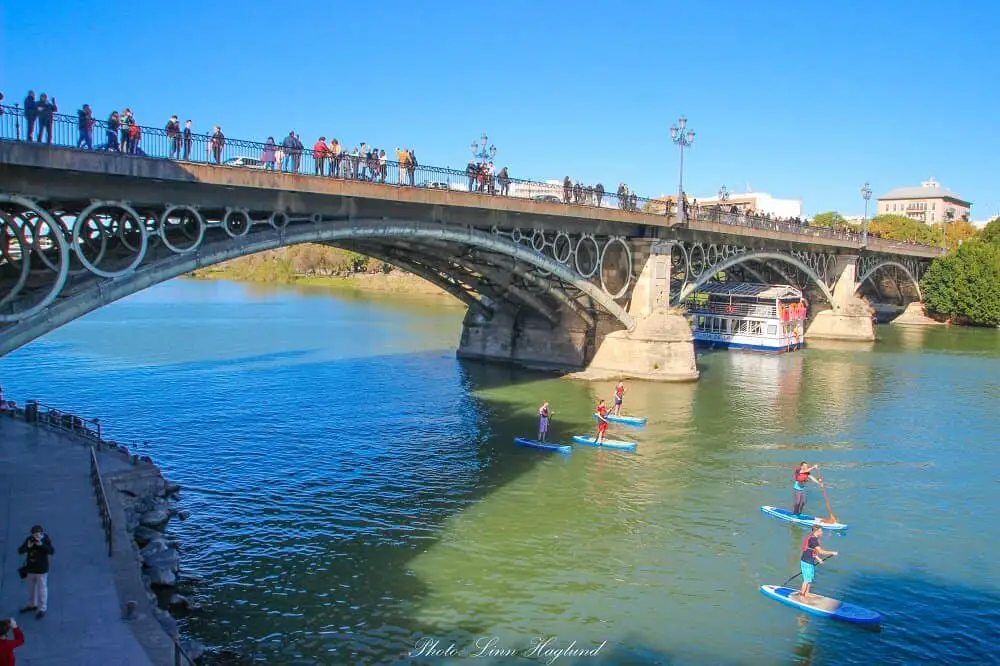 Don't forget travel insurance
Whether you're on a weekend trip, Spain road trip, or a larger Europe round trip, make sure you cover your back with good travel insurance.
If anything should happen, from lost luggage to a broken leg, it's essential to have good travel insurance to avoid a vacation from hell. I use Safety Wing for longer trips as they're reliable and easy to deal with.
Where to stay in Seville
Hard to choose where to stay in Seville? Here are a few great places to choose from in different price ranges.
If you want to read more about the different neighborhoods and what area I recommend in Seville for different types of travelers, check out my complete neighborhood guide here.
MY TOP HOTEL PICKS FOR EVERY BUDGET:

LUXURY: Hotel Alfonso XIII – stay like a king and queen at the most luxurious hotel in Seville with an Andalusian courtyard and pool right next to the real Alcazar.

MID-RANGE: Hotel Amadeus Sevilla – Centrally located in the old town close to top attractions with a pool.

BUDGET: Un Patio al Sur – A lovely hotel in a quiet street in the historic center with a charming rooftop terrace.

HOSTEL: New Samay Hostel – A welcoming hostel with nice common areas and a rooftop with city views.
3 days in Seville itinerary
Day 1: Cathedral, Alcázar, La Giralda, and Santa Cruz
Start the first day of your Seville itinerary by visiting the most central attractions. Don't forget your camera because this is going to be an amazing cultural day!
Have breakfast either at your hotel or in a bar. The traditional breakfast in Spain, Seville being no exception, is Tostada. This is simply toasted bread buns or baguettes with tasty stuff on top.
My favorite vegan option (and there aren't many) is Tostada with olive oil, tomato, and salt. So simple and so tasty. In a lot of places, you might even get the tomato delightfully blended with garlic, salt, and olive oil.
Seville Cathedral
Built between 1401 and 1506, the astounding Roman Catholic cathedral in Seville is one of the most famous landmarks in Spain. It was built to demonstrate the wealth and power of the city in the same place where the 12th-century Almohad mosque used to be.
The cathedral's real name is the Cathedral of Saint Mary of the Sea and it was listed as a UNESCO World Heritage Site in 1987.
I recommend booking tickets in advance to avoid wasting precious time on queues and possibly not get entry on the day and time you want. You can read everything about booking tickets to Seville Cathedral here.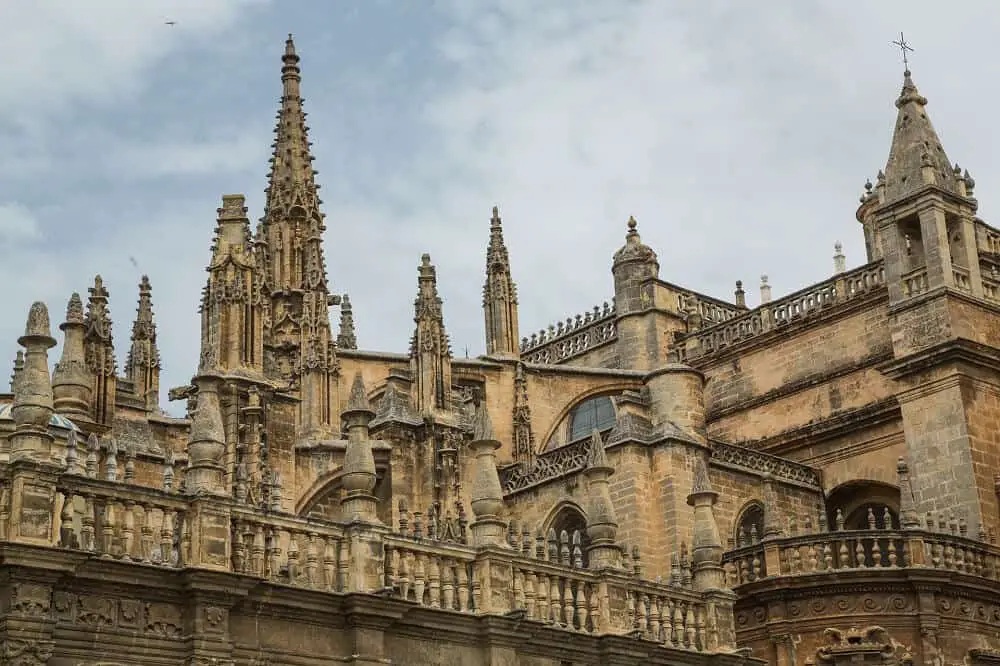 TOP TIME-SAVING TIP!
Get combined tickets for the Cathedral, La Giralda, and Alcazar! Check availability here.
La Giralda
La Giralda is the bell tower of Seville Cathedral and with its 24 bells, a landmark the locals are proud of. It has its name from the weather vane on the tower, in Spanish known as the Giraldillo which was the largest bronze statue of the European Renaissance.
The construction of the tower started in 1184 and with the best views of the city, any Seville itinerary should include a climb to the top.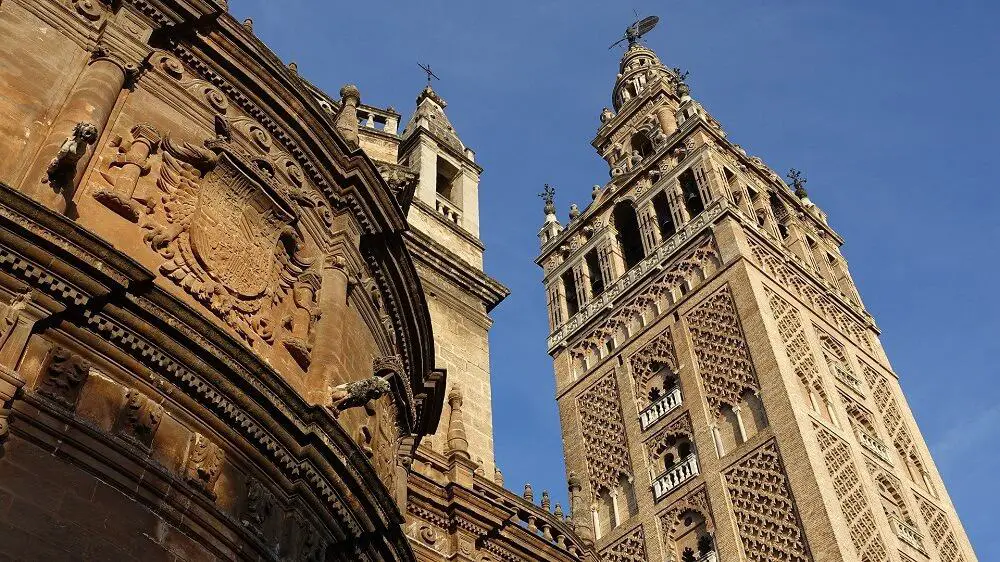 Royal Alcázar of Seville
This staggering 11th-century Moorish royal palace is a must-see on your Seville 3 day itinerary. Another UNESCO World Heritage Site in the heart of the city is the oldest palace in Europe that's in use.
Walk the different gardens and palaces and pay attention to the differing styles between Mudejar, Gothic, Renaissance, Baroque, Muslim, and Romantic art.
Reserve skip-the-line-tickets here.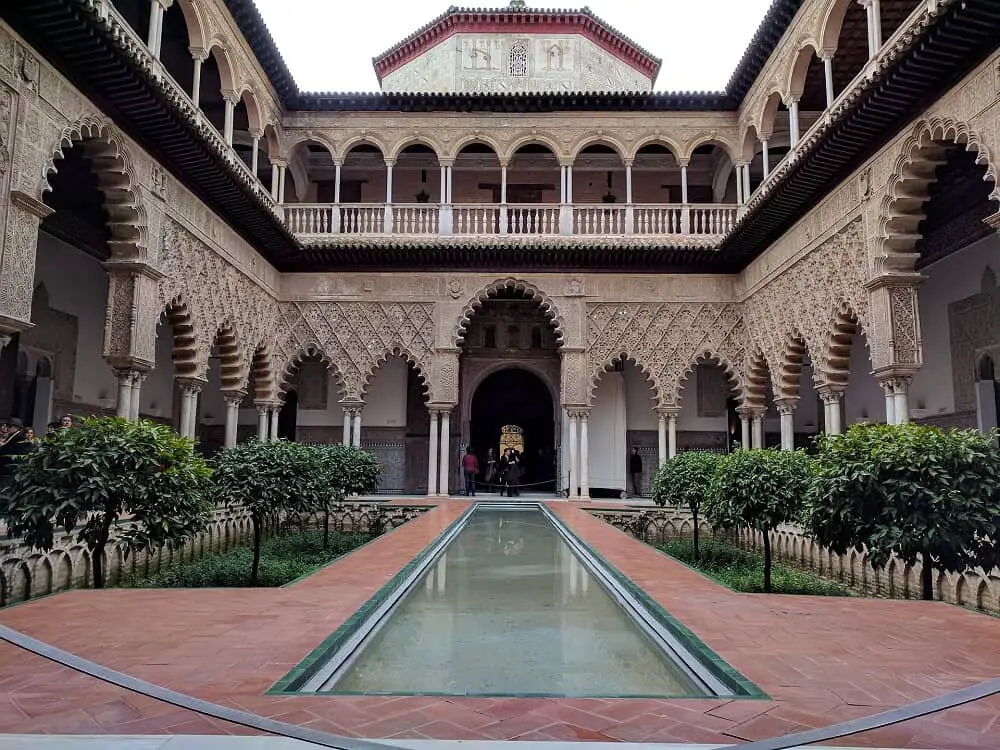 Santa Cruz
Santa Cruz is one of the cutest neighborhoods in Seville, situated just behind the cathedral, it's also one of the most touristy. Nonetheless, you should go for lunch or dinner there.
To walk off the food, spend an hour or two just getting lost in the narrow, cobblestoned streets in this charming part of the city.
It used to be the Old Jewish Quarter and is one of the oldest neighborhoods which is now full of restaurants, cafés, boutique shops, handicraft, and Flamenco joints.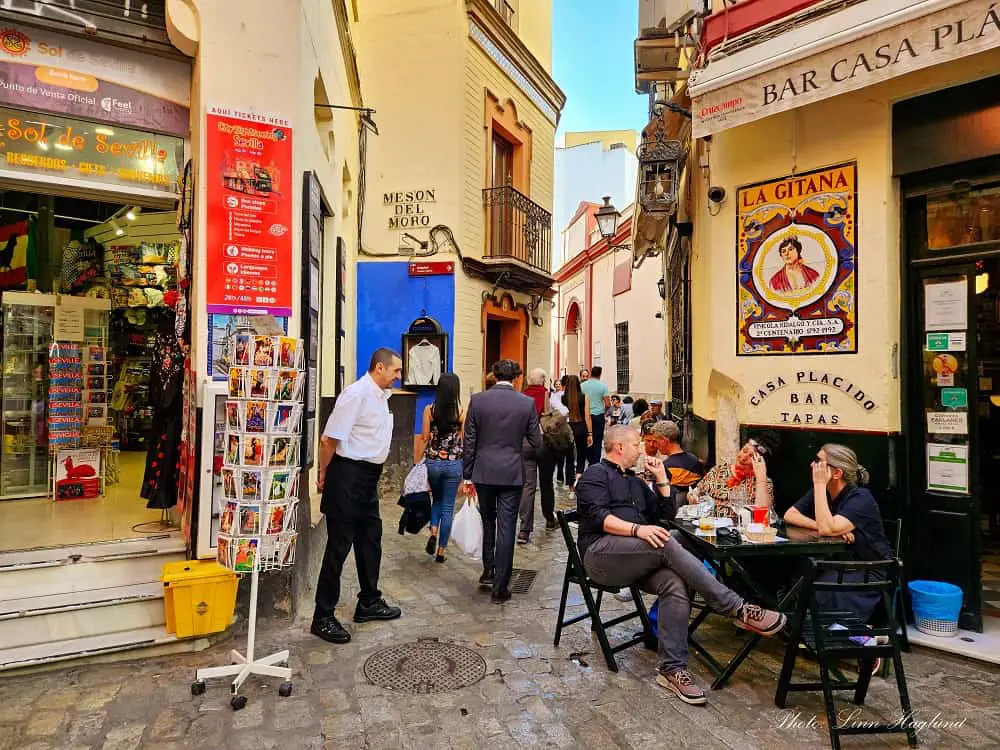 Day 2: Plaza de España, Parque Maria Louisa, and Flamenco show
After breakfast, it's time to head to my favorite place in Seville! I used to spend a lot of time there studying or people watching, but I also spent a lot of time drinking Cruzcampo (Seville's local beer) in the park. What is student life without drinking beers in the park anyway?
Plaza de España
Plaza de España has become one of the city's most iconic landmarks over the years and one of the top things to do in Seville. And to be honest, I'm not surprised.
The mesmerizing half-circled structure is a wonderful mix between Moorish Revival style, Baroque Revival Style, and Renaissance Revival style, built in 1928, it was made to impress during the Ibero-American Expo that took place in Parque Maria Louisa the year after.
The 50 Spanish provinces have got their own tile bench along the half-circle where locals sit and chill and tourists take their Insta shots.
A 500-meter canal offering romantic rowboat trips for tourists has given Plaza de España the nickname "the Venice of Seville".
The canal can be crossed on beautifully tiled bridges and you can enter the building to get views from above.
The square has been a filming location for famous movies, like Star Wars.
There are a few restaurants close to Plaza de España where you can eat well when you're up for lunch.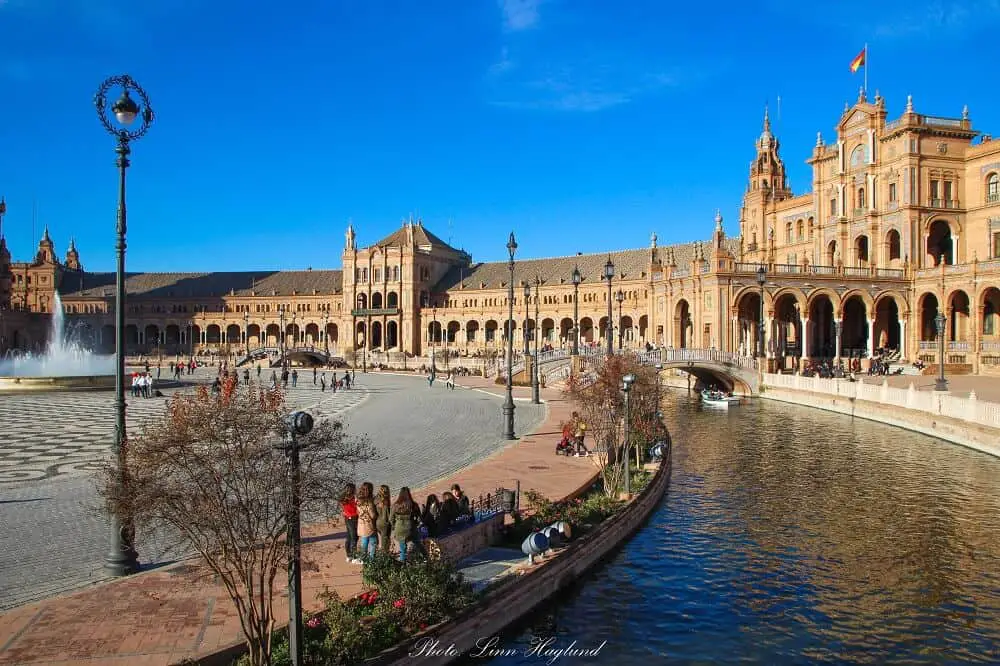 Parque Maria Louisa
Parque Maria Louisa is the biggest and in my opinion, the most beautiful park in Seville. With its 34 hectares of greenery stretching along the Guadalquivir river, it closes up against Plaza de España on one side.
The marvelous gardens are packed with exotic plants, old trees, refreshing Moorish-style fountains, and sculptures. It used to be the private gardens of the Palace of San Telmo but was donated to the city and opened to the public in 1914.
You can gladly get lost in the park for hours admiring the amazing and detailed artwork throughout the park.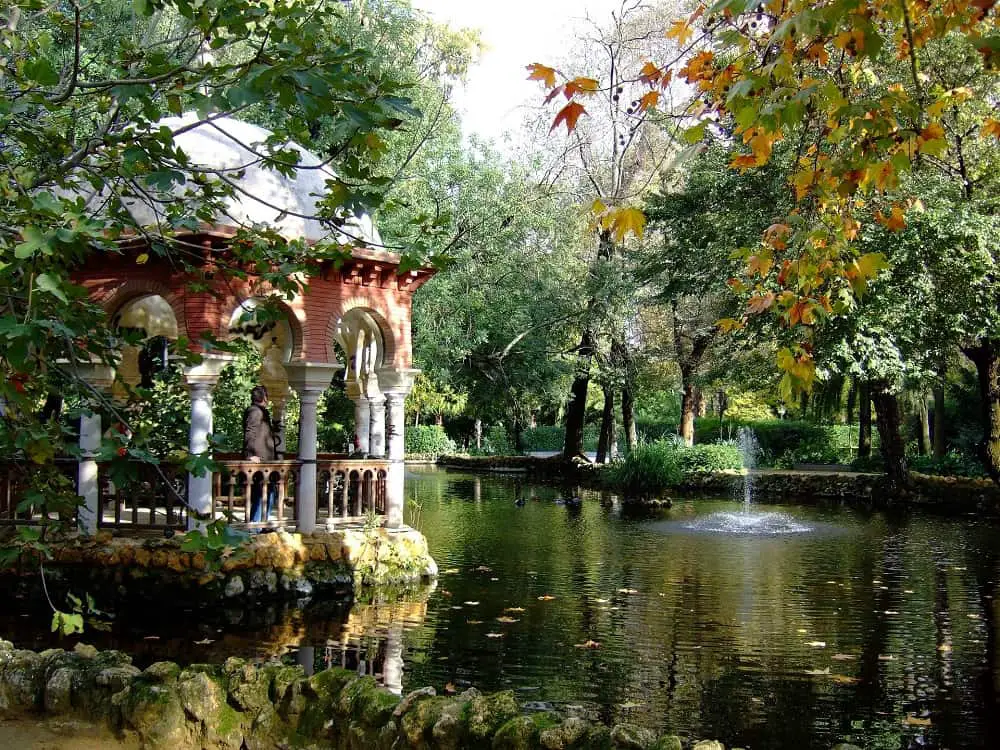 Flamenco show
As one of the leading cities in Flamenco, there is no way you can spend 3 days in Seville without experiencing at least one Flamenco show.
End the day with an astounding flamenco show at Casa de la Memoria (pre-book your tickets here) or for a more intimate experience, head to Los Gallos in Santa Cruz.
Day 3: Las Setas, Guadalquivir, Torre del Oro, and Barrio de Triana
After breakfast, it's time to explore parts of the newest and the older parts of Seville. The most hated and the most loved by the locals.
Las Setas de Sevilla
Las Setas de Sevilla, called Metropool Parasol in English, is a wooden, modern building resembling a mushroom (seta meaning mushroom in Spanish). Built in 2011 in an old quarter in the city, on Plaza de la Encarnación, it is the most hated building among locals.
To be honest, I have to agree with them. It's a structure that doesn't go with the rest of the city. I have seen it, but have not been on top for the views. Mainly because I was with my dog, Ayla, and she wasn't allowed to enter.
Nevertheless, it has turned into one of Seville's major tourist attractions in the few years it's been up.
Below Las Setas there is a museum displaying interesting archaeological remains from the site. There is also a tapas bar and a food market if you want something to snack on.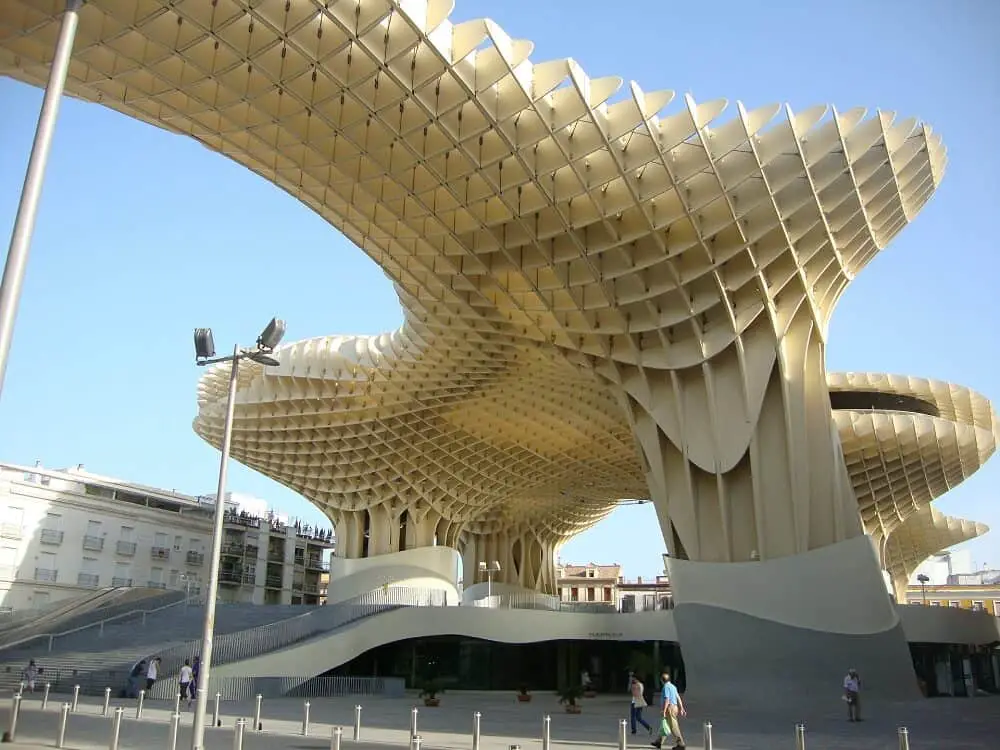 Guadalquivir River
As the only navigable river in Spain, the Guadalquivir River, which divides the city of Seville, has a rich history of defenses and conquests. The 657 kilometers long river crosses all of Andalusia.
The boardwalk along the river is busily used by locals walking or cycling. Go for a stroll, take a boat cruise along the river or if you're up for spicing up your 3 day Seville itinerary, why not go kayaking or paddleboarding up the river?
Read my top picks for water activities and boat tours in Seville.
Torre del Oro
Torre del Oro sits on the riverbank of Guadalquivir, a former defensive tower built by the Moors. It's situated where the river cruise ticket office is.
First built in the 13th century, there were added sections to it as late as 1760. It's said that the 36 meters tall tower had a thick chain hanging from it across the river to another tower to cut off the river access for the enemy.
The tower has served as a prison, a chapel, and a gunpowder store among other things before it was declared a historic-artistic monument in 1931.
Today Torre del Oro is home to Seville's Naval Museum.
Entrance: 3 Euros for adults, free entrance on Mondays.
Opening hours: Monday to Friday: 09:00-18:45, Saturday-Sunday: 10:30-18:45, Closed on Bank Holidays.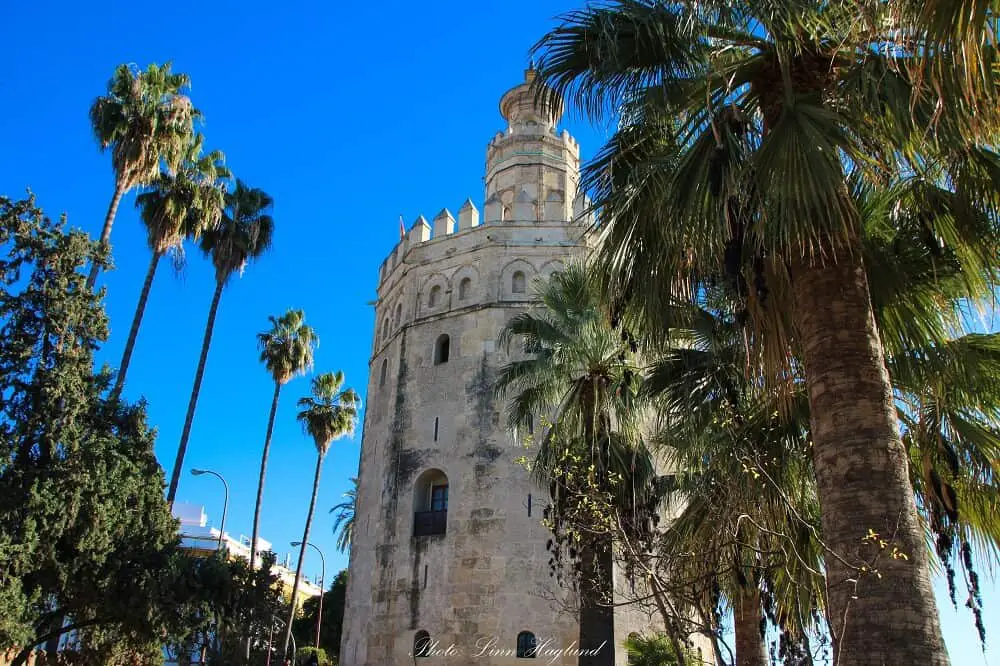 SEE THE REST OF THE PROVINCE…
⭐Things to do in Osuna
⭐Things to do in Carmona
Triana
The neighborhood of Triana is known as one of the most traditional neighborhoods in Seville, hosting some of the best Flamenco schools and serving the best tapas. No Seville 3 day itinerary is complete without a stroll around Triana.
With the Puente de Triana being the most picturesque bridge crossing the Guadalquivir river, you get straight to the Triana Food Market on your right as you cross.
If you're up for something to eat, there is plenty of food to choose from in the lively market. Otherwise, you'll find that Triana is dotted with tapas bars on every corner so why not go on a tapas crawl while you're at it?
If you look for somewhere to go for a drink, Calle Betis, along the river bank has quite a few popular bars with views of the Torre del Oro across the river.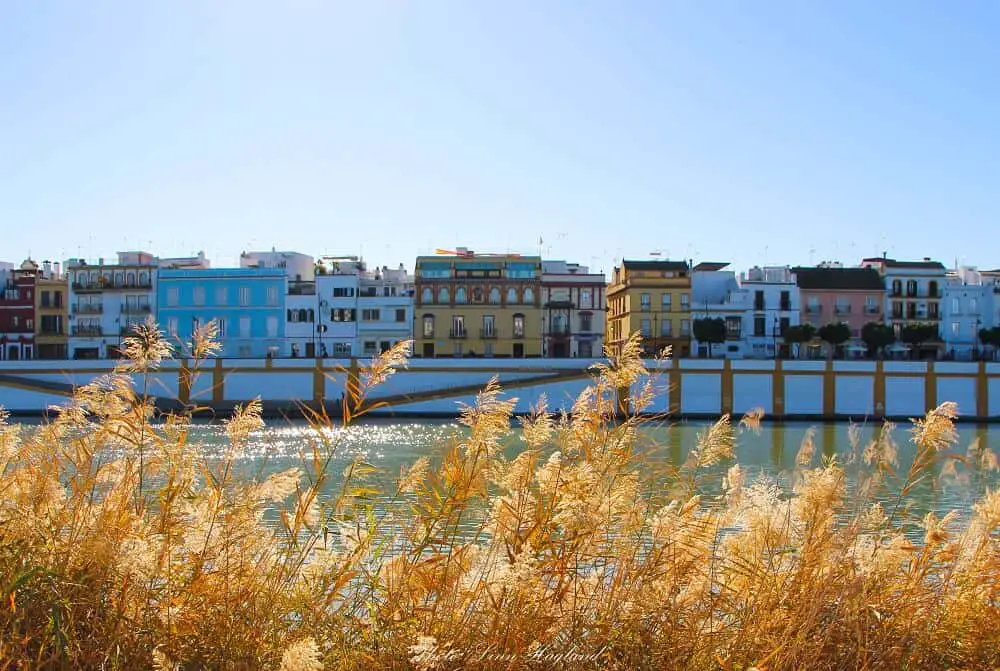 If you happen to be there at the right time…
Andalusia is known for its huge fiestas and as the capital of Andalusia, there is no surprise Seville hosts some of the most epic fiestas in the country. And the best is that they are among the free things to do in Seville.
Semana Santa – Spain's Holy Week
If you happen to go to Seville during Easter week, you will witness the biggest celebrations of "Semana Santa" in the whole country. The streets will be packed so other sightseeing will be difficult, as huge processions fill up the streets day and night.
Those walking in the processions dress in uncomfortably similar hoods to the Ku Klux Klan. These guys are called Nazarenos. Walking with massive saint statues carried by men, buckets of sweets are thrown to eager children in the masses watching the massive parades accompanied by straight-out depressive music.
During the night parades, children bring balls of aluminum wrap and sing a funny verse to the Nazarenos which in turn drip wax from their candles onto the aluminum balls. Kids are happily competing in who gets the biggest and most colorful wax ball and often save them for the next years so they can grow it even bigger.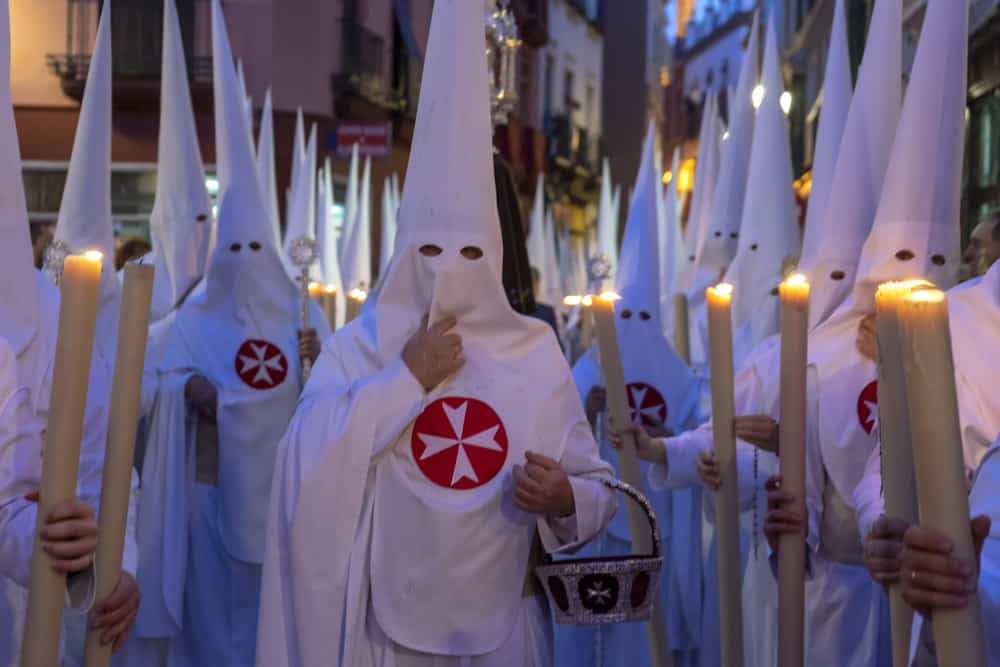 Feria de Abril
Two weeks after Semana Santa, is the famous Feria de Abril. All cities, towns, and villages, no matter how small, have their own Feria in Andalusia, and Seville's Feria is massive – nonetheless distinctive from others.
The traditional Feria de Abril is a week filled with parties. There is a dedicated area where companies and private persons set up "party tents", called Casetas, decorated with colorful Andalusian decor and selling drinks and often tapas.
Women and girls all dress up in their Flamenco dresses, and everyone dances Sevillanas, a traditional dance that surprisingly doesn't originate from Seville, but from Castile.
There is also a huge fairground set up each year for children and adults alike including food and sweet stalls.
The main entrance to the Feria ground is a huge lit-up portal which the whole city comes to watch when they light at midnight on the opening night of the Feria. They design a new portal each year.
The difference between the Feria in Seville and other ferias is that most of the Casetas are privately owned and are only accessible by invitation. This means that unless you actually have friends in Seville that have friends, family, or happen to work for a company that has a Caseta, you won't be able to access any of the private ones.
Luckily, there are a few public Casetas that you can enjoy so if you happen to be in the city at this time, go check it out and party like a local!
However, be aware that during the week of Feria, most of the city stops. Shops and bars close because they are partying all week, so you can't expect to see the city as you normally would. On the other hand, you'll get a unique experience of a lifetime!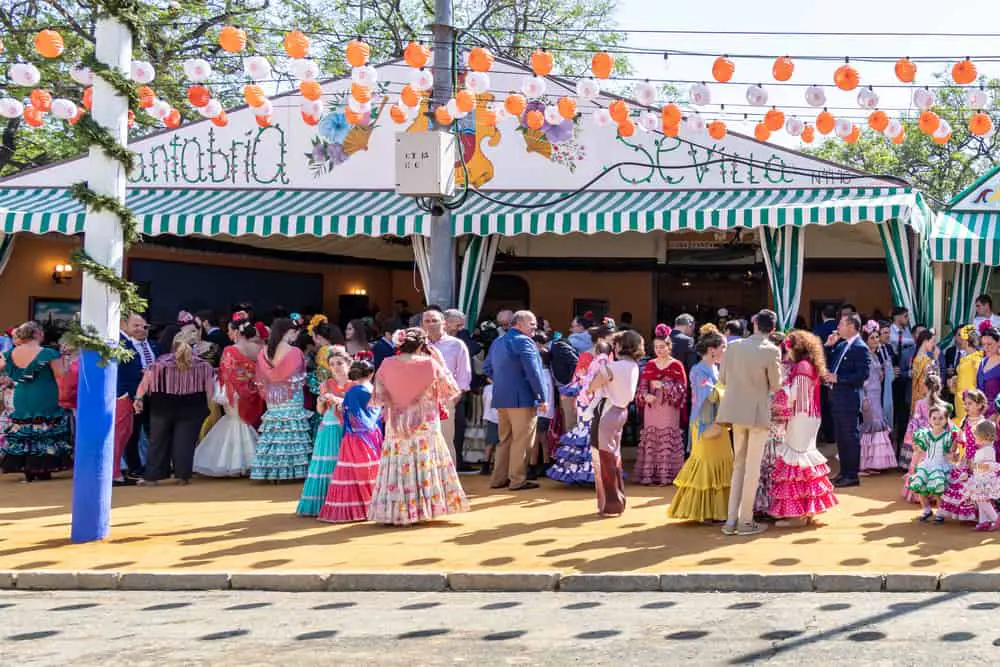 Reyes
Reyes is the Spanish Christmas celebration of the three kings bringing presents for the baby Jesus. If you happen to be in Seville on the 5th and the 6th of January, be prepared for massive parades throughout the city. Massive floats are carried with the three kings throwing sweets to eager kids on the sideline.
This is the day the locals have big meals at home with their families and exchange presents.
The 6th of January is the actual day of Reyes and a Bank Holiday, so don't expect anything to be open. Worth noticing is that the Spanish are so in love with their Fiestas that if one of them happens to be on a Sunday, they move their day off to Monday. So if Reyes is on a Sunday, everything will be closed on the Monday after.
However, the day after Reyes, the sales begin so if you're up for some shopping this is the time to go!
Seville in 3 days: Don't forget to practice responsible tourism
Responsible tourism is so important when traveling to popular cities like Seville. The city has become more and more popular over the years and I can't recognize it compared to the once unknown city I studied in back in 2003.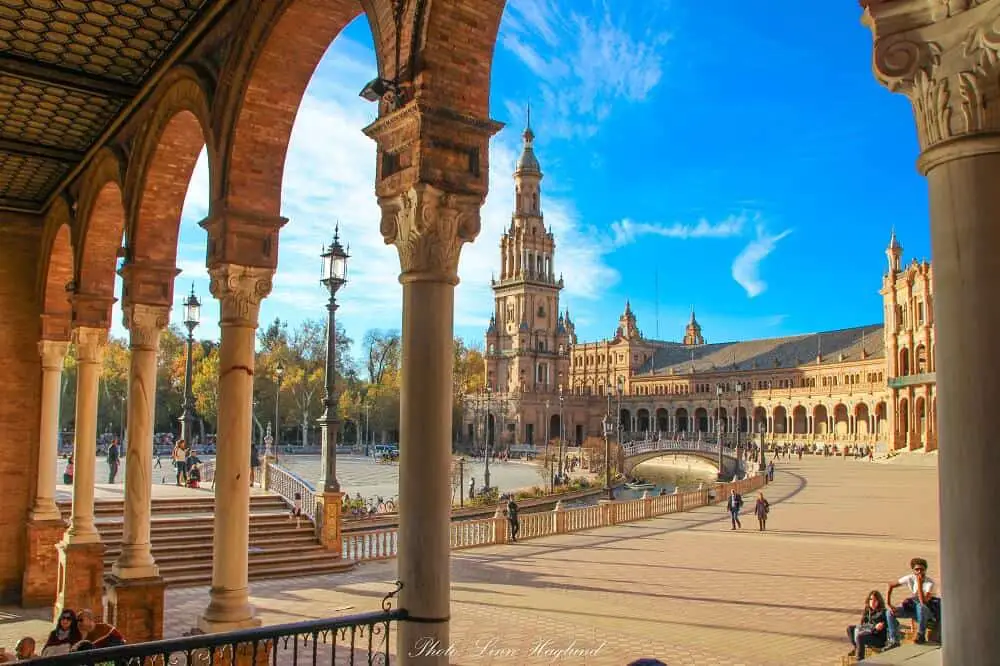 WHERE ARE YOU HEADING NEXT?
⭐Towns and cities near Seville worth visiting
⭐Top things to do in Cadiz
⭐Wonderful things to do in Huelva
⭐Things to do in Conil de la Frontera
⭐Things to do in Jerez de la Frontera
⭐One day Malaga itinerary
⭐Things to do in Jaen
Don't support unethical animal tourism
While Seville is my favorite city in Spain and close to my heart in so many ways, it's still a lot of things I don't like about it. The unethical treatment of animals is one of them.
They have a huge bullfighting community and the bullring is rather popular. I urge you to not visit the bullring even just to tour it as the money you pay for your ticket goes to fund more of the unethical activity.
It's not ok to go on a bullfight when you don't support it, just because it is a part of the culture. This is supporting it. So please think twice before you leave any money there.
Besides bullfighting, there are a lot of horse carriages in Seville. The animals trot around in unimaginable temperatures when they don't stand still waiting all day. There's nothing romantic about a city tour that an animal has to suffer for.
Seville also got an aquarium not long ago. Please reconsider visiting. You can rather go on a day trip to see wild dolphins or killer whales if you want to experience marine life.
You can also see wildlife in Doñana National Park, which is one of the largest protected wetland reserves in Europe.
Leave no trace
When you travel, your best friend should always be a reusable water bottle. Bring a filtered water bottle to make sure your water is as good quality as possible. But if you don't worry too much about it, the Spanish drinking water is safe to drink so you can easily get around with a metal water bottle that keeps the water cool all day. the taste might vary, though.
Always use the bins provided for rubbish and if you go shopping, why not bring your own tote bag so you don't have to ask for a plastic bag?
Be respectful
It takes so little to be respectful to the locals when you travel. In Seville, it's not normal that everyone speaks English, so be mindful when you approach locals and don't take it for granted that they'll understand you.
A smile always takes you a long way.
Be aware that in the last few years, tourism has exploded in Seville and you should do your part so that the locals don't have to feel the negative effects of overtourism sneaking in on them.
Try to walk away from the main streets when you look for a restaurant and be curious and show interest when you talk to people. Most people like that.
READ NEXT: Most picturesque towns and whitewashed villages in Andalucia
Did you like this? Pin it for later!