The coast of Cadiz province offers a long sun-kissed coastline of mesmerizing, wild beaches perfect for an Andalucia road trip. The coast of Conil de la Frontera, a quaint, white coastal town only 40 minutes from the province's capital city is no exception, which makes it one of the best Cadiz day trips.
Just up the road from Conil de la Frontera, you'll encounter jaw-dropping rugged cliffs dropping vertically onto golden sandy beaches. There are lots of fun things to do in Conil de la Frontera and in this post, I'll cover it all.
With a long history of defending the coast against pirates, old fishing traditions, and now a popular hot spot for local beach tourists, the charming village has a lot to offer!
Dive into the past and party in the present in Conil, as it's known by locals. You're about to discover one of the most beautiful towns in Andalucia and one of my favorite seaside towns near Seville.
Disclosure: This post may contain affiliate links. That means that if you make a purchase through one of those links, I will get a small commission at no extra cost to you.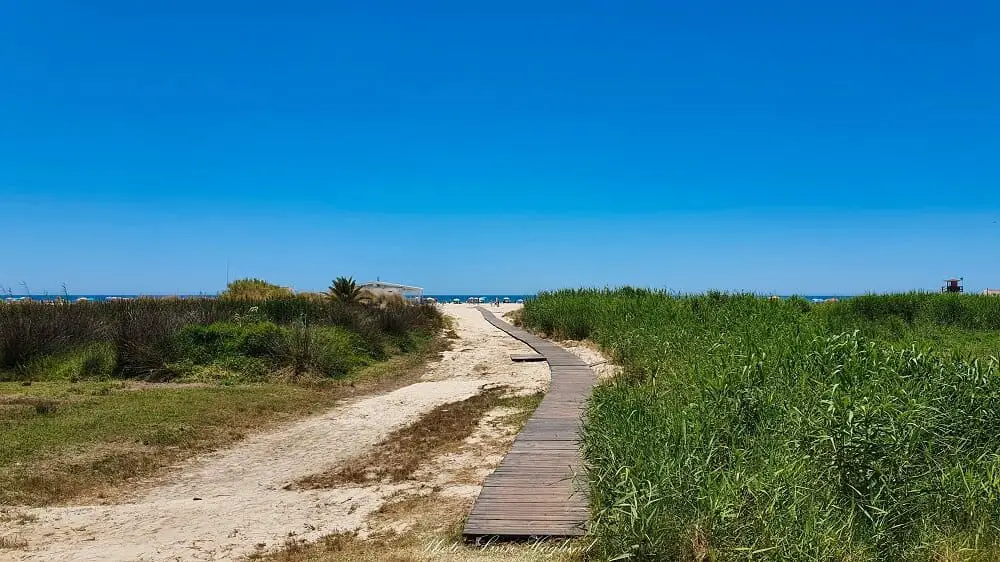 How to get to Conil Costa de La Luz
Conil de la Frontera is easy to get to by car from the nearby cities of Seville, Cadiz, or Jerez de la Frontera. It is also a great stopover on your Andalusian road trip stopping by several white villages like Arcos de la Frontera and the nearby Vejer de la Frontera.
Make sure you book your rental car in advance so that you don't miss out on the best deals.
Check availability and prices here
But you can also reach it by public transport. Conil Costa de La Luz is one of the most popular beach destinations for the locals of inland cities and one of the best day trips from Seville.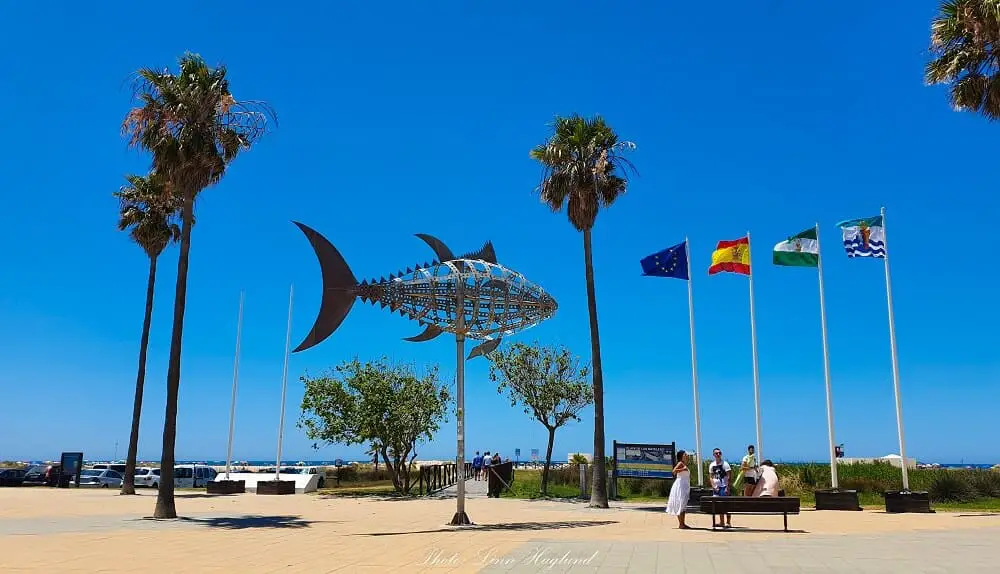 From Seville
There are many daily buses from Seville to Conil de la Frontera and the journey with the direct buses takes an average of 1 hour and 45 minutes. But if you have to change bus it can even take up to 3 hours.
Buses leave from Prado San Sebastian in Seville. Check buses here.
To drive from Seville to Conil de la Frontera via the AP-4 takes 1 hour and 34 minutes.
From Cadiz
There are a few departures daily from Cadiz with a stop in Barbate which is further up the coast from Conil. There you'll have to change bus to go to Conil de la Frontera. The journey takes between 2 hours and 50 minutes and 3 hours and 50 minutes depending on the transfer.
Buses leave from Cadiz, Estación Provincial de Autobuses. Check buses here.
It only takes about 40 minutes to self-drive from Cadiz.
From Jerez de la Frontera
There are also a couple of daily departures from Jerez de la Frontera which take 3 hours and 5 minutes including bus transfer in Barbate.
Buses leave from Jerez de la Frontera, Estación de Autobuses. Check buses here.
By car, it takes 45 minutes to get to Conil de la Frontera.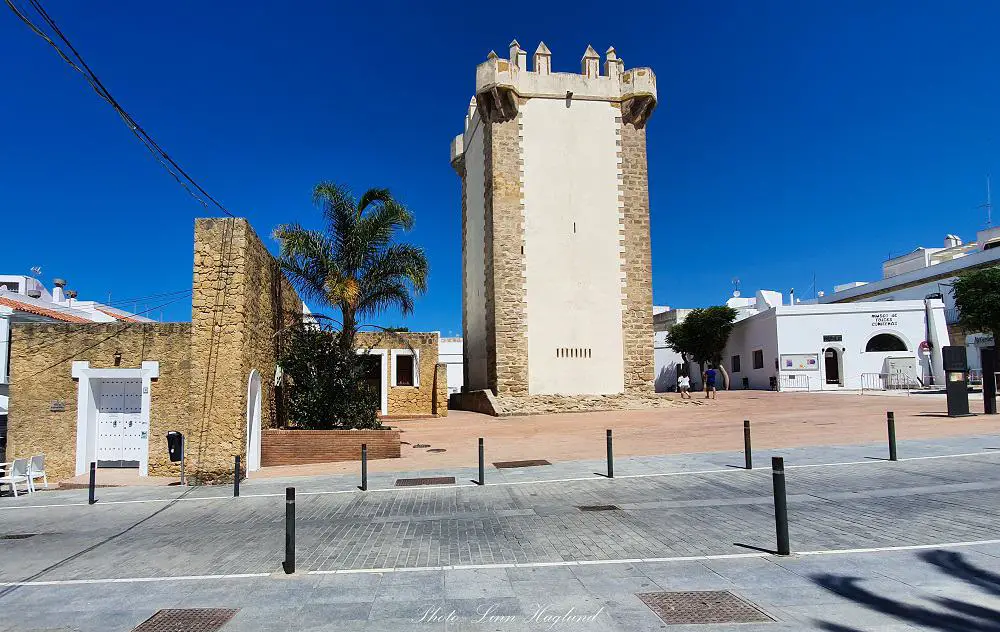 Where to stay in Conil de la Frontera
There are a lot of places to stay in Conil de la Frontera as it's one of the most vibrant coastal towns in Andalucia. Both centrally and further up or down the coast. Here are some of my top picks for hostels and hotels in Conil de la Frontera.
TAKE SURF Hostel Conil
Centrally situated and close to the beach, you find this popular hostel offering shared dorms with air-con, free WiFi, a shared lounge, a kitchen, and a bar.
You can rent a bike or a car here if you want to explore the area around the village. They do also offer a paid airport shuttle.
Book your stay at TAKE SURF Hostel Conil here
Hipotels Gran Conil & Spa
If you're looking for luxury, Hipotels Gran Conil & Spa is a great option for the whole family. Next to the beach, this hotel has both outdoor and indoor pools, a fitness room, and a spa and wellness center.
For an additional cost, you can enjoy the Turkish Bath or its paddle courts.
The hotel is on the beachfront and has an exceptional breakfast. Also adapted for disabled guests.
Book your stay at Hipotels Gran Conil & Spa here
Things to do in Conil de la Frontera
There are so many things to do in Conil de la Frontera. It's such a great village to spend a few days or more and during the summer months, it's buzzing with life. Here are my top picks for what to do in Conil de la Frontera.
Conil de la Frontera Beach
The beachfront of Conil Costa de La Luz is broad and fine-sanded. You can rent a sunbed and parasol or do like the Spanish and bring your own stash and settle further down by the waterfront.
The Conil de la Frontera beach has lifeguards in the summer and you can enjoy cold drinks and food in one of the beach bars, called "chiringitos" in Spanish, which makes it one of the best urban beaches of Cadiz.
Conil de la Frontera beach gets extremely popular in the summer months, especially on the weekends, when seemingly all of Seville's population venture down to the Cadiz coastline, Conil being no exception.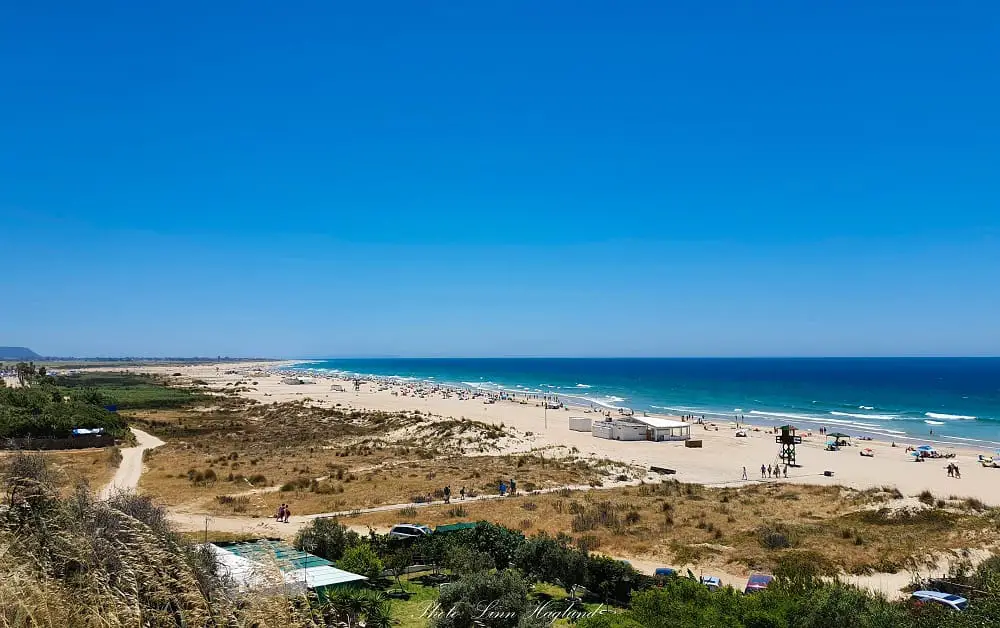 Torre de Guzmán
Dating back to the 14th century, Torre de Guzmán was the first building to be built in today's Conil de la Frontera. Its original name was Conil-Torre de Guzmán and the reason the village got its name.
Originally, the tower was an aristocratic residence for dukes during the tuna fishing season. The walls around were built to provide shelter in the case of pirate attacks.
The tower is surrounded by Plaza de Santa Catalina
You might have noticed that there are many cities and villages in Andalusia that have names ending on "de la Frontera", like Jerez de la Frontera, Vejer de la Frontera, and Arcos de la Frontera to mention some.
These were all central in the defense of Spain against attackers like the Moors, Romans, Christians, and other pirates. You'll see that all these villages have great protective walls, watchtowers, or tactic forts.
They are either placed on the top of a hill where they can easily see and protect themselves from the enemy or on a strategic coastal place like Conil.
Opening hours: Wednesday to Saturday 12:00-14:00 and 17:30-20:00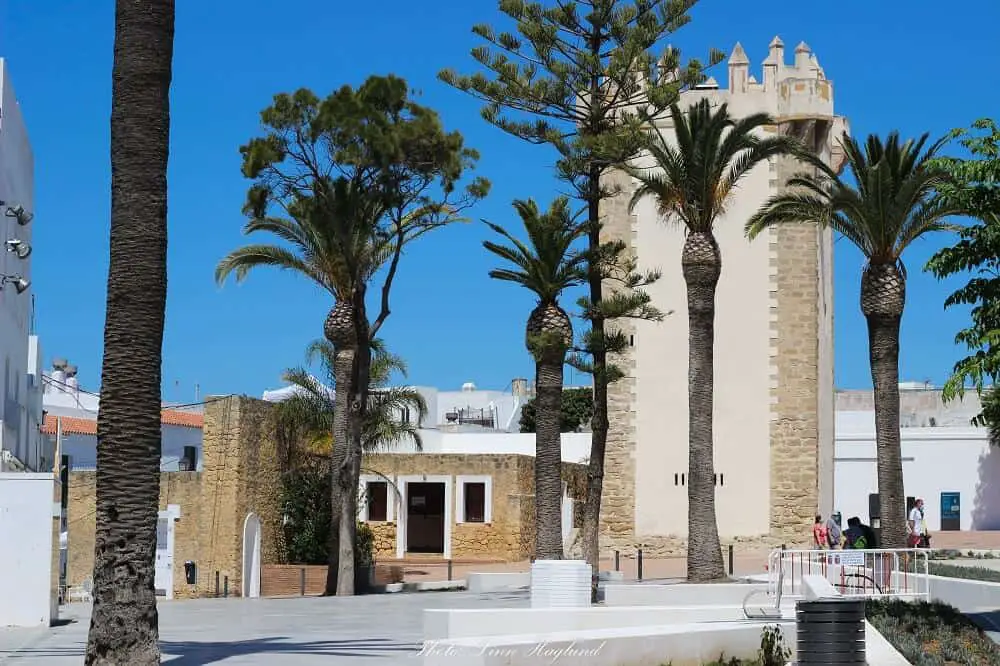 Raice Conileñas Museum
Next to Torre de Guzmán, Raice Conileñas Museum is a must for any history buff. The little museum showcases a collection of nearly 500 old artifacts that together bring you a picture of the customs and traditions of Conil de la Frontera.
the museum is divided into 4 rooms. One room is filled with objects used for fishing, which has played a central role in the village since its early days. The remaining three are decorated to recreate middle-class family homes from the late 19th century and the early 20th century.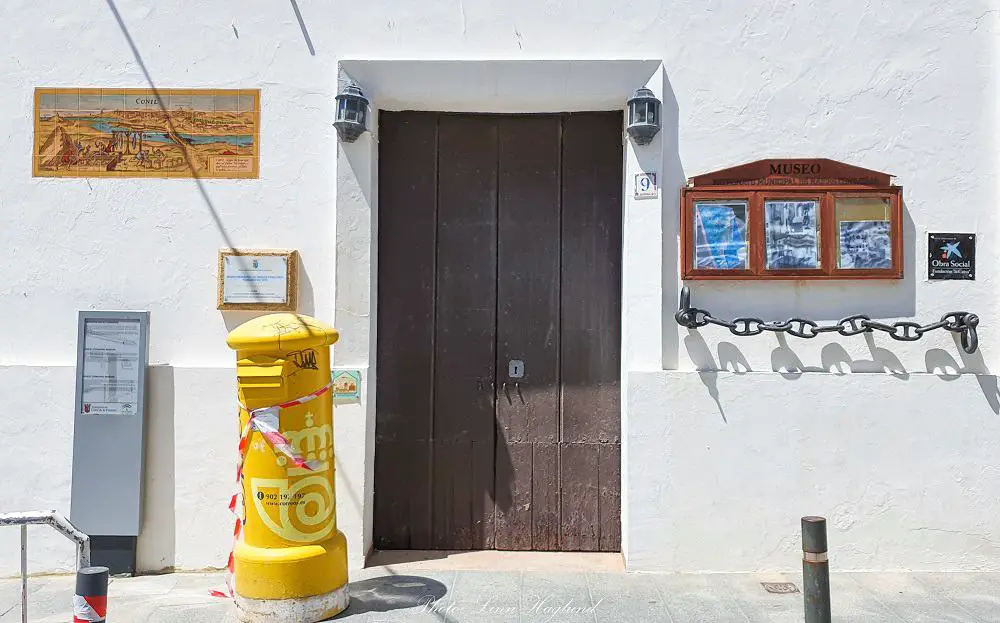 Church of Santa Catalina
This white church is on the opposite side of the big square from Torre de Guzmán. It originates from the 15th century, though it has been renovated several times which results in what you see today.
The original structure was built on top of an old Mudéjar style temple which is hardly possible to see any features of today.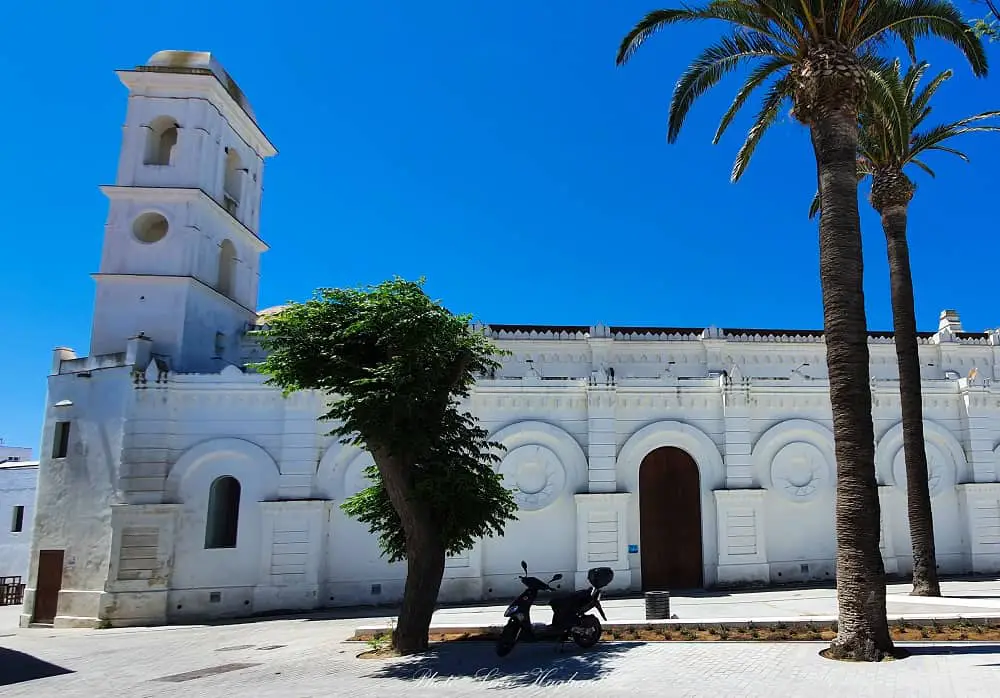 Convento de la Victoria
On Plaza de la Constitución, you find Convento de la Victoria which has been build over a time lapse of several centuries.
In the 16th century, the building was started which included the stairs, nave, and sacristy. In the 17th century, the bell tower and entrance were built, and the cloister, gardens, and balcony were all built in the mid-1700s.
After this, further renovations have been done and today it houses the Town Hall.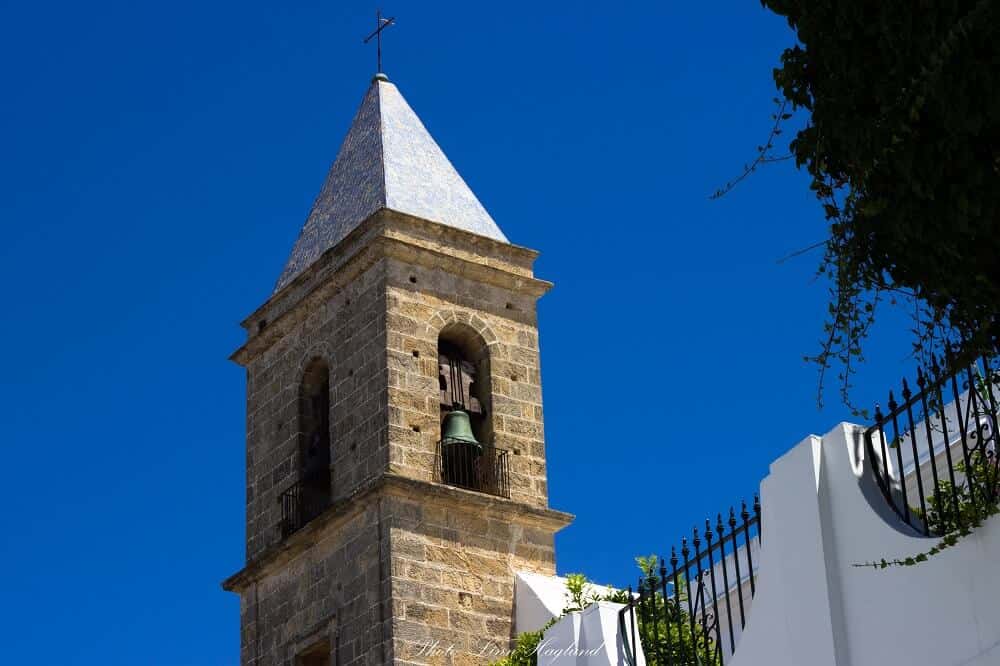 Mercado de Arte
This modest art gallery is full of paintings from different local artists selling their work. You can find some really nice and unique pieces here and the artists are more than willing to chat if you are curious.
A great way to support small local businesses and individuals on your trip and bring a unique gift or souvenir with you back home.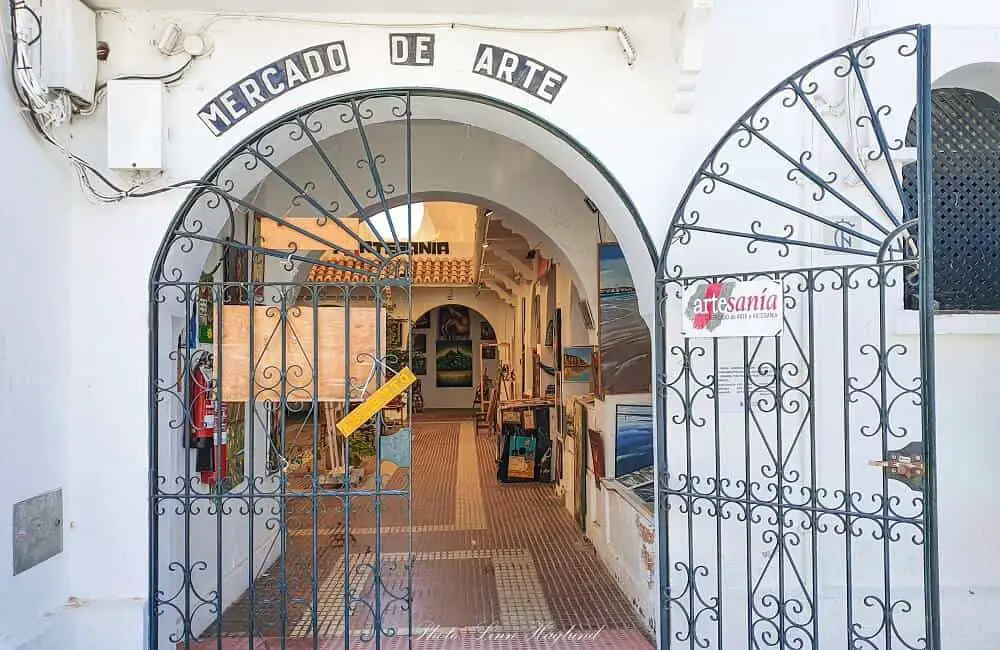 Go kayaking or learn how to surf
Conil de la Frontera Beach is a great starting point for kayaking as you have the cliffs towards Calas de Roche in the west which are astounding. There are outlets on the beach that you can rent from or go on guided kayak tours.
You can even learn how to surf in Conil de la Frontera!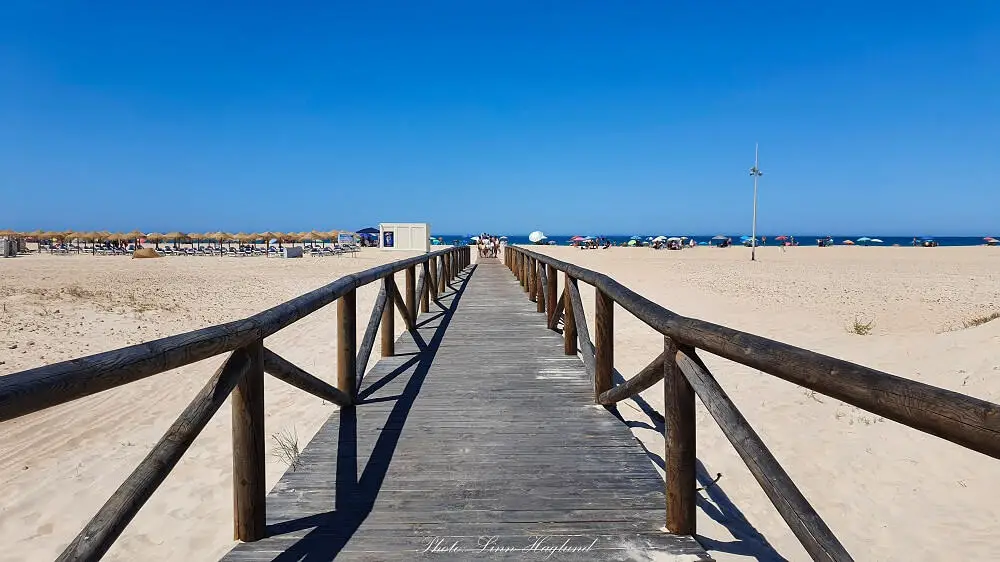 Go for a stroll in Parque Atalaya
Parque Atalaya overlooks the beach and is a perfect park to stroll around to breathe in the fresh scent of pine trees next to the village. There is also a bar/restaurant where you can enjoy a cold drink or have lunch. For the kids, there's a playground next to it.
The park ends where the cliff walk starts and can be done together if you're up for a bit of a walk.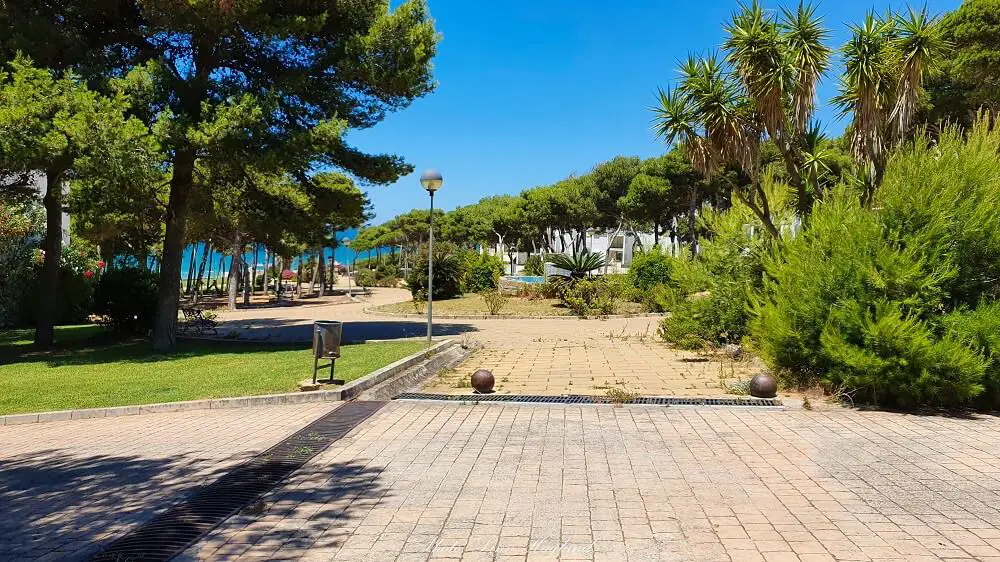 Discover nearby Los Caños de Meca! Read my complete guide here.
Cliff Walk
Next to Parque Atalaya, there is a cliff walk that takes you further down the coast to more beautiful beaches. The walk takes you along boardwalks and paths through pine trees.
You can enjoy the shade in large parts of the walk while you also get spectacular views of the coast. Make sure you bring enough water and take your swimwear and towel for a refreshing swim once you reach the water.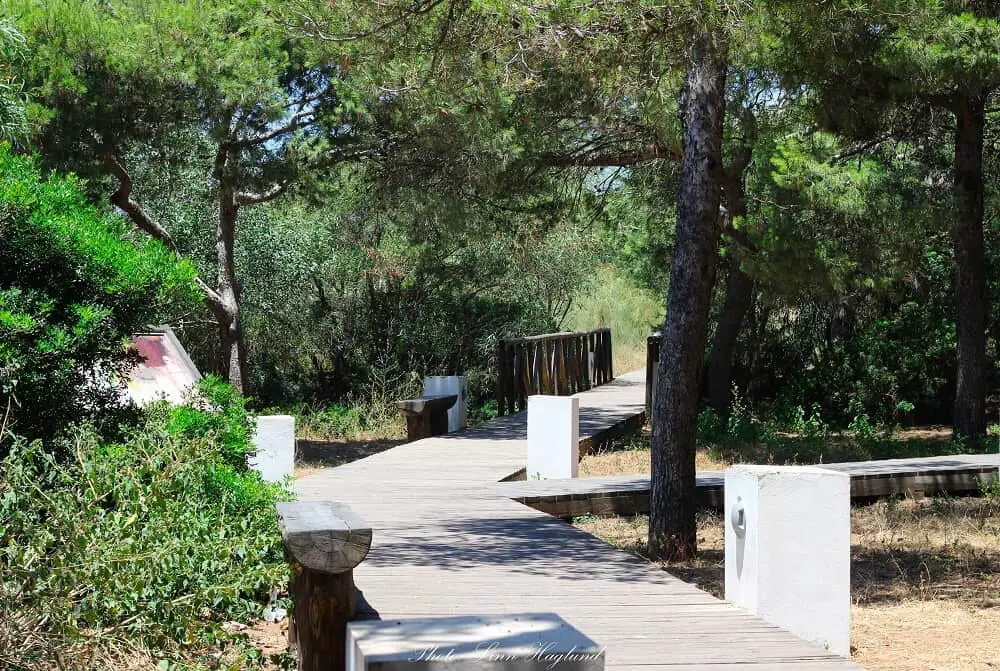 Mirador del Jabiguero
If you want epic views of Conil de la Frontera beach, make your way to Mirador del Jabiguero.
There is a huge statue that simulates a fisherman from the mid-20th century pulling a cod end. This was an ancient way of fishing in Conil de la Frontera, though no longer used today.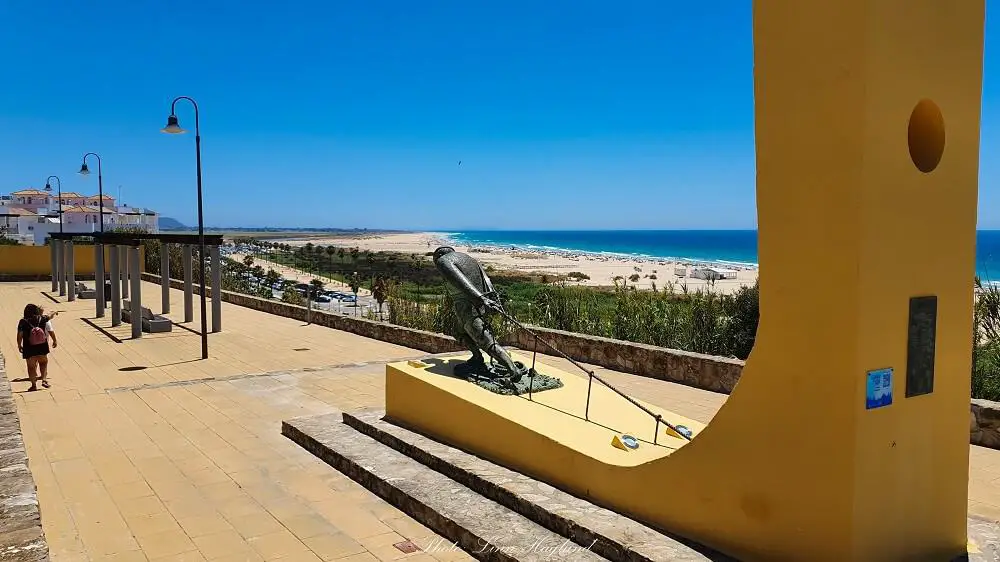 Window shop in the pedestrian streets
Conil's pedestrian streets are picture-perfect so going window shopping or even getting some souvenirs to take home is a must when you're in the village. Whitewashed houses walling in the narrow pedestrian streets, filled with locals talking eagerly to each other.
You might even want to get an ice cream at Heladeria Los Valencianos on a hot day. Sit down on a bench on the nearby square and people-watch while you eat to soak in the charming little Spanish coastal village.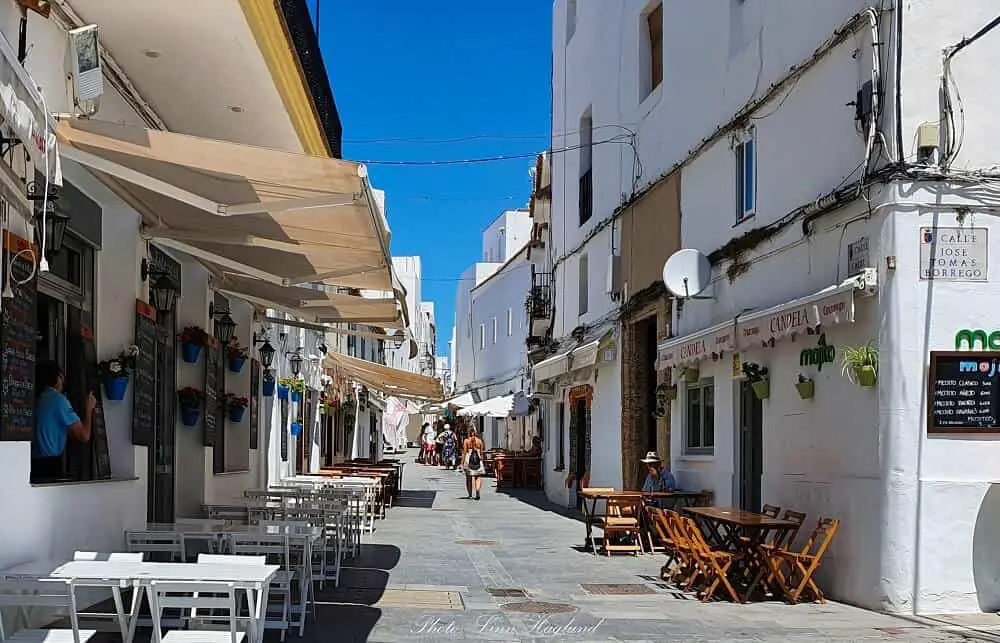 Fuente del Gallo beach
Fuente del Gallo beach is without a doubt one of Conil's best beaches. Situated a bit further west on the coast, you can soak in the salty smell of the Atlantic Ocean on a long beach sheltered by the cliffs in the back.
Go for a swim or have a cold drink at one of the beach bars. The sunset is spectacular at Fuente del Gallo Beach and makes it the perfect place for a sunset stroll.
The locals go to the beach with their fishing rods once the temperatures cool down a bit in the evenings and the atmosphere is quite the opposite of the busy day that has passed.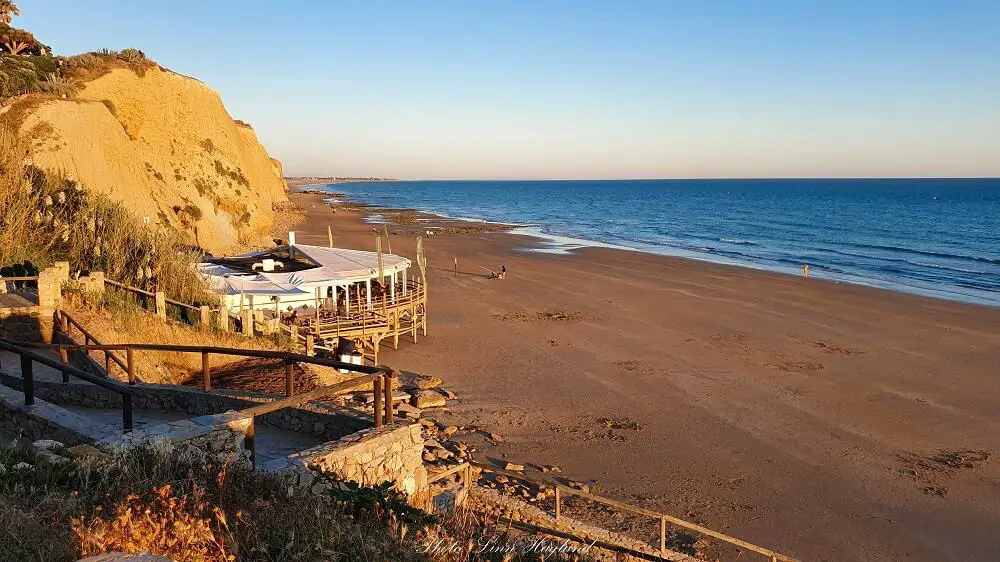 Calas de Roche beaches
Calas de Roche beaches are the most spectacular in Conil and even among the most beautiful beaches in Andalusia. It's a stretch of rocky seaside where small stunning beaches are formed.
You'll have to park along the road alongside the cliffs. There are usually dedicated people to organize the cars that park in the summer months, so remember to bring cash to tip them.
Once parked, you'll have to find a path through the forest that goes towards the cliff edges and along there you'll find signs and stairs to get down to the different beaches.
The views from the cliffs alone are out of this world! Yet when you get down and dip your feet in the pleasant water it gets even better!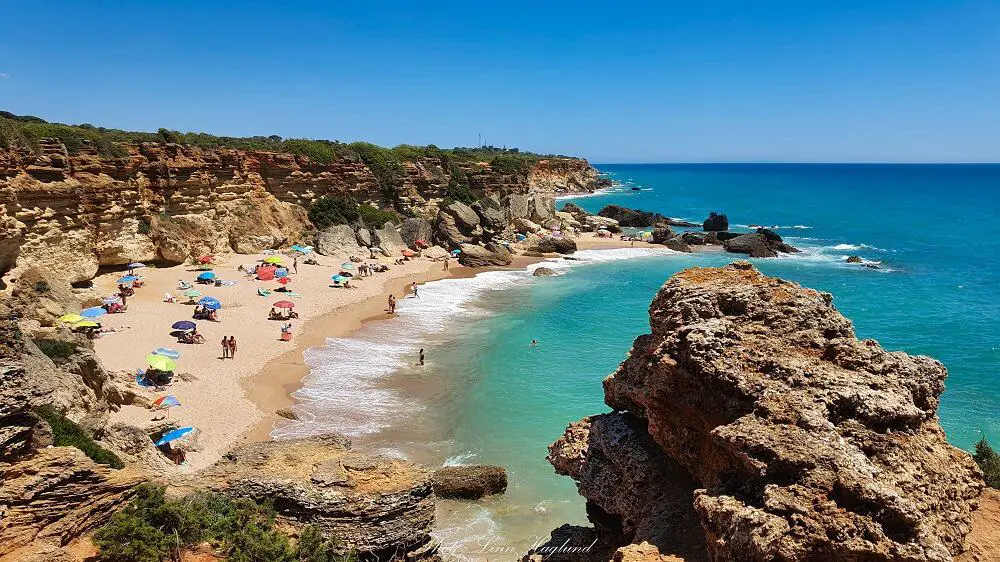 Other charming coastal towns in Andalucia
Be a mindful traveler in Conil de la Frontera
As always, you should make sure you are mindful when you travel by respecting the locals, wildlife, and nature. There is so much to responsible tourism and here are a few reminders to take with you on your trip to Conil de la Frontera.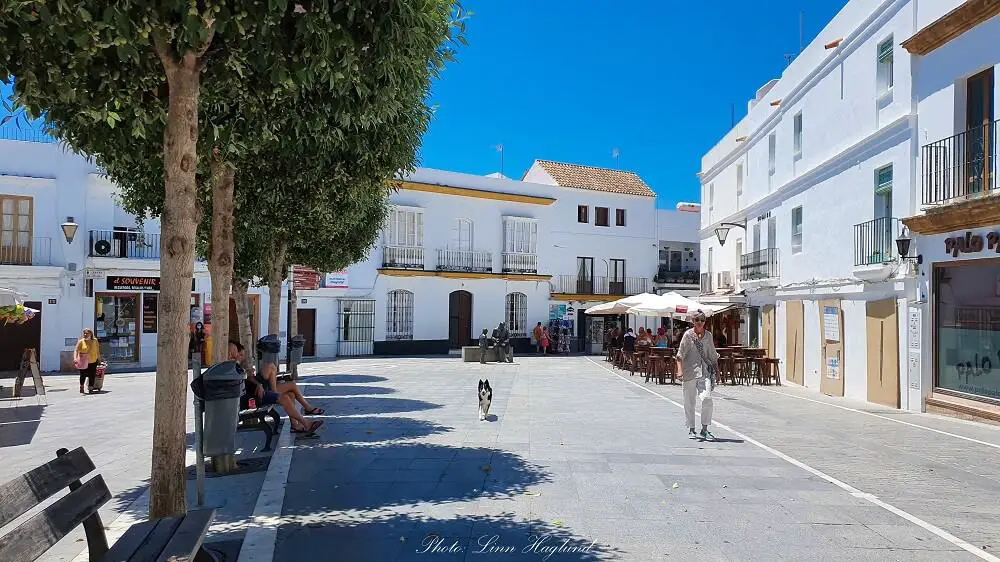 Buy locally
There are tons of small family-owned local shops and restaurants in Conil de la Frontera. If you try to buy there, you'll make sure to leave your money locally and help support the village and its inhabitants.
There are a lot of German and British expats running their small businesses there too, many of them have lived there for 20 years and are just as local as the Spanish.
Not only do you support locally, but it's a much more unique experience or item to take back home. Win-win!
Show respect
While you're in Conil, make sure you show common respect to people, and follow the rules in different establishments, like getting dressed when you leave the beach and go to a bar or restaurant.
Be respectful if people don't speak English and try to make yourself understood with a smile. It always works out better then.
Leave no trace
No matter if you're in the village, on the beach, or hitting the trails. Make sure you always take your rubbish to a rubbish bin. If it's full, take it to the next one where it fits.
If you see any rubbish lying around, you might as well pick it up.
Bring a reusable water bottle so you avoid contributing to the worldwide plastic pollution problem and help protect the oceans instead.
Also, make sure you don't pick shells from the beach. Studies show that picking shells actually disturbs the eco system, so they're better left where they are.
Did you enjoy this? Make sure you pin it for later!