Between the coastal sand dunes in southern Spain, you find a small bohemian paradise. Los Caños de Meca, Cadiz. For any free spirits in love with the authentic, art, music, kite surfing, and astounding beaches this is exactly the place to be.
The summer paradise for the lovers of Andalucia off the beaten path. But this doesn't mean the Spanish don't know about this coastal pearl. You're very likely to meet residents from Cadiz and Seville spending their weekends or August vacation in this mecca featuring some of the best Cadiz beaches.
What I love about Los Caños de Meca is that it has a chilled vibe even when it's busy. If you take your time and are open to it, you'll get amazing connections with open-minded locals.
The music vibe is awesome, there are lively bars at night, but if you want magic, you can chill on the sand dunes watching the pink sunsets over the Atlantic Ocean. The daytime is for beach life, water sports, or coastal walks in La Breña Natural Park. Los Caños de Meca is where you can really slow down and live in the moment – a perfect stop on a road trip through Andalusia.
Disclosure: This post may contain affiliate links. That means that if you make a purchase through one of those links, I will get a small commission at no extra cost to you.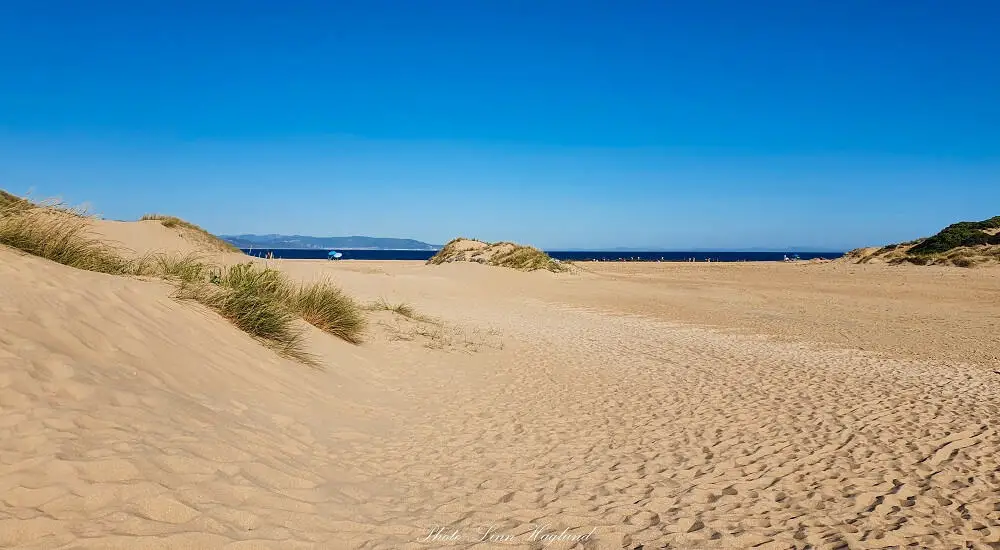 How to get to Los Caños de Meca
So, first of all, how do you get to this bohemian paradise? Los Caños, as it's locally known, is situated about an hour's drive from Cadiz, 2 hours from Seville, and 2 hours and 40 minutes from Málaga.
There is no doubt it's easiest to get there by car and a perfect stopover on your southern Spain road trip. If you drive to Los Caños, there are several parking lots along the road, and most of them charge 3 Euros (cash) in the summer months.
But you also find some free ones if you don't mind walking a stretch to the main beach.
If you opt for parking along the road where you see other cars, rules in Spain say you need to have the whole car outside the marked line on the road. Otherwise, your car might be towed away. I haven't seen this happen in Los Caños, but it's better to be safe than sorry.
Taking the bus to Los Caños de Meca is a bit more of an effort from Malaga, as you'll have to change bus in Algeciras. It takes from 4 hours and 45 minutes by bus, but you can risk a longer trip depending on the bus connections.
The bus from Seville goes from Prado de San Sebastian and takes 2 hours and 45 minutes, and from Cadiz, it's only a 1 hour and 25 minutes journey.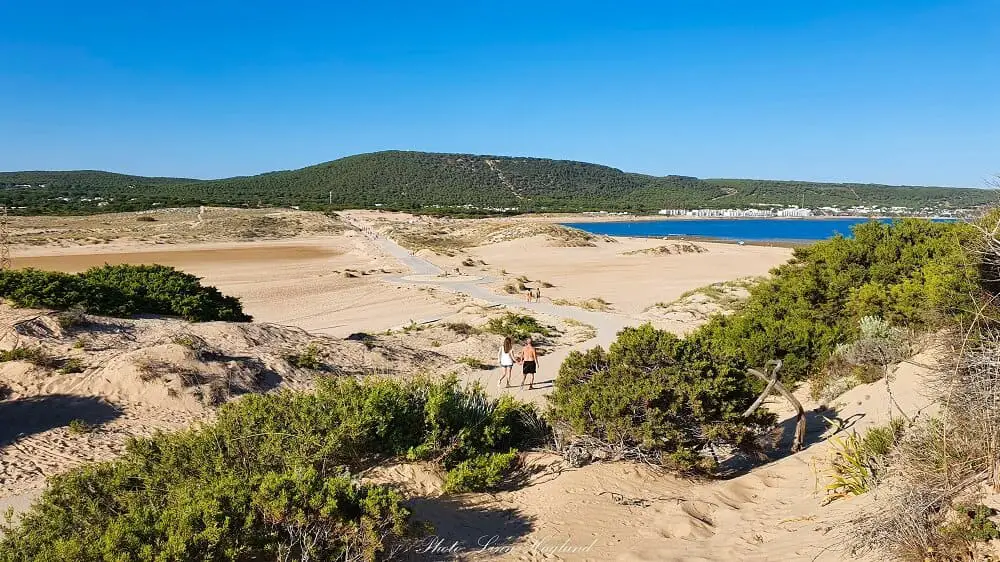 Best time to go to Los Caños de Meca
The busiest months in Los Caños de Meca, like any other southern Spain beach town, are July and August, though the weekends are busy all summer. This is also when you are most likely to have great beach days.
The coast of Cadiz is known for its mesmerizing sand dune beaches, but the reason they are so wild and beautiful is the many windy days this coastline sees. The first thing I check before going to Los Caños de Meca is the wind.
You can check it out by searching for the weather and pressing on the "wind" tab. If you're not sure how many kilometers an hour of wind is ok when you go to the beach, check out this site which in my opinion explains it well.
Personally, I never go if it's 20 kilometers an hour winds or more. I'm not a big fan of the wind. If you're after water sports like kite surfing, though, the wind is necessary.
In the winter months, you can experience extreme winds on the coast which means you probably can't go outside, so it's definitely good to check it out upfront.
My favorite part of the year to go to Los Caños de Meca is the months of May and September to October. It's still possible to go swimming while there won't be as many people there. As a result, you can easier connect with locals and have the privilege of being close to alone on the long, mesmerizing beaches.
But even the winter months are great in Los Caños de Meca. Though not that much is open, it's still extremely peaceful and great for coastal walks when it's not too windy.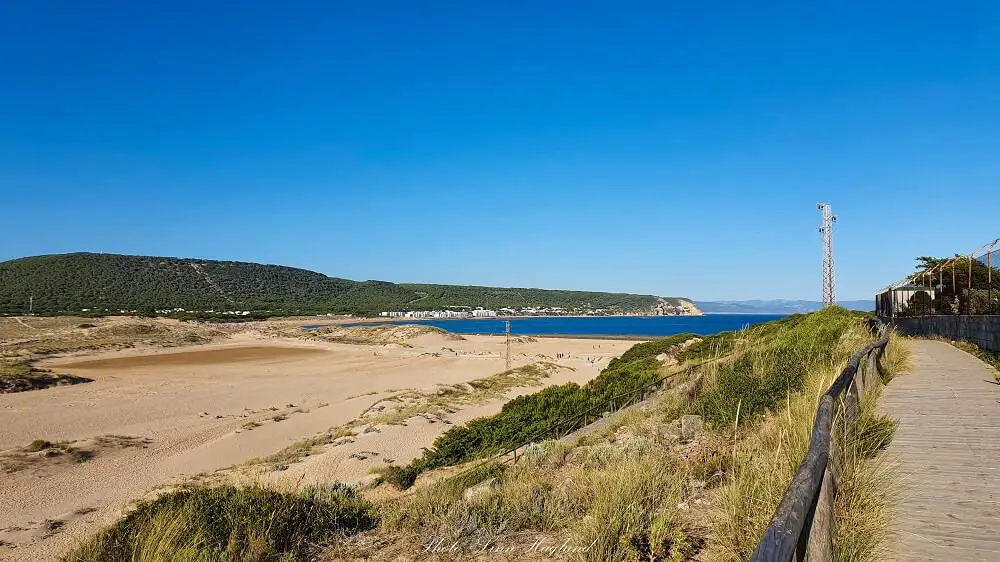 Where to stay in Los Caños de Meca
Los Caños de Meca itself is pretty small, but you do find some accommodation nearby. It's a popular place to rent whole apartments or homes, though this is usually only economical if you're a group.
Hostal Cafeteria El Mero
Hostal Cafeteria El Mero is only a few minutes walk from Los Caños de Meca beach and from La Breña Nature Reserve. A clean, comfortable place to stay with friendly staff.
If you come by car, you have free parking here and can easily walk around from the hotel.
Book your stay at Hostal Cafeteria El Mero here
Camping Camaleón
Camping Camaleón is the best situated camping in Los Caños de Meca in the summer months. It's open from 1st of June to the 8th of September as well as the Easter week.
This great space is surrounded by nature, but also a hot spot for local artists to perform and you find a wide range of music events from Flamenco to Rock and African inspired to Electronica.
There are also activities like yoga available.
Book your stay at Camping Camaleón here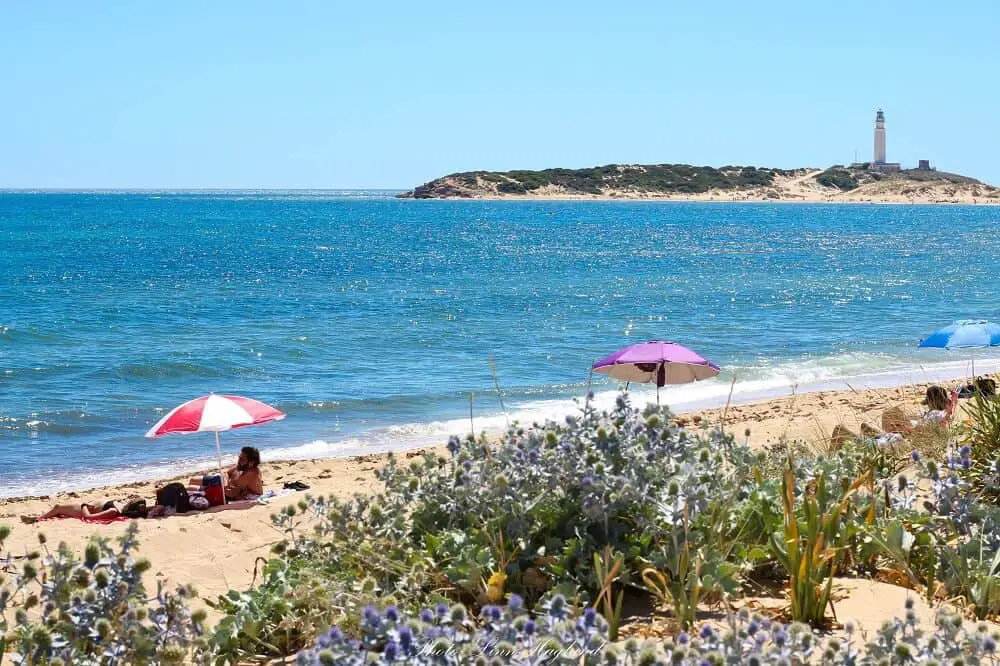 Things to do in Los Caños de Meca
One of the most important things you do in Los Caños is to slow down. Let your nostrils inhale the fresh scent of pine trees mixed with the salt of the ocean, feel the warm wind on your face, and soak in the magic sunsets with every pore of your body. Talk to people and be present. Listen and learn from their stories and take all this with you from one of the most beautiful spots on the Cadiz coast.
Los Caños de Meca Beach and Faro de Trafalgar Beach
The most beautiful dune area in Los Caños de Meca is without a doubt Cabo de Trafalgar, where you have the lighthouse and the two stunning Andalusian beaches Los Caños de Meca Beach and Faro de Trafalgar Beach.
The mesmerizing wide sanded beaches are a result of the large amounts of wind hitting this area.
Sitting on each side of the cape, they're the most beautiful beaches in the area and you can easily walk across between them. there are no sunbeds or parasols on these beaches, so you'll need to bring your own if you want the comfort and the shade.
Los Caños de Meca Beach is reached straight from the road and is on the way to Trafalgar Lighthouse. You can cross to Faro de Trafalgar Beach to the right on a couple of occasions.
Note that the latter beach can be dangerous for swimming as it gets incredibly strong swells and underwater currents.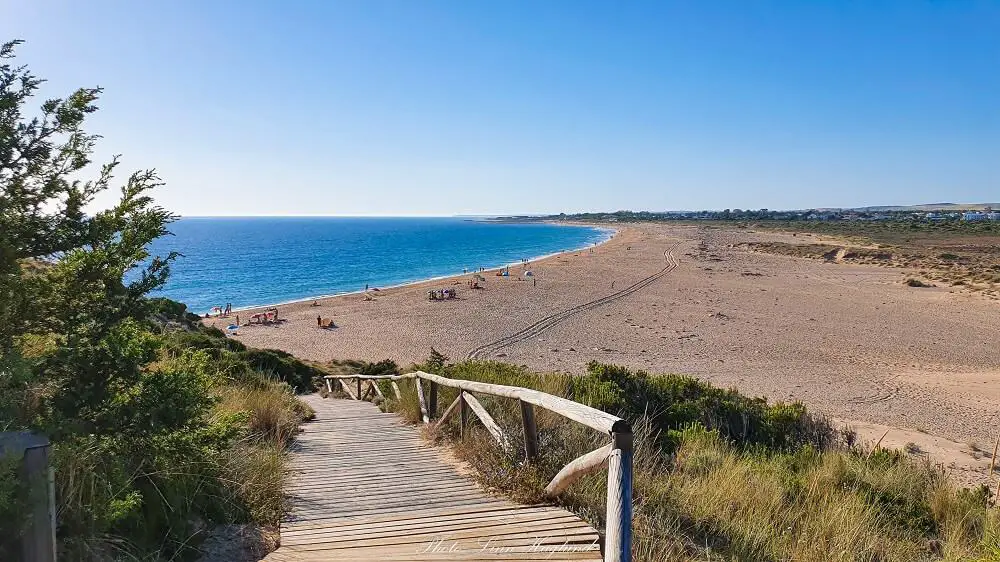 Trafalgar lighthouse
In 1805, the famous Battle of Trafalgar took place in the waters outside Trafalgar Lighthouse. The massive battle where around 60 ships of the British, French, and Spanish fleets bombarded each other in a bloody fight resulted in 5000 dead and 4000 injured, numerous shipwrecks at the bottom of the ocean, and a British victory.
The 34 meters tall lighthouse was erected in 1860 and was first set in use in 1862. You can walk around the lighthouse and it offers splendid views of the whole cape and its beaches.
Next to the lighthouse, there are remains of Moor settlements and the ruins of a watchtower that was built by Philip II to protect the cape against pirates.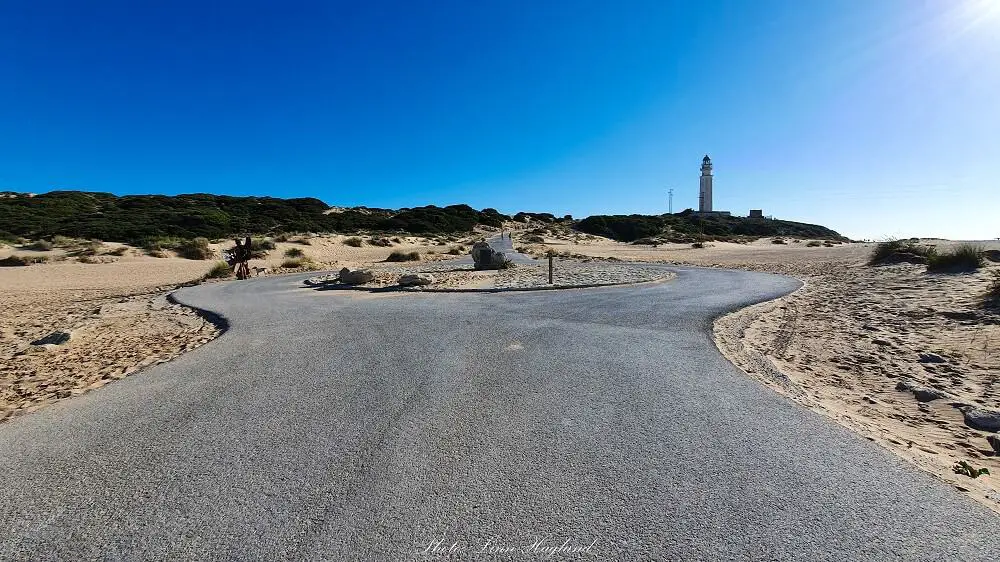 Hike in La Breña Natural Park
La Breña Natural Park is 5000 hectares of bright green pine forest, jaw-dropping cliffs, marine systems, and large sand dunes. One of the reasons La Breña was declared a natural park is the fragile population of Chameleons. They are hard to discover these days and I still haven't seen one in the park.
There are several hikes you can enjoy in the park and the most beautiful are the ones going along the cliffside.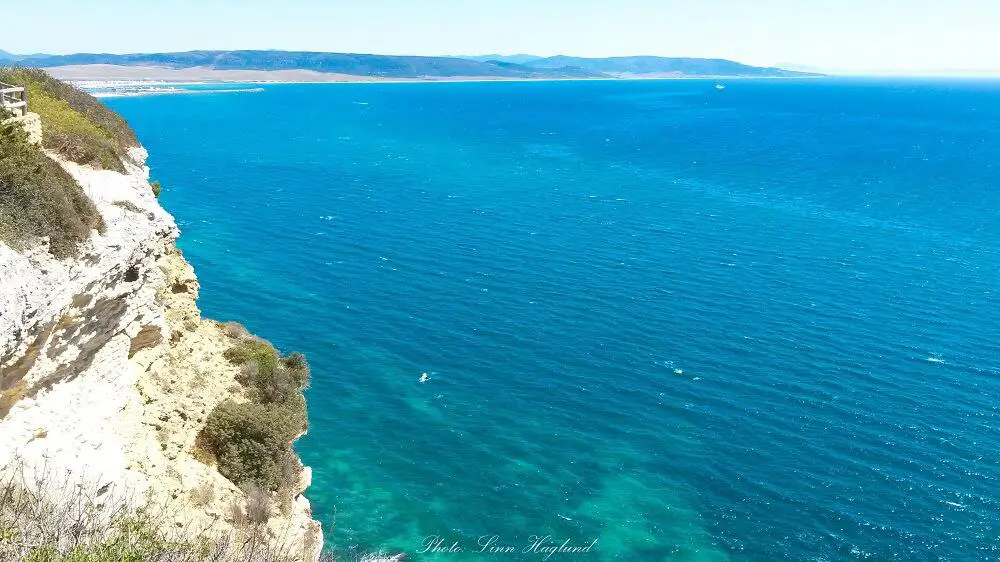 Water sports
Because of the wind hitting the Atlantic coast Los Caños de Meca is a popular spot for surfing and windsurfing. You can also go scuba diving from the nearby village of Barbate.
You can explore many shipwrecks from the Battle of Trafalgar when diving. In Roman times, the Cape of Trafalgar housed a temple which several divers have claimed to see the remains of outside the cape.
There are surf schools in both Barbate, El Palmar, and Conil de la Frontera.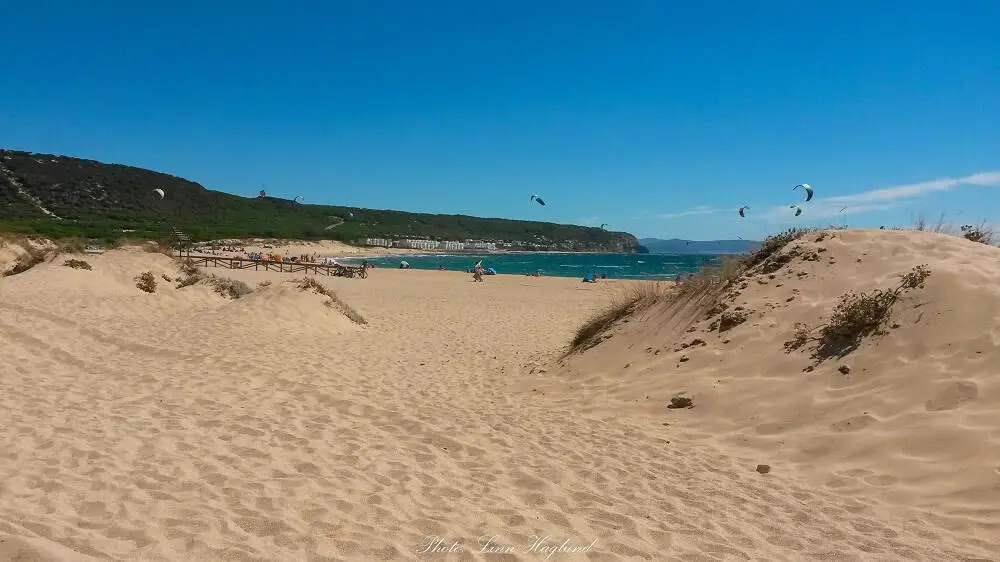 Support local artists
There are a lot of great artists in Los Caños de Meca. Have a look and see if you find a new handmade bracelet as a memory or join a local concert.
There are endless alternatives in this little oasis. Camping Camaleón is a hotspot for concerts in the summer months, but you might find unforgettable performances elsewhere too.
Last time I went to Los Caños de Meca I was walking by the sand dunes from Trafalgar Lighthouse with Ayla when I suddenly turned 180 degrees in the split of a millisecond.
I heard a didgeridoo. One of my favorite instruments. In the middle of the dunes, it was set up for performance and this guy was testing out his instrument. I was invited over and had an amazing time listening to passionate poetry accompanied by amazing musicians.
If you happen to join an intimate performance like this, make sure you leave a tip to support their work.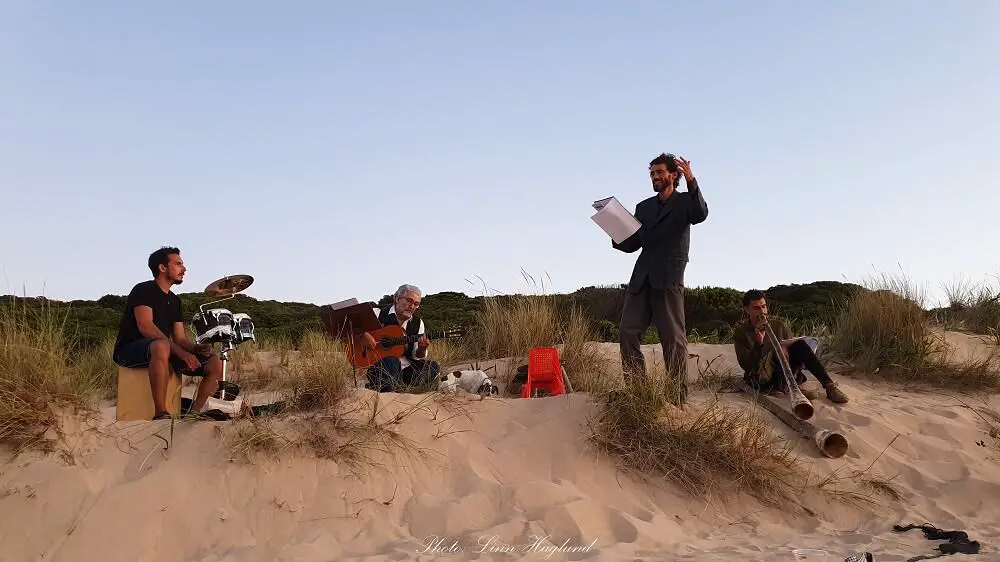 Watch the sunset at Cape Trafalgar
I don't know how many magic sunsets I've seen from the sand dunes at Cape Trafalgar. It's the perfect setting, either from Faro de Trafalgar Beach or from the sand dunes behind where you'll see the lighthouse against the painted sky.
It's the perfect setting for a perfect sunset. Bring some drinks and a blanket and the surroundings will do the rest.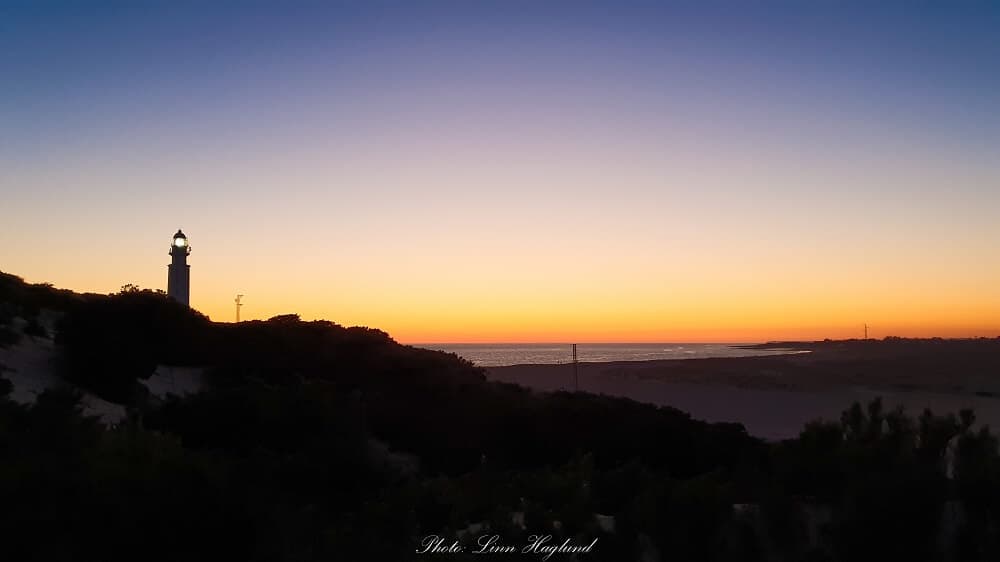 YOU MIGHT ALSO LIKE: Cala de San Pedro: A hippie paradise
Responsible tourism in Los caños de Meca
Los Caños de Meca is such a small place and mainly gets local tourism. It is also a natural area receiving a lot of wind. This makes it extremely vulnerable. So what can you do to leave only footprints and a positive impact on the place?
Respect the locals
Make sure you respect the locals and the other travelers. You'll probably notice that not that many people speak English as you're used to in more touristy places. Not necessarily because they didn't learn it at school, but exactly because they learned it at school and haven't needed it since.
I don't remember a word of German, though I know I had a few years of German when I was young.
However, communicating doesn't have to be 100% language based, you can use smiles and sign language and sprinkle it with a bit of laughter and I'm sure you'll have a great, positive experience.
With so many interesting and artistic people in one place, it is a great place to be curious and open for communication. You'll definitely hear many interesting stories if you do.
Make sure you leave money to the local community too by supporting local artists in their work.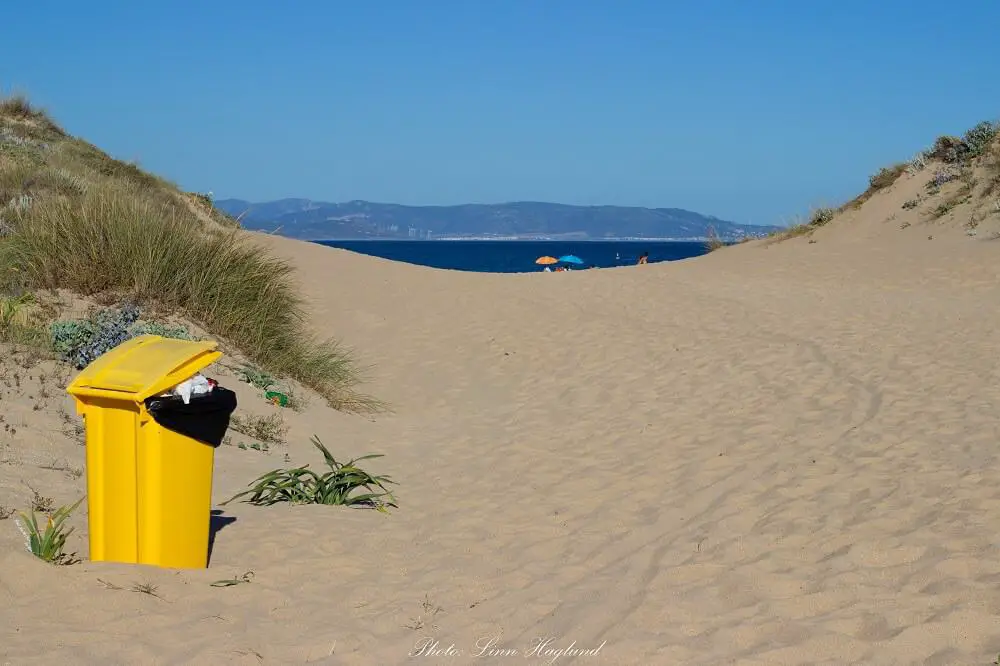 Leave no trace in nature
Bring a reusable water bottle so you don't create more plastic waste than necessary. When you're at the bar, ask for no plastic straw for your drinks.
This is especially important in a small place like Los Caños de Meca and a place where there is so much wind. I often see the rubbish bins being over flooded by rubbish which in turn means that if it doesn't get picked up in time, it will fly out in the ocean or in the natural park the next time it gets windy, which is quite often.
Creating as little waste as possible in this place is crucial to the environment. If you see rubbish lying around, take it with you to the next rubbish bin that isn't overflowing.
It is also important to the biodiversity that you don't even throw organic waste in nature as it can create big ripple effects to the natural food chain and create unbalance in the natural fauna.
Mainly because animals and bugs will eat it instead of what they are meant to eat which creates an unbalance in the natural food chain. Another issue is that seeds from organic waste can grow new plants that are not endemic to the area which interferes in a negative way.