As one of Andalucia's most underrated cities, Jaen is often unheard of even among expats that have lived in the southern region for years.
Dominated by the Santa Catalina Castle the city is surrounded by olive groves and mountains. In fact, this is where 60 percent of Spain's olive oil comes from and the region has more density of castles than any other in Europe.
If you're planning a visit and wondering if there are enough things to do in Jaen to fill a few days, you won't be disappointed.
The city has a rich heritage and history to discover and I will take you through it all in this post so that you can start planning your vacation. Get ready to explore Andalucia off the beaten track in this lovely city.
Disclosure: This post may contain affiliate links. That means that if you make a purchase through one of those links, I will get a small commission at no extra cost to you.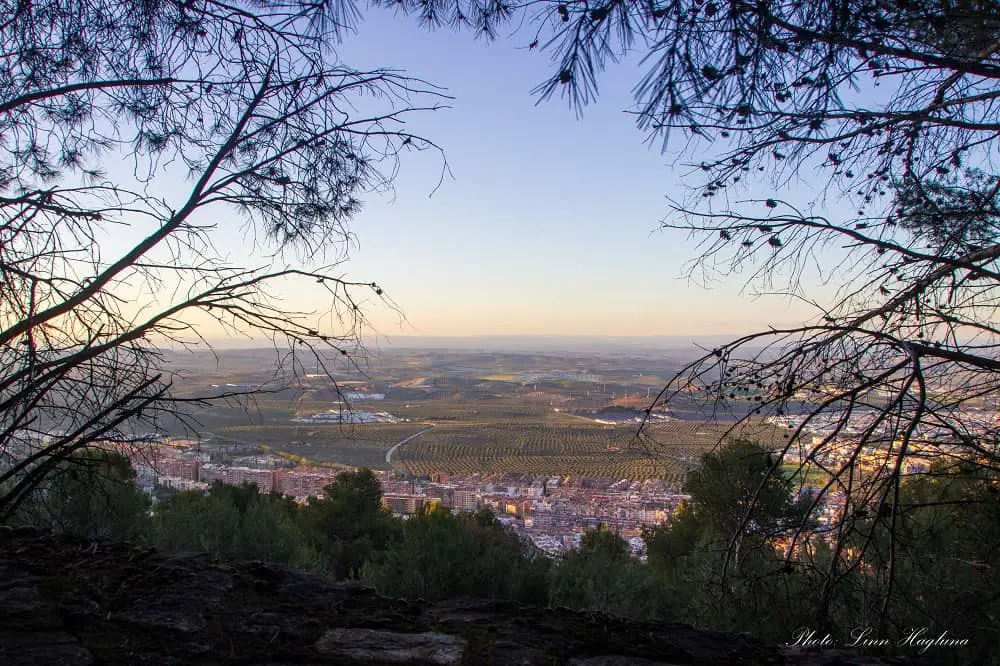 WHERE TO STAY IN JAEN

LUXURY: Parador de Jaén – Stay in the 18th-century castle of Santa Catalina for the best views of Jaen and enjoy the swimming pool in the hot summer months.

MID-RANGE: Apartamento boutique Jaén 2 – excellent private apartment with kitchen for those who want to cook at home.

BUDGET: HO Ciudad de Jaén – Situated outside the city center, this is a great budget option with a pool in the summer.
Things to do in Jaen
There are a whole lot of things to do in Jaen Spain, both in the city and the surroundings. For being such an underrated city in Andalucia, it's surely one of my favorites.
Being surrounded by olive groves, mountains, and hiking trails, this is a lesser-touristed city with heaps of fun and interesting stuff to keep you busy.
Walk to Santa Catalina Castle
Overlooking the city from Catalina Hill, you find one of the finest medieval castles in Andalucia, Santa Catalina Castle. With a turbulent history, it was first in prehistoric times that the Iberians built a fortification on top of the hill.
Later, the Moors, Christians, and the French army would build on it and kept rebuilding the structure until the latter destroyed parts of it as they withdrew from the city.
Today, it's of major importance for Jaen tourism and a must-visit when exploring the city. The Parador de Jaen has been built in the Moorish remains and is now one of the best hotels in Jaen.
Do you fancy staying in a castle? Check for availability here.
There's a nice walk going through the woods to reach the castle which boasts epic views of the city and surrounding countryside along the way. You'll also get a glimpse of the ancient castle walls as you walk up.
Opening times summer (16th of June to 15th of September):
Monday to Saturday: 10:00-14:00 and 17:00-21:00
Sunday: 10:00-15:00
Opening times winter (16th of September to 15th of June):
Monday to Saturday: 10:00-18:00
Sunday: 10:00-15:00
For more information about entry times and fees see the castle's official website here.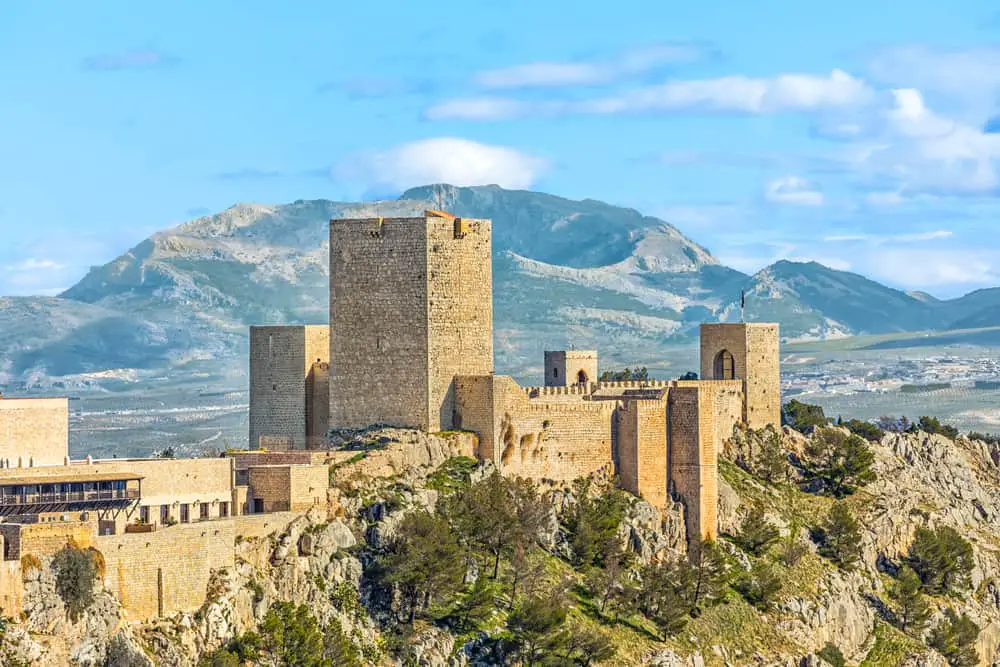 Visit Jaen Cathedral
The majestic Jaen Cathedral is situated in Santa Maria Square and it's one of the top Jaen Spain tourist attractions that you won't miss. Built between the 16th and 18th centuries on the site where there used to be a mosque, the cathedral was dedicated to the Assumption of the Virgin.
Inside, it houses the Holy Veil, said to be used by Saint Veronica to wipe the blood off Christ's face when she met him on the way to Calvary. It can only be seen on the Feast of the Assumption and on Good Friday.
Jaen Cathedral is on the tentative list of UNESCO, something that could make the city more attractive to tourists.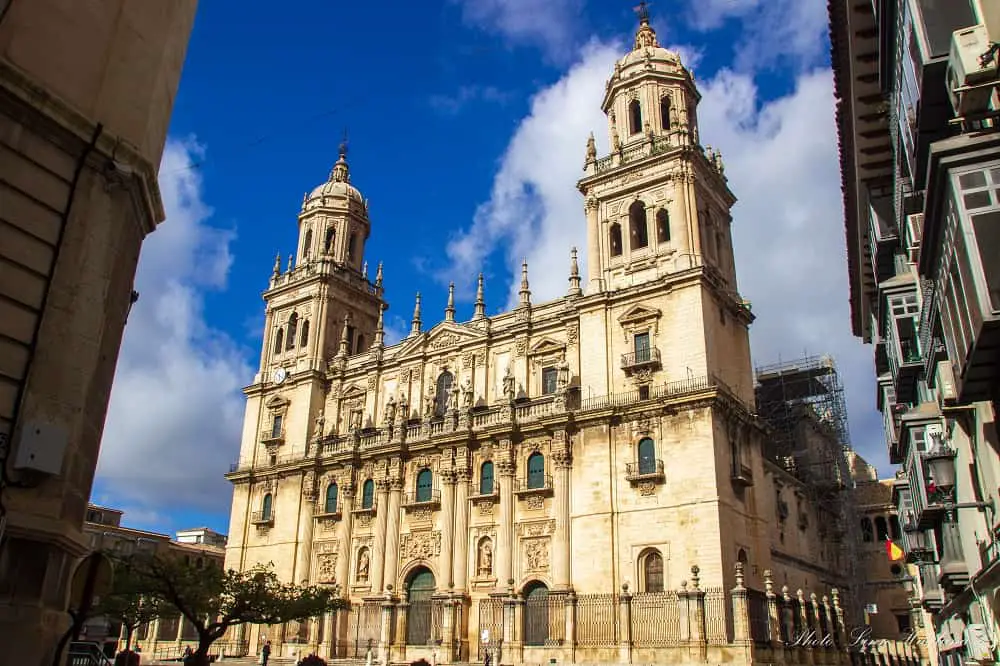 Palacio de Villardompardo
When you visit Jaen, one of the most important attractions to stop by is the 16th-century Palacio de Villardompardo. Together with other archaeological remains, the 11th-century Arab baths were found in the palace. But I'll talk more about how to visit them below.
Evidence shows that the palace has been used as a bank. Later it was obtained by the Royal Hospice Board and then the Hospice for Women settled in.
Today, it's part of Villardompardo Palace Cultural Center and is majestic inside with an inner courtyard surrounded by columns.
Opening hours:
Tuesday to Saturday: 09:00-21:00
Sunday: 09:00-15:00
Mondays: Closed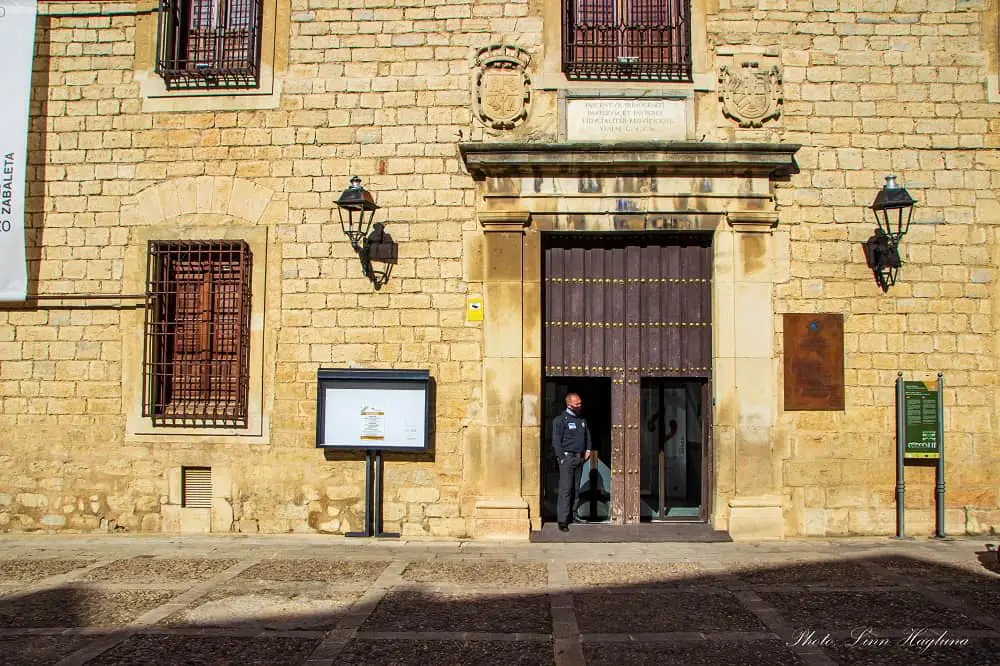 See the Arab baths
Beneath the Palacio de Villardompardo, you'll find some of the largest Arabic bath houses found in Spain dating back to 1002. They were first discovered in 1913 and a few years later, archaeologists started the restoration work.
The baths are composed of four rooms where they had hot, warm, and cold baths. Particularly distinctive are the star-shaped holes in the ceiling letting in natural light and making beautiful patterns on the floor.
You should not miss out on the baths as they are some of the most unique things to see in Jaen.
Opening hours:
Tuesday to Saturday: 09:00-21:00
Sunday: 09:00-15:00
Mondays: Closed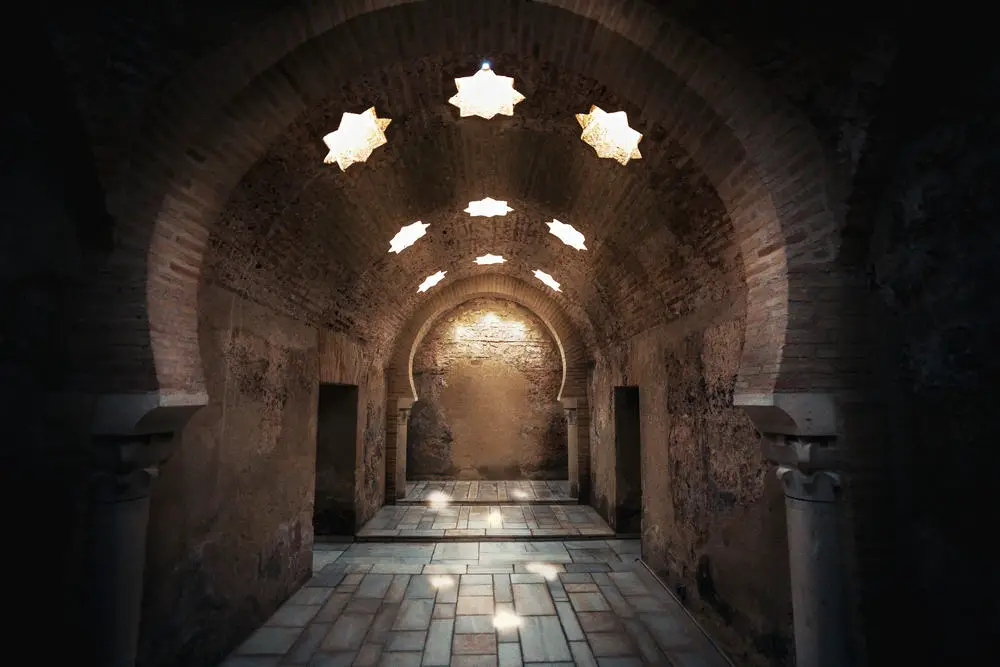 Go on an olive oil tasting tour
Being the Andalusian province with the most olive trees standing for 5% of the world's olive oil production and 40% of Spain's production of olive oil alone according to Financial Times. Further, they state that this is more than all Italian regions put together.
I think it's safe to state that if you're going on an olive tasting tour it should be in Jaen!
This tour is great for learning about the different types of oil, the quality, and the production process at a modern Spanish olive mill.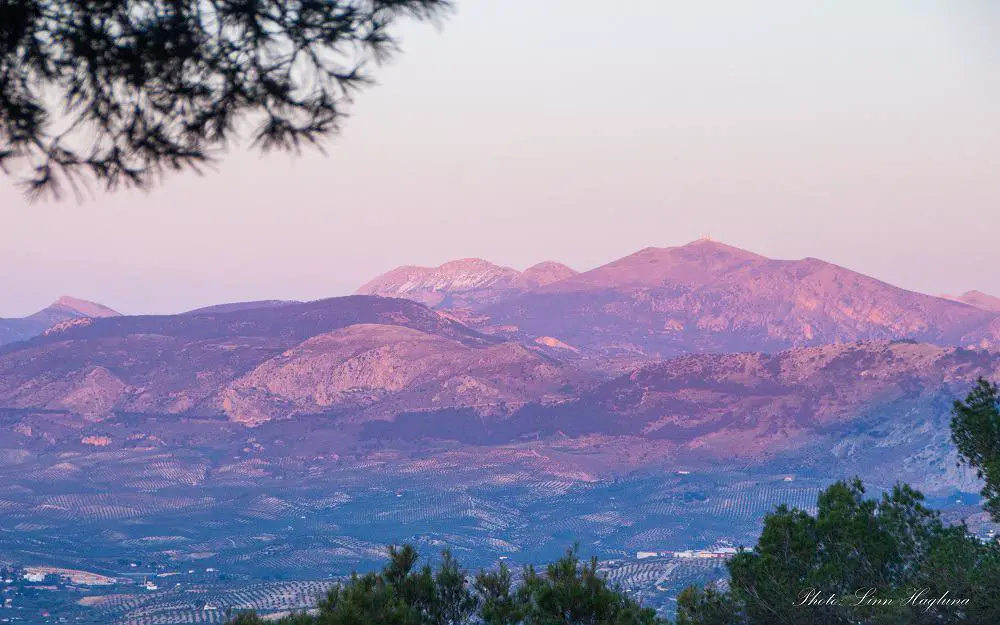 Catch the sunset at Cruz del Castillo de Santa Catalina
If you're wondering what to do in Jaen for sunset, this is for you. The best sunset views are to be found by the castle and the lookout of Cruz del Castillo de Santa Catalina is epic at this time.
Bring some snacks and watch as the city lights up with a magical backdrop of purple-lined mountains.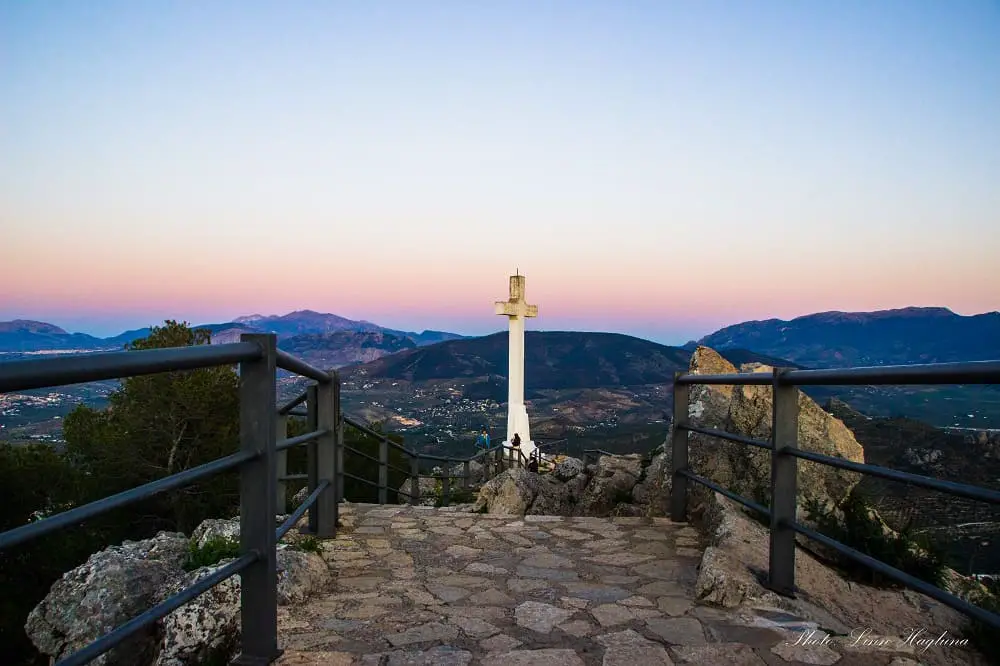 Go on a day tour to Úbeda and Baeza
When you have explored Jaen city, I highly recommend checking out two of Andalucia's most beautiful towns nearby, Úbeda and Baeza.
The two towns are listed as UNESCO World Heritage sites and hold a great number of astounding architecture, charm, and history to discover. There is no doubt this is one of the best things to do near Jaen.
If you don't dispose of your own car or want to rent one, there are guided tours that can take you there and show you the best of the two places. The good thing about going with a guide is that you'll learn about the history and culture of these two awesome destinations.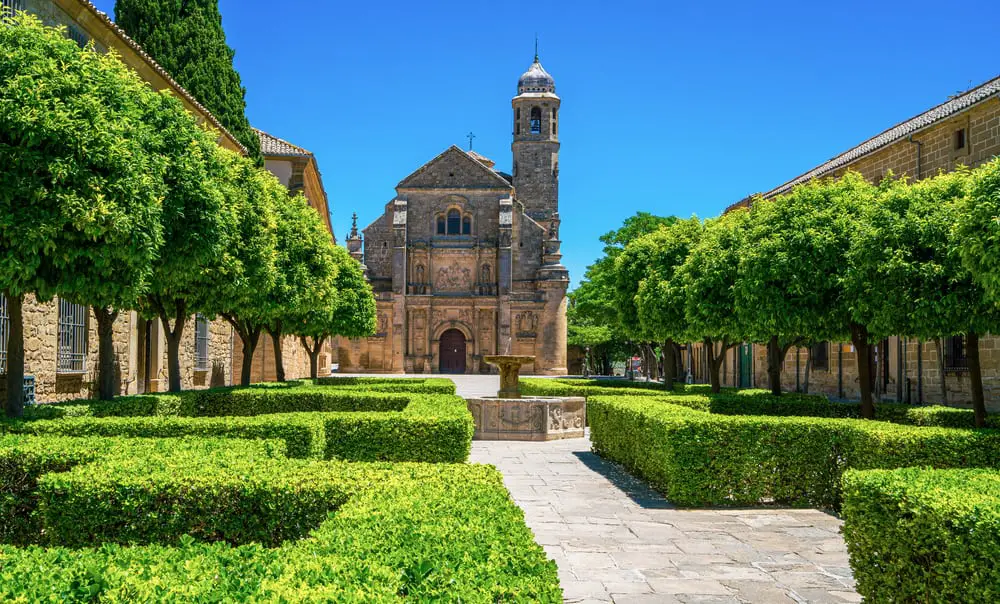 Refugio Antiaéreo de Plaza de Santiago
The World War II shelter was built after the devastating bombings that took place in Jaen on the 1st of April 1937 during the civil war. A total of 70 bombs rained over the city taking 159 lives.
The bombings were ordered without any form of warning like in other Spanish cities, with the sole purpose of spreading fear among the people. More than 60 of the victims that day were children. Since the school was closed that day, they were all out in the streets playing.
A tour of the shelter is a truly chilling experience giving you an idea of how the civil war affected the local community. It has a capacity of 1040 people. Throughout the tunnels, documents and pictures from the period are exhibited.
Entrance is free, but it's only open on Sundays between 12:15 and 14:00.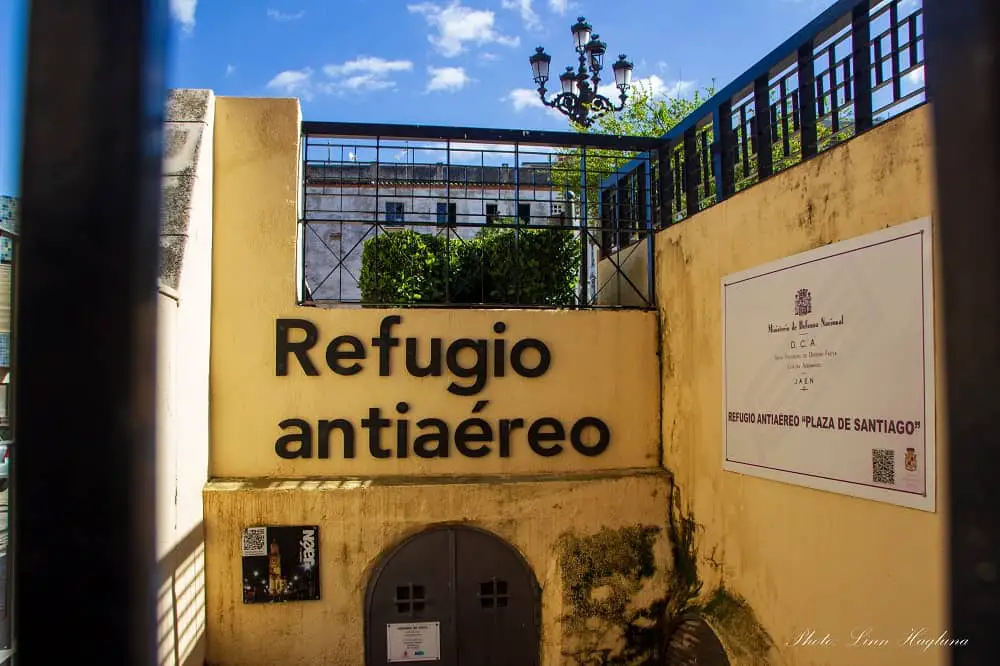 Minor Basilica of St Ildefonso
Jaén Andalucia is jam-packed with beautiful churches and you should definitely pop your head into more than one when you visit Jaén, time allowing. But if you can only pack one into your Jaén itinerary, I recommend the Minor Basilica of St Ildefonso.
It's such a rustic and charming building from the outside, especially with its two round towers built into the stone walls on each side of the entrance facing Plaza San Idelfonso.
But the minor basilica is of great religious importance as it's said that it was the place of the miraculous descent of the Virgin Mary into the city. The church became a shrine for the Virgin of the Chapel and her photo can be found inside.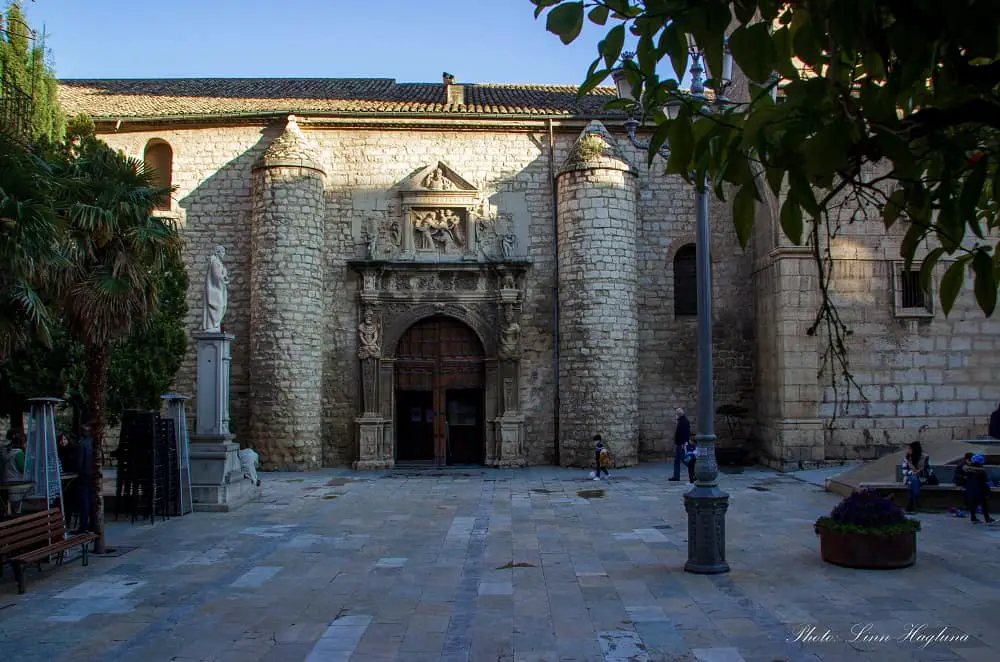 Visit the Iberian Museum
The Iberian Museum is the only one in Spain dedicated to the prehistoric Iberian culture in the country which took place before the Roman era.
You find more than 3500 archaeological finds from the period between the 7th and the 1st centuries AD
Opening hours 1st of September to 30th of June:
Tuesday-Sunday: 09:00-15:00
Monday: Closed
Opening hours 1st of July to 31st of August:
Tuesday to Saturday: 09:00-12:00
Sunday: 09:00-15:00
*Closed on the following holidays: 1 and 6 January, 1 May, 24, 25, 31 December
WHERE ARE YOU HEADED NEXT?
⭐Best cities to visit in Andalucia
Reflections on what to do in Jaen Spain
Now that you have an idea of what to do in Jaen Spain, I'm sure you're eager to start planning your journey. Being such an underrated city, most travelers visiting gets positively surprised and it's not hard to fall in love with its charm.
There's a good mix of history, culture, and nature to pack into your Jaen itinerary so there should be something to please every type of traveler.
Happy travels!
FAQ about Jaen Andalucia
Where is Jaen Spain?
Jaen Spain is situated in the inland of Andalucia 94 kilometers north of Granada.
What is Jaén famous for?
Jaen province is famous for its olive oil production, being the biggest producer in Spain.
Is Jaén worth visiting?
If you're looking for a city full of cultural heritage and intriguing history that is not overrun by tourists, Jaén Andalucia is the place for you!
How do you get around in Jaen Spain?
Jaen is a perfectly walkable city and this is the best way to see the top attractions.