Andalucia's capital city is boosted with history, culture, and a vibrant tapas scene. It's the city of fiestas, flamenco, and the mother of Cruzcampo. Spending only one day in Seville can be a challenge if it's your first time in this vigorous city.
There are a lot of amazing things to do in Seville and to see them all, I do recommend at least 3 days in Seville. However, if you're here, I assume you don't have that much time, but don't worry. There's plenty of time to see the most prominent attractions of Seville in one day, you just gotta plan. And that's what I'm here to help you with.
Read on to find out how to maximize your day trip to Seville, so that you don't miss out on the best parts. If you plan on spending the night, make sure you read my local's guide to where to stay in Seville.
Disclosure: This post may contain affiliate links. That means that if you make a purchase through one of those links, I will get a small commission at no extra cost to you.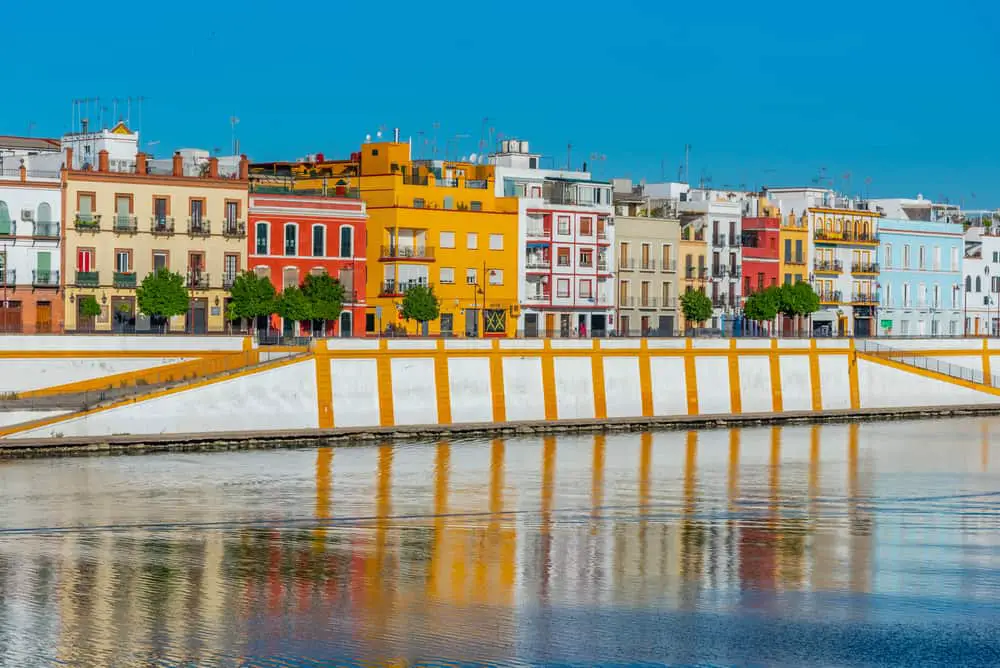 How to get to Seville
Being the capital city of Andalucia, it's easy to reach Seville by plane, train, and bus when planning a day trip to Seville. The city is also a central part of the Andalusian road structure and you'll easily reach Seville by car as part of an Andalucia road trip.
By Car
As mentioned, driving to Seville is easy. Driving in Seville, on the other hand, can be a bit of a nightmare (trust me, I've been living there and you don't want to get stuck in a loop in the city center at rush hour.)
The good news is that Seville is a walkable city and you can get between the attractions on foot faster than by driving. To make it easy for you, I wrote a whole post about the best places to park for free in Seville within walking distance of the historical center.
Here is an estimate of driving distance from other Andalusian cities:
Check rental car availability and prices here.
BOOK IN ADVANCE
By train
Seville is connected by train with major cities in Andalucia, but also with the high-speed train from Madrid which gets you there in only 2.5 hours which can be faster than taking the train from Malaga.
The main train station in Seville is Santa Justa. The downside is that it's 4.2 kilometers into the city center. The fastest option to get into the center is by taxi. It's usually around 6 Euros. Alternatively, you can take a train to San Bernando Train Station which is only a short walk from Plaza de España.
Here are the estimated train times from nearby cities (note that some routes can take longer if they stop in another city on the route):
Cadiz – 1 hour and 30 minutes
Granada – 2 hours and 30 minutes
Cordoba – 50 minutes
Malaga – 2 hours and 6 minutes
Check train times and prices from your city here.
By bus
Seville's main bus terminal is Plaza de Armas. You can get there easily from nearby cities and towns and it's within walking distance of the historical center, so it's a great option for a day trip to Seville without any further stress.
Here are the estimated travel times from nearby cities:
Cadiz – 1 hour 45 min.
Granada – 3 hours
Cordoba – 2 hours
Malaga – 3 hours
Huelva – 1 hour 30 min.
Check bus times and prices here.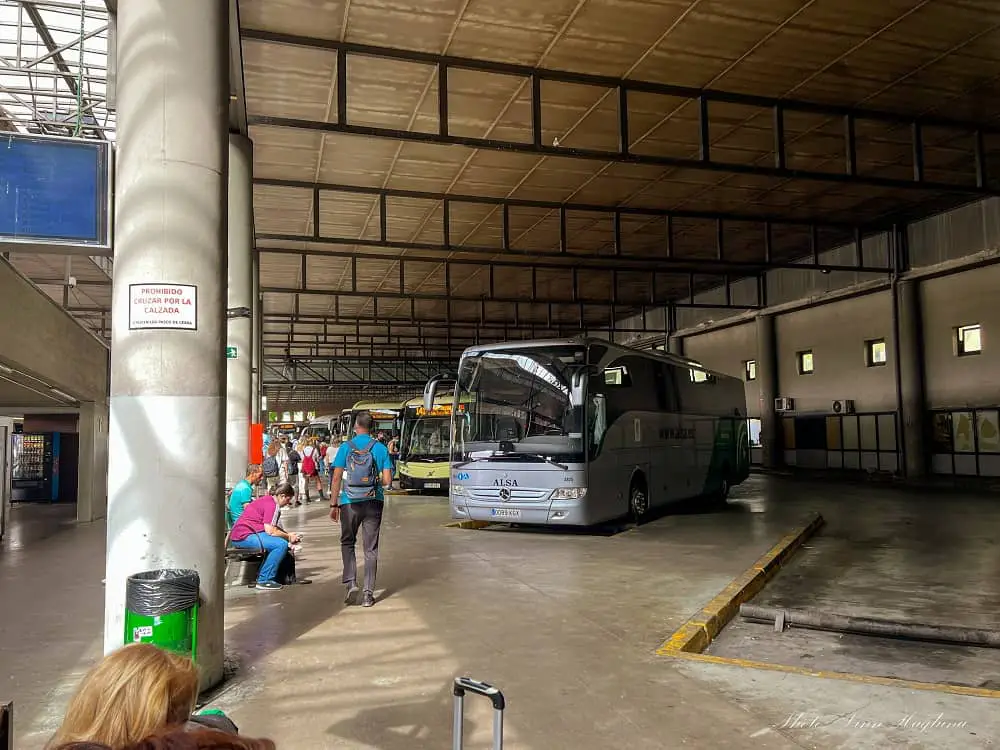 OTHER ONE-DAY ITINERARIES IN ANDALUCIA
Best time to visit Seville
Seville is best visited outside the summer season when it's way too hot to enjoy the city. Together with Cordoba, it's the hottest city in Andalucia in the summer and sees temperatures up in the 50s (celsius.)
Winter in Seville is a beautiful time of the year to go. You can expect mild days with sunshine and cool nights, so make sure you bring a warm jacket and dress in layers as it's not the hottest place in Andalucia in winter.
Yet, it's hard to beat the Christmas vibes in Seville with lights, sunkissed orange trees, Roscón de Reyes, and Christmas markets.
Spring and Autumn in Seville are the most popular times to visit the city due to the more pleasant temperatures.
Especially spring (May) is beautiful with the spectacular purple Jacarandas trees blossoming throughout the city. Spring is also the time of the year when you'll encounter Seville's most famous Fiestas, the Holy Week, and Feria de Abril, which is the city fair that takes place for a whole week exactly 2 weeks after Easter.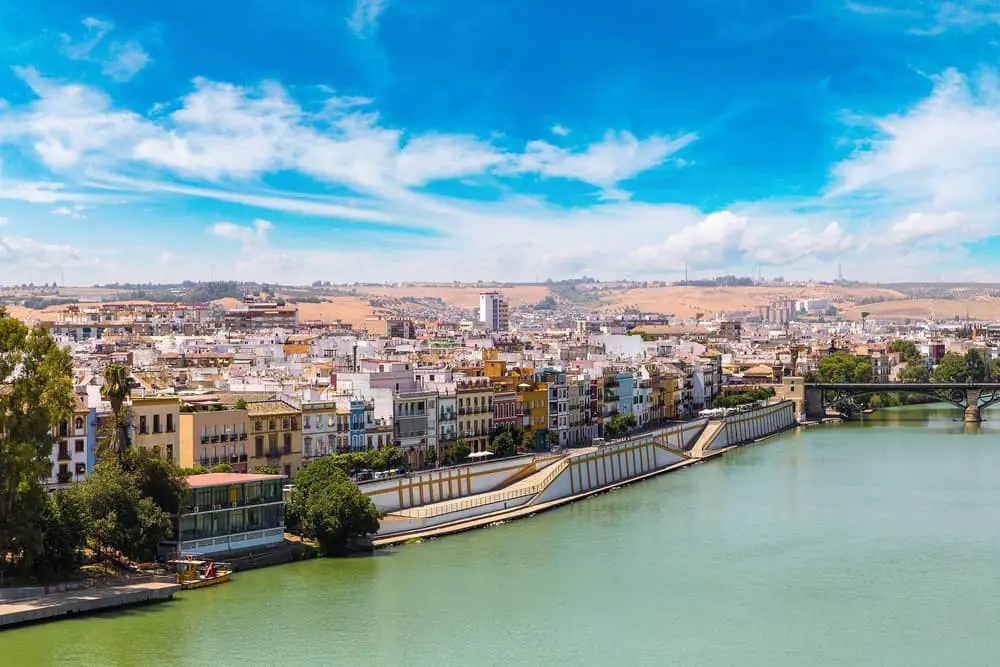 One day in Seville itinerary
Visit Seville Cathedral and La Giralda
Start your day by visiting Seville Cathedral and climbing the iconic clock tower, La Giralda. Together with the Alcazar and Archivo de Indias, the cathedral was declared a UNESCO World Heritage Site in 1987.
Seville Cathedral is nothing but spectacular and in fact Europe's largest Gothic structure. It's also the burial place of Christopher Columbus. Truth is, there are many who claim to house the famous explorer, so recently there were conducted DNA tests which state that he rests in the cathedral of Seville.
The Moorish Puerta del Perdon (the gate of forgiveness) leads out to a splendid orange garden. Climb the Giralda Tower to enjoy sweeping views of Seville. Like the clock tower of Cadiz Cathedral, there are no stairs, but a slope up to the top so that they could ride horses up to the top.
You can expect to spend 1-1.5 hours in the cathedral and the Giralda.
Top Tip! Get skip-the-line tickets in advance to avoid wasting time waiting in unnecessary queues. I recommend reading my complete guide on how to get Seville Cathedral tickets before you go.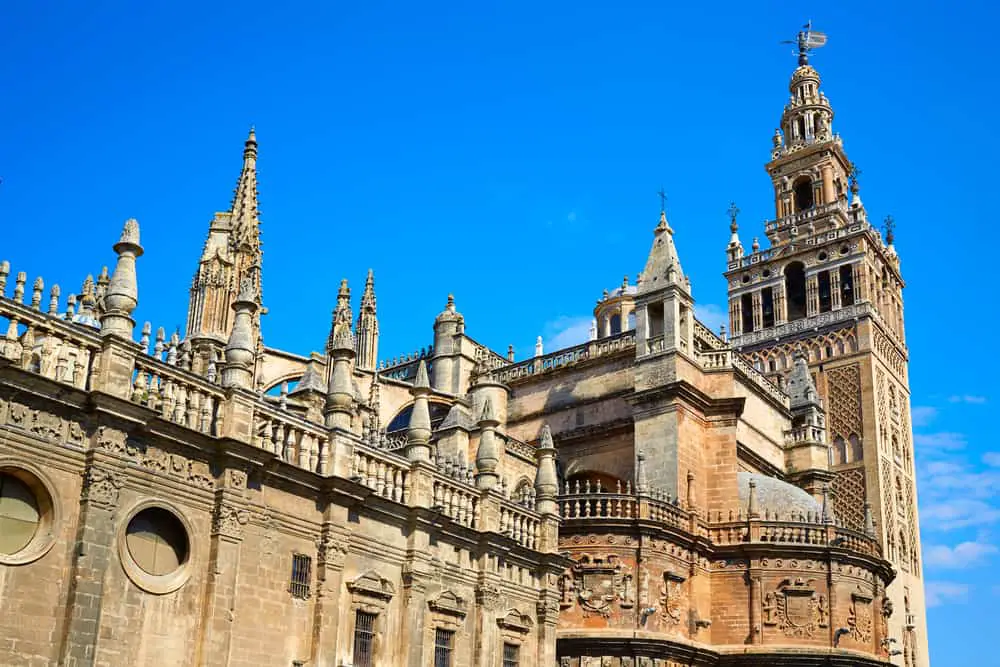 Get mesmerized at the Real Alcazar
The 11th-century Moorish palace in Seville is one of the absolute must-see sites to see on a day trip in Seville. This is easily one of the most important historical heritage sites in Andalucia.
The complex boasts splendid gardens with fountains and neatly trimmed trees and plants that match the detailed strictures that surround them. Imagine a perfect mishmash between Mudejar, Gothic, Renaissance, Baroque, Muslim, and Romantic artwork and you have the Real Alcazar.
You can expect to spend at least 2 hours in the Alcazar to take in all the palaces and gardens, though I'd normally recommend a little longer.
Buy your tickets in advance to save time.
Top tip! Get a joint guided tour of the cathedral, La Giralda, and Alcazar to save yourself time and learn more about the impressive history. Check availability here.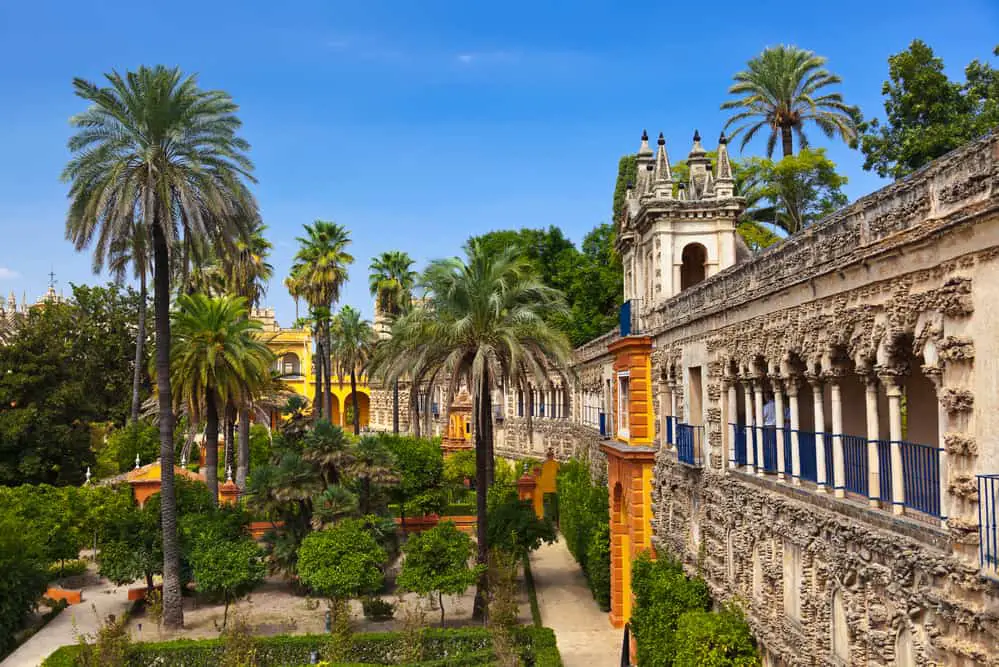 Lunch in Santa Cruz
Next to the Alcazar and the cathedral, you find the quaint neighborhood of Santa Cruz, a long-time favorite among locals and visitors alike. You find an array of restaurants and bars that serve delicious lunches which are perfect to eat at when you visit Seville in one day.
Whether you want a high-end food experience or a casual tapas lunch with beers, you will find it here. This area might seem a little touristy, but sit down anywhere where you see a lot of Spanish and you're near guaranteed an amazing lunch!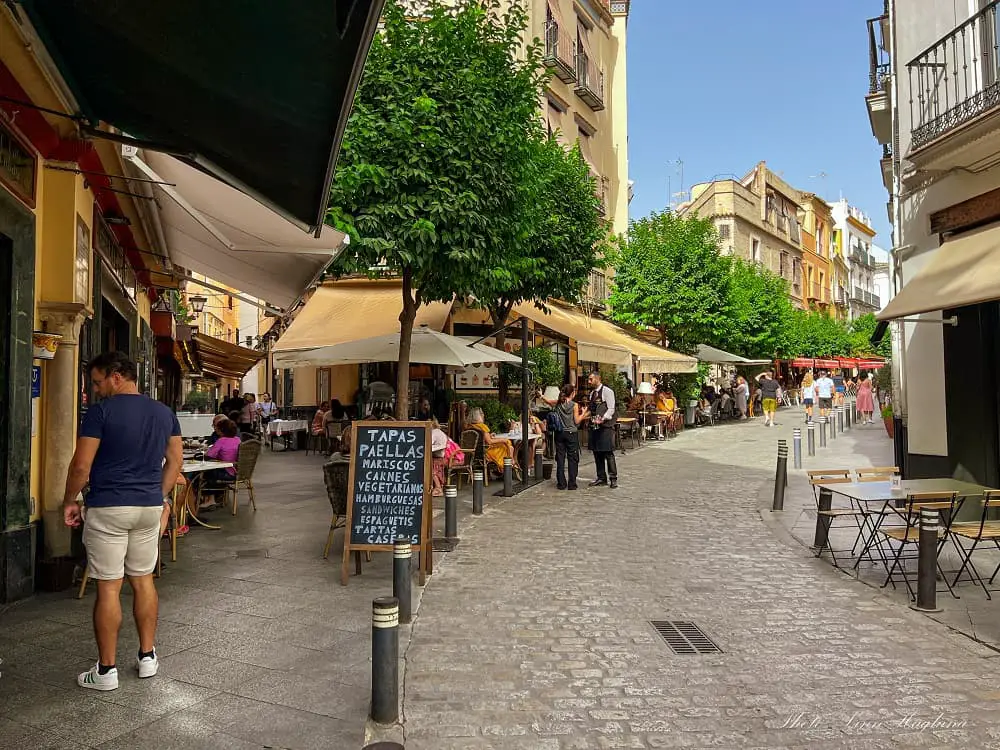 Visit Plaza de España
Only a 15-minute walk from Santa Cruz, you'll reach my favorite place in Seville, Plaza de España. This half-circle-shaped square is a feast for the eye and should be on top of the list of what to see in Seville in one day. It is also one of the best free things to do in Seville!
Beautiful small footbridges covered in Andalusian tiles cross the little canal where tourists can take a boat ride in a row boat. Across the canal, there are 50 benches, one for each province in Spain. It's popular to take a photo by the benches of the provinces you have visited – or maybe even the ones you have planned to visit.
Walk inside and climb up the stairs in the middle of the building for exceptional views of Plaza de España from above. The rest of the building is not accessible to tourists as it contains government offices.
Visiting Plaza de España is completely free and I would allow about an hour to walk around and take in the characteristic architecture.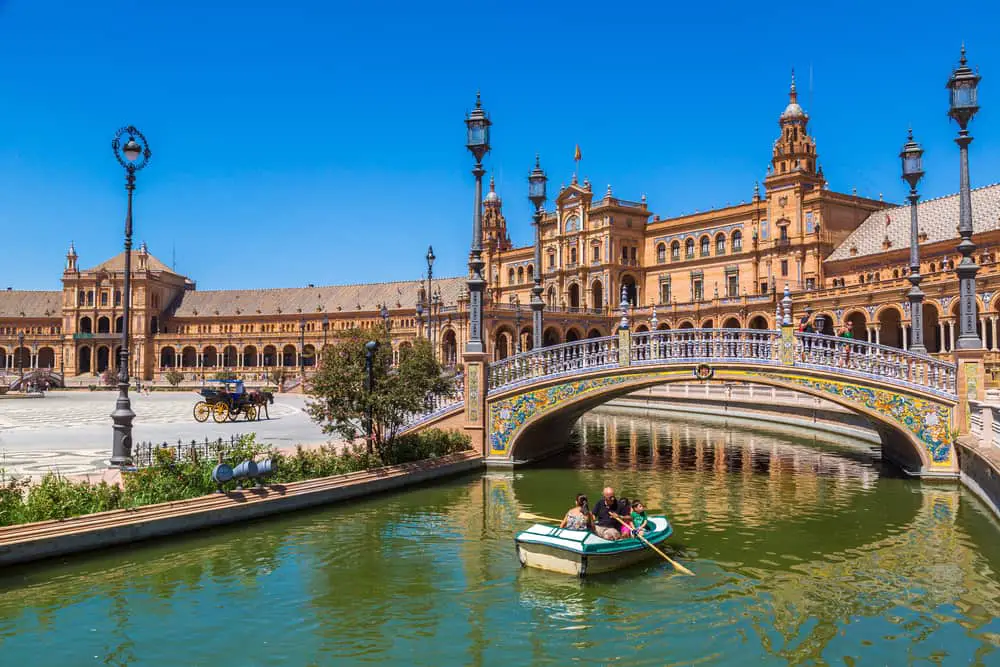 Stroll through the Maria Luisa Park
On your 1 day in Seville, Maria Luisa Park is the natural place to go after Plaza de España considering the square is situated on the edge of the park.
Parque Maria Luisa is the biggest park in Seville and in my opinion the most beautiful too. Full of Moorish remains, impressive sculptures and statues, lakes, and refreshing fountains, it's truly impressive.
If you need a break, sit down at a bench and watch life go by, listen to the birds in the trees around you, and feel how the sweet scent of nature wraps around you. It's hard to beat a moment of silence in a park during a long day of sightseeing in the city.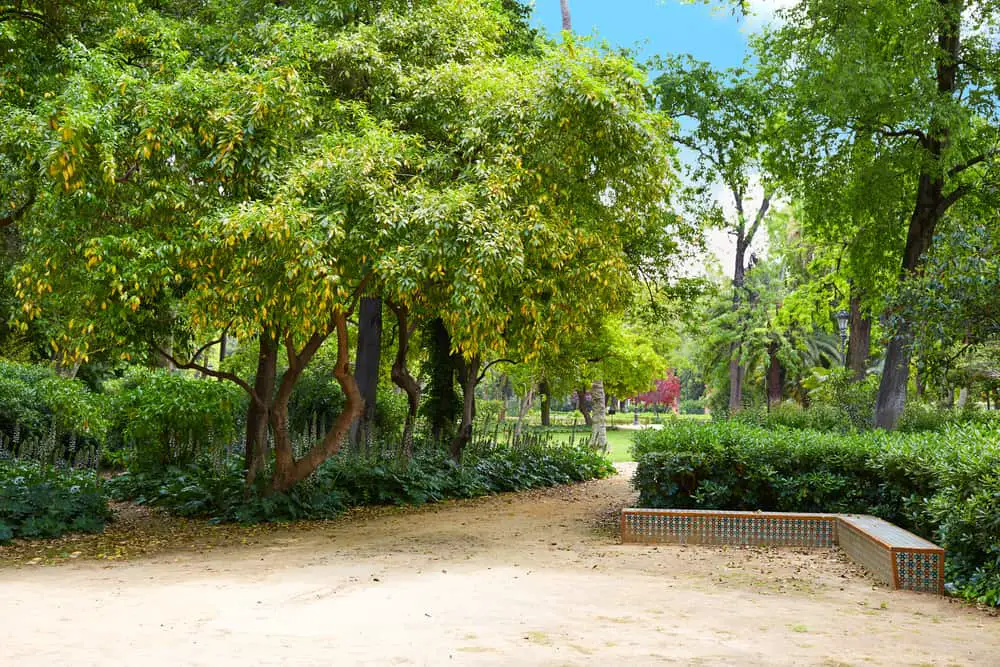 Torre del Oro and stroll along the Guadalquivir River
Right below Maria Luisa Park, you reach the Guadalquivir River. Stroll down to Torre del Oro which is impressive whether you choose to climb it or just see it from the outside.
Dating back to the early 1220s, Torre del Oro was originally a watch tower in the city walls during the Moorish era. After that, it held multiple purposes. Among other things, a storage place for gold and a prison.
Today, it holds a naval museum that you can visit if you choose to go inside.
After passing the old watch tower, wander along the riverfront until you reach Puente de Triana which you'll cross to get to Triana where you'll end the day for dinner and a flamenco show.
Top tip! There are boat tours in Seville leaving from Torre del Oro. If you have an extra hour to spare, I suggest you explore the river from a different perspective. Click here for my top picks.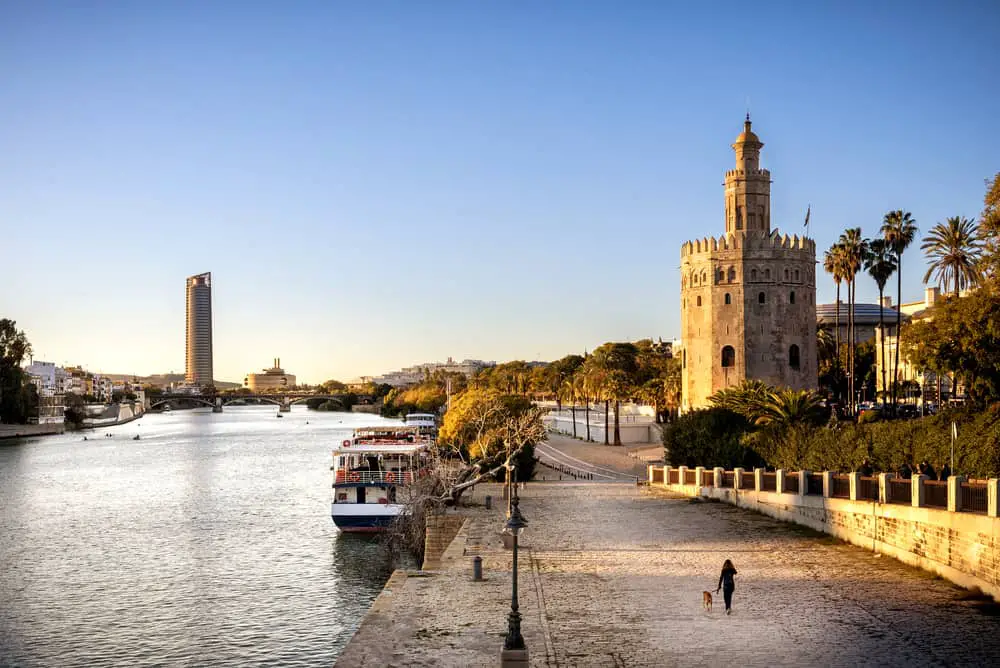 Flamenco show and dinner in Triana
Triana is one of the most unique and artistic neighborhoods in Seville. Mother of flamenco, tile work, and ceramic art, this is surely the right place to see a flamenco show when in Seville.
There are many lovely places to eat dinner already as you cross the bridge, either in Calle Betis along the river to your left, or straight ahead on the pedestrian street. You can also easily get lost further in and navigate your way through the streets to look for a place to eat.
Time your dinner before or after seeing a flamenco show at Teatro Flamenco Triana. They have daily shows at 19:30 and 21:00 that last an hour. I suggest booking your ticket in advance. You can check availability here.
This is surely the best way to end your 24 hours in Seville.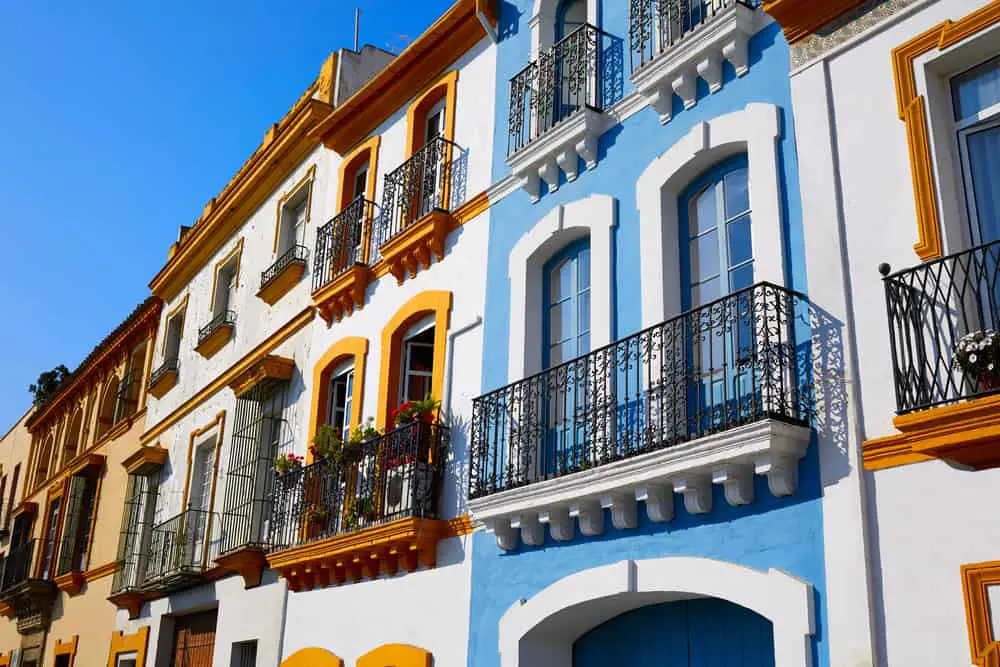 IF YOU HAVE THE TIME…
⭐How to see the Red River in Spain
⭐The most epic day trips from Seville
⭐Beautiful towns and cities near Seville
⭐Things to do in Carmona, Seville
Reflections on a day in Seville
I hope you enjoyed this Seville itinerary 1 day excursion. It does cover all the top attractions, though crammed into one day in Seville, I hope you'll enjoy and get a taste of one of the best cities in Andalucia.
There are a lot more things to see and do if you have more time, especially if you happen to travel during one of the Fiestas in Seville.
Nevertheless, I hope you fall in love with Seville just as much as I have.
Happy travels!