The Andalusian capital city has become one of the most visited cities in Spain and it is easy to spend a fortune when you go there. While most of the top attractions in Seville include entrance tickets, there are a lot of free things to do in Seville if you're on a low budget.
After living in the city and exploring it in-depth from a local's perspective, I usually spent my time exploring Seville's free things to do.
With beautiful architecture, a glittering river, and lush green spaces, there are enough things to explore even for broke travelers. And the good news, you can even visit some of the paid attractions for free on certain hours or days of the week.
In this post, I'll share what to do for free in Seville so that you can see the best of the city without breaking the bank.
Disclosure: This post may contain affiliate links. That means that if you make a purchase through one of those links, I will get a small commission at no extra cost to you.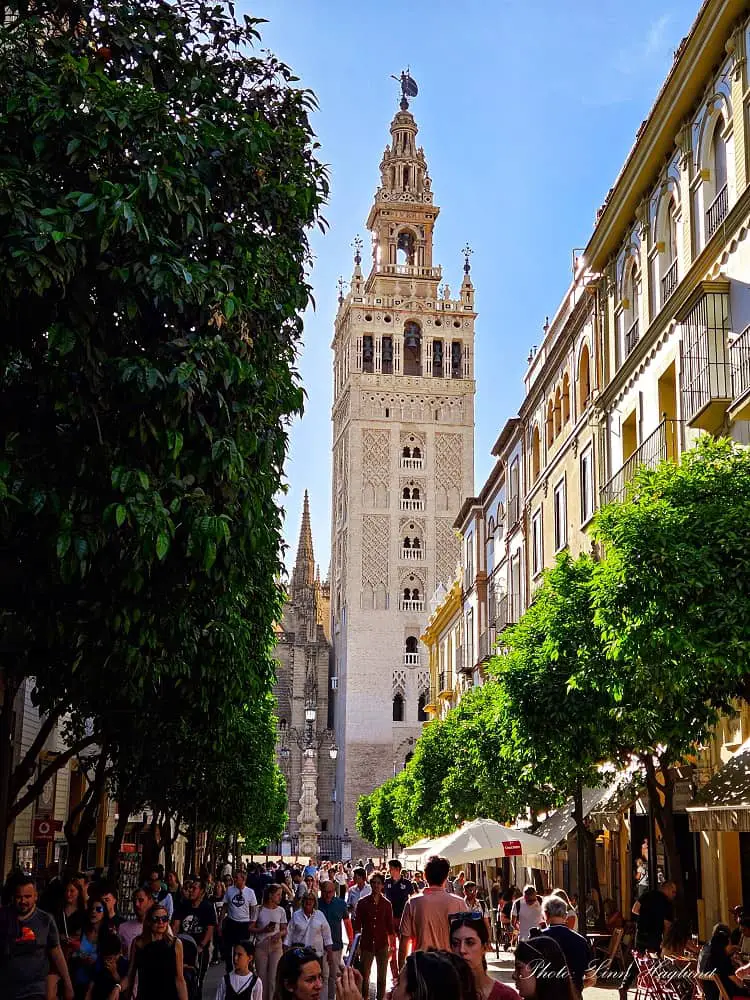 MORE FROM SEVILLE
Free things to do in Seville
See a Flamenco show in Plaza de España
One of the least expected free things to see in Seville is a Flamenco show. However, at Plaza de España there are often performances for tourists outside, and in my humble opinion, they are quite talented.
It is a completely different experience than seeing such shows in a Flamenco place, but not necessarily a worse experience.
With people gathering around and clapping, there is an energetic vibe about these street performers that I love. If you're low on cash, it's a great way to experience free Flamenco in Seville.
Stroll around Barrio Santa Cruz
One of the most famous neighborhoods in Seville is Barrio de Santa Cruz. This used to be the old Jewish Quarter of Seville and has turned into one of the top tourist attractions.
The streets are cute and narrow, winding through old buildings, Flamenco joints, artisan shops, restaurants, and bars. In my opinion, it keeps its charm even though it's touristy and it's one of my favorite neighborhoods in Seville to walk around just for the sake of it.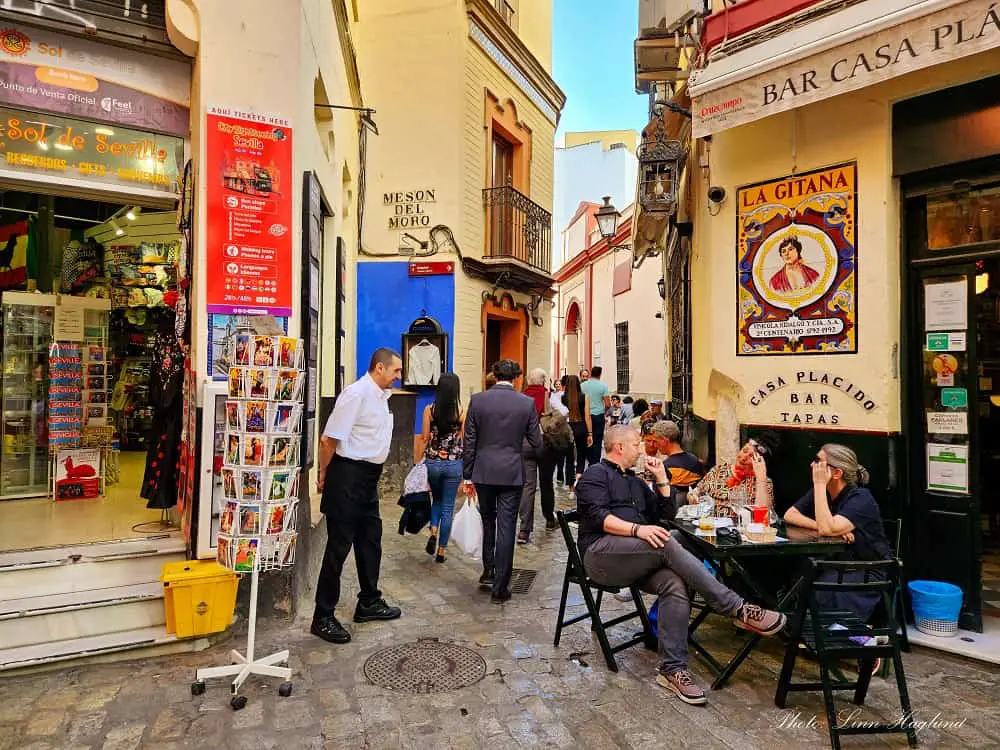 Explore quirky art outside Centro Andaluz de Arte Contemporáneo
Definitely one of Seville's hidden gems and one of my favorite places outside the historic center is the Centro Andaluz de Arte Contemporáneo. There is a fee to enter, but you can stroll around the patio and gardens outside.
There are a few quirky and interesting art pieces that you can see for free. The garden is not looked after very well, unfortunately, but in my opinion, the statues are well worth the visit.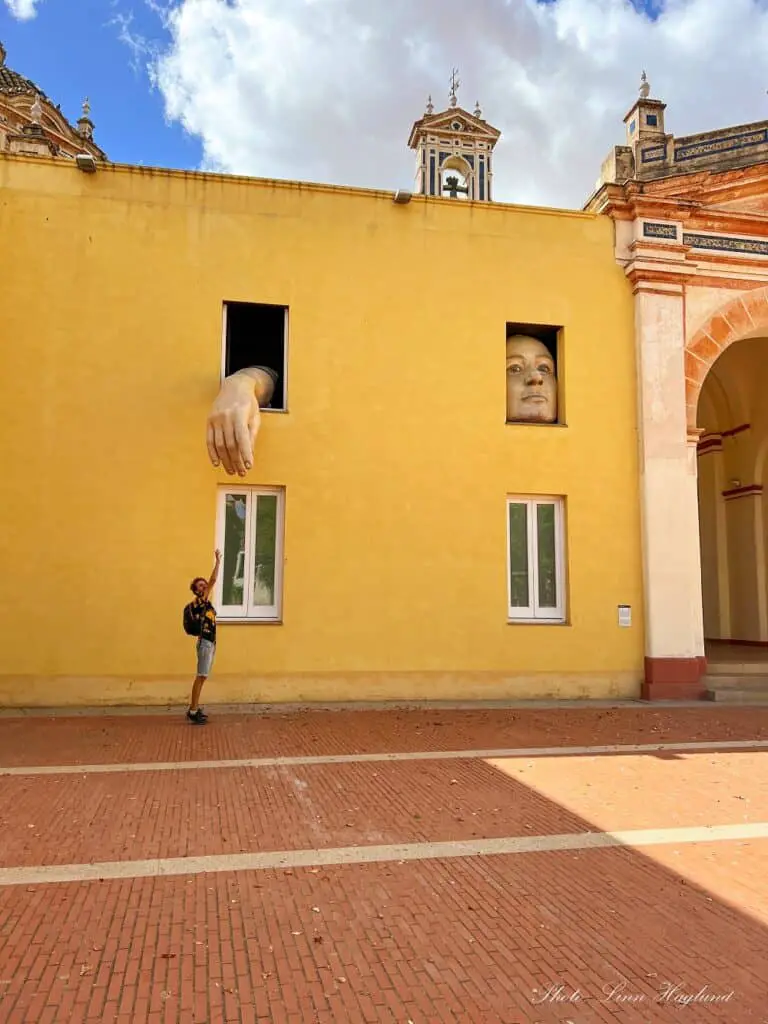 Take a photo shoot at Plaza de España
In my opinion, the most picturesque place in Seville is Plaza de España with its half circle made out of tiled benches featuring each province in Spain.
To get across there from the large plaza, you have to cross one of the splendid tiled bridges crossing the small canal above row boats floating back and forth like a little Venice.
Plaza de España surely makes for the best place to take your vacation pictures with a traditional Andalusian touch of white and blue tiles. And the plaza is completely free to visit including climbing the stairs inside to get imposing views of the plaza from above.
Stroll around the Maria Luisa Park
Maria Luisa Park is the biggest green space in Seville and one of the most popular parks in Seville among locals and tourists alike.
I might have a sweet spot for this park as we used to hang out there with beers in my study days, but even coming back there years later, I always enjoy a stroll through the park.
There is so much to see from Moorish remains, beautiful fountains, and statues so there is enough to set your eyes on.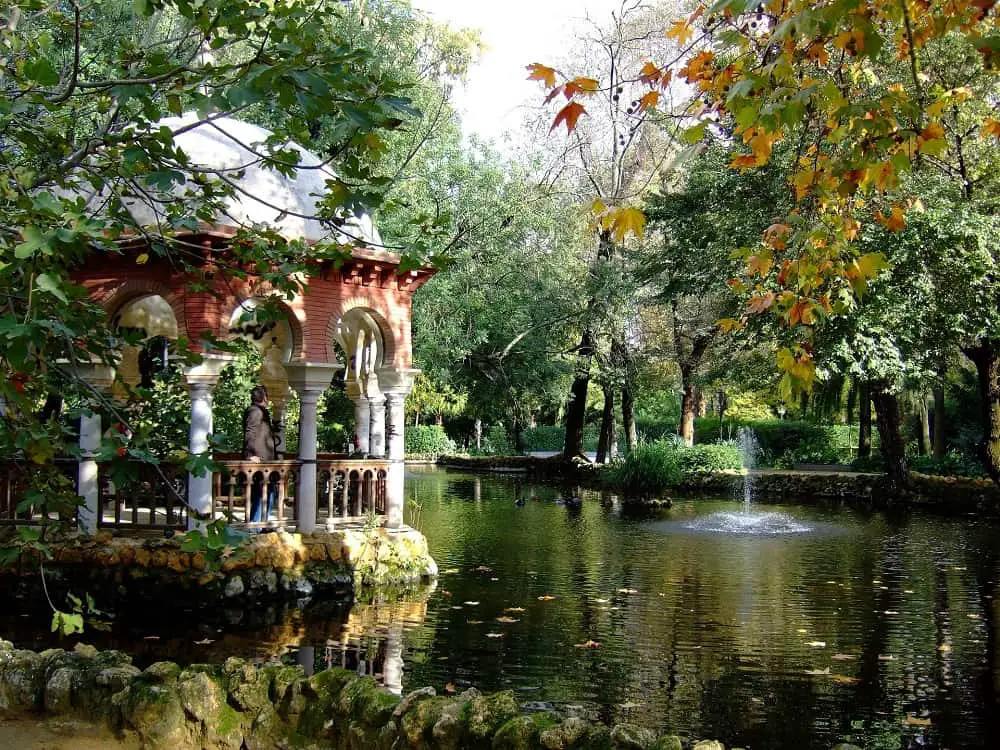 Stroll along the Guadalquivir River
One of the top things to do in Seville for free is to go on a stroll along the Guadalquivir River. It is particularly scenic to walk from Torre del Oro to the Triana Bridge as you get the view of the colorful houses of Calle Betis on the other side of the river.
Cross the Triana Bridge and take a peek inside Triana Food Market which is one of the prettiest in Andalucia.
Free walking tour
A free walking tour is a great way to see the city and learn more about Seville's history and attractions. The walking tours typically last for 2 hours and start by one of the famous attractions like Plaza de España or the Metropol Parasol.
Note that even though the free walking tours are a great way to see Seville for free, it is expected to tip the guide. They so put a lot of time, effort, and knowledge into taking tourists around and deserve to be compensated for it.
Visit Torre del Oro on Mondays
Torre del Oro on the banks of the Guadalquivir River has been an important part of history since Seville was trading with the New World.
Normally, there is a small entrance fee of 3 Euros. However, there is a way to visit it for free. If you are visiting the city on a Monday, you can get free entrance to Torre del Oro to see its museums inside and the views of the Guadalquivir River and the Triana neighborhood.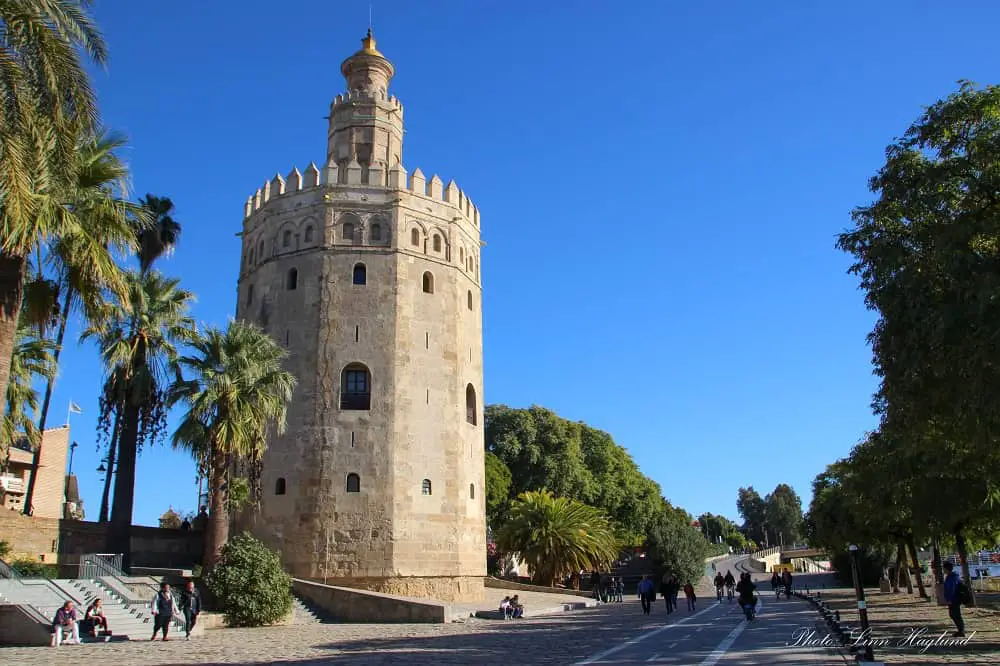 Visit Real Alcazar
The Real Alcazar is one of Seville's most impressive landmarks and impressive Moorish heritage. Usually, there is an entrance fee. But if you visit at certain hours of the day, you can get a glimpse of this imposing palace for free.
Between April and September, you can enter for free at 18:00-19:00 and between October and March, there is free entry at 16:00-17:00.
If you're short of money, this is a great way to see one of the city's UNESCO sites and I can safely say that it's one of the best free things to do in Seville.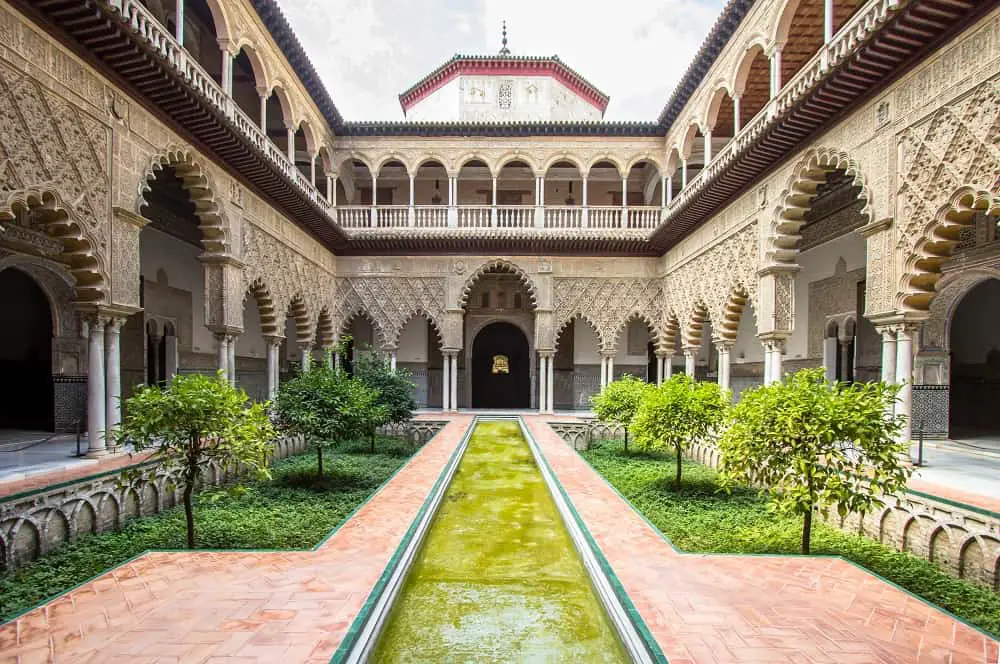 Seville Cathedral and the Giralda
Among the top free things to do in Seville is to visit Seville Cathedral for free, including the Giralda Tower. Yes, you heard me right!
The cathedral is the largest Gothic building in the world and it is absolutely breathtaking inside, so getting the opportunity to see it for free is a true privilege. I particularly love the Orange Garden.
There are a restricted 100 free tickets a week and the timeslots can be booked between 10:45-18:00 Monday to Saturday and 02:30-19:00 on Sundays. You must book your free ticket in advance on the cathedral's official website. I wrote a whole guide to booking tickets for Seville Cathedral with all you need to know.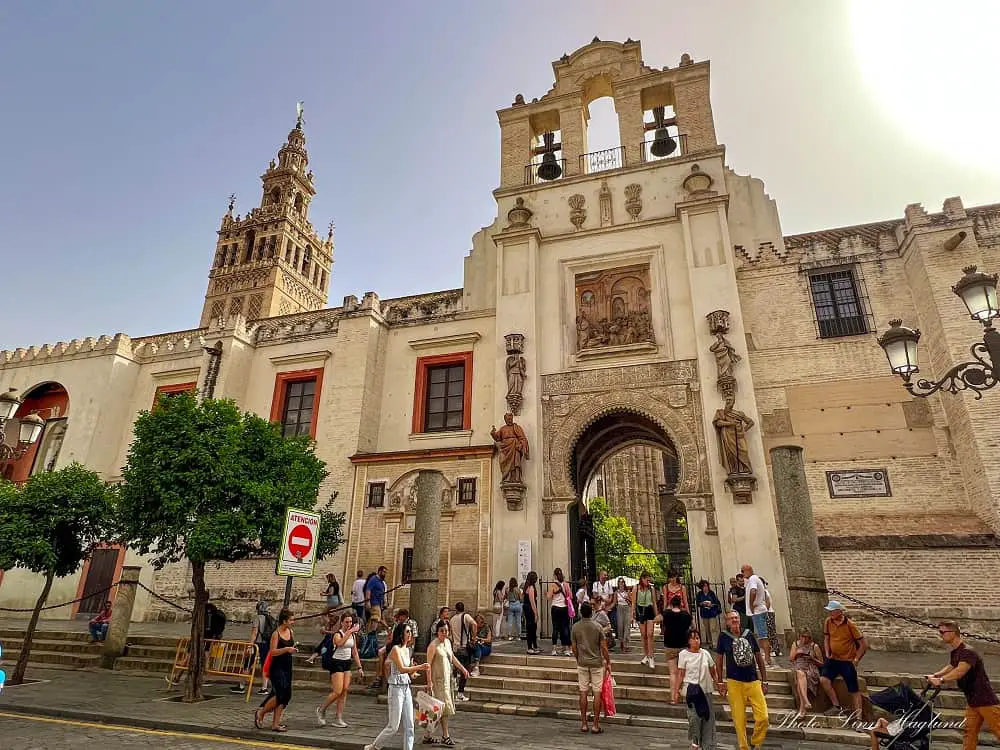 Admire the Giralda
One of the prettiest structures in Seville is without a doubt the city's biggest pride, the Giralda Tower of Seville Cathedral.
If you are not there to snatch a free ticket to the cathedral and to climb to the top to see the views, the tower itself is best seen from the square below and the streets leading up to it.
I just returned from Seville a couple of days ago and even though I've lived in the city and been there more times than I can count, the view of the mesmerizing Arabic tower still left me with awe whenever it stood in front of me.
I can assure you that a walk to Plaza Virgen de Los Reyes is one of the best free things to do in Seville.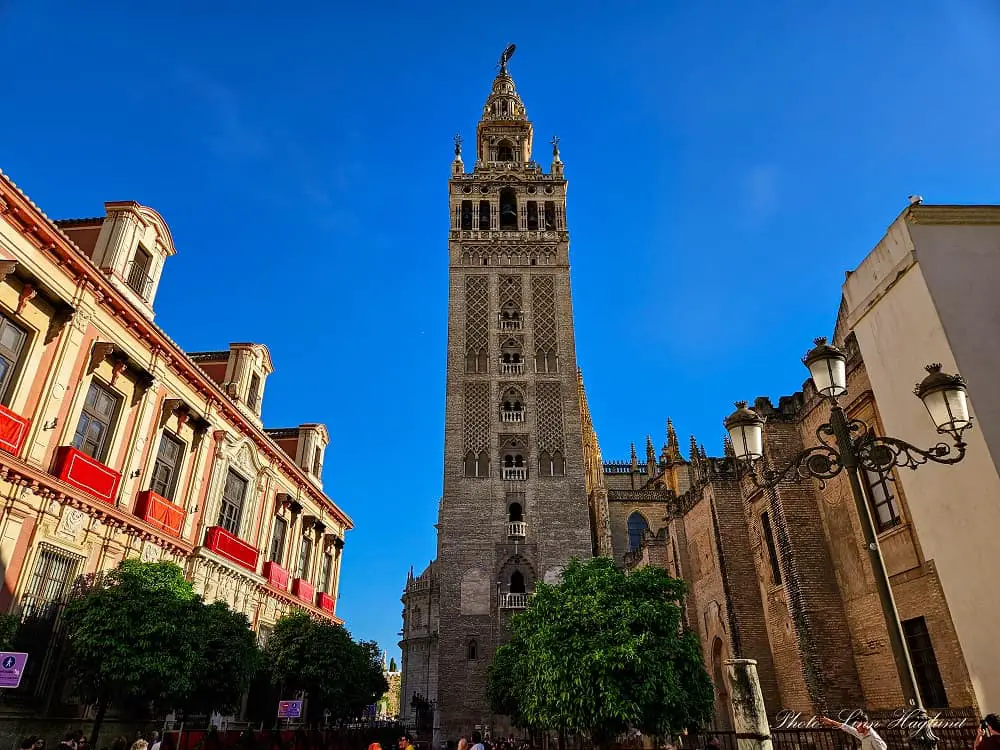 Plaza de Toros de la Maestranza + Museum
Ok, this is the first time I will ever promote visiting a bullring. Personally, I would never leave money to a functioning bullring, as I find the activities highly unethical.
Yet, I do understand that as a tourist, you are curious about what a bullring looks like inside in a country where bullfights have been such an important part of their history. And still is.
For this exact reason, I think it is fair to say that if you want to visit the bullring without supporting more bullfights, you can take advantage of their free visiting hours.
On Mondays, between 15:00 and 19:00, it is possible to visit the bullring for free. There are limited free tickets at the entrance and once they are gone, they go back to the normal entry price.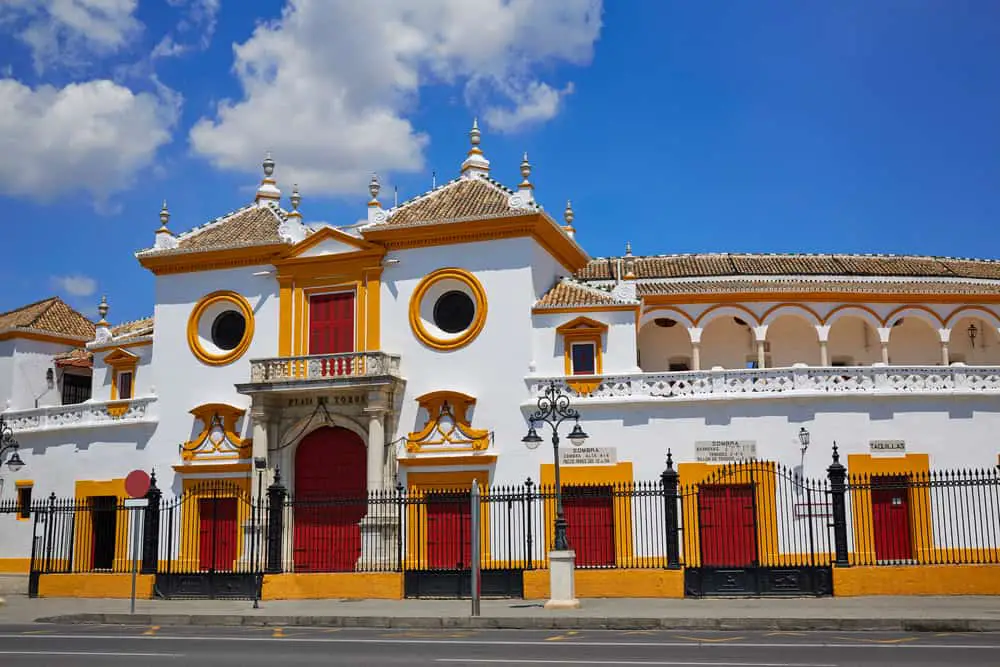 Take a picture of the Metropol Parasol
The Metropol Parasol (Setas de Sevilla) is unfortunately not among the free attractions in Seville. However, the mushroom-shaped structures are pretty cool to see nonetheless.
So even though you can't enter and climb the rooftop, it is worth going there to take a picture or two.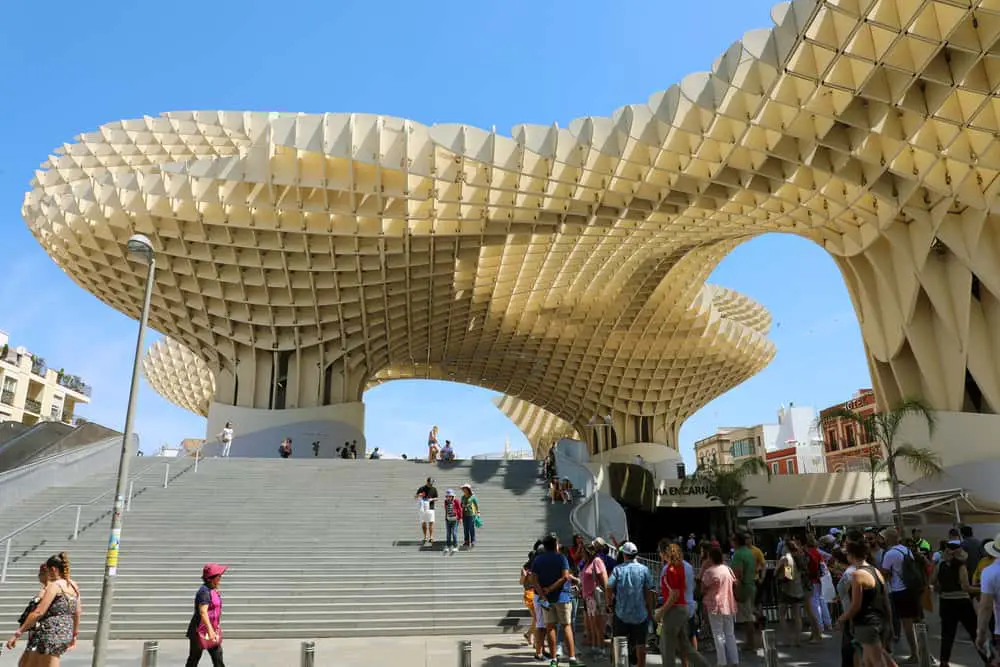 See the Three King's processions
One of the most fantastic things to do for free in Seville is to attend a Three King's Parade on the 5th or 6th of January when the Spanish celebrate Christmas.
The streets are packed with people and the dressed-up people on the carriages that walk the parade throw candy at the kids. This means that no matter how big a kid you are you can fill your pockets with sweets!
This is one of the big Spanish celebrations that you can see in Seville in winter and is a fun thing to experience whenever you holiday in Andalucia in the winter.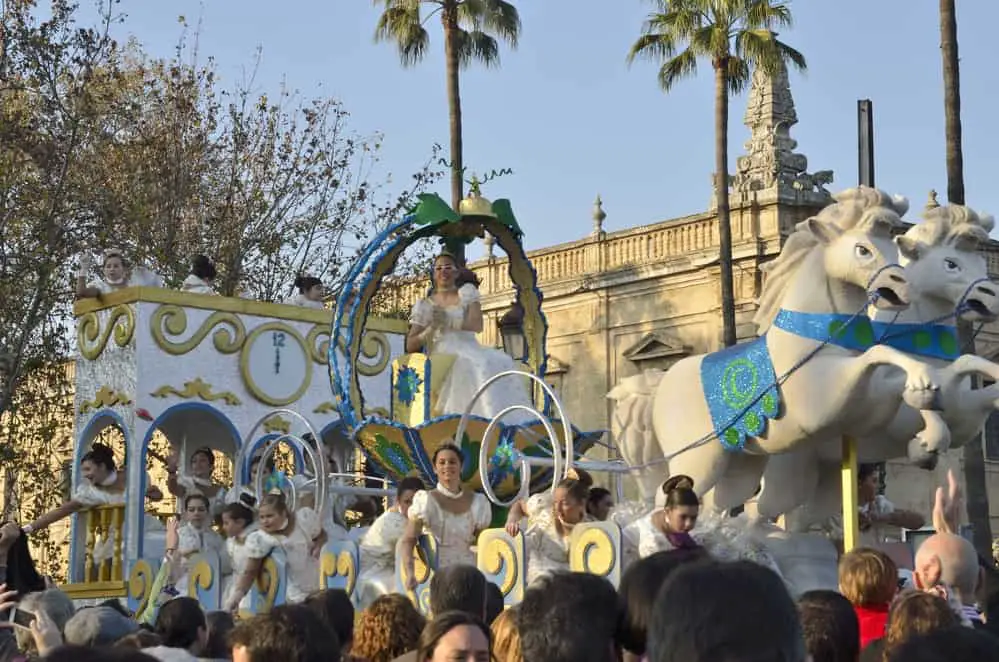 Experience the Easter Processions during Holy Week
One of the biggest events in Seville is Holy Week. Throughout the days and nights, large processions fill the streets. "Nazarenos" dressed in capes and pointy head covers, big floats, and bands walk through the city and thousands of spectants crowd to see these religious parades.
I have seen the Holy Week in quite a few places in Andalucia, but there is something special about the ones in Seville. In particular the night processions when the "Nazarenos" carry large candles and the floats are lit up. The dark music sets the mood and the silent crowds make the whole experience so magical.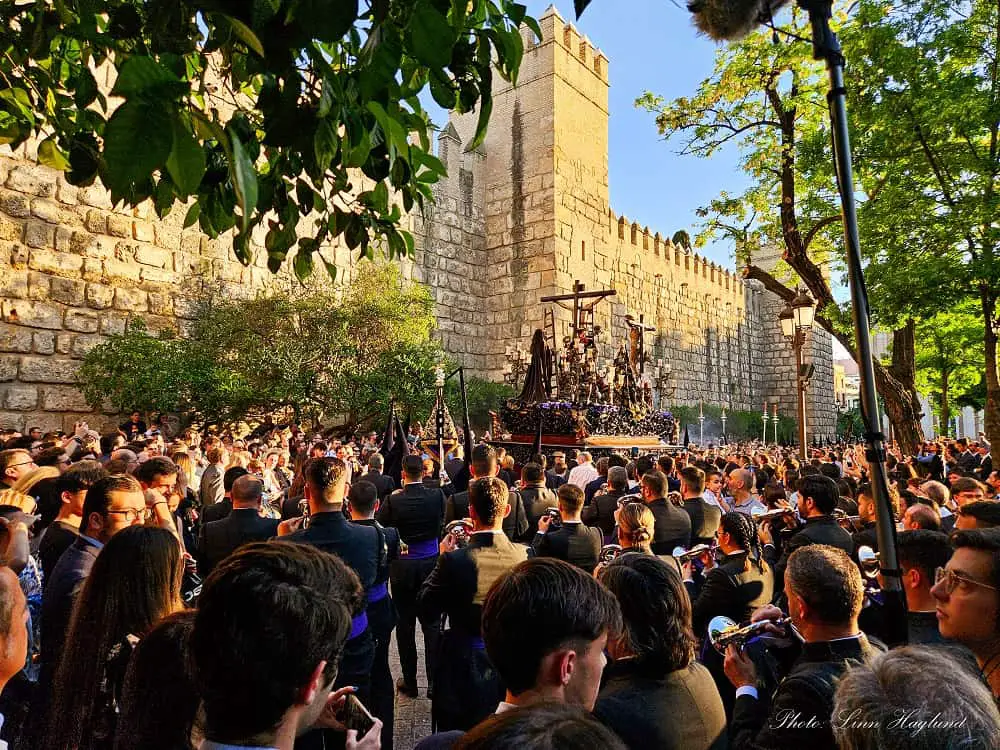 Party at the April Fair
The April Fair (Feria de Abril) is the biggest fiesta in Seville. Quite different from other ferias in the country, they have mostly private "casetas" (party tents) where you need to know someone to buy a ticket.
However, there are a handful of public "casetas" and they are free to enter. While I have always known people who have got me into some of the private ones, I have also spent time in the public houses and it is just as much fun.
So if you happen to be in Seville two weeks after Holy Week, one of the best free things in Seville is right at the Fairground.
But even in the daytime, it is worth visiting the area as you will see traditionally dressed people and many of them riding their horses around.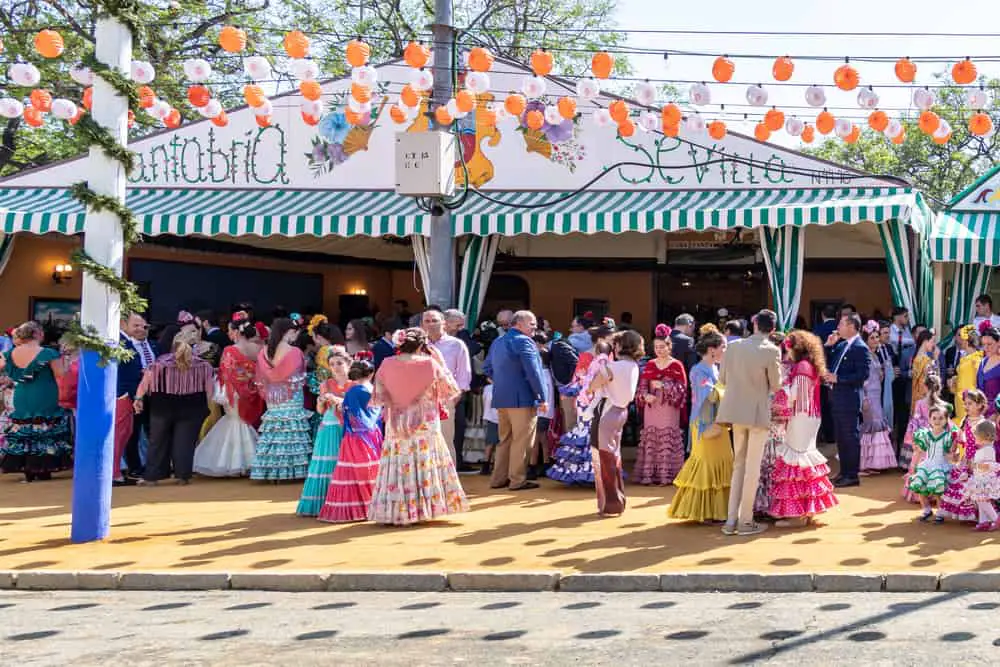 Reflections on free things to do in Seville Spain
There are so many cool free things to do in Seville Spain and I love the fact that you can see most of the top tourist attractions for free at certain times too.
Seville is a wonderful city so you should not miss out on it just because you travel on a budget. I hope you found this useful so that you can start planning your vacation.
You might also find it useful to read my guide to free parking in Seville.