The best time to visit Malaga, Spain is very subjective and depends on your personal preferences and what you love doing.
Blessed with around 320 days of sun in the year, there are heaps of fun activities to do all year round, but you might not be able to do the same things in winter as you do in summer and vice versa.
That's why I'll give you an honest insight into the different seasons, what to expect from the weather, and what you can do, and not do.
Read on to find out the best time to visit Malaga for you so that you can start planning your vacation!
Disclosure: This post may contain affiliate links. That means that if you make a purchase through one of those links, I will get a small commission at no extra cost to you.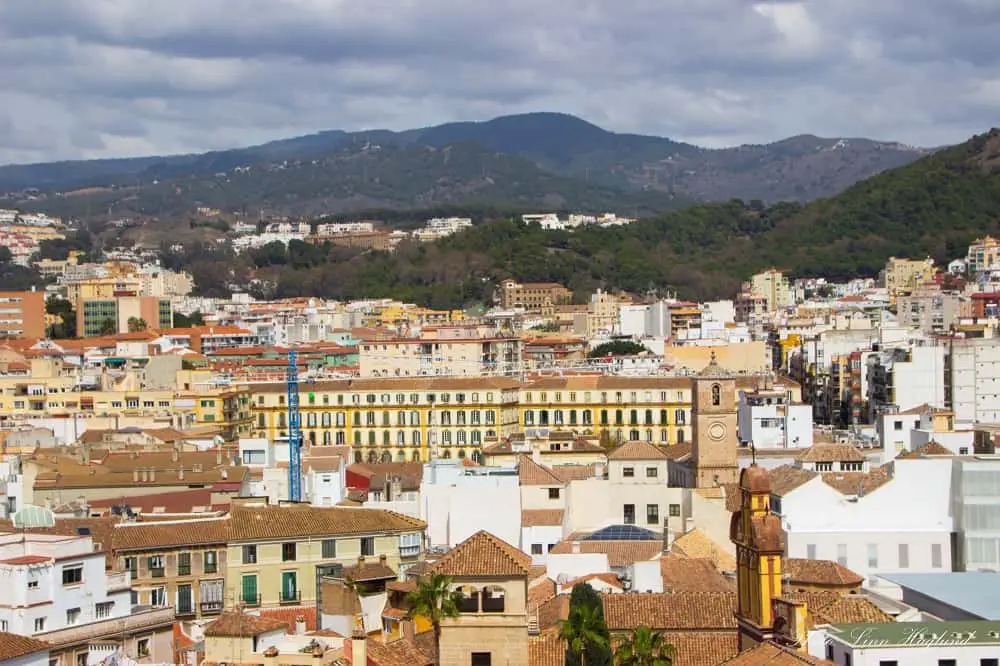 Best time to visit Malaga Spain
Winter in Malaga
Average temperatures: 18°C/8°C
Average days of rain: 4-5 days/a month from December to February
Best for: Hiking, shopping, visiting museums, exploring mountain villages
Worst for: Beach, swimming
What to do
Winter in Malaga is one of my favorite times of the year because it is perfect for hiking in the mountains overlooking Costa del Sol. In the summer, it is too hot for it.
However, if hiking is not your jam, there are still plenty of exciting things to do in Malaga in winter. It is a great time to go shopping and visit museums, especially on rainy days.
Malaga in December is also wonderful with Christmas light shows and generally a festive time of the year. Spending Christmas in Malaga offers a completely different vibe than most other European destinations.
You can also spend this season renting a car and exploring the surrounding villages near Malaga, like Casares, Mijas Pueblo, and larger Malaga towns like the spectacular Ronda.
There are so many incredible day trips from Malaga you can do in winter, like a Malaga to Gibraltar day trip or even go on an organized tour from Malaga to Morocco in a day.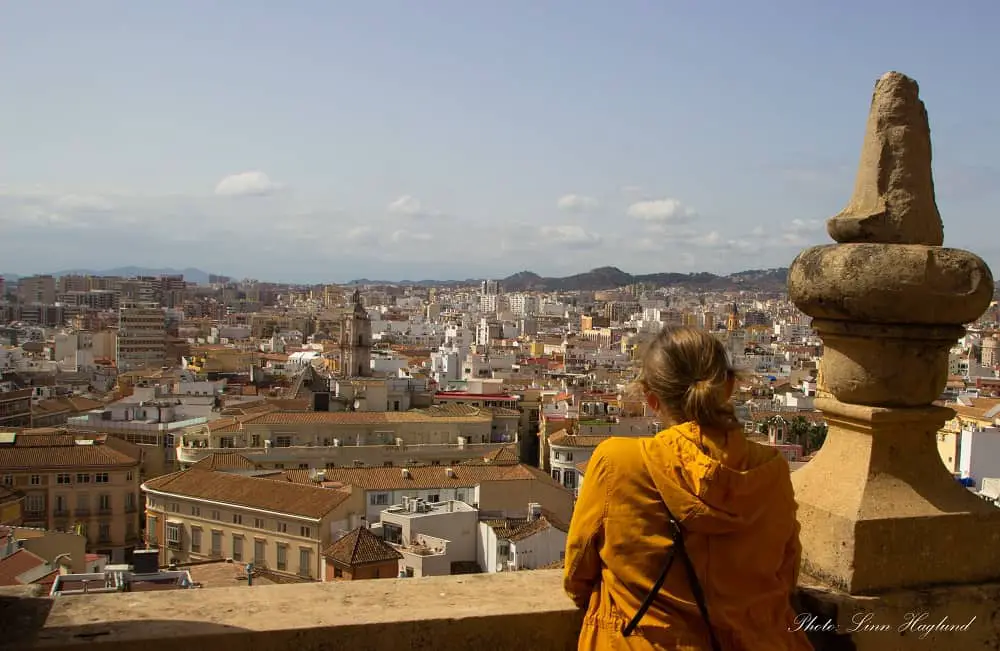 Highlights of winter
Lightshow in Calle Larios – In the month of December and until the 6th of January, you can see a spectacular light show in Calle Larios with Christmas music. Be prepared for the crowds!
Three King's Parade – Parades going through the city on the evening of the 5th of January and the 6th morning. Get ready to fight for candy with the rest of the crowd!
Malaga Carnival – Party in the streets with the locals and see fun floats around the city.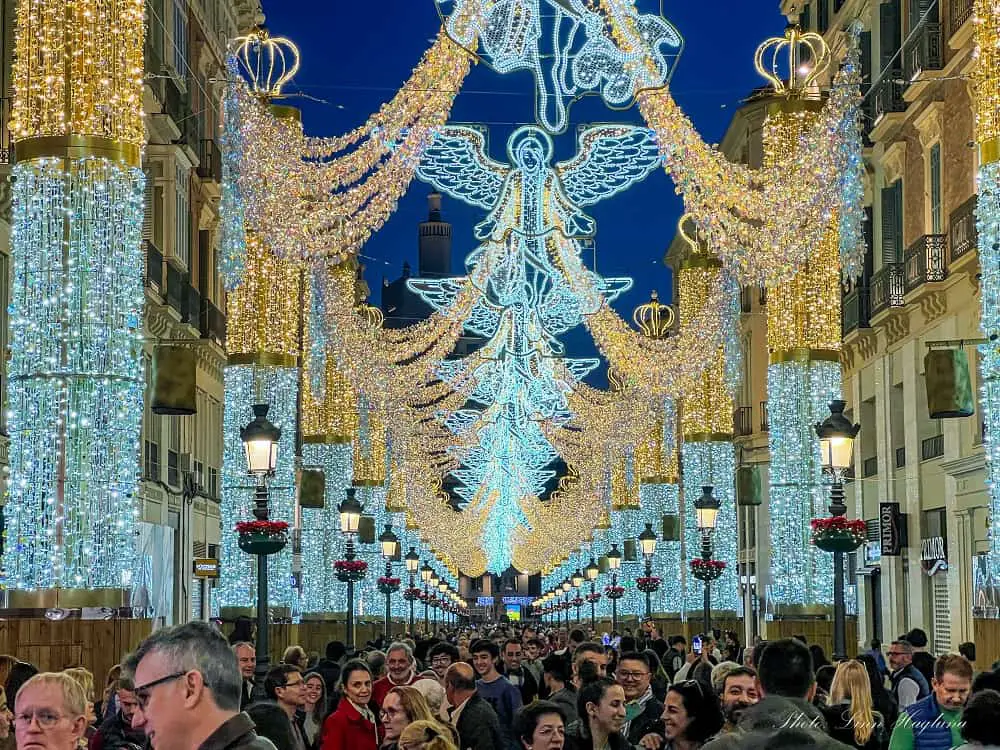 Actual weather expectations
Generally, the winter months are mild and sunny, but when it rains it rains. And I'm not gonna sugarcoat it. Most years, the torrential rain can last 1-2 weeks at a time and I've experienced flooded roads, cars, houses, and even collapsed roads.
I don't recommend going out on days like these.
Traffic stands still and you can't take a step outside without being drenched, with or without rain boots and a coat. An umbrella will mostly not be of any use due to the wind.
Often, however, rain in the winter months is more frequent at nighttime and early morning and then eases or stops late morning. This gives you some time to explore, but I would recommend indoor activities like museums, restaurants, and cafés.
In my experience, late November to early December has a 90% chance of a hefty session of torrential rain. That said, Malaga is one of the most pleasant destinations in Andalucia in winter due to the mild weather.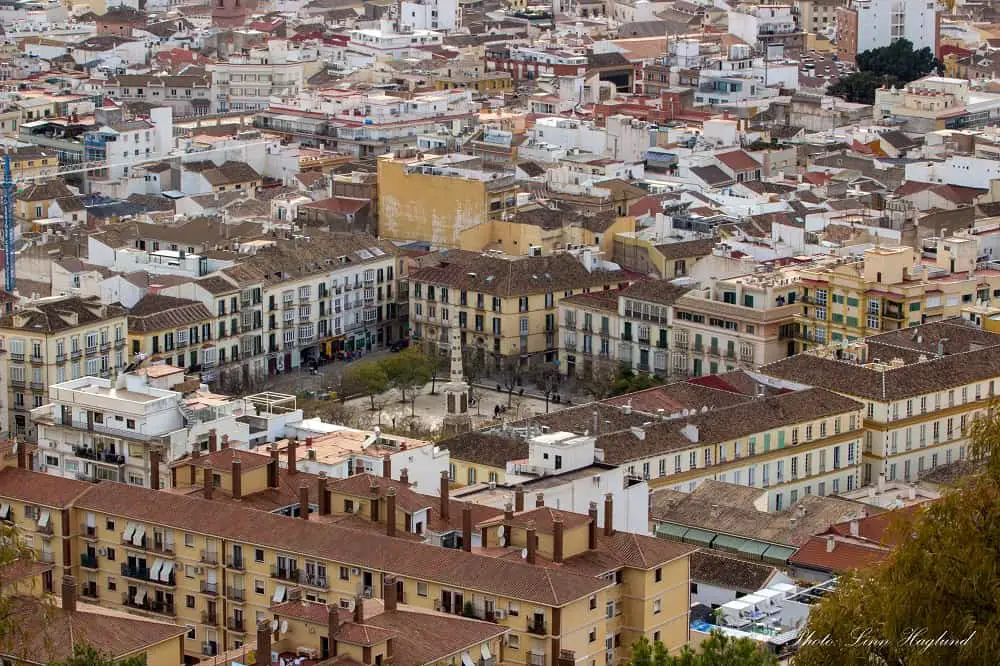 IMPORTANT NOTICE FOR LATE WINTER AND SPRING!

From late December to early March, depending on how hot the winter is, Pine Processionary Caterpillars start crawling out of their nests and can be seen until early summer.

These are small larvae with millions of arrow-like hairs that are super poisonous. When they crawl out of their spider-web-like balls in the pine trees, they walk in lines, sometimes up to 2 meters long until they find a place to dig a hole in the ground and turn into moths.

If you travel with dogs or small children, be aware that the poison can be deadly to them, so avoid hiking with dogs in Malaga's pine forests between late December until warmer temperatures come in early summer.

Adults might get a severe or mild allergic reaction too, so be aware, keep children under supervision, and teach them not to touch them or step on them.

I have written an in-depth article about these caterpillars on my Andalucia Hiking blog that you can read here.

I also made a video about them that you can check out below.
Spring in Malaga
Average temperatures: 24°C/10°C
Average days of rain: 3-4 days/a month from March to May
Best for: Hiking, shopping, visiting museums, exploring mountain villages, beach, swimming
Worst for: Hiking with dogs
What to do
Spring in Malaga is lovely, temperatures rise and you can start going to the beach with the odd 30 °C days that come with the longer days. The bold ones might even go for a swim.
Personally, I'm not a fan of swimming before it's really hot in the air, and even I have gone swimming as early as February some years. Just be prepared for cold seawater. The beaches will also be pretty empty compared to the summer months.
If you prefer freshwater, the lakes might be warmer and you can enjoy a lovely day trip to El Chorro Lakes combined with walking the jaw-dropping Caminito del Rey.
Spring is just as good as winter to enjoy the outside tables of bars and restaurants, go on tapas crawls, or go shopping in Calle Larios.
I love the springtime in Malaga the most because of the colorful flowers accompanied by the sweet scent of orange blossoms filling the streets.
If you plan a day trip from Malaga to Seville or Cordoba, spring is a great time of the year as these are the hottest cities in Spain during summer.
Spring is the best time to visit Cordoba due to the patios. A road trip through towns and villages like Iznájar, Priego de Cordoba, Rute, and Zuheros will open up a whole new Andalucia with splendid patios in the springtime.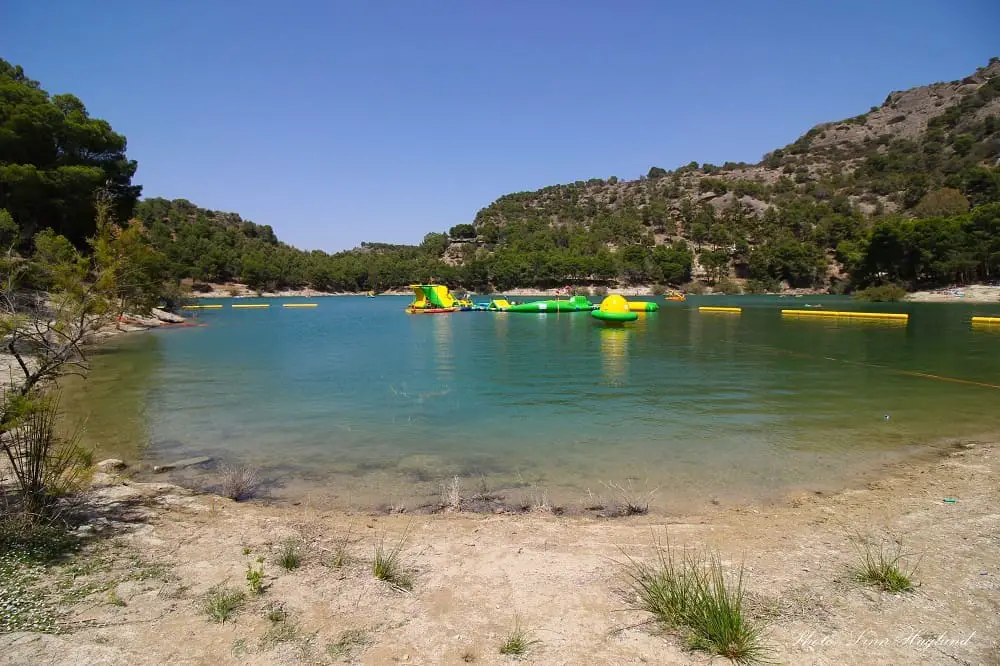 Highlights of spring
Easter week: Experience one of the most impressive celebrations in Spain where long processions carry religious floats accompanied by melancholic music.
Actual weather expectations
Usually, spring shows already in mid-late February, with warm weather and beach temperatures. However, it can be a bit back and forth with casual colder days, wind, and rain before it stabilizes for summer.
Spring is a time of the year you must pack a bit of everything, just like the fall. There are usually still big differences in temperatures from day to night, so make sure you bring a thin jacket in your bag to cover up with as the sun sets.
Summer in Malaga
Average temperatures: 31°C/18°C
Average days of rain: 0-1 day/a month from June to August
Best for: River hiking, beach, swimming
Worst for: Hiking in the mountains, crowds
What to do
Summer is without a doubt the best time of the year to visit Malaga for beach dwellers and those who enjoy lunch and drinks in the beach bars.
Malaga is very crowded in summer, though, especially in August when the Spaniards take their vacations. Personally, I prefer a more relaxed beach atmosphere than what Malaga offers, but I know I'm one of few.
That said, there are places to escape the crowds. Rent a car and go to Istán Lake or rent a kayak at El Chorro Lakes to remove yourself from the crowded areas. The lakes are huge and there's plenty of room for everyone.
Personally, I like to escape to the beaches in Cabo de Gata in the province of Almeria. It is a bit of a drive, but they are more spacious and not crowded, even in the high season.
The summer is also great for exploring nearby beach towns in Andalucia, like Nerja, and La Cala de Mijas, and splashing around in the water park of Fuengirola.
However, if you travel to Malaga in August, you might get a crowded experience, but you might also catch the Feria de Malaga, the famous Malaga Fair. Going to this local festivity is definitely one of the best things to do in Malaga!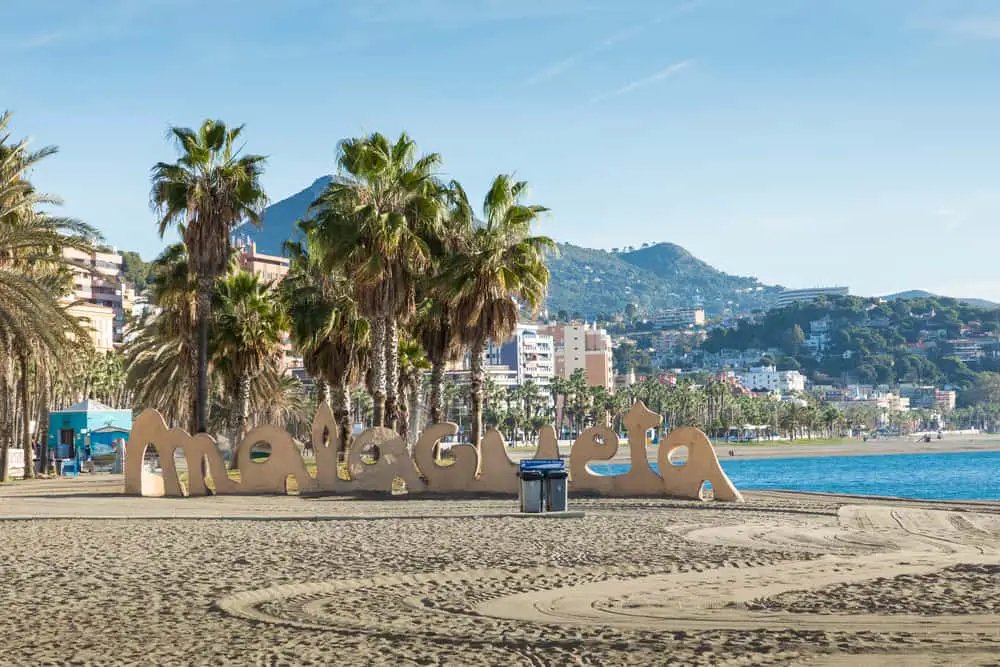 Highlights of summer
Feria de Malaga: The yearly Malaga Fair is held in the month of August – get ready to party like a local in the streets surrounded by colorful Flamenco dresses!
Actual weather expectations
So, what is the weather like in Malaga during the summer? Temperatures in Malaga in the summer are a lot milder than in other cities in Andalucia.
Being protected by mountains, the city is blessed with a micro-climate that makes it mild in winter and summer alike.
However, a mild summer in Andalucia is still temperatures around 30°C. There is not much rain in the summer, but I have experienced it some years. And it was truly refreshing!
The downside of little rain and warm temperatures is the large fire hazards and every year, there are wildfires in the mountains. Both in 2022 and 2023, the fires were completely out of control, and we lost a fireman in the 2022 fire.
So please be mindful and don't throw cigarette butts out of the car window or leave glass bottles in nature.
Fall in Malaga
Average temperatures: 28°C/11°C
Average days of rain: 1 day in September, 4-5 days in October-November
Best for: Swimming, beach, fewer crowds, shopping, hiking
Worst for:
What to do
Fall in Malaga is basically a mix between a prolonged summer and an early winter with about a week to experience fall colors – if you go to the right places.
While every year is different, I wouldn't travel to Malaga in the fall without packing my bikini. Last year, I was swimming until late October, and as I mentioned before, I don't swim if it isn't hot.
Yet, some years it might be colder and you won't use it. But hey, how much does it really weigh in your luggage?
Even if you're not going to the beach, there are plenty of things to do in Malaga at this time of the year. At least one day in Malaga should be spent visiting museums like the Picasso Museum and the Pompidou Museum.
Temperatures are milder than in the summer so touring the castles in Malaga like the Alcazaba and Gibralfaro is perfect in the fall too. Besides, hiking season starts as soon as the temperatures drop, normally between mid-September and early October.
If you want to chase fall colors, I recommend going to Valle del Genal in mid-November. But check the weather forecast and if there are days with rain, try to go before the rain rather than after so the fall leaves won't all be blown off the trees when you get there.
Hiking from Igualeja to Parauta is a brilliant way to see the golden coats of the "Bosque de Cobre" (copper forest,) but if you travel with smaller children, I suggest you drive directly to Parauta and walk the 2-kilometer long "Bosque Encantado" route.
Translated, it means enchanted forest and it is full of fairytale statues, wood-carved figures, and little gnome houses in the trees. Your kids will love it while you can enjoy the fall colors from the trail.
In my opinion, fall is the best time to go to Malaga because of the prolonged summer, the sea is warmer than in spring, and a lot of exciting hiking opportunities arise as the temperatures drop.
Actual weather expectations
As mentioned above, fall is kind of an extension of summer where temperatures slowly lower, but still are high enough to enjoy the beaches (without the crowds – at least on the weekdays) and go swimming.
However, the weather is not as stable as in the summer, so you might get showers and windy days.
Towards November, there is normally a shift in temperatures and it gets colder, especially at night. In my experience, over the last 10 years, there is a large chance of heavy rainfall at the end of November and the start of December.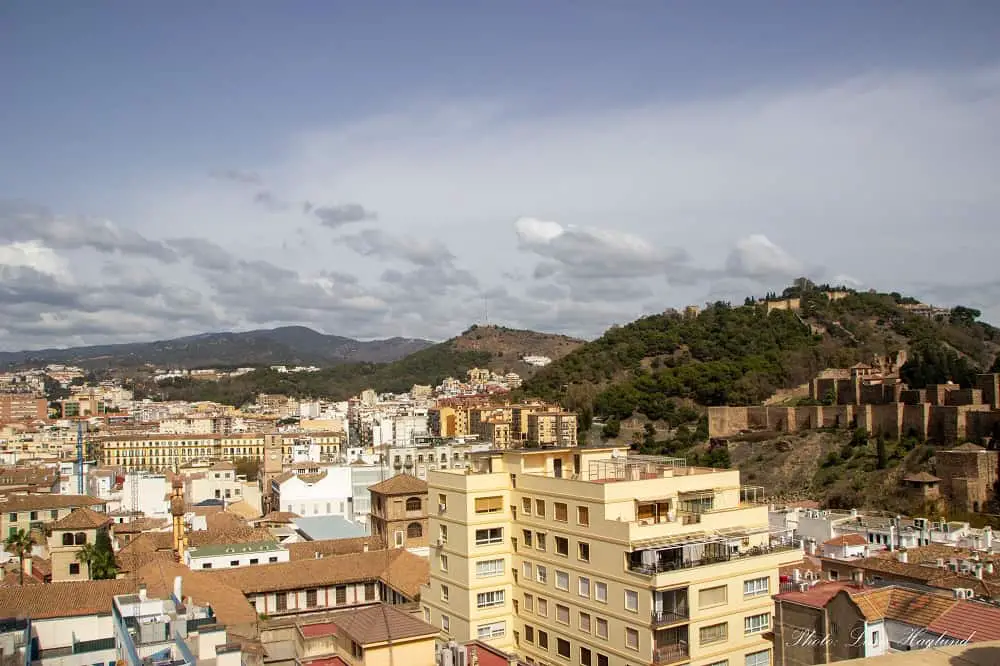 Reflections on the best time to visit Malaga
As you can tell, when to visit Malaga completely depends on your preferences. Things to do throughout the year are plentiful, so you just have to figure out what fits your vacation style.
While I tend to escape the crowds, you can ask people in Malaga when to visit and they will say summer for sure. And they aren't wrong! Summer is high season in Malaga for a reason!
Find your season and make it a perfect trip. Make sure you check out my complete guide to where to stay in Malaga before you go. Not quite set on the destination yet? Read my post about Malaga vs Marbella before you make a decision.
Happy travels!