While many envision a white Christmas with snow-covered streets and icy temperatures, Malaga offers a refreshingly warm alternative. Christmas in Malaga is truly magical and a wonderful time to visit.
Especially the Malaga Christmas lights are famous across the country with the light show in Calle Larios being a main tourist draw during winter in Costa del Sol.
The city is covered in warm Christmas lights and decorations, glittering palm trees line Muelle Uno, and Malaga's Christmas Markets promise new additions to your nativity scene.
After 10 years in Andalucia, I can safely say that during Christmas, Malaga delivers! It's a delight walking around the city and doing holiday shopping.
If you're considering visiting Malaga for Christmas, read on to find out everything you need to know about celebrating Xmas in Malaga.
Disclosure: This post may contain affiliate links. That means that if you make a purchase through one of those links, I will get a small commission at no extra cost to you.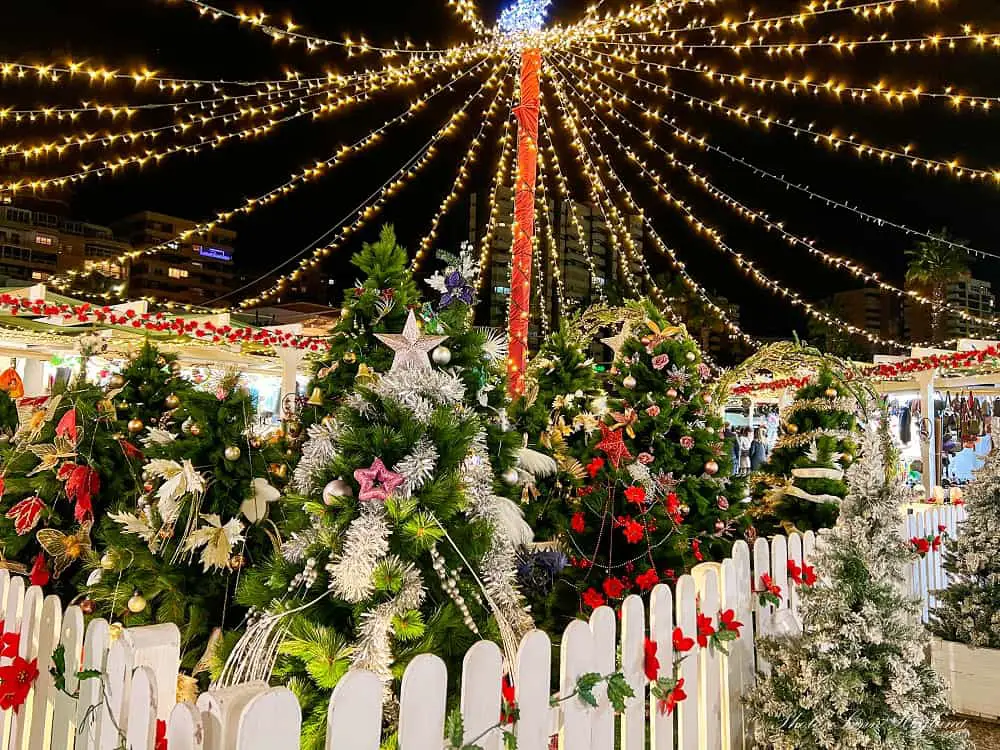 RELATED POSTS
Weather in Malaga at Christmas
The weather in Malaga, Spain during Christmas is pleasantly mild. Unlike many northern European cities where snow and frigid temperatures dominate, Malaga enjoys average highs of 17-18°C (63-64°F) in December, making it an appealing destination for a sunny holiday escape.
But you can also have days of 20+°C perfect for lazying at the beach, while other days can be around 10°C with chilly wind and rain.
You will likely experience the locals wrapped up in warm winter coats and scarves while tourists eat ice cream in shorts and t-shirts.
No matter what you prefer, I recommend dressing up in layers, because while it's warm in the sun, it gets really cool in the shade and as soon as the sun goes down.
I usually always take off and on my jacket multiple times during a day in Malaga at Christmas times.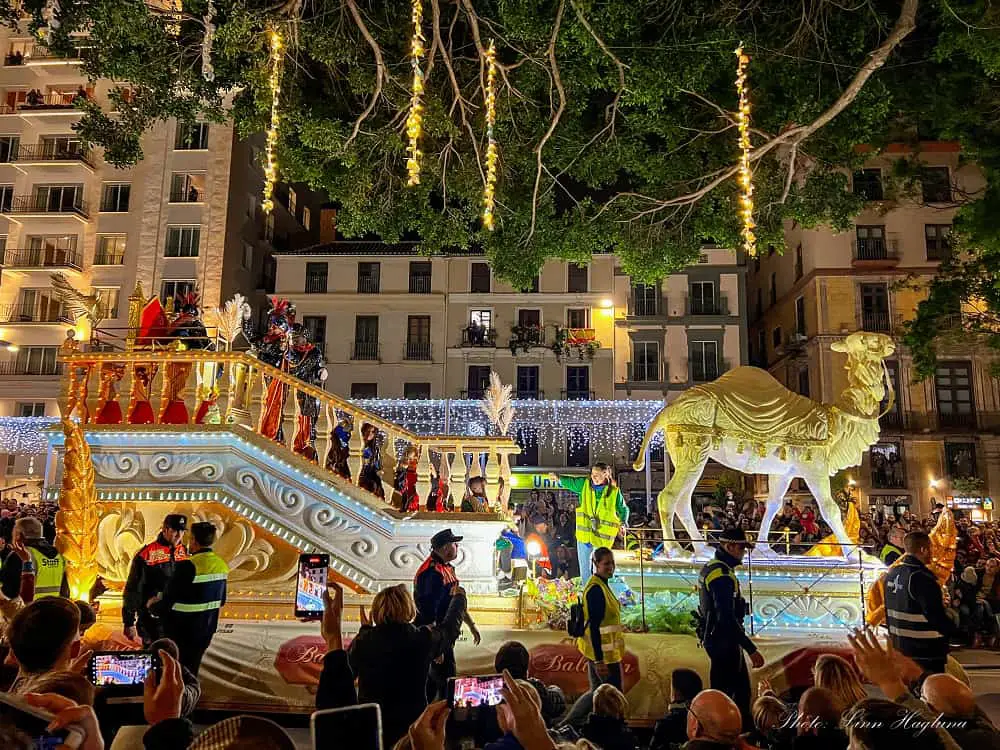 Christmas in Malaga
Christmas in Malaga is celebrated on the 25th of December as we are used to in other European countries, but also on the 6th of January on the Three King's Day.
In fact, this day is more important for most Spanish, and especially for the kids, as this is when the Three Kings come bearing gifts, not only to the baby Jesus but also to every child in Spain.
This makes the Christmas period a lot longer in Spain than in other European countries, as it doesn't end before the 6th of January which in fact is a public holiday.
Following, I'll go through the day of celebration so that you know what to expect in Malaga at Christmas.
CHECK OUT OUR YOUTUBE VIDEO OF MALAGA'S CHRISTMAS VIBES
Christmas Eve
24th of December
In Spain, Christmas Eve, or "Nochebuena," is primarily a family affair. Families gather for dinner at home and typical food that's served are tapas and seafood. Often food that they don't eat that often, but you can rest assured that the jamon serrano and curated cheese are always on the table.
At midnight, the religious head to Midnight Mass known as "Misa Del Gallo" or "Rooster's Mass." Traditionally, people would add the baby Jesus to their nativity scene after midnight mass, but these days, more families skip church and add the baby Jesus at midnight.
The younger generations usually head out after dinner to party, so you can expect a lively nightlife scene in Malaga on Christmas Eve.
If you visit Malaga in Christmas for the first time, it can be a nice experience to attend midnight mass in Malaga Cathedral.
You can expect full restaurants in Malaga on Christmas Eve, so I recommend booking a table early. Many restaurants will have set Christmas menus.
When going out for dinner in Malaga at Xmas, it's customary to dress nicely, but not mandatory. However, some upscale restaurants might have a dress code.
Check out my post about my favorite vegan restaurants in Malaga if you want a sustainable Christmas meal. Besides, La Libelula in Fuengirola has vegan Christmas menus every year – highly recommended!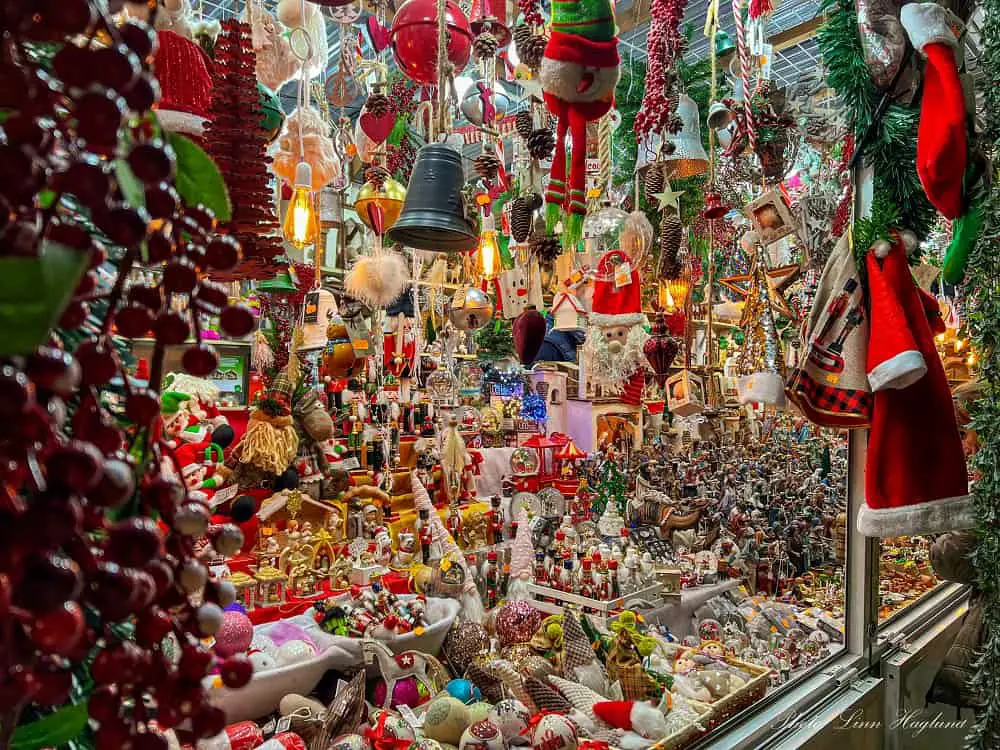 Christmas Day
25th of December
Christmas Day is a bank holiday in Spain. On this day it's customary to have a large lunch with family. Usually, they serve similar food as on Christmas Eve, but wamp it up a notch making it even bigger.
While presents are exchanged on the Three King's Day in Spain, in the later years international influence has reached Spain too, so Santa often leaves a gift or two for the children to open after lunch.
The rest of the day is spent lazying around the house or going out for a walk so the kids can try out their new toys.
Dinner mostly consists of the rest-food of the lunch. Even family members who have gone home will usually take with them some rest-food (no Spanish mum will let their children go hungry home.)
As with Christmas Eve, booking a table for lunch on Christmas Day is a must. You can expect pre-made Christmas menus in most restaurants. Some restaurants might also have limited opening hours, so make sure you come in time for your reservation.
Christmas Day is a wonderful day to walk around Malaga Old Town to take in the glittering Christmas lights in Malaga. Christmas markets are still open until the first week of January.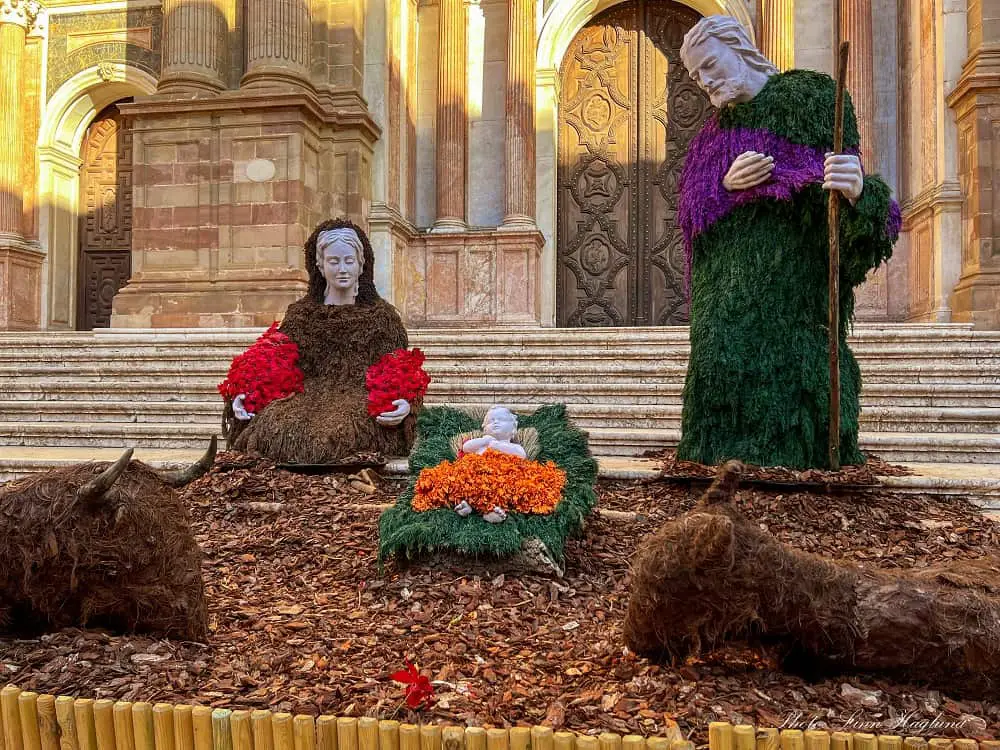 Three King's Day (Reyes)
6th of January
The Three King's Day, locally known as Reyes, is officially Christmas in Malaga Spain. The evening before (5th of January) there are parades in the city's streets where the Three Kings arrive in Malaga. There are also parades on the morning of the 6th of January. But more about this later.
The Malagueños celebrate this day with a big family lunch where exclusive homemade tapas, including jamon serrano and curated cheese, and fresh seafood.
This is also the day when presents are exchanged, usually after lunch. In the evening most of the family go out on their own, of course carrying loads of rest food to their own homes to have for dinner.
While the 6th of January usually is followed by a working or school day, the party scene isn't as prominent on this night as you will experience on Christmas Eve.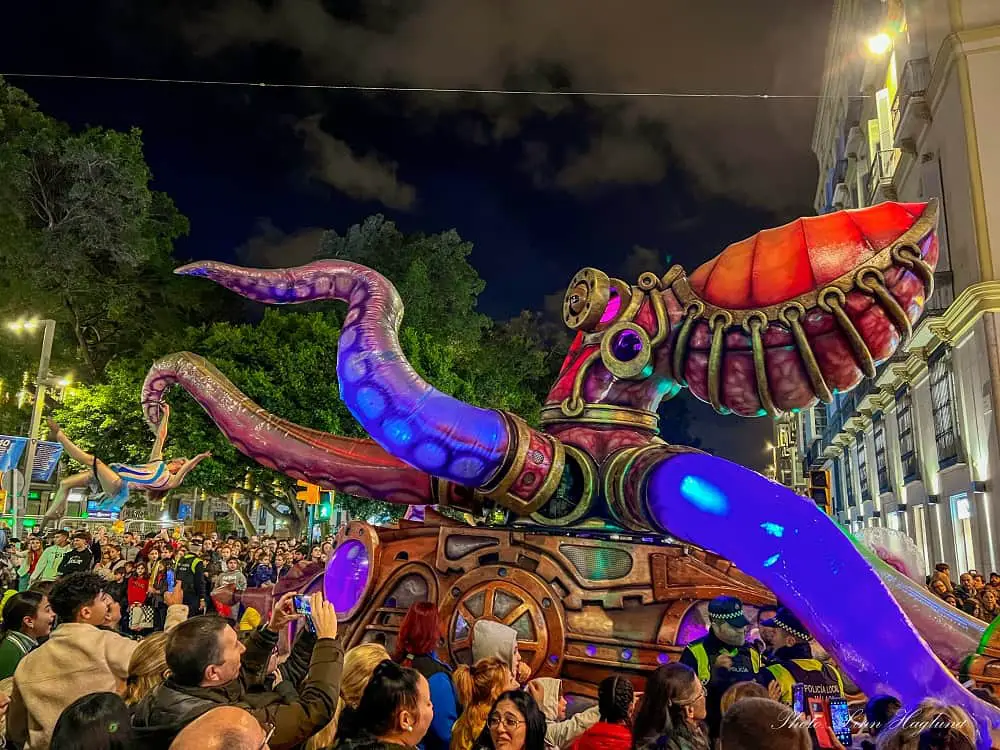 Special events and traditions during Malaga Christmas times
Christmas Lightshow in Calle Larios
The city's biggest pride in the holidays is found in Calle Larois. Malaga Christmas lights don't get any better than this.
Malaga Xmas lights cover the main pedestrian and shopping street and on certain times of the evenings leading up to Christmas, there are epic light shows accompanied by Christmas songs. They both play international songs in English and Spanish Christmas songs.
The vibe is from a different world and Calle Larios is simply jam-packed with locals and tourists alike, all singing along and dancing to the most epic light show Malaga displays.
If you're wondering what to do in Malaga on Christmas Day, the light show is usually still on.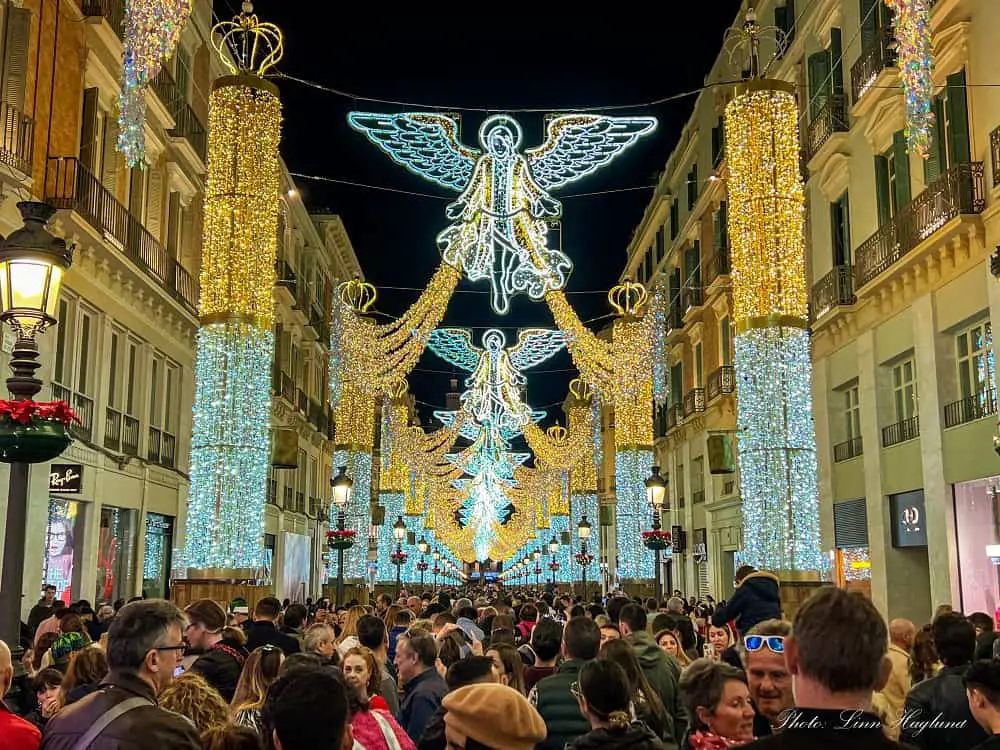 Malaga Cathedral Light Show
There is also a light show at Malaga Cathedral that is worth checking out. Light shows are projected on the south side of the cathedral depicting nativity scenes and accompanied by Christmas music.
Malaga Christmas Markets
If you're interested in Malaga Christmas Market, head to Muelle Uno and Paseo del Parque. There are multiple wooden stalls selling anything from items for your nativity scene to Christmas decorations, clothes, and Christmas sweets.
Strolling around the Christmas markets is one of the best things to do in Malaga at Christmas. If you didn't already get into the holiday spirit, you will now. This is one of the best reasons to visit Malaga in December.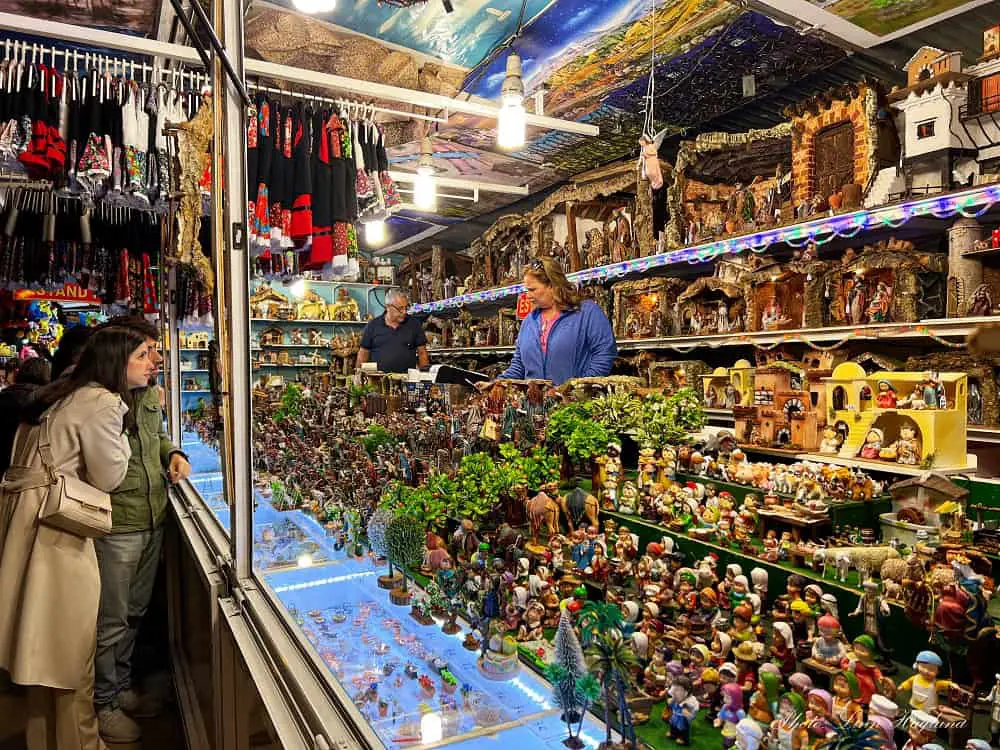 Ring in the New Year with 12 grapes
One of the highlights in Malaga at Christmas times is of course New Year's Eve! In Spain, the tradition is to eat 12 grapes, one each of the last 12 seconds leading up to midnight.
While a lot of Spanish families choose to sit at home having their grapes while watching the countdown on TV, you won't be alone heading into the city.
Plaza de la Constitución is the best place in Malaga to ring in the new year and packs of 12 grapes are sold all across the city. Make sure you have some local cava to accompany the party.
If you want to go out for dinner on New Year's Eve, make sure you book a table in good time, dress up, and enjoy a pre-made menu for the occasion.
New Year's Eve parties go on until the early morning in Malaga, so make sure you're ready to party!
Three King's Day Parades
If there's one thing you should not miss out on during Christmas in Malaga, it's the Three King's Parades (Cabalgadas de Reyes.)
The first one is on the evening of January 5. I suggest getting there early and bringing something to snack on. The streets fill up quickly around the parades, so to be able to see anything (and the chance to snatch up some sweets that are thrown at the crowds) you want to stand in the front.
Large floats, people dancing in funny costumes, and loud music liven up the city as the parade goes forward. At the end, the Three Kings will appear on their own floats.
I love this parade as it's at night and the Xmas lights in Malaga drape the trees above the parade making it truly magical.
Just last Christmas, Malaga invested in 20.000 kilos of sweets to throw at the spectators of the Three King's Parades.
And trust me, it was a chaos of people crawling around on the ground to grab some once they were thrown. And yes, I'm guilty of not letting that stop me from getting hold of some myself!
The second parade is on the morning of the 6th of January. While a completely different vibe as it's in the daytime, it's an incredible experience.
CHECK OUT OUR VIDEO OF THE THREE KING'S PARADE IN MALAGA
Christmas sales after Reyes
While you might be used to Christmas sales starting the first day after New Year, the Spanish January sales don't start before all holiday shopping is done, after the 6th of January.
But then, shopping in Malaga is a haven for shopaholics. Still draped in Christmas lights, Malaga turns into a gold mine for shoppers looking for good deals on luxury items, handmade goods, or clothes.
Calle Larios is one of the best places to go, but I also enjoy the streets around it and diving deeper into the old town you can find some really cool gems.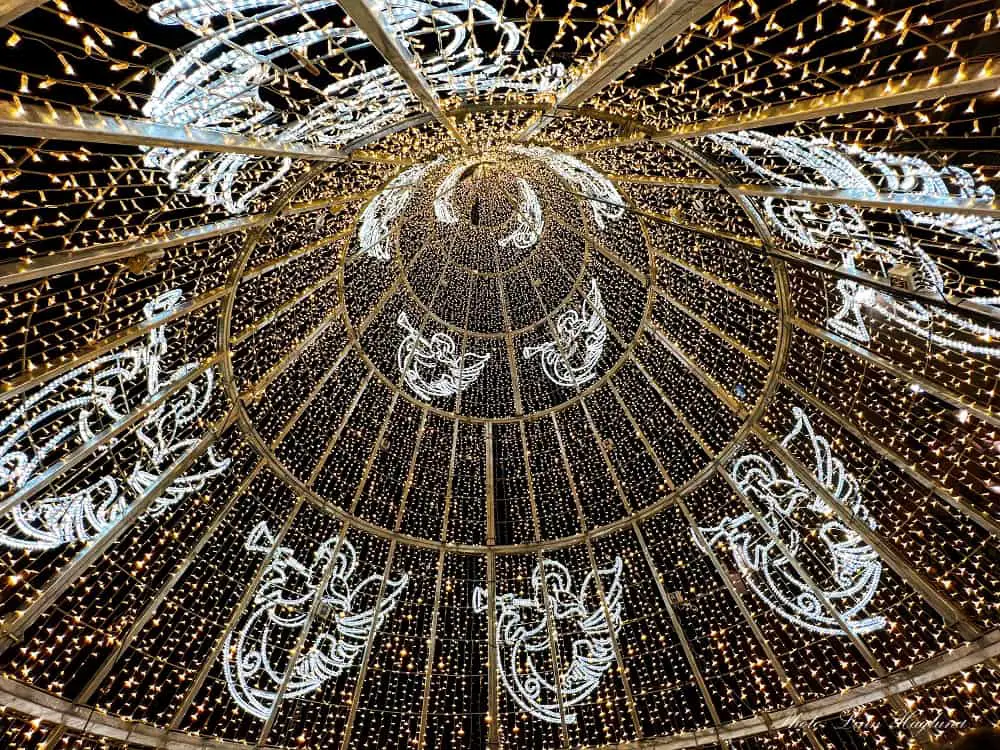 El Gordo
"El Gordo" (meaning the Fat one) is the big Christmas lottery that every Spanish person will get at least one ticket for.
It's said to be the lottery with the biggest money payouts in the world, hence it's so popular. I also think that due to so many prizes, most people in Spain have experienced either that someone in their neighborhood has won a significant prize or that the winning number was drawn from the same store where they bought their own lottery ticket.
This makes it so relatable for the locals and easier to believe that it could be you next time. The big prize is drawn the 22nd of December, so if you want to be the lucky one, make sure you buy a ticket!
Public holidays during Christmas in Malaga
When planning your Christmas in Malaga, you probably want to know which days are public holidays so that you can plan your Malaga itinerary accordingly.
Remember that the Spanish move any public holiday that falls on a Sunday to the coming Monday. So if any of the public holidays fall on a Sunday, you must expect everything to be closed on the Monday after.
Eg. If the 6th of January is on a Sunday, everything will be closed on Monday the 7th of January.
Here is a list of the dates that the Spanish shops are closed during Christmas:
25th of December
26th of December
1st of January
6th of January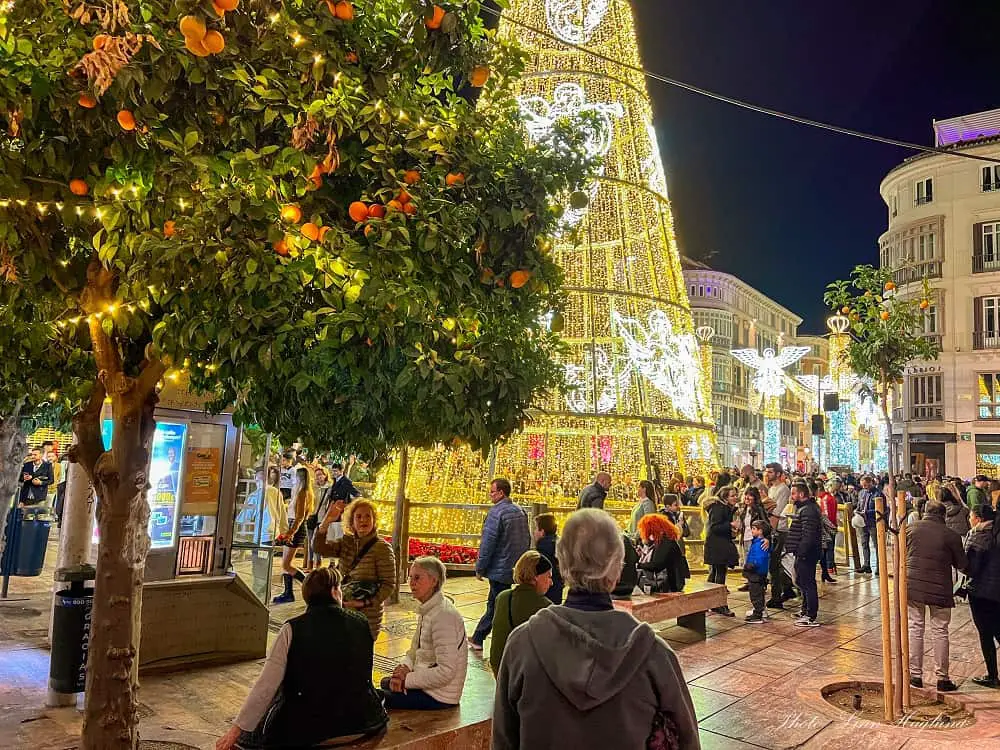 Christmas treats in Malaga
Malaga is a haven for Christmas sweets (like the rest of Spain) and you can find special treats in niche stores, supermarkets, and food stalls in the streets. Unfortunately, they are hard to find vegan, but most of them are vegetarian.
Here are some of the most famous Christmas treats you should try when visiting Malaga for Christmas:
Turrón – this is one of the most famous Christmas treats in Spain and is basically a large bar consisting of almonds, egg yolk, and nougat with different flavors. It's either soft or hard.
Roscón de Reyes – the most iconic Christmas treat yet, the Roscón de Reyes is shaped as a giant doughnut with cream and candied fruit. This is traditionally served as dessert on the Three King's Day. Inside, there's a plastic figure and the one that gets it is crowned King for the day.
Polvorones and Mantecados – these are small cookies wrapped in paper (often sold in boxes and can be bought in monasteries around the country.) They're usually NOT vegetarian as they often contain pig's fat.
Roscos de Vino – small sweets that look like mini doughnuts covered in sugar, but have more of the texture of cookies.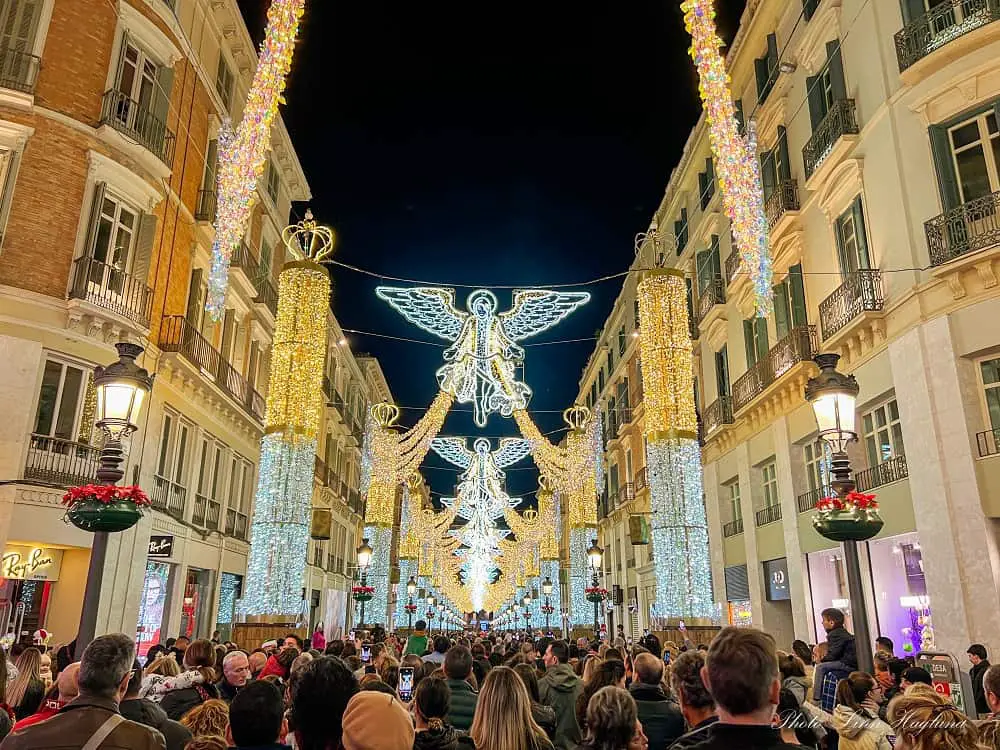 MORE FROM MALAGA
Reflections on Malaga at Christmas
Summing up, visiting Malaga at Christmas is a fantastic idea! With pleasant temperatures, cute Christmas Markets, and the famous Malaga Christmas light show, there is no doubt you will have an epic time visiting the city during the holiday season.
Malaga at Christmas is nothing short of epic and I'm sure you'll enjoy it too.
Happy travels!