Malaga in December is festive, fun, and delightfully warm; there are many reasons to go. Christmas markets, decorations, and light shows fill the city with delight and it is hard not to fall in love with Malaga at this time of the year.
If you have wondered if Malaga is worth visiting, December in Malaga will likely make you plan your next trip back there before you even leave.
There are so many things to do in Malaga that you certainly won't get bored whether you take pleasure in holiday shopping, browsing the Christmas markets, and having tapas and sangria in the sun, or you prefer to explore all the sights in mild temperatures and go hiking in the mountains.
After all, Malaga is one of the best cities in Andalucia, and December is no exception.
After spending a decade in the city, December in Malaga is one of my favorite seasons. I'm here to show you why you should consider visiting Malaga in December and what to expect.
Disclosure: This post may contain affiliate links. That means that if you make a purchase through one of those links, I will get a small commission at no extra cost to you.
Reasons to visit Malaga in December
Mild weather
The weather in Malaga in December is usually mild with a mix of warm sunny days and days of heavy rain. In my experience, it usually rains heavily at the end of November and the beginning of December, while the rest of the month is dry.
That said, every year is different and there is no assurance. Yet the temperatures in Malaga in December are a lot more comfortable than in other places in Andalucia, like Cordoba and Seville.
Average daytime temperatures are 17 degrees Celsius and nighttime temperatures average 9 degrees Celsius. A sunny day can easily be 20 degrees Celsius which feels a lot warmer in the sun.
But be prepared for a temperature difference in the shade. If you're wondering what to wear in Malaga in December, know that layering up is crucial.
To handle the Malaga weather in December, a warm jacket is good to have in the evenings, while you might be happy with a T-shirt in the sun in the daytime. a middle layer is also ideal to cover up if you spend a long time in the shade.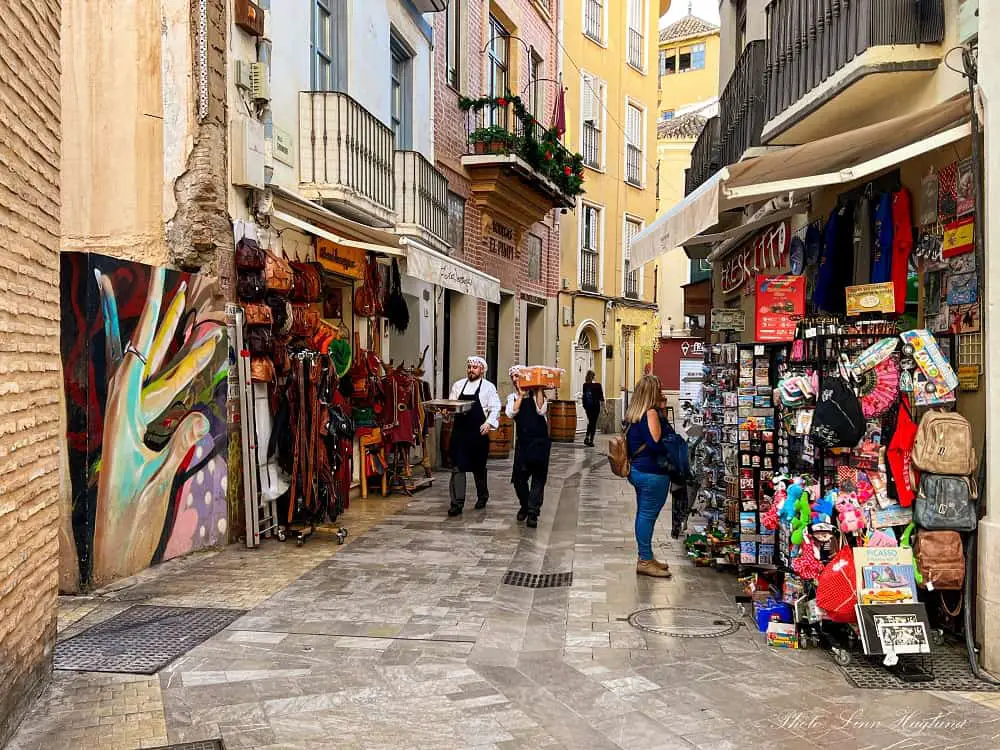 Epic Christmas light show
If you visit Malaga in December you are not only going to enjoy the Christmas lights in the city, but the light show that takes place every evening in Calle Larios is one of the best in the country.
Calle Larios is the most popular shopping street in Malaga. December month, however, it gets particularly crowded and the festive vibes that fill this space are unmatched.
Every year, the decoration is different and the light show goes along with famous Christmas songs, both international and Spanish and everyone is singing along.
There is also a light show by the Cathedral, but personally, I have never managed to catch it. Yet.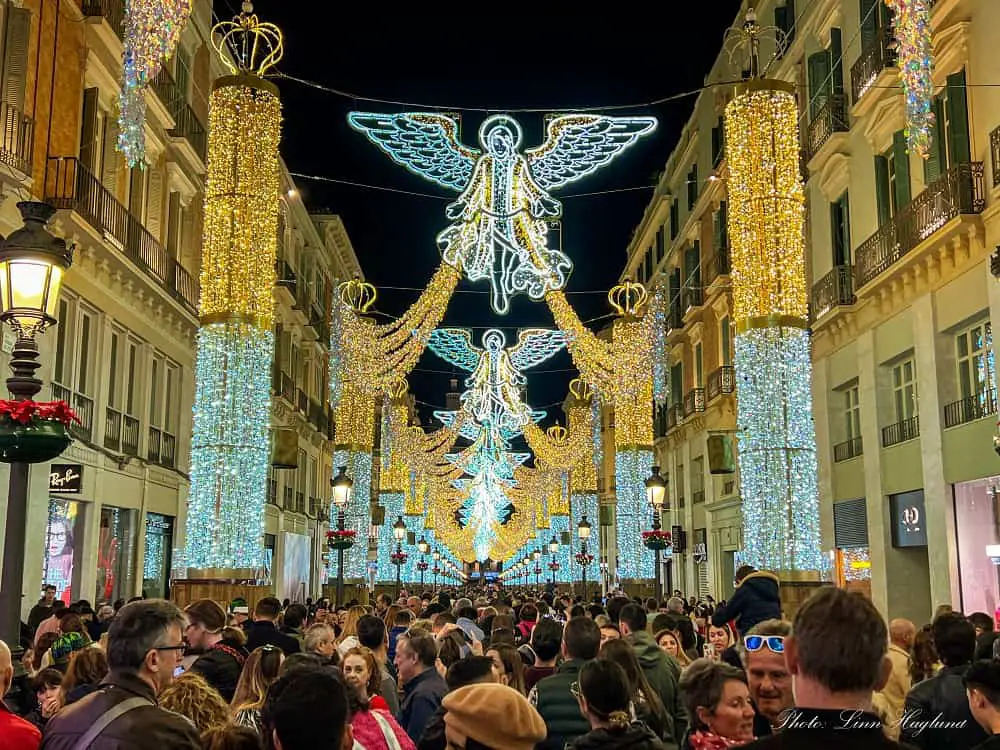 Festive Christmas markets
One of the top things to do in Malaga in December is to check out the Christmas markets. There is a nice one at Muelle Uno where you might even meet Santa. There are plenty of fun kids attractions along the marina too.
Besides, there is a nice market on the other side of the road from Muelle Uno along the park. You will have no problems finding Christmas decor, small items for Christmas stockings, and unique Christmas gifts.
You can also taste some local Christmas treats like Turrón and admire all the lovely pieces for nativity scenes which the Spanish love decorating their houses with.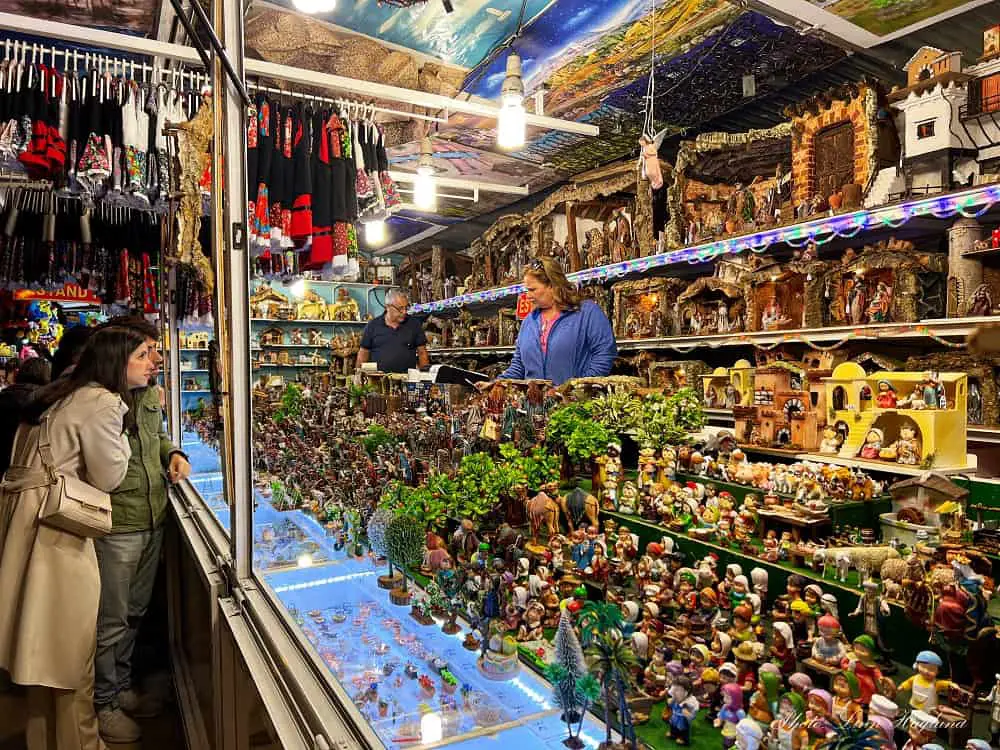 Sunset boat cruises
There are plenty of Malaga boat tours to choose from when visiting the city. Even when visiting Malaga in a day, you can enjoy a sunset cruise on the Mediterranean.
The mild winter weather in Malaga Spain in December allows you to enjoy the calm sun reflecting in the water. If you travel solo, it's a great way to meet other travelers.
As a family, you get a wonderful memory for the photo album, and couples will embrace the romantic moments on the sea.
Some sunset cruises also include dinner after the cruise.
Good time for hiking
Winter in Malaga is one of my favorite times of the year for hiking in Malaga and Costa del Sol due to the pleasant Malaga weather. December is great as it's not too hot to explore the mountains that paint the magnificent backdrop of the city.
Among the best hikes you can go on is the Caminito del Rey, once the most dangerous hike in the world, but today it's perfectly safe after they rebuilt the path in 2015.
It's pinned 100 meters up the side of the vertical wall and overlooks the mesmerizing Gaitanes Gorge. You can book a tour from Malaga here.
Other amazing hikes to do are the Saltillo Trail where you will cross the 3rd longest hanging bridge in Spain and La Maroma, which is the highest peak in Malaga Province.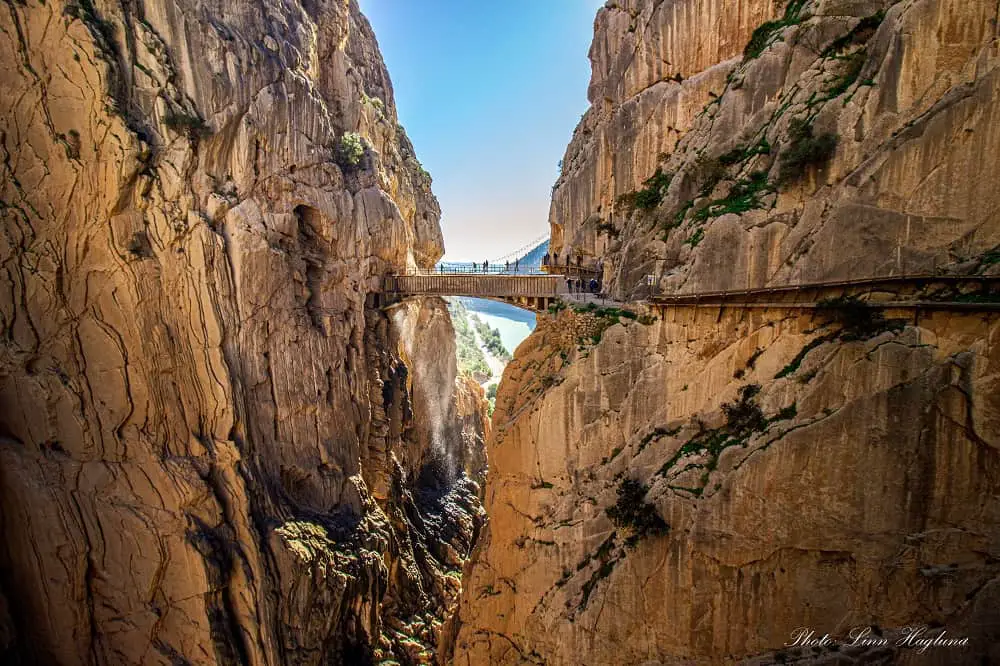 You can take a beach day!
This might sound wrong in the middle of Christmas shopping, but as one of the most popular things to do in Malaga, December is no exception.
Tourists are enjoying the beach all year long and December might be too cold for swimming for some (me included) but trust me when I say I see tourists basking in the water even around Christmas.
But even if you think the water is cold, the days can be tempting to spend on a beach towel on La Malagueta Beach while working that tan.
In fact, the winter sun is more comfortable, but that doesn't mean it doesn't get hot!
Go Christmas shopping
Malaga is a great shopping destination and December is the best month to do so. Yes, it might get crowded, but there is no denying the festive season is a cozy time of the year to go shopping.
If you are looking for unique presents to bring home to family and friends, you are going to find them in Malaga. Calle Larios is the most popular shopping street in Malaga and is located right at the entrance to Malaga Old Town.
The streets around Calle Larios are also jam-packed with boutique shops and upscale brands. Look further into the narrow streets of the old town to uncover unique stores with handicrafts and locally sourced goods.
There are also multiple shopping malls that are full of offers before Christmas.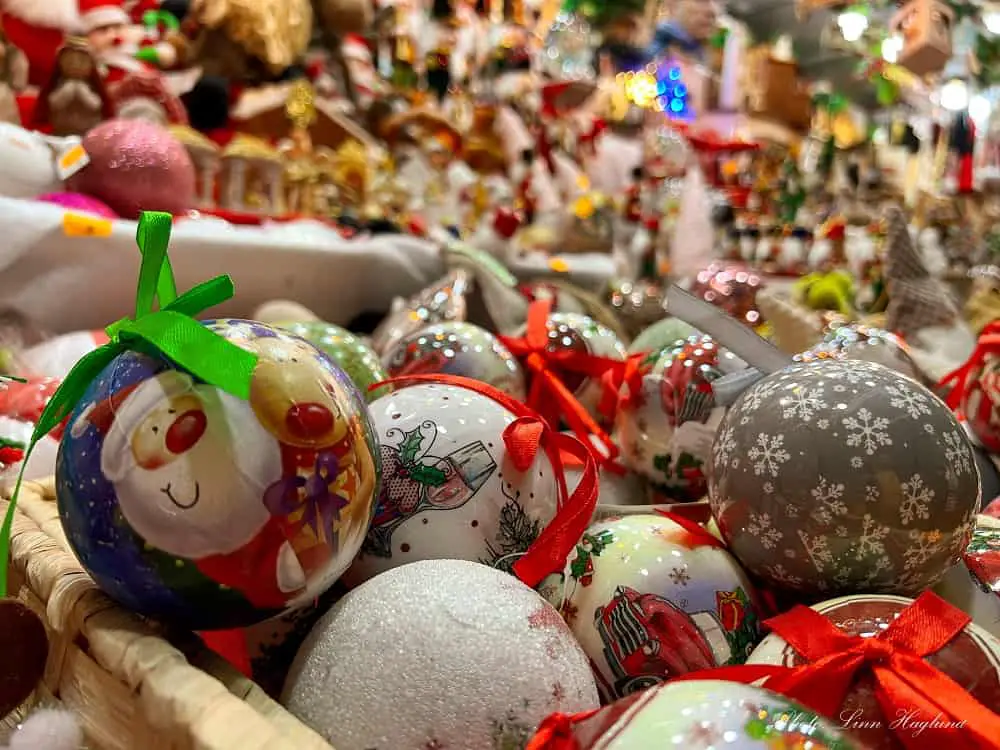 Go on day trips to the inland cities
December is also a great time of the year to visit cities like Cordoba and Seville which are way too hot in the summer. A day trip from Malaga to Seville is easily done by train, but make sure you book your tickets in advance.
There are also private day tours that you can take to save you the hassle of public transportation and you will make sure you don't miss out on the highlights on your day trip to Seville.
One day in Cordoba is also perfectly doable from Malaga with direct trains. A day gives you the time to see the Mosque-Cathedral and the patios of Cordoba, as well as some other attractions.
If you prefer going on an organized tour, check out this tour.
You might also find a day trip from Malaga to Granada to be worth it. A day in Granada gives you the opportunity to explore the old town of Albaicín as well as the Alhambra.
There are also organized tours to Granada if you prefer the commodity and just don't want to spend time planning.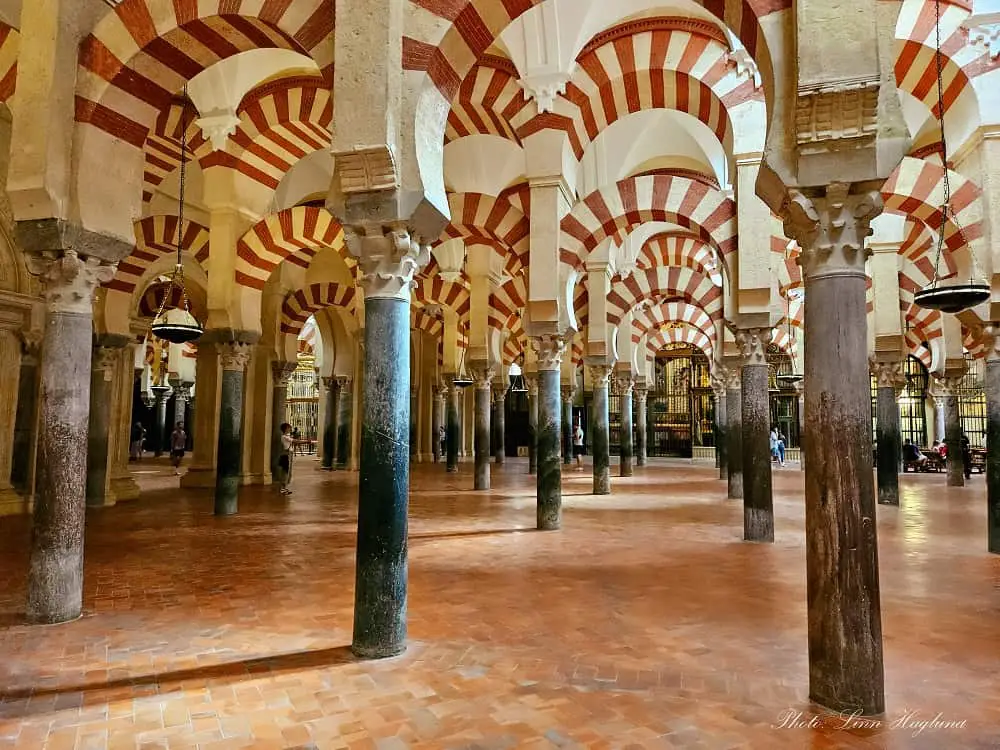 Perfect sightseeing weather
While I already mentioned the mild Malaga temperature in December, it actually makes for the best time to go sightseeing too.
It's not too hot and not too cold so seeing all the attractions like the Alcazaba and Gibralfaro and wandering around the old town is actually quite pleasant.
Malaga Spain in December is just perfect for walking around peeking into art galleries, having an ice cream or a hot chocolate in front of the Roman Theater, and strolling along Muelle Uno.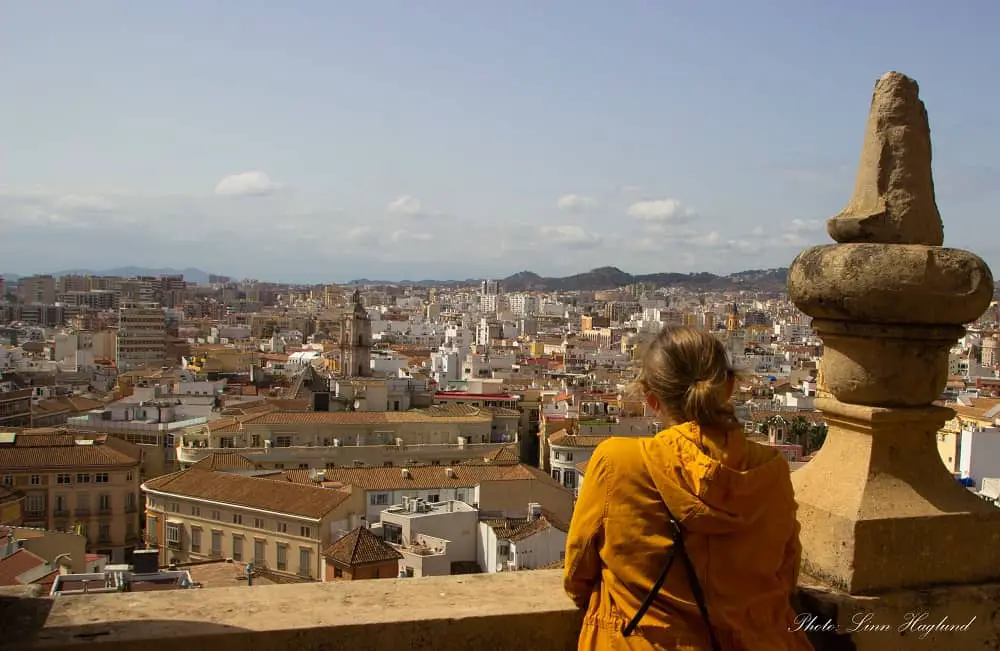 You can enjoy tapas and beer in the sun
Not many places in Europe let you enjoy a cold beer over some tapas in the sun in December. Malaga is one of those places. With mild winter temperatures, it is one of the best places in Spain for drinks in the sun.
Terraces of restaurants and bars are set outside all day and when the sun shines, you might even be tempted to strip down to your t-shirt.
Reflections on Malaga Spain in December
As you can tell, there is no end to what to do in Malaga Spain in December. It's such a wonderful city offering a little bit of everything.
I love the fact that visiting Malaga in December, weather allowing, you can enjoy the beach in the morning, go hiking in the afternoon, and explore the Christmas Markets in the evening.
And believe it or not, in Malaga, things to do in December vary widely from what to expect from Malaga in August or other summer months.
Happy travels!