Whether you spend one day in Malaga and want to explore the rest of the province, or you want to set your vacation to one of the beautiful towns near Malaga, I've got you covered.
There are so many incredible towns in Malaga province from hilltop towns offering a wealth of hiking and outdoor opportunities to cosmopolitan coastal towns where you can party all night and soak in the sun on a yacht in the daytime.
Historical remains take you back to when the Romans built fishing settlements on the Andalusian coast and when the Moorish protected Al Andalus from constant attacks.
Get ready to uncover the top towns near Malaga so that you can start planning your next vacation.
Disclosure: This post may contain affiliate links. That means that if you make a purchase through one of those links, I will get a small commission at no extra cost to you.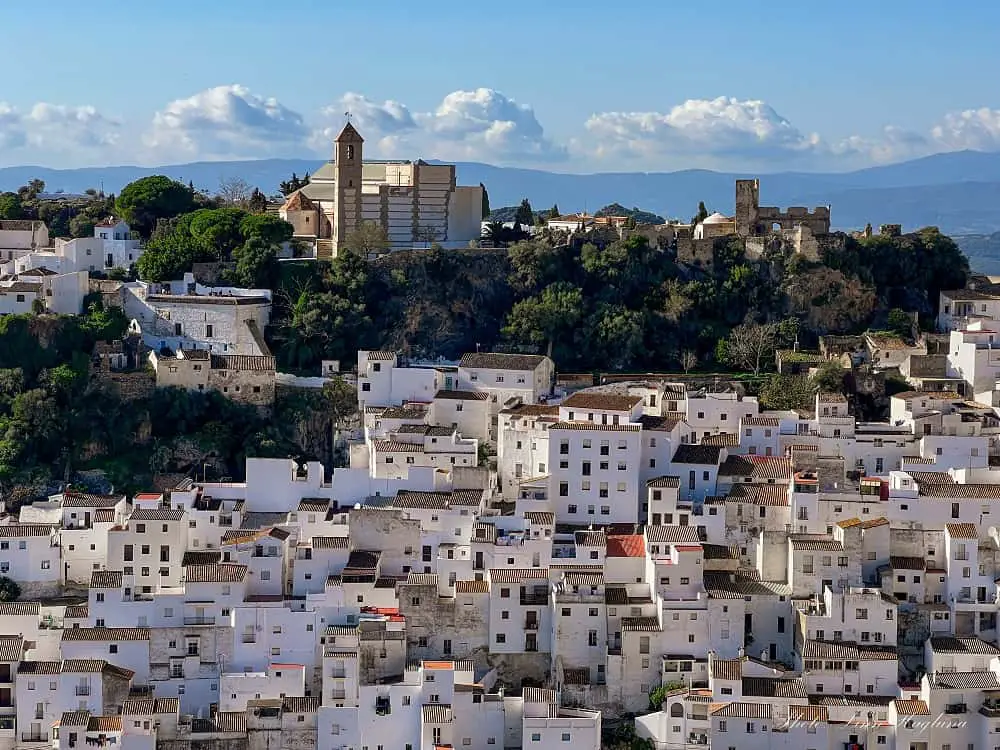 Beautiful towns near Malaga
Nerja
Nerja has always been one of my favorite towns in Malaga. It is a vibrant town full of life all year round and besides being an incredibly enchanting town, it also boasts some of the best beaches in Andalucia.
There are a lot of great things to do in Nerja, but the most popular attraction is by far Nerja Caves. Stretching for over 5 kilometers, there is only a small part open to the public, but it is absolutely mesmerizing. Among the top attractions are the 32-meter tall stalagmite, which is the biggest one in the world, and the music hall which features an incredible acoustic.
If you visit Costa del Sol in winter, you can enjoy a myriad of hiking trails in the mountains overlooking Nerja and the picturesque hillside village of Frigiliana is also a must-see. But there are also river hikes you can do in summer to cool down, like the impressive canyons of Rio Chillar and Rio Higueron.
There are also a whole lot of epic snorkeling, paddleboarding, and kayaking tours in Nerja that take you exploring the coast. Some boat tours in Nerja also include snorkeling and paddleboarding.
The beaches in Nerja are spectacular with crystal-clear water. Visit Burriana Beach for all necessary amenities and easy access to the cliffs of Maro by kayak and paddleboard or Calahonda Beach for easy access from town. If you want to go to a less developed beach, head to Playazo Beach in Nerja's west end.
The best places to stay in Nerja, are located around the old town and Burriana Beach.
Nerja is also home to my absolute favorite Indian restaurant in Costa del Sol, Mum Nerja. I have traveled from Mijas and Fuengirola to Nerja just to eat there when I've been craving a good Indian meal.
Besides, there are several fun day trips to do from Nerja to nearby towns and cities.
If you prefer a guided tour of Nerja and Frigiliana including the caves, check out availability here.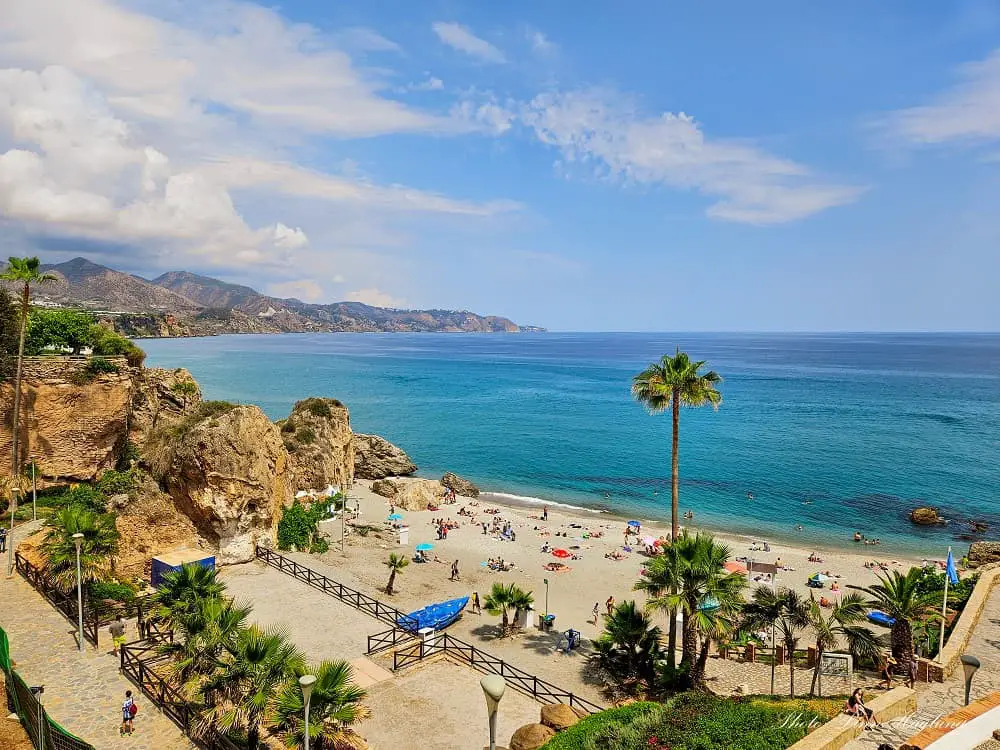 Torrox
One of the towns around Malaga that deserves a visit is the town of Torrox. In fact, it is divided into Torrox Costa and Torrox Pueblo.
Torrox Costa has sandy beaches and is perfect for your summer holidays in Andalucia. Explore the picturesque lighthouse and go back in time at the Roman archaeological site where you can find a Roman necropolis and Roman Baths.
Torrox Pueblo sits on the hillside above the coast and has a lovely local feel to it. The town has a cute town center with a central square where you can enjoy lunch or grab a drink before exploring.
The main attraction is the 16th-century Iglesia de Nuestra Señora de la Encarnación which can be seen from around the town – the current Barroque-style church was restored after an earthquake in 1884.
The picturesque narrow streets decorated with flowers and pot plants take you around Torrox Pueblo and leave you at the many viewing points where you can take in the coastal views.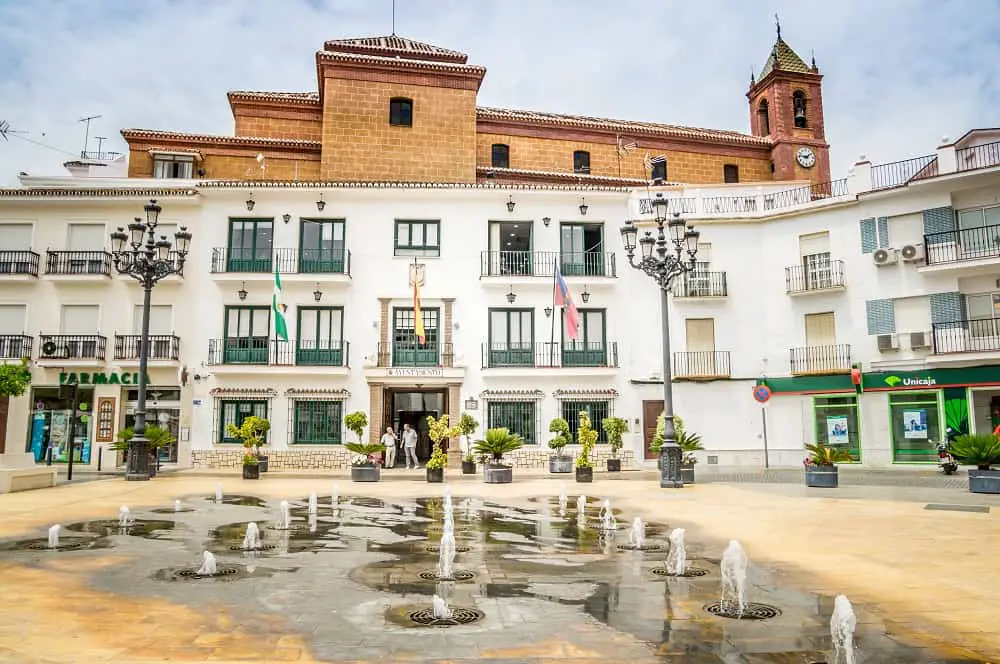 Ronda
Ronda is one of the oldest settlements in Andalucia and deserves at least a few days to uncover. Yet, most tourists just spend a day in Ronda – or even just a few hours.
When you take a day trip from Malaga to Ronda, you get plenty of time to see the famous New Bridge which elegantly connects the two sides of the town across the dramatic El Tajo Gorge.
Besides taking in mesmerizing views, make sure you make it down to the Jewish Quarter, visit the ancient Arab Bath, and walk along the old city walls.
Among the best things to do in Ronda are all the palaces and I particularly love the Casa del Rey Moro. Besides boasting a lovely garden and views of El Tajo Gorge, you can climb down the steps inside the mountain to the bottom of the gorge.
This is definitely one of the highlights. But if you spend more time, you can visit the museums and the prehistoric archaeological sites outside the town itself.
If you plan to stay more than a day, make sure you read my guide to the best places to stay in Ronda Spain. I also wrote a guide to where to park in Ronda that you might find useful.
There are also many organized tours from Malaga to Ronda if you want to save the hassle of getting there.
Check tours and availability here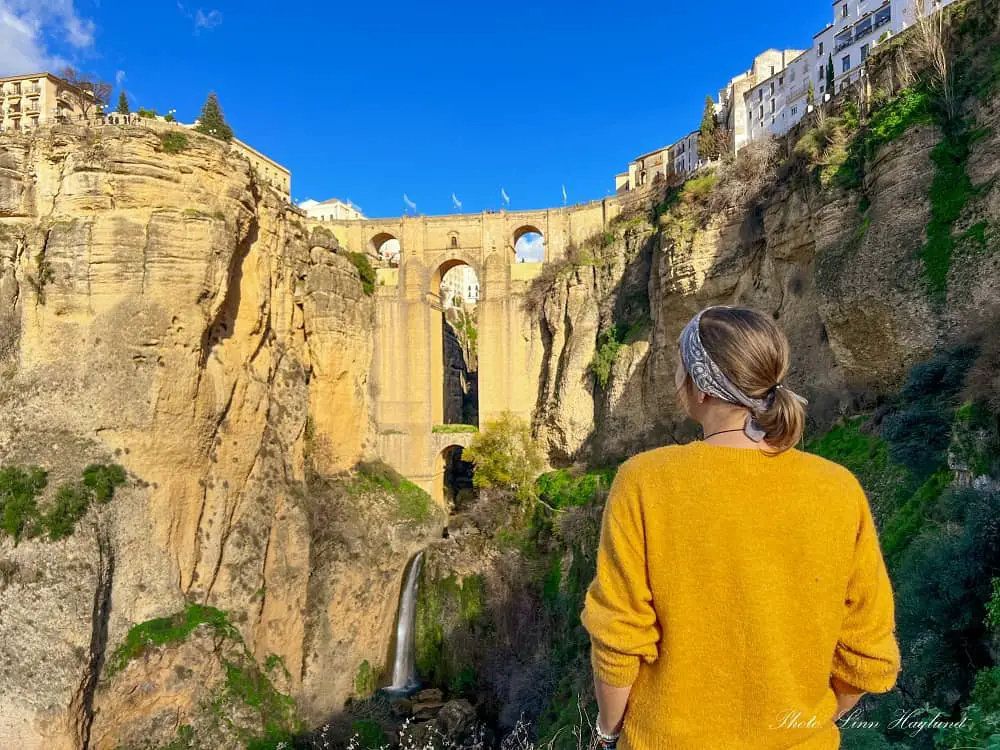 Torremolinos
One of the hippest towns on Costa del Sol with a great LBQTQ community is Torremolinos. It boasts a vibrant bar and restaurant vibe all year round and is popular among expats, especially from northern Europe.
There are a lot of things to do in Torremolinos and the beaches a great with a whole heap of beach bars and restaurants where you can get anything from sushi to vegan food.
It is also easy to get from Malaga Airport to Torremolinos which makes it such a popular spot for a vacation. It is also easy to go on excursions in Torremolinos to places like El Caminito del Rey and El Torcal de Antequera.
In the summer months, make sure you go on a boat trip in Torremolinos to take in the salty scent of the sea, jump in the water, or enjoy a glass of cava on the deck while you soak in the sun.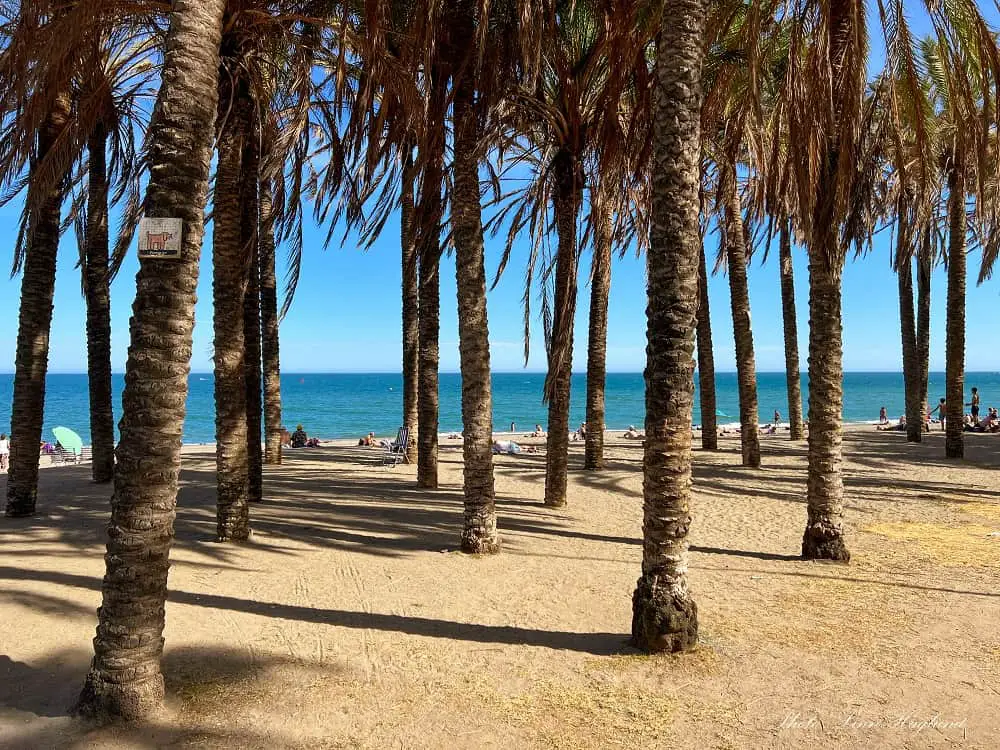 Casares
Casares is one of the most incredible towns near Malaga. Climbing up the side of a hill with its castle remains overlooking the valley below from a dramatic cliff, there are a lot of fun things to do in Casares.
The steep enchanting streets wind through whitewashed houses with epic views in all directions. In town, you find a cute kissing corner "Besame en Casares" and the birth home of Blas Infante where you can see how it would look when the "Father of Andalucia" lived there.
Casares is also a paradise for hiking enthusiasts with a wealth of hiking trails surrounding the area. You can also explore the ancient Baños de Hedionda natural baths near Casares where Julius Cesar is said to have been cured of skin disease. After he got healed, he founded Casares town as a thank you.
You need a car to get there, but it is free to enter, and pretty cool to swim in the same place as one of the most famous Roman emperors.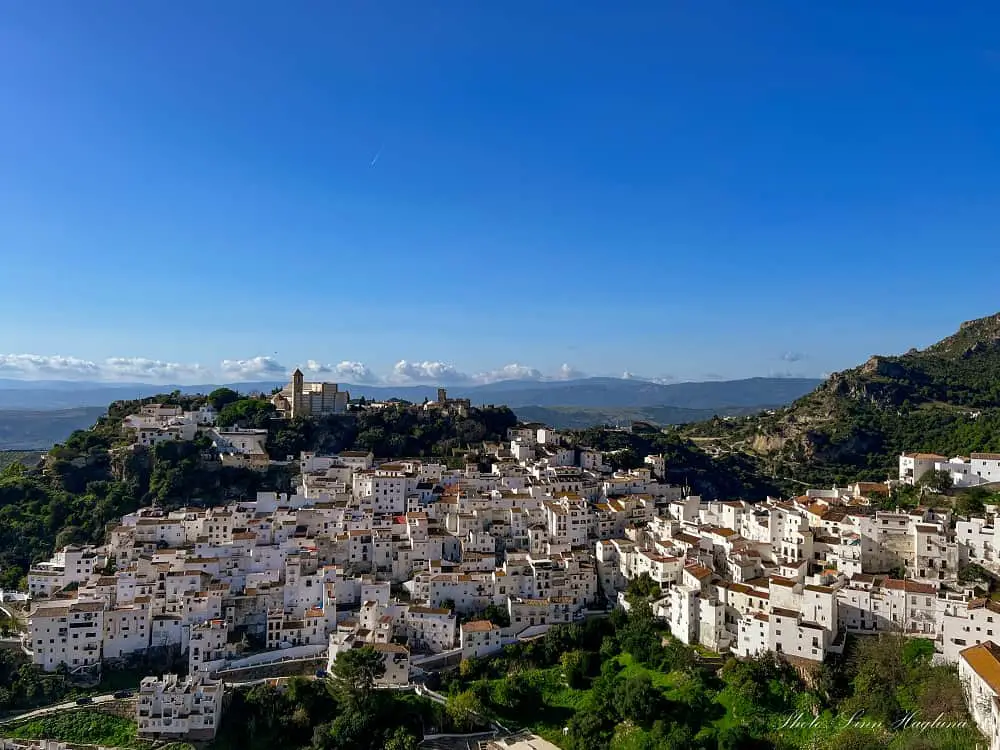 Gaucín
Not far from Casares, you find another epic town near Malaga, Gaucín. This has been one of my favorites for years with its picturesque surroundings, endless views to the coast and across to Africa, and the hilltop castle remains.
Castillo del Aguila is by far the top attraction in Gaucín, but this little mountain refuge has attracted artists for centuries, and walking around its cobbled streets you will come across cute art galleries and shops.
Being one of the most underrated day trips from Marbella, you won't see as many tourists as in other towns close to Malaga, which makes this a lovely getaway.
Gaucín is also surrounded by endless hiking trails so nature lovers will have just as good a time as art lovers.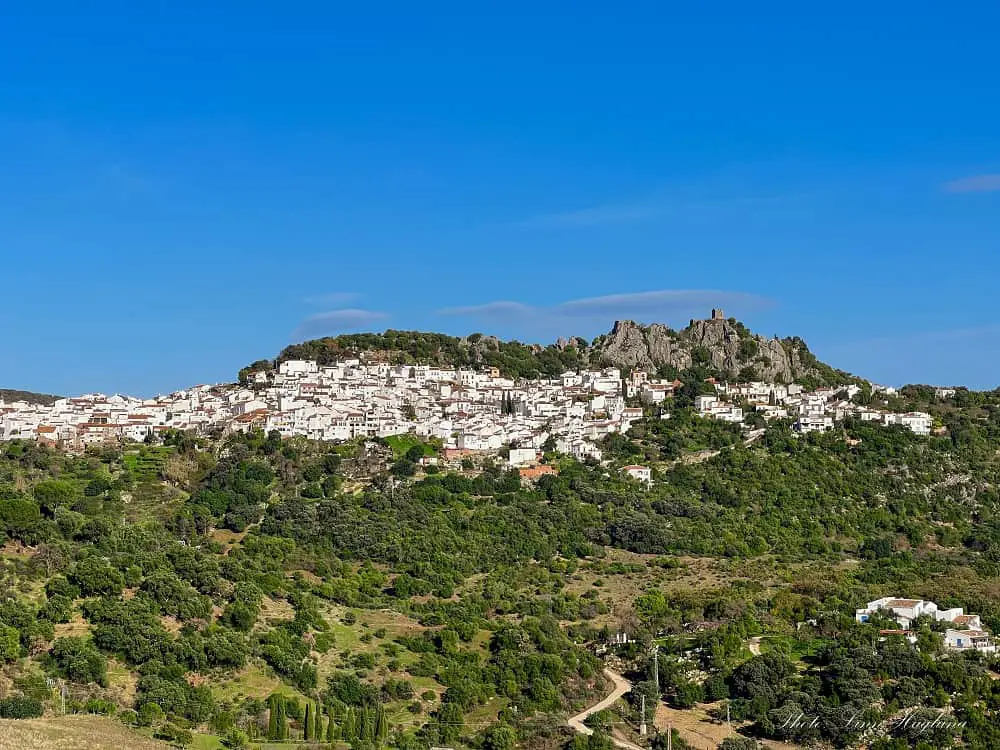 Estepona
Estepona is definitely one of the top Malaga towns along the coast worth visiting. With an ample promenade lining the beaches, and extremely charming streets with whitewashed houses covered in colorful pot plants, Estepona is one of the best beach towns in southern Spain.
It is also a lovely destination for street art lovers with over 60 murals across the town's neighborhoods with many of the art pieces stretching across multiple buildings. Further, one of the best things to do in Estepona is to visit the Orchidarium, a wonderful small oasis.
In the heart of Estepona, you find the picturesque Plaza de las Flores where you can enjoy a coffee in colorful surroundings.
In the summer months, you might also enjoy the refreshing Estepona boat trips for snorkeling, dolphin watching, or relaxing on the sun deck with a glass of cava.
Outside Estepona, you should not miss out on the Dolmenes de Coromínas where you can explore five Dolmen stones.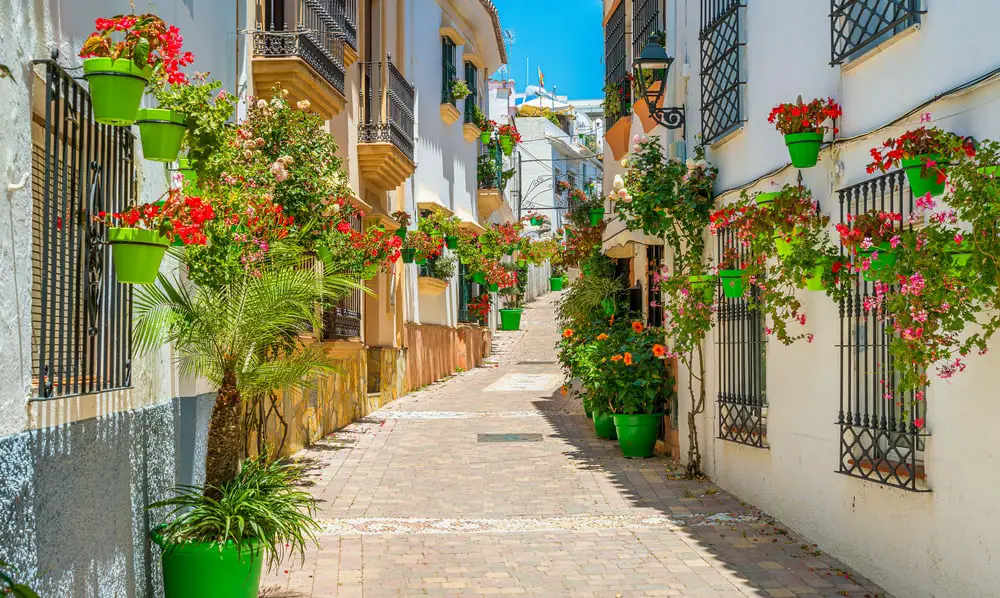 Fuengirola
One of the most popular towns near Malaga Airport is Fuengirola, a busy beach town home to numerous expats from northern Europe looking for a warmer climate.
There are a lot of things to do in Fuengirola. With a long promenade passing beach bars and restaurants along the golden beaches of Fuengirola, you can either enjoy a relaxing vacation or party all night at the energetic nightclubs.
Fuengirola is home to one of Malaga's medieval castles, Castillo Sohail, which overlooks the golden beaches in Fuengirola. On the marina, you can board one of the epic Fuengirola boat trips taking you along the coast, looking for dolphins, or just relaxing on the sun deck.
But what fewer tourists know, is that Fuengirola is home to ancient Roman ruins only a short walk from the beach and you can go on a wealth of day trips from Fuengirola to nearby villages and natural sites if you choose this Malaga town as your base.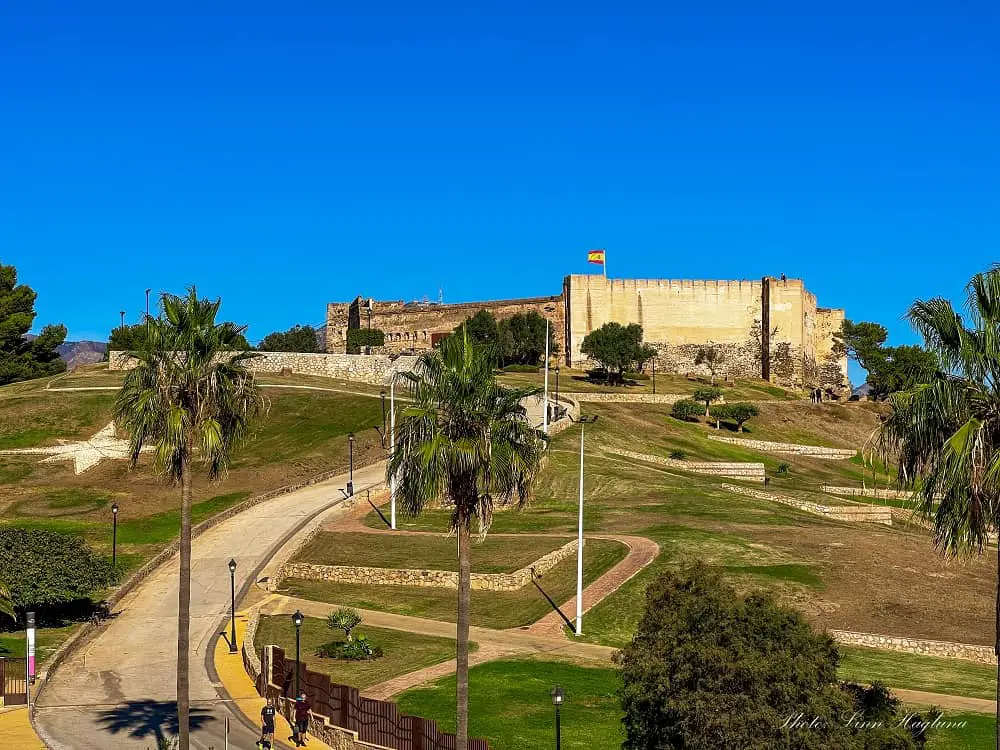 Benalmadena
Situated right between Torremolinos and Fuengirola, Benalmadena is one of the best towns near Malaga. There are so many cool things to do in Benalmadena between the coastal part and the village part.
With a large marina and coastal walk, there are wonderful beaches and a whole lot of boat trips in Benalmadena where you can enjoy a thrilling speed boat tour or a relaxing yacht cruise.
Higher up in the hill, you find Benalmadena Pueblo, the charming old town, and the fairytale castle, Castillo de Colomares, a monument to Christopher Colombus and the era of discovery.
You can also get on the cable car up to the mountains overlooking Benalmadena, or if you are sporty, walk up the hiking trails.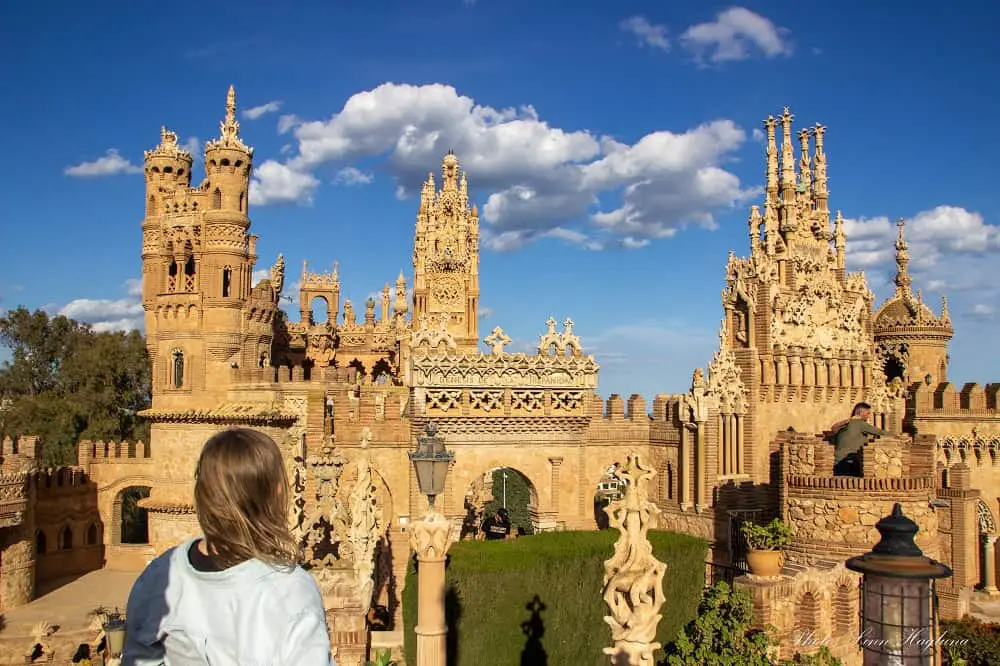 Cuevas de San Marcos
Cuevas de San Marcos is a lovely little surprise that we discovered last year and should definitely make it to the list of the best towns near Malaga to visit.
Nestled in the outskirts of the Sierras Subbeticas Natural Park, near Iznájar Lake, there are a lot of things to do in Cuevas de San Marcos, especially for outdoor lovers.
Walk to Cueva Belda and Cueva Nueva, or do as we did and venture all the way up to the Moorish house ruins on top of the mountain – Medina Belda.
You should also take a walk to the lake and see the Immense reservoir built by Franco's orders costing locals their housing. To this day, houses and roads are still found at the bottom of the lake, and when the water in the reservoir is low, you can see some house ruins above the water.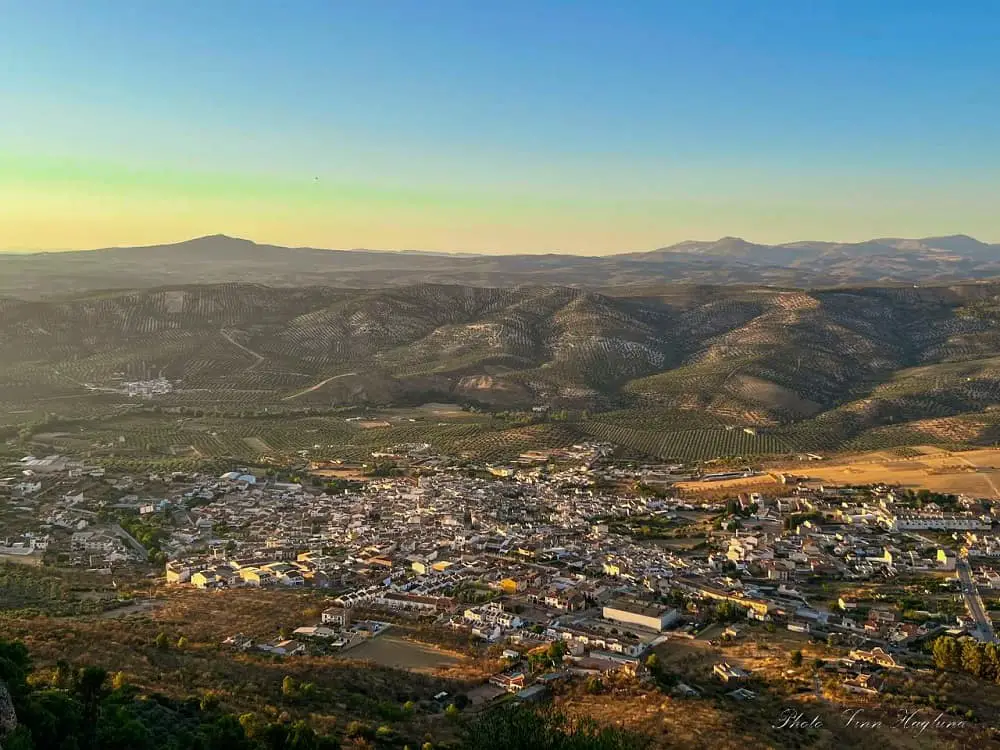 Mijas
Among the nice towns near Malaga, you find Mijas. Divided between Mijas Pueblo, Las Lagunas de Mijas, and La Cala de Mijas, there are plenty of things to do in Mijas.
Sierra de Mijas offers endless hiking opportunities, and among the things to do in Mijas Pueblo, you find a Chocolate Factory where you can make your own chocolate, a miniature museum, and old city walls and parks overlooking the coastline.
Among things to do in La Cala de Mijas, you can relax on the beach, have drinks in the beach bars, walk along the promenade to Calahonda, or walk around the charming streets decorated with pot plants.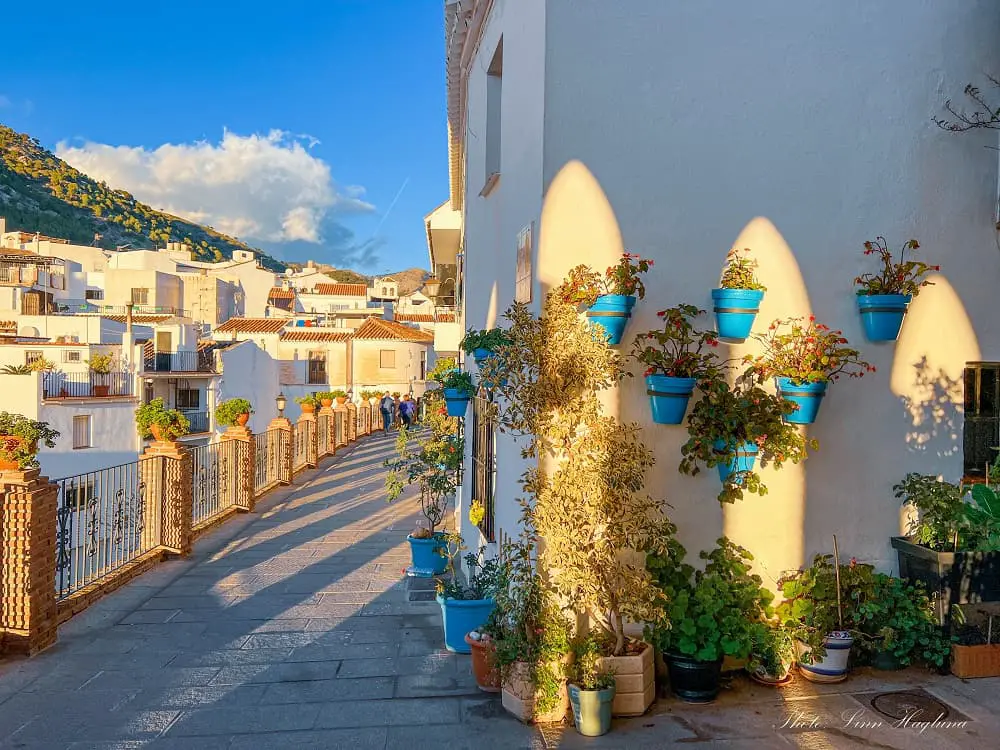 How to get around to the towns in Malaga
Some of the towns in Malaga are easily reached by bus or train, but whenever you want to get off the beaten path in Andalucia you will need a car. And the Malaga towns are no exception.
If you don't drive, you can also look into the car-pooling app BlaBlaCar to reach small towns near Malaga with fewer public transport options.
I've both traveled with others and taken passengers through the app and can highly recommend it. I've met a lot of interesting people that way.
Towns near Malaga Airport like Torremolinos, Benalmadena, and Fuengirola, are all easy to reach by train straight from the airport, and other popular Malaga towns nearby like Nerja and Torrox can easily be reached by bus.
Unfortunately, many places close to Malaga only have 1-3 buses a day which is not well-timed if you plan on going on a day trip from Malaga. If you can stay a few days, however, your options are a lot greater!
You can check buses and trains here for your destination
My favorite way of traveling around the white towns near Malaga, Spain, is by car. It gives you so much more freedom to see the places you want at your own pace.
And let's be honest, who can possibly resist a road trip in Andalucia, covering the glittering coastline and small windy roads through majestic mountain ranges dotted with whitewashed villages?
If this sounds like you, renting a car at Malaga Airport or in Malaga city is a great option.
Check rental car availability and prices here
Finally, you can visit most of the towns of Malaga by organized tour. Here are some of the top-rated tours to nearby towns.
Reflections on Malaga towns
These are some of my absolute favorite towns in Malaga province. There are also a whole lot of cute whitewashed villages near Malaga that you might want to check out.
As mentioned above, the best way to explore them is by driving, but most of these places are also great to set your entire vacation to. You can go on a wealth of day trips from major towns like Fuengirola, Benalmadena, or Nerja without driving too.
Finally, make sure you read up on the best time to visit Malaga before you go.