You have spent a few days in Nerja exploring all the epic things to do in the enchanting beach town near Malaga and now you are ready to dive into some day trips from Nerja to uncover the surrounding areas.
You are in luck because I've explored the area in depth and can easily guide you to the best towns, natural areas, and excursions.
There are so many fun things to do in Nerja, but getting out of town is just as worth it. Whether you want to go canyoning in a river, explore epic Moorish remains, or uncover the whitewashed villages of Andalucia, there is something for you on an easy day trip from Nerja.
Read on to uncover the best Nerja day trips you can have to make your vacation memorable!
Disclosure: This post may contain affiliate links. That means that if you make a purchase through one of those links, I will get a small commission at no extra cost to you.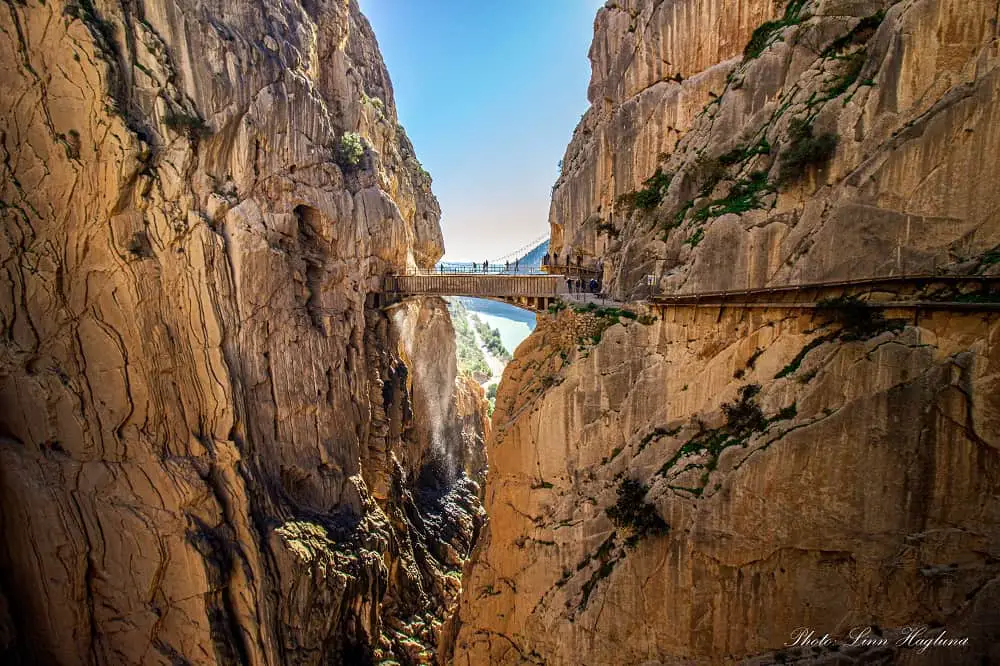 Day trips from Nerja
Malaga
Malaga is one of the best day trips from Nerja. There are plenty of things to do in Malaga and a day trip encompasses the most iconic tourist attractions.
With one day in Malaga, make sure you visit the Alcazaba and the Gibralfaro which are the two most prominent tourist attractions in the city and also the largest evidence of Moorish heritage in Malaga if not the Costa del Sol.
Below the Alcazaba, you also find the Roman Theater which is in very good shape and one of the free things to visit in Malaga.
Nearby you also find a selection of bars and restaurants where you can have lunch. Some of the vegan-friendly restaurants in Malaga are also located there.
Other attractions you can fit into a day trip are the Picasso Museum and the birth house of Picasso. A stroll around Malaga Old Town and along the wonderful Muelle Uno marina where you can jump on one of the Malaga boat tours or enjoy a cold drink and people watching.
RELATED: Is Malaga or Marbella best to visit?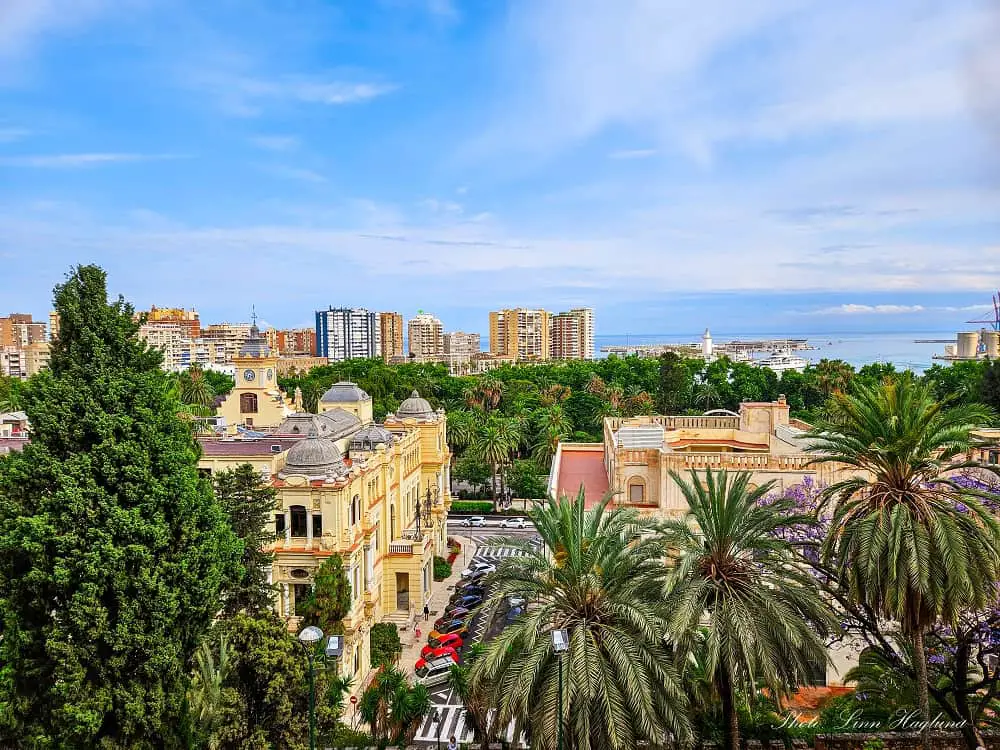 La Herradura
One of the most underrated places to visit from Nerja is La Herradura, an enchanting yet calm Andalusian coastal town located on Granada's Costa Tropical.
This is a great day trip from Nerja in the summer months when you can enjoy the crystal-clear water and go kayaking along the cliffs of Cerro Gordo.
This is also when there is more life in the little town which can get a little too sleepy in the winter for many (including myself.)
There are plenty of restaurants and bars there that really make the summer vibe amazing, yet relaxing compared to most of the towns and villages in Costa del Sol.
But what I like the most about La Herradura are the hiking routes on each side of the beach strip taking you up to beautiful viewpoints.
Both Cerro Gordo Watchtower on one side and Punta de La Mona Lighthouse are possible to reach by car if you find it too steep to walk.
Other points of interest are La Herradura Castle and San Jose and Santa Rita Hermitage which is located right below the lighthouse.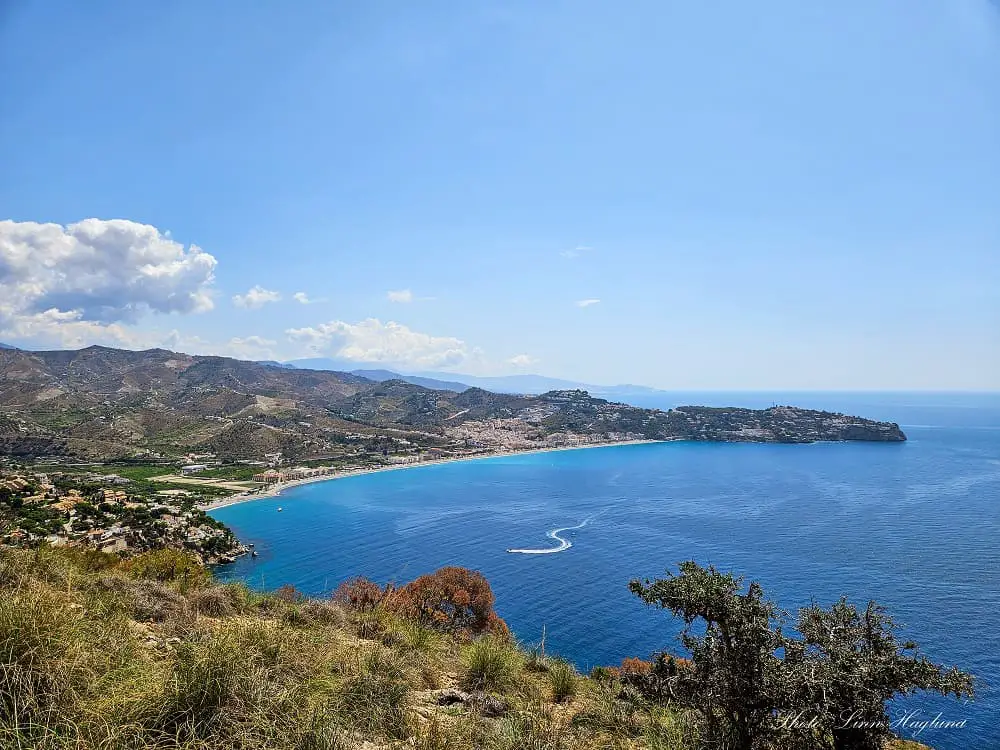 Rio Verde
Rio Verde in Otívar is one of the most epic rivers you will ever visit. It got its name (Green River) from the clear, emerald-green color of the water.
Multiple water holes and waterfalls along the river give you plenty of opportunities to cool down. Rio Verde is by far one of my favorite summer hikes in the region.
It is located on private land, so you must pay an entrance fee of 5 Euros per person and per vehicle to enter the natural area.
While it is perfect for a leisurely hike, it is also the perfect place for adrenaline junkies. Going on a canyoning tour is so much fun, rappelling down waterfalls and cliff jumping, as you make your way down the river with a local instructor.
Note that canyoning tours require that you get to the meeting point by the entrance booth which is about 50 minutes to drive from Nerja, so you must drive or get a ride there.
👉BOOK YOUR CANYONING ADVENTURE HERE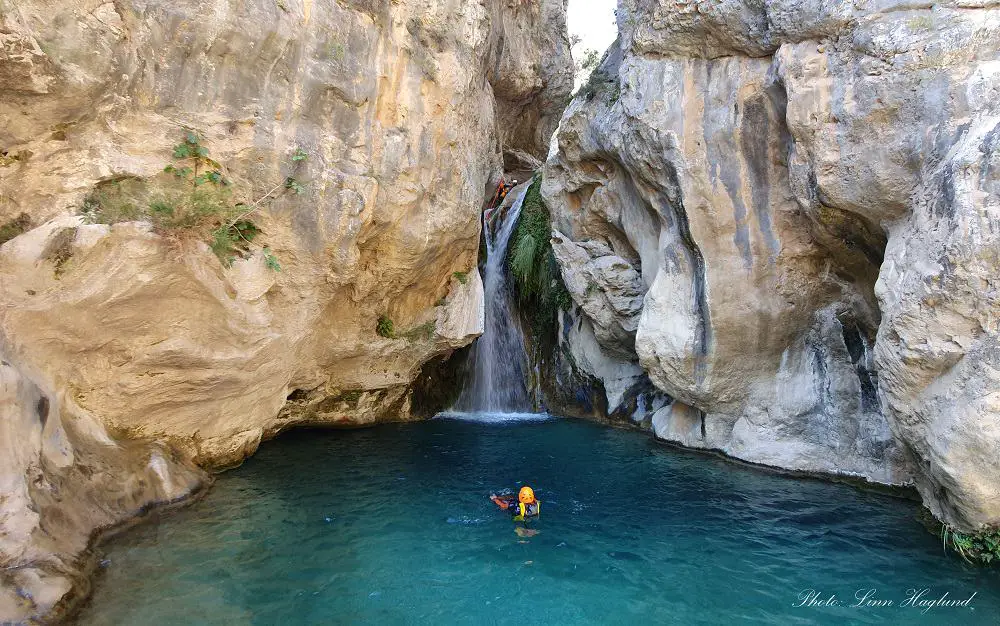 El Caminito del Rey
Another exciting day trip from Nerja is to El Caminito del Rey, which was once the world's most dangerous hike before completing restoration in 2015.
It is a 2-hour one-way hike taking you 7.7 kilometers through the picturesque Gaitanes Gorge. But this is not for the faint-hearted with a path pinned 100 meters high on the gorge wall and a hanging bridge taking you from one side to the other at the mouth of the gorge.
This natural area is one of the most impressive in Spain and one of the best things to do in Andalucia.
If you don't dispose of a car, you can book a tour that picks you up from Nerja. The hike starts from El Kiosko from where you walk to the checkpoint.
There, you show your ticket (must be pre-booked,) get a mandatory helmet, and receive a security brief. It is important that you show up at the exact time of your ticket's time sloth.
I recommend a guided tour to learn more about the history of the path and the natural area.
👉BOOK YOUR CAMINITO DEL REY TOUR FROM NERJA HERE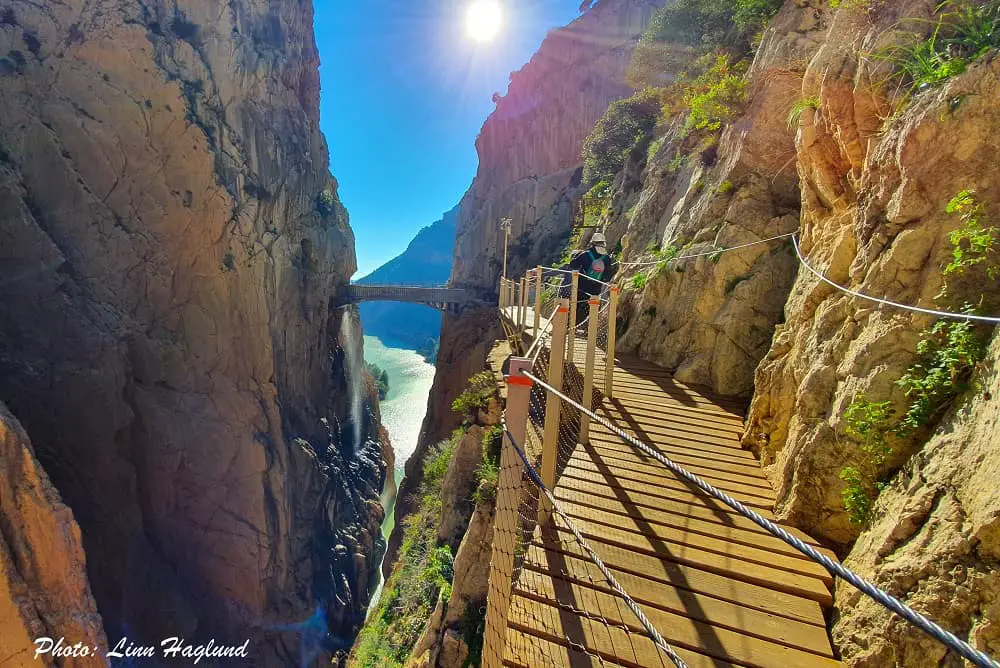 Frigiliana
The most popular Nerja day trip is to the whitewashed hillside village of Frigiliana overlooking Nerja's coast. Most people just spend an afternoon there, but there are enough things to do in Frigiliana to fill up the entire day.
Whether you prefer to take it slow and wander around the village, take in the viewpoints, and visit the Archaeological Museum and the Palace of The Counts of Frigiliana, or you want to take on a hike in the area while you are there, is completely up to you.
The Asequias del Lizar is a great hike if you want a challenge and don't have vertigo. Otherwise, Rio Higueron is a lovely river hike you can do straight from the village.
If you want to go on a shorter hike and don't mind strenuous hills, head to Castillo del Lizar which is supposedly the castle ruins, but I couldn't see much of it. What you do get to see, though, are spectacular views of Frigiliana and the coast.
Frigiliana is a lovely village to relax at a bar or café, eat tapas, and have a few drinks. It is one of the most picturesque white villages near Malaga and I highly recommend seeing it.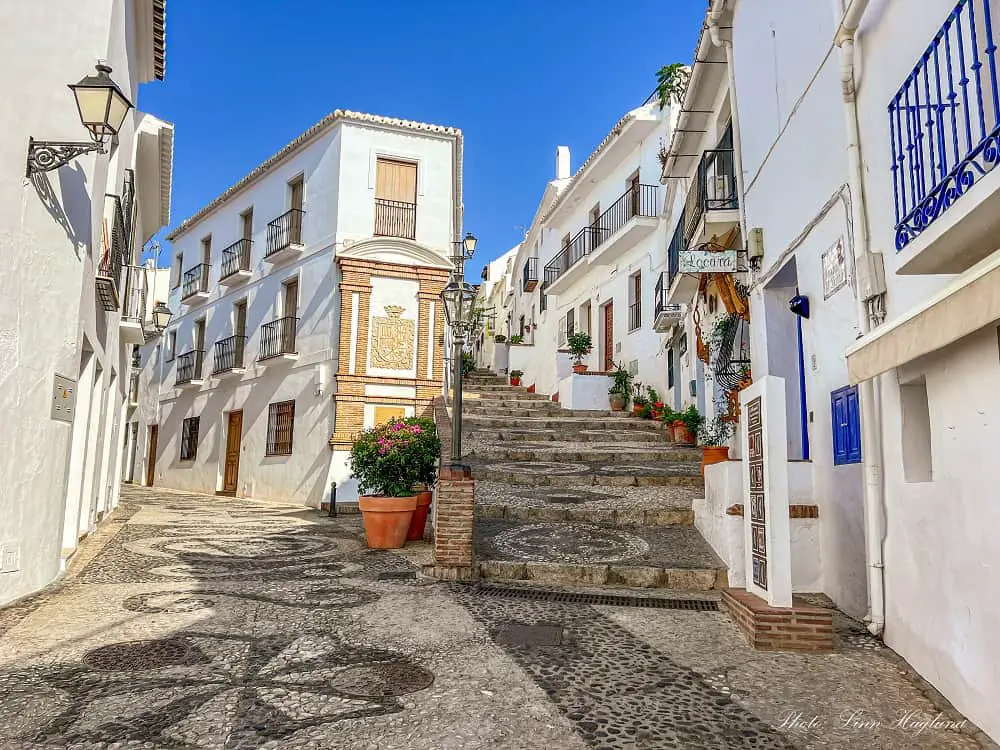 Almuñecar
One of the top excursions from Nerja is to Almuñecar. This is possibly one of the most underrated coastal cities in Spain, but it has so much character.
There are plenty of things to do in Almuñecar and on a day trip you can explore quite a bit of its top attractions. The beaches are spectacular and the view from the viewpoint of San Cristobal encompasses the beaches on both sides and the Rocks of San Cristobal.
The Castillo de San Miguel is also worth visiting as one of the best-preserved castles in Andalucia. It also boasts epic views of the city and coastline.
Nearby you find the botanical garden which is also home to ancient Roman ruins of a fish salting factory. You might also want to see the remains of the aqueduct, there are some remains in the city, including an ancient Roman bath, but walking 15 minutes from there, you can see the most spectacular remains.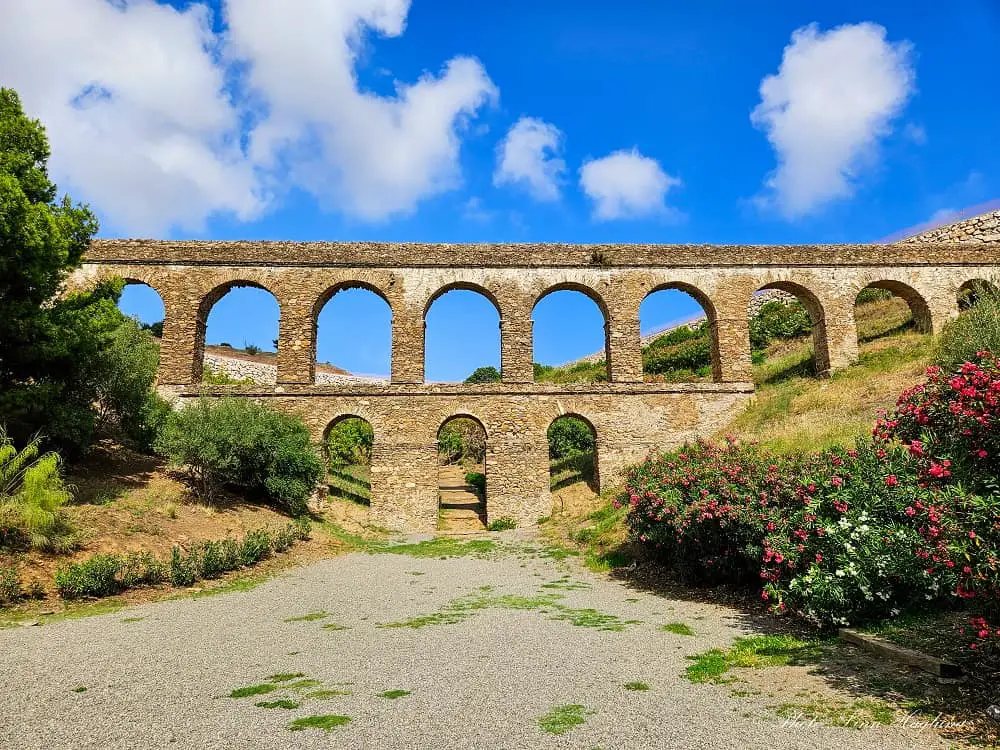 Salobreña
Salobreña is an enchanting coastal town with spectacular beaches and a hilltop castle surrounded by whitewashed houses spilling down towards the coast.
There are plenty of things to do in Salobreña. It is a wonderful place to go for a stroll, visit the castle, and have good, local food and drinks.
In the summer, you might also want to spend a couple of hours on the beach, snorkeling, or cliff-jumping off the iconic peñon.
In my opinion, this is one of the best day trips from Nerja if you want to combine the Andalusian village feel with beach, and still be surrounded by a more Spanish vibe than the sprawling international Nerja energy.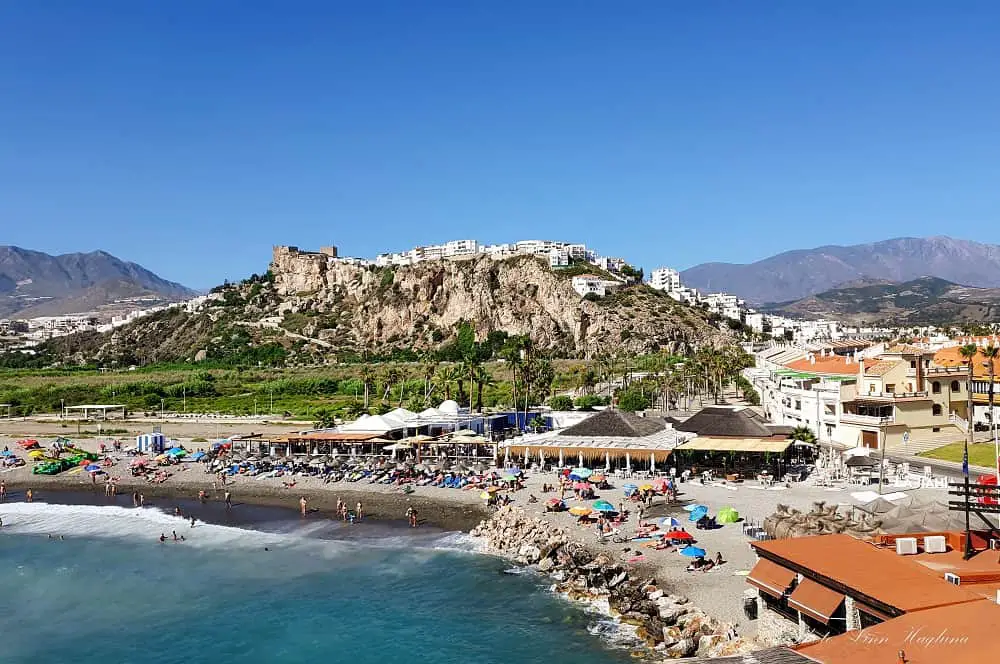 Granada and the Alhambra
One of the most iconic day excursions from Nerja is to Granada and the majestic Alhambra. With one day in Granada, you get enough time to see the old town (Albaicin) and the Sacramonte Cave Museum.
This was the old gypsy quarter and it is a wonderful opportunity to see how they lived in the caves in the 1800s.
However, with only a day, I suggest seeing the Alhambra in the morning so you can spend the time you need there before seeing the rest of the city.
You must book tickets in good time in advance. You can do that here. If you prefer to go with a guide, this guided tour is excellent.
If you don't dispose of a car, the best way to go on a day trip from Nerja to Granada is on an organized tour.
👉BOOK YOUR ALHAMBRA TOUR FROM NERJA HERE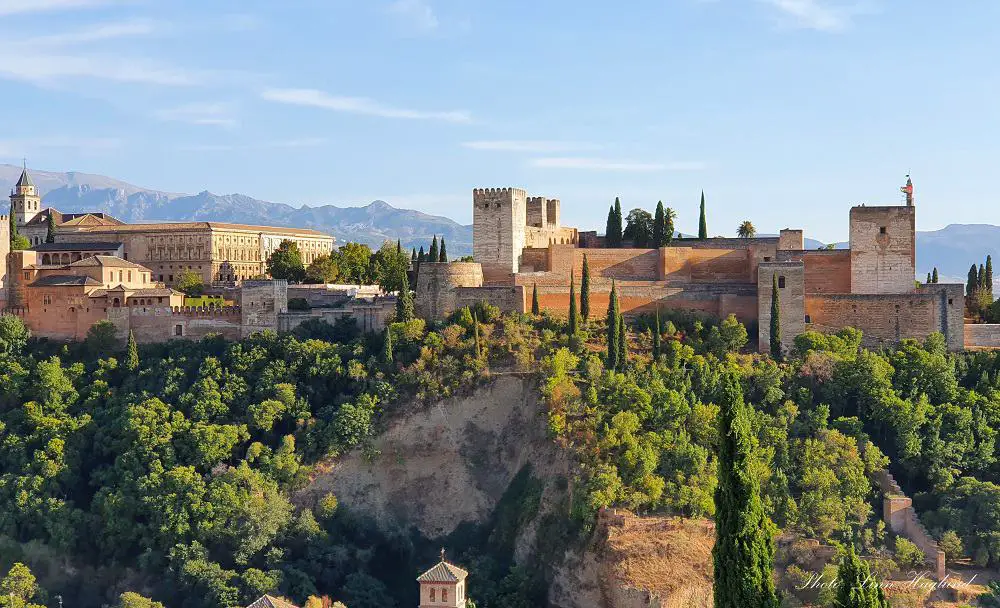 Ronda and Setenil de Las Bodegas
Another of the most impressive excursions from Nerja is to the dramatic town of Ronda, renowned for its Puente Nuevo Bridge connecting the town across El Tajo Gorge.
Among the best things to do in Ronda is to walk down to the view of the New Bridge to get the iconic photo.
Besides the famous bridge and its viewpoints, one day in Ronda gives you time to see the Arab Bath, the old Moorish city walls, and the Casa del Rey Moro where you can climb down to the bottom of the gorge.
Setenil de Las Bodegas is a tiny village that you can visit on the way to or from Ronda. You don't need much more than an hour or two there. But you don't want to miss it!
With houses, restaurants, and bars built straight into the rock which in turn created a natural ceiling over the outside tables, this is one of the most unique places to visit in Andalucia.
👉BOOK A TOUR TO RONDA AND SETENIL DE LAS BODEGAS HERE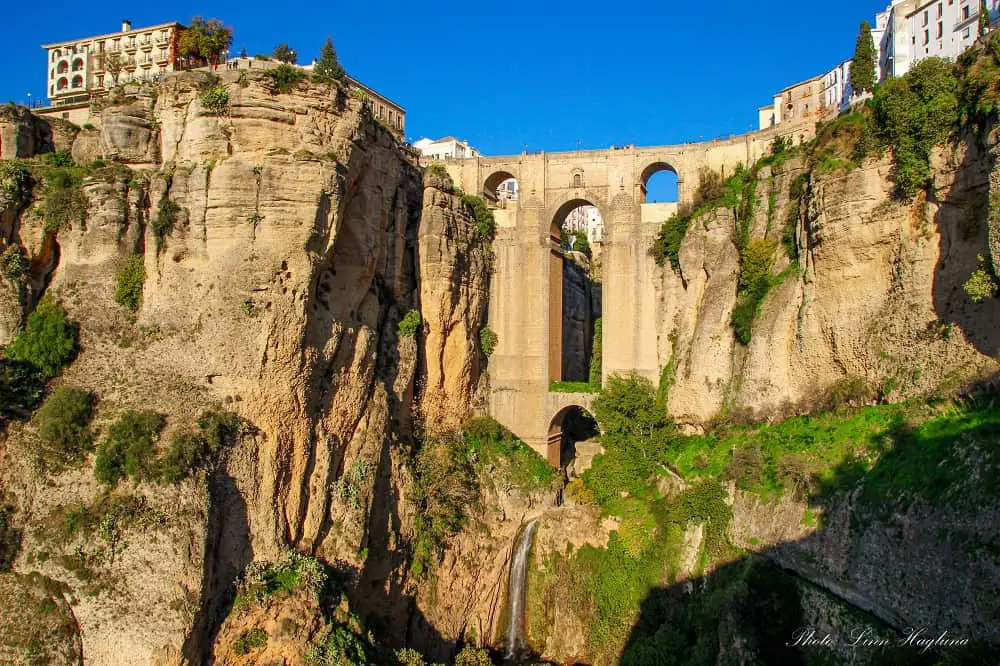 Cordoba
No list of day trips from Nerja is complete without mentioning Cordoba. The historic city boasts some of Andalucia's most impressive landmarks.
There are so many things to do in Cordoba that you could easily spend 2 days in the city without running out of things to do.
Yet, one day in Cordoba gives you an insight into the intense history and religious melting pot this place has become throughout the centuries.
Make sure you book tickets for the Mosque-Cathedral up front to avoid large queues. You can also climb the clock tower for sweeping views of the city and the Patio de Los Naranjos below.
Talking about patios, you don't want to miss out on the spectacular patios in Cordoba. While you can see some of them without a guide, I actually recommend going on a patio tour in Cordoba.
It gives you the opportunity to learn about the history of the patios and the historical Cordoba Patio Festival. I highly recommend this patio tour.
Other must-see attractions that you can see on a day trip to Cordoba are the Alcazar de Los Reyes Cristianos and the Synagogue.
👉BOOK YOUR CORDOBA TOUR FROM NERJA HERE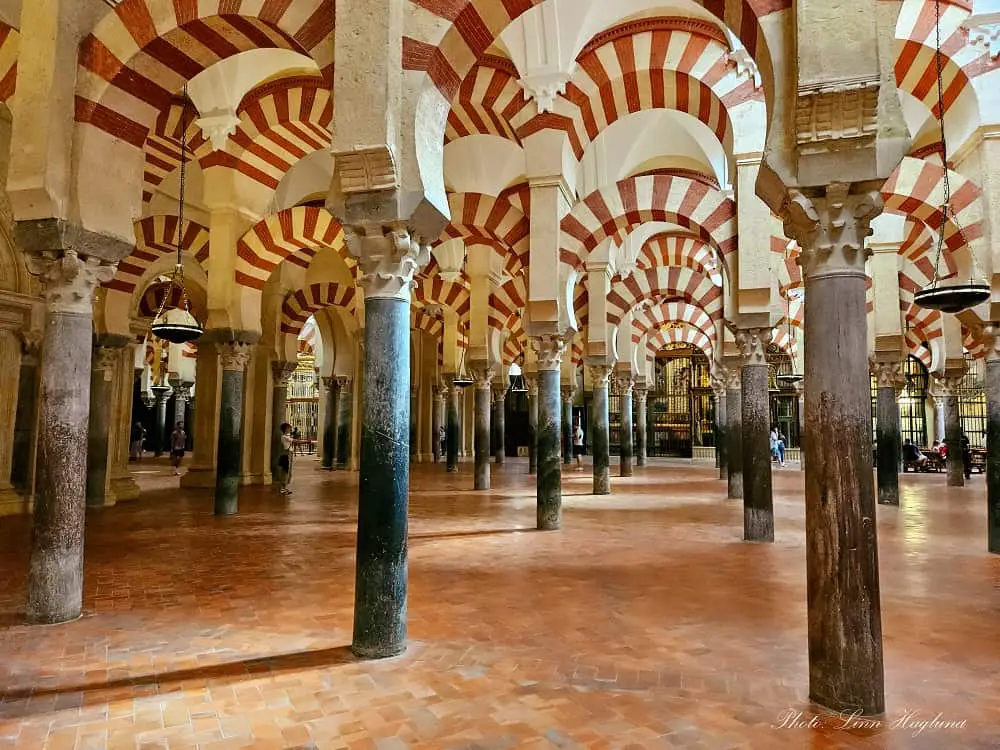 Reflections on Nerja day trips
As you can tell, there are some incredible Nerja day trips to be had and what you prefer is completely up to you!
Whether you are looking for adventure or diving into culture and history, I am sure you will enjoy these day trips from Nerja.
Happy travels!