Cordoba, Spain is recognized for its abundance of UNESCO sites and colorful courtyards. But is it worth going on a Cordoba patio tour?
I recently went on a patio tour in Cordoba and will break it down to you with all the pros and cons of exploring the flower-draped courtyards with a guide.
While you can visit all the courtyards that enter the yearly Patio Festival in Cordoba for free during the first two weeks of May, this is also an extremely crowded time to visit.
I did a Cordoba patio tour during the festival too, and it added a lot of value to my visit to 6 patios that are normally not open to the public. But also about the history and cultural heritage behind the patios of Cordoba.
Disclosure: This post may contain affiliate links. That means that if you make a purchase through one of those links, I will get a small commission at no extra cost to you.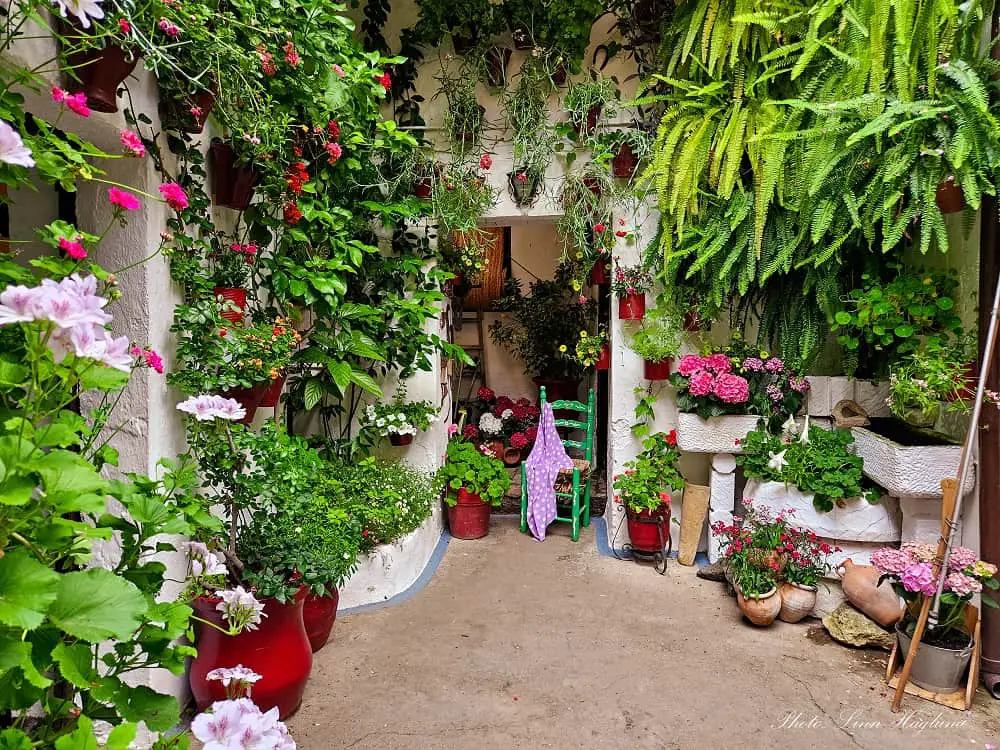 Don't have time to read? Here are the most popular patio tours in Cordoba
What to expect from a Cordoba Patio Tour
The different patio tours Cordoba offer, usually last between 1.5 and 2.5 hours and include 5-10 patios. You will meet up at the meeting point where you will join your guide and the rest of the group.
I have used OWAY Tours which are located at Plaza del Triunfo, on the corner opposite the Mosque-Cathedral right past the Triumphal arch coming from the Roman Bridge.
But there are other tours that meet up in other places, like outside the Alcazar de Los Reyes Cristianos.
Also, different tours take you to different patios in the San Basilio neighborhood where you can see a selection of private patios all year round.
At the beginning of the tour, the guide gives information about the origin of the patios in Cordoba and why the Patio Festival was founded.
You will also learn about the history of the different patios you visit. In the private patios, the owner or caretaker will greet you and some of them eagerly talk about the flowers and plants you can see.
One of the things I enjoy the most about visiting the private patios is that you can really tell how proud these people are of their courtyards.
You will usually find a tip box at the entrance, and I suggest you bring some coins to leave a small tip to the patio owners for their splendid work.
Note that not all patio tours include the entrance fee for the patios, so you must read the description carefully before you book.
If you want a private experience with friends or family, you can book a private patio tour. This gives a lot more time with the guide to ask questions and to get unique inside tips.
👉BOOK A PATIO FESTIVAL GROUP TOUR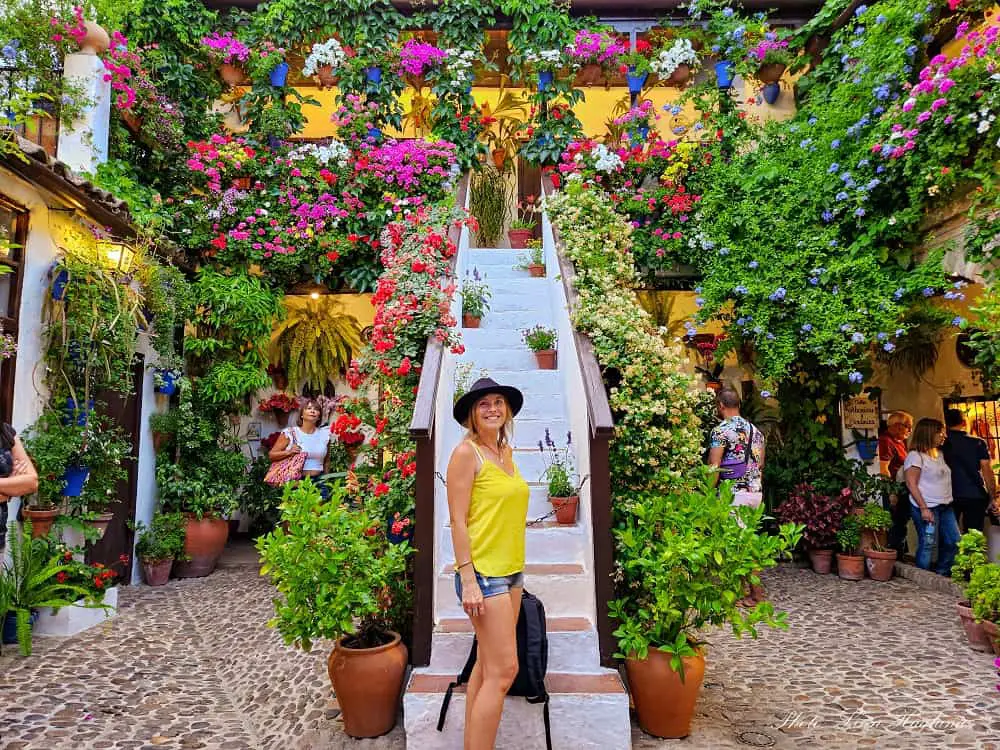 Is it worth joining a Cordoba Patio Tour during the Patio Festival?
During the Cordoba Patio Festival in May, you can enter all the patios that compete for free. So is it worth paying to go on a patio tour? Cordoba´s patios have a long history going back to Moorish times.
Taking a guided tour gives you a lot more insight into the customs and culture around these beloved courtyards. A guide will tell you everything there is to know about the history, the festival, and why it's protected by UNESCO.
I took a guided tour when I visited the festival last time, and it offered a lot of extra insight that I definitely wouldn't have gotten if we had ventured out on ourselves. It was very interesting to learn more about these courtyards that are only open during the festival.
In fact, I recommend starting your visit to the patio festival with a guided tour so that you get a good start with abundant information before continuing on your own.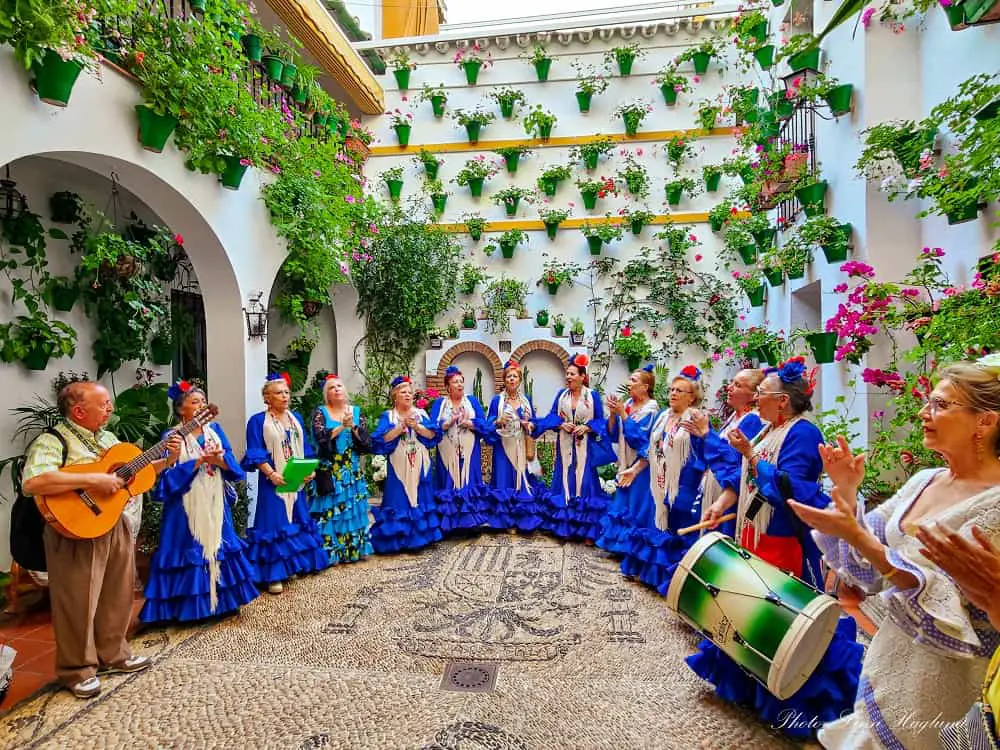 Of course, if you don't have an interest in learning more about the history and culture behind the patios or prefer reading up on it online before you go, a guided tour during the festival is going to be a waste of money and time, as you can usually see a lot more patios alone than in a group.
There are some tours only taking place during the patio festival and they generally visit different patios than you would see outside the festival since there are courtyards in the competition that you can't see the rest of the year. These can be both private and publicly owned patios.
This tour is specific to the Patio Festival and can be booked for the dates in May when the festival takes place.
How can you book Cordoba Patio Tours?
There are different ways to book patio tours. Cordoba can get pretty busy, especially during peak season which is spring, so getting online tickets in advance is your best bet.
Here are the different ways you can book a patio tour.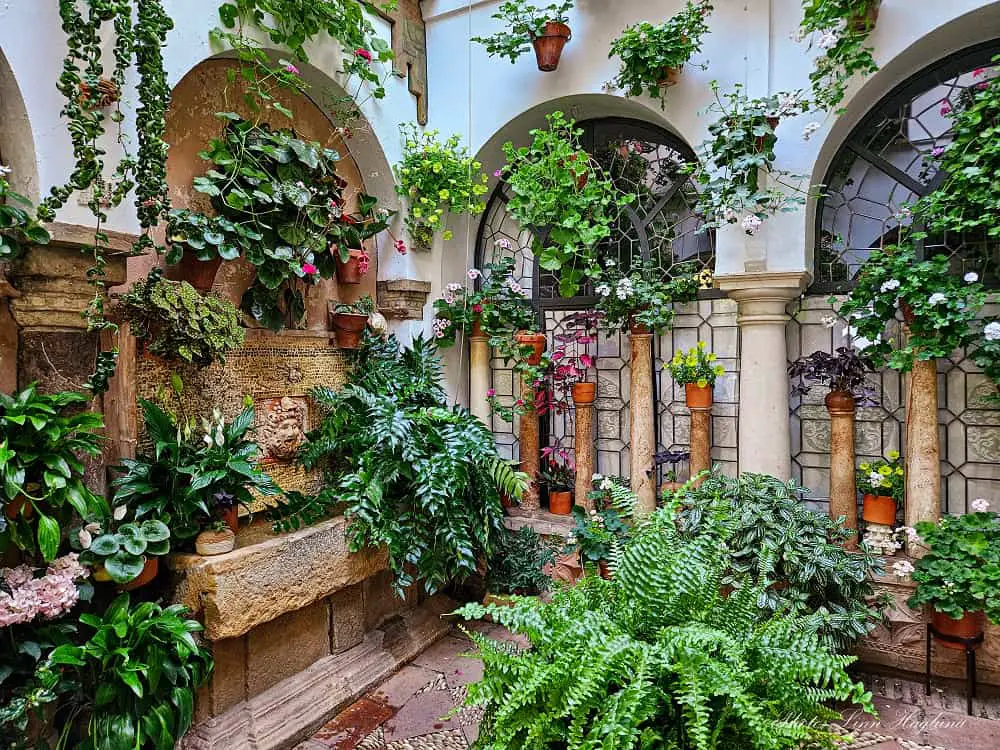 Book in the ticket office
If you are already in the city, you can book Cordoba Patio tickets in Calle San Basilio no. 14 and in Calle Caballerizas Reales no. 4.
This is an easy way to get tickets in the low season when there aren't long queues. However, in the spring, there can be long ticket queues and you aren't guaranteed to get a tour straight away.
Book online
You can also book online through third-party sites like Viator and Get Your Guide. They usually charge a few Euros more, but you are guaranteed your tour at the time and date that you want by booking in advance.
Personally, I like to use them because they give you free cancellation up to 24 hours before your tour and you can plan your day in Cordoba upfront.
I also love their app that keeps all your tours and tickets in one place making it easy to organize your trip, whether you've booked more tours in Cordoba or in other places on your itinerary. You also get notifications reminding you about upcoming tours.
In the case that your booked tour doesn't include entrance tickets (€5) in the price, the guide will normally help you book the tickets, so you don't have to worry about it.
BOOK YOUR CORDOBA PATIO TOUR: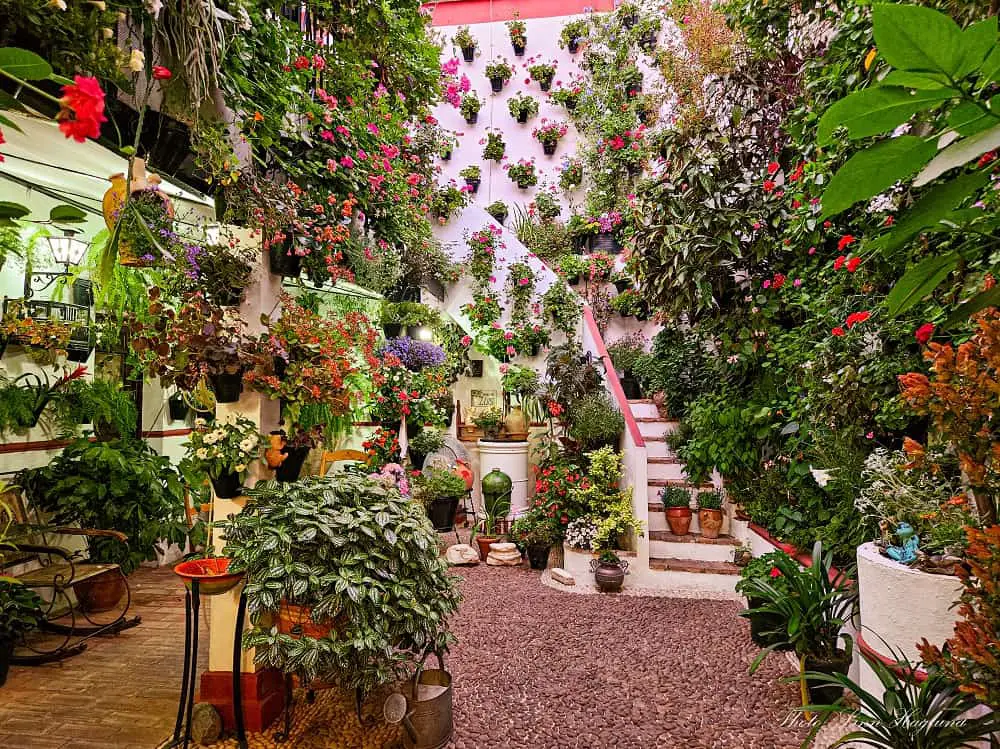 Conclusion: Patio tours Cordoba
Going on a patio tour in Cordoba is well worth it and I highly recommend it. The colorful courtyards transmit the love and nurture that the owners and caretakers put into these communal outdoor spaces.
It is a unique cultural experience that gets you closer to the locals in what is one of the prettiest cities in Andalucia.