You are considering going on a day trip from Seville to Cordoba, Spain, and I can tell you it is a great idea. Cordoba is such a culturally rich city with grand UNESCO sites, an enchanting old town, and a mishmash of cultural heritage.
Being famed for its picturesque patios, it is amazing to spend a day in Cordoba to take in all of this. If you have filled your Seville itinerary with Moorish sites and Andalusian tiles, get ready for more of this, but in a somewhat even more cozy setting.
The cobblestoned streets winding through whitewashed houses decorated with colorful pot plants and imposing historical structures leave most travelers in awe. I have traveled to Cordoba so many times and still, it never stops to amaze me. There are a lot of Cordoba tours you can take to discover the city efficiently while you are there.
In this post, I will go through everything you need to know to go on a Seville to Cordoba day trip, whether you want to travel individually by car or public transport, or you prefer to go on a guided tour.
(Spoiler! You're about to embark on one of the best day trips from Seville!)
Disclosure: This post may contain affiliate links. That means that if you make a purchase through one of those links, I will get a small commission at no extra cost to you.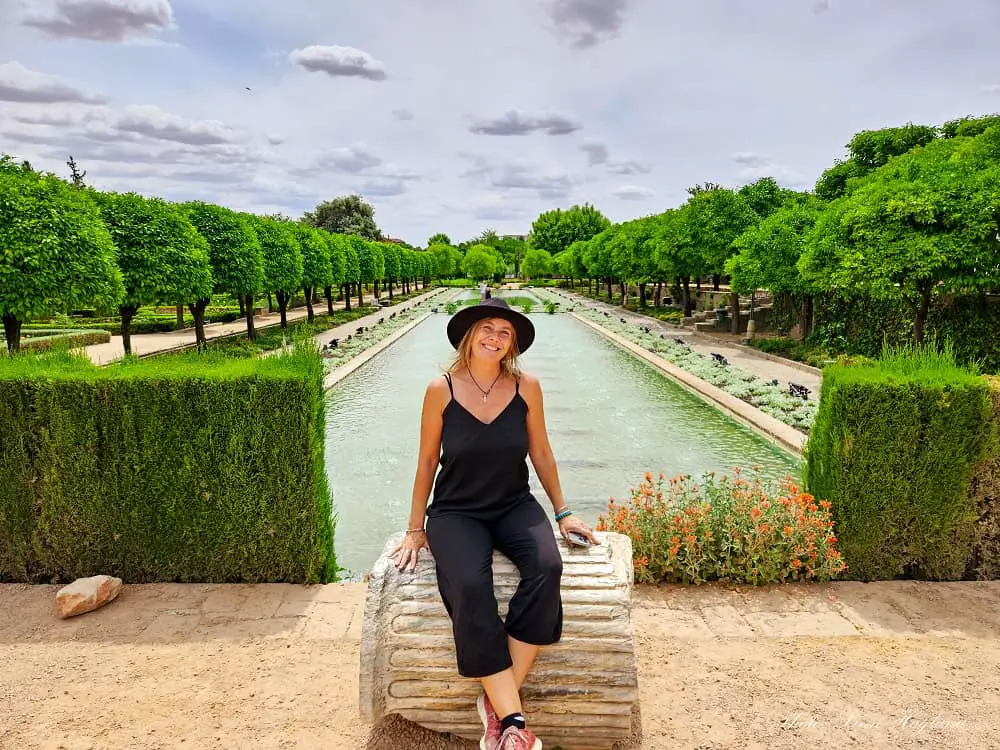 DON'T HAVE THE TIME TO READ, BUT WANT TO BOOK A GUIDED TOUR?

HERE ARE THE TOP TOURS FROM SEVILLE TO CORDOBA:

Cordoba Private Tour with Mosque Entrance from Seville
Cordoba Small-Group Day Tour from Seville
Cordoba City Tour with Mosque-Cathedral from Seville
What is the best time to go on a Seville to Cordoba day trip
First of all, if you are already in Seville, I should not need to mention this, but avoid both Seville and Cordoba in the summer, especially during July and August.
These are the two hottest cities in Spain during the summer and temperatures can easily exceed 50° Celcius (122° F.) Trust me on this. As I'm writing this (currently in Cordoba coming from Seville) we're seeing over 30° Celcius and it's only April.
So, when is the best time to visit Cordoba?
The high season in Cordoba is without a doubt spring when the patios are the prettiest. In the first half of May the province of Cordoba celebrates the Patio Festival and you will be able to explore all the private patios that are normally closed to the public.
Spring is also when hotel prices go up and you should book early since it is such a popular time of the year to go both for local and international tourists.
From October and throughout the winter months, you get cooler temperatures and it is perfect for sightseeing. Note that the daytime temperatures might get to around 20° Celcius (68° F) while the night might surprise you with a chilling zero degrees (32° F).
We spent the winter in the area and had some incredibly chilly nights in the van!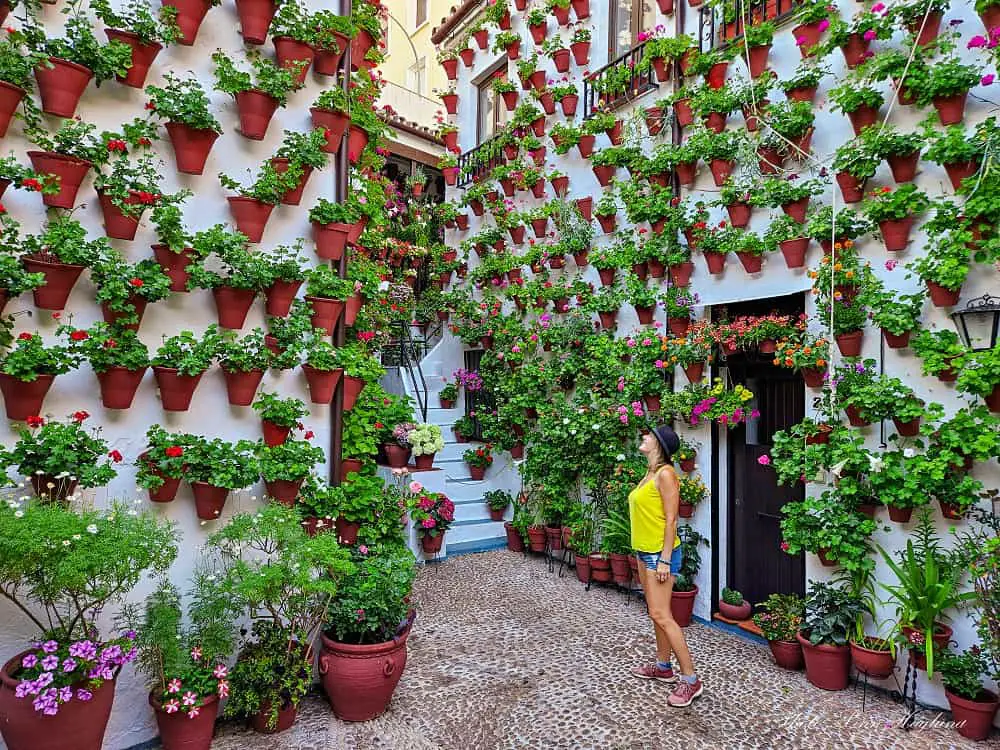 How to go on a Seville day trip to Cordoba
You can easily travel from Seville to Cordoba by car, bus, and train. I'll go through it all here, including how to park in Cordoba if you travel by car.
However, if you want the ease of a guided tour that picks you up at the hotel and drops you back off at the doorstep, I'll add a couple of good options for you.
Driving from Seville to Cordoba
Driving from Seville to Cordoba takes on average 1 hour and 45 minutes and the road is in fairly good condition making it a comfortable drive.
There are no toll roads between Seville and Cordoba.
If you need to rent a car for your trip, you can compare prices and models here.
Where to park in Cordoba
As with all cities in Andalucia, there is only paid parking in the city center. I have usually left my car in an underground parking house called Parking Paseo de La Victoria at only a 10-minute walk from the Mosque-Cathedral.
However, the last few times, as I travel by van, I have looked for free parking and found quite a few spots available around the bend of the river.
Basically from the Feria area and towards the bend of the river (along the park where the big plane stands), there is plenty of parking. Note that parking is free, but there are often guys there asking for a coin or two for food – they do not work officially as parking guards.
I usually give them 50 cents or a Euro (mostly because I often stay a couple of nights,) but you don't have to if you don't have cash. These free parking are only between 10 and 20 minuted walk from the Mosque-cathedral following the river bend.
Train from Seville to Cordoba
Taking the direct train from Santa Justa train station is the fastest way to get travel which gives you the most out of your day trip. Seville to Cordoba by train only takes 40-45 minutes and there are early trains that can get you there at 7:35 or 8:20 in the morning.
Check rates and availability here
Bus from Seville to Cordoba
The bus is slightly more budget-friendly than the train, but it takes a lot longer with trips averaging 2 hours and 20 minutes which is a long trip for a day trip. Cordoba from Seville buses usually don't start earlier than 9:30 from Plaza de Armas bus terminal in Seville which means that you will not reach Cordoba before midday.
Check rates and availability here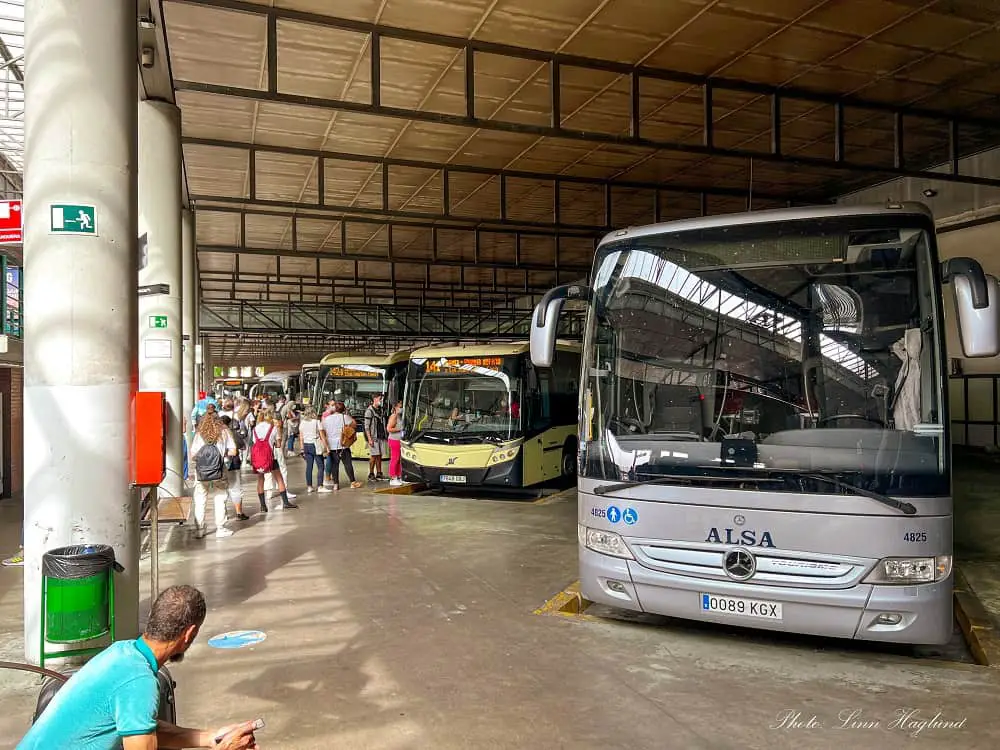 Day tours from Seville to Cordoba
If you prefer the convenience of pick up and drop off at the hotel and a local guide to take you around on your day trip to Cordoba from Seville, I've got you covered.
There are both budget-friendly group tours, small-group tours, and private tours, which are usually more flexible and personal. Here are my top picks so that you can choose a Seville to Cordoba day tour that suits your needs.
This is the best option for a private tour. The tour first stops in the historical town of Carmona, one of my favorite towns near Seville on the way to Cordoba.
Once you reach Cordoba, the sites included in this tour (including entrance tickets) are the Mosque-Cathedral, the Roman Bridge, the Calahorra Tower, and the Synagogue.
Your guide will show you around the Jewish Quarter and give you free time where you can go shopping or explore other tourist attractions.
Note that lunch is not included, but don't be shy, ask the guide for local gems to eat!
This is a small-group tour taking you from Seville to Cordoba. I find this a great mid-range option as you get a more personalized tour than the budget tours that might take quite large groups, yet you save compared to the private tours, which means you get the best from both worlds (and maybe some new friends.)
The tour takes you to most of the main attractions, like past the Mosque-Cathedral, the Synagogue, the Alcazar de Los Reyes Christianos, and the patios of the Old Town.
However, it is worth noting that only the tickets to the Mosque-Cathedral and Synagogue are included, so you must purchase your own tickets for any other site you want to enter. Also lunch is not included.
This is a particularly great Cordoba tour from Seville for solo travelers as it is easier to connect with others on the tour than in a larger group.
This is a great budget option for anyone looking for day trips from Seville to Cordoba with a tour guide. This tour takes you through the Jewish Quarter and includes entry tickets to the Synagogue, the Patios de San Basilio, and the Synagogue.
You will pass attractions like the Roman Bridge, the Calahorra Tower, and the old Royal stables, Caballerizas Reales de Cordoba, and your guide will tell you all about the history of these incredible historical sites.
Note that the tour bus might take a resting stop in the town of Carmona on the way to Cordoba where you will get a quick introduction to the beautiful historical town. As for the other day tours from Seville to Cordoba, lunch is not included in the price.
What to do on a day trip from Seville to Cordoba
Book a guided tour in Cordoba:

Private Mosque-Cathedral and City Tour
There is a lot of fun to have had on a Seville day trip from Cordoba. If you travel individually, I suggest the following itinerary.
However, if you want more time to stroll around the cobbled streets, go shopping or hang out at the energetic cafés, feel free to shorten it down and maybe just go to the Mosque-Cathedral (Yes, this is a must-visit!) and enter one of the other suggested attractions.
READ MY TOP CORDOBA TOUR RECOMMENDATIONS IN ONE PLACE
Mosque-Cathedral
Start your Cordoba day trip from Seville with the most prominent attraction in the UNESCO city, the Mosque-Cathedral.
Nowhere else will you experience such a wondrous design where the mosque's features and architecture have been preserved while building a cathedral on the same site.
The mosque was originally built in the 700s and the Christian chapels were added after the reconquest in the 1200s.
The most noteworthy are the white and red-striped arches connecting a forest of 850 columns. It is incredible to think about how old this is.
The lush Patio de Los Naranjos outside the Mosque-Cathedral is also splendid and one of my favorite patios to see on a day trip from Seville to Cordoba with its lined orange trees and glittering fountains.
I suggest getting skip-the-line tickets Mosque-Cathedral in advance to save yourself some time.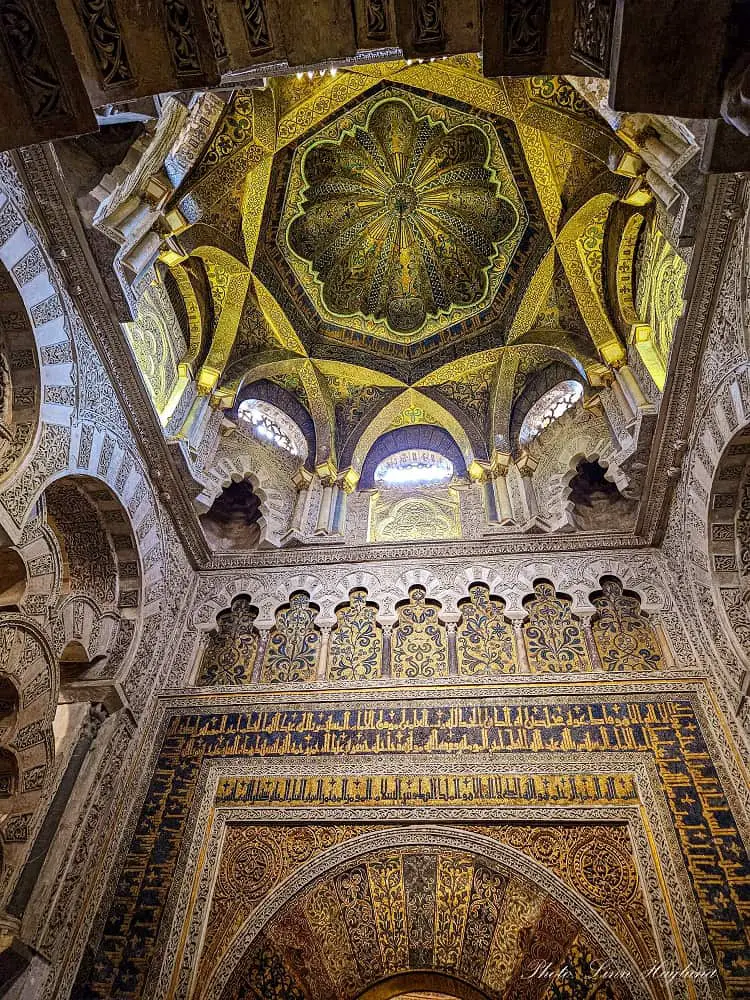 Roman Bridge
Walking across the Roman Bridge is one of the most popular things to include on a day trip from Seville to Cordoba. The 1st-century Roman structure was rebuilt by the Moors and as you walk across it, you will be met by an energetic atmosphere.
Buskers, groups of locals chatting along, and other tourists taking those iconic vacation pictures from the bridge with the majestic Mosque-cathedral on one end and the Calahorra Tower on the other side.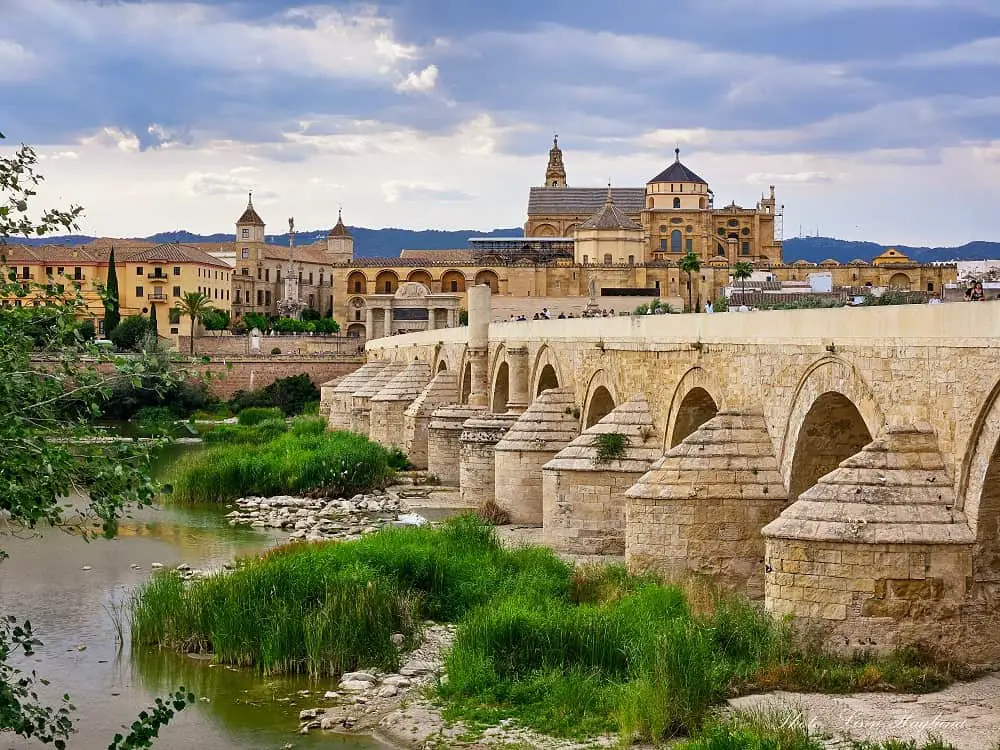 Option 1: Torre de Calahorra
The Calahorra Tower is situated at the end of the Roman Bridge and I find it well worth it to climb it for the views of the Roman Bridge from above and the Mosque-Cathedral on the other side.
Other than the views, there is a small museum inside where you can learn more about Islamic history in Cordoba and its influence on the city.
You might also enjoy the models that are made of the city's Moorish structures.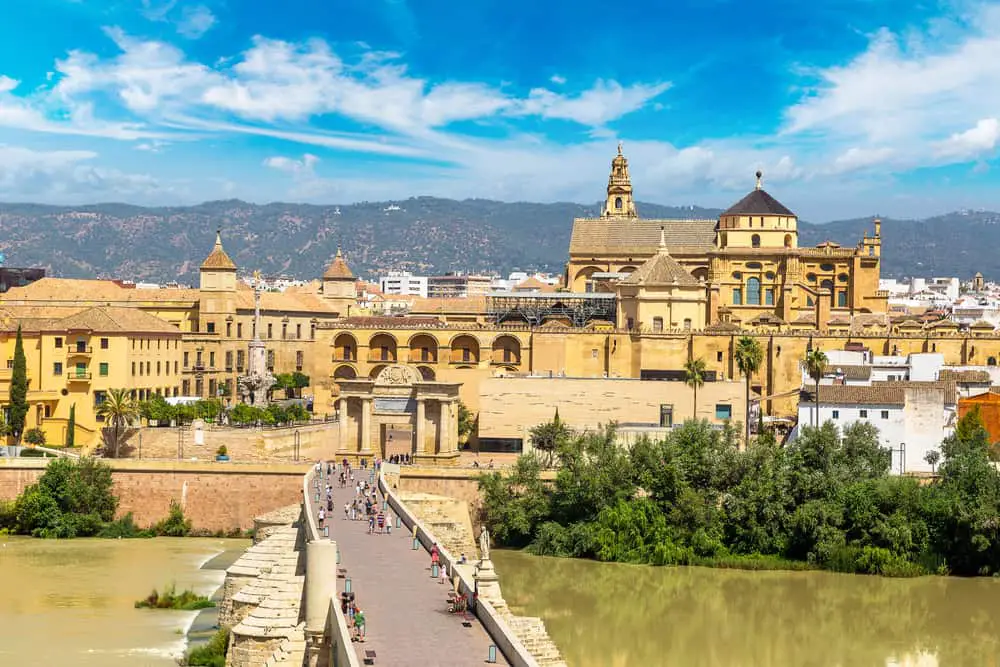 Option 2: Patio tour
If you want to explore the colorful patios of Cordoba, I recommend going on a tour of the patios of Cordoba. There are many different tours to choose from, but the baseline is that you will have a guide give you more insight into the patios and their history.
I highly recommend this tour which takes you to 5 different patios with the entry fees included. It is so amazing to see these patios in Cordoba (just as patios in other places in the province like Iznajar and Rute) and how passionate the owners are about them.
In my opinion, this is one of the top highlights of any Cordoba tour from Seville.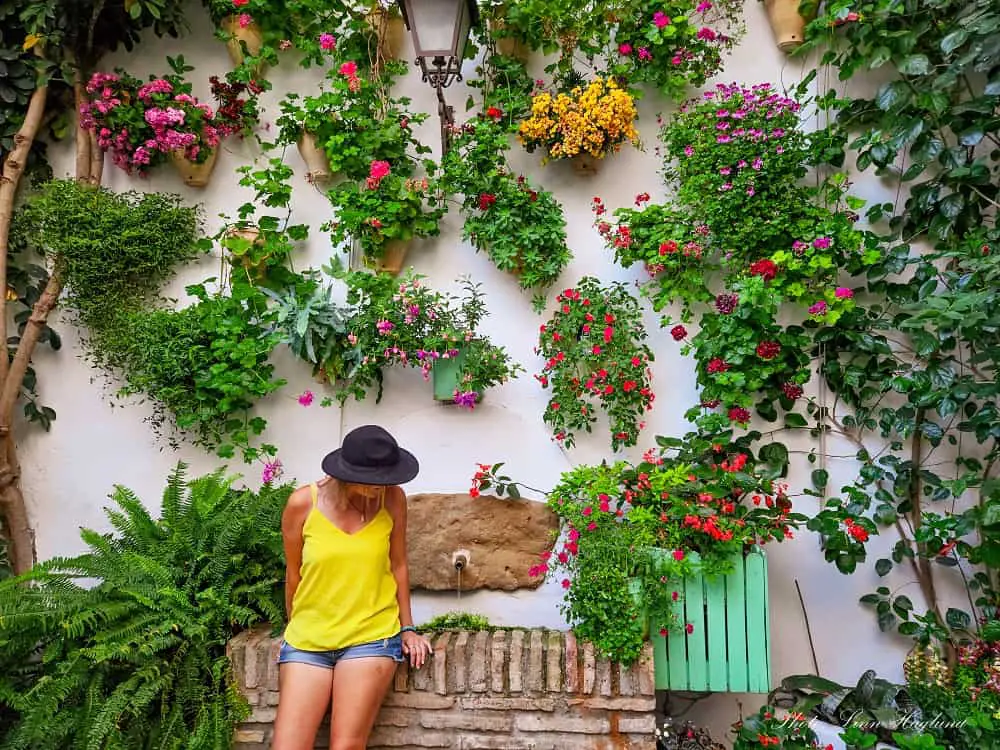 Lunch
There are many great places to go for lunch in Cordoba in the Old Town, but if you're looking for something vegan, I can warmly recommend skipping a little out of the tourist area to either Hamburgueseria Boxer (amazing vegan burger and fries!) or Pizzeria Verde Rucola (they have a whole vegan pizza menu – I particularly love the vegan Margherita).
For a taste of the Middle East, head to Restaurante Damasquino – so many amazing vegan options, surely one of my favorites.
You can also grab a fantastic vegan chocolate cake with your coffee at La Tarterie.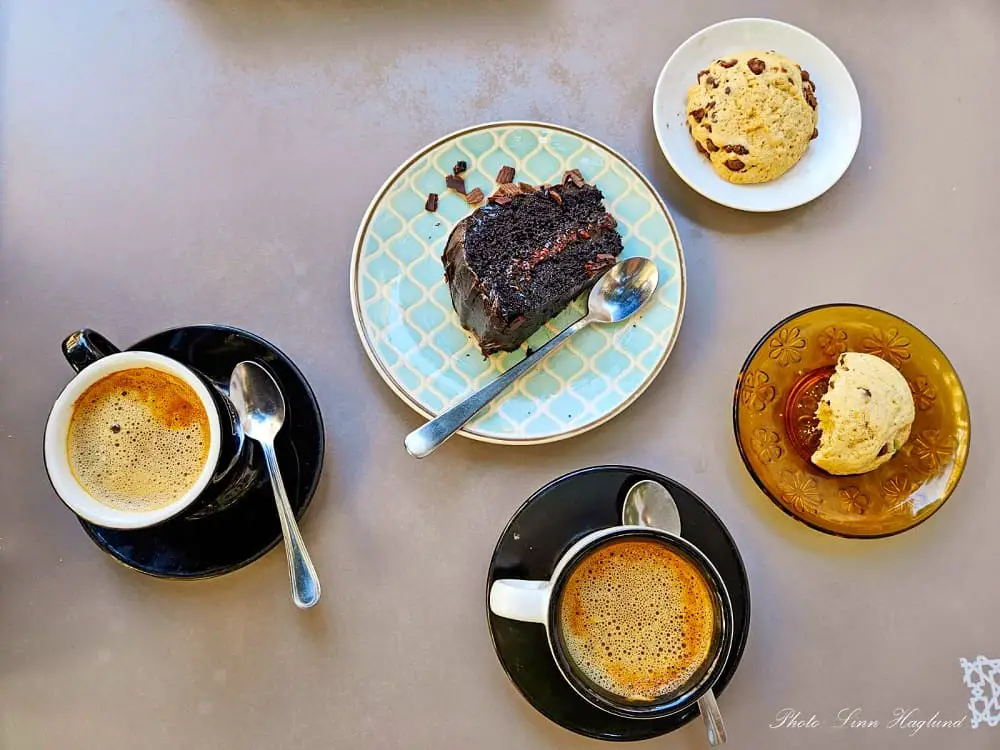 Alcazar de Los Reyes Christianos
After lunch, head to the Alcazar de Los Reyes Christianos, which is also one of Cordoba's UNESCO sites. The incredible structure has been built by the Christians after the reconquest over remains from Roman and Moorish structures.
This opulent complex served as a royal residence but has also been a prison in later times.
Especially the groomed gardens are splendid with refreshing fountains glittering in the sun under the shade of Andalusian orange trees.
I suggest getting a guided tour with skip-the-line tickets to avoid long lines. This tour is great for getting the most out of the tour. Check availability here.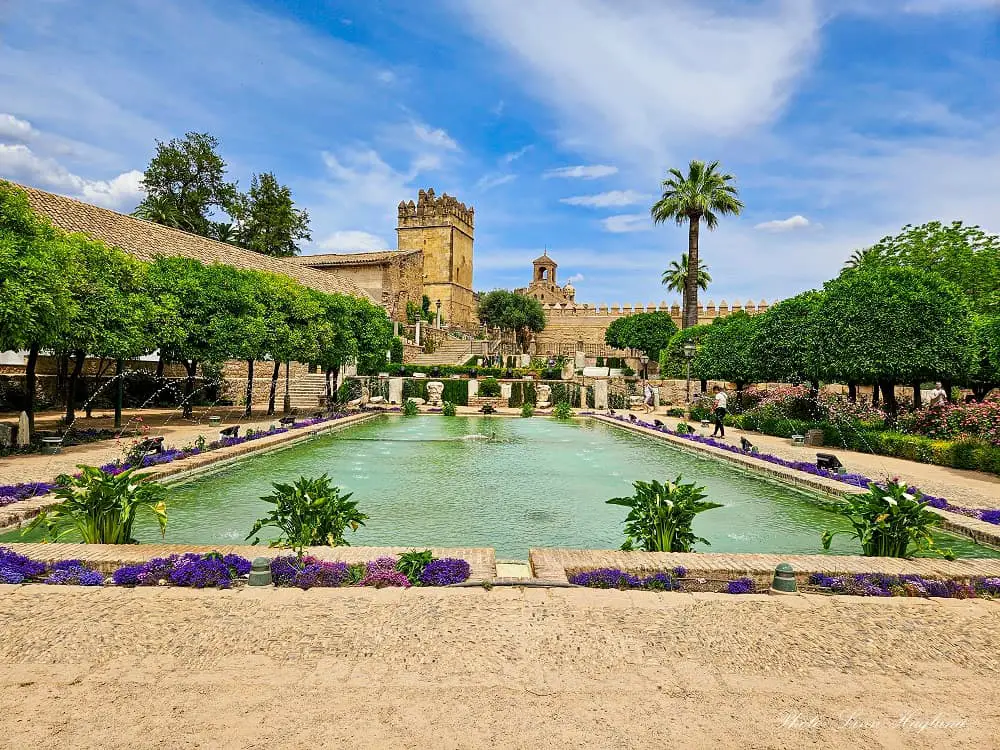 Synagogue
The synagogue in Cordoba is not only the only one you can see in Andalucia but also the best preserved in Spain. Yet, I find it quite abandoned compared to other attractions in the city.
It is situated in the old Jewish Quarter and was used as a school and a hospital after the Jews were expelled from Andalucia in 1942.
Later, in the 19th century, the structure was recognized as a National Monument and taken care of as a tourist attraction to preserve Jewish history.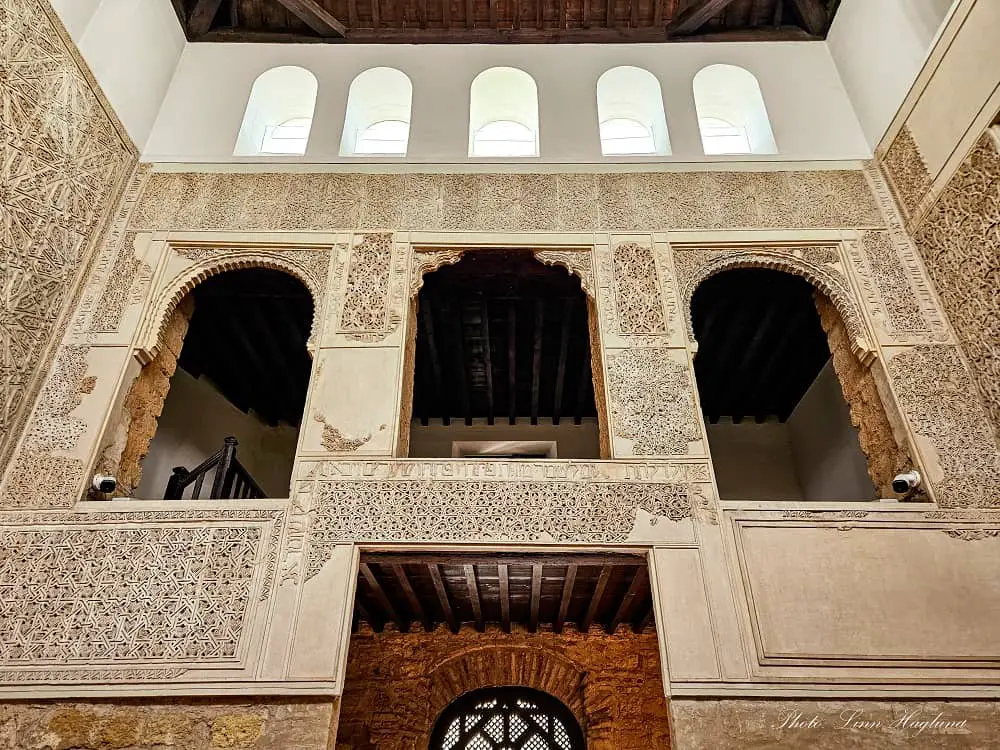 Jewish Quarter
Exploring the Jewish Quarter is one of the highlights of this Seville to Cordoba day trip. The enchanting, narrow streets wind their way through old whitewashed houses.
Take in the traditional Andalusian alleyways as you walk past colorful potplants cascading down the white walls. One of the must-visit streets is Calleja de Las Flores.
Being one of the most photographed streets in Cordoba with the bell tower at the end, it makes for a beautiful photo shoot if you have the patience to wait between the crowds.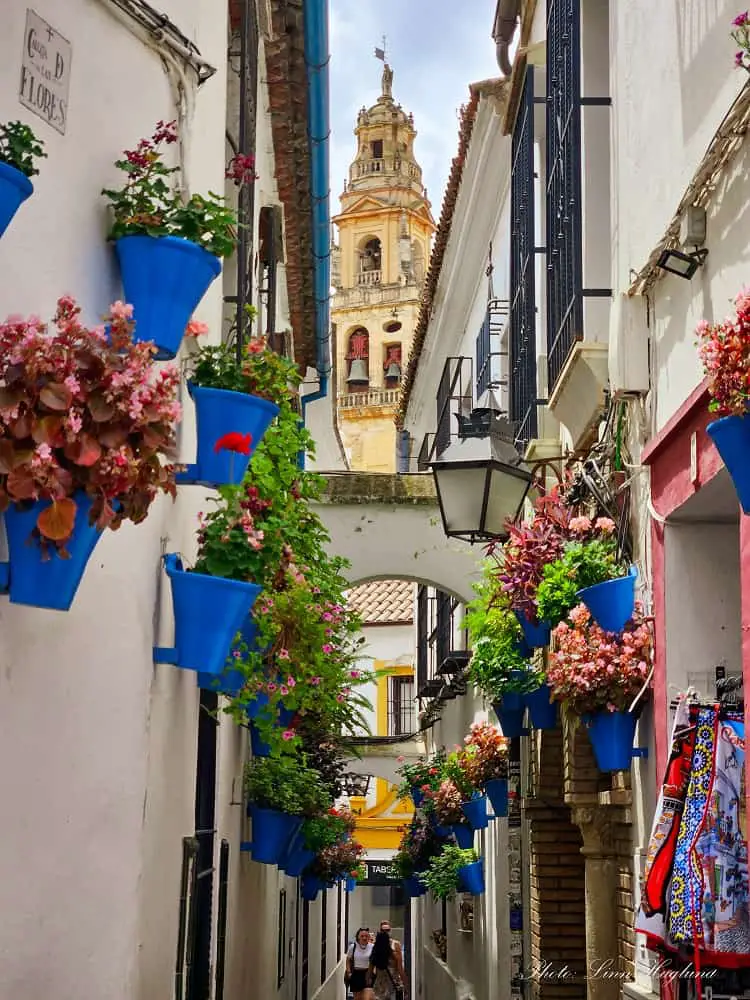 Reflections on a Cordoba day trip from Seville
As you can tell, there are a lot of great things you can do on a day trip from Seville to Cordoba and while there are a lot more things to do in Cordoba, you will still get a good grasp of what the UNESCO city has to offer.
It is not without reason that Cordoba is one of the prettiest cities in Andalucia and in my opinion, it is way too underrated compared to Seville, Malaga, and Granada which all receive a lot more attention.
Now, you have all the information you need to make the most out of a Seville-Cordoba day trip and I'm sure you won't regret going.
Happy travels!