Ronda is one of the oldest towns in Spain and one of the most impressive whitewashed towns in Andalucia. Most travelers go on a day trip to Ronda, and I assume that you are too if you're reading this.
Since there are a lot of things to do in Ronda, you might wonder what to do in Ronda for a day so that you don't miss out on the biggest attractions.
I have traveled to this incredible town, perched on top of both sides of the dramatic El Tajo Gorge several times and I recently spent a few weeks there to make sure I explored it in-depth.
From all there is to do, I created this one day in Ronda itinerary so that you can see the most important sites in what is one of Andalucia's oldest towns.
Get ready to explore the epic gorge, take an iconic picture in front of the New Bridge, and visit the Arab Baths, among other unforgettable experiences. This is one of the prettiest towns in Malaga.
Disclosure: This post may contain affiliate links. That means that if you make a purchase through one of those links, I will get a small commission at no extra cost to you.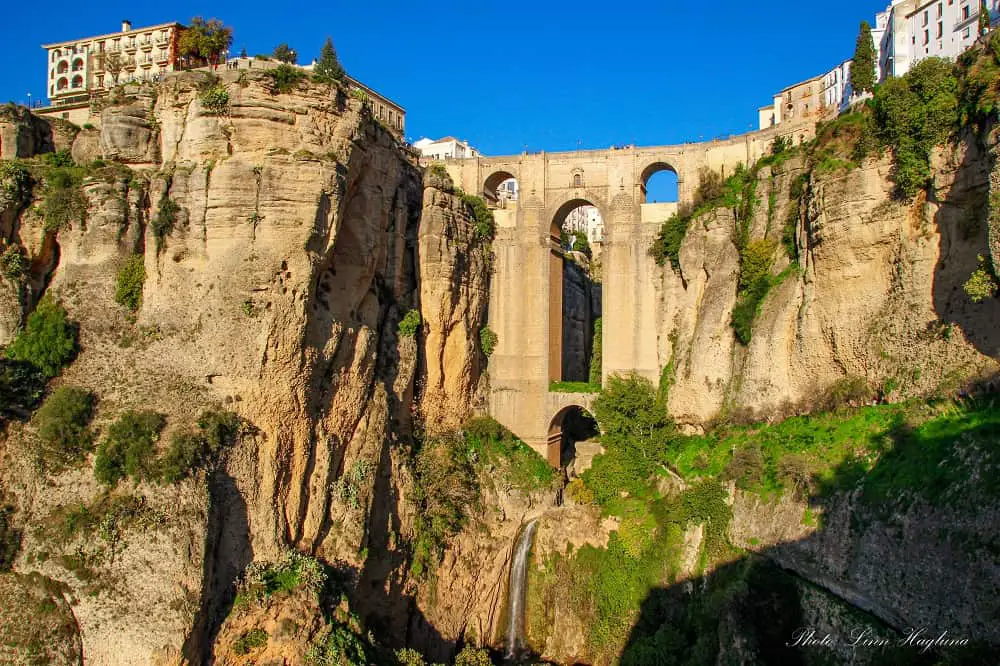 How to get to Ronda
The closest airport to Ronda is Malaga Airport. From there, you can either rent a car or travel to Malaga city by train and continue to Ronda by either bus or train. There are also several organized tours from most major cities to Ronda.
By car
Getting to Ronda is a beautiful drive no matter where you come from, but particularly the windy roads from Costa del Sol are mesmerizing with incredible views.
Note that in the winter months, you might get snow or ice on parts of the road, so make sure you check the weather forecast before you set out on a drive to Ronda.
When visiting Ronda in one day, the easiest place to park is at Parking Martínez Astein, which is an indoor car park right at the entrance of Ronda on the top of the main pedestrian street.
From there, you can walk straight down past shops and restaurants to the bottom of the street where you find the historical center to your left and the viewpoints straight ahead.
However, if you want to park for free, there are options by turning right and passing the mentioned car park. Street parking is generally free in that direction.
The last time I went to Ronda, we spent a while there, so we wanted free parking and found heaps of space on the side of the road near the public swimming pool and the Mercadona and ALDI supermarkets. It took us about 15 minutes to walk into the historical center and was well worth it.
Driving time to Ronda from the main cities nearby:
Malaga: 1 hour and 20 minutes
Seville: 2 hours
Marbella: 1 hour and 10 minutes
Estepona: 1 hour and 10 minutes
Cordoba: 1 hour and 10 minutes
Cadiz: 1 hour and 45 minutes
Granada: 2 hours and 15 minutes
Check rental car availability and prices here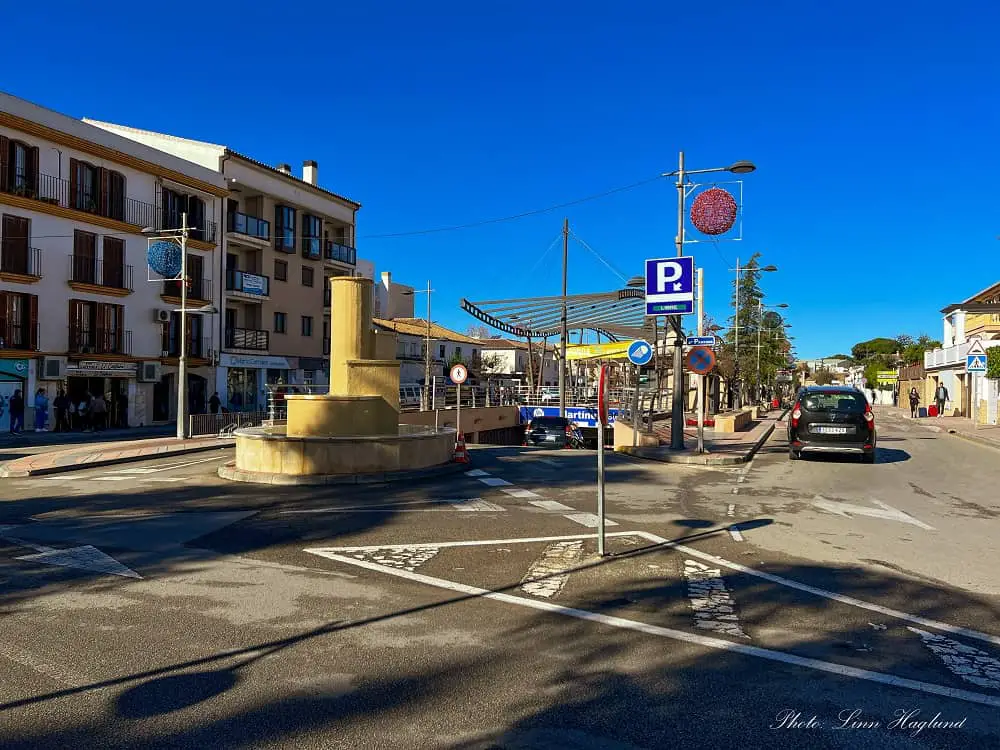 By bus
Buses from Malaga to Ronda take between 1 hour 45 minutes and 3 hours from Estación de Autobuses de Málaga. Therefore, it is important to check the travel time before booking the bus to get the most out of a day in Ronda and not waste most of the day on the road.
Note that if you get easily car sick, you might want to take something for it before starting the journey, as the road up to Ronda is an endless zig-zag journey into the heart of the Serrania de Ronda mountain range.
The bus station in Ronda is only a few minutes walk from the historical center and the New Bridge. When you get out of the bus station, you basically just walk to the right and you will get to the lower part of the main pedestrian street where you find shops and restaurants.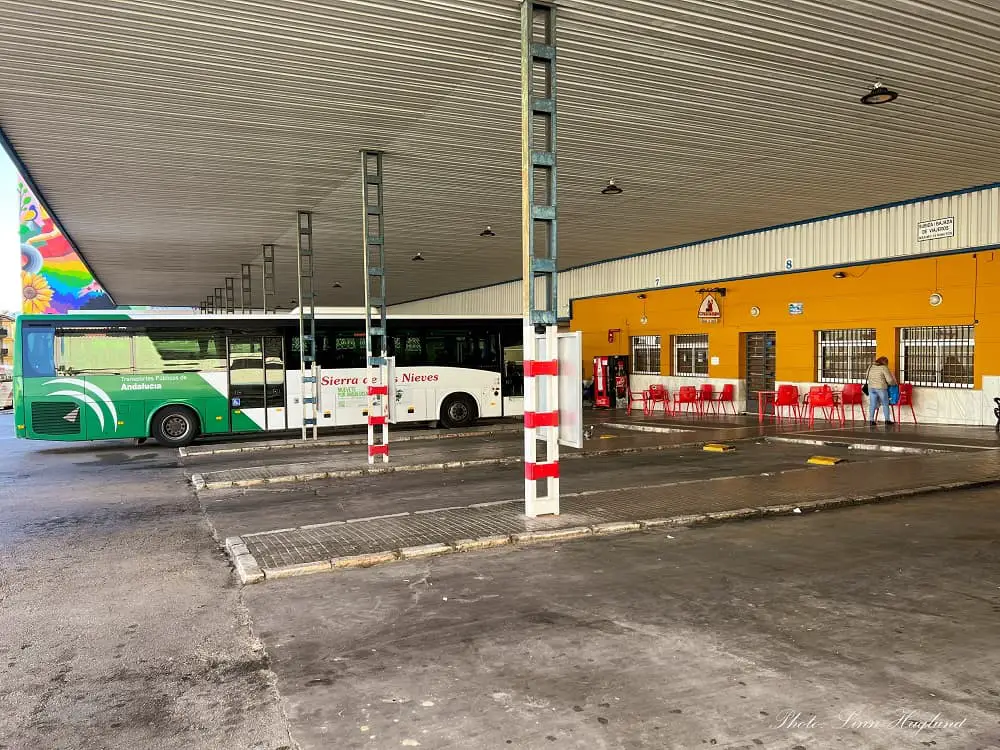 By train
Malaga to Ronda by train normally takes around 2 hours from Málaga-Maria Zambrano train station. The train station in Ronda is situated a few minutes walk from the top of the main pedestrian street where you find shops and restaurants. Walking down to the end of the shopping street will take you to the historical center on the left-hand side.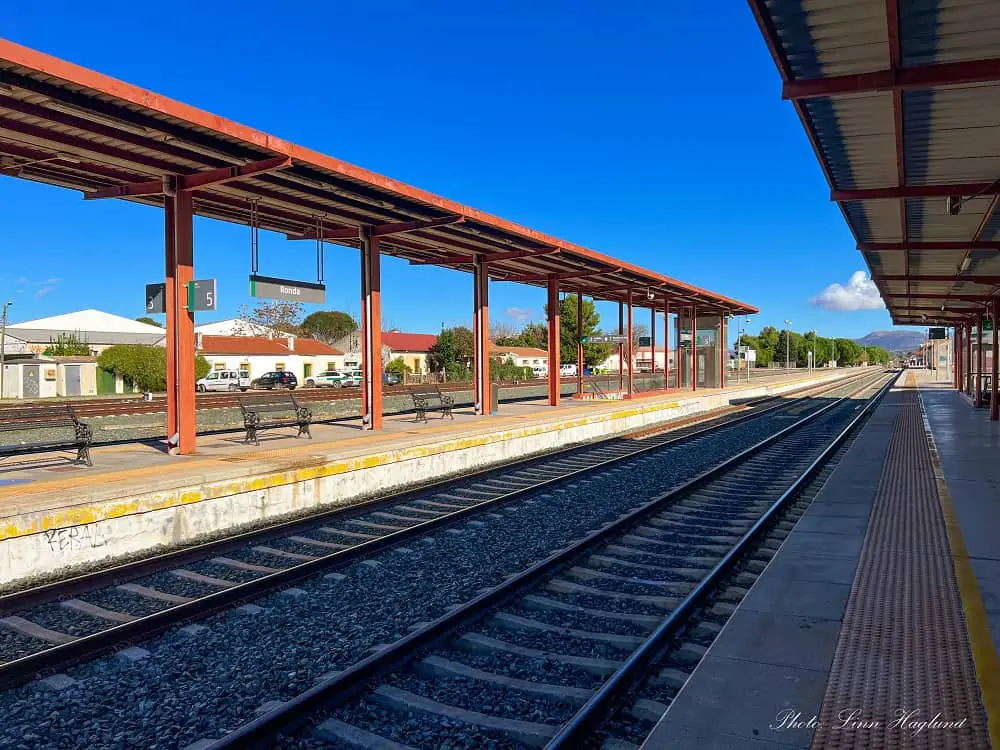 By organized tour
Finally, if you do not want the hassle of taking public transportation or renting a car, there are several guided tours from the major cities nearby, like Malaga, Seville, and Granada. I will mention a few highly-rated options here for you to consider.
Besides being convenient, going on a tour means you will learn a lot about the history of Ronda from a local guide and you will have a rich experience.
Personally, I love independent travel, but there is a lot of value in a guided tour which cannot be compared to any individual day trip.
The downside, in my eyes, is that most organized tours include the bullring, but I have managed to find some tours that don't include entry tickets, I have noted which ones below.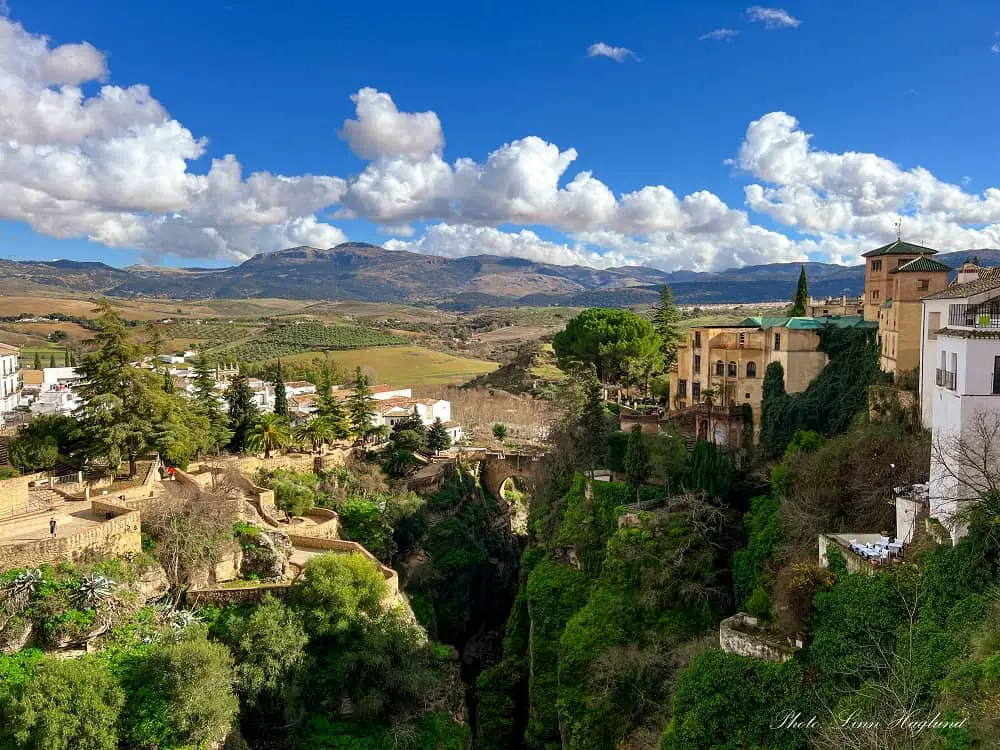 Day tours from Malaga to Ronda
Ronda Day Trip from Malaga – Group tour with hotel pickup in Malaga. This tour also swings by the unique village of Setenil de las Bodegas, built in the rock, on the way back.
From Malaga: Private Full-Day Bus Trip to Ronda and Setenil – Pickup in central Malaga city. This tour takes you to Setenil de las Bodegas, a unique village built inside the rock, on your way to Ronda. In Ronda, you get a guided tour of the town.
Day tour to Ronda from Marbella
Private Full-Day Tour of Ronda from Marbella with Hotel pick up – Private tour with hotel pickup in Marbella which can be customized, perfect if you are a group of friends or family. Entry tickets are not included, which means you can skip the bullring.
From Marbella: The Classic Ronda Wine Experience Day Tour – Small group tour with hotel pickup. For wine lovers, this is the perfect trip combining wine tasting at two different wineries and sightseeing in Ronda.
Day tours to Ronda from Seville
Ronda Private Tour from Seville – Private tour from Seville to Ronda which includes stops in the picturesque villages of Grazalema and Zahara de la Sierra on the way back.
From Seville: Ronda Full-Day Trip – Group tour from Seville including an oil mill tour on the way to learn more about the region's olive oil production. The tour gives you time to explore Ronda on your own too.
Day tours from Granada to Ronda
Ultimate White Village of Ronda Small-Group Day Trip from Granada – Group tour with hotel pickup in Granada. This is perfect if you are traveling solo or with family and friends. Entry tickets are not included, so you can choose to skip the bullring.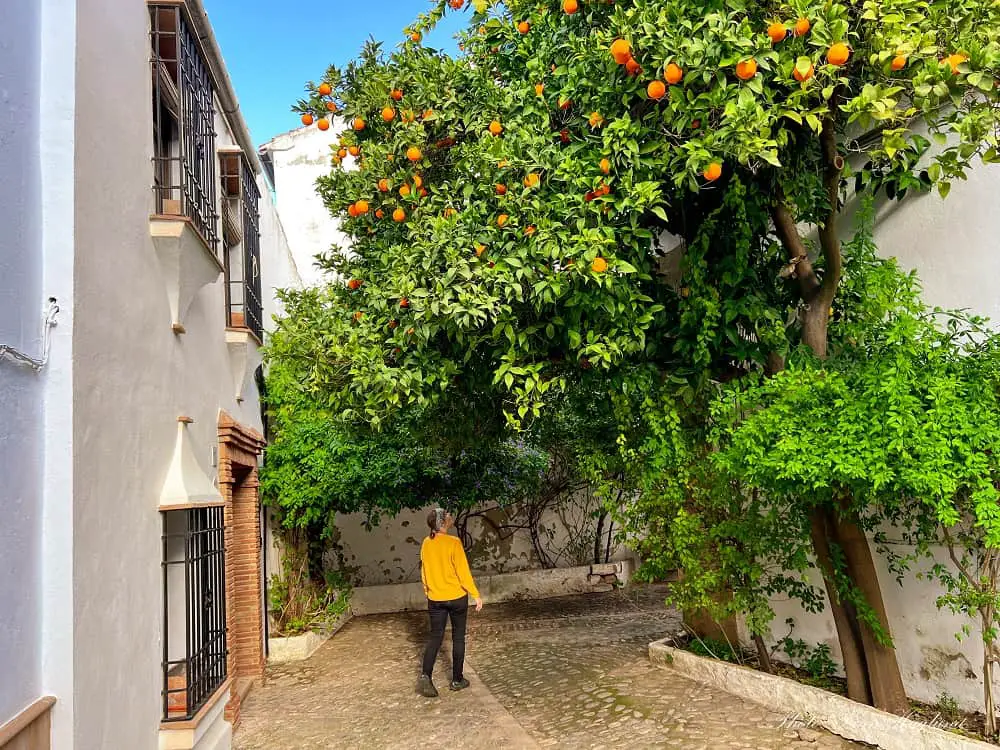 NEED TO STAY THE NIGHT?
Make sure you read my complete guide to where to stay in Ronda Spain.
Best time for a day trip to Ronda
Ronda is a wonderful destination to visit from October to May when the temperatures are pleasant. However, the summer months can get extremely hot inland, so I would rather suggest that you visit one of the amazing coastal towns in southern Spain at that time of the year.
That said, if the only time of the year you can go is in summer, a day trip to Ronda is a lot more doable than spending more time there.
My favorite time to go on a Ronda day trip is in February/March when the almond blossoms cover the valley.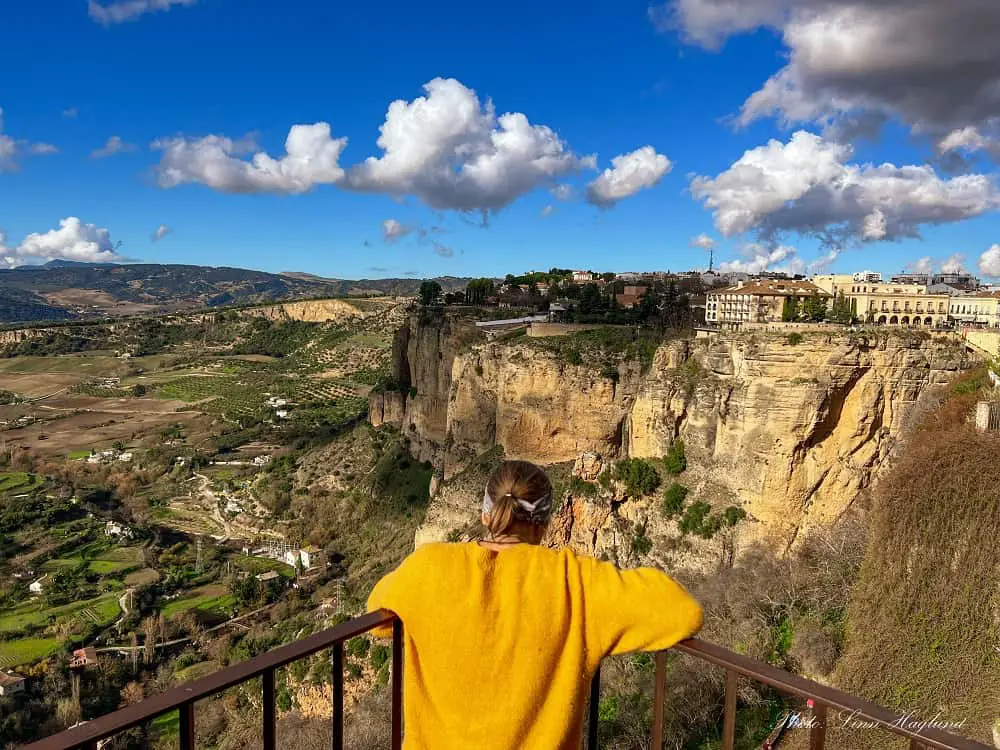 OTHER ONE DAY ITINERARIES IN ANDALUCIA
What to do in Ronda for a day
Before getting into the nitty gritty of this Ronda day trip itinerary, I want to give a little mention of one of the biggest tourist attractions in Ronda and why I do not include it in my itineraries or top things to see lists.
Ronda is home to Spain's oldest bull ring. Many tourists visit on a tour even though they are against bullfighting and I agree, it is a big part of the Spanish culture, especially in Andalucia.
But before you make a choice, I want you to ask yourself one question.
Do you want to support bullfights?
If the answer is no, then I suggest you do not pay money for tickets that go to one purpose; promote and organize more bullfights.
Ronda bull ring is still in operation to this day, and as long as they organize bullfights, I will not stand behind any visit there that supports them economically to harm more animals.
You can support organizations working against bullfights and other activities where animals suffer and explore other sides of Spanish culture instead.
The bullring can be seen from the outside without supporting animal cruelty.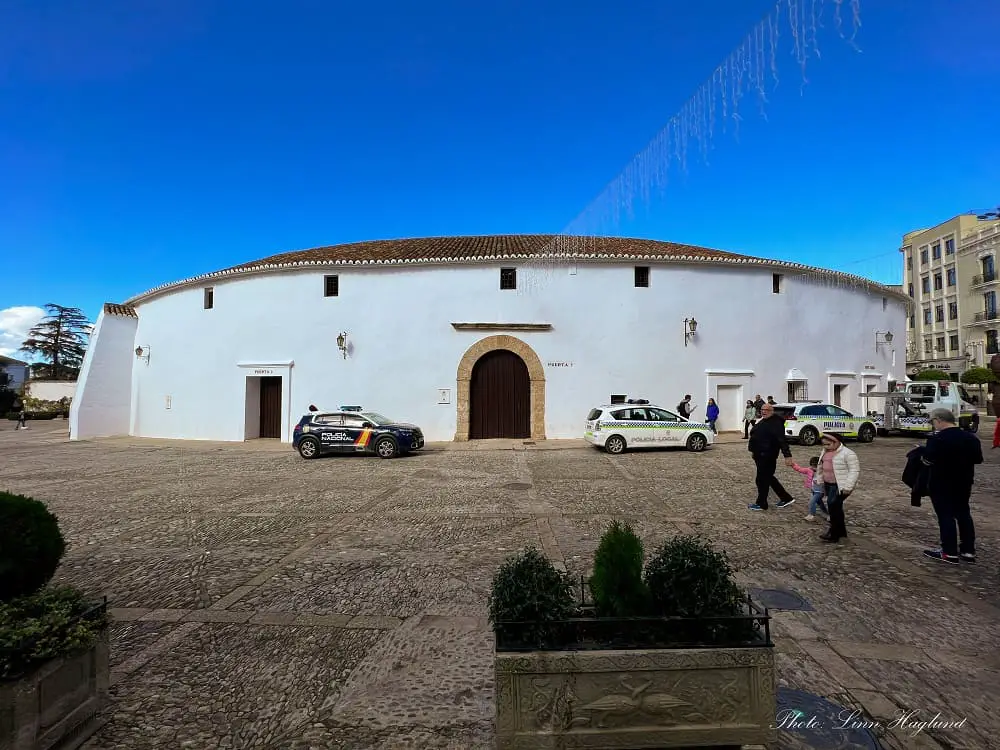 TAKE A GUIDED TOUR!
To save yourself time and learn the history of Ronda as you explore some of the top attractions, why not book a guided tour?
Ronda Viewpoint
Mirador de Ronda is the most famous viewpoint after the viewpoint of the New Bridge and also the first one you reach walking down to the end of the pedestrian street past the bullring.
This makes it a natural first stop no matter if you visit Ronda in one day by car, bus, or train.
The viewpoint is connected to a little park and has a pavilion overlooking the dreamy countryside with layers of mountains as a backdrop that surrounds Ronda.
Walking around the path from the viewpoint you will have continuous views and entering the Paseo de E Hemingway the last bit to Puente Nuevo, gives you a wee peak of the majestic bridge.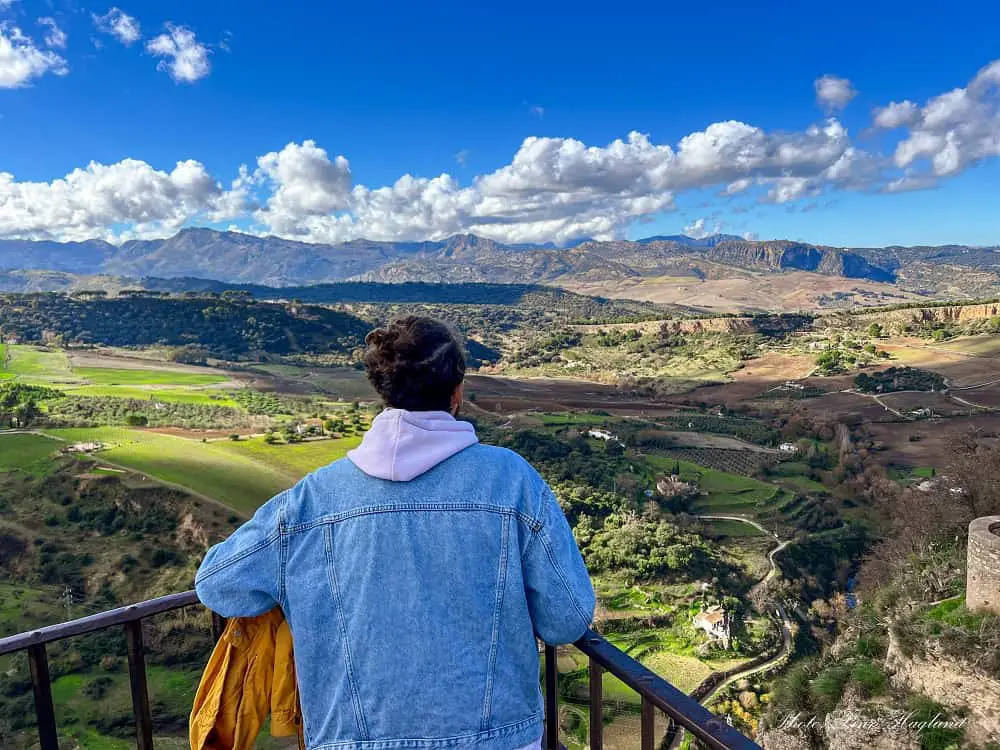 New Bridge
The New Bridge is the biggest attraction in Ronda and the image most people fall in love with before visiting this historical town near Malaga.
Before crossing Puente Nuevo, you have the option to take a tour of the bridge if you want to. Personally, I have never done this tour, but it seems like you can walk inside the bridge which might be cool.
Then, cross the bridge, and take in the views from both sides. Don't underestimate the views on the "backside" of the bridge, the gorge is absolutely breathtaking!
Once you get to the other side of the bridge, take the first right after the tourist shops and continue through the old streets until you reach a park and a viewpoint at the end of the street.
At the left end of the park, you find the stairs taking you down to the viewpoint.
The New Bridge was built in 1793 to better connect the new and the old side of the town of Ronda, which at that time was only connected via the old Roman bridge further down the gorge and the Arab Bridge even further down.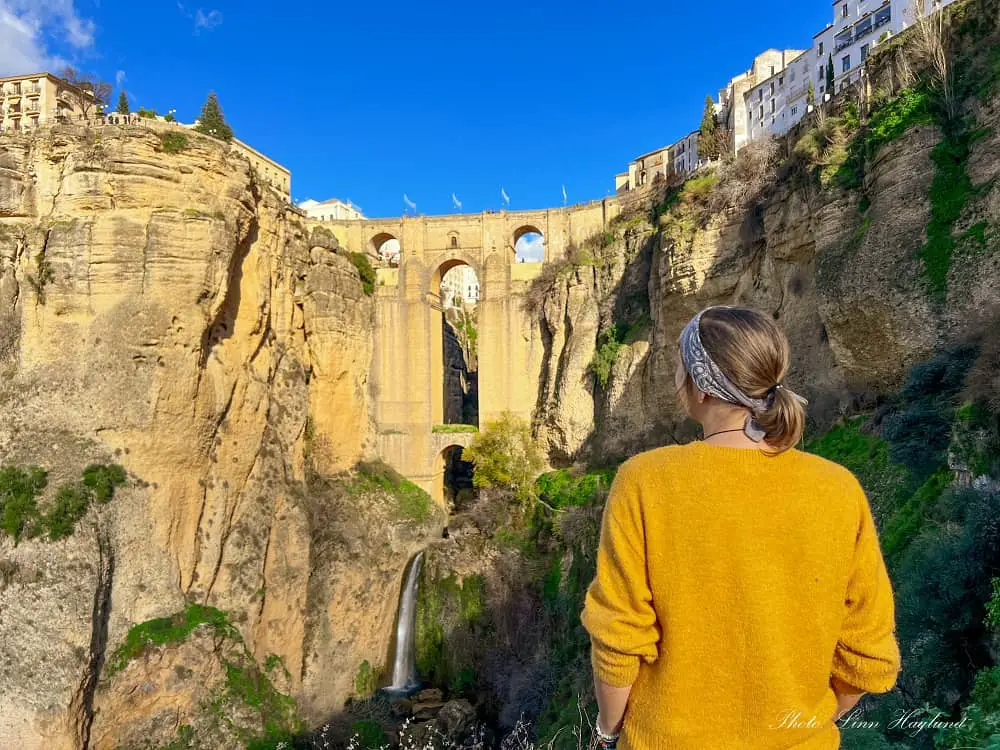 Iglesia de Santa María la Mayor
If you are going to visit one church while in Ronda for a day, make sure you see Iglesia de Santa María la Mayor. It totally blew me away.
It is a beautiful walk from the view of the New Bridge through narrow streets, orange trees, and palaces.
Walking around the church, it totally looks like a cathedral, while the front has a more modest look to it with the clock tower and wooden balconies and arches where you can see the only remains from the 14th-century Moorish mosque that once stood there.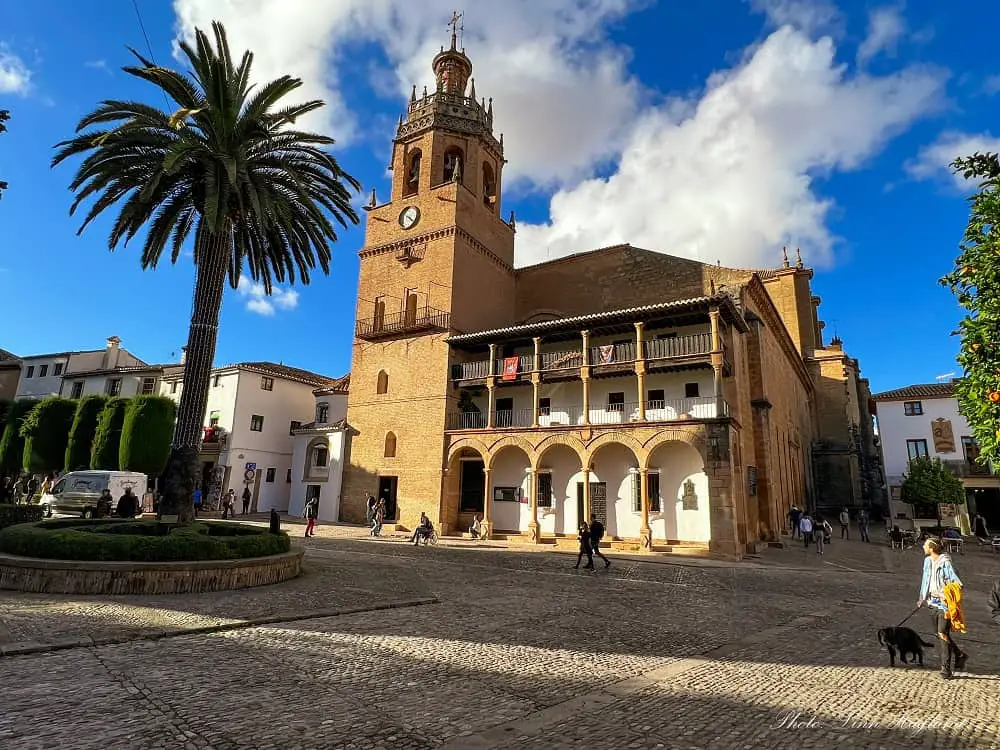 Lunch
After visiting the church, it is a good time to have lunch. There is a bar next to it where you can grab a bite, otherwise, I suggest you walk straight down to the other side of the New Bridge where you came from and look for lunch around there.
A very good spot is the restaurant of the Hotel Don Miguel which is situated right on the wall of the New Bridge (I stayed there the very first time I went to Ronda and it is a really cool spot for a feed.) The views of the gorge are absolutely jaw-dropping.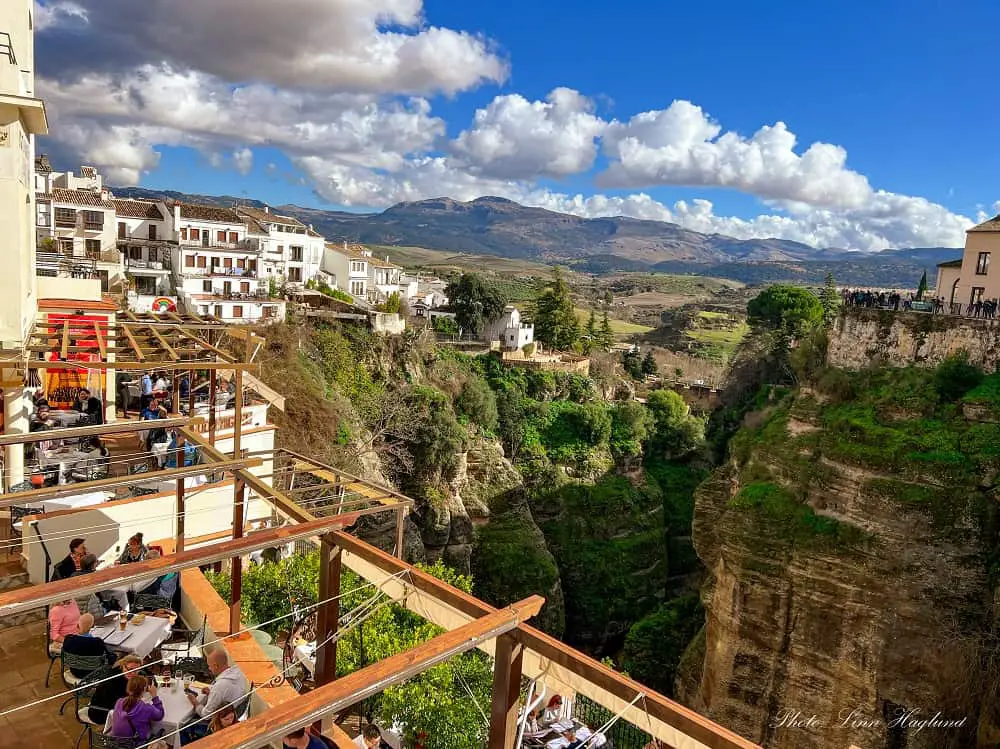 Arab city walls
After lunch, head to the ancient city walls, if you come from the side of the New Bridge, you can walk down towards the Arab Bath and step to the right to walk along them before walking back down to the baths on the lower side of the walls.
If you come from around the church, just keep walking straight down and you will come across them and walk on the inside of the walls towards the left until you come out right above the Arab Bath.
There are sections where you can walk on the walls and you can climb up a watch tower. I think this is a really cool site in Ronda that many visitors overlook.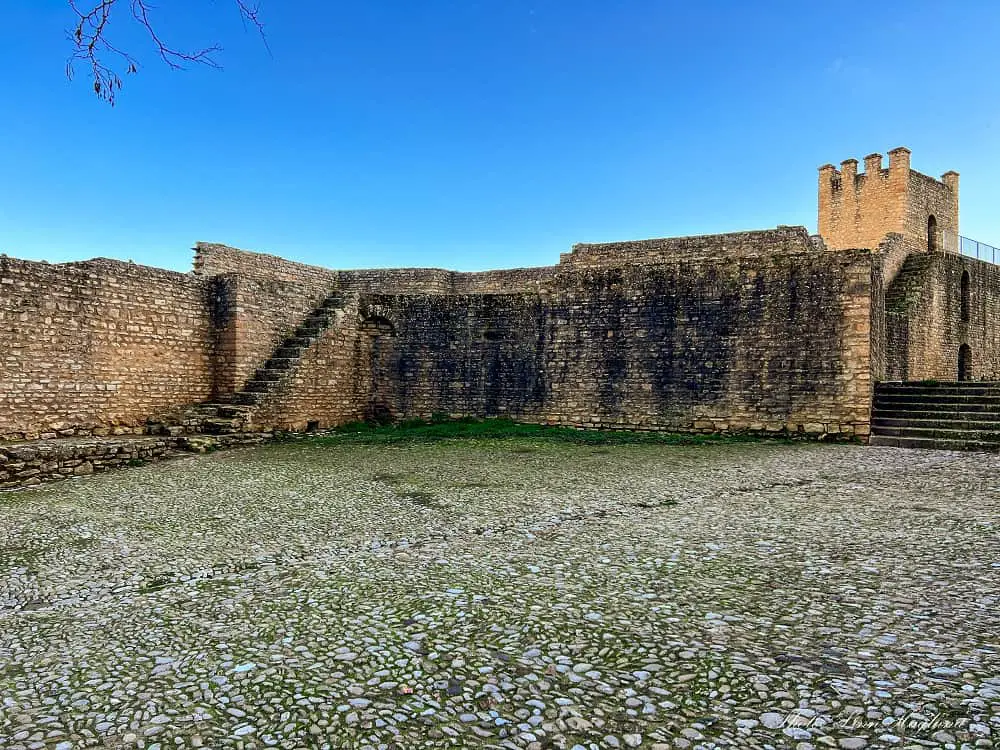 Arab Bath
The Arab Baths in Ronda possibly date back to the 13th century or earlier and is one of the must-see attractions when you visit Ronda in one day.
They are said to be the best-preserved Arab Baths in Spain and after visiting a few, I can say that these are truly outstanding. Thus, I would highly recommend adding them to your list of sites to enter on your Ronda itinerary.
They are situated right by the oldest bridge in Ronda, the Arab Bridge, where you can get a peek at the Old Bridge (which is a Roman Bridge a little bit higher up that you will be heading to shortly after this visit.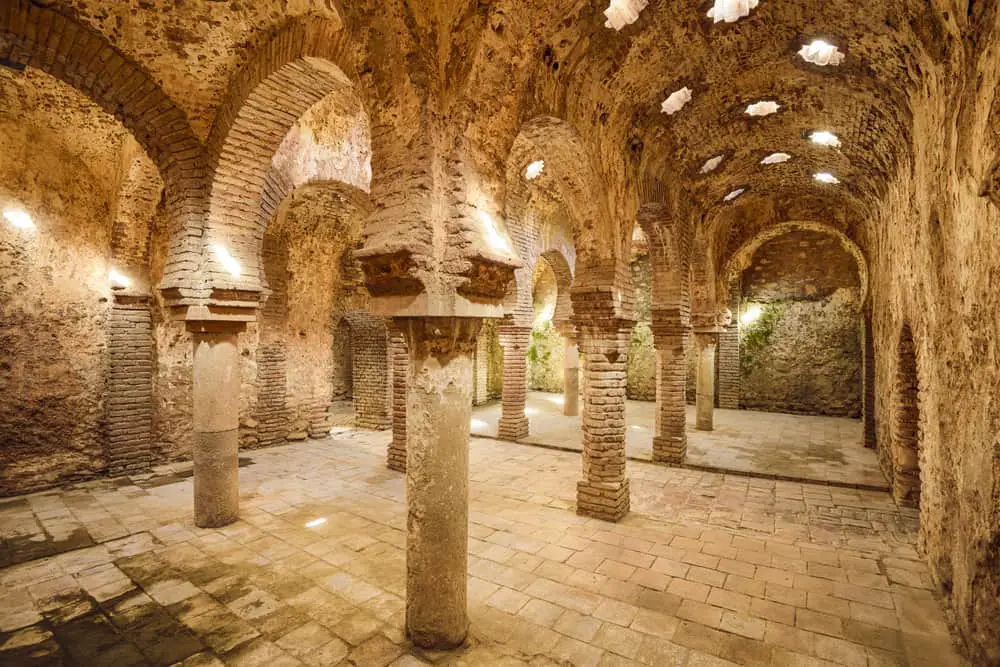 Old Bridge
After the Arab Baths, walk up the old steps until you reach the Old Bridge that was built around 200 years before the New Bridge on the lower part of the gorge.
From there, you can see incredible views of the gorge and walk up to a number of viewpoints, but before you do that, walk through the ancient arch at the end of the bridge and up the hill until you reach Casa del Rey Moro.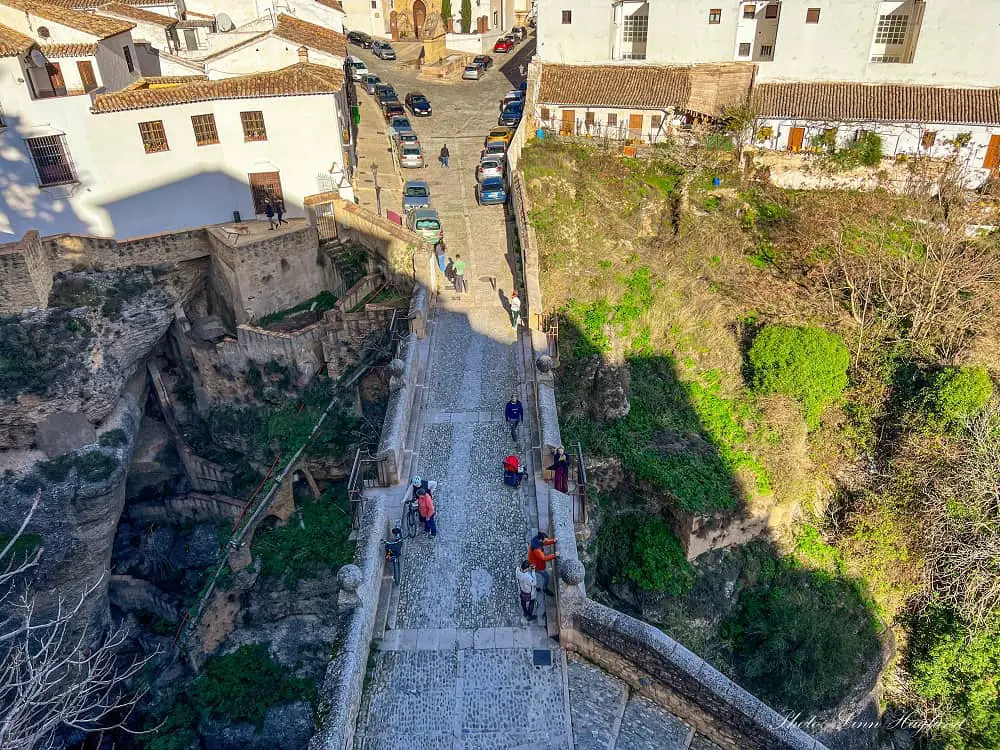 Casa del Rey Moro
When looking up what to see in Ronda in one day I don't see Casa del Rey Moro mentioned very often and it is such a gem to catch.
Not only does the palace have wonderful gardens with peacocks walking around and splendid views, but you can walk down to the Water Mines at the bottom of the gorge through ancient stairwells passing halls with arches and windows facing the ravine.
At the bottom, it is absolutely mesmerizing with the houses on the top of the gorge reflecting in the water in front of you.
I had been to Ronda multiple times passing by this amazing place before I stopped by and actually took the tour which comes with an audio guide.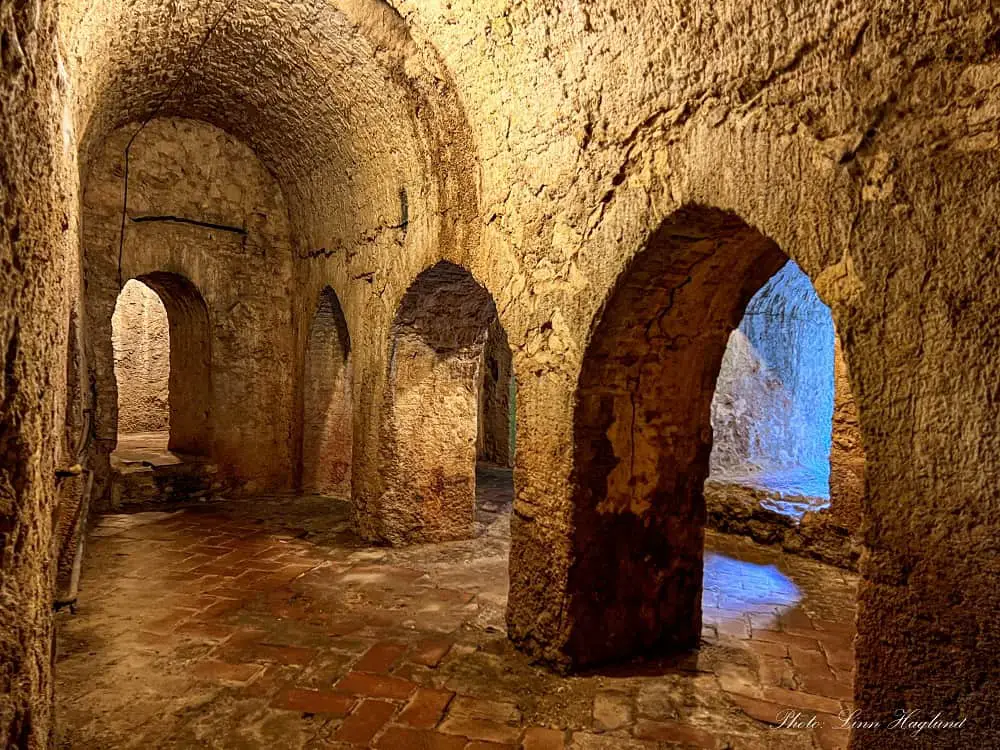 Viewpoints in Jardines de Cuenca
After visiting Casa del Rey Moro, return back down to the Old Bridge and walk up to the viewing platforms in Jardines de Cuenca.
There are multiple platforms and the higher up you get, the more spectacular it gets as you will not only see the spot you walked down to from Casa del Rey Moro, but at the top, you will also have a rewarding view of the New Bridge.
The gardens are beautifully decorated with flowers and benches. You can exit the gardens near the top and you will come out close to the New Bridge.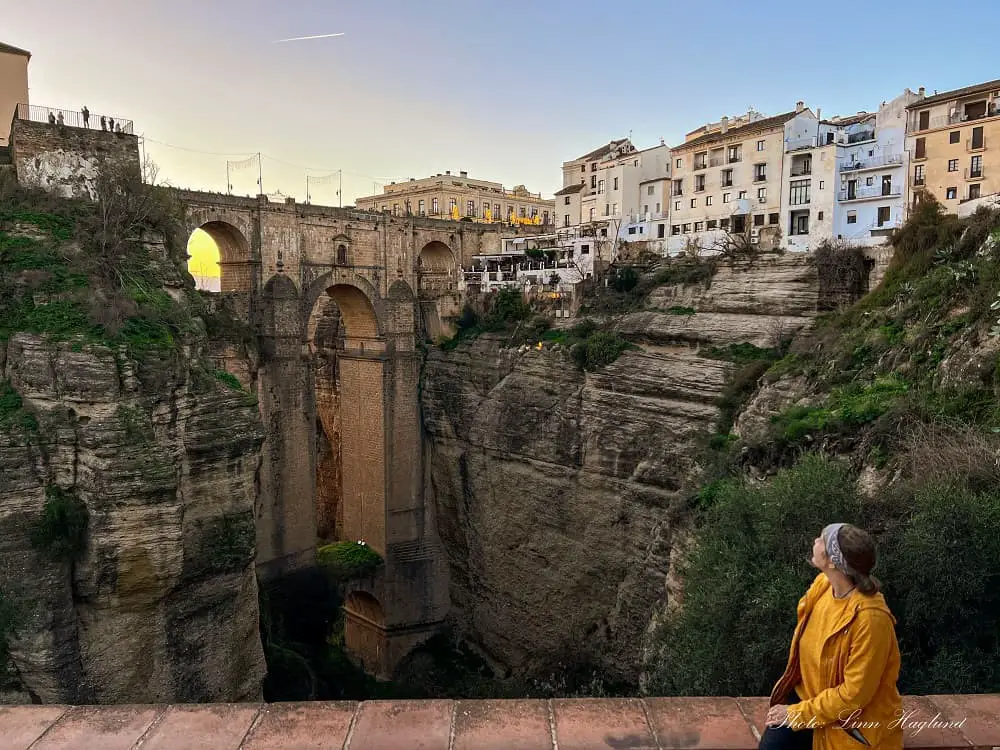 Grab a bite to eat before you leave
No matter what transportation you chose for your day trip to Ronda, you will likely walk up the pedestrian street. If you are hungry, there are many places to grab a quick bite, tapas, or a full meal before you leave.
Reflections on this Ronda itinerary
There is so much to do during one day in Ronda Spain that it is easy to pack an itinerary with too much to do. I think the above should fill up a good one day Ronda itinerary without making you run from place to place.
That said, we are all different and if you feel like it is too much of one day, I highly recommend skipping whatever attraction you want so that you get more time somewhere else or just walking around the old town.
Ronda is such an incredible place and it is one of the most popular day trips from Malaga for a reason. Yet, it can be worth spending a couple of days of your Andalucia itinerary there if you have the time.
Especially if you are doing a southern Spain road trip, you can use it as a base for day trips to nearby villages like Casares, Gaucín, or one of Andalucia's hidden gems, the unique Pueblo Museo (Genalguacín) which are some of the prettiest white villages near Malaga.