Few places are more beautiful than the beaches in Cabo de Gata in the province of Almeria. El Playazo de Rodalquilar Beach is no exception.
Being one of the most popular beaches in the natural park, normally ranked after Playa de Los Muertos Beach, Monsul Beach, and Los Genoveses Beach, it is a stunning beach for the whole family.
What I love the most about Playazo de Rodalquilar Beach, is that there is a smaller beach nearby in a little bay and the Castillo de San Ramón looms over volcanic fossil cliffs that are perfect for cliff jumping.
You can also hike to and from this beach from Las Negras, which makes a great adventure outside the hottest summer season.
Read on for the complete guide to one of the finest beaches in Almeria, Playazo de Rodalquilar!
Disclosure: This post may contain affiliate links. That means that if you make a purchase through one of those links, I will get a small commission at no extra cost to you.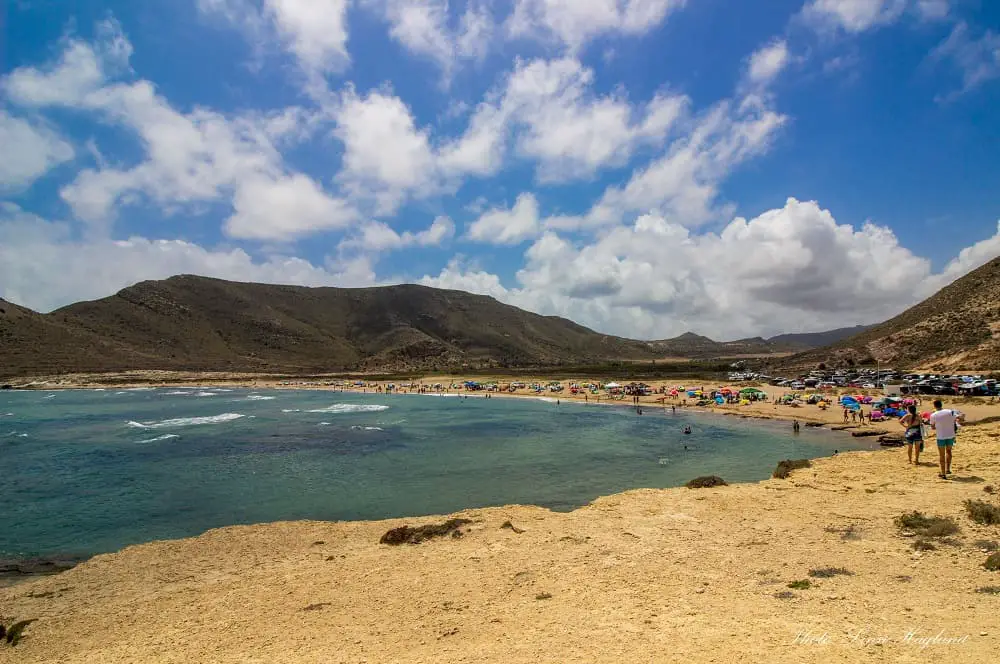 READ: Best things to do in Almeria
How to get to El Playazo de Rodalquilar Beach
El Playazo de Rodalquilar, Almeria, is located in the heart of Cabo de Gata's coastline and is only reached by car or by hiking on the rugged coastline trail from Las Negras, one of the prettiest towns in Almeria.
From Las Negras, it is a 10-minute drive and from San Jose, it takes 25 minutes. The road is well-marked with a brown beach sign saying "El Playazo".
There is ample parking by the beach, but it does fill up early in the summer months, so I recommend going early. When it fills up, you can park along the road leading to the beach.
However, not that to do so legally, all your tires must be completely outside the road, otherwise, you might risk a fine. Parking is free all year round at the time of writing.
There are local buses to both Las Negras and Rodalquilar, but from there, it is respectively a one-hour hike from Las Negras and a 45-minute walk from Rodalquilar.
I have hiked the coastal trail from Las Negras a number of times and highly recommend it, but not during the hottest months, as it gets scorching hot under the sun. It is an easy-medium rated hike and you need good hiking shoes as the terrain is uneven. Yet, the most picturesque way to reach the beach.
You can read the complete hiking guide that I wrote on my Andalucia Hiking blog here.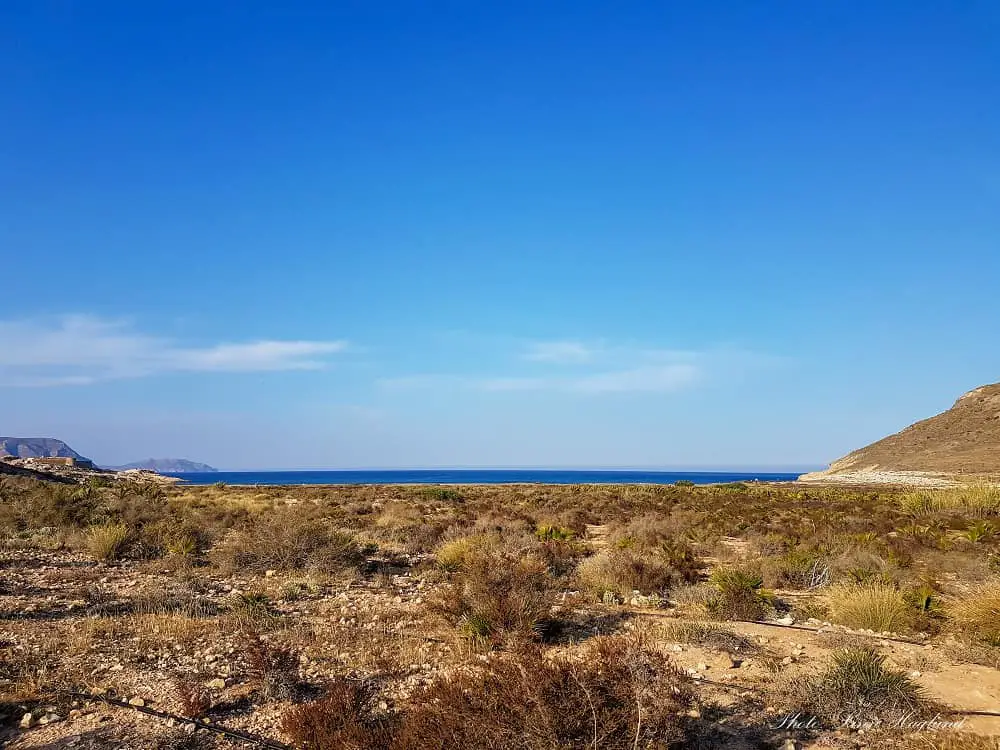 OTHER BEACHES IN CABO DE GATA
Where to stay near Playazo de Rodalquilar Beach
In my opinion, the best place to stay near El Playazo de Rodalquilar Beach is either Las Negras or San Jose, even though it is slightly further away.
Either way, I highly recommend hiring a car when you visit Cabo de Gata so that you get the most out of your stay and can explore as much as possible of what I think is one of the prettiest places in Andalucia.
Here are some top-rated places to stay in both villages. If you plan to go camping, my absolute favorite campground is Complejo Turístico Los Escullos where you can enjoy a pool, pitch up at any of the tent pitches, park up your campervan, or stay in the bungalows.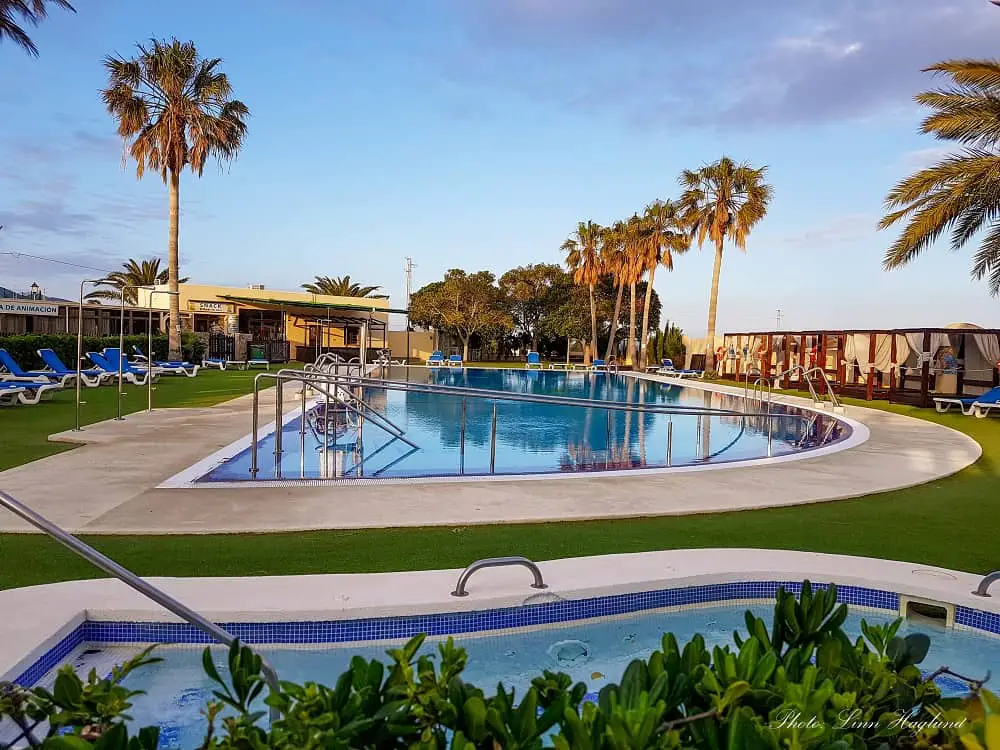 Where to stay in Las Negras
Cala Chica Cabo de Gata – A great hotel overlooking the sea with an outdoor pool. It is only 150 meters from the beach in Las Negras so you can basically walk directly from the hotel to Playazo de Rodalquilar in an hour. Check availability here.
Hotel Spa Calagrande Cabo de Gata – An excellent choice if you want to enjoy the spa department and relax in the outdoor hot tub with mountain views. Check availability here.
Where to stay in San Jose
4nudos playa – This hotel is perfectly situated near San Jose Beach. They also have apartments with kitchen facilities and accept pets. Check availability here.
Hostal del Cabo – A lovely and bright hotel, near San Jose Beach. This is a perfect option for families as they have family rooms – some with a sweeping sea view. Check availability here.
Hotel MC San José – If you prefer a place with a pool, this is it. Besides, it is only 10 minutes to walk to the beach. The hotel is adapted for disabled guests and has private parking. Check availability here.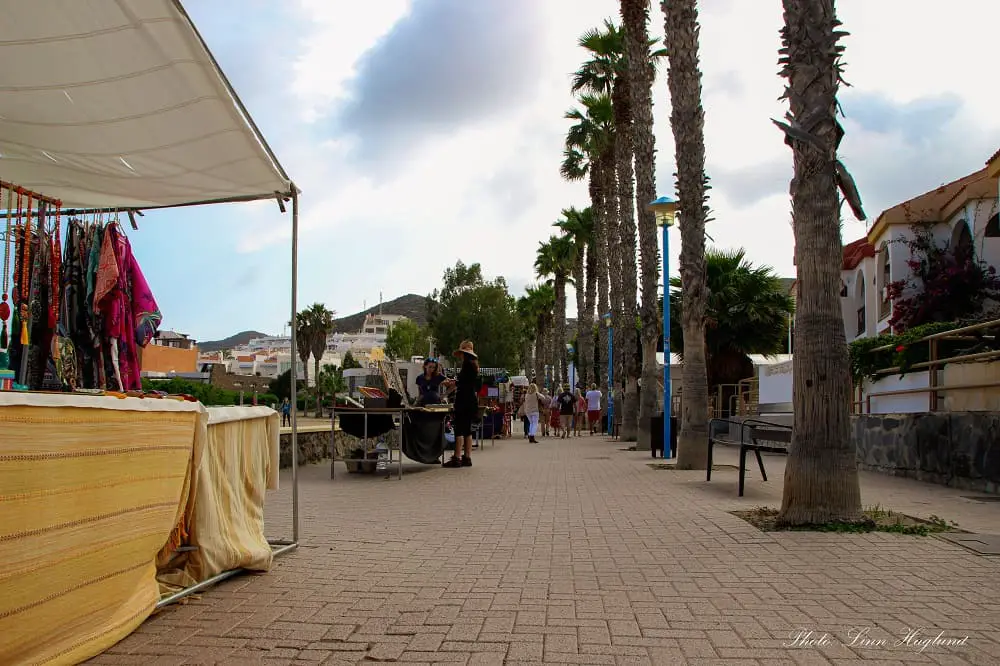 Best time to visit Playazo de Rodalquilar Beach
Playazo de Rodalquilar Beach, Cabo de Gata, can be visited all year round. However, in the winter months, it can be windy in the natural park, so it might not be the best time to lay on the beach.
In the summer months, especially in August, when the entire country takes its summer vacation, it can get crowded, and hard to find parking if you don't arrive early.
The best time for a beach day without the crowds is September-mid-November, depending on when the cooler weather starts (which depends from year to year.)
In the winter months and until May, you can enjoy the hiking routes around the beach, and it's the perfect time to hike from Las Negras or take on the circular hike to Cerro de los Lobos.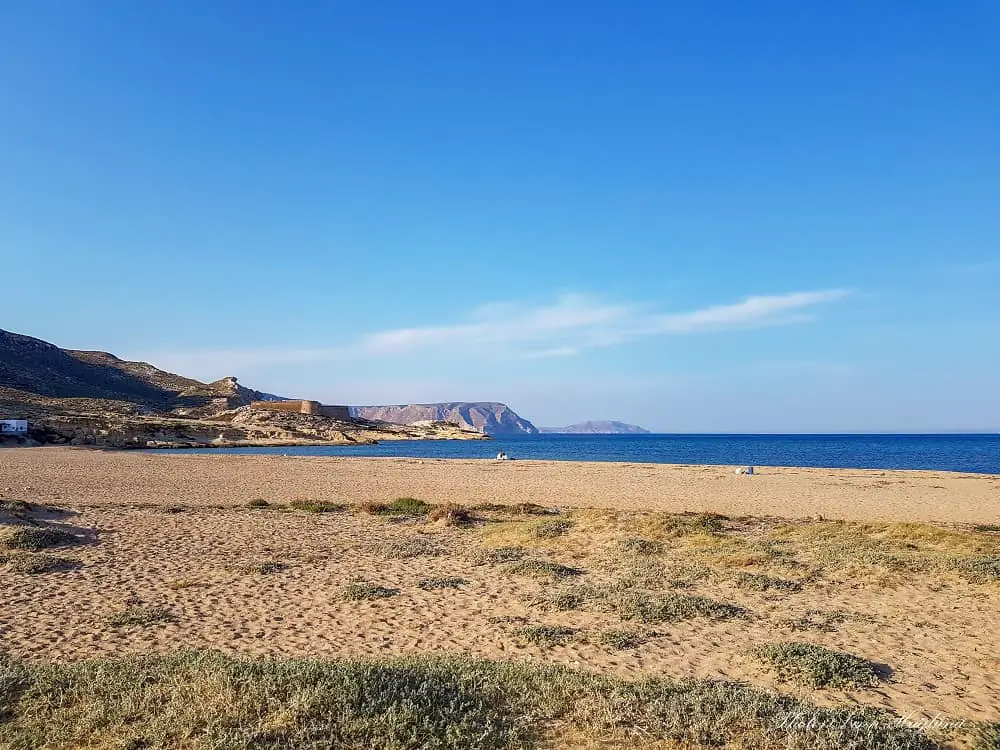 Facilities at Playazo de Rodalquilar Beach
Facilities:
Parking: Yes
Toilets: NO
Showers: NO
Wheelchair access: NO (there is a wooden path to the beach, but then you must roll on the sand the last bit to the water, and there are no facilities on the beach)
Lifeguard: NO
There are no facilities in Playazo de Rodalquilar, Cabo de Gata. The parking tends to fill up quickly in the summer months too, so I recommend going early.
There is not much sun to be found on the beach, so you must bring a parasol for shade and remember enough water and food as there are no places nearby that sell anything.
The closest would be the 1-hour hike to Las Negras, which I don't recommend in the summer months (talking of experience) due to the heat.
Due to the lack of services, make sure you bring the basics for a successful day at the beach:
Towels
Parasol
Cooler with water and drinks
Food
Snacks
Snorkeling gear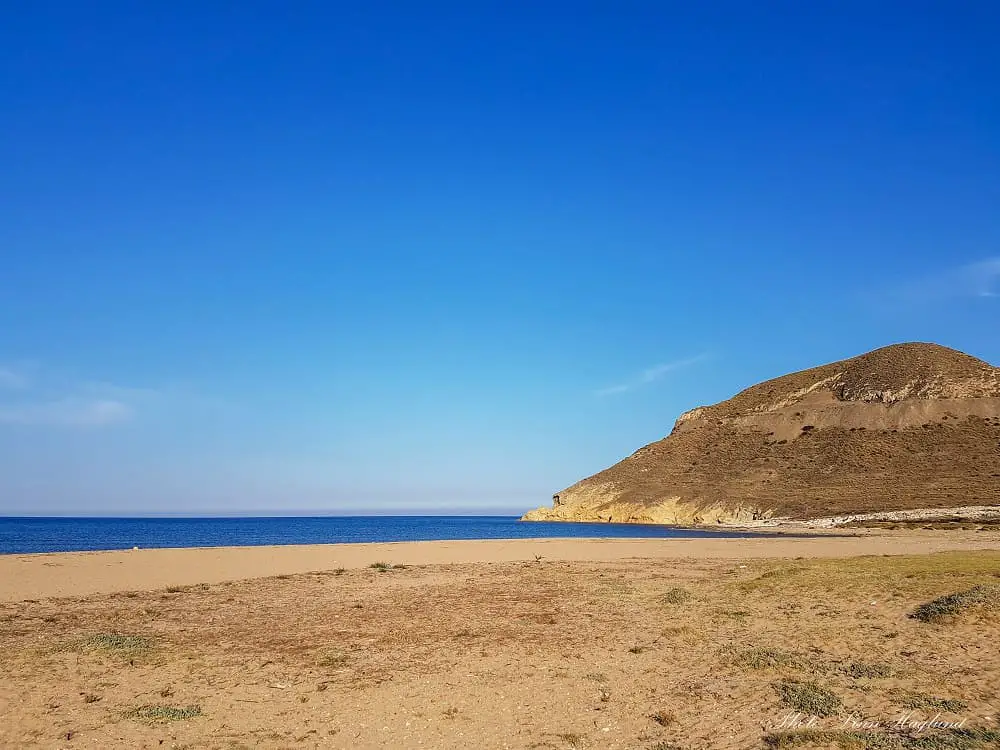 Visiting Playazo de Rodalquilar Beach Cabo de Gata
Visiting Playazo de Rodalquilar Beach is one of the best things to do in Cabo de Gata. The beach is about 400 meters long with mountains on one side and volcanic rock on the other.
Across the cliffs to the left, you find another mesmerizing little cove with a sandy beach and crystal-clear water. This area is great for snorkeling and a lovely beach if you want something more intimate (though it gets just as intimate with other beach dwellers in the summer!)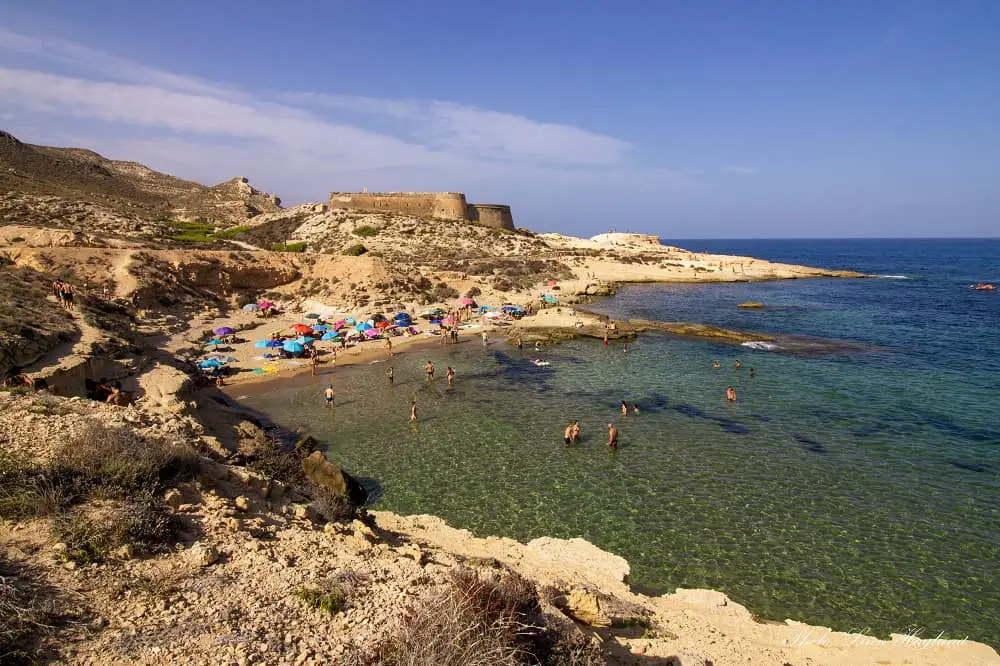 Past this beach, you can walk across a large volcanic fossil area where the older kids love to go cliff jumping. This is also where you find Castillo de San Ramón. The castle is privately owned so you cannot visit it.
Playazo Beach is a great place to spend a day on the beach, just make sure you bring everything you need for the day as there are no facilities, as mentioned above.
With glittering, shallow water, it is also perfect for families with small children.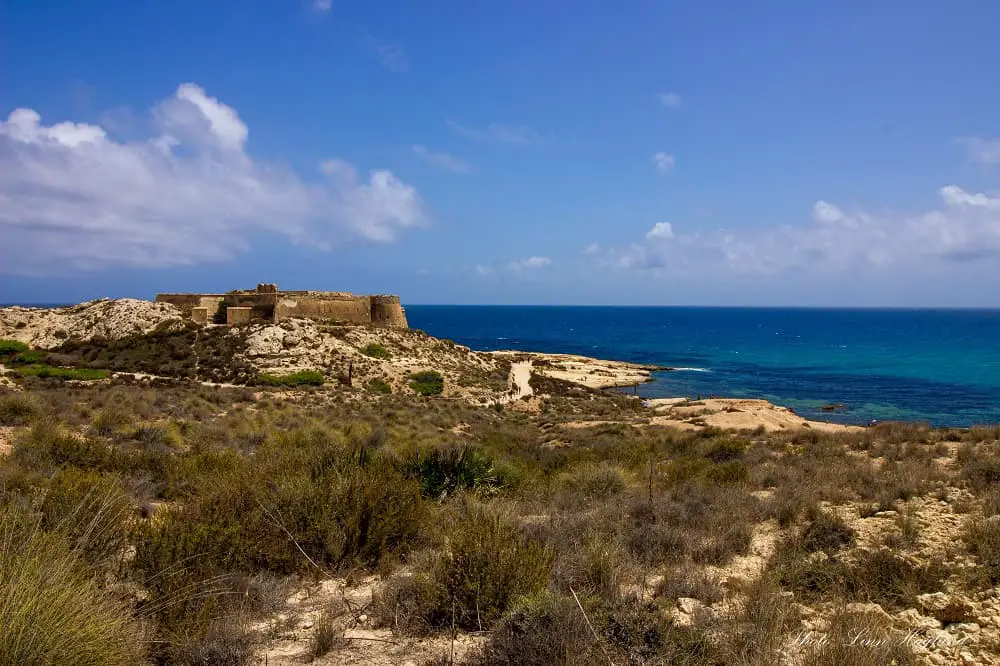 Reflections on Playazo de Rodalquilar Beach Almeria
There you have it, everything you need to know to visit Playazo de Rodalquilar Beach in Almeria's unique desert land. In my opinion, this is one of the best beaches in Andalucia and if you find yourself in Cabo de Gata, you should not miss out on it.
There is so much beauty in the natural park and when it envelopes a golden-sanded beach like El Playazo de Rodalquilar, it can't get much better.
Happy travels!