One of the most famous beaches in Cabo de Gata Natural Park is no arguing Playa de Los Muertos. Almeria's volcanic natural scene is blessed with stunning virgin beaches that are hard to reach and Los Muertos Beach is no exception.
Nestled within the harsh volcanic coast in the northeast of the natural park between Agua Amarga and Carboneras it is a rough hike down to the beach. Los Muertos means The Dead and it is believed that the beach has taken its name due to the deadly steep hike down to it.
Whether this is true or not, is not up to me to say. There are two paths down and the longest hike is not so steep that I would expect anyone to roll down and die anytime soon, but it does require a bit more caution and effort than most beaches.
But this is half the beauty of the remote Almeria beaches that you find along the crudest coastline. Get ready to explore Los Muertos Beach in Cabo de Gata which has been a favorite among locals and tourists for decades for a reason.
Disclosure: This post may contain affiliate links. That means that if you make a purchase through one of those links, I will get a small commission at no extra cost to you.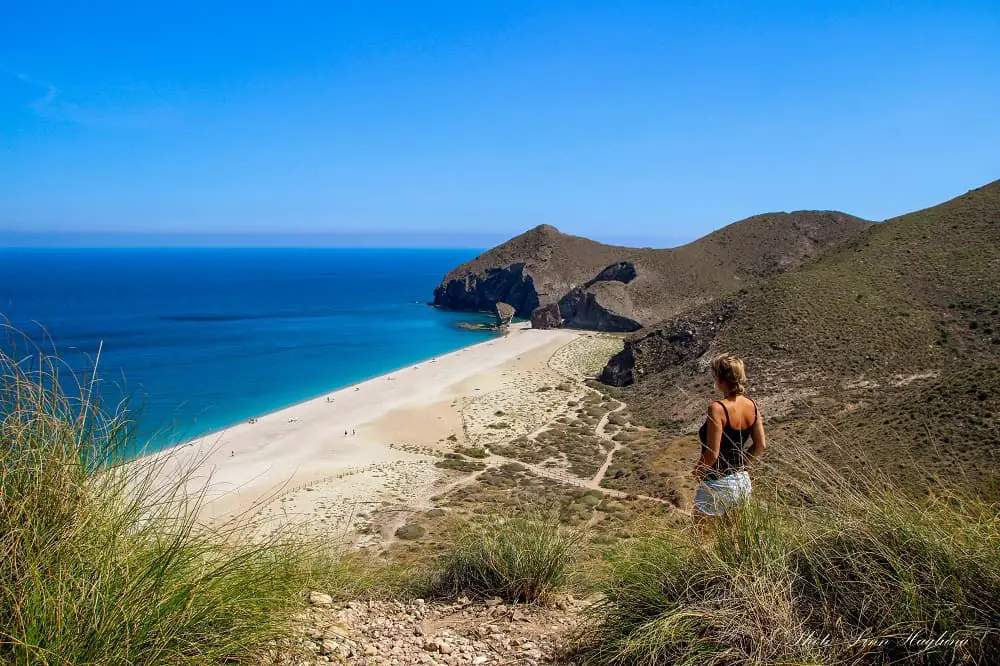 READ: Things to do in Almeria
How to get to Los Muertos Beach
Los Muertos Beach in Cabo de Gata is situated on the northeast side of the nature reserve and is easily reached from some of the prettiest towns in Almeria like Carboneras and Mojácar by car.
From Mojácar it takes 45 minutes to drive and from Carboneras it is a 10-minute drive. There is an ample parking space above the beach with space for 300 cars. During July and August, you must pay 5 Euros in cash to park. The rest of the year it is free.
There is a bus service between Carboneras and Los Muertos Beach during the same period of paid parking. I recommend that you visit Carboneras Tourist Office to get updated information about bus times and price as they might differ from year to year.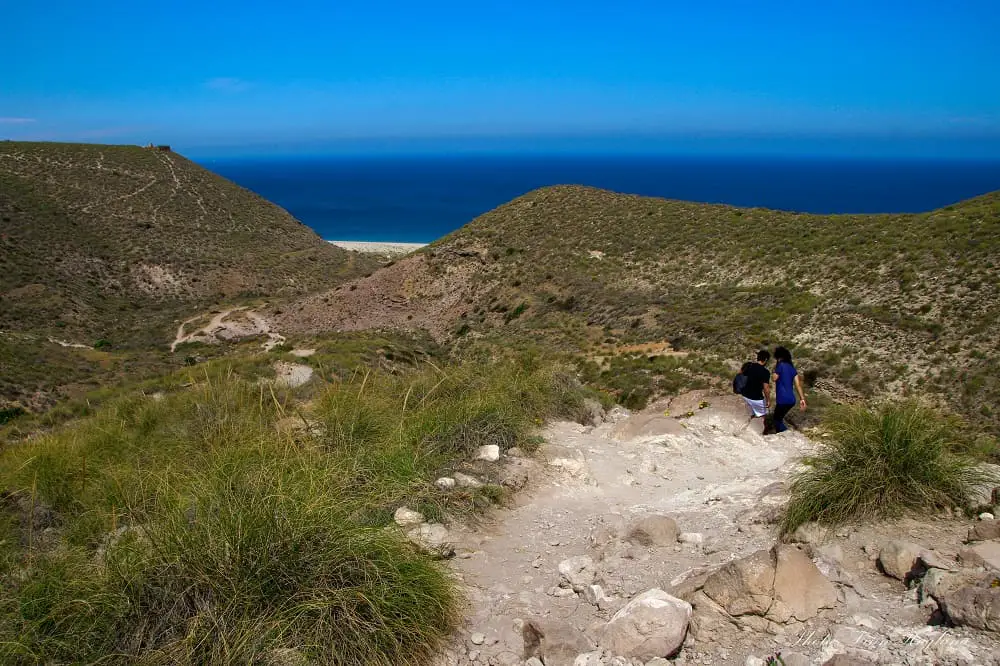 Where to stay near Playa de Los Muertos
The best place to stay near Playa de Los Muertos is Carboneras Village only a 10-minute drive away and it's also where you can catch the bus in the summer months. Here are a few top-rated hotels to stay at.
Hotel Las Palmas – A modern family-run hotel near Carboneras Beach with both family rooms and a lovely restaurant. Some rooms with balconies have sea views and there is an ample terrace with sea views too. Check availability here.
Hotel El Trebol – Situated right on the beach, this is a fantastic hotel to stay in Carboneras. If you don't drive, they offer airport shuttle. Check availability here.
Hostal Aires del Mar – An elegant hotel with coffee machines in the rooms. It is a couple of minutes walk to Carboneras Beach and offers family rooms. Check availability here.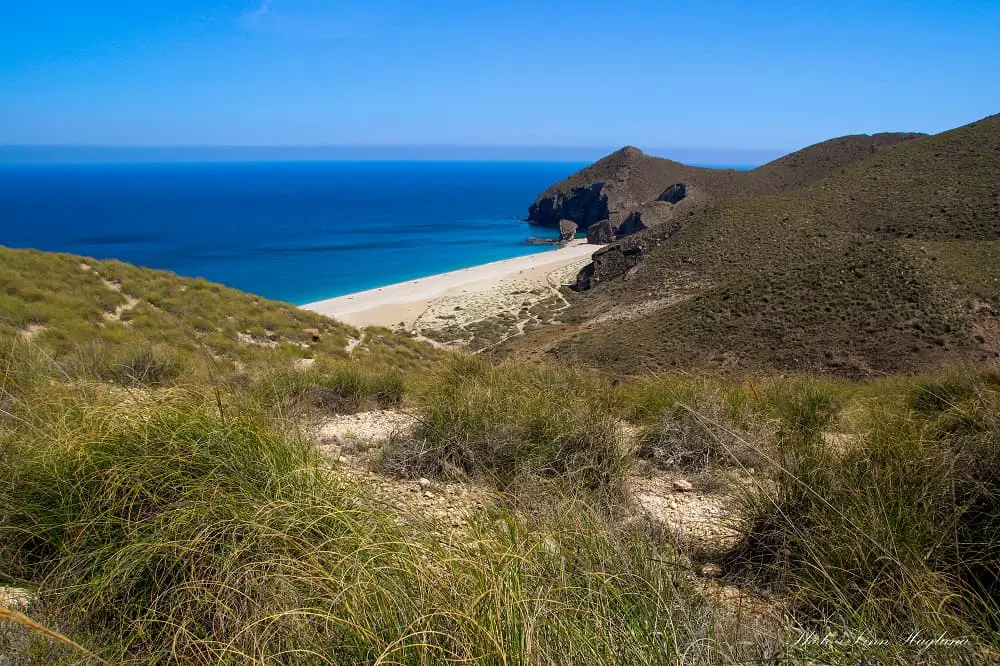 OTHER BEACHES IN CABO DE GATA
Best time to visit Los Muertos Beach Cabo de Gata
Los Muertos Beach can be visited all year round. However, in the winter months, the wind is usually stronger so it can be more swell (plus colder) so you might want to stay out of the water. It is still a wonderful walk down there.
In the shoulder seasons, you can often swim and sunbathe, while avoiding the parking fees. This is also a lovely time of the year to relax on the large beach nearly by yourself! Can you think of anything better?
The summer is the best season for swimming, and as busy as it gets. The water is usually calmer in the summer, though you might encounter days of strong wind. It is also a parking fee of 5 Euros.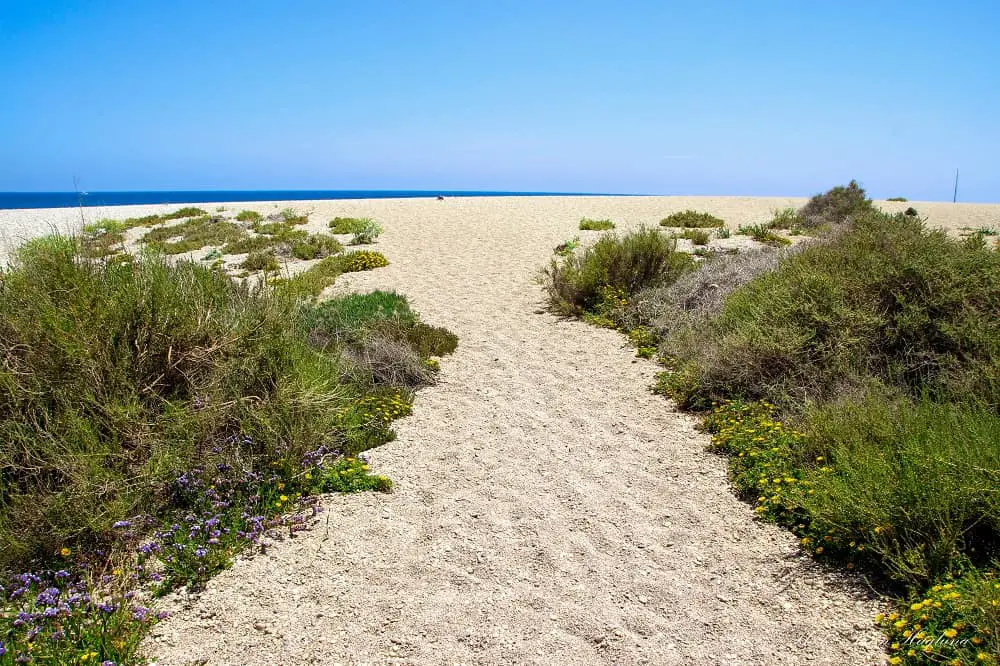 Facilities on Los Muertos Beach Almeria
Facilities:
Parking: Yes – but in the summer it costs 5 Euros
Toilets: NO
Showers: NO
Wheelchair access: NO
Lifeguard: NO
Los Muertos Beach is a remote beach that is hard to access. People with reduced mobility should not walk to Playa de Los Muertos.
Note that the water gets deep quickly and on days with waves there can be a strong swell underwater. With no lifeguard, make sure you keep children safe and don't leave them unattended in the water. It is a long and hard climb up to the car if something were to happen.
Due to the steep hike, I don't recommend carrying too much with you, though a parasol for shade is recommended, I wouldn't take more than what fits in your backpack.
Things to bring:
Lots of water
Food and snacks
Bag to take your waste with you when you leave
Towel
Parasol
Sunscreen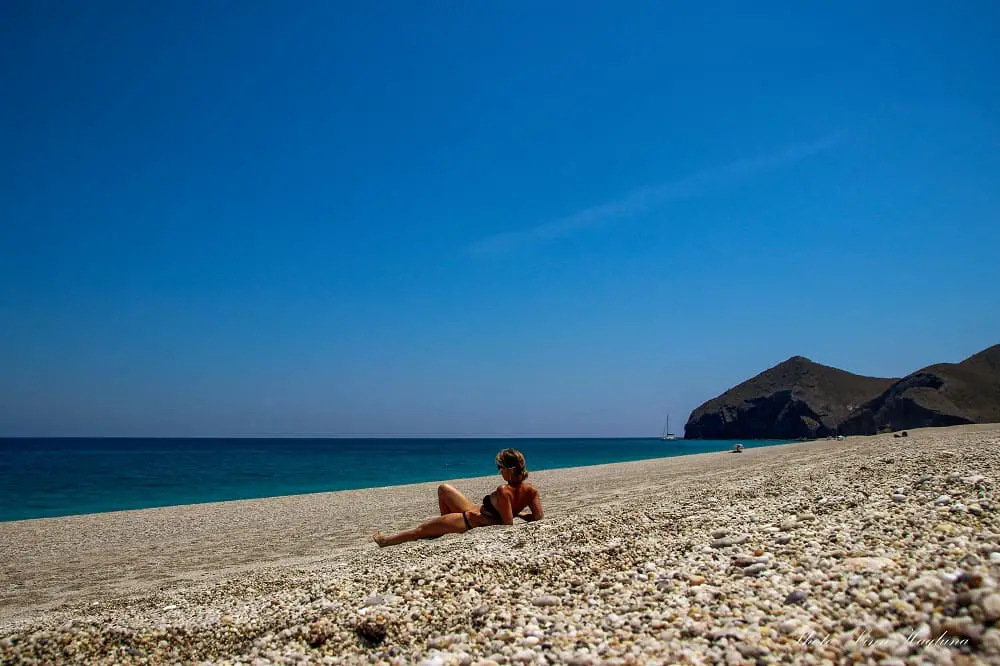 Visiting Playa de Los Muertos Almeria
Visiting Playa de Los Muertos is one of the best experiences you can have if you like remote beaches. The hike down offers constant views of the beach at the far end, framed by the naked cliffs that only shrubs can grow on.
The clear, turquoise water is a refreshing incentive to reach the kilometer-long beach. While this is rated one of the prettiest beaches in Spain, there was one thing that put me off.
On the right side of the beach, there are a few rock formations giving natural shade, the little stretch of beach on the other side of them is about 90 meters long and is called Cala del Peñon Cortado.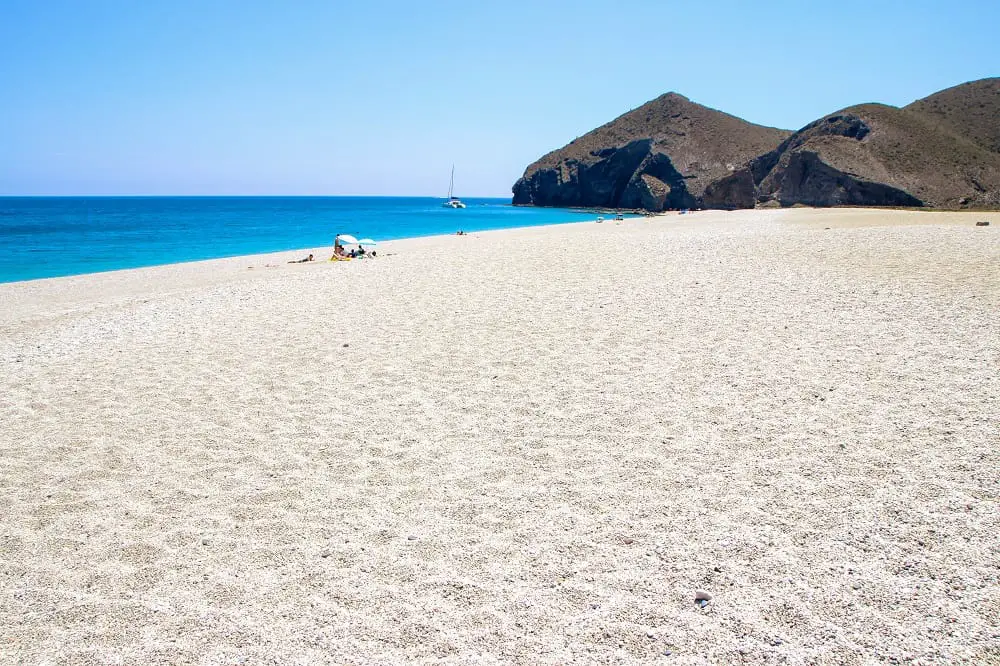 On the left side too, there is a smaller beach of about 200 meters, Cala Salinicas. This cove is only reached by swimming from Los Muertos beach or by walking from the parking on a trail to the left.
Looking to the left (the opposite direction of all my pictures) from Los Muertos Beach, you can see an ugly port that might belong to Carboneras, but truth is that the view is not pleasant at all.
However, my humble opinion does not take away the fact that this is one of the most loved beaches in the natural park. And by keeping your back to the ugly, you'll only enjoy the pretty.
I've said it before and I'll say it again. There is a heavy hike to this beach, especially back up when it's hot, so make sure you bring enough water, preferably in a bottle that keeps the water cold.
From the parking lot, make sure you head out to the viewpoint of the beach. It is only a couple of minutes to walk but the views are spectacular!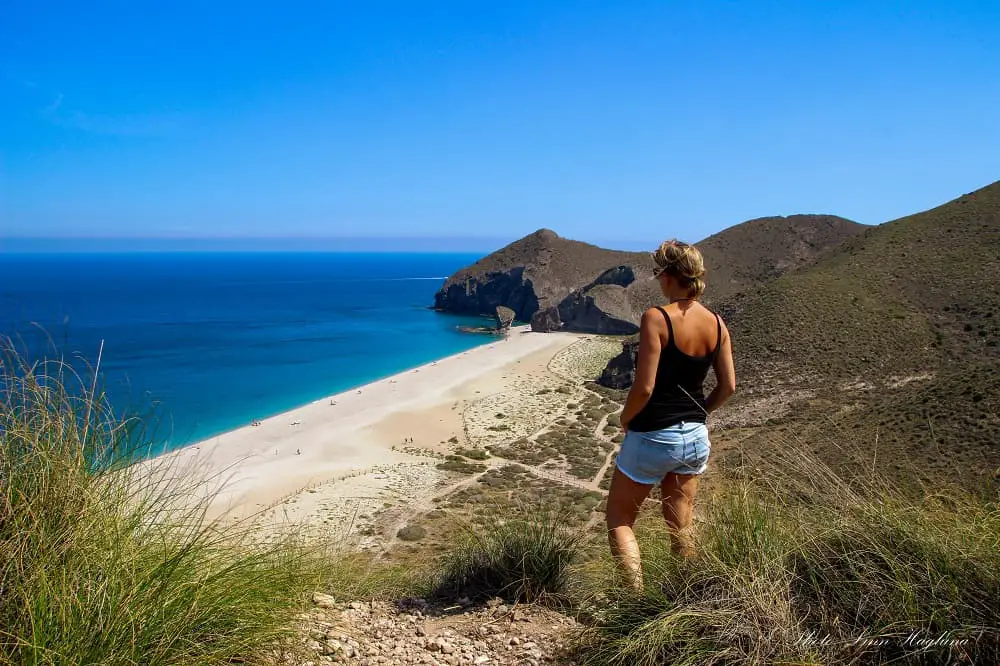 Reflections on visiting Los Muertos Beach in Spain
There is no doubt Playa de Los Muertos is worth visiting. It's a steep price to park, but again, it is part of protecting the natural area and controlling the number of people walking down in the high season.
As you can see from my pictures, there are hardly any other people on the beach, so I went there before and after the high season and parked for free. There are plenty of other excellent beaches in Cabo de Gata to go to in the summer months that are free to visit if you don't want to pay for parking.
Happy travels!