You're heading to Almeria but not sure what to do. It's quite understandable. Compared to other cities in Andalucia, Almeria can feel overwhelming and not so organized. In fact, it is even a bit scruffy around the edges.
Yet, there are many great things to do in Almeria, including visiting the biggest Alcazaba in Spain, relaxing at some of the best beaches in Almeria, getting underground, and learning about history.
I've spent a fair amount of time in Almeria city and I've put together the best things to do in Almeria city in this post. To discover the rest of the province, I'll cover that in separate posts so that you can concentrate on your Almeria city break in this one.
Get ready to uncover the best things to do in Almeria Spain!
Disclosure: This post may contain affiliate links. That means that if you make a purchase through one of those links, I will get a small commission at no extra cost to you.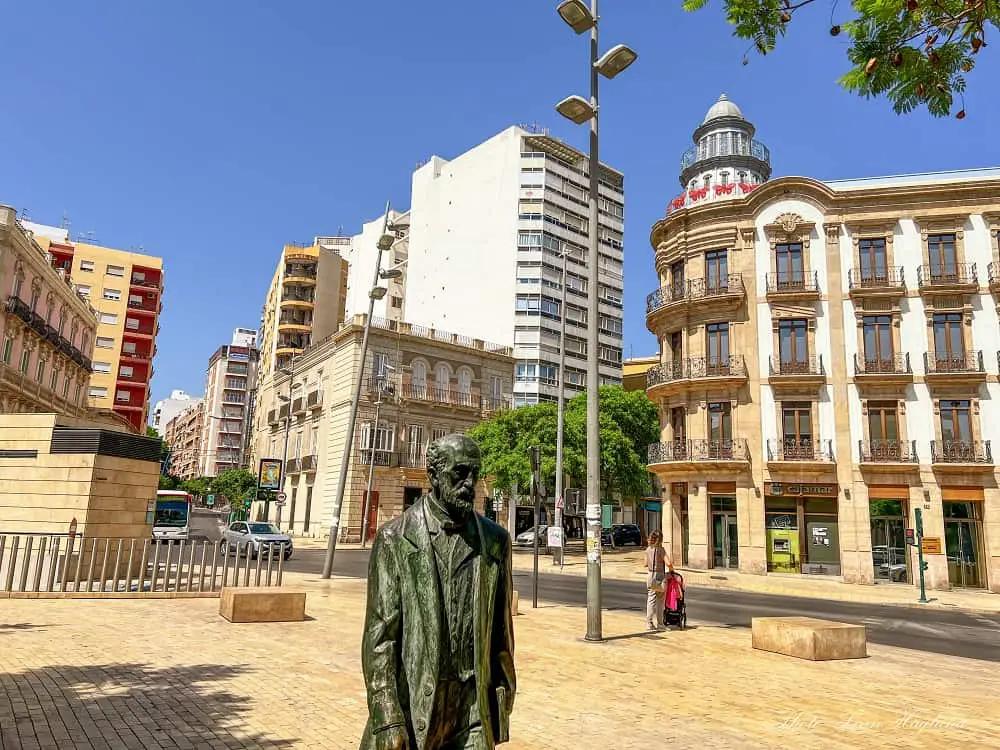 👉BOOK A WALKING TOUR OF ALMERIA HERE
Things to do in Almeria
Alcazaba
The 10th-century Alcazaba de Almeria invariably tops the list of the best things to do in Almeria, Spain. As one of the foremost Almeria tourist attractions, it is a testament to the grandeur and rich history of the city's Moorish era.
Perched majestically atop a hill, you can enjoy breathtaking views of Almeria's sprawling landscapes and the azure sea from its fortress walls.
Almeria's Alcazaba is the largest of the remaining Moorish fortresses on the Iberian Peninsula and you can truly see how majestic it is from Cerro de San Cristobal.
As one of the premier places to visit in Almeria, the gardens burst with vibrant native flora, providing a tranquil setting amidst the remnants of a bygone era.
I highly recommend going on a guided tour of the fortress to learn everything there is to know about its history and the Moorish heritage in the city.
👉BOOK A TOUR OF THE ALCAZABA HERE
Opening hours:
Tuesday-Saturday 09:00-15:00 and 20:00-22:00
Sunday 09:00-15:00
Monday Closed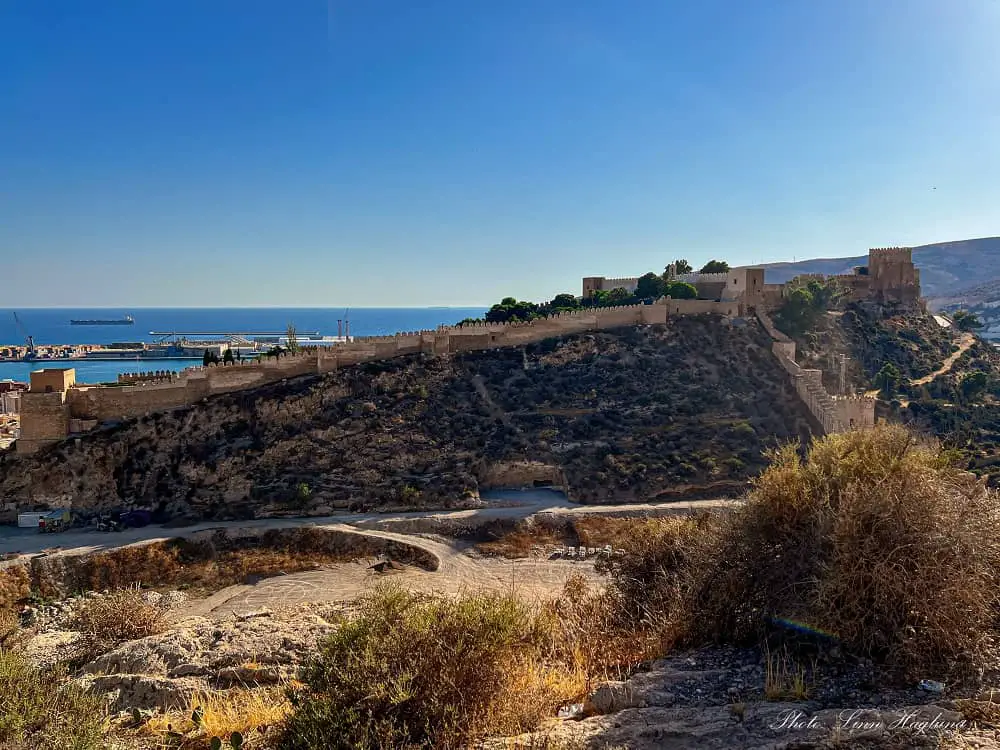 Cerro de San Cristobal
Cerro de San Cristobal is an unmissable spot when sightseeing in Almeria. As mentioned above, it has the best views of the Alcazaba, but also of the city itself.
As you gaze upon the sprawling vista, the monumental statue of the Sacred Heart of Jesus blesses the cityscape beneath as a reminder of the city's spiritual lineage.
The nearby ruins whisper tales of ancient battles and illustrious history, adding depth to Almeria's attractions. When considering things to do in Almeria city, the enchanting blend of history and panoramic views offered by Cerro de San Cristobal is an absolute must.
While this is one of the city's top things to do, Almeria's scruffy neighborhoods wrap around the hillside. I have walked there a few times and always felt a little bit uncomfortable, so if you can drive to the top, I actually recommend that.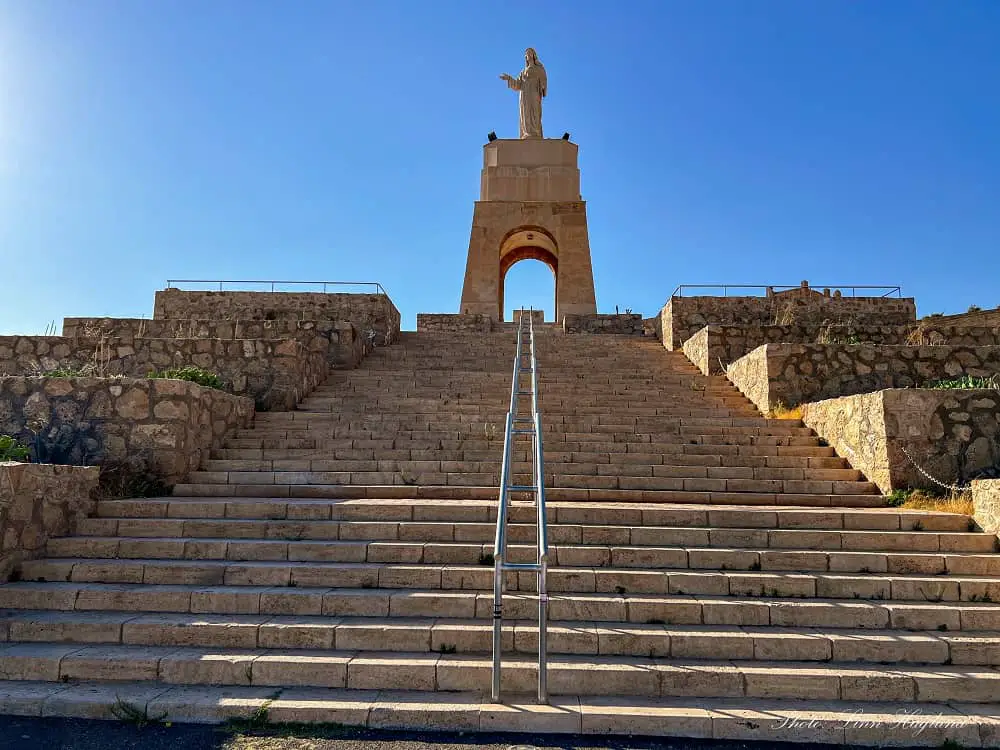 Almeria Cathedral
Almeria Cathedral is another one of the top things to see in Almeria. Nestled snugly in the city's bustling heart, this tower is where artistry converges with spiritual profundity.
As opposed to other cathedrals in Andalucia you will notice that it looks more like a fortress than a cathedral. This is because it was historically shielding the town from marauding pirate invasions.
Showcasing a harmonious blend of Renaissance and Gothic architectural styles, it is a really cool structure nonetheless. I especially love the contrast of the palm trees on the square outside the entrance.
The meticulously crafted artwork and sanctified chapels emanate a celestial vibe within its confines, making a visit there one of the must things to do in Almeria Spain.
👉BOOK A TOUR OF ALMERIA CATHEDRAL HERE
Opening hours:
Monday-Friday 10:00-14:30 and 16:00-19:00
Saturday 10:00-19:00
Sunday 15:00-18:00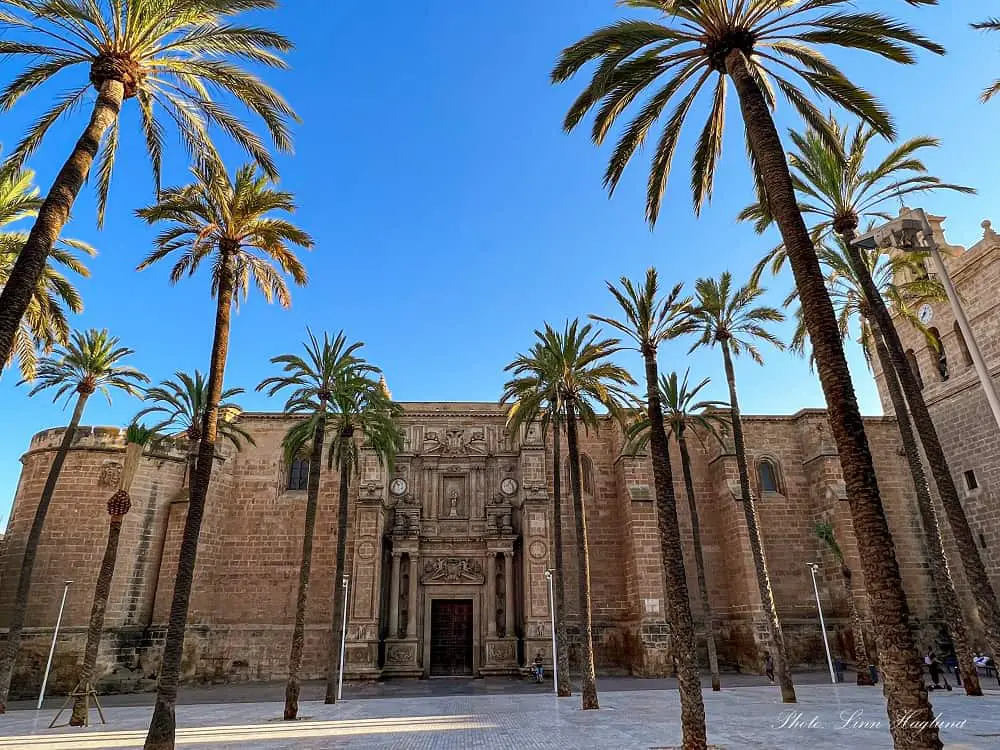 Centro Andaluz de la Fotografia
If you're scouting for what to do in Almeria, the Centro Andaluz de la Fotografia is an absolute gem.
Positioned strategically in Almeria's vibrant hub, it stands as an epitome of the region's passionate affair with photography.
This center, renowned for its outstanding exhibitions, is a haven for art lovers, offering intriguing visual narratives from local maestros and global shutterbugs.
It isn't just a place for passive admiration; its regular workshops beckon budding photographers, offering them a platform to refine their craft.
For tourists penning down things to see in Almeria city, this center promises an enlightening plunge into the world of Andalusian snapshots.
Opening hours:
Tuesday-Sunday 10:00-14:00 and 18:00-21:30
Monday Closed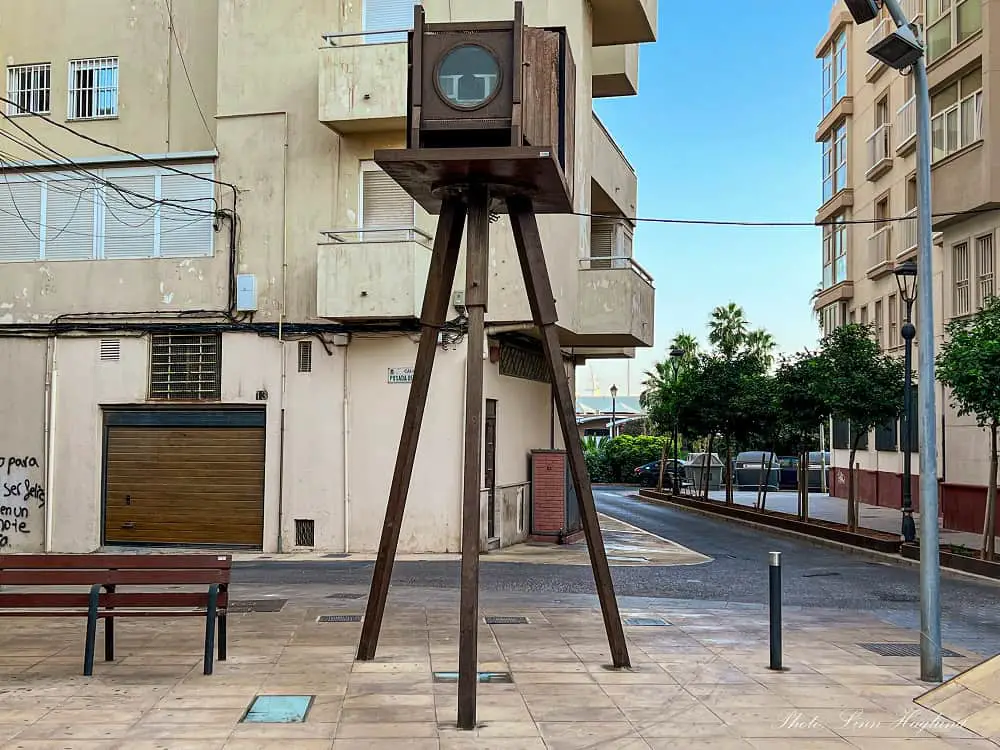 Museo de la Guitarra
Music lovers, prepare to be enthralled! The Museo de la Guitarra in Almeria is an ode to one of the most iconic instruments of Spain: the guitar.
Detailing its illustrious history, from its earliest forms to modern innovations, this museum is a sanctuary for all lovers of the six strings.
Guests are treated to an auditory experience, with certain sections allowing them to strum guitars from various epochs.
Beautifully designed displays, complemented by multimedia presentations, give insights into the instrument's craftsmanship and virtuosos.
This is one of the best things to do in Almeria Spain for music lovers.
Opening hours:
Tuesday-Sunday 10:30-13:30 and 17:00-20:00
Monday Closed
Convento de Santo Domingo
An embodiment of serenity, Convento de Santo Domingo stands as a testament to Almeria's ecclesiastical lineage. It was built on Moorish structures.
A visit there feels like a time warp, transporting guests back to an era where monks wandered these cloisters, engrossed in contemplation.
Its architecture boasts the confluence of Gothic and Renaissance styles, while its peaceful gardens invite reflection. The murmur of water from ornate fountains complements the meditative ambiance.
For those crafting an itinerary of Almeria places to visit, this convent offers a juxtaposition of history, art, and spirituality.
You can see updated opening hours here.
Plaza Vieja
Popularly knowns as Plaza Vieja, Plaza de La Constitución is the oldest square in Almeria. With its elegant arches surrounding the square centered by a large obelisk, it is just as pretty as it is historical.
Throughout the centuries, the plaza has been a commercial, political, and administrative center of Almeria. Today, however, it is a silent oasis in the city center where you can step back at one of the restaurants and bars taking shelter in the shade of the porticos.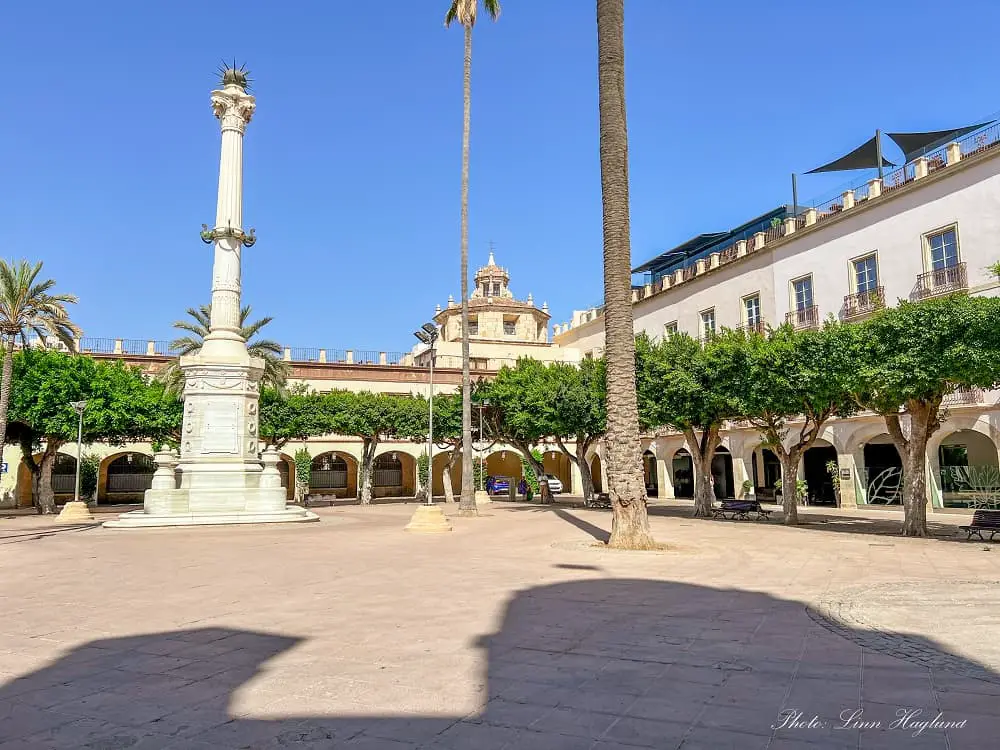 Playa San Miguel
A day out on Playa San Miguel is a great way to break off intensive days of sightseeing. Almeria is blessed with urban beaches so you can just head straight down from your hotel and work your tan.
You find all the necessary amenities on the beach and rent sunbeds and shade if you don't bring your own.
San Miguel Beach is one of the best beaches in Almeria City with beach bars and restaurants within walking distance.
Stroll up La Rambla de Almeria
La Rambla de Almeria springs to life as the sun casts its gentle hues over Almeria. With its broad pedestrian walkways, this boulevard is more than just a path – it's the very pulse of the city.
Lined with historic buildings, boutique shops, and cafes with alfresco seating, it is where the past meets the present.
Every evening, it transforms into a meeting point for friends, families, and artists showcasing their talents. Street musicians add a melodious charm to the surroundings while local vendors peddle crafts and delectable treats.
When going for a stroll in Almeria Spain, things to do don't get much better than La Rambla.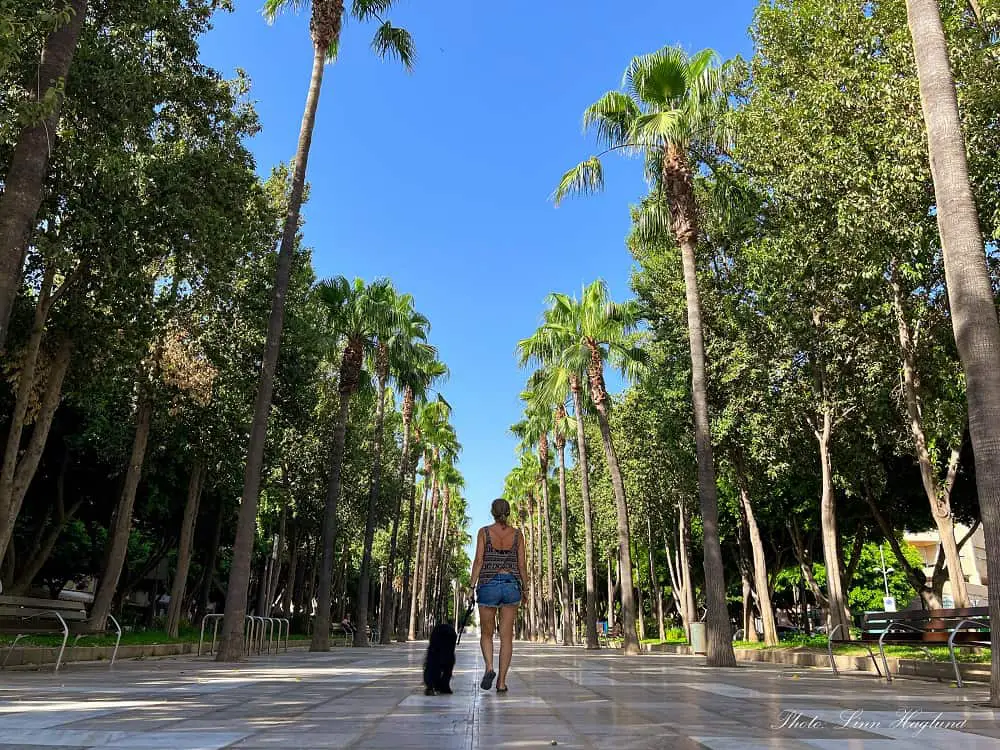 Relax at Playa del Zapillo
If the city's bustling energy ever gets overwhelming, Playa del Zapillo awaits with open arms. This beach, fringed by swaying palm trees, offers an antidote to urban fatigue.
Families lay out their picnic spreads, children revel in sandy adventures, and couples walk hand in hand, leaving their footprints behind.
With its rhythmic dance of waves, the sea presents opportunities for both adventure and relaxation. Water sports enthusiasts find their haven here, while sunbathers revel in the golden embrace of the sun.
There are several Chiringuitos along the beach offering fresh food and cold drinks during a hot day at the beach. You also find assistance for people with mobility impairment on the beach.
People watch in Nicolas Salmeron Park
Nicolas Salmeron Park, a lush expanse amid Almeria's urban fabric, is a haven for relaxation and recreation. It's easy to see why it's a favorite in Almeria. Things to do like people-watching on a bench or walking past refreshing fountains break off a busy day elegantly.
The park's well-maintained paths, shaded by robust trees, are ideal for leisurely walks. Strategically placed benches offer the perfect vantage point for introspection or simply observing the tapestry of everyday life.
The harmonious blend of nature and city life ensures that Nicolas Salmeron Park remains etched in the memory.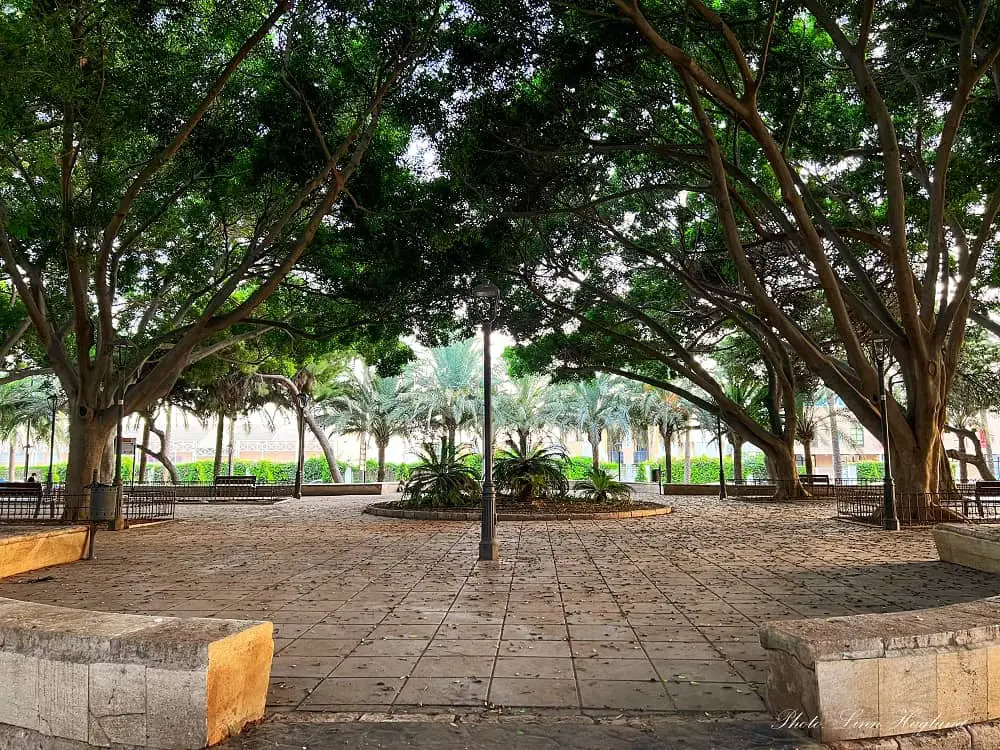 Walk along the paseo
Considering the Almeria attractions' array, the city's Paseo emerges as an unmissable experience and one of my favorite areas in the city.
Lining Almeria's urban beaches, it presents a picturesque setting where the azure sea stretches endlessly, serenading those who walk its path.
In the summer, the beaches fill up considerably and beach bars, locally known as Chiringuitos, serve fresh food and cold drinks. In the winter months, on the other hand, you mainly see dog owners strolling along the sand with their furry friends taking advantage of being allowed to play there.
As day fades to night, the Paseo transforms into a hub of social interactions, where tourists and locals indulge in strolls and heartfelt conversations, making it one of the top things to do in Almeria Spain.
El cable Ingles
El Cable Ingles is a marvel of engineering and design, a testament to Almeria's illustrious industrial past. Dominating the horizon, its iron framework combines Modernist and neo-Mudejar architectural styles.
The railway pier was used to transport iron from the train station to the ships at the port in the 20th century and was in use until 1973 when it eventually was closed down.
Photographers and history buffs converge here, drawn by its magnetic allure and there is no doubt exploring it is one of the best things to do in Almeria Spain.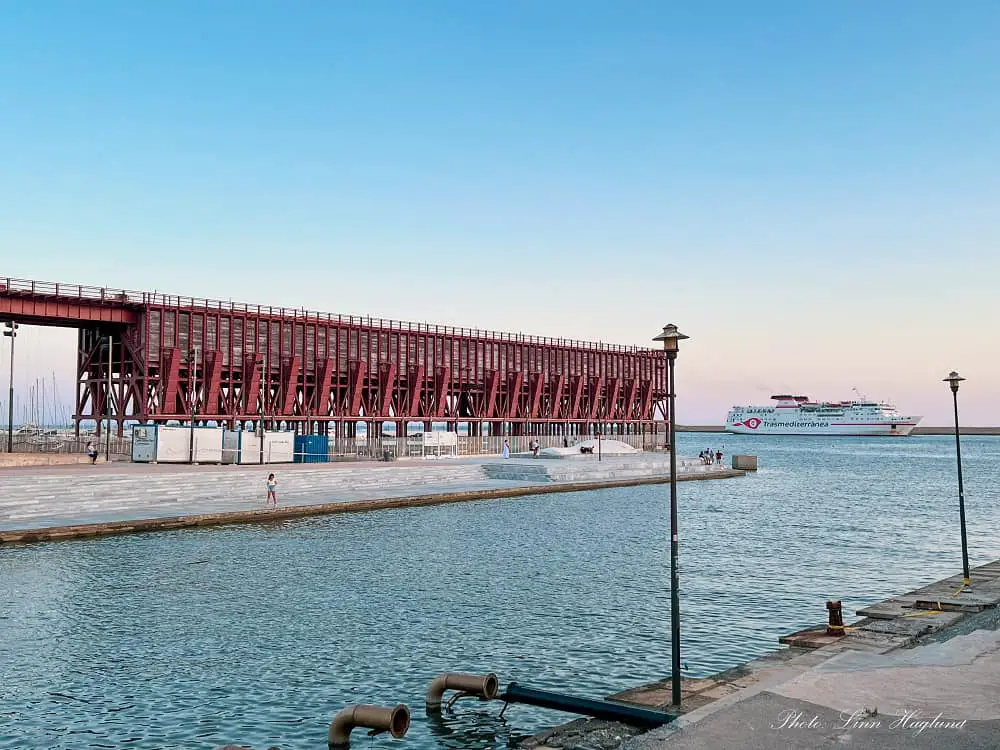 Get romantic at Plaza Campoamor
Plaza Campoamor is a quiet square we came across by accident. But it is super charming with a central mosaic by the local artist San Valentín.
Surrounding it is a round fence full of padlocks that couples from all over the world have hung onto it to lock their love.
It is worth stopping by if you are nearby as one of the less conventional things to do in Almeria.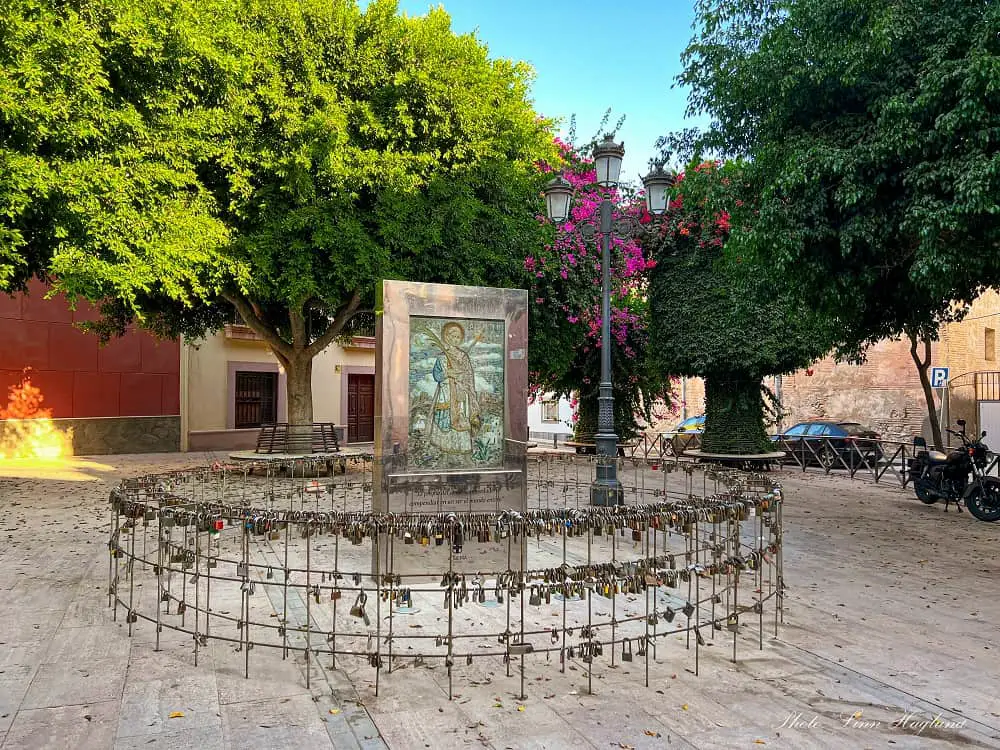 Enjoy quirky artwork at Almadrabillas Park
Art and nature find a harmonious confluence at Almadrabillas Park. Positioned amidst the urban surroundings, this park is a treasure trove for art enthusiasts.
Modern sculptures, each telling its own story, punctuate the greenery, urging you to pause and ponder. If you're debating what to do in Almeria, Spain, you should undoubtedly factor in a leisurely visit to this park.
With each artwork challenging perceptions and the serene environment providing a calming backdrop, Almadrabillas Park promises an afternoon of introspection and wonder, elevating it to the echelons of must-visit Almeria tourist attractions.
It is close to the Cable Ingles and a natural place to walk through on the way there from the city center.
Stroll through the La Chanca neighborhood
Nestled within the city's heart, the La Chanca neighborhood is an unfiltered portrayal of Almeria's cultural mosaic. At first, the neighborhood might seem a little scruffy around the edges, but I actually started to like it after a while.
The colorful houses, large families sitting out in the streets with kids playing, music playing, and street art covering the walls.
Every corner of this vibrant area tells a story, from the brilliantly painted facades that capture the spirit of the Mediterranean to the laughter and melodies resonating from local bars.
La Chanca emerges as an authentic experience, a melting pot of traditions, and a testament to the city's heritage. No Almeria sightseeing tour is complete without meandering through these alleys, capturing the essence of local life and the city's pulsating heart.
It is also easily located right at the foothills of the Alcazaba, making it an easy access point to the city's greatest attraction.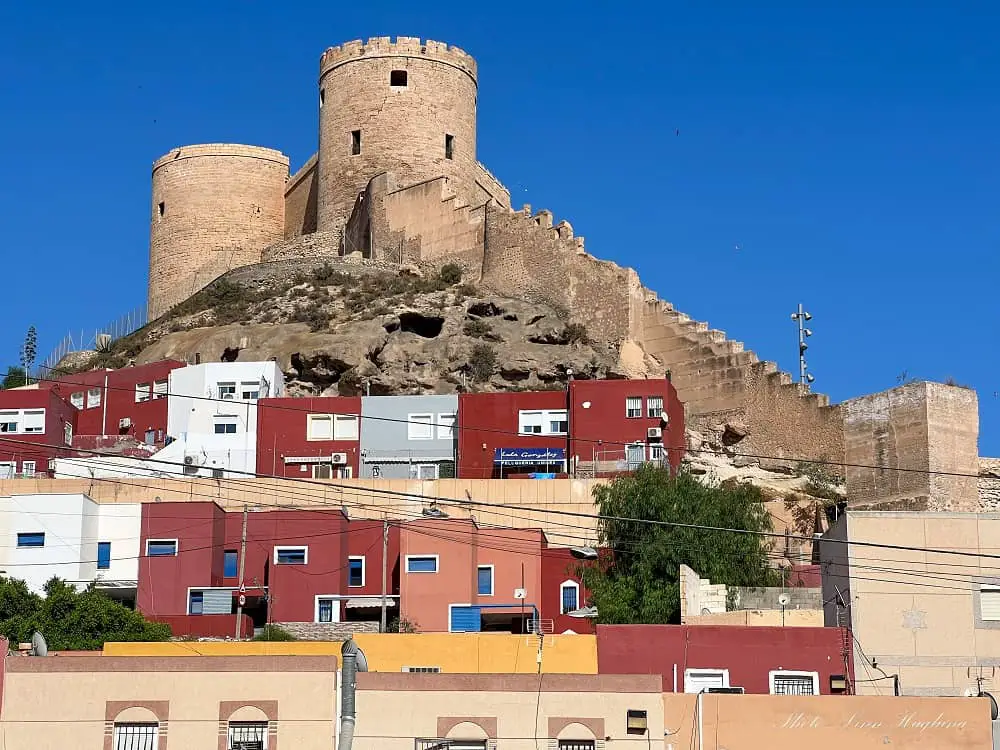 Step back in time at the Archaeological Museum
The Archaeological Museum of Almeria is a sanctuary of knowledge, revealing the layers of history that shaped the region.
Displaying relics that date back to prehistoric times and artifacts reminiscent of the Moorish era offers a comprehensive look at the epochs that have left their mark on Almeria.
The Archaeological Museum is one of my favorite attractions in Almeria and by far one of the best things to see for any history buff.
Step inside Parroquia de San Pedro Apostol
In the corner of Almeria, a beacon of spiritual solace stands tall: Parroquia de San Pedro Apostol. As the church bell tolls, inviting souls to find refuge within its sacred walls, one cannot help but be awed by its architectural splendor.
The church's history resonates through its stone arches, ornate carvings, and evocative frescoes.
Time seems to stand still here, and every prayer whispered feels like a conversation with the divine.
This church stands unmatched when seeking Almeria tourist attractions that offer both spiritual enrichment and architectural marvel.
Walk through the World War Two shelters
The echoes of a tumultuous past resonate through the World War Two Shelters of Almeria. These underground passages, now silent, once provided solace and protection to the city's inhabitants during the war.
As one of the more somber things to do in Almeria, it is a powerful reminder of human resilience and the city's ability to rise above adversity.
Any Almeria what-to-do list should include the World War Two Shelters. They were built in 1936 and now you can get an insight into their use as you walk through them. It is by far one of the most interesting things to do in Almeria.
👉BOOK A TOUR OF THE SHELTERS HERE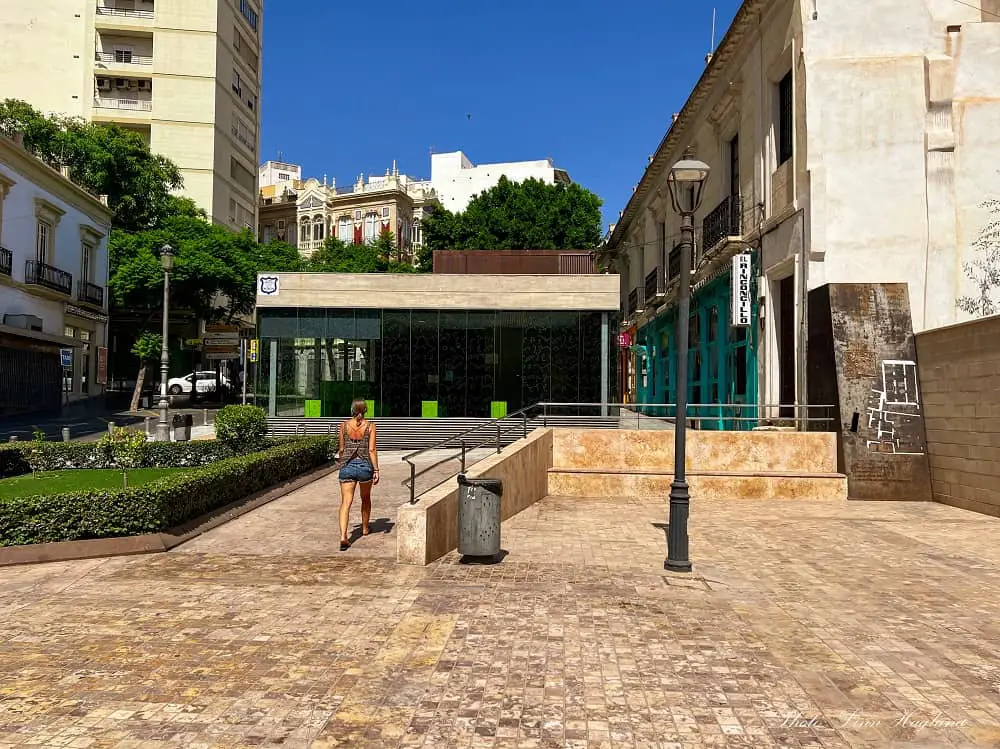 Step inside Parroquia de San Sebastian
Graceful and serene, the Parroquia de San Sebastian stands tall amidst the city's evolving landscape. Built in 1673, its intricate stonework and sanctified chambers, it offers a haven of peace and spiritual introspection.
As you delve deeper into Almeria's things to see and do, this church emerges as a beacon of the city's religious legacy.
Its whispers of prayer, the soft glow of candles, and the majestic altar invite all to experience a slice of Almeria's spiritual fabric.
When one ponders what to do in Almeria, Spain, a reflective moment within these sacred walls is a fulfilling endeavor.
Reflections on what to do in Almeria
The first few times I visited Almeria, the neighborhoods near top attractions like the Alcazaba and the Cerro de San Cristobal felt rather dubious, which can make it uncomfortable to walk there, especially if you travel solo.
However, the more I spent time in the city, the more it grew on me and I started to like some of these neighborhoods that first seemed so questionable. Yet, I'd be cautious on the way up to Cerro de San Cristobal if you're not driving the whole way up.
That said, Almeria still has its charm and once you find the different attractions, you'll likely enjoy the city. My favorite part of Almeria is without a doubt the Paseo Maritimo and the beaches (whereof we accidentally deleted all the pictures we took!)
If you have more time, check out the beaches in Cabo de Gata, and head to Aguadulce where you can do an epic sunrise hike to Antenas de Aguadulce. Besides, there are many things to do in Roquetas de Mar too like exploring the castle overlooking the sea.
Finally, make sure you check out the other towns in Almeria before you leave the area.
Happy travels!