If you have been on a road trip in Andalucia, driving from Seville to Malaga, you might have seen Osuna's Collegiate Church of Our Lady of the Assumption towering above the whitewashed hillside town.
I drove past a hundred times before I took the detour and completely fell in love with this gem. Boasting impressive architecture throughout the town, a UNESCO street, and ancient Roman archaeological excavations, on top of being one of Andalucia's Game of Thrones filming destinations, Osuna, Spain, I'm surprised this is still a hidden gem in Andalucia.
Osuna is usually visited as a day trip from Seville but also makes for an easy day trip from Malaga. That said, you can easily spend a couple of days taking in its wonderful charm.
After visiting this completely underrated town in Andalucia a handful of times, I've written this guide with the best things to do and see on a day in Osuna, Andalucia.
Read on to find out everything you need to know to visit Osuna, where to stay, and the best things to do.
Disclosure: This post may contain affiliate links. That means that if you make a purchase through one of those links, I will get a small commission at no extra cost to you.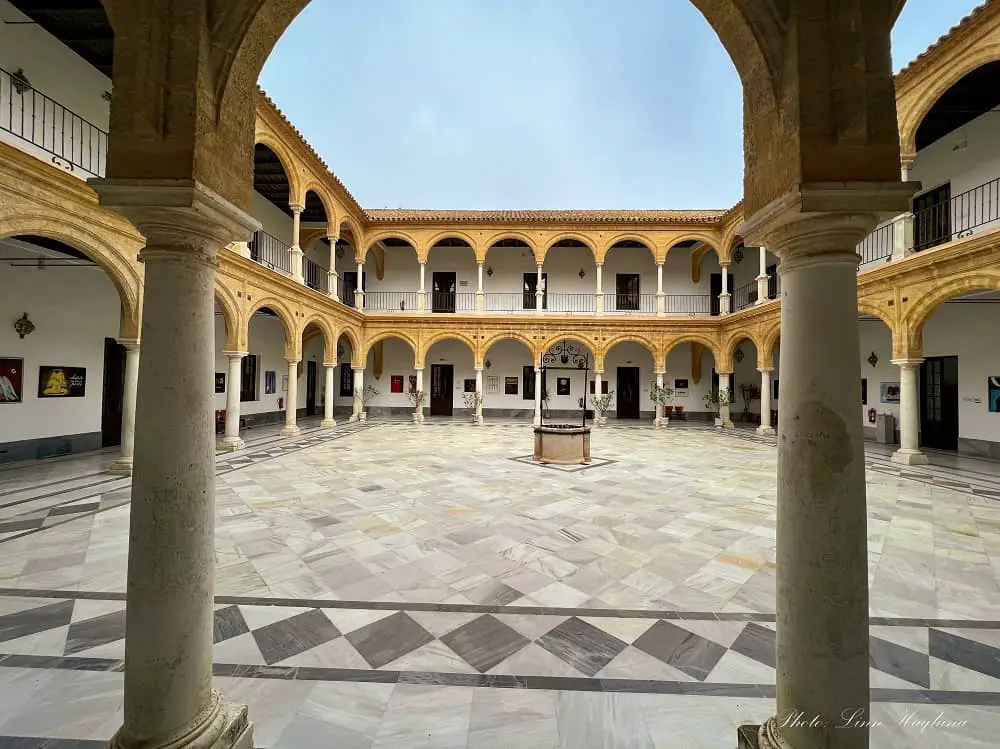 How to get to Osuna, Spain
Driving to Osuna and parking there
As mentioned above, getting to Osuna by car is easy as the town sits right on the A92 between Malaga and Seville. It takes exactly one hour to drive from Seville and about 1 hour and 20 minutes from Malaga.
It's easy to find free parking around Osuna, though I recommend parking either at the bottom of the village or driving all the way up to the Collegiate Church of Our Lady of the Assumption where you'll find two ample parking spaces where you can leave the car all day for free.
Note that I have seen a man with a vest asking for parking money, but from what I could tell, he was not official and only about half the people parking there paid him in coins. With this, I'd say you should give him a couple of coins if you have any, but don't need to feel pressured if you don't have any.
Check rental car availability and rates here.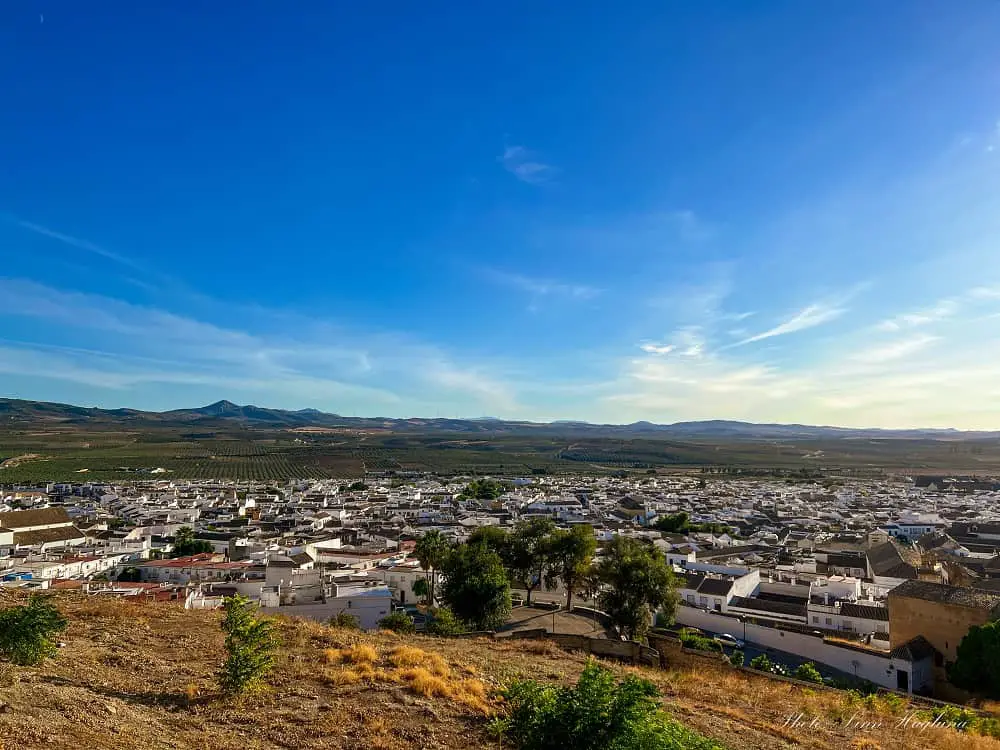 Public transport to Osuna
If you don't drive, it's also fairly easy to take public transport to Osuna from these two cities. Bus from Malaga is mainly commuted by Alsa and takes almost 2 hours and 30 minutes one way. The bus from Seville to Osuna takes about 1 hour and 15 minutes.
Finally, you can reach Osuna by train. The trains from both Seville and Malaga to Osuna take from 1 hour to 1 hour and 15 minutes.
Check bus and train times here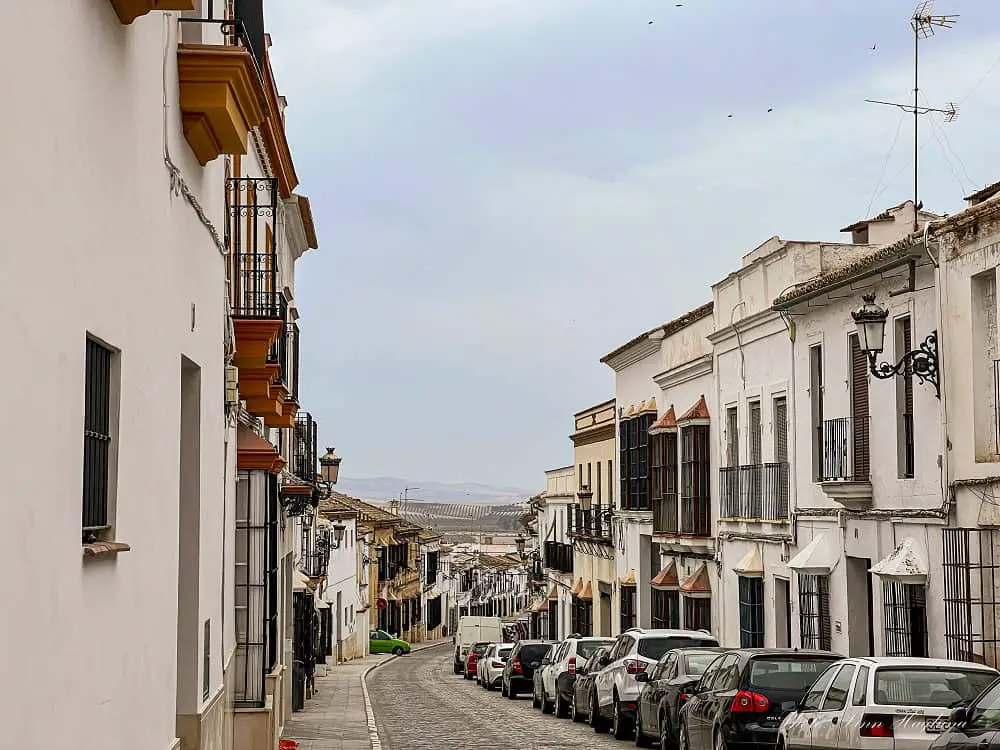 Best time to visit Osuna, Andalucia
You can easily visit Osuna all year round. That said, Andalucia in winter is more pleasant than in the summer for visiting low-altitude inland destinations.
In the summer, heat waves up to 40 degrees Celsius with an average of 35 degrees Celsius is quite normal. But from the end of September until May or early June, you can have pleasant days.
In January, the coldest month in Osuna, you can expect around 14 degrees Celsius in the daytime, though night temperatures crawl down to 5-6 degrees Celsius, so make sure you have packed your mittens and beanie.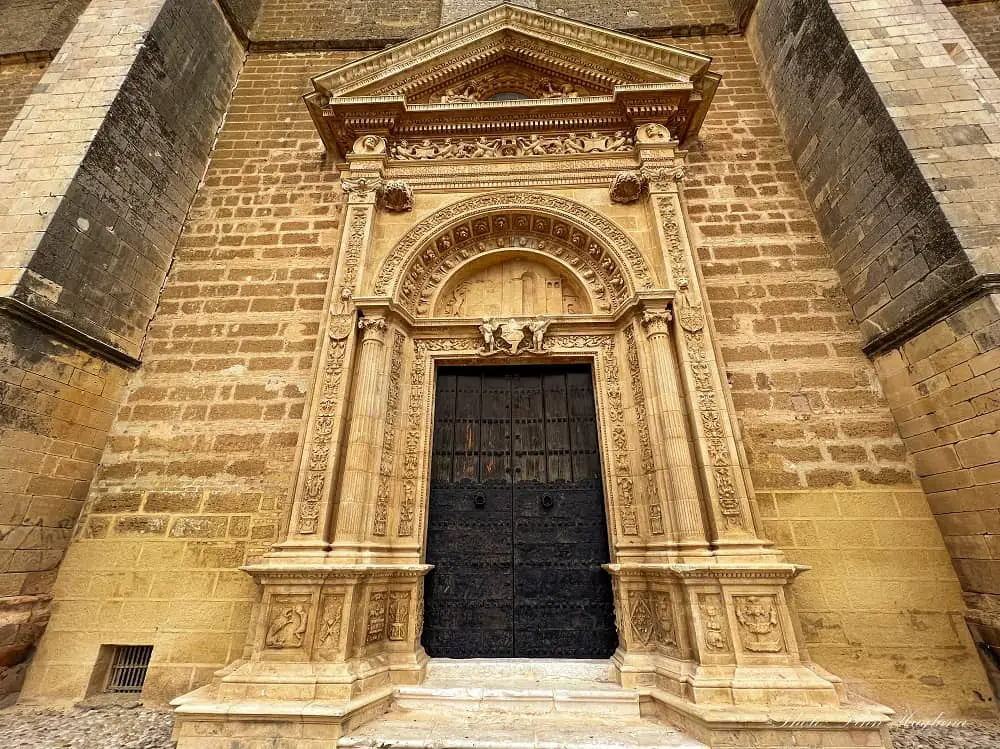 Where to stay in Osuna, Seville
In case you visit Osuna as a transit town and want to spend the nigh there, the most sought-after place to stay is naturally the hotel where the Game of Thrones crew stayed, the Palacio Marques de la Gomera.
However, there are other hotels to choose from too, and here I'll list up some of my favorite choices, including the above, not because of the GOT crew fame, but because it's simply the most stunning place to stay in Osuna!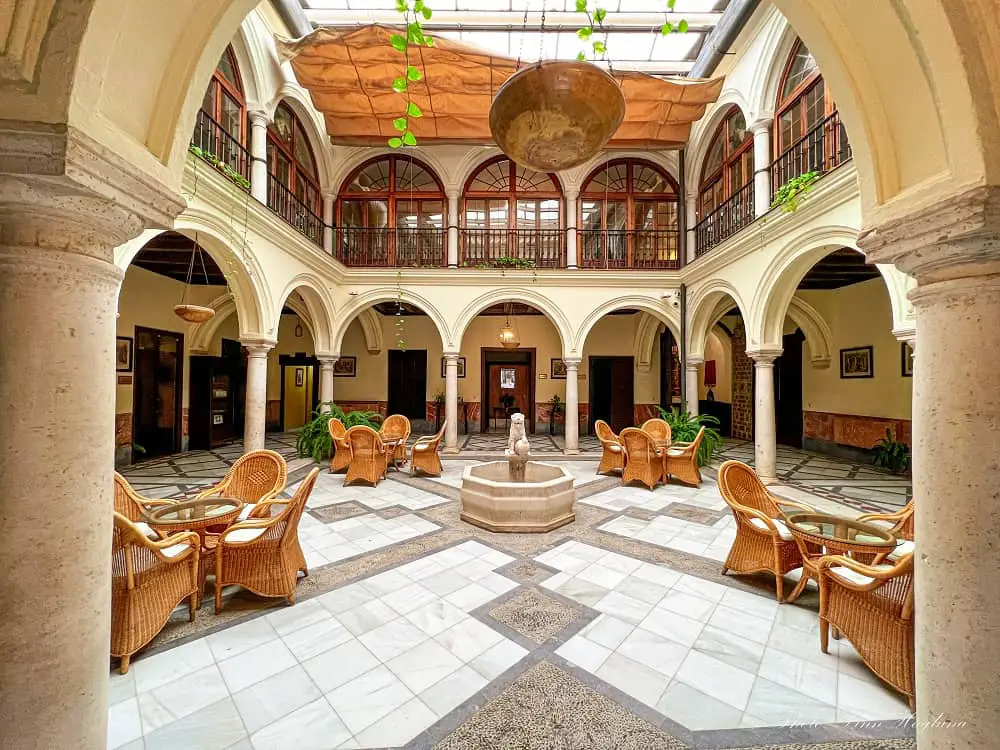 Palacio Marques de la Gomera – No doubt the most beautiful hotel in Osuna, situated in the middle of Calle San Pedro, surrounded by other spectacular palaces.
Both the exterior Baroque facade and the impressive interior patio combined with traditional decoration make this 18th-Century building hotel a favorite among visitors.
La Casona de Calderón Gastronomic & Boutique Hotel – One of the most charming hotels in Osuna without a doubt with boutique-style decor, a traditional Andalusian inner courtyard, and small outdoor pool, this might just be my favorite of the hotels in Osuna. Not to mention, both Ayla and I have always been taken exceptionally good care of by staff.
Hospedería del Monasterio – Another of Osuna's most spectacular hotels, situated right below the Collegiate Church of Our Lady of the Assumption and the Old University within walking distance to the old town as well as the Roman Necropolis and Amphitheater.
The old Andalusian building boasts a stunning patio with an outside pool perfect to have a drink and enjoy a sunny day.
One of my favorite things about staying there is the La Tertulia bar next to the monastery where locals flock to enjoy the sun on the interior patio.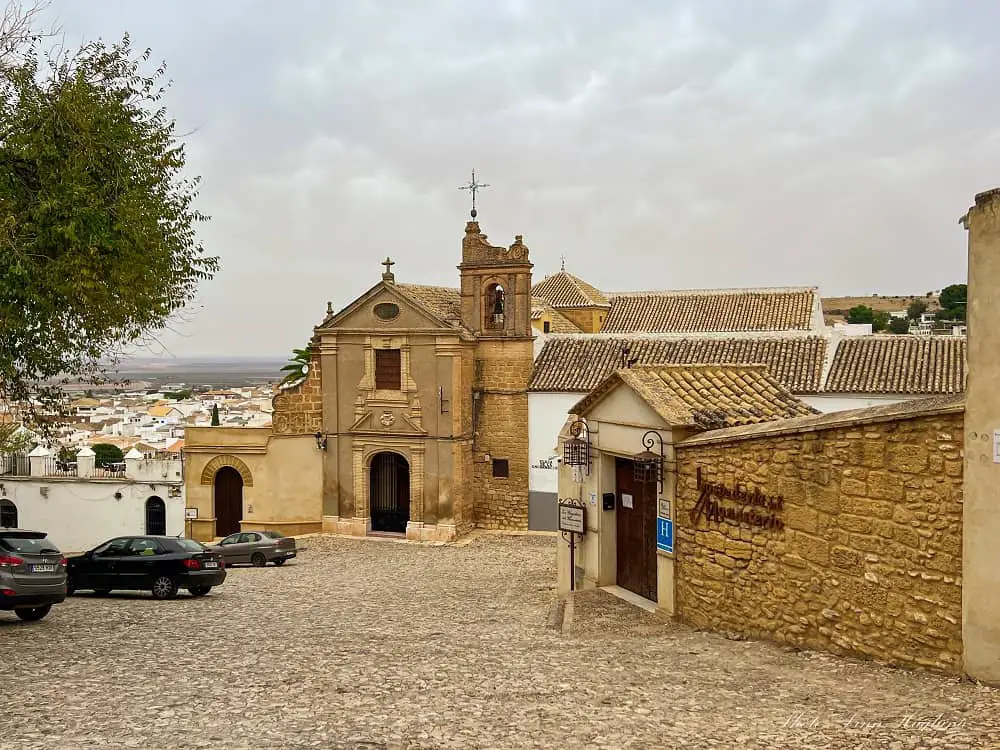 Osuna, Game of Thrones, and the bullring
While tourists aren't exactly running down Osuna, Game of Thrones fans might particularly have pinned down the town as a must-visit destination, especially the bullring where the scenes were filmed.
Opposed to other Andalucia travel blogs, I don't promote visits to bullrings or other unethical activities, in particular unethical animal tourism.
Visiting the bullring to see the site where GOT was filmed might sound innocent, I agree. It's not like you're going to a bullfight, right?
However, the sad truth is that Osuna's bullring is regularly used for bullfights. And unfortunately, no matter if you pay your entry ticket for a visit to tour the bullring or you pay a ticket to see an actual bullfight, you're still paying the bullring money.
You don't need to be a mathematician to put two and two together. Ticket money goes to promote and feature more shows. Shows where innocent animals are tortured to death for people's amusement.
For this reason, I hope you think twice before visiting any active bullring in Spain.
If your main reason to visit the town is Game of Thrones, Osuna has more to offer that doesn't support animal cruelty. Osuna Museum has two rooms dedicated to Game of Thrones where you can see different artifacts, including the Longclaw sword, used in the filming of the world-famous series.
OSUNA MUSEUM OPENING HOURS:
Opening hours summer: Tuesday-Sunday 09:30-14:30. Fridays are also open from 19:00-21:00
Opening hours winter: Tuesday-Sunday 10:00-14:00 and 17:00-20:00
Mondays are closed.
You can also sleep in the same hotel that the crew and actors did, Palacio Marques de la Gomera.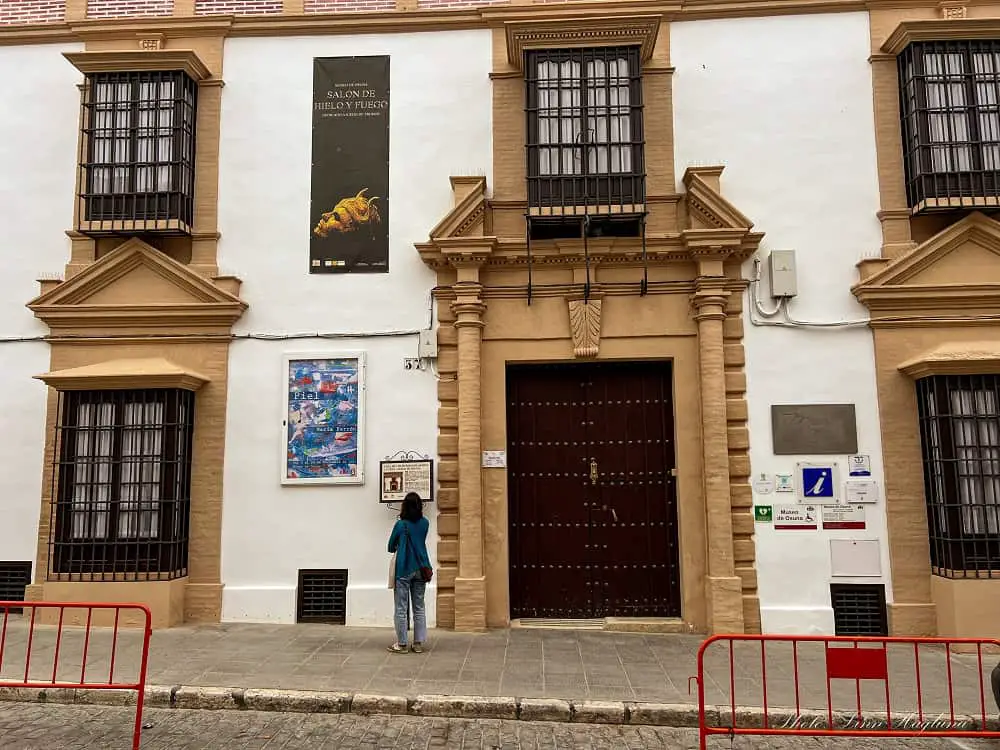 OTHER ONE-DAY ITINERARIES IN ANDALUCIA
Things to do in Osuna in a day
There are endless things to do in Osuna and in my opinion, one day isn't nearly enough to discover everything that this impressive little historical town has to show for.
Therefore, I've divided this Osuna itinerary into two. Before and after lunch. If you have more than one day, I would highly recommend doing the lower town in one day and the upper town on the second day.
That way, you can pick and choose what to do in Osuna on the upper part of town including the ancient necropolis and Coto de las Canteras before lunch and in the lower part of town after lunch.
You can also swap around the day if you park up in the lower part of town. However, if you for example park by the Collegiate Church of Our Lady of the Assumption, you might want to start there and work your way down.
If you drive, you can also save time by driving to the archaeological sites before parking up by the church.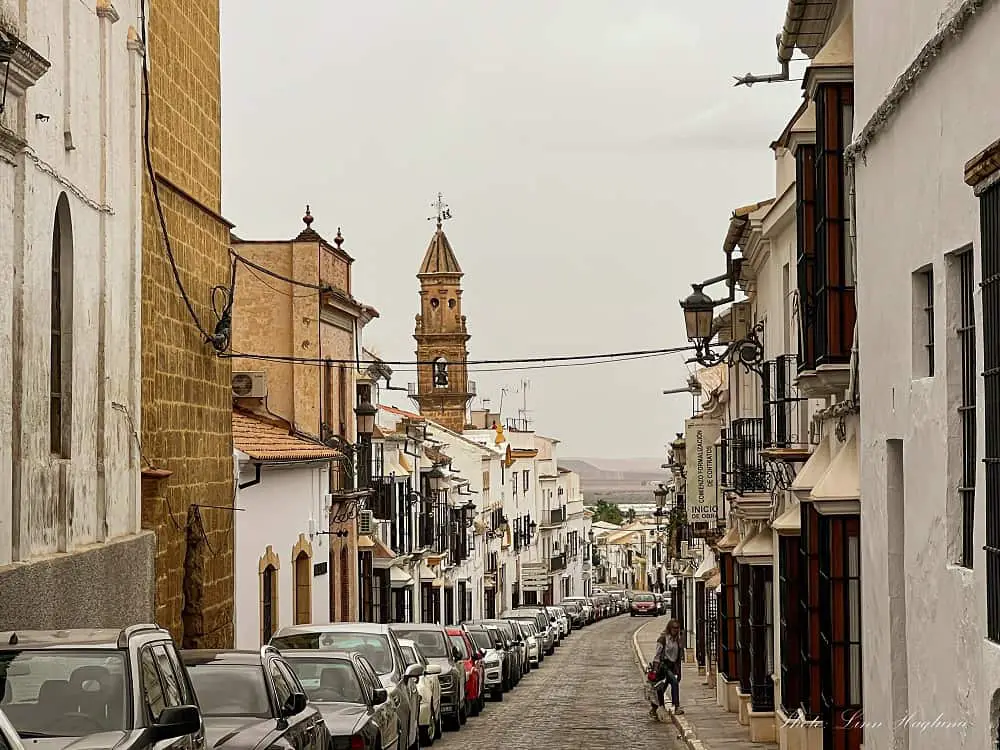 Things to do in Osuna in the morning
Collegiate Church of Our Lady of the Assumption
Definitely one of the top attractions in Osuna, the 16th-century Collegiate Church of Our Lady of the Assumption is a must-visit. Towering above the town itself, it's the most recognizable landmark that you'll see all the way from the A92 before you drive off into Osuna.
It houses the Sacred Art Museum where you will find a unique collection of Jose Ribera's paintings. Below the church, there is a crypt where until today, the Dukes of Osuna are laid to rest.
Opening hours: Tuesday-Saturday 10:00-14:30 and 16:00-18:00, Sundays 10:00-14:30, and Mondays are closed.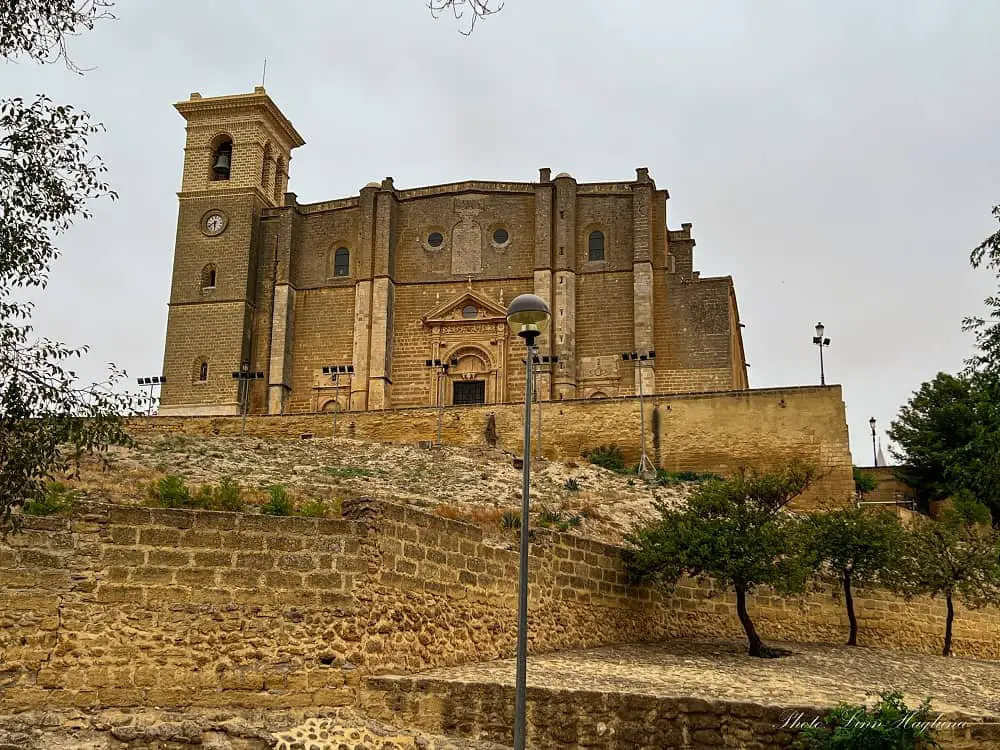 Enjoy the best views of Osuna
There's no secret that the best views of Osuna are found outside the Collegiate Church of Our Lady of the Assumption. Make sure you go for a walk around the church to take in the sweeping views of Osuna and the countryside beyond.
From there, you can also spot the different landmarks in the old town like the Iglesia de Santo Domingo Parroquia Ntra. Sra. de la Asunción and the Iglesia Convento de la Concepción.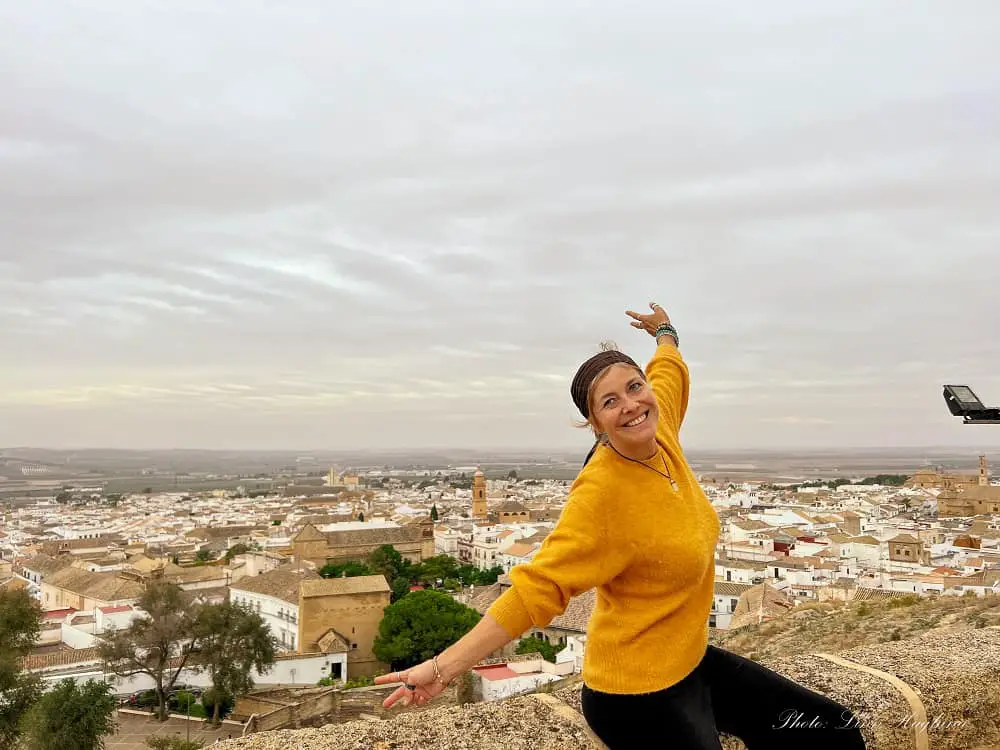 Monasterio de la Encarnación
It's also worth stopping by the Monasterio de la Encarnación which is right down the steps from the Collegiate Church of Our Lady of the Assumption on Plaza de la Encarnación.
Originally functioning as a hospital, the structure turned into a monastery for the Royal and Military Order of La Merced in 1626.
The monastery houses the Museum of Religious Arts of Osuna and can only be visited on a guided tour which is led by one of the nuns.
For cake lovers, there is also the opportunity to buy freshly baked goods from the nuns.
Opening hours summer (16th of June to 15th of September):
Tuesday-Sunday 09:30-14:00
Monday closed

Opening hours winter (16th of September to 15th of June):
Monday-Saturday 10:00-14:30 and 16:00-18:00
Sunday 10:00-14:30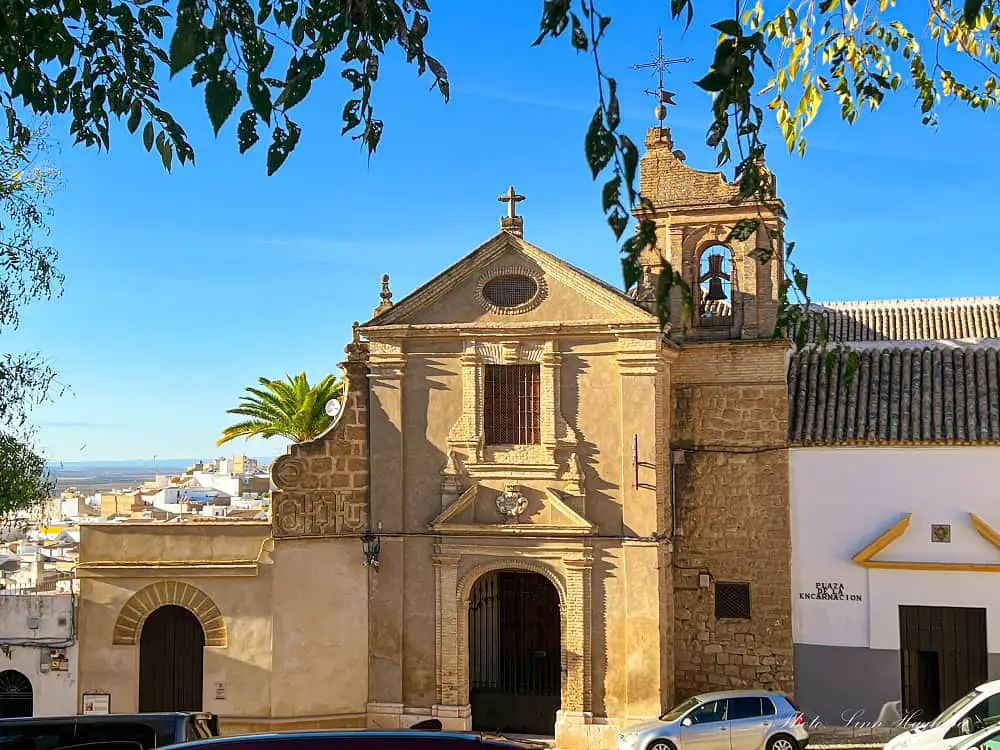 Old University of Osuna
Osuna's old university originally dates back to 1528 and served as a university until 1824 when its degrees were moved to the University of Seville. Eventually, it came to use as a university functionality again until today.
The interior arched Renaissance patio is particular beauty, and so are the inscriptions on the walls. You can also visit the little chapel in the university building with unique 16th-century paintings.
Guided visits are available Saturdays, Sundays, and public holidays:
Winter 16th of September to 15th of June every hour from 10:15 to 17:15.
Summer 16th of June to 15th of September every hour from 09:30 to 13:30. Plus Fridays in July and August at 19:15 and 20:15.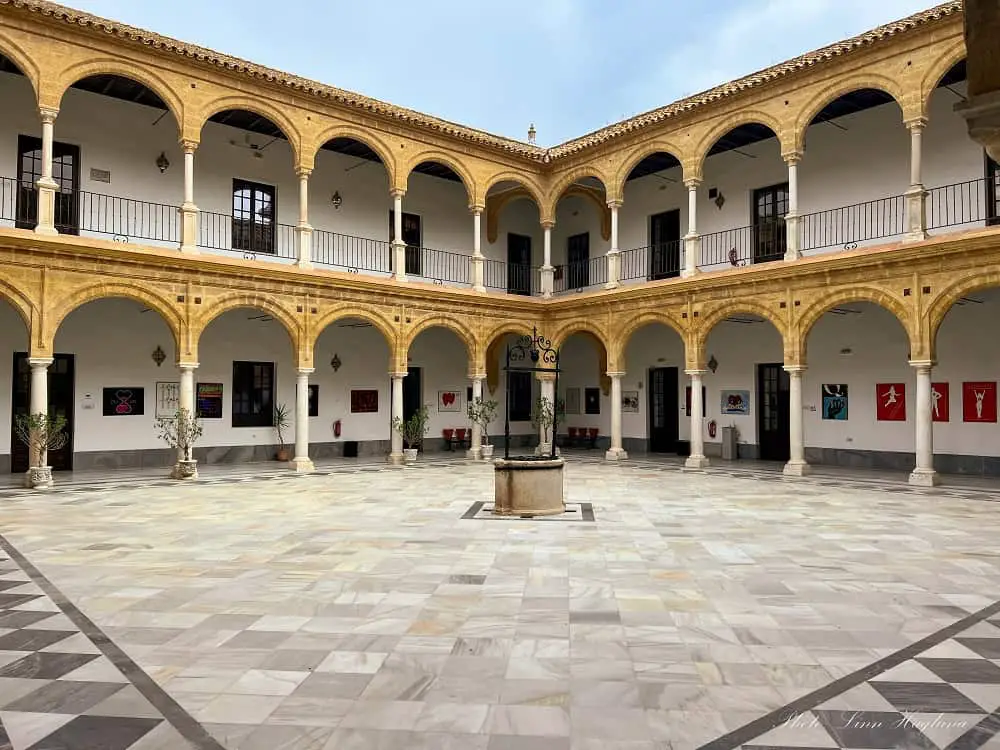 MORE FROM SEVILLE PROVINCE
Coto de las Canteras
Finally, what in my opinion is the most striking attraction in Osuna, the Coto de las Canteras. The eroded rock has been used by humans all the way back to the 5th century BC and in my opinion, resembles an ancient Egyptian site. However, it has adopted the name of the Petra of Spain, which is also a close one.
It's said that wild bears used to go there to drink water in Roman times, which also resulted in the name of Osuna, Oso meaning bear in Spanish.
The site now offers guided tours of the gardens and the interior which holds a museum, and the auditorium is used for larger events like weddings.
Opening hours have been back and forth from being open every day to only on weekends, so I suggest you check on their official website before going to see if it's open.
There's also a Roman Theater and Necropolis near Coto de las Canteras which are open to the public that you can consider visiting instead if this site is closed.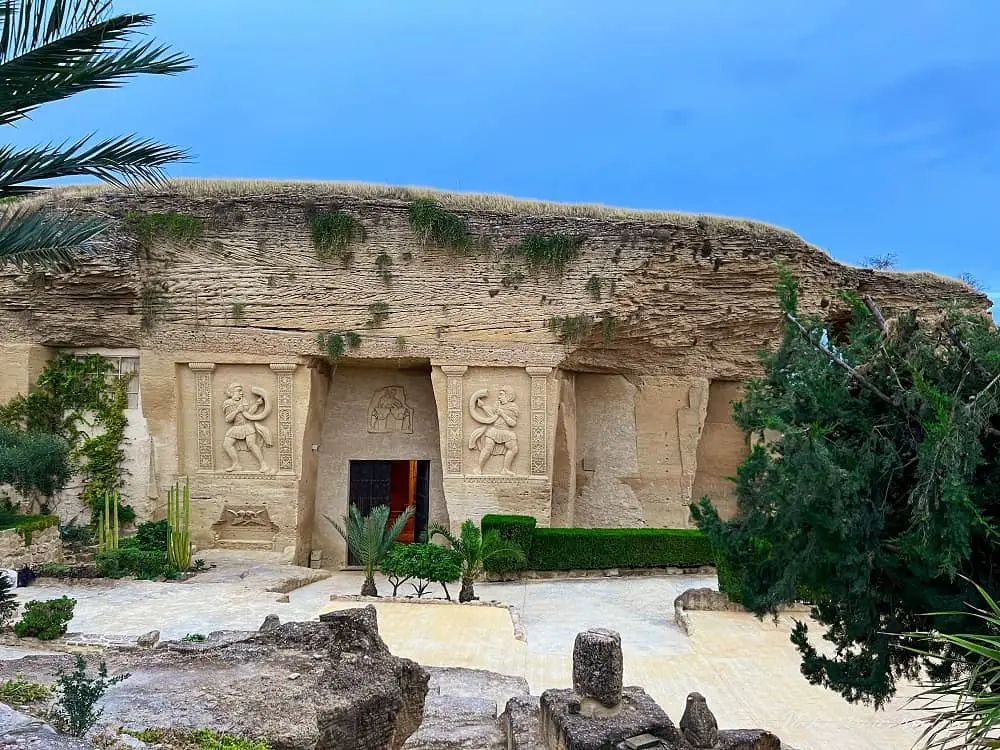 Things to do in Osuna in the afternoon
Calle San Pedro
Calle de San Pedro in Osuna, Seville was declared one of the most beautiful streets in Europe by UNESCO. While there are impressive facades facing the street, I'm not quite sure I agree after traveling extensively through Europe. Nonetheless, it's a magnificent street!
With imposing palaces like the Palace of the Marquises of La Gomera, Palacio de Los Cepeda, and Cilla del Cabildo among others, it's a wonderful place to admire the unique facades. Especially if you walk down the street, you also get the idyllic countryside views at the far end of the street.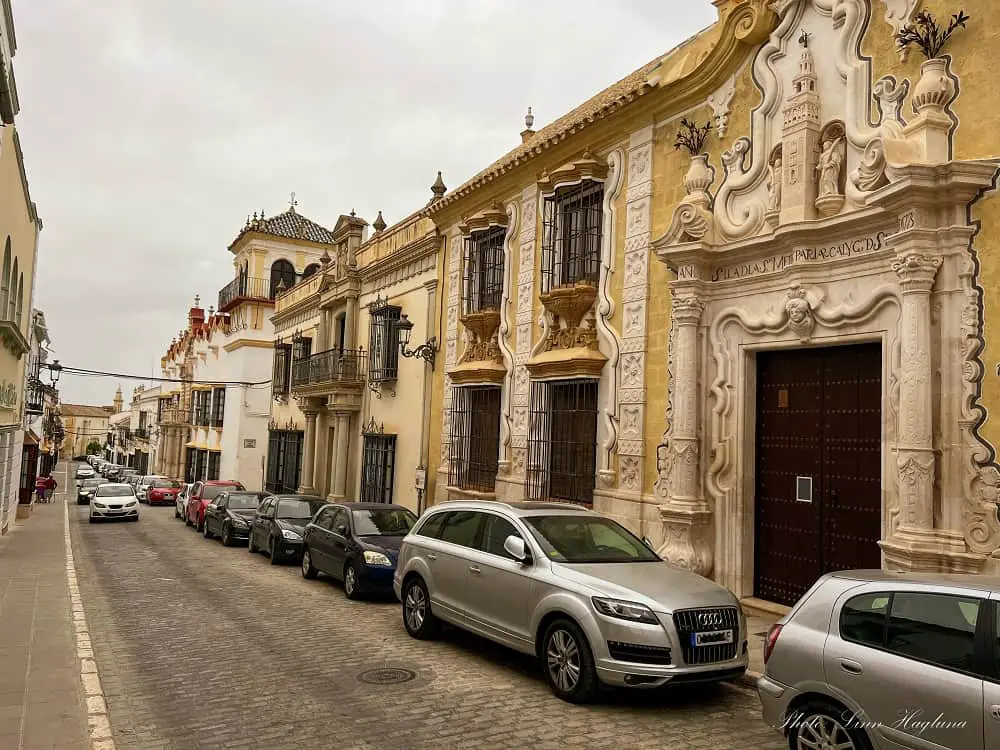 Palace of the Marquises of La Gomera
One of the most famous palaces on Calle San Pedro is the 16th-century Palace of the Marquises of La Gomera which now serves as a hotel. The hotel gained fame after the Game of Thrones crew stayed at the hotel during filming in Osuna in 2014.
Besides that, it's one of the most important examples of Andalusian Civil Baroque buildings with its exquisite two-storey facade. It's definitely one of the most beautiful buildings in Osuna that deserves a visit.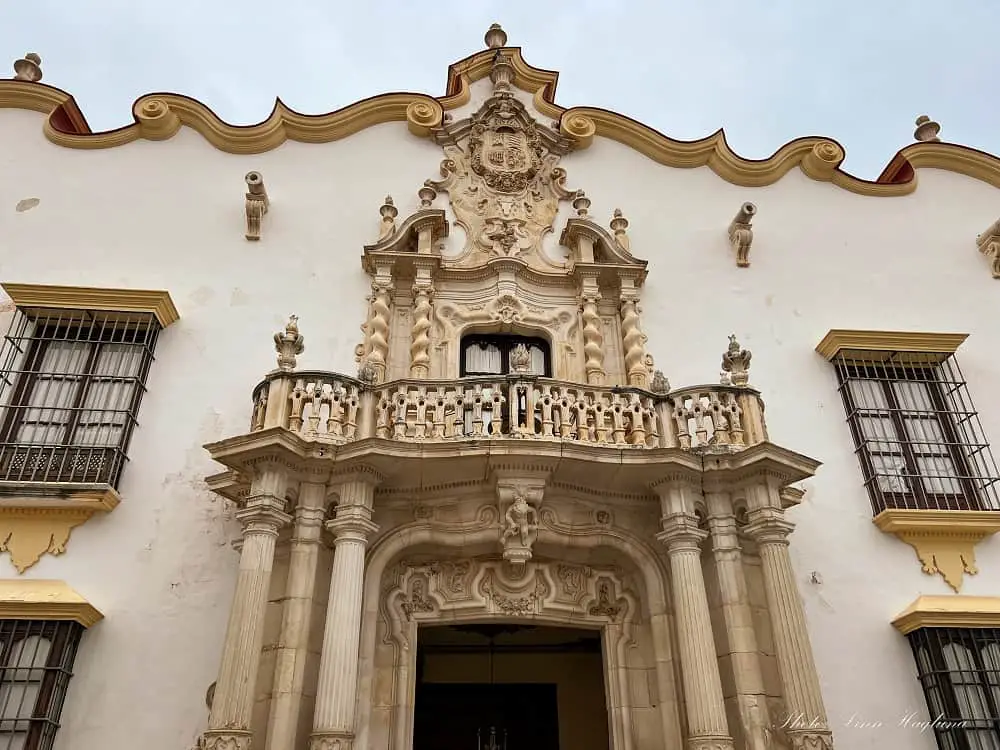 Cilla del Cabildo Colegial
Another spectacular building leading Osuna Spain tourism to Calle de San Pedro is the spectacular facade of Cilla del Cabildo Colegial.
above the beautifully decorated entrance, there's a sculpture of Seville's La Giralda tower between Santa Justa and Santa Rufina which are two of the city's patron saints.
It's no surprise why Calle de San Pedro attracts visitors when you can walk by structures like this, which is surely one of the best things to see in Osuna.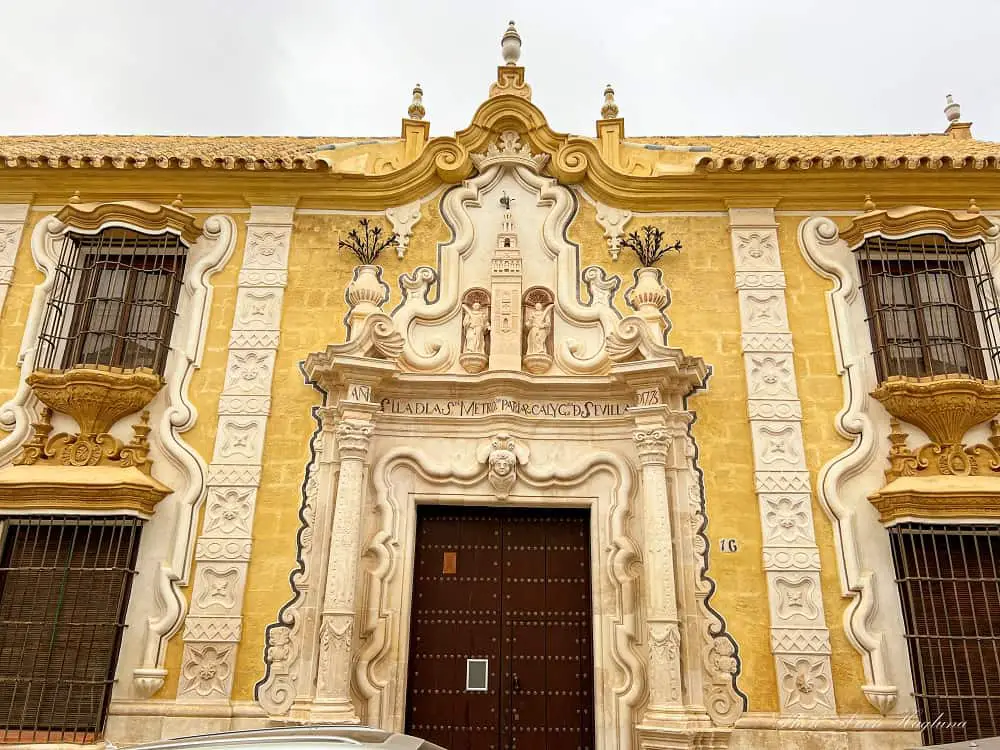 Have a drink or tapas at the Peña Betica
The Peña Betica in Osuna is a beautiful venue set in a palatial courtyard with arches and traditional tiles. The inner courtyard is a large open space, perfect for days when you want to sit outside.
Besides drinks, the Peña Betica of Osuna serves a wide range of tapas with excellent reviews, so it can be a great place to stop by for lunch if you haven't found another restaurant you'd rather eat at.
The Peña Betica is situated right in front of Osuna Museum, so it is the perfect stop to make before or after visiting the museum which I've mentioned in the Game of Thrones Osuna section.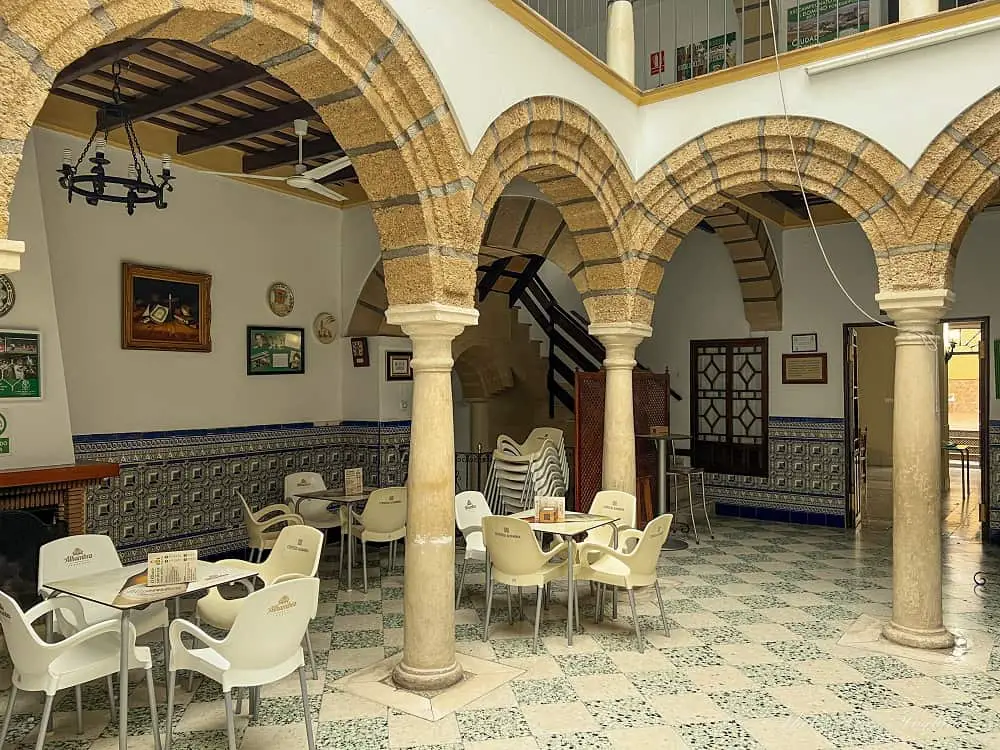 Palacio de Govantes y Herdara
For some reason, this 18-th century palace is one of the palaces in Osuna that has caught my eye the most. With a rustic look and mesmerizing spiraled columns showcasing vines on each side of the door, it's surely one of the most beautiful facades you'll encounter outside called de San Pedro.
In opposed to the other famous palaces, Palacio de Govantes y Herdara is situated in Calle Sevilla not far from Osuna Museum.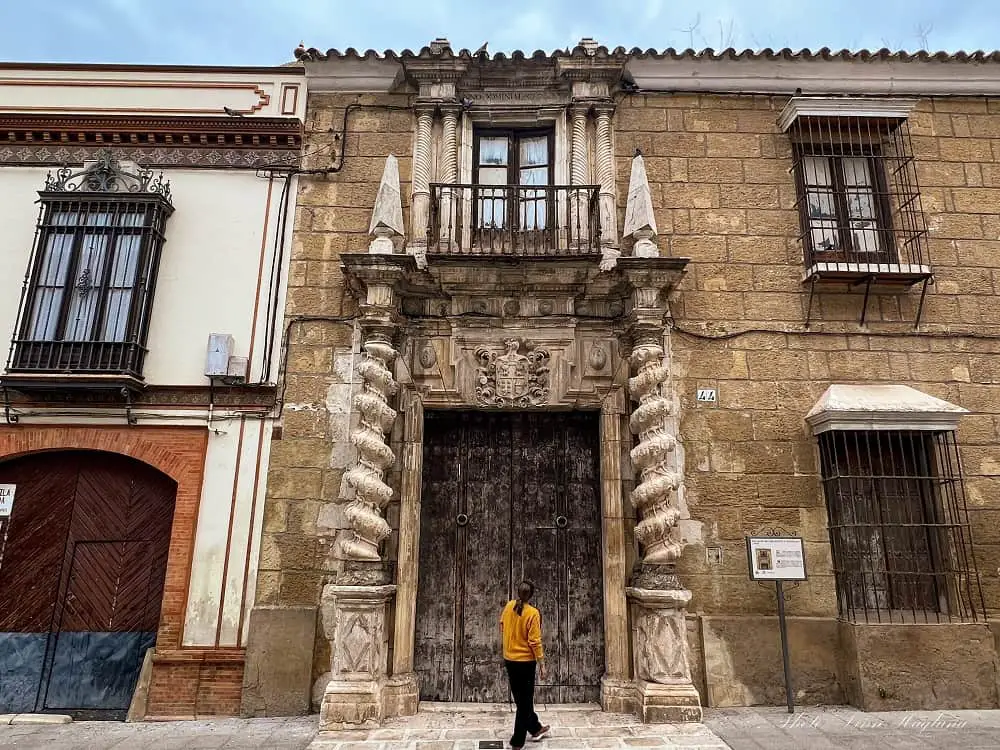 Arco de la Pastora
This 18th-century neoclassical arch is the only remaining piece of the main door in Osuna built during Carlos the 4th's reign.
It's situated across a busy cobblestoned street so it can be a challenge to get a photo of it without cars driving by, but it's a cool piece of architecture worth taking note of.
If you drive to Osuna, you're likely to drive through it.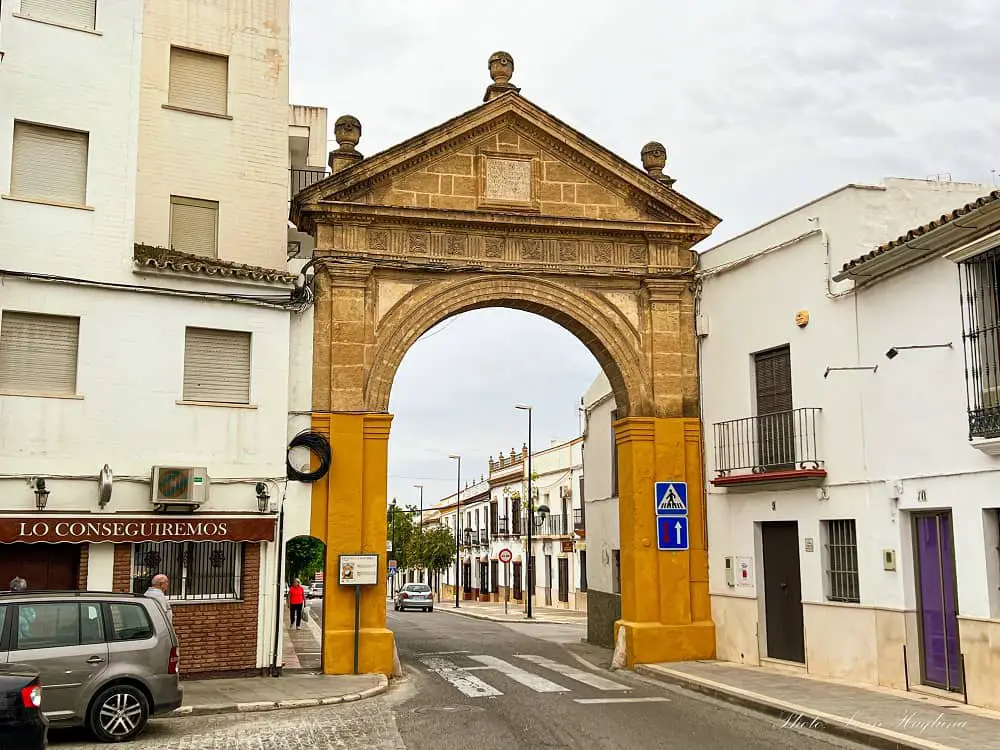 Bear roundabout
Right below Arco de la Pastora is one of the most emblematic roundabouts in Osuna. It sure captured our eye when entering Osuna by car and piqued our curiosity.
Featuring two bears on two feet being chained on each side of a tower, it sure is a unique piece of art (and one that hurts an animal lover's heart.) We later noticed the same two bears appeared in the town's coat of arms.
Apparently, Osuna is named after the large presence of bears back in Roman times. Oso means bear in Spanish, thus these impressive animals have been the symbol of Osuna for centuries.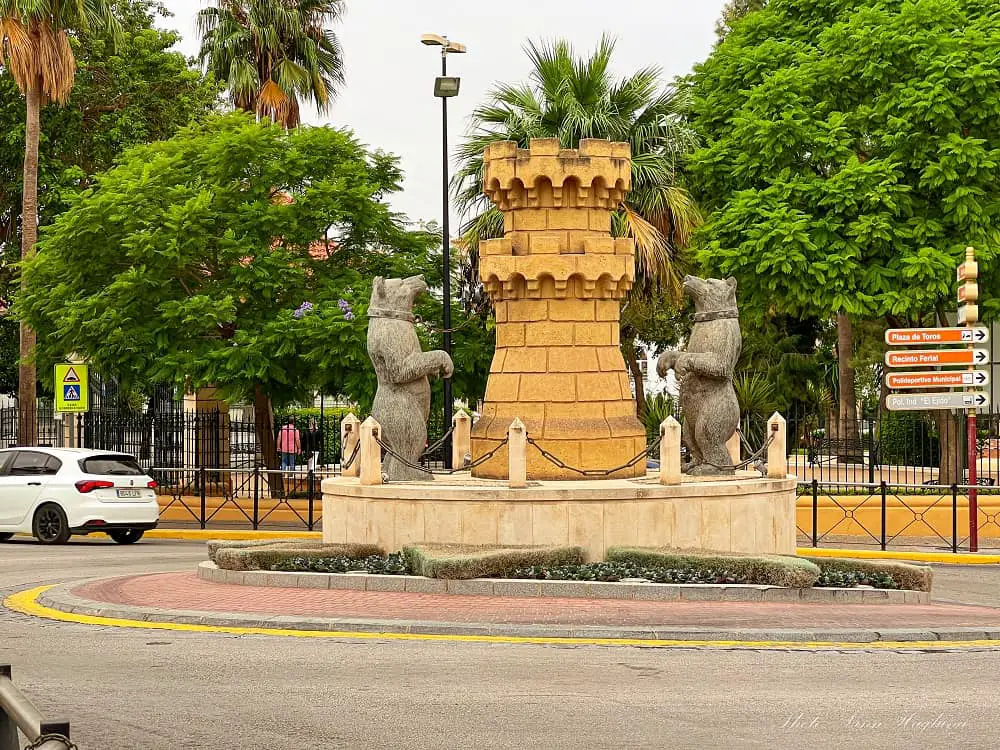 Iglesia de Santo Domingo Parroquia Ntra. Sra. de la Asunción
The 16th-century church is a joy to the eye. Situated on Plaza de Rodríquez Marín, it's worth visiting. This is one of the biggest structures in Osuna lower town that you'll see from the viewpoint.
Spectacular and grand on the outside, the inside is filled of beautiful artwork and smaller chapels. Particularly noteworthy is the altarpiece, incredible work by Jerónimo Hernández and Diego de Velasco.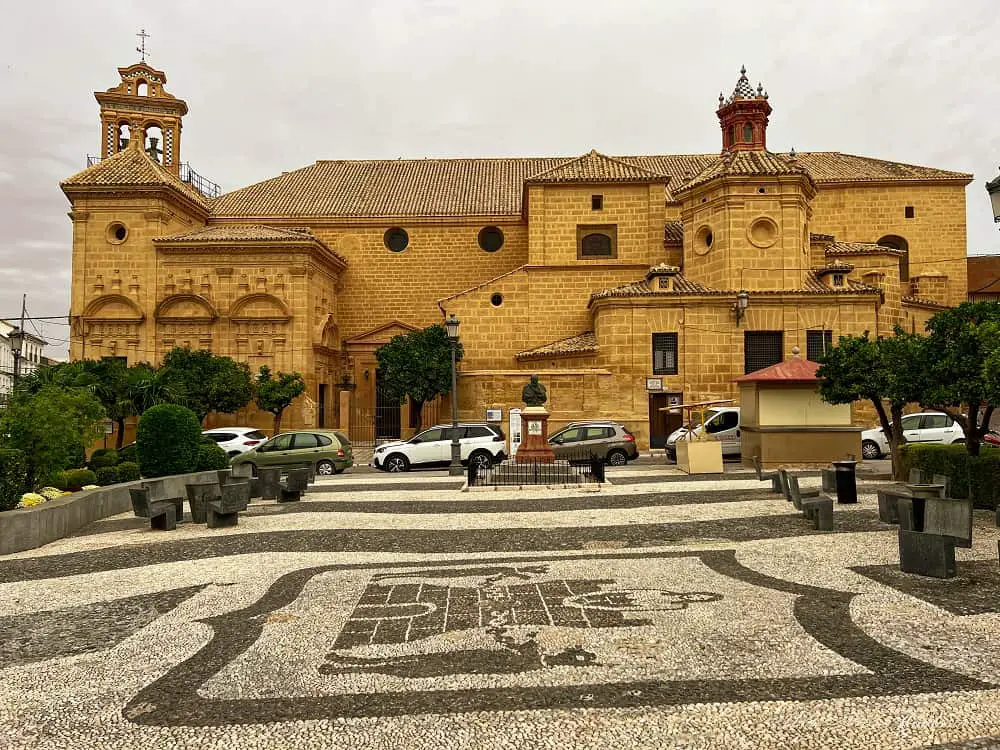 Plaza Mayor
Plaza Mayor is one of the most quaint squares in Osuna surrounded by historical buildings. On one side, you find the 16th-century Iglesia Convento de la Concepción.
On the side of the arch of La Puerta de Teba you find the 16th-century Town Hall that can be visited for free Monday-Friday 08:00-15:00.
Opposite the church, yo find Osuna Casino, which was opened in 1848. Now, the colonial building is owned by the City Council and houses a cafe and restaurant as well as a theater.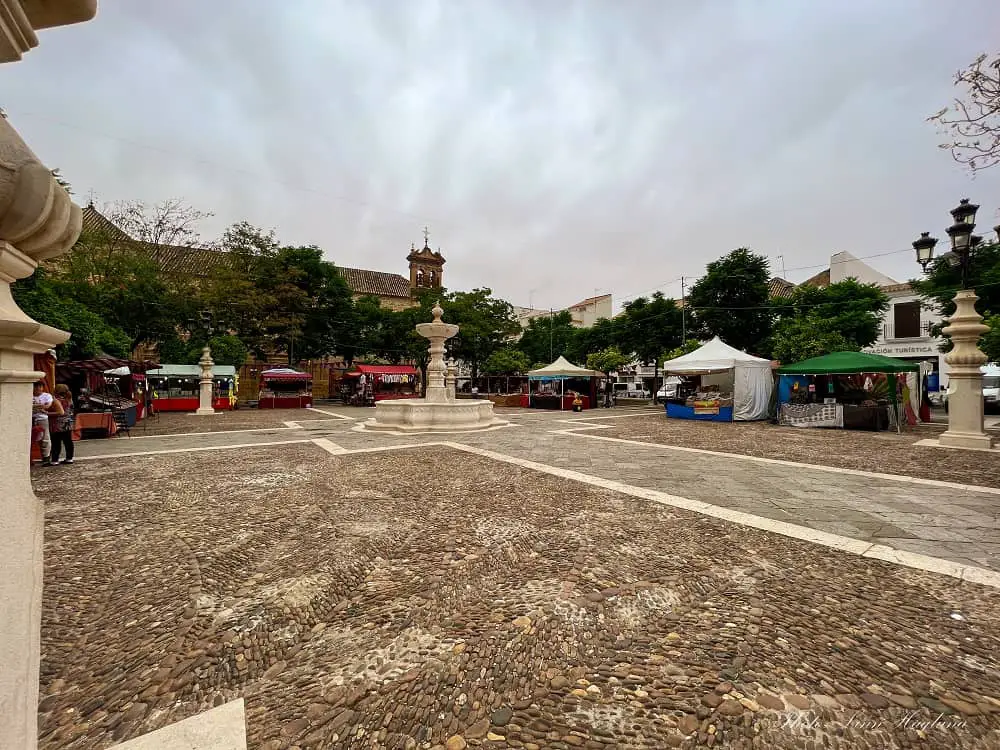 Other pretty towns in Andalucia
⭐Arcos de la Frontera, Cadiz
⭐Conil de la Frontera, Cadiz
⭐Cazorla, Jaen
⭐Iznajar, Cordoba
⭐Rute, Cordoba
⭐Osuna, Seville
⭐El Puerto de Santa Maria, Cadiz
Reflections on visiting Osuna – Games of Thrones town
There is no doubt, Osuna Spain is one of the most underrated towns in Andalucia and definitely a town near Seville worth visiting. With so much to do, including Osuna being a Game of Thrones destination, it's incomprehensible that the whitewashed hillside town isn't more popular among tourists.
In my opinion, Osuna is one of the most beautiful towns in Andalucia and a must-stop when driving between Malaga and Seville.
I hope you'll love Osuna as much as I do! Happy travels!