La Herradura, Almuñecar, Spain, is a lovely coastal town in Granada's Costa Tropical. The meaning of the name is The Horseshoe, so it is no surprise that is located in a bay, formed like a horseshoe.
While other beach towns in Andalucia see a chaotic summer season, La Herradura, Granada, is a lot more laid back and relaxing.
Crystal-clear water stretches between Cerro Gordo and the Punta de la Mona Lighthouse which both offer sweeping views of the coast.
While it is a small town, there are still enough things to do in La Herradura, Spain for a couple of days, and if you want to stay longer, it is only a short drive from the bustling Almuñecar, one of the best cities in Andalucia.
Disclosure: This post may contain affiliate links. That means that if you make a purchase through one of those links, I will get a small commission at no extra cost to you.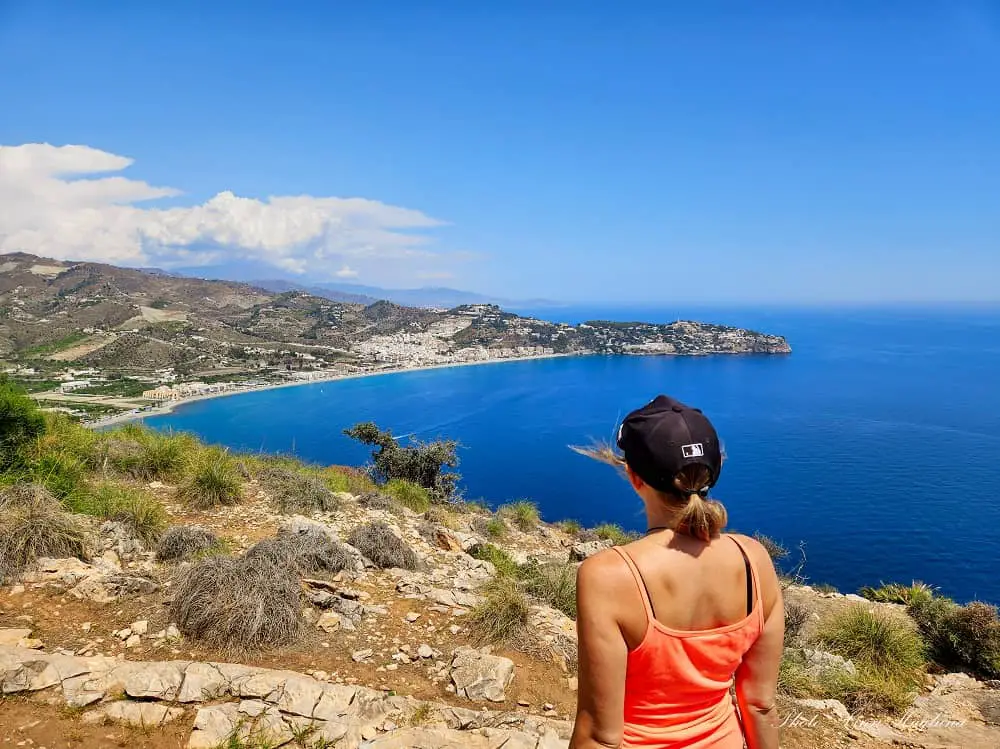 How to get to La Herradura Bay
Getting to La Herradura Bay is easiest by car, but there are direct buses from Malaga and Granada that take from 1.5 hours. You can check bus tickets and prices here.
Besides, there are local buses from Almuñecar (the blue bus) that take you there in 20 minutes and from Nerja in 15 minutes.
If you drive to La Herradura, you will easily find parking on the streets. However, in the high season, you might find it harder to find unless you arrive early in the morning, especially on weekends.
Driving is the easiest way to get around between the nearby places you might want to see on your excursion to the Herradura Bay.
Even if this gem is located on the Granada coast, it is one of the beast quiet beach towns near Malaga with less than an hours travel time.
Driving time from nearby cities:
Malaga: 55 minutes
Granada: 1 hour
Almuñecar: 10 minutes
Nerja: 15 minutes
Almeria: 1.5 hours
Best time to visit La Herradura, Andalucia, Spain
La Herradura, Almuñecar Spain is without a doubt a summer town. During the winter months, it turns into a somewhat ghost town compared to other destinations in Andalucia.
Personally, I like going there in early summer or late summer when there are fewer crowds, yet this strip of sand is usually a great retreat without too much fighting for space.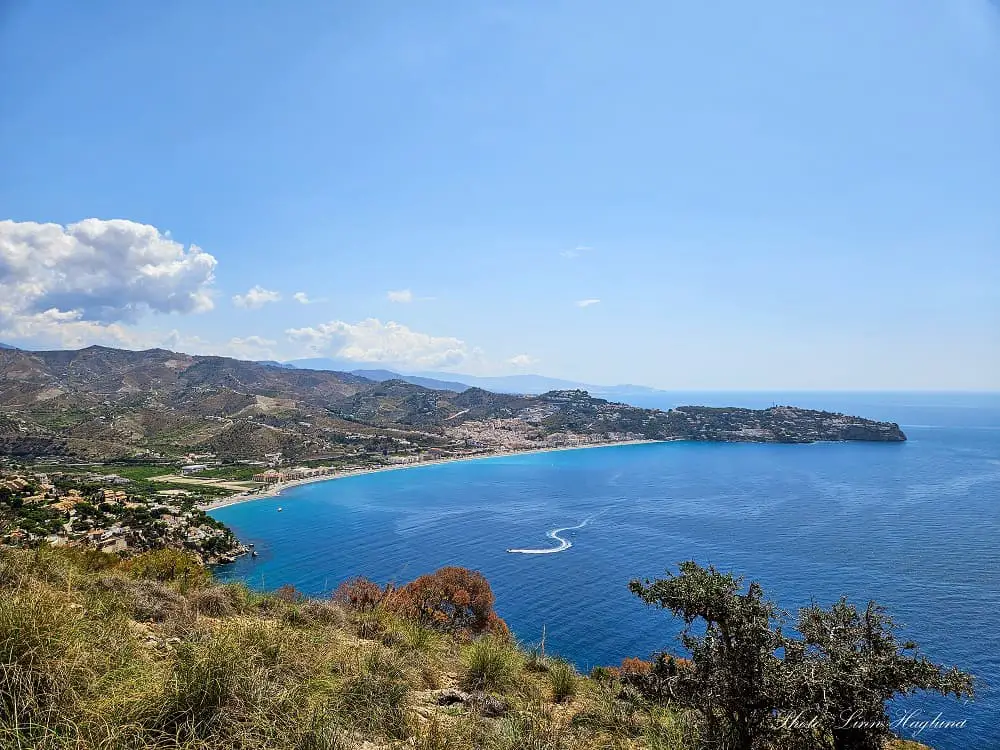 Where to stay in La Herradura, Almuñecar, Spain
There are several places to stay in La Herradura. Hotels typically require a minimum of 2-3 nights stay, which is perfect for a weekend or a long weekend getaway. Besides hotels, you find multiple holiday homes and apartments for rent.
BEST HOTELS IN LA HERRADURA SPAIN

MID-RANGE: La Tartana Hotel Boutique & Restaurant – located a 10-minute walk from the beach, this is a lovely hotel with an Andalusian-style courtyard, a restaurant, and a bar.

MID-RANGE: Hotel Almijara – a great hotel just a short walk from the beach. Some rooms have balconies with sea views. There is a bar on site and breakfast is fabulous.

MID-RANGE: Sol Los Fenicios – the hotel is located on the beachfront and has a good restaurant and bar on site. There is an outdoor swimming pool too with sun loungers.
Things to do in La Herradura
Cerro Gordo watch tower
One of the best things to do in La Herradura Spain is to see the iconic views of the bay from Cerro Gordo watch tower. You will not be able to climb the watch tower, but it happens to stand on a cliff jutting into the sea overlooking the coast from west to east.
As you can imagine, the views from up there are otherworldly. It is possible to hike from La Herradura to Cerro Gordo.
I have not done the hike myself, as I have always driven up there. It is a 12-minute drive on narrow mountain roads accompanied by spectacular views.
However, it looks like a very nice hike up a forested area and I have seen families with kids doing it too.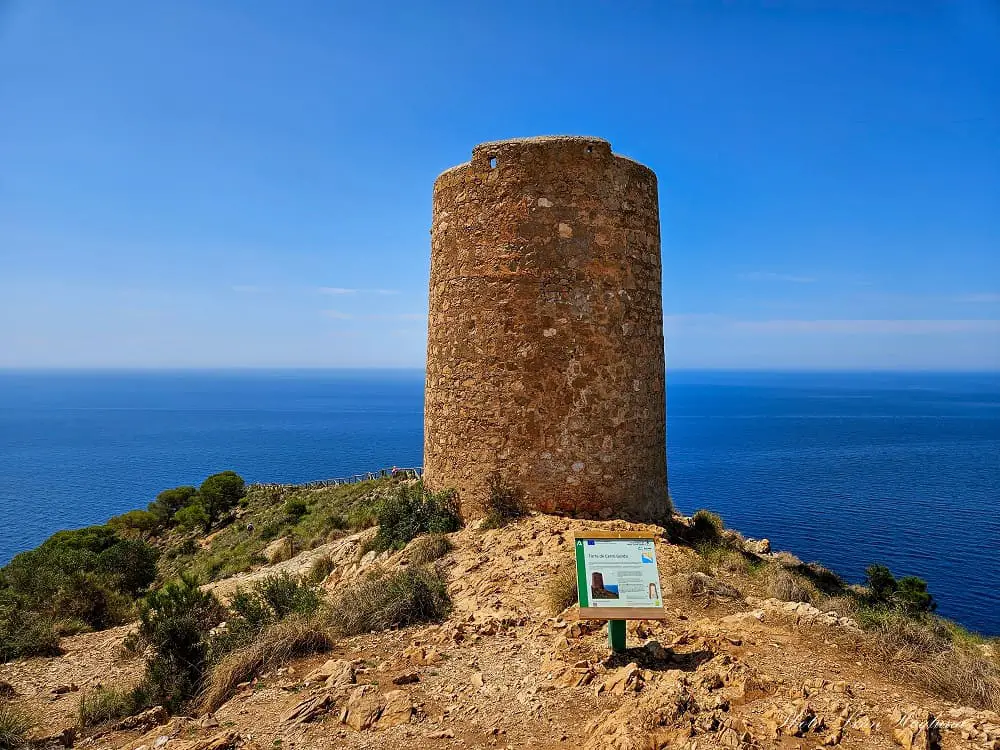 Cerro Gordo viewpoint
Cerro Gordo viewpoint is located a few meters before reaching the watch tower. Walking from the inland trail leading there (coming from the restaurant/bar) it is signposted to the right before reaching the watch tower.
The viewpoint only offers views of the west coast, so you won't see La Herradura from there, but it is also the best sunset spot in La Herradura.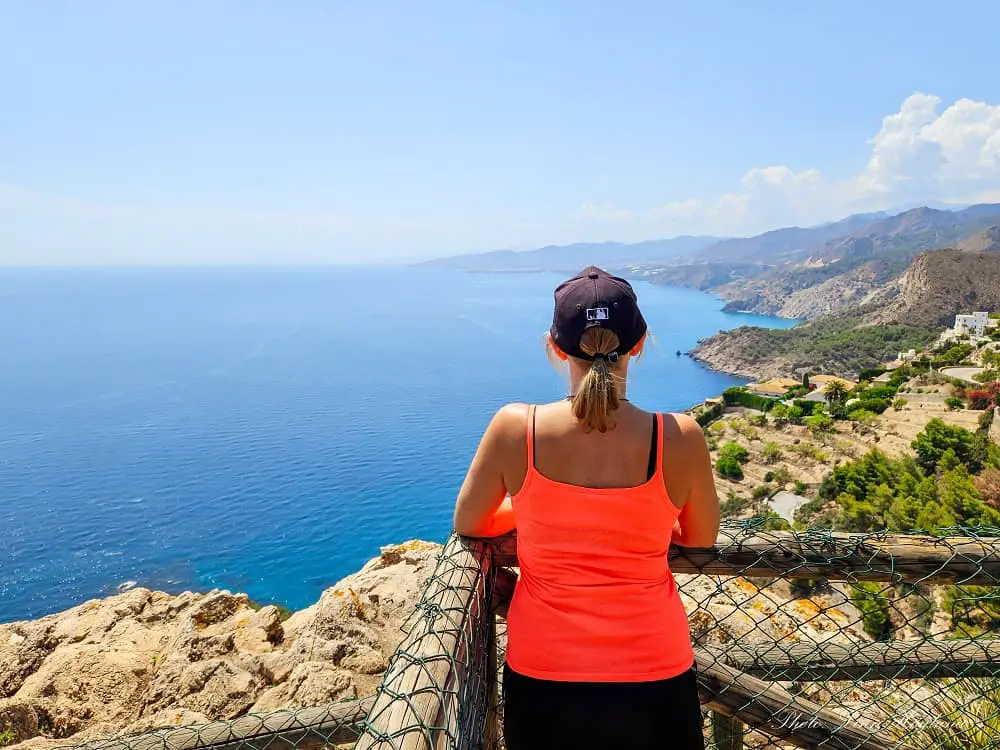 Go kayaking and snorkeling tour
The area around Cerro Gordo and towards Maro is spectacular for snorkeling and kayaking. The water is crystal clear and there is abundant sealife to see.
I suggest going on a tour, as your guide will take you to the most beautiful spots and you will learn about the area. Sea caves and secluded beaches are just some of the things you can expect from kayaking in La Herradura.
Check availability for your dates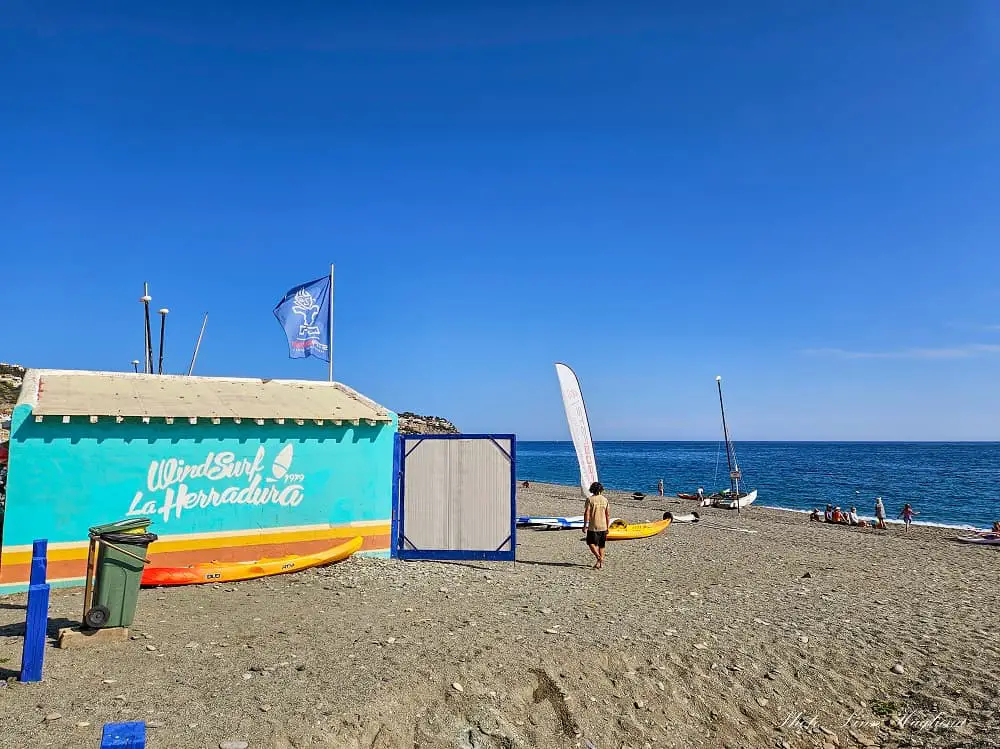 Relax at the beach
La Herradura Beach is well equipped with lifeguards in the summer, showers, sunbeds for rent, and water sports. While the beach is pebbled, as is so typical of the beaches in Granada, it also means that you can expect turquoise water that is completely see-through even on deeper ground.
Due to the location between cliffs on each side, the 2-kilometer-long beach stretch is very attractive. You can rent sun loungers and parasols or bring your own parasol to lay down closer to the shore.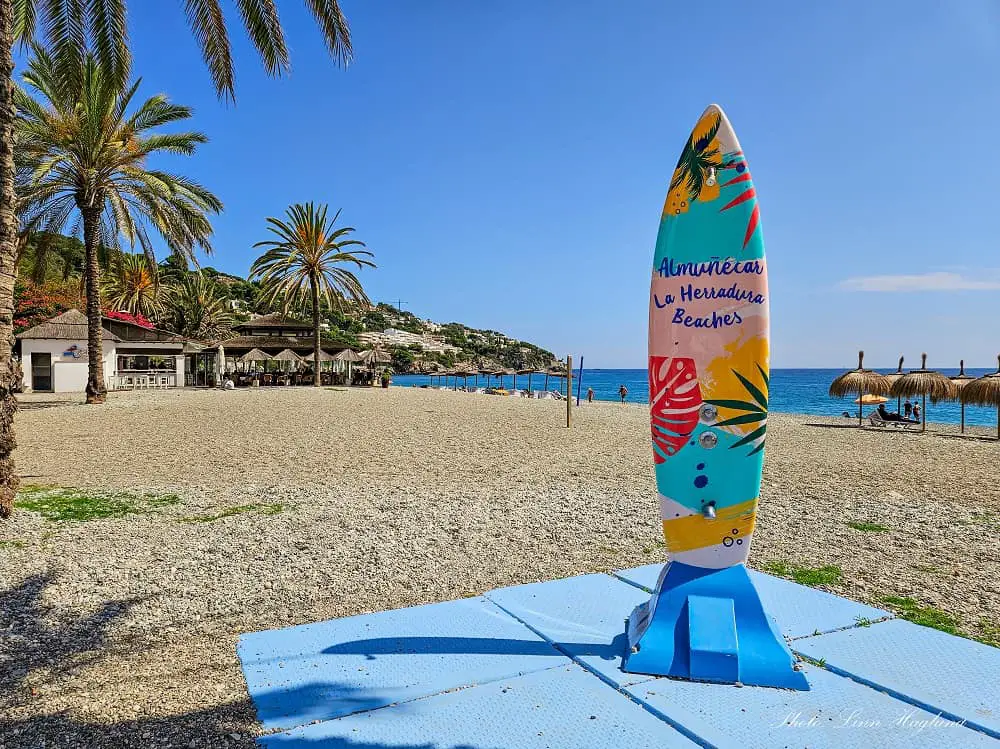 Have tapas and drinks
La Herradura, Almuñecar, Spain is a true foodie heaven. Restaurants and bars are plentiful, especially along the beachfront.
You will not go hungry in La Herradura, and there is a variety of traditional food and international options for every taste.
Like in most provinces in Andalucia, you usually get a free tapa when you order a drink, so there is a big chance you will be fine only by ordering drinks for lunch.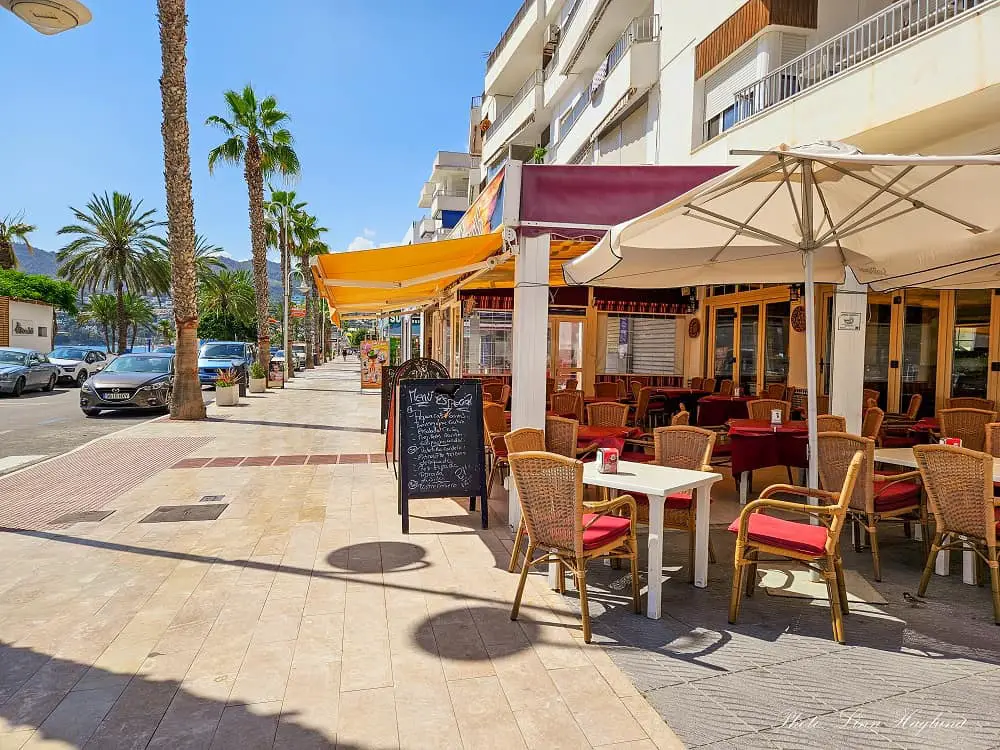 La Herradura Castle
Built in the late 1700s, the castle of La Herradura is one of the best-preserved castles in Andalucia. It was used to defend the coast from pirate and Berber attacks, but it also served as a first line defence for Granada city.
The army used the fortress until 1839 and was restored by the city hall in 2005. It is a small but well-preserved castle to visit with original canons on the front.
Inside, you find the 1562-La Furia del Mar Museum that recently opened in 2021.
Opening hours:
Wednesday-Sunday: 10:00-14:00 and 17:00-20:00
Monday-Tuesday: Closed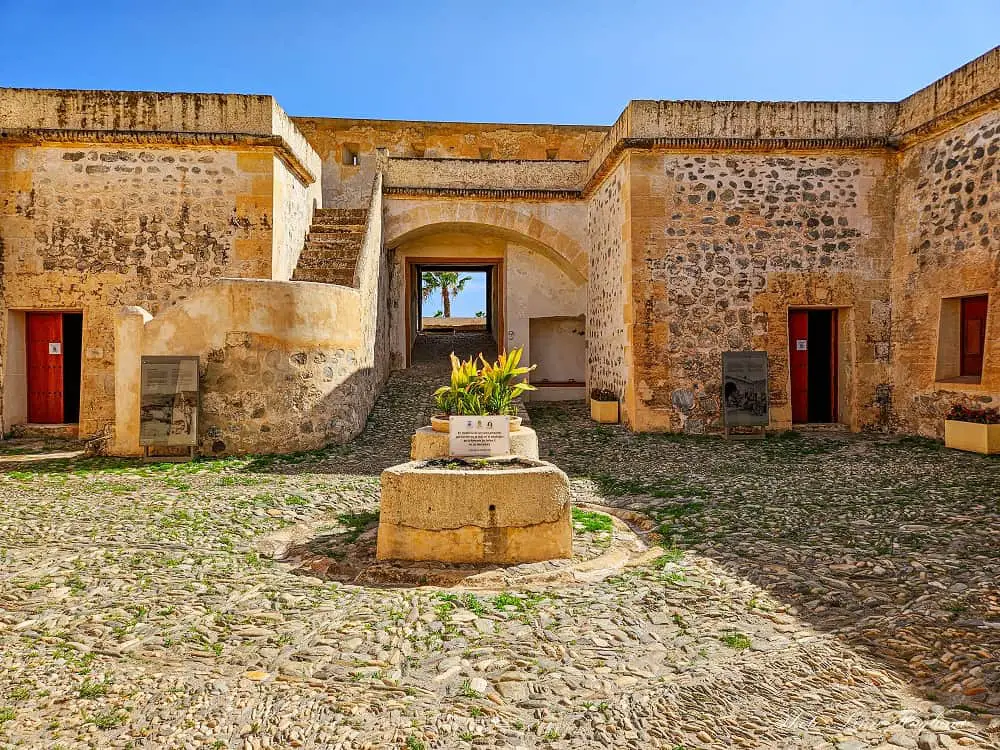 Punta de La Mona Lighthouse
Punta de La Mona Lighthouse was originally a watchtower dating back to the 1700s, protecting the coast together with Cerro Gordo watch tower. It wasn't before 1992 that it was converted into a lighthouse.
It rises 10.5 meters high and can be seen from Balcón de Europe in Nerja after dark as it flushes light over the Mediterranean every 5 seconds.
It stands on the opposite side of Cerro Gordo in La Herradura and is a picturesque walk from the town center through a steep, winding road flanked by colorful rhododendron cascading down whitewashed walls.
The views get better and better as you get to the top where you get sweeping views of the Merina del Este and Almuñecar.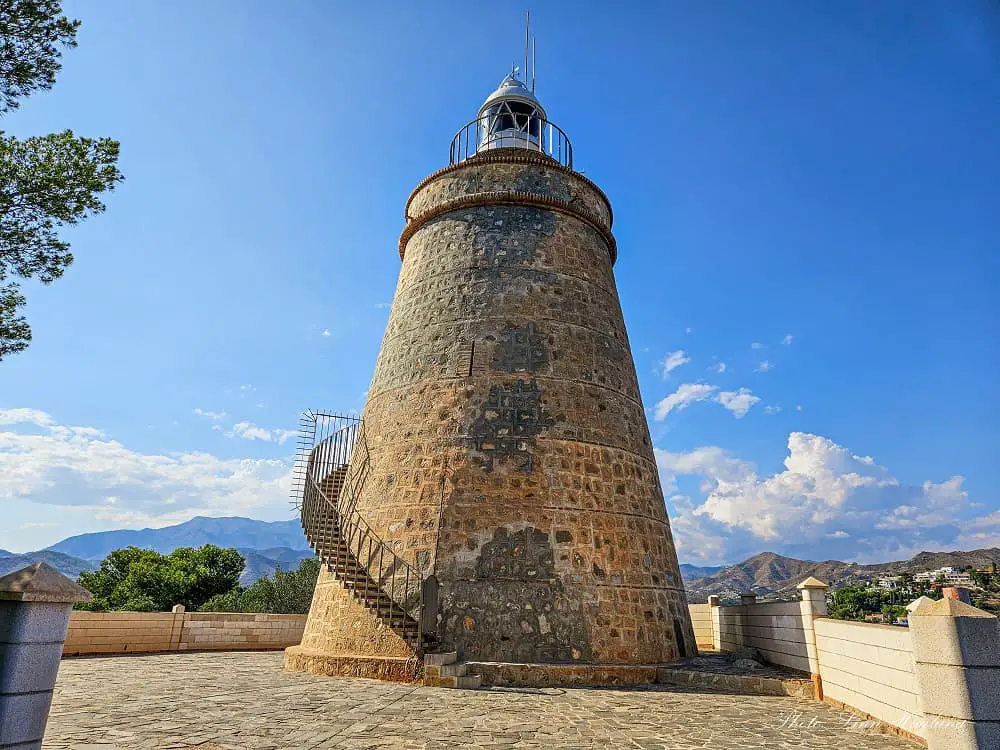 San Jose and Santa Rita Hermitage
San Jose and Santa Rita Hermitage was built in the 1970s by Francisco Prieto Moreno. It is a wonderful escape right next to the lighthouse. You can basically walk down the path behind the lighthouse and get there in a few minutes.
Behind the chapel, there is a nice recreational area shaded by pine trees with spectacular views of Almuñecar. Going for a walk up there is by far one of the best things to do in La Herradura.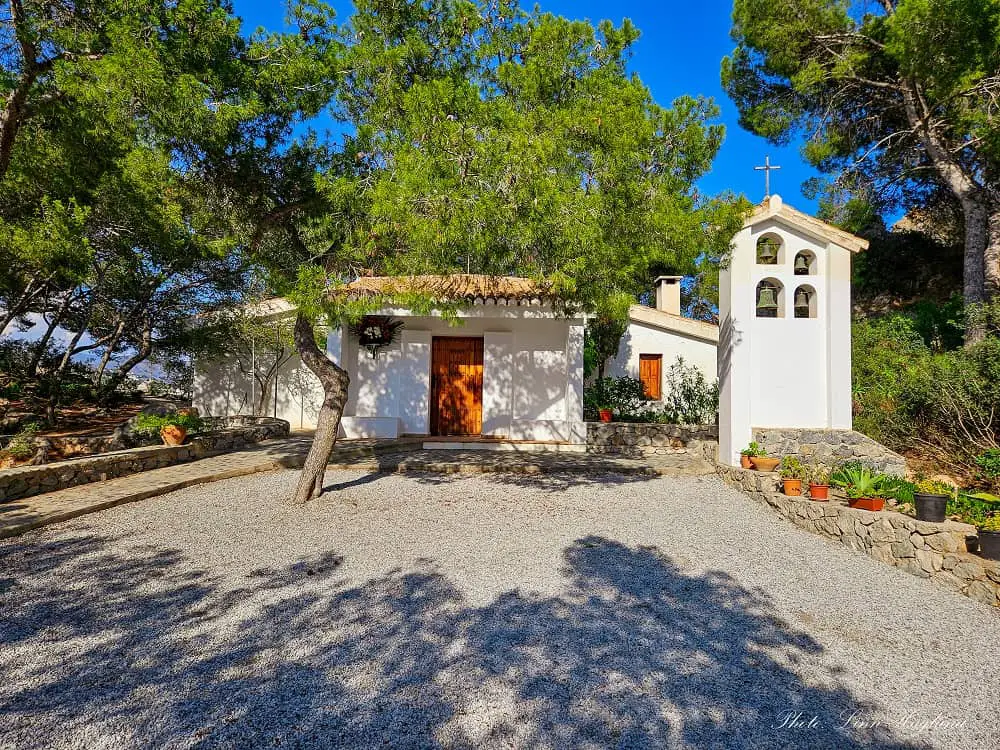 Marina del Este
Tucked below the Punta de Mona cliffs, Marina del Este is a relaxed harbor with promenades, restaurants, and cafés. There is also a diving center there for those who want to explore the underwater world around La Herradura, Nerja, and Maro.
Going for an evening stroll at Marina del Este and having dinner with wine at one of the restaurants, is a relaxing experience in La Herradura. Andalucia, Spain in the summer can get very crowded and busy, and Marina del Este somewhat gives you an opportunity to wind down.
Explore the Cotobro Roman Bridge
Located between La Herradura and Almuñecar off the N340, you find one of the best-preserved Roman bridges in Andalucia.
The Cotobro Roman Bridge is nestled deep in the countryside and you must wear good walking shoes to get down the steep tracks leading to it. It is not recommended to walk down there for anyone with mobility impairment.
The bridge is situated on what used to be one of the most important Roman roads, Vía Heracleia, which started in Cadiz and ended in Rome.
It is only 18 meters long with one eye, thus also known as Alcantarilla de Cotobro. Alcantarilla refers to bridges with one eye.
While the bridge has undergone several remodeling projects throughout history, it originates from the 3rd century. If you are up for a little adventure, this is a great attraction to add to your La Herradura holidays.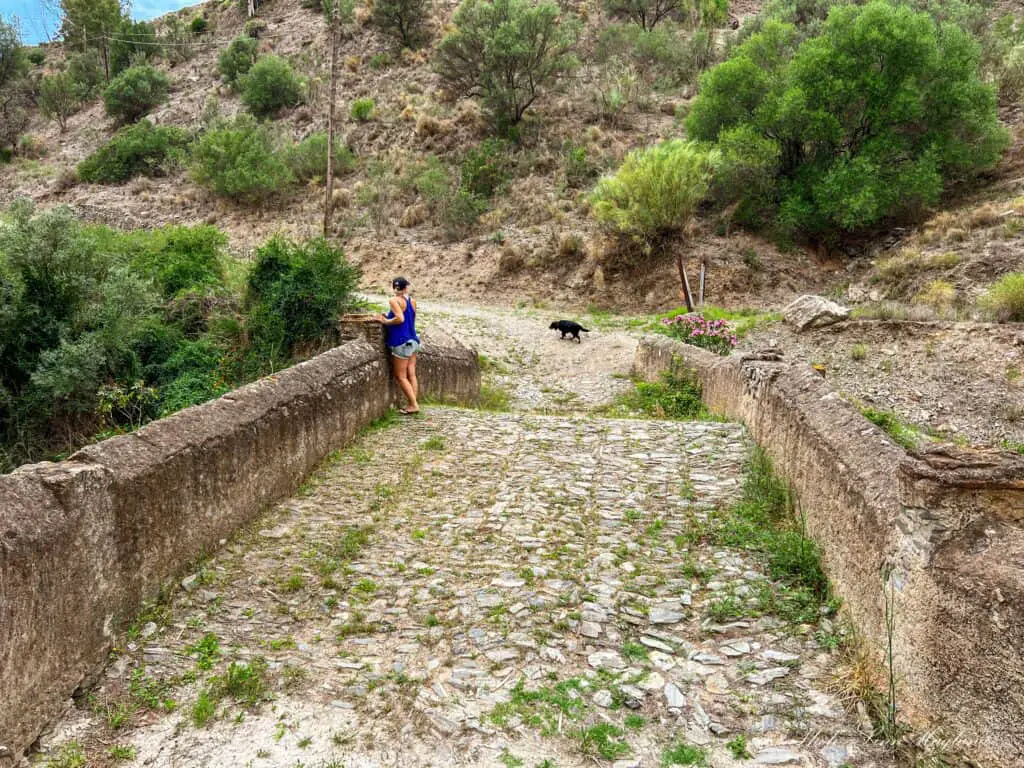 EPIC PLACES TO VISIT NEAR LA HERRADURA:
Almuñecar
Salobreña
Torrenueva
Reflections on visiting La Herradura Spain
As you can tell, in La Herradura, things to do are quite abundant considering the small size of the town. If you are looking for a relaxing beach destination with outdoor activities, this is by far one of the best beach towns near Malaga to go.
La Herradura, Granada, Spain is by far a favorite of mine and I highly recommend going. Just be aware, that it can get pretty dead outside of the tourist season, so even early June is way more empty than July and August.
Happy travels!