Not many places steal your heart like Calahonda. Granada's Costa Tropical boasts glittering turquoise water with visibility that reminds me of the Caribbean.
The pebbly beaches make the water crystal clear and Granada's Calahonda beach town happens to be located right next to a steep cliffside with caves and secluded beaches making it the ideal setting for snorkeling, paddleboarding, and kayaking.
One of the things I love about Calahonda, Granada (not to be confused with Calahonda in Malaga) is that it has a mainly Spanish tourist crowd and it makes you feel like you are in Spain (if you have spent substantial time in Costa del Sol you know what I mean.) Yet the tiny town sees different nationalities every summer.
Besides, it boasts an energetic summer vibe with vibrant bars and restaurants, especially on the weekends, and there are water activities to enjoy for the entire family.
Finally, Calahonda's proximity to destinations like Salobreña and Almuñecar gives you plenty of day trip options if you stay for a longer time and want a break in the relaxing beach vibes.
Disclosure: This post may contain affiliate links. That means that if you make a purchase through one of those links, I will get a small commission at no extra cost to you.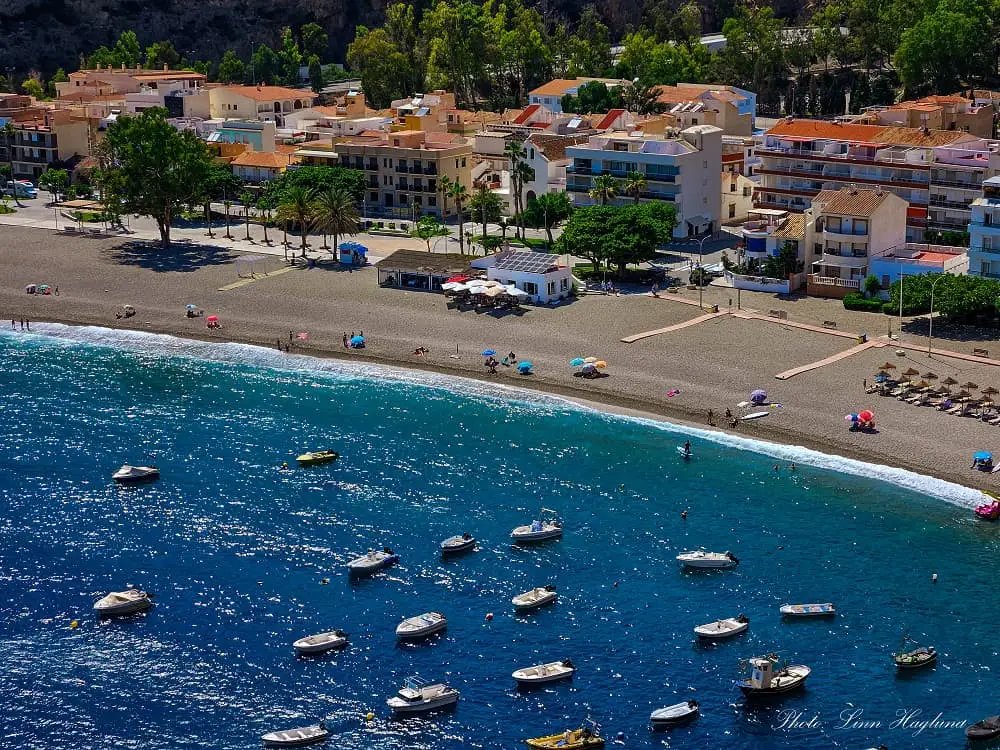 How to get to Calahonda, Costa Tropical
The best way to travel to Calahonda, Costa Tropical, is by car. You will be surprised as you descend towards the coast as you are met by the immense pre-Almeria plastic sea of greenhouses only leaving space for a couple of squares with houses and streets next to the coast.
But once you enter the little square that is Calahonda, the greenhouses seem a world away. So don't get fooled.
There is plenty of free parking by the beach and along the streets. But in the high season, it might be hard to find parking, especially on the weekends.
Here is the approximate driving time from nearby cities:
Almuñecar: 30 minutes
Granada: 55 minutes
Almeria: 1 hour
Malaga: 1 hour and 15 minutes
Traveling by bus implies changing buses in Motril. So whether you come from Malaga, Granada, or any other place, you must first find a bus to Motril and from there, find a local bus taking you further to Calahonda.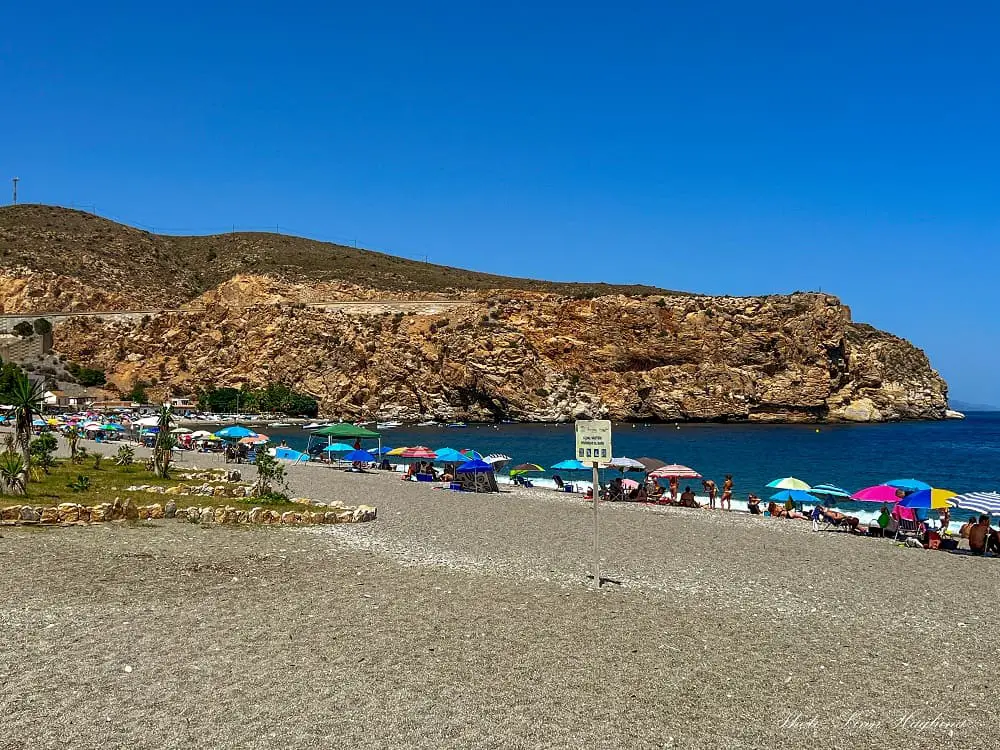 Best time to visit Calahonda, Granada
Calahonda is primarily a summer town and its main attractions consist of water activities. The population in Calahonda, Granada basically triples over the summer.
However, if you are looking for a relaxing getaway at any other time of the year with close proximity to Motril or Almuñecar, it is a fabulous and budget-friendly place.
Where to stay in Calahonda, Granada
Calahonda, Granada is jam-packed with holiday homes, but there are also a few hotels to choose from. Here are some of my top picks.
WHERE TO STAY IN CALAHONDA GRANADA

MID-RANGE: Hotel El Ancla – a bright and modern hotel at a stone's throw from the beach. They have a restaurant and bar on-site serving traditional Andalusian food.

MID-RANGE: Hostal Miguel – located close to the beach, this is also a good hotel with a restaurant and bar.

APARTMENT: Neverending Rijana – a lovely bright and sea-themed apartment that sleeps up to 7 people. It is also pet friendly and is a short walking distance from the beach.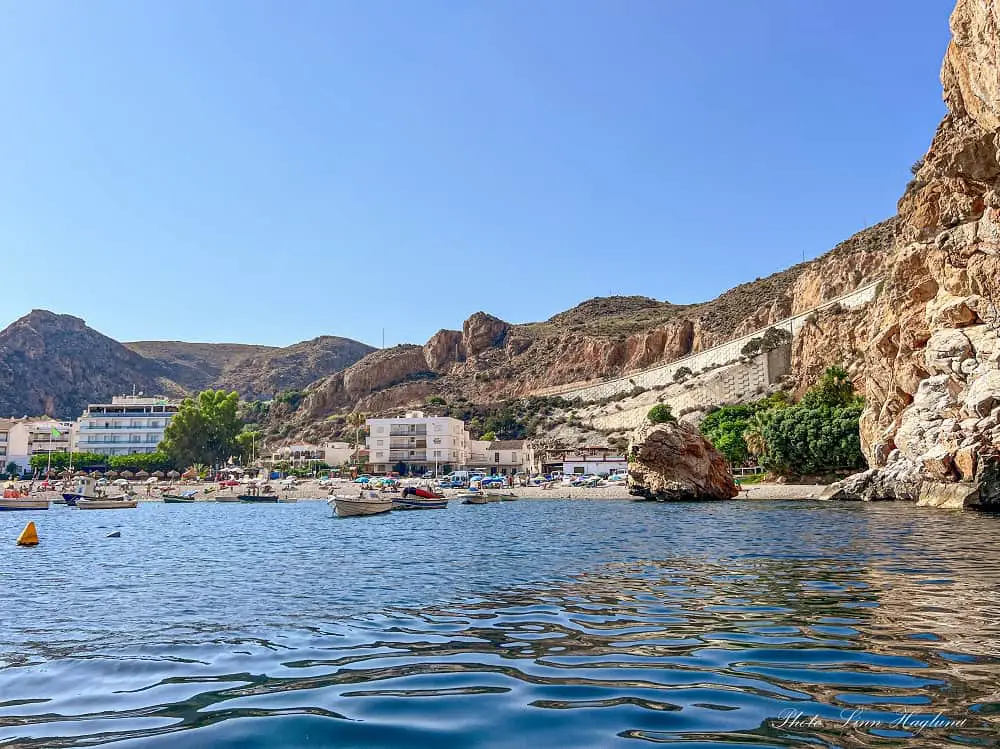 Things to do in Calahonda Granada
Kayak along the cliffs
One of the absolute best things to do in Calahonda, Granada is to go kayaking or paddleboarding along the cliffs. The water is so clear you can see straight down to the bottom when kayaking near the cliffs, it is absolutely mesmerizing.
You will pass a cave where you can enter, it is recognized as Cueva de Las Palomas (Pigeon Cave) due to the many pigeons living there. So don't freak out when they fly over your head!
Further up the coast, you will reach a couple of secluded beaches. This is how far we reached on a one-hour kayak trip. I can't say it enough, the coast there is absolutely incredible and you will not regret renting a kayak.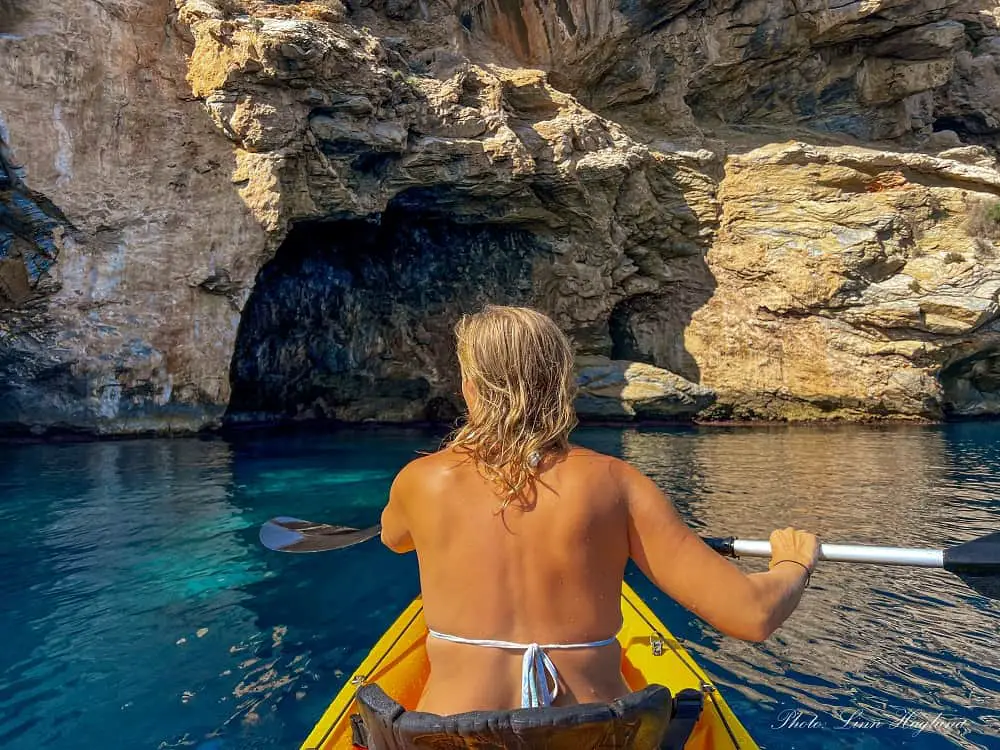 Go snorkeling
With such crystal clear water, there is no surprise that snorkeling is fabulous in Calahonda. Keep along the cliffs on the left of the beach and you will be marveled by colorful fish and underwater caves.
Even close to the beach, there are beautiful things to see underwater, so if you go with kids or are not comfortable going too far from the beach, you will still have a great time in the water.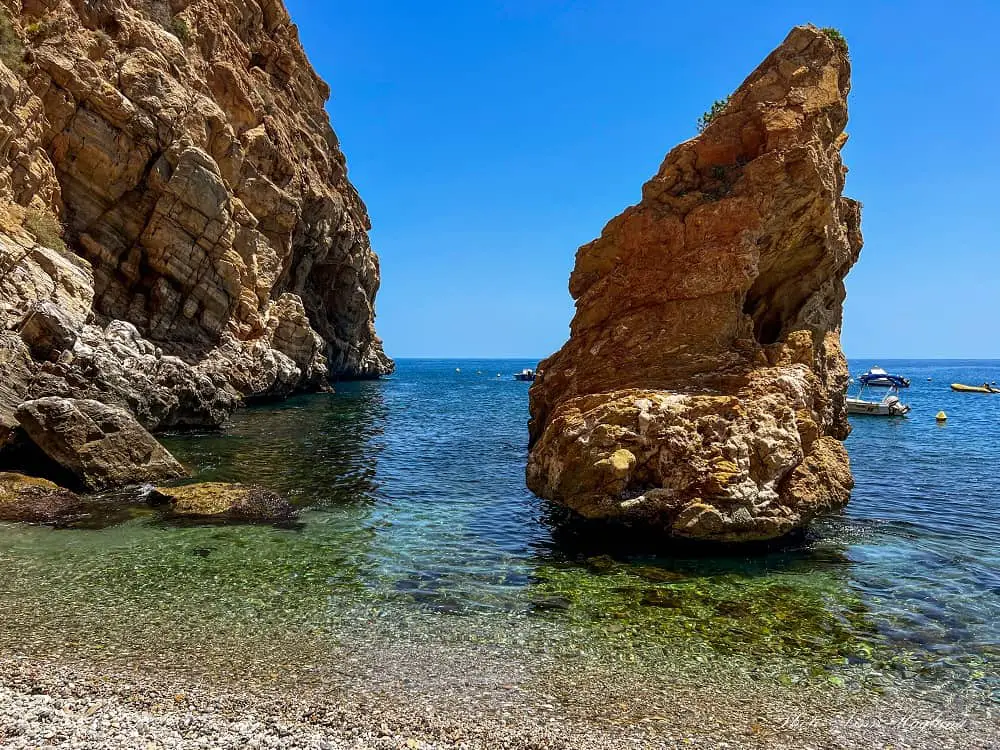 Calahonda Viewpoint
Along the N-340 coastal road, you can admire the beautiful beach of Calahonda from the Calahonda Viewpoint. While you can walk along the road to get there, I do recommend driving and parking by the viewpoint.
The cars drive extremely fast up the hill and personally, I don't feel like it is safe to walk. There is no walking path along the road.
Also, once at the viewpoint, be careful as there are no security rails keeping you from the edge of the vertical cliff you are standing on.
Warnings aside, the views are nothing but spectacular!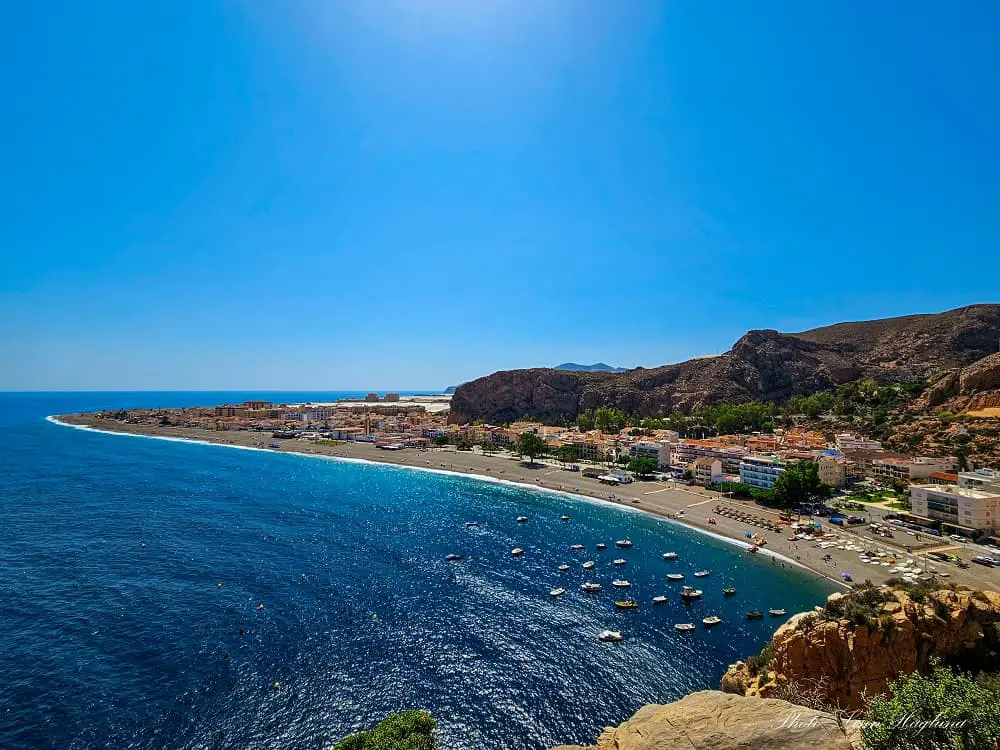 Chill on the beach
If you just want to relax, rest assured that Calahonda Beach will fulfill your yearning. there are sunbeds and shade for rent, lifeguards in the high season (usually from 12:00-20:00,) and plenty of beach bars and kiosks where you can grab an ice cream at any time of the day.
If you travel with family, there are also pedal boats (even with slides) for rent besides paddleboards, kayaks, and jet skis.
The beach also has a designated area for people with mobility impairment with assistance.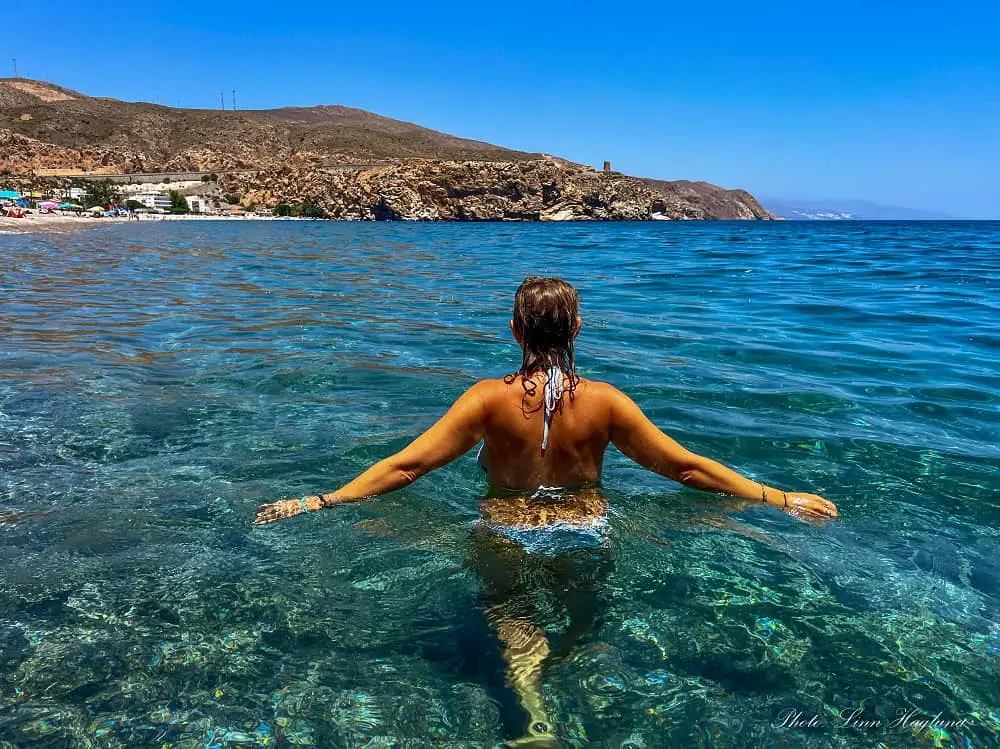 Have tapas and drinks as a local
Calahonda, Granada is a haven for foodies with a plethora of local restaurants and lively bars. And remember that you are in Granada, so most places will serve you a free tapa when you order a drink.
I would love to recommend some places to eat but to be completely honest, no place has yet disappointed me, so I am sure you will be pleased with whatever choice you go for.
See Torre del Llano
Located between Playa de Calahonda, Granada and Carchuna Beach, the leaning watchtower easily catches your eye. It is one of the most iconic landmarks of Calahonda and apparently, it is leaning more and more every year.
The tower was built in the 16th century and is a former Moorish watchtower and lighthouse. There is not much information about it besides this, but nonetheless, it is worth going for a stroll along the beach to see it.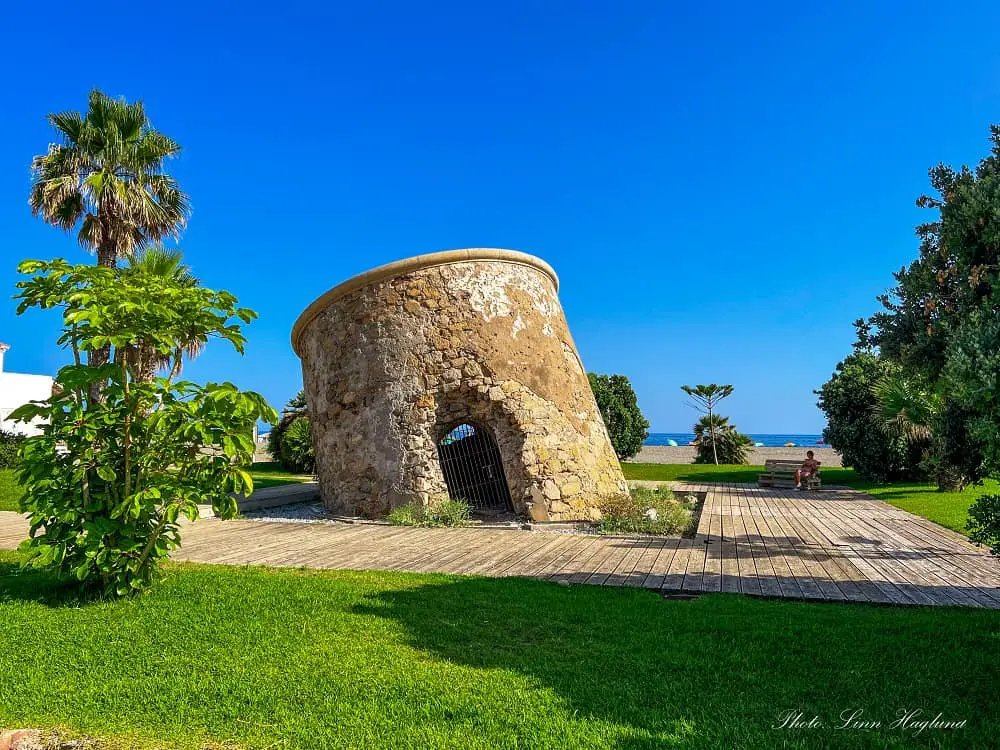 Castillo de Carchuna
Just a few minutes from Calahonda you reach Carchuna. There, you can visit the Carchuna Castle, also recognized by the name of El Castillejo.
It was built in the 18th century, and ordered by King Carlos III to protect the coast from pirate attacks. In my opinion, it is a pretty cool, yet small castle.
The castle was actually used by the Civil Guard until the 1970s. Now, there is a small museum inside alongside some temporary exhibitions.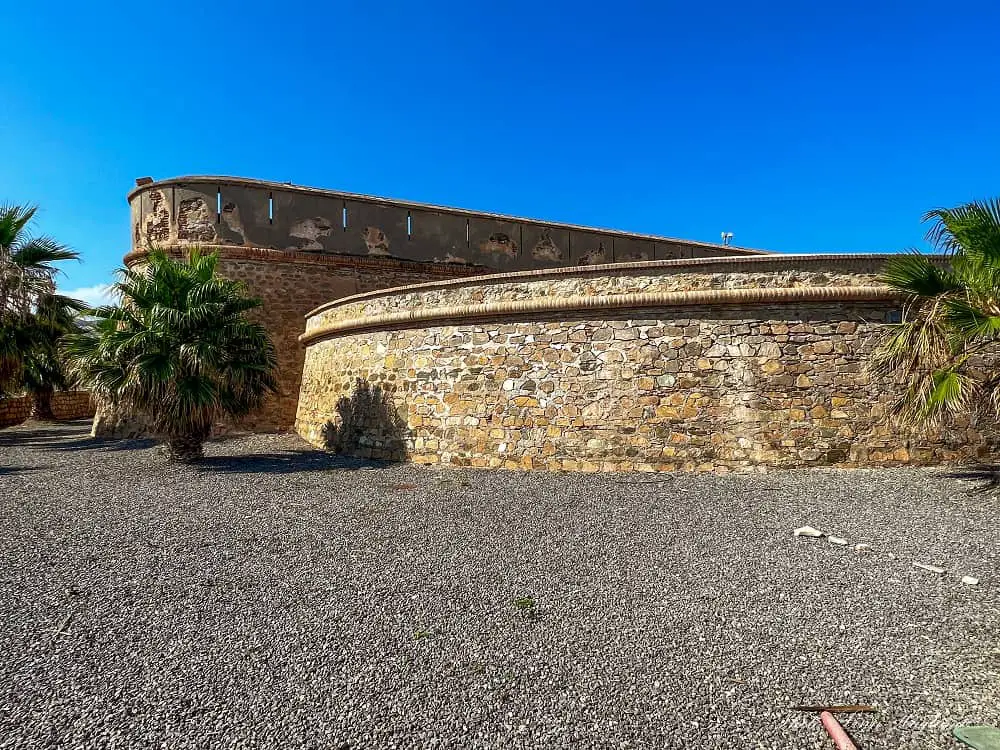 CHECK OUT OUR VLOG ABOUT CALAHONDA AND TORRENUEVA
Places to visit near Calahonda, Granada
Torrenueva Costa
Torrenueva Costa is one of the best-hidden gems in Andalucia. Only a 10-minute drive from Calahonda, it boasts some of the best-equipped beaches I have seen in Andalucia and it is incredibly accessible for people with mobility impairment.
The little beach town is also home to the first hanging bridge over the Mediterranean in Spain, a unique place that I highly recommend experiencing.
There is a cliff hike taking you along jaw-dropping viewpoints and further to the seamless naturist beach, La Joya Beach.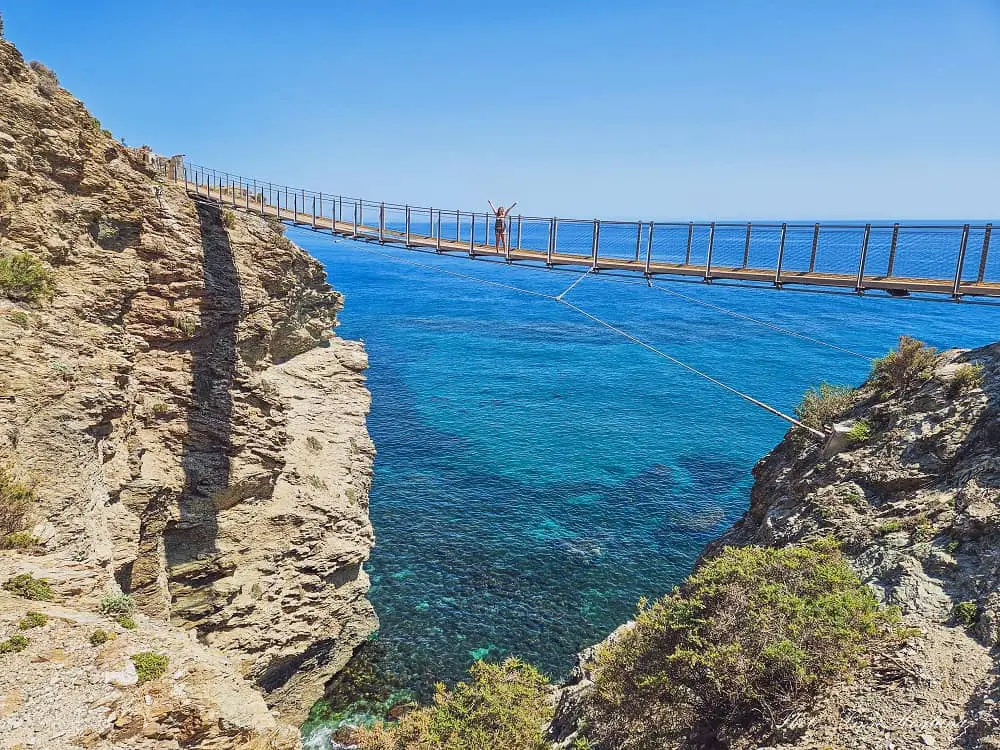 Salobreña
Salobreña is one of my favorite coastal towns in Andalucia, located only 20 minutes west of Calahonda on the Costa Tropical.
Among the top things to do in Salobreña is to visit the hilltop castle that crowns the enchanting whitewashed town and overlooks the coastline.
There are also snorkeling opportunities and cliff jumping for active travelers at the "peñon," the characteristic rock jutting into the sea separating the town's two main beaches, Charca/Salomar Beach and La Guardia Beach.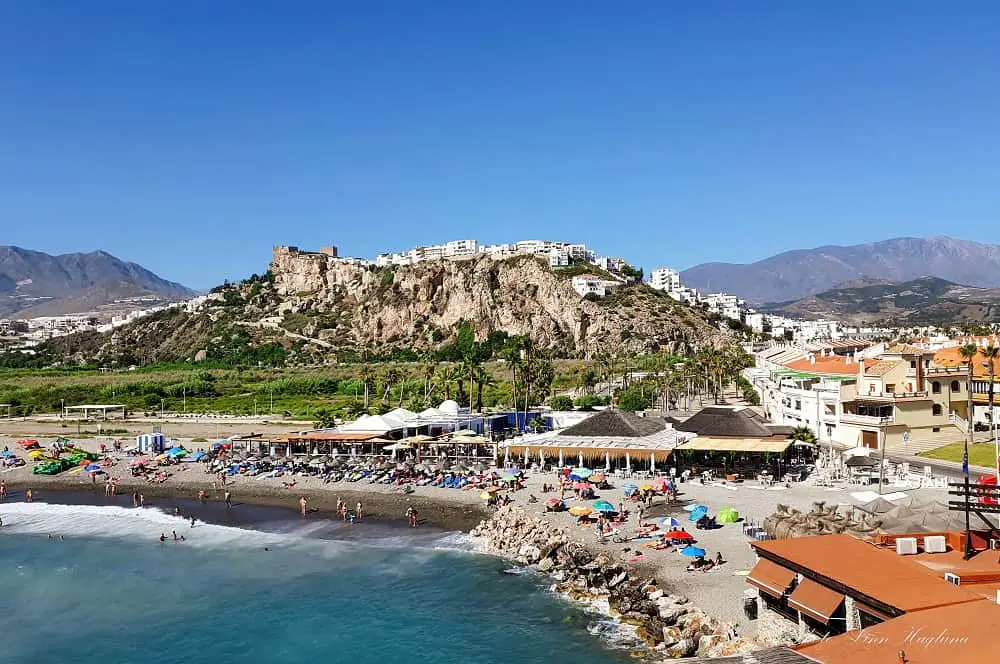 Almuñecar
Almuñecar is one of the prettiest cities in Andalucia that has a beach and is located only a 30-minute drive from Calahonda.
There is an abundance of things to do in Almuñecar, from enjoying the views from Peñon del Santo to wandering the botanical gardens where you can marvel at 1st-century Roman ruins of a fish salting station. You should not miss out on visiting Almuñecar Castle, which happens to be one of the best-preserved castles in Andalucia.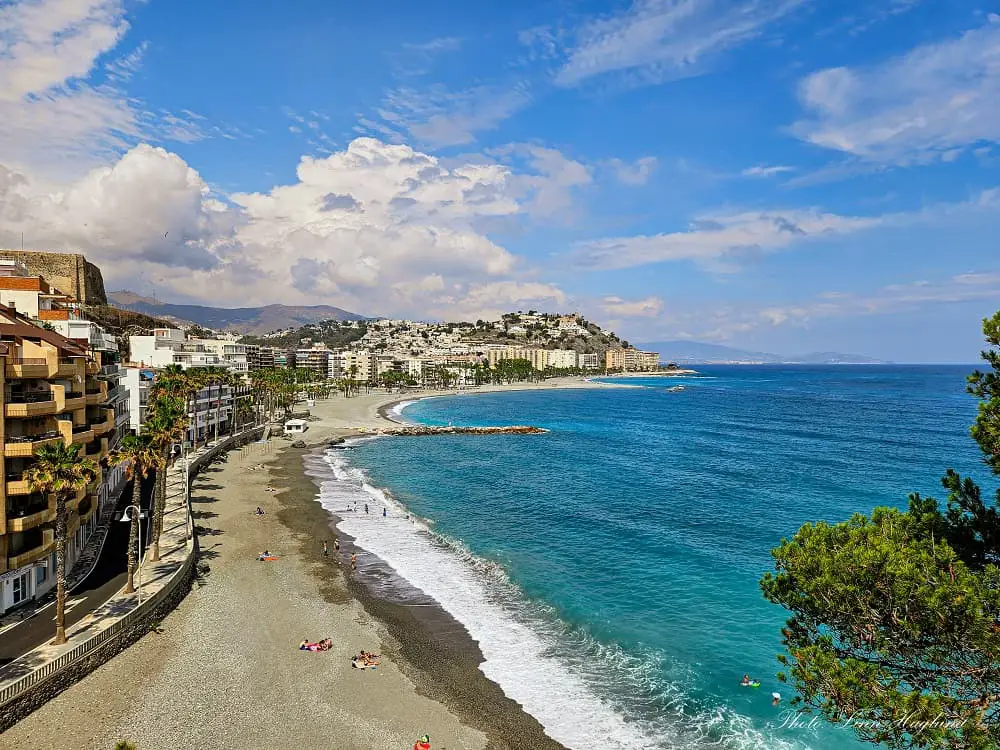 La Herradura
La Herradura is a charming little coastal town past Almuñecar. It is basically consisting of a 2-kilometer beach strip in a picturesque bay.
But there are plenty of things to do in La Herradura, from kayaking and snorkeling to hiking to Cerro Gordo watch tower to see the spectacular views of the coastline in both directions. Exploring the castle, and hiking up to Punta de La Mona where you find both a lighthouse and a hermitage with splendid views of Almuñecar.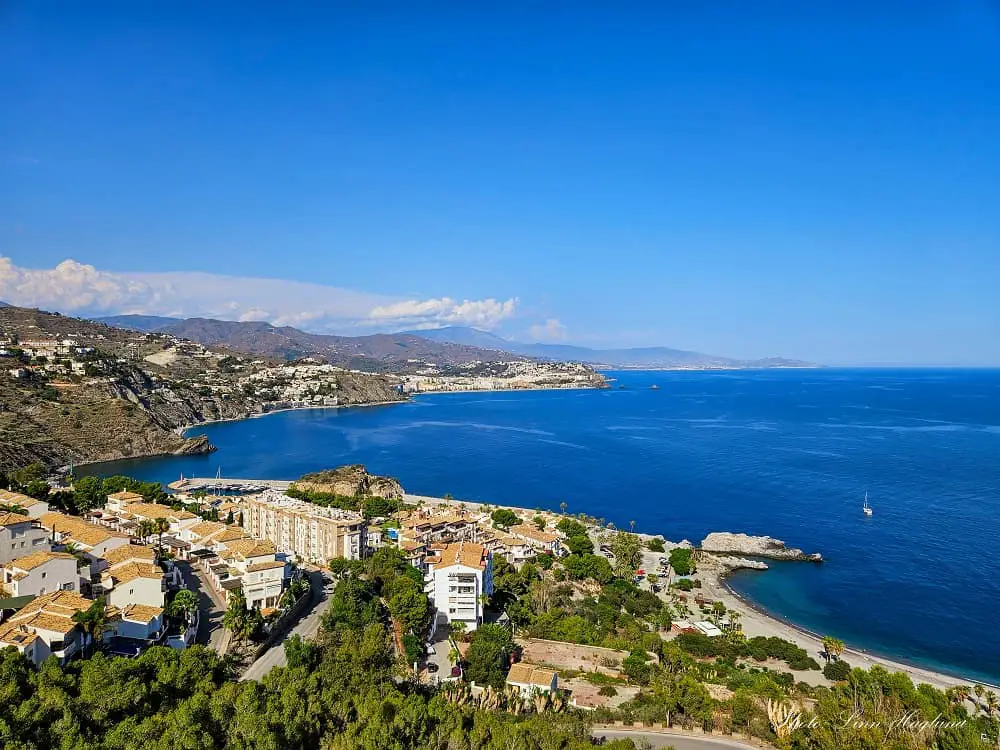 Reflections on Granada's Calahonda
Summed up, Calahona on Granada's Costa Tropical is a paradise for anyone that is looking for a smaller destination, water activities, and very Spanish.
I fell completely in love with this place and we have returned time after time. In fact, I'm there right now as I write for the second time in only a couple of weeks – life has it with moving you to the places you love if you let it.
Happy travels!