If you are planning a weekend in Marbella, you are in the right place. It can feel daunting to start planning your holidays in Marbella Spain as there is so much to do and see.
With its pristine beaches and quaint old town, Marbella boasts an energetic summer vibe and you can easily get stuck on the beach and forget to see anything else during a Marbella weekend break.
I have curated this 2-day itinerary, especially for you so that you can go ahead and do all the fun stuff. I know that you often will arrive on a Friday afternoon or evening and leave on a Sunday evening.
So if you can easily move Sunday evening's events to Friday on your arrival to make sure you make the most of it without any stress.
However, if you have a long weekend in Marbella, you can easily spend more time exploring museums, shopping, or going hiking than you would with 2 full days.
No matter how you choose to spend your weekend, I am sure you will have a blast in this diverse city of Andalucia. Read on for my suggestion on a Marbella weekend itinerary.
Disclosure: This post may contain affiliate links. That means that if you make a purchase through one of those links, I will get a small commission at no extra cost to you.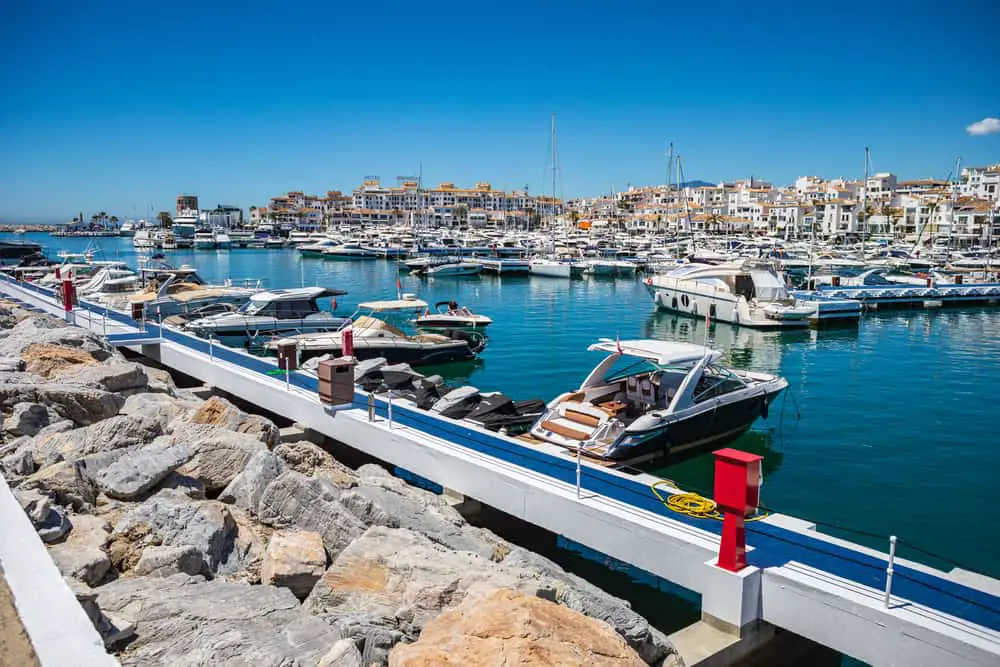 How to get to Marbella
Marbella is perfectly located on Costa del Sol, only a 40-minute drive from Malaga Airport. This makes it easy to reach the city from the airport by car, bus, and even by private transfer.
By car – if you plan on visiting Marbella in 2 days as part of an Andalucia road trip, you might want to look for a hotel with free parking. Otherwise, there are several underground parking houses where you can pay a fixed max fee every 24 hours. Check for rental cars here.
By bus – the bus from the airport to Marbella takes around 50 minutes. You need to take the bus direction Estepona. Avanza bus company runs directly from the airport.
By transfer – this is the perfect option for those who want to save themselves the hassle of public transportation and do not need a car. Book your private transfer here.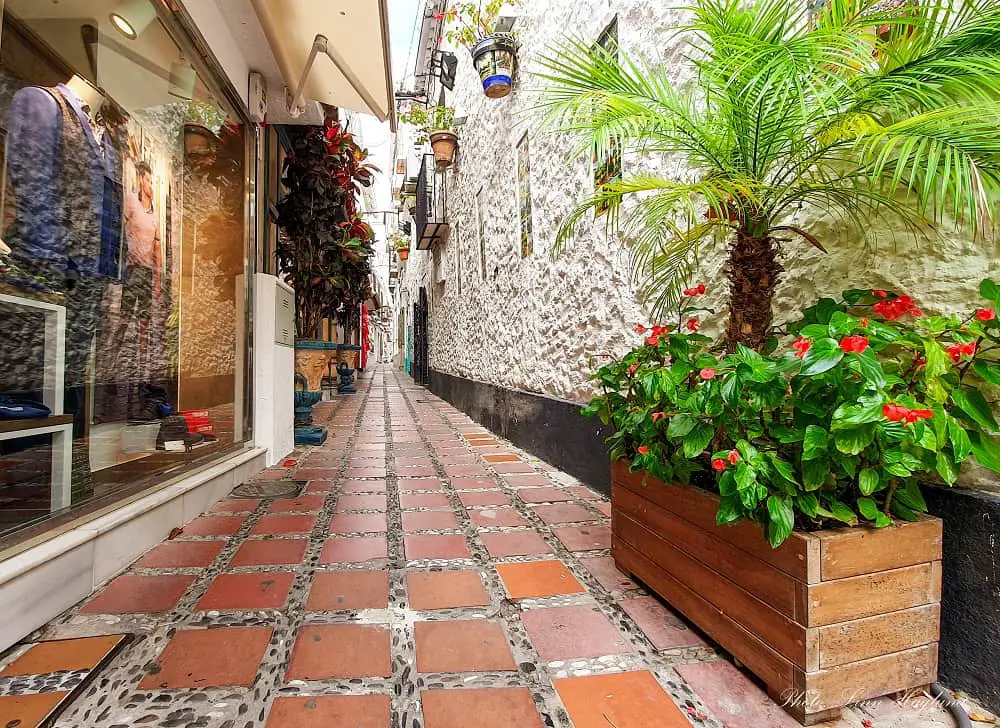 Best time to go for a weekend to Marbella
Marbella is a fabulous destination all year round. But if you are looking for water sports, boat rides, and beach parties, then the summer months are best.
That said, July and especially August are extremely busy, so if you can go in June or September, you will still get the summer vibes, but with slightly less pressing crowds.
Marbella in winter is just as lovely, with Christmas lights decorating the streets, so even when the temperatures feel a little crisper, the atmosphere warms you up.
September to May is also the best time of the year for hiking in the mountains that stand as a majestic backdrop of Marbella.
Where to stay for a weekend break to Marbella
There are plenty of places to stay in Marbella, but I do recommend staying in the Old Toen if it is your first time in the city. Here are some of my top recommendations.
LUXURY: Puente Romano Beach Resort – with a wealth of swimming pools, a private beach area, a spa, and a fitness room, this is by far the best place to stay in Marbella. Located on the Golden Mile, you can not expect anything but excellence from this hotel.

MID-RANGE: Hotel Marbella Fusión – located in the old town with a restaurant and bar on-site, this is a lovely hotel with a bright and charming interior and a rhododendron-draped front wall.

BUDGET: La Morada Mas Hermosa – located in the heart of Marbella Old Town, you find restaurants and bars at your doorstep. Bright and comfortable rooms make this a great choice.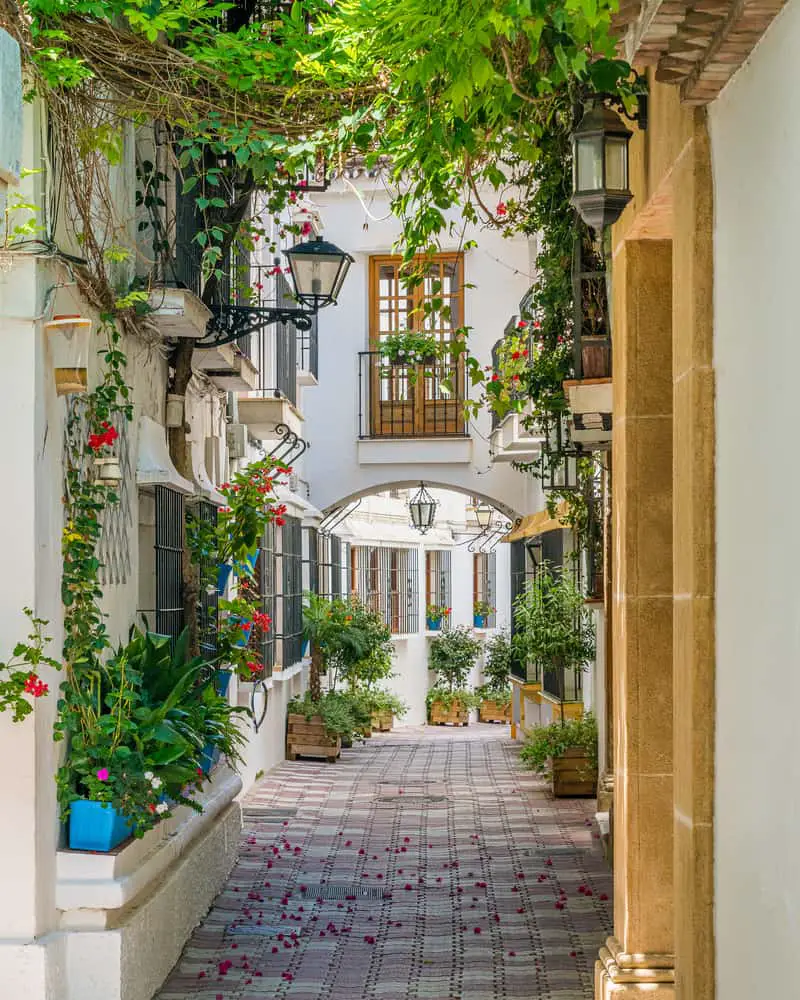 RELATED: Malaga vs. Marbella – which is best?
Day 1: Weekend in Marbella
Dive Deeper into Art at the Contemporary Engravings Museum
Kickstart your enriching weekend in Marbella with a visit to the unique Contemporary Engravings Museum. This cultural treasure, tucked within the enchanting framework of the historic Bazán Hospital, is an unmissable stop for art enthusiasts embarking on short breaks to Marbella.
As you traverse the museum, you'll immerse yourself in a rich tableau of works, many of which hail from renowned Spanish and international artists.
Each room offers a new journey through time, unraveling the progression of engraving techniques across different eras.
From Picasso's emblematic lines to the surrealist reverie of Miró, every corner breathes life into its artistic prowess, setting the tone for your Marbella long weekend.
Rediscover Nature at Parque de la Represa
Following your artistic exploits, immerse yourself in the natural serenity of Parque de la Represa. Nestled in the city's heart, this urban oasis has an unrivaled ability to transport its visitors into a tranquil world away from the city's bustle.
It's no wonder that Parque de la Represa has quickly become a beloved part of many Marbella weekend breaks.
Explore the park's verdant landscapes, admire the reflective calm of the pond, and marvel at the charm of its sculptures. Each element offers a refreshing experience, perfect for recharging during your Marbella weekend trip.
Unravel History with a Stroll through the Old Town
Your weekend break in Marbella deserves substantial time dedicated to exploring the city's enchanting old town. This historical gem, brimming with Andalusian charm, offers narrow, winding cobblestone streets leading to the hidden treasures of Marbella's rich heritage.
Walking through its enchanting streets is by far one of the best things to do in Marbella.
In the heart of the old town, you'll find Plaza de los Naranjos, an iconic square steeped in history. The name of the square means Square of the Orange Trees.
So expect it to be shaded by numerous orange trees, which are spectacular in winter when the orange fruits contrast with the green leaves.
As you meander through, you'll discover many artisan shops offering local handicrafts, making it a shopper's paradise during your short breaks in Marbella.
Traditional cafés and modern, healthy joints are dotted around, perfect for a leisurely Spanish café con leche in a bustling, historical setting. Even if you were to go on a day trip to Marbella, the Old Town is the absolute must-visit area in Marbella.
You can also do guided walking tours of the old town. I highly recommend this if you want to learn more about its history and if you travel solo, you get an opportunity to meet other travelers.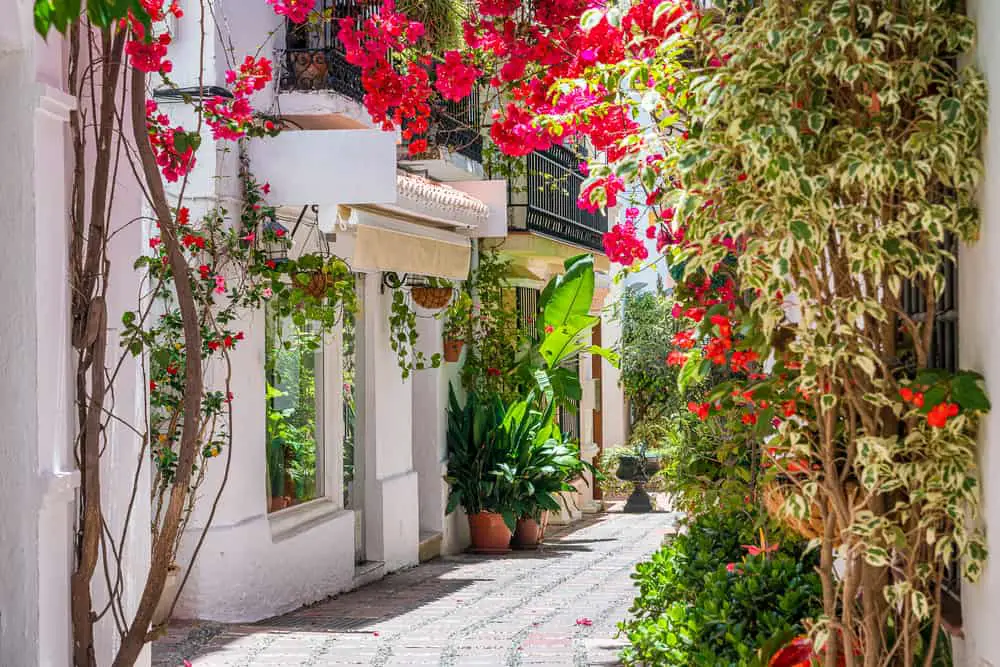 Discover More Greenery with a Walk through Alameda Park
As your journey continues, direct your footsteps toward Alameda Park. This botanical haven, replete with lush greenery, provides a peaceful backdrop for a casual stroll.
You'll encounter many exotic plants, a testament to Marbella's subtropical climate, making every moment in the park a botanical delight.
Take note of the intricately tiled benches as you traverse the park. Their vibrant patterns add an artistic flair, transforming your leisurely walk into an open-air art tour.
This picturesque walk through Alameda Park promises to be a visual treat and a welcome addition to your Marbella short breaks.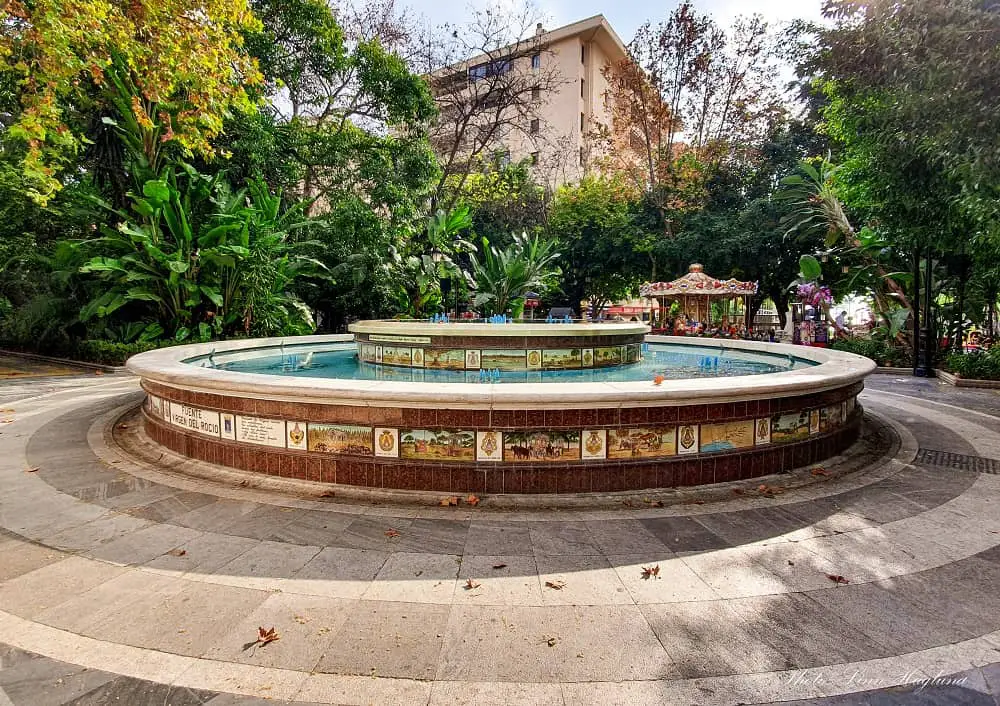 Admire Art on the Go at Avenida del Mar
Your exploration of Marbella's public art continues as you stroll down Avenida del Mar. Far more than just an avenue, Avenida del Mar could be considered Marbella's open-air art museum, delightfully free and accessible to all who pass by.
An unexpected encounter awaits you through Salvador Dali's bronze sculptures. These ten Dalinian figures form a striking series of artistic milestones along your path, each offering a fascinating glimpse into Dali's distinctive surrealist style.
As you observe each figure's intricate details, you'll find yourself captivated by Dali's use of symbolism and his unmistakable eccentric flair.
From the 'Perseo' to the 'Elephant Spatial,' each figure is a tribute to Dali's creative genius and helps make any short breaks in Marbella an intriguing fusion of beach-side relaxation and cultural exploration.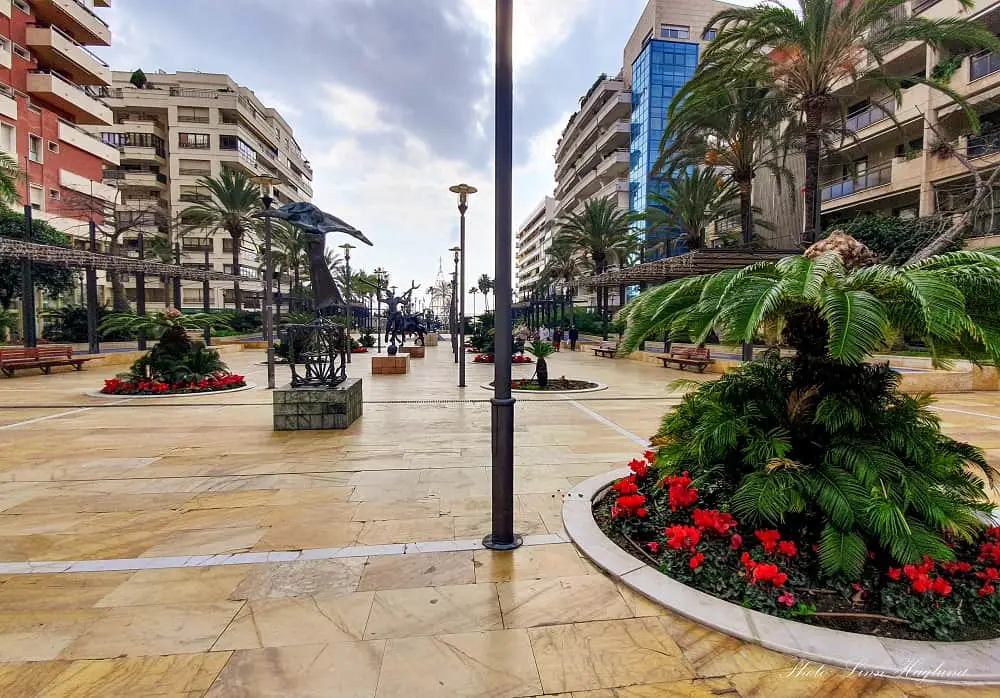 Indulge in the Bustling Marbella Marina
The journey to Marbella Marina leads you into a world that is quintessentially Marbella – a world where luxury thrives and a laid-back lifestyle is the order of the day.
With its impressive display of yachts, the marina forms an almost postcard-perfect Mediterranean scene, and its vibrant energy is infectious.
As you step onto the marina during your Marbella weekend, you'll find yourself enveloped in a lively hum of waterfront activities, making it a must-visit spot for early dinner during your short breaks.
Whether indulging in a leisurely meal or observing the marina's dynamic pace, you're in for a treat. An array of restaurants line the marina, each offering a unique blend of local and international cuisine.
As you enjoy a delicious pre-show meal amidst this stunning setting, you'll truly understand why travelers cherish Marbella breaks.
If you think it is too early for dinner, make it a stroll on your way to the Flamenco Show coming up next on the itinerary and have dinner after the show.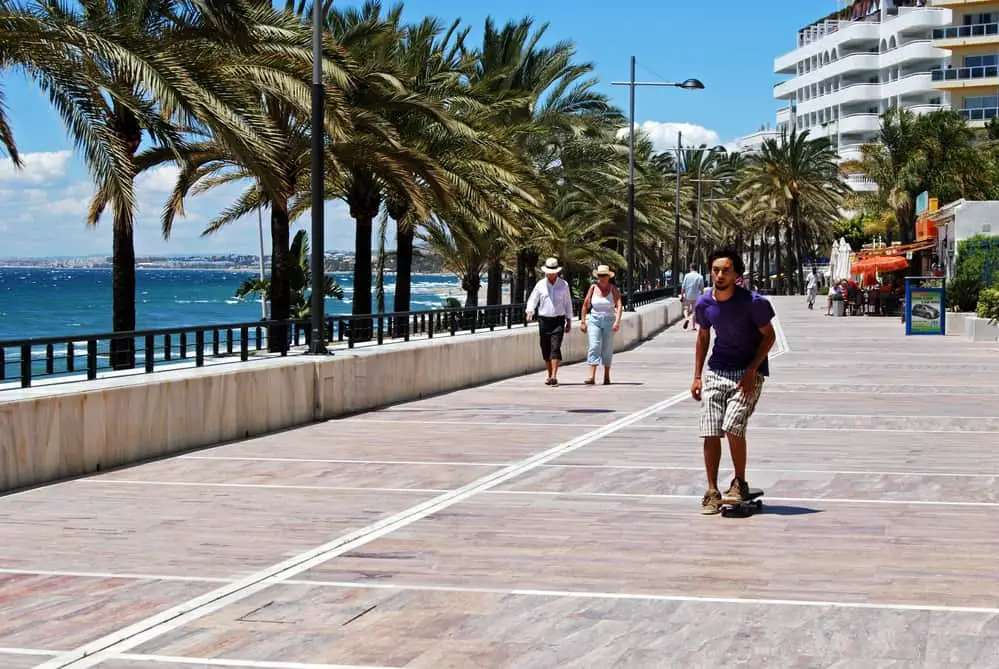 Lose Yourself to the Rhythm at Flamenco Marbella
As the sun begins to set on your first day of the weekend trip to Marbella, it's time to immerse yourself in a sensory spectacle – a flamenco show at Flamenco Marbella.
This authentic display of Spanish culture forms the heart and soul of many weekend breaks in Marbella. With its rhythmic foot tapping, expressive movements, and passionate performances, Flamenco paints an enthralling picture of Spain's rich cultural tapestry.
The flagship show at Flamenco Marbella runs every Saturday at 20:30, making it the perfect curtain closer to your day.
As you get lost in the magnetic pull of the flamenco rhythm, you'll not only be witnessing a performance but also participating in a centuries-old Spanish tradition, adding an unforgettable layer to your weekend break Marbella.
Make sure you book your ticket in advance to secure a spot as this is a popular Flamenco show.
👉BOOK FLAMENCO SHOW TICKETS HERE
Unwind with Marbella's Vibrant Nightlife
The allure of Marbella doesn't diminish with the setting sun; in fact, it undergoes a magical transformation. As darkness descends, Marbella's nightlife stirs into action, turning areas around Alameda Park, Paseo Maritimo, and Puerto Banus into bustling centers of nighttime revelry.
This vibrant transformation offers a new spectrum of activities for you to enjoy during your holidays in Marbella, Spain.
Whether you're a fan of tranquil cocktail bars offering panoramic sea views or pulsating dance clubs with high-energy music, Marbella's nightlife scene caters to a wide range of preferences.
As you cap off your first day in Marbella, whether, with a cocktail in hand or dancing to lively tunes, you're experiencing a slice of Marbella's quintessential charm, setting the tone for the rest of your exciting long weekend breaks in Marbella.
There are also evening bar crawls of Puerto Banus you can take. I highly recommend this, especially if you travel solo – it is a great way to meet other travelers. But it is also a magnificent introduction to some of the top bars in the area.
👉BOOK A PUERTO BANUS BAR CRAWL HERE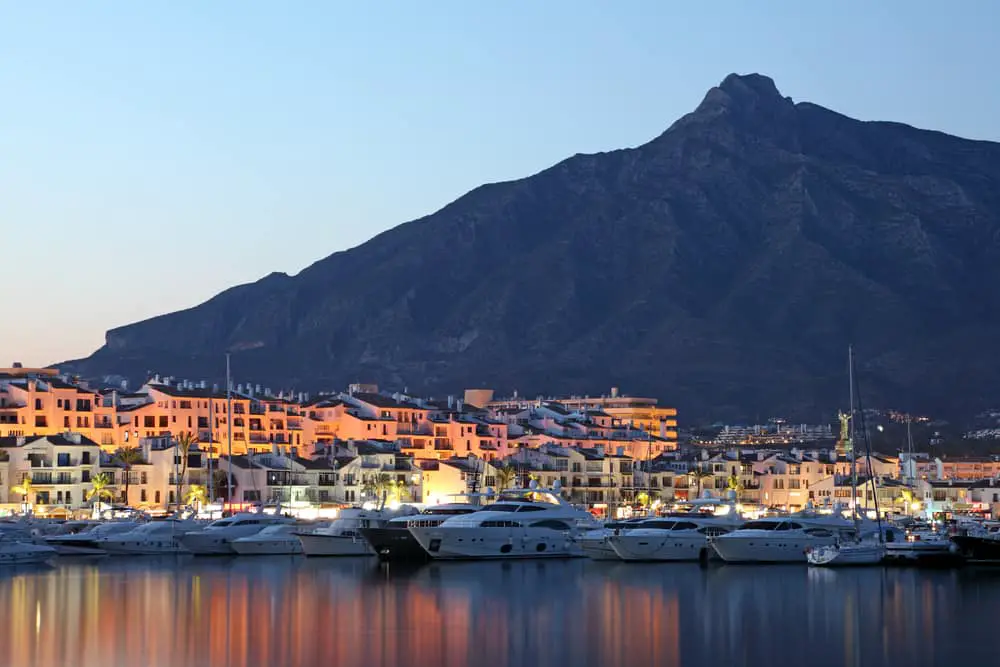 Day 2: Marbella weekend break
Start Your Day at Marbella's Pristine Beaches
Waking up to the second day of your weekend trip to Marbella, it's time to trade cobblestones for sandy beaches. Marbella boasts numerous pristine coastlines, each offering a unique allure to make your Marbella weekend unforgettable.
Venture to Playa de Venus, an urban beach near the city center. This beach is perfect for a morning walk along the shore or a quick dip in the sea, offering a refreshing start to your day.
A promenade flanks the beach, hosting an array of cafes and shops to explore at your leisure.
For those seeking a more secluded experience, Playa Real de Zaragoza serves as an ideal spot. Nestled slightly further from the city center, this beach offers tranquility away from the typical hustle and bustle.
Golden sands and azure waters promise a serene setting, perfect for unwinding, and makes this one of the best beaches in Marbella.
If you travel in winter, you might prefer a brisk hike in the mountains. Trails like Cruz de Juanar offer a beautiful but steep 2-hour hike. This is one of my favorite sunrise hikes on Costa del Sol, so you might want to consider getting up early.
For those traveling with smaller kids, walking to the Mirador del Corzo viewpoint is less demanding. These trails start from Refugio de Juanar, a 20-25 minute drive from Marbella.
A morning by the sea or in the mountains is the perfect way to kickstart your day in Marbella.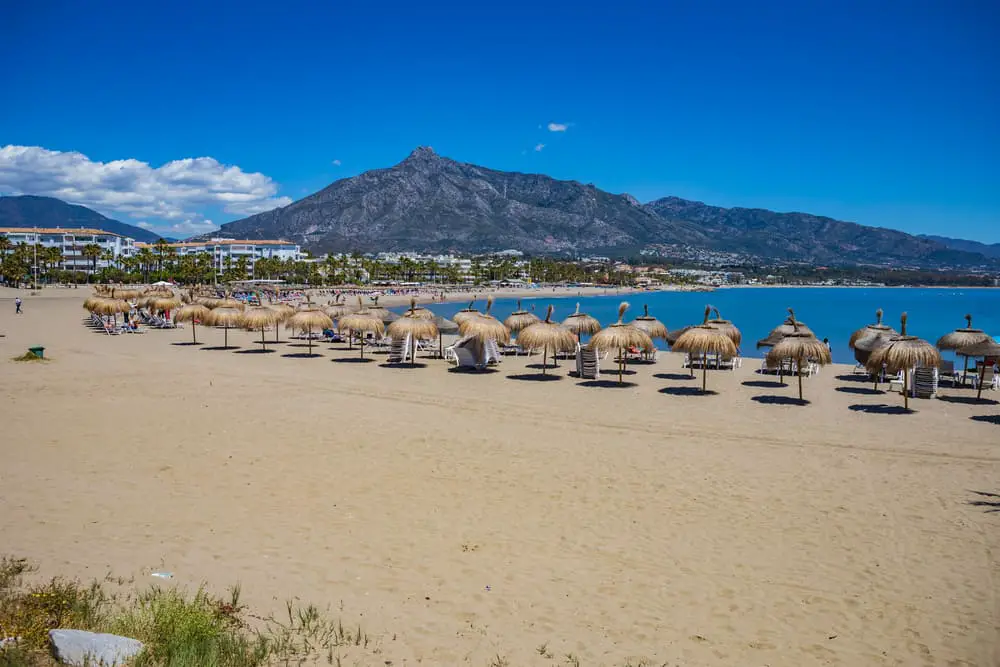 Delve into Water Activities
After rejuvenating at the beach or returning from your hike, add some adventure to your Marbella short breaks with a range of water activities.
Kayaking along Marbella's beautiful coastline offers stunning views and a different city perspective. Going on one of the many Marbella boat tours is another excellent way to soak in the vistas, with several options, including luxury yacht charters or sailboat rentals.
For adrenaline seekers, Marbella's beaches offer a host of water sports. Whether it's jet skiing, paddle boarding, or windsurfing, these activities promise a thrilling addition to your weekend Marbella experience.
👉BOOK A KAYAK TOUR
👉BOOK A PADDLEBOARD TOUR
👉BOOK A DOLPHIN-WATCHING TOUR
Embark on an Exploration of Puerto Banus
Your weekend break in Marbella won't be complete without a visit to Puerto Banus. This marina complex in the Nueva Andalucía suburb of Marbella is renowned for its luxury yachts, upscale boutiques, and vibrant nightlife.
Stroll along the marina and admire the collection of luxurious yachts docked, reflecting the luxury Puerto Banus is famous for.
Your walk will lead you to the commercial area, where upscale boutiques from world-famous brands await.
This shopper's paradise is the place to splurge on your weekend in Marbella, whether you're looking for designer fashion, jewelry, or unique souvenirs. But even if you are on a budget, window shopping is surely just as interesting.
While exploring Puerto Banus, don't miss out on its art scene. The Antonio de Felipe exhibit showcases pop-art culture, while the Ralli Museum houses one of Europe's most significant collections of Latin American art.
End Your Day with a Sunset Cruise
As the day transitions into the evening, embark on a sunset cruise from Puerto Banus. There's nothing quite like witnessing the sky's colors shifting from the vibrant hues of daylight to the golden glow of sunset, all while sailing on the Mediterranean Sea.
This serene experience is the perfect way to round off your 2 nights in Marbella. There are sunset cruises directly from Puerto Banus, so you do not have to change location.
Reflections on a weekend break in Marbella
Marbella has something for every traveler, whether it's the exquisite blend of traditional Spanish culture and modern luxuries, the inviting beaches, or the enchanting old town.
There is no doubt that going away for a weekend to Marbella is well worth it with so many fun and varied activities to do. This is by far one of the best places to visit on Costa del Sol all year round.
One of the things I like about Marbella is that you get a great variety of people in one place from luxury seekers, to families, and budget travelers.
Shoppoholics, hikers, golfers, and adventure seekers all center around Marbella and that is one of the things that makes this such a fabulous destination for weekend breaks. Marbella will not disappoint, so get ready and pack your bags!
Happy travels!
FAQ – Frequently asked questions on Marbella short breaks
Is Marbella expensive?
Marbella is famed for being the playground of the rich and famous, so there are some very expensive areas in Marbella like Puerto Banus and The Golden Mile. However, Marbella doesn't have to be expensive if you don't want it to.
Doing normal touristy things in Marbella and staying in the Downtown area or Old Town, you can make it a budget-friendly weekend break to Marbella.
How many days in Marbella?
You should spend at least a weekend in Marbella to see the main attractions and enjoy the city. However, if you want to explore beyond the city, venture to several beaches outside the urban area, or go hiking a few of the epic mountain hikes, you should spend at least 4-5 days.
How big is Marbella?
Marbella is home to 27 kilometers of coastline with splendid sandy beaches and pristine water and is a huge municipality made up of a city center and multiple small towns and hamlets.