Nerja is without a doubt one of my favorite beach towns in Andalucia and if you are looking for the ultimate beach to entertain the entire family, Burriana Beach is the ultimate place to go. Burriana Beach in Nerja has all the necessary amenities for all ages, it is accessible, and at the same time, it offers an array of water activities.
Located on the east side of town, it flanks the mesmerizing Maro coast, making it an ideal starting point for snorkeling and kayaking.
And if you feel like retreating from the crowds, you can easily swim or hike over to a secluded neighboring beach where you can soak in the sun, go cliff jumping, or snorkeling.
Burriana Beach truly has it all, and in this beach guide, I will go through everything you need to know. Read on for my complete guide to Burriana Beach Nerja.
Disclosure: This post may contain affiliate links. That means that if you make a purchase through one of those links, I will get a small commission at no extra cost to you.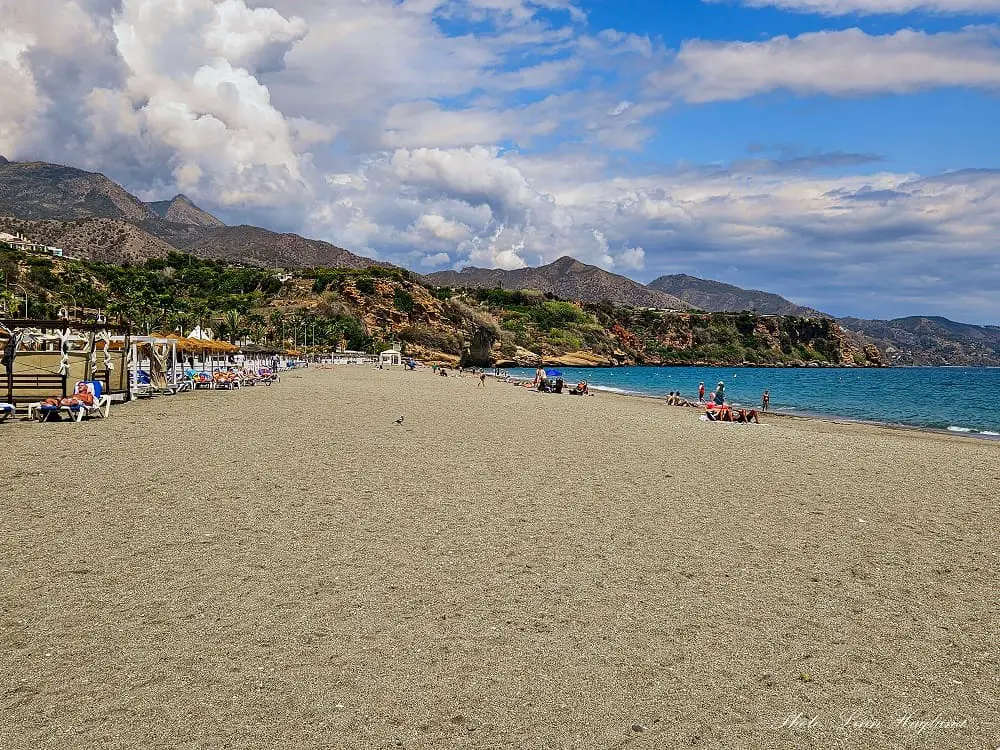 How to get to Burriana Beach Spain
From Nerja, you can walk to Burriana Beach, it is basically an extension of Carabeillo Beach which you can reach by a set of stairs from Mirador del Bendito.
Besides, from Parador de Nerja, there is an elevator taking you down to the beach. Nonetheless, Burriana Beach is large, so if you want to will have to walk for a few minutes to reach the east side of the beach (which I like the best – that's where the water sports are at!)
There is also a local bus (Blue Line) that stops in Burriana Beach. You can find the route here.
Driving to Burriana Beach
If you drive to Burriana Beach, Nerja Spain, follow the road from the highway down towards Nerja town, past a few roundabouts until you see a Mercadona on your left side. Turn left in that roundabout and continue down that road until you reach the beach.
If you plot in Playa de Burriana Nerja on your GPS, it should take you right there – I never had any issues.
There is parking on the road on the beachfront, but these fill up quickly on the weekends and in the high season.
If that is the case, there is a paid underground park near the beach called Burriana Parking with 240 parking spaces, including 8 spaces for disabled people.
I have never tried it myself, as I always got there in time to park along the street, but you basically drive past it as you navigate down to the beach.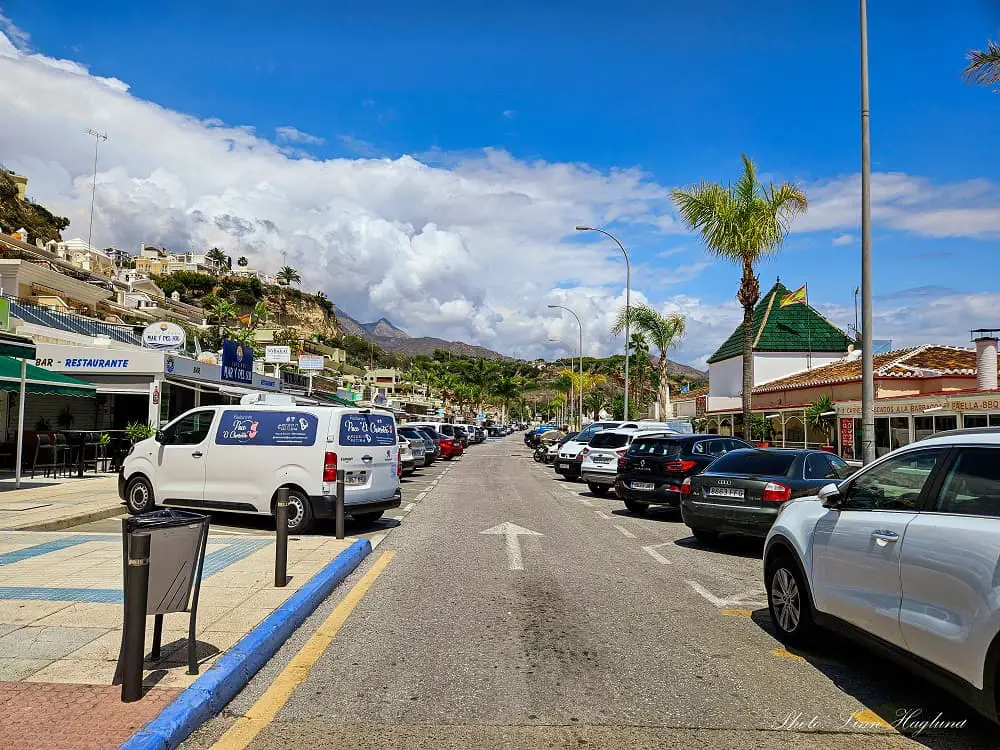 Best time to visit Burriana Beach Nerja Spain
The best time of the year to visit Burriana Beach in Nerja is the summer, between mid-June and September.
Outside this period, you can still enjoy the beach, but be aware that there will not be any lifeguards on duty and facilities might be limited.
We went there in early June this year, and the water in the showers was not turned on yet, though you could rent sunbeds. A couple of weeks later, all amenities were available and the beach was jam-packed even though the weather was exactly the same as two weeks earlier.
FUN ACTIVITIES IN BURRIANA
Hotels near Burriana Beach Nerja
There are a few great hotels near Burriana Beach, Nerja as well as many apartments around the beach. Here are my top picks for different budgets.
If you want more information about the best places to stay in Nerja, read my complete neighborhood guide.
TOP HOTELS BURRIANA BEACH NERJA

LUXURY: Parador de Nerja – located on the cliff right above Burriana Beach, it boasts exquisite views, an outdoor pool, on-site parking, and a high-end restaurant and bar.

MID-RANGE: Hotel Paraíso Del Mar – located near Burriana Beach, this is a lovely adults-only hotel with a pool with a view, hot tubs, and a sauna.

BUDGET: Hostal Casa Mercedes – only a 10-minute walk from Burriana Beach, this is a great budget option with an outdoor swimming pool and outdoor space with views in a quiet part of town.
Facilities on Burriana Beach Nerja
As mentioned before, Burriana Beach in Nerja has all the necessary facilities including beach bars and restaurants on the beach and on the road lining the beach.
With shops and even a small convenience store on the beachfront, it is only a short walk into Nerja town center.
I will list all the amenities on Burriana Beach below so that you easily can find what you need. Note that lifeguards, sun lounges and parasols, and most water sports are available during the summer season.
Lifeguard
Sun lounges and parasols for rent
Wheelchair access
Assisted bathing when lifeguards are on duty
Playgrounds for kids
Volleyball nets
Water sports
Toilets
Showers
Restaurants
Bars
Kiosks
Shops nearby
Accessibility on Burriana Beach
Burriana Beach is one of the few beaches in Nerja that is well-adapted for people with mobility impairment. There are wooden paths taking you down to the beach, though only to the point where the sunbeds are (which I find very normal here in Andalucia) and not all the way to the water.
However, during the hours that the lifeguards are on duty (June and September 12:00-20:00 and July-August 10:15-20:15) you can get assisted bathing.
Things to do on Burriana Beach
Kayak/paddleboard along the Maro Coast
Paddleboarding and kayaking in Nerja are not only among the most popular activities on Burriana Beach. It is also one of the best things to do in Nerja.
The coastline from Burriana to Maro is mesmerizing and you will pass several secluded beaches a sea cave, and a waterfall cascading into the sea.
If you go on a guided tour, you will have the benefit of a guide that can not only make sure to show you the best spots but also take pictures of you, kayaking or paddleboarding in the idyllic scenery.
I have been quite a few times both on tours and individually, and I am glad I went with a guide the first few times until I got to know the best spots to assure I don't miss out on anything. Because this coast is from another world!
If you prefer to go on a guided tour, I suggest you book in advance so you don't miss out on this amazing adventure. This tour is great!
There are also some boat tours in Nerja you can take that include snorkeling and paddleboarding.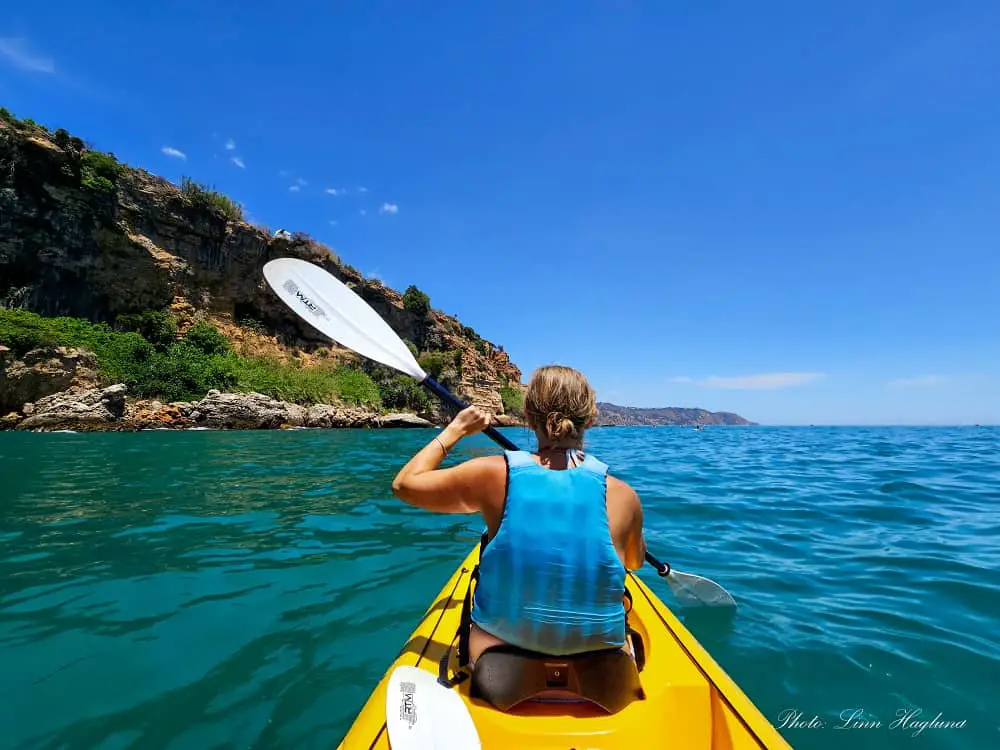 Eat and drink in the chiringuitos
There are plenty of chiringuitos (beach bars) along the beach and if you feel like lazy days drinking beer or Tinto de Verano and eating good food, there are plenty of options to choose from.
If you get sick of sitting on the beach bars, there are also many to choose from along the road that lines the beach.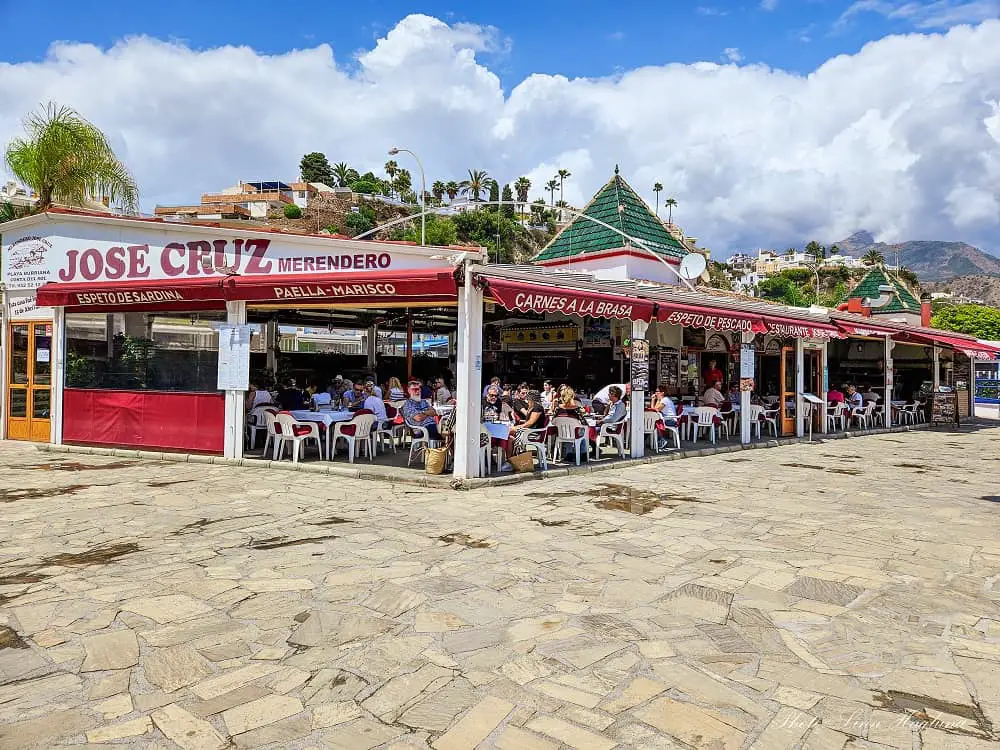 Soak in the sun
Burriana Beach is ideal for sunbathing, reading a book under the shade of an umbrella, and dipping in and out of the crystal-clear water.
There are plenty of places renting out beach loungers and shade, but if you want to do like the locals, get your own at one of the beach shops and save a few Euros during your vacation. That way, you can settle wherever you feel like on the beach.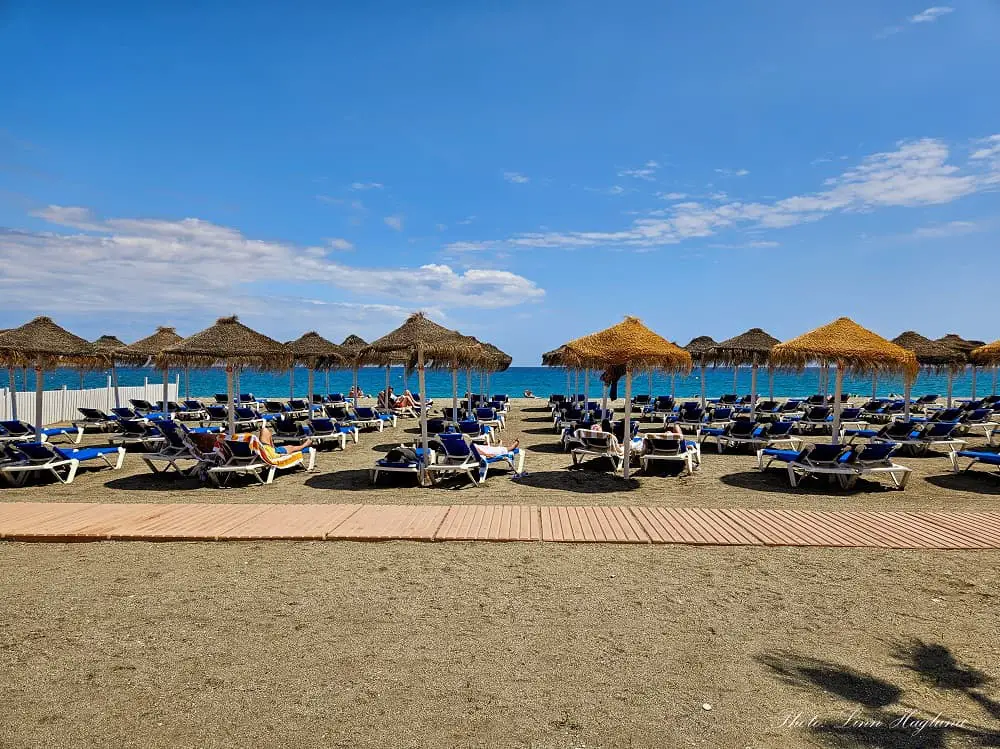 Play beach volleyball
I love that they have set up several beach volley nets on Nerja's Burriana Beach. All you need to do is head to one of the beach shops along the beachfront and purchase a beach volleyball and start playing.
You might even save yourself the trouble if you ask someone already playing if they have room for another player. This is one of my favorite activities and I love how you can get new friends easily by tagging along on a game.
Take the kids to the playground
In Nerja Spain, Burriana Beach is ideal for families with kids of all ages and there are multiple small playgrounds along the beach with slides, swings, and climbing facilities of different sorts.
Even your youngest ones will stay entertained when they get sick of playing in the sand.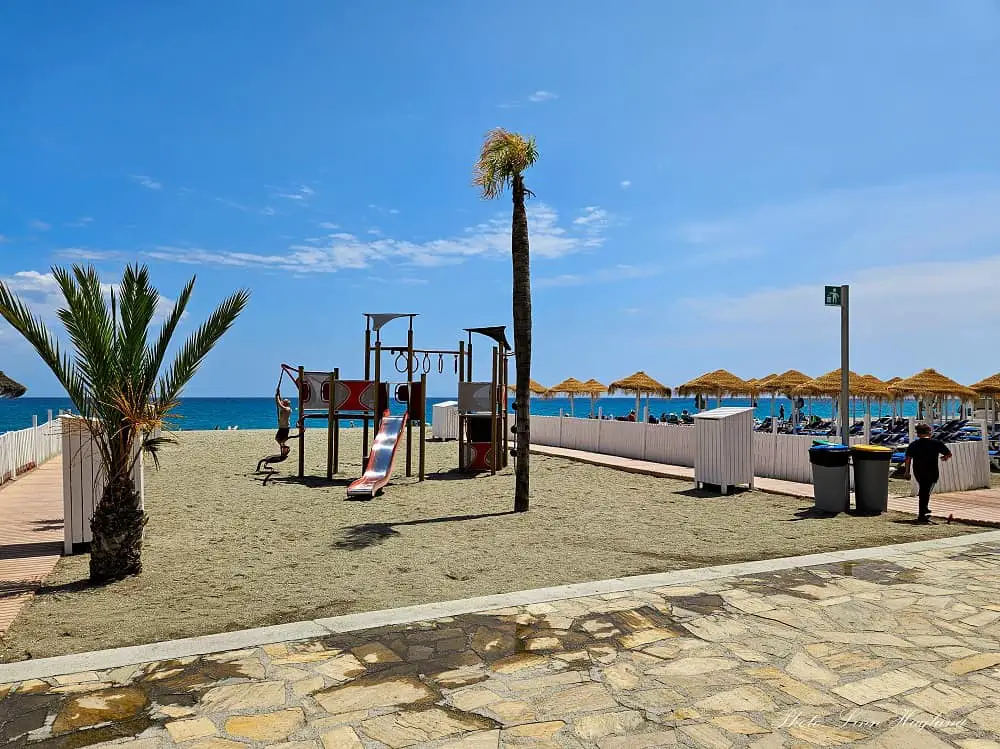 Go shopping
There are multiple beach stores along the beachfront street where you can find different beach gear like chairs, parasols, snorkel gear, and toys.
But you can also shop for clothes and my favorite is Ale Hop (recognized by the big cow standing outside the door) where you can find cool gadgets and different seasonal stash.
If you go kayaking, you might need a waterproof bag for your phone – that's the place to get it!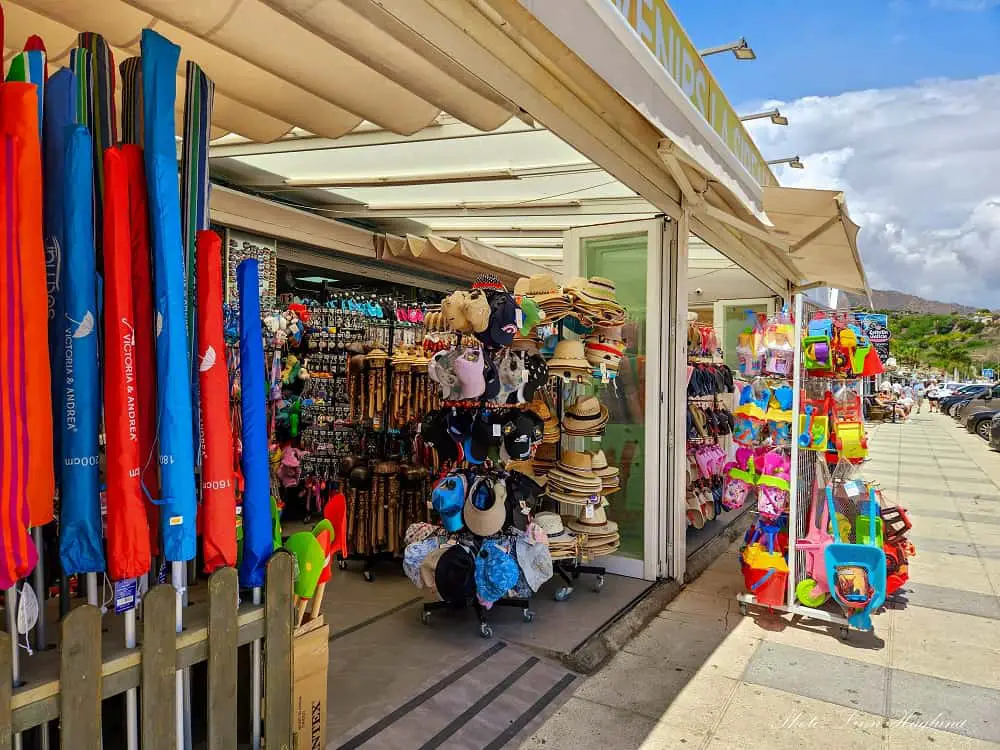 Go snorkeling
Along the cliffs on the east side of Burriana Beach there is great snorkeling. Past the first beach, there is a sea cave where you can swim below the rock to reach the cave opening on the other side.
I tried to reach it once, but couldn't hold my breath long enough so chickened back to safety. However, if your lungs can hold a little longer than mine, you can join all the other adventure seekers and explore inside the cave (I promised myself I will train enough to get there! I hate turning around!)
But even if you don't dive under the cliff to reach the cave opening, there is plenty of fish to see along the cliff walls and in my opinion, one of the best places to go snorkeling off the beach on the entire Costa del Sol.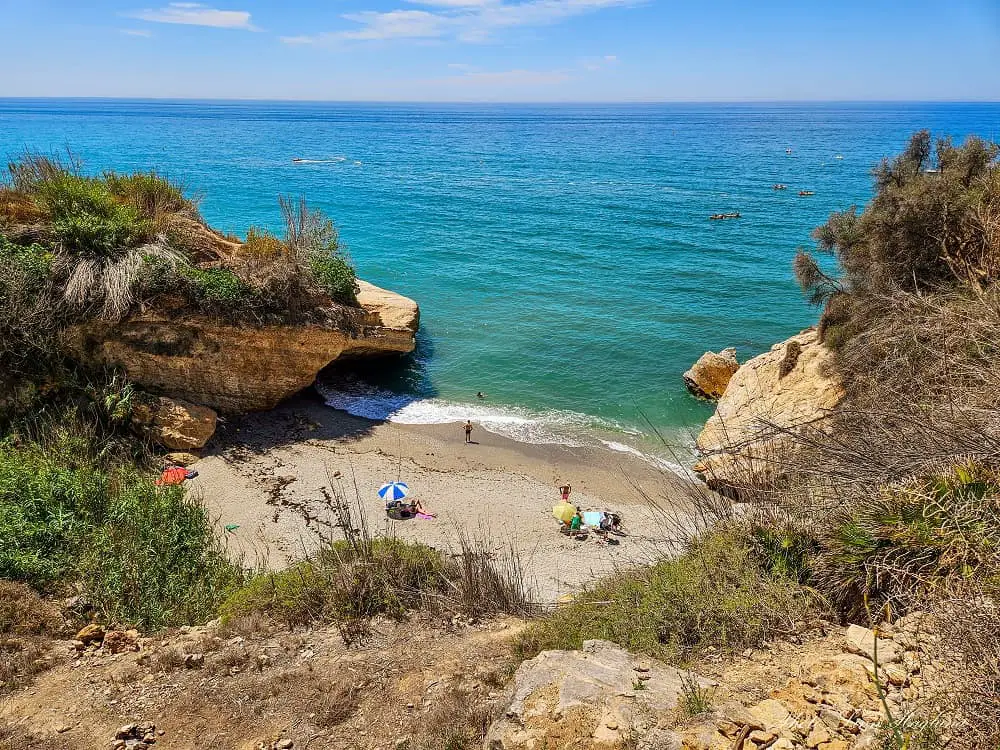 Go cliff jumping at the nearby beach
The first beach you come to east of Burriana Beach (before the sea cave) is the perfect place for cliff jumping. You can swim over to the beach in a few minutes.
Once you reach the beach, head up the trail at the back of the beach and continue straight (don't turn left at the fork.) This trail will eventually make a U-turn to the right and end up on the cliff above the beach.
It is for sure one of the best things to do in Burriana, Nerja for active people that are looking for a bit of an adrenaline rush.
Try parasailing
Burriana Beach in Nerja is also ideal for going parasailing. It is such an unforgettable experience to see the whole coast from the sky!
If you haven't tried it before, there is no excuse not to do it at Burriana, Malaga's finest coastline is right there and you can't get much better views. Without a doubt, one of the Burriana Beach activities that you must try.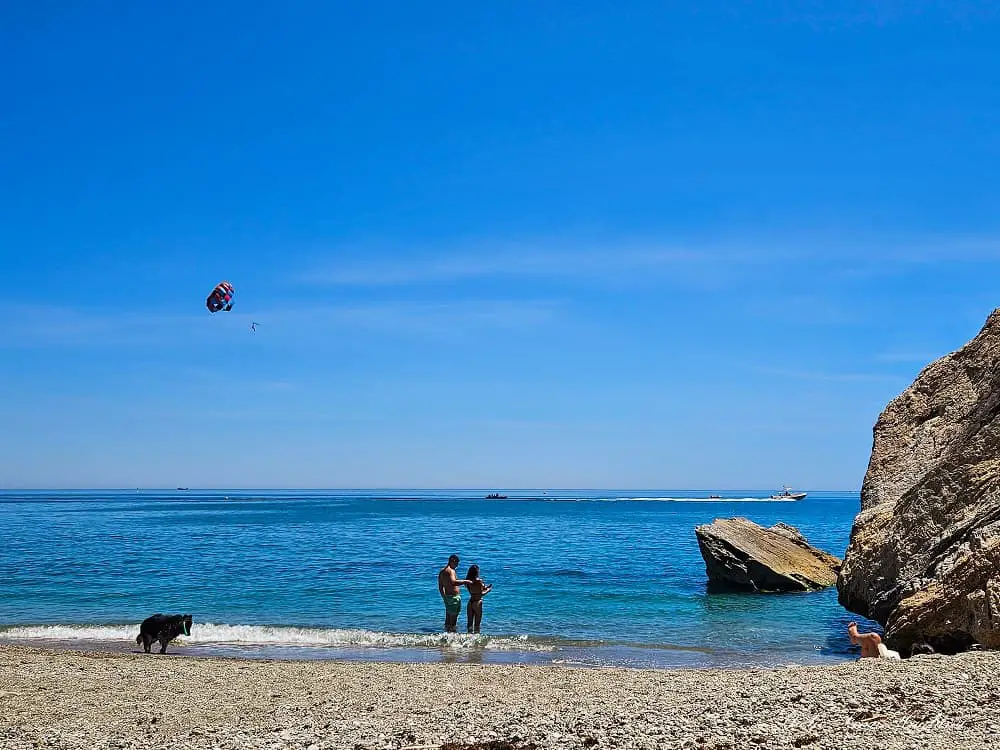 Hike to the Burriana Viewpoint
On the far east of the beach promenade, there are a set of steep stairs going up behind the last chiringuito. It leads to a dirt trail that continues a little further. At the top of the path, turn to the right, and you will reach the best views of Burriana Beach.
This trail is short, steep, and rugged, so I recommend wearing comfortable shoes like sneakers and not flip-flops (and above all avoid heels!) when venturing up to the viewpoint.
It is probably about 5 minutes to walk there and it is absolutely worth it. But be careful, as the viewpoint is not secured in any way.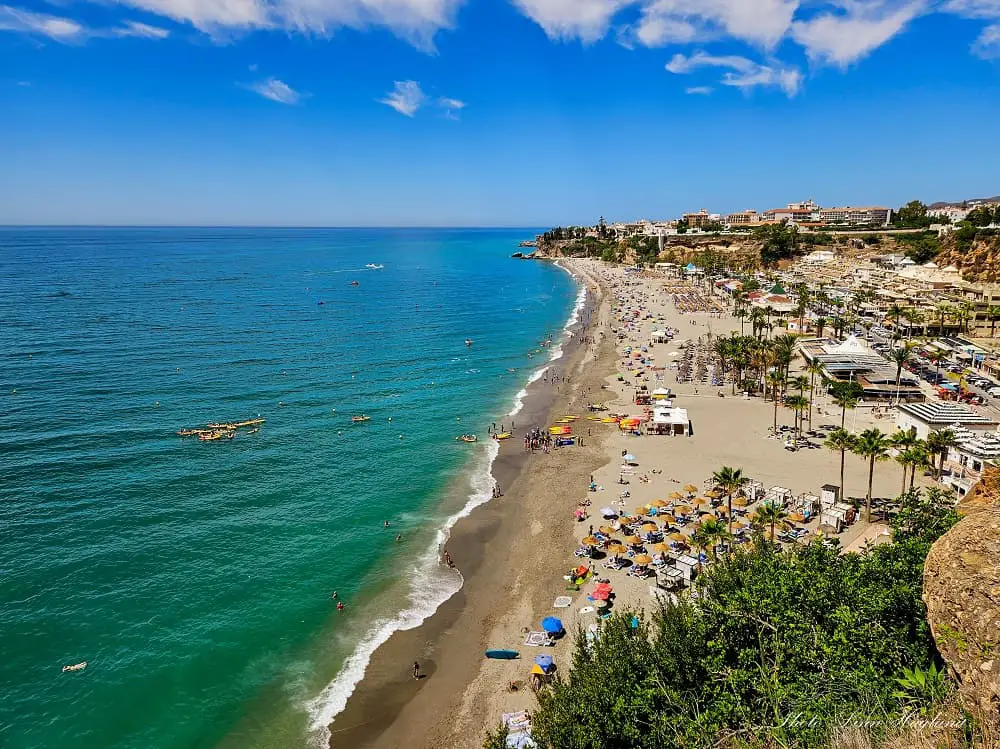 Reflections on Burriana Beach
Burriana Beach, Spain, is truly an epic beach where you won't get bored. The only downside, in my opinion, is that it gets very crowded in summer, especially during August (like the rest of Costa del Sol.)
And then of course, as a dog mummy, it is sad that Ayla can't come with me. But the next beach is ideal for taking dogs as it is not guarded in any way. The locals go down and swim and play with their pooches all day.
That said, Playa de Burriana, is a great beach for all age groups and is close to the town center, so no matter where you stay in Nerja, you can easily reach it.