Costa del Sol in southern Spain is famous for its sunkissed beaches, vibrant beach bars, cheap cocktails, pumping beach clubs, and luxury yachts. It all sounds like summer, right?
But what about the winter in Costa del Sol? What can you expect from the coldest months on the sun coast in Spain?
With more than 320 days of sun a year and an average winter temperature of 17 degrees Celsius, there are a lot of things to do in Costa del Sol in winter.
Whether you want to work your tan on the beach, visit the most popular towns near Malaga, go on a road trip to explore the hidden gems of Andalucia, or hit the hiking trails, there is something to do for everyone.
Especially Costa del Sol in December and January is excitingly full of Christmas lighting and parades worth seeing. Read on to find out exactly what to expect from the Costa del Sol winter holidays and the best things to do.
Disclosure: This post may contain affiliate links. That means that if you make a purchase through one of those links, I will get a small commission at no extra cost to you.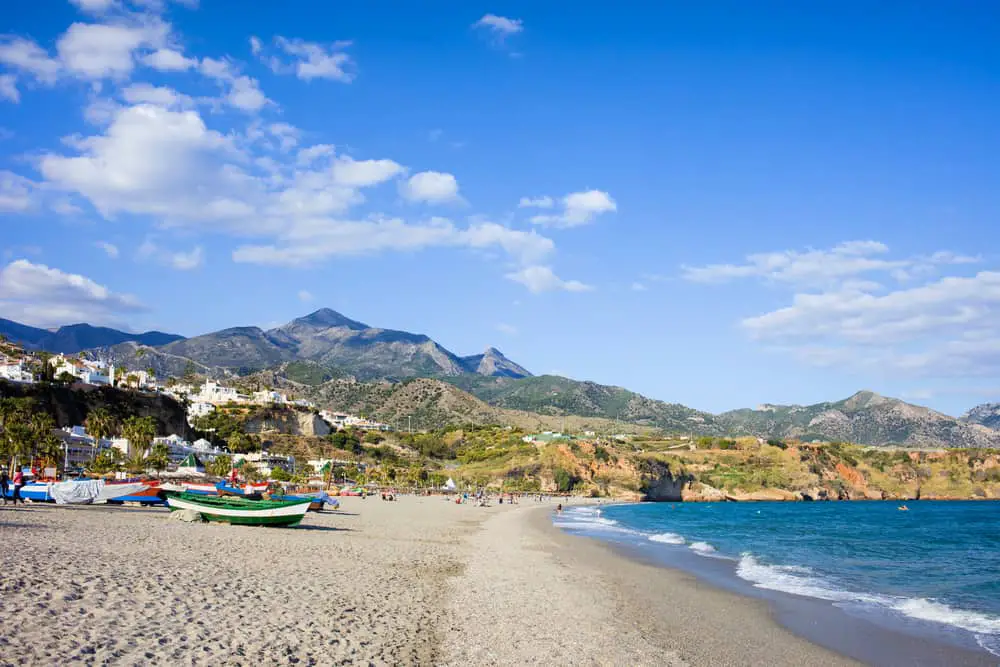 MORE WINTER ARTICLES FROM ANDALUCIA
Costa del Sol winter temperatures
Costa del Sol winter temperatures can easily rise above 20 degrees celsius in the months of December, January, and February. But not every day. The average daytime temperature is around 17 degrees celsius and at night it can go down to 8-10 degrees celsius.
On a cloudy and windy day, it can feel colder, and on a sunny day without wind, it can get extremely hot. Thus some days are perfect for soaking in that Vitamin D on the beach while other days are so much better to wrap up in that coat.
Besides the temperatures, I want to mention the humidity in Costa del Sol which is very high in winter. Costa del Sol might look warm at night at 13 degrees celsius, but with extremely high humidity it feels close to zero.
Generally, Costa del Sol has lovely weather in the winter, but you must be prepared for the bad days – because it seems like no one prepares you for that and I see tourists and new expats coming down here every year just as surprised when it rains or feels cold.
TOP ACTIVITIES ON COSTA DEL SOL
What to do in Costa del Sol on rainy days
Usually, from the end of November to the beginning of December, Costa del Sol sees horrendous torrential rain, but it can come later in the winter too.
When it rains at its worst, there is no way you can go outside without being soaked, roads are flooded, and the beaches get destroyed. Strong wind and heavy rain make it the most unpleasant time in Costa del Sol and you need a plan B.
Not many people talk about this when "selling in" Andalucia in winter, but I prefer that you're ready for the worst-case scenario (because we get a few weeks of it every single year!)
If you can avoid traveling to Costa del Sol when it rains it is great, if not, know that it doesn't always rain that badly. We do also get light rain that you can go sightseeing in with an umbrella or escape a shower in a bar while you wait for it to go over.
So what do you do if you come across 2 weeks of torrential rain? Your best bet is to check the weather forecast on the rest of the peninsula to see if you can escape it somewhere. That said, sometimes it rains like heck all over Spain and Portugal combined.
If that's the case, here are some of the things you can do in Costa del Sol inside.
Escape Room in Malaga – A fun activity for the whole family is to explore the escape room in Malaga.
Shopping at Miramar Shopping Center – Miramar in Mijas is the biggest shopping mall on Costa del Sol where you can find about anything including cafés, restaurants, and cinema.
See a movie in English at Plaza Mayor – Plaza Mayor is another shopping mall outside Malaga where they usually show movies in English.
Sleep in at the hotel and order room service – Why not spend a day lazying at the hotel? If you're on holiday I guess you need to charge your batteries.
Visit Cueva de Nerja – Being underground can be a good way to spend a rainy day, so why not plan your visit to Cueva de Nerja when it rains?
Black Box Theater in Marabella – See a show a the Black Box Theater in Marabella to escape the rain.
Explore the Museums in Malaga – Malaga is jam-packed with museums, so why not see them all during rainy days?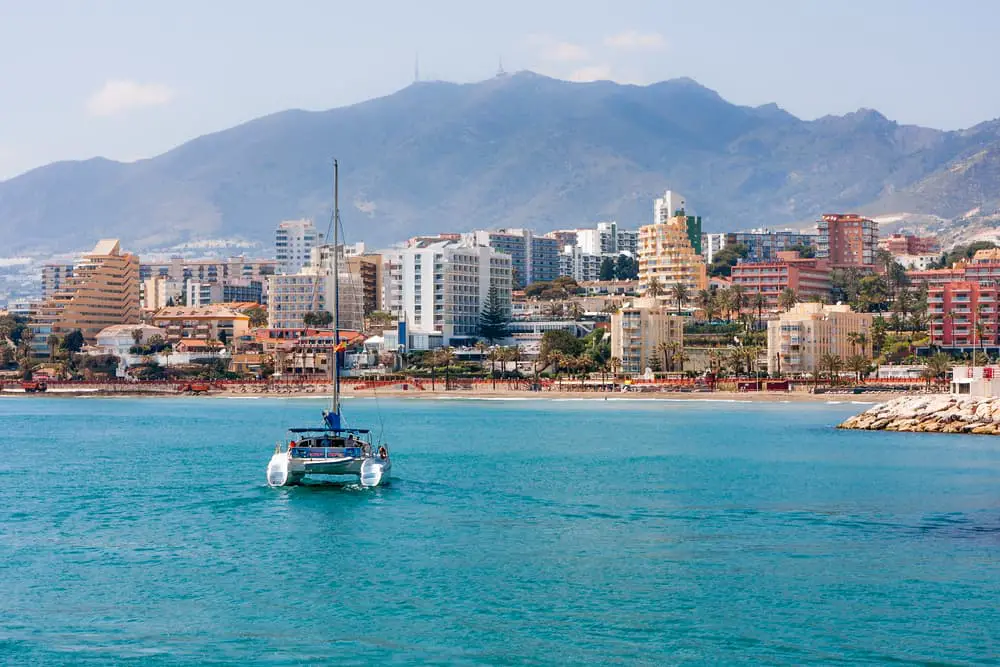 What to wear in Costa del Sol in winter
As you might have understood already, the winter weather in Costa del sol Spain varies a lot and you can easily walk around in shorts and a t-shirt during the daytime and wrap yourself in a coat, beanie, scarf, and mittens once the night falls.
Temperatures shift dramatically from day to day and from the sun to shade. So the best thing you can do is to bring layers of clothes to avoid getting cold.
I typically often wear shorts and bring long pants in my backpack so I can get changed later in the day if necessary.
I'm originally from Norway, and I have never used my winter clothes in Costa del Sol. However, an autumn or spring jacket is perfect for the Costa del Sol winter. I still have my winter coat in case I travel to colder destinations like Granada in winter or go skiing in Sierra Nevada.
Best things to do in winter in Costa del Sol
Visit the white villages
Winter in Costa del Sol is the perfect time of the year to visit the whitewashed villages along the coast. Among the most beautiful white villages in Costa del Sol, you find the hilltop villages of Casares, Gaucín, Ojén, and Istán.
Sitting in picturesque settings surrounded by nature, they are all just a short drive from the coast and incredibly beautiful. It's so pleasant to walk around these villages on a sunny winter day as it's not too hot, yet warm enough to enjoy a meal at an outside table.
Continuing a little further up in Serrania de Ronda, a day trip to Ronda is an unforgettable experience and best done in winter.
Besides these, which are lesser-known, you have the most popular white villages in Andalucia overlooking Costa del Sol; Mijas Pueblo and Frigiliana. Decorated with pot plants on white walls closing up on narrow, cobbled streets, they are among the most picturesque in the country.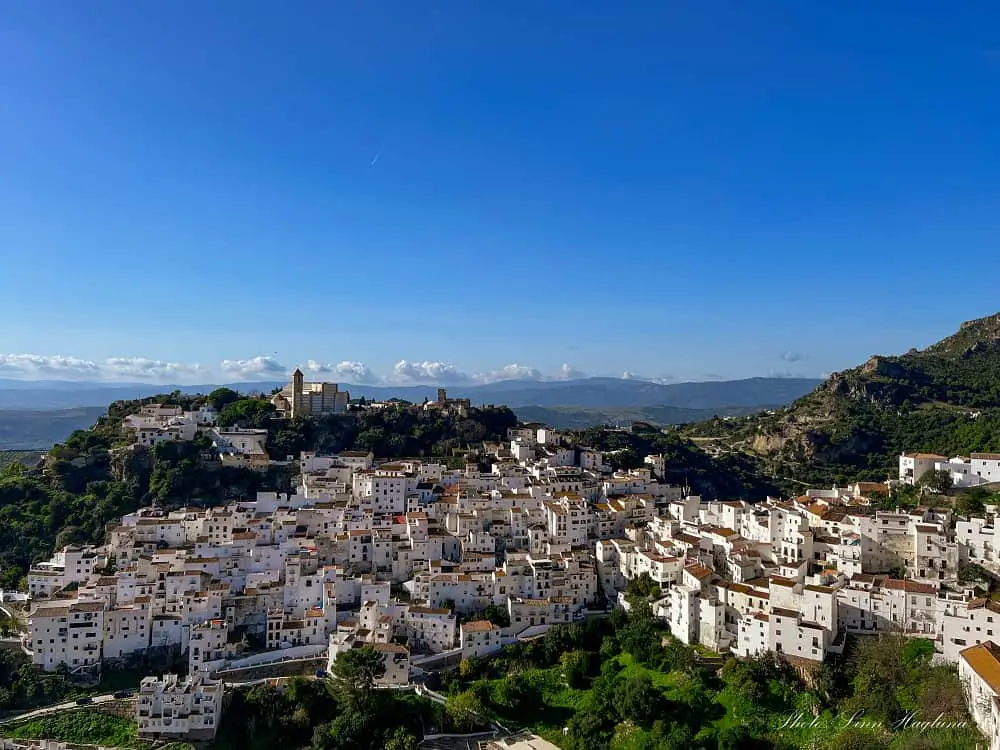 See the Christmas light show in Malaga
One of the most hyped things to do in winter in Costa del Sol is to see the Christmas light show in Calle Larios in Malaga.
Every December you can witness an incredible light show with Christmas music in the main shopping street. The lights are different every year and it's one of the most crowded happenings in Costa del Sol in winter.
Malaga in winter is marvelous and after the light show, you can walk around the Christmas markets and enjoy the Christmas decorations throughout the city.
Though the temperature in Costa del Sol in December is mild, it doesn't mean that there's no Christmas spirit!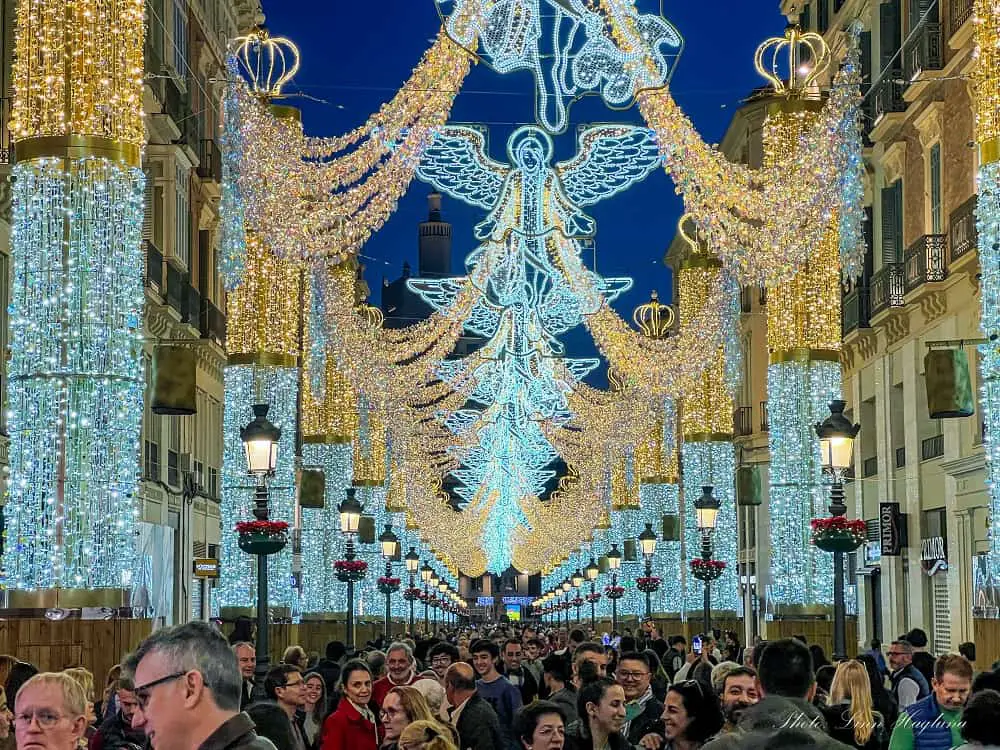 OTHER TOP-RATED THINGS TO DO IN MALAGA
Hike El Caminito del Rey
The winter in Costa del Sol is perfect to walk the world-famous Caminito del Rey. Pinned 100 meters high on the Gaitanes Gorge, the walkway is not for the faint-hearted.
That said, it's one of the most astounding walks in Andalucia and a must-visit for anyone that can deal with the height.
The path was rebuilt in 2015 after being one of the deadliest hikes in the world. They have kept the old path below the new one, so you can see exactly how scary it must have been to throw yourself out there. Though it was illegal, there was always some daredevils that took the challenge.
Today, it's a safe walk, you get a safety brief before the hike, a helmet, and you'll encounter security guards along the trail.
To hike the Caminito del Rey you must buy a ticket in advance, and they sell out quickly, so don't wait!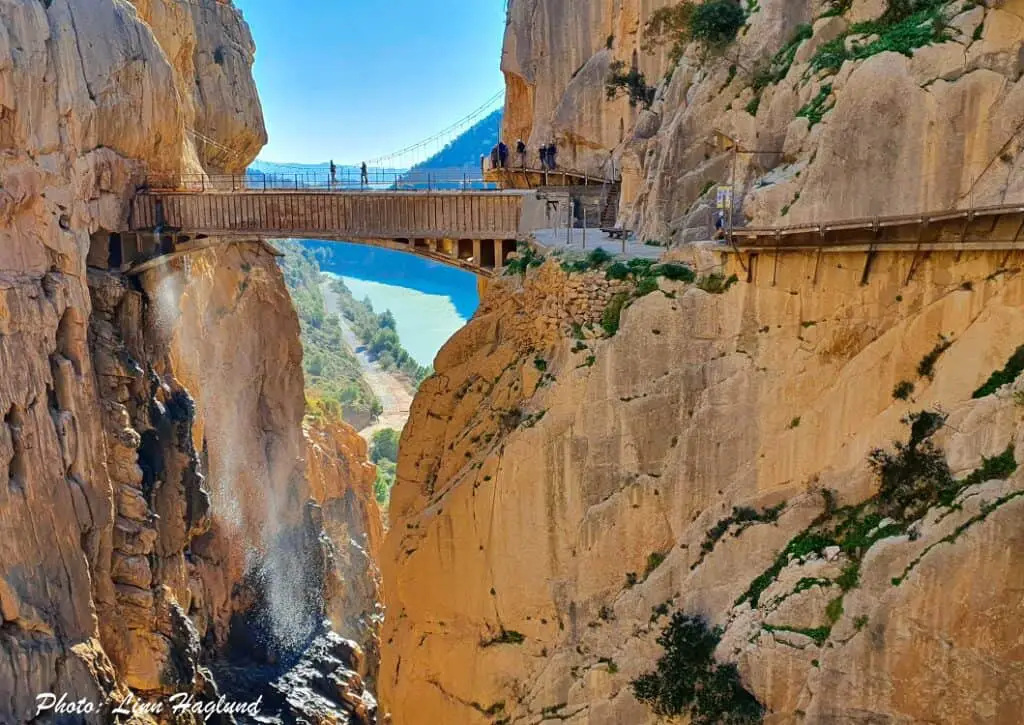 See the 3 Kings Parade
One of the top attractions in winter in Costa del Sol is the 3 Kings Parade (Cabalgata de Reyes) which takes place on the evening of the 5th of January and the morning of the 6th of January celebrating the Three Kings bringing gifts to the baby Jesus.
Kings Day on the 6th of January is the most important Christmas celebration in Spain and as with every big religious celebration, they take it seriously with parades, candy, and music.
The unique parade includes several floats and is mainly targeted at kids with thousands of kilos of candy being thrown at the crowds.
If you are looking for an experience of a lifetime, this is it!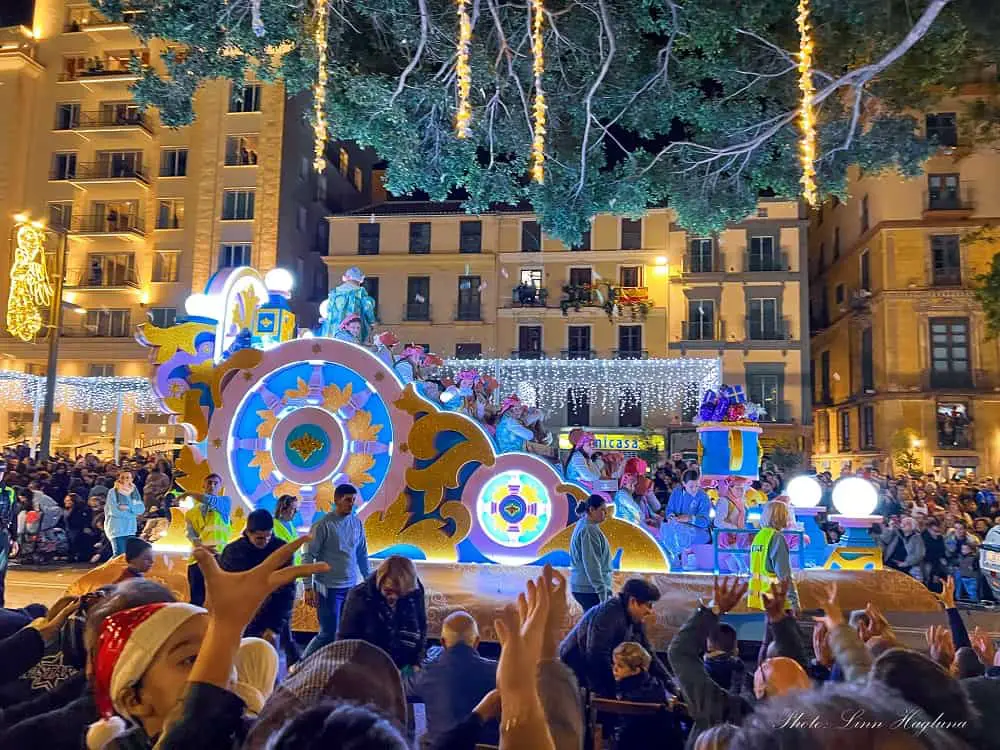 Hike to La Concha
The winter weather in Costa del Sol is perfect for hiking in the mountains overlooking the coast. In summer, it gets too hot to enjoy these mountains.
One of my favorite hikes on Costa del Sol is the La Concha hike, which takes you through olive groves and pine forests up a strenuous hill before it opens up to sweeping coastal views of Marbella.
The rest of the hike goes along the ridge, including a couple of series of chains to hold on to (the last one being rather sketchy in my humble vertigo opinion,) before you reach the tip of La Concha where you have the entire Costa del Sol at your feet.
Relax with your lunch staring over to Africa before returning the same way. You can also include Cruz de Juanar on the way back down for more spectacular views.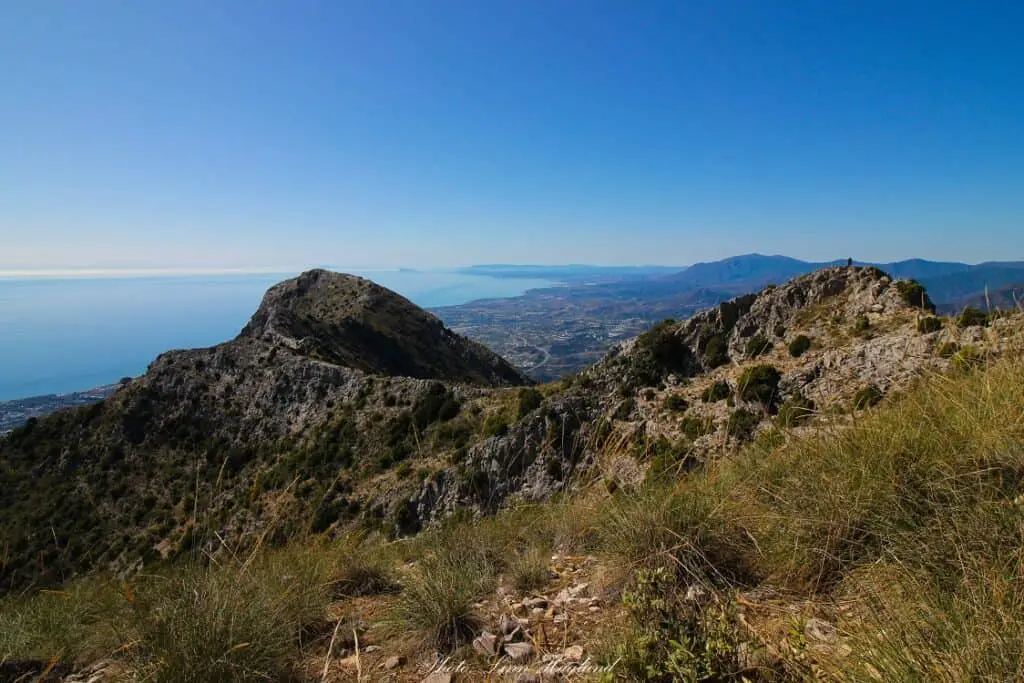 Visit Cueva de Nerja
The Cueva de Nerja is among the most visited attractions in Spain and a visit is one of the best things to do in Costa del Sol. Winter is no exception.
Formed through millions of years, the limestone caves have formed spectacular halls and enormous stalactites and stalagmites. Only parts of the 5-kilometer-long cave system are open to the public.
Cueva de Nerja claims to have the largest stalagmite in the world with 32 meters of altitude and 13 meters by 7 meters wide at the bottom.
Among the protected finds are several rock paintings dating back over 40.000 years.
You can combine Nerja Caves with a visit to Nerja and the picturesque Frigiliana village nearby. Check availability for a guided tour here.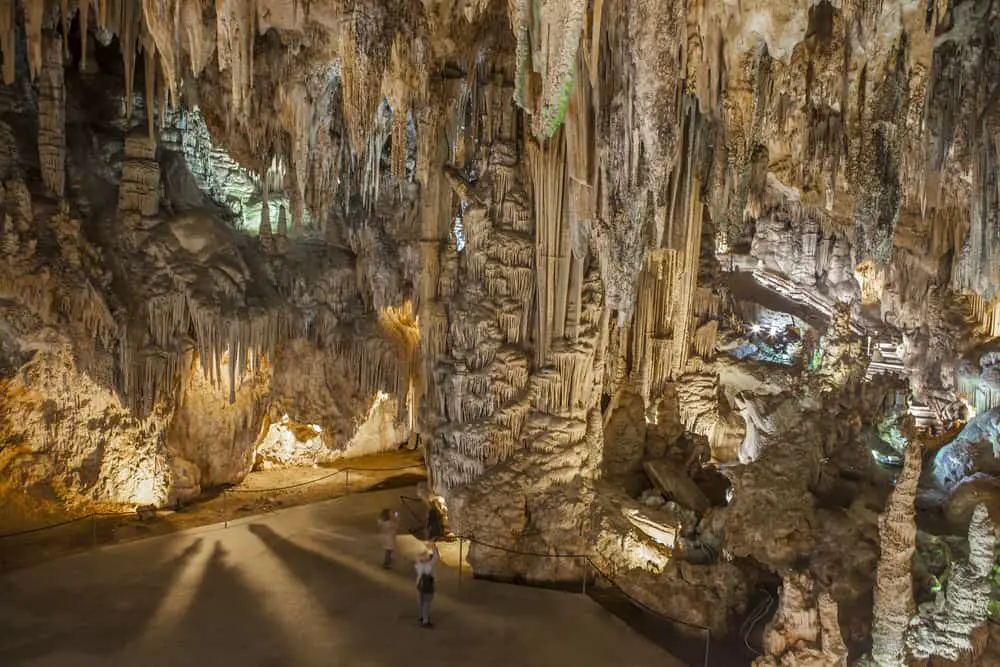 Go dolphin watching
Situated on the beautiful coast, there is no reason not to go dolphin-watching in the Mediterranean while on Costa del Sol. There are boat trips going out from the main towns and cities along the coast like Fuengirola, Malaga, and Marbella.
Even though you go in the winter, make sure you slab on enough sunscreen on any sunny day on the sea.
CHECK TOP-RATED TOURS HERE
Party hard at the carnival of Malaga
Costa del Sol in February is a top choice for party lovers as the carnival in Malaga takes off bringing life to the streets. Make sure you bring your best costume and join the locals in dancing and drinking in Malaga's old town.
There are also a whole lot of "China shops" where you can buy costumes, but don't leave it to the last minute as they usually get raided the last few days before the carnival.
The history of Malaga's carnival goes 500 years back. It started when the choir boys in Malaga Cathedral were authorized to lead the ceremonies on St. Nicholas Day and the day of Holy Innocents. One of the boys was dressed as a bishop and the rest of the choir boys served as the carnival court.
Thousands of locals in costumes watched the choir boys perform religious ceremonies, dance, and sing. The festivities were suspended but gained popularity again in the 18th and 19th centuries until the Civil War put a stop on all festivities in the country (only the Carnival in Cadiz kept being celebrated against Franco's orders.)
It was first in 1982 that the carnival in Malaga resumed and the party took its way into the streets again where you now can join singing and dancing as if there's no tomorrow! Just like the Andalusians do best.
Day trip to Gibraltar
Related: Day trip to Gibraltar from Malaga
Related article: Fuengirola to Gibraltar day trip
Another great thing to do in Costa del Sol in the winter is to go on a day trip to Gibraltar. The tiny British territory offers a whole lot of exciting attractions and is famous for being the only place in mainland Europe with wild monkeys.
Among the best things to do in Gibraltar is to see the views from the Rock of Gibraltar, step into the underground Saint Michael's Caves, and visit the Moorish Castle.
You can also take the historical cable car up to the Rock of Gibraltar instead of walking.
If you prefer to go on an organized tour that can pick you up in Costa del Sol and take you to Gibraltar and back, there are great options. Check out availability here for pick-up at your location.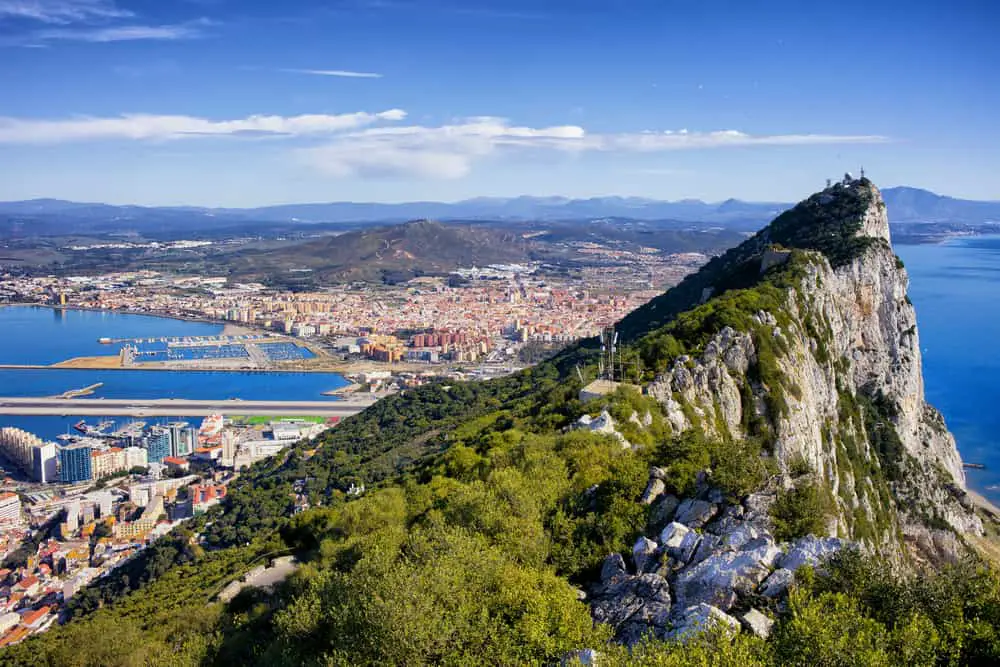 Day trip to Morocco
One of the best things to do in winter in Costa del Sol is to take a day trip to Morocco. Believe it or not, but the intriguing north African country is only an hour's ferry ride from Spain and a short drive from any location on Costa del Sol.
Imagine walking back in time in narrow streets where ancient handicrafts are still being made by hand, colorful spice shops, and small alleyways hide wondrous tea houses with rooftops overlooking the entire city and even see across the Strait of Gibraltar to Spain.
You can travel independently from Algeciras or Tarifa or book a tour that picks you up directly from Costa del Sol's towns near Malaga.
Don't forget your passport!
TOP-RATED DAY TOURS FROM COSTA DEL SOL TO MOROCCO
Go on a day trip to Cordoba
Cordoba is one of the hottest cities in Spain in summer with temperatures reaching 45-50 degrees celsius, which makes it the perfect place to visit in the winter.
There are so many amazing things to do in Cordoba that a day might just not be enough, so if you have the chance to go for a couple of days, you will get a lot more covered.
The main attractions to see in one day in Cordoba are the UNESCO-listed Mosque-Cathedral, the majestic Alcazar of the Reyes Cristianos, and cross the Roman Bridge.
I highly recommend going on a tour of the patios in Cordoba too. While most of them are only open in May for the patio festival, as they are private courtyards, there are a few that are open for tours all year round. and if there is one thing Cordoba is famous for, it is the pretty patios.
Finally, you must see the historical center, which also is listed among UNESCO World Heritage sites, including the Jewish quarter and the only synagogue in Andalucia.
There are tours you can join with pick-up from different locations in Costa del Sol, or you can rent a car and drive there yourself.
From Malaga, there are both trains and buses going directly between the cities. Check travel times and prices here.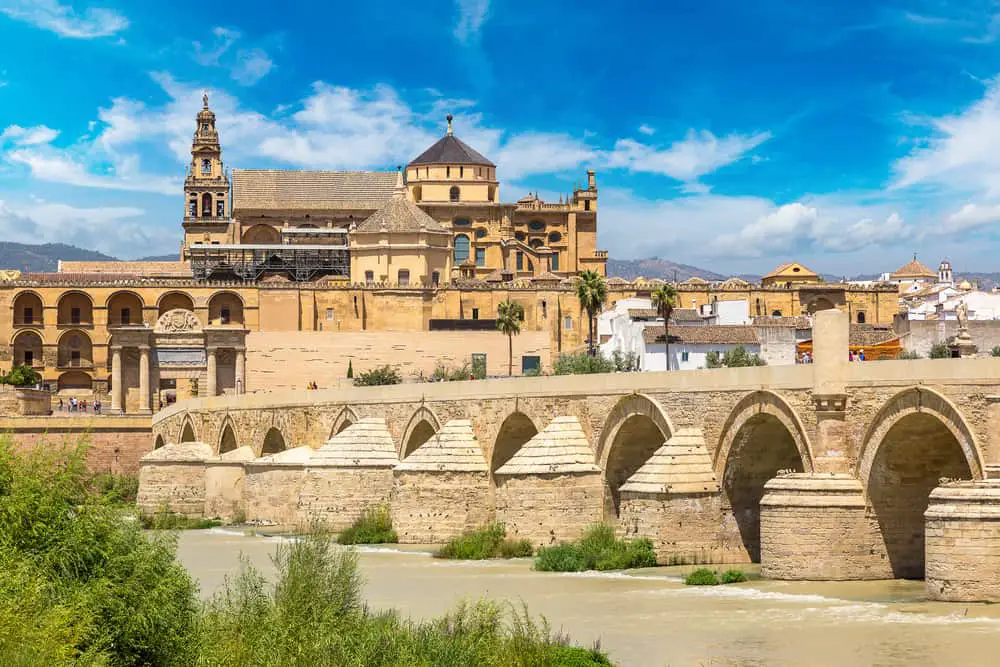 Reflections on visiting during the Costa del Sol winter season
As you can see, there are a lot of fun things to do in Costa del Sol in the winter. With mostly great weather, you can mostly be outside, yet there are cool things to do inside in case you're unlucky and hit the "ugly" weeks of the year.
There isn't for no reason that so many people choose to retire in Costa del Sol while others make it their permanent home for the main reason: the weather.
If you're looking for a mild and sunny winter vacay, Costa del Sol is definitely a good location. No matter if you love being out in nature or you prefer sipping a cold beer in the sun to the sound of waves, Costa del Sol has something for you.
Happy travels!