One of the most stressful moments on a road trip is usually finding parking in the big cities, and if you're a little bit like me, you prefer getting the free ones so you can spend your budget on the top attractions instead.
If you're on an Andalucia road trip, chances are you'll include Seville in your south Spain itinerary. After all, it's one of the most beautiful cities in Andalucia!
Luckily, there's a lot of free parking in Seville, but it can be hard to find a free spot in the middle of the city plus you'll spend a lot of unnecessary time driving around getting stuck in traffic (trust me on that!) especially if you only have one day in Seville.
After living in Seville, living in a village outside of Seville driving to work in the city every day, and having Seville as a weekend home base (from Malaga) for years, I've figured out the best places to find parking in Seville, free of course
In this post, I'll cover my top places to Seville free parking spots to save you time. Note, that you only need to park once during your stay, as Seville is a perfectly walkable city.
Disclosure: This post may contain affiliate links. That means that if you make a purchase through one of those links, I will get a small commission at no extra cost to you.
TOP ACTIVITIES IN SEVILLE
Things to know about parking in Seville
As mentioned above, parking in Seville can be complicated especially if you venture into the city center which can feel like a labyrinth. Even for me, which have been driving and parking in Seville ever since I moved there the first time back in 2003.
On top of the maze-like roads, you'll easily get stuck in dense traffic which can also push you in the opposite direction of where you had planned to drive, which in turn can add an extra 20 minutes getting back to the same spot. If you're anything like me, this will frustrate the s**t out of you!
That's the main reason why I always recommend people avoid parking in Seville center – you will save both time and frustration by walking 10-20 minutes into the main sites.
On top of that, a few years back, the city center went through big changes, the tram got a monopoly of the historic center together with pedestrians and non-residential cars are not allowed to drive through large parts of the center.
You can find both paid and free street parking in Seville, but I'll focus on the places you don't have to pay so that you can spend that extra cash on something exciting instead like seeing Flamenco in Seville or entering all the main attractions.
One super important thing to take note of, is that the large free parking spaces in Seville often close during the big festivities in Seville. These are mainly Reyes (5th and 6th of January,) Holy Week, and during the Feria de Abril (April Fair) which is celebrated during a week exactly two weeks after Holy Week every year. These festivities might not be the best time of the year to take your car to Seville at all.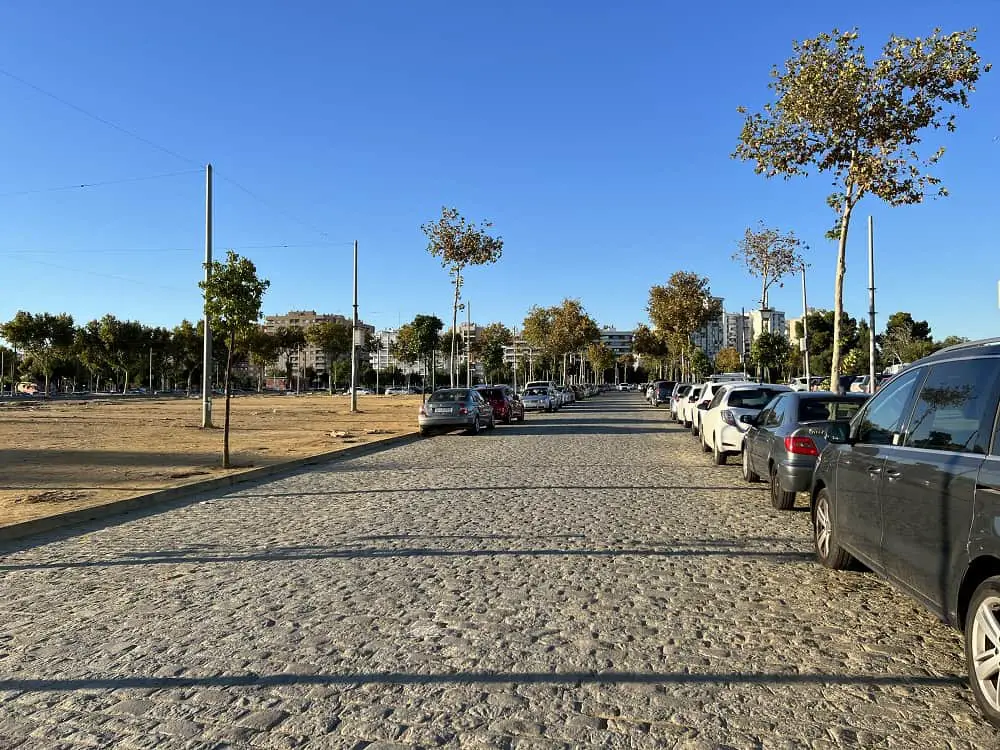 NEED A PLACE TO STAY IN SEVILLE?

💲💲💲LUXURY: Hotel Alfonso XIII – stay like a king and queen at the most luxurious hotel in Seville with an Andalusian courtyard and pool right next to the real Alcazar.

💲💲MID-RANGE: Hotel Amadeus Sevilla – Centrally located in the old town close to top attractions with a pool.

💰BUDGET: Un Patio al Sur – A lovely hotel in a quiet street in the historic center with a charming rooftop terrace.

💰💰HOSTEL: New Samay Hostel – A welcoming hostel with nice common areas and a rooftop with city views.
Safety when parking in Seville
There are a few things you should know about safety when parking in Seville (and the rest of Andalucia.) While you can never really be completely sure no one will decide to steal your car or break into it, there are a few easy things you can do to minimize the chances.
I often hear I'm overdoing it, but I'm really just doing the exact same thing as the locals in Seville – because they know how to avoid getting their car broken into.
Remove any visible valuables (including cables)
Put things in the trunk where they can't be seen
Always bring a copy of your car papers with you (some even suggest bringing the originals)
Double check that the car is locked
Any visible valuables or non-valuables are things that can trigger someone to break into your car, so even though you think an item isn't worth stealing, someone else might find it reason enough to break a window and check if there are other cool things inside the car.
For this reason, I always recommend leaving the car completely clean for things inside so that there are no signs of any travelers using the car, thus no temptations at all. Yepp, that includes that old, dirty sweatshirt of yours.
Haven't gotten your rental car yet?

Find the best rates for rental cars here
Make sure you park legally
Further, make sure you don't park in prohibited places. Even though the places I'll suggest in this post are free to park, there might be periods of exceptions.
Due to festivals, road work, or other casual reasons, there might be signs saying that you're not allowed to park in a specific time frame (dates or hours during the day.)
If you park wrongly, your car might be towed away which will set a break and a mood changer to any Seville itinerary. If you come back and find your car is gone, there will be a bright orange sticker by the parking lot indicating the car has been taken.
If this is the case, you must contact the police to find out where the car is. Then you have to pay a fine in cash before you can go to the car deposit and pay another bunch of money to get your car out. Believe me, this has happened to me before, and it's a serious hassle to get back your car!
DON'T MISS OUT ON THESE FUN ACTIVITIES!
Free parking in Seville
As I'm writing this, I'm in Seville, driving to all the following parking spots to make sure they're still free and that they are still worth using so that you don't get an unpleasant surprise when you arrive in the city.
Now, let's dive into the free parking Seville offers that's close enough to walk into the city center without taking public transport.
STILL HAVEN'T BOOKED YOUR STAY IN SEVILLE?
Read my local's guide to the best areas to stay in Seville
Triana
The neighborhood of Triana is a good place for finding free street parking in Seville, however, if you don't know the streets it can get stressful to drive through the narrow cobbled streets looking for a free spot.
Your best shot is along the Ronda de Los Tejares which is a long street lining the N630. There you can find parking with shade at only a 20 minute's walk to Puente de Triana. A pretty nice walk actually, passing plenty of hip local bars.
If this street is full, you might find a spot in any of the nearby streets, though I wouldn't recommend it if you travel by van, as the streets are narrow. If you do, the next Seville free parking space is perfect for you.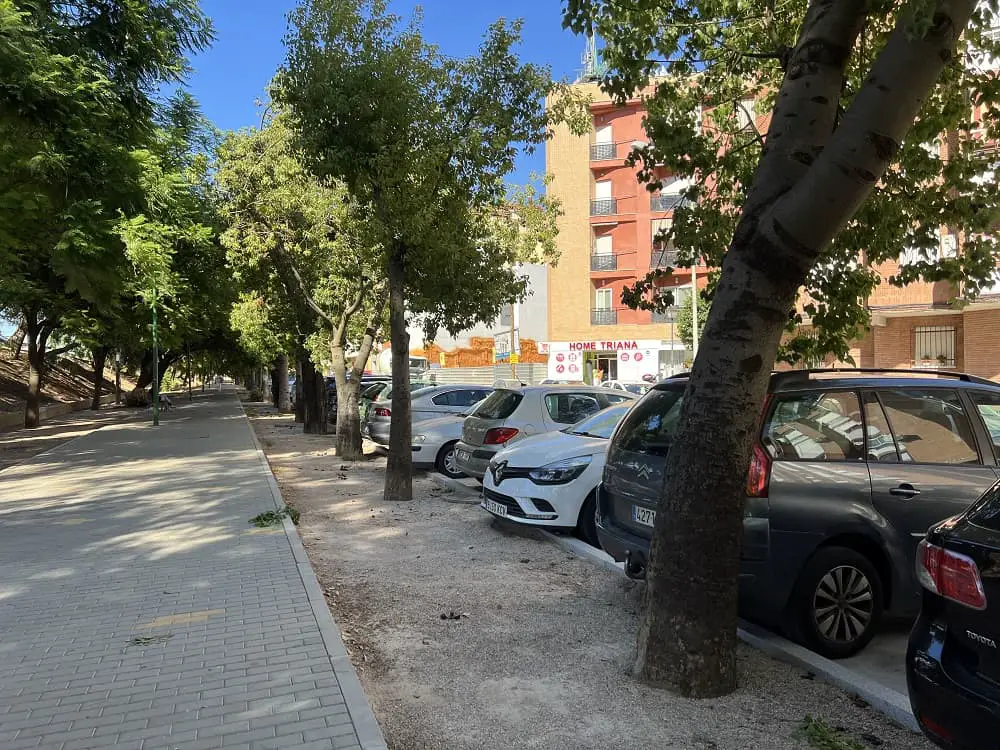 Parque Vega de Triana
Right on the other side of the N630, you find Parque Vega de Triana, a large park with sports facilities. The park holds an enormous dirt car park, which is my favorite car parking in Seville when I sleep in the van.
Parking is free, and you can safely cross the N360 at the traffic lights or through a tunnel under it. If you travel by van, it's also safe to sleep there, while there are a few spots in the shade as well.
Take note, that free camping in Andalucia isn't allowed, which means you can sleep in your car, van, or caravan, but not set up camp outside your vehicle (chairs and table, etc.) It's also forbidden to make fire and barbeques outside the vehicle.
Note that this is the parking lot of Feria de Abril and will not be accessible at the time before, during, or after the fair. We parked there for Holy Week 2023 and they had put up signs about prohibited parking from the first Monday after Easter Week.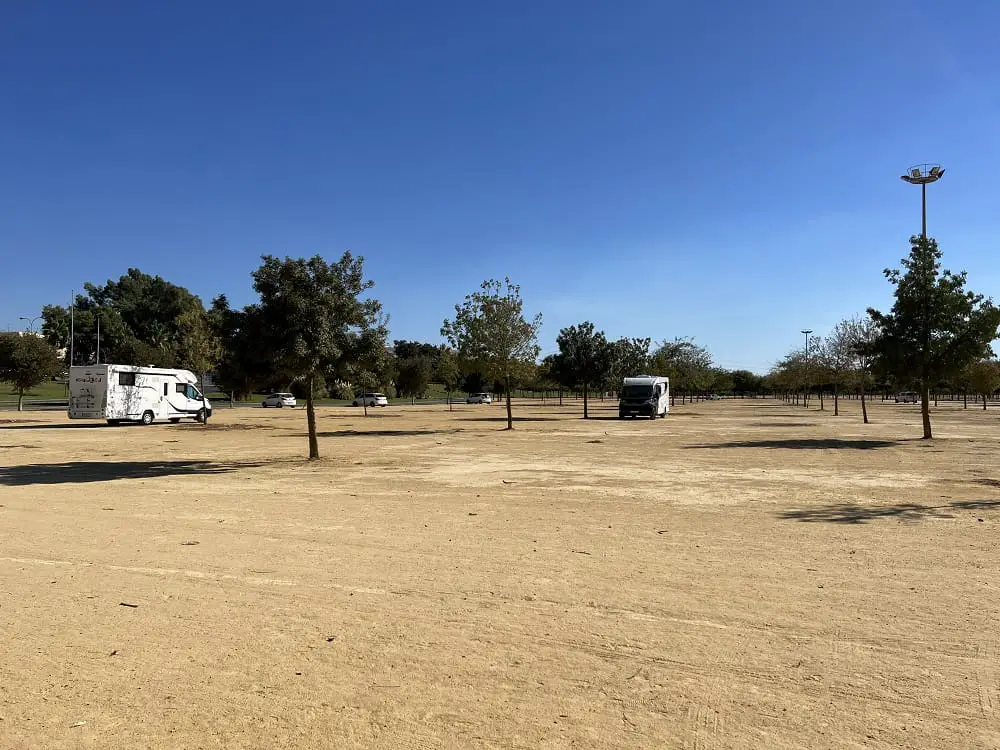 Feria area (Calle Ignacio Sánchez Mejías)
This free parking in Seville Spain between Los Remedios and the Tablada neighborhoods is perfect for anyone going to the city only for a day trip.
But be aware! Already a month before the April Fair starts, the area is closed as they start building the grounds for the biggest yearly event in Seville.
That said, it's safe during the daytime to leave your car and it's just across the river from Maria Louisa Park and about a 10-minute walk to Plaza de España.
On the weekends, it might fill up, especially in the evenings with people and campervans showing you Seville's relaxed nightlife on the street.
Note, that there is a man with a yellow vest walking around from time to time which others have experienced asking for money for parking there, but he didn't bother them when they didn't pay him.
In my personal experience, he has never talked to me the times I've seen him there, so I'm not sure if he's an official parking guard. I also noticed a lot of other people parking there while I've been parked up with the van, and he hasn't walked up to them for money either.
For this reason, I'm listing this as one of the best places to find free parking in Seville Spain as it's so close to the top attractions!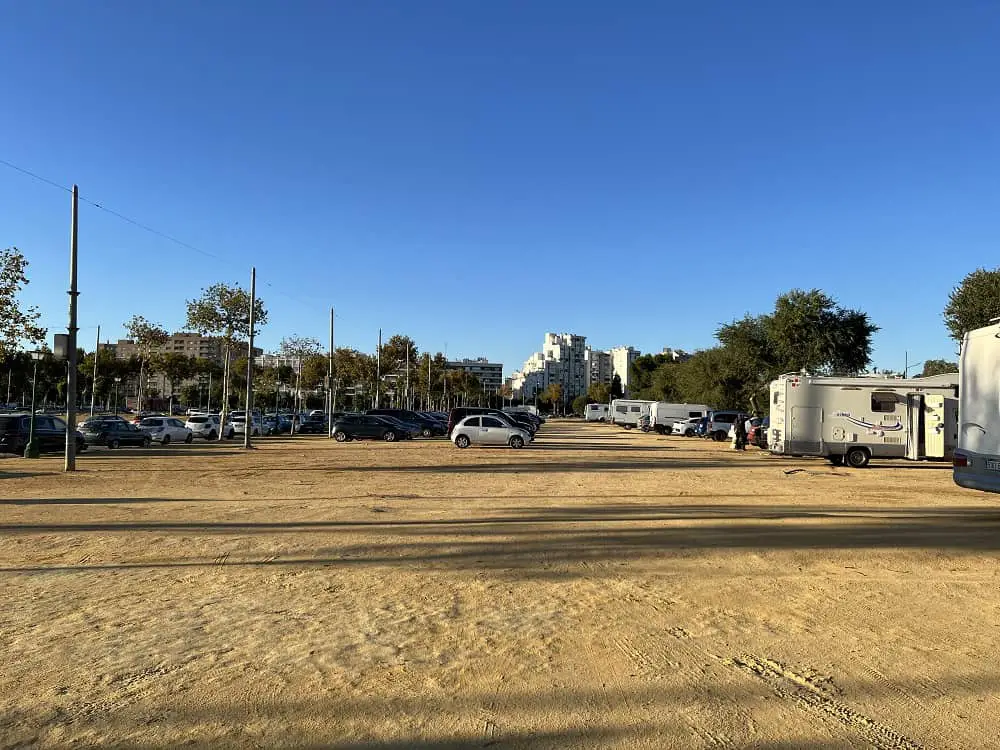 Isla de la Cartuja (Camino de Los Descubrimientos)
When it comes to free parking, Seville is pretty awesome. Only a 20-minute walk from Setas de Sevilla, you can park for free on Camino de Los Descubrimientos. There's often free parking compared to other places in front of the Andalusian Historical Heritage Institute which has a few hidden gems in Seville if you take the time to explore!
Cross the Pasarela de la Cartuja footbridge for a scenic walk across the Guadalquivir river and see a different part of the city. It's also ideal if you plan to include a visit to the water amusement park, Isla Magica.
What I like about this free Seville parking is that the road is lined by trees that provide shade.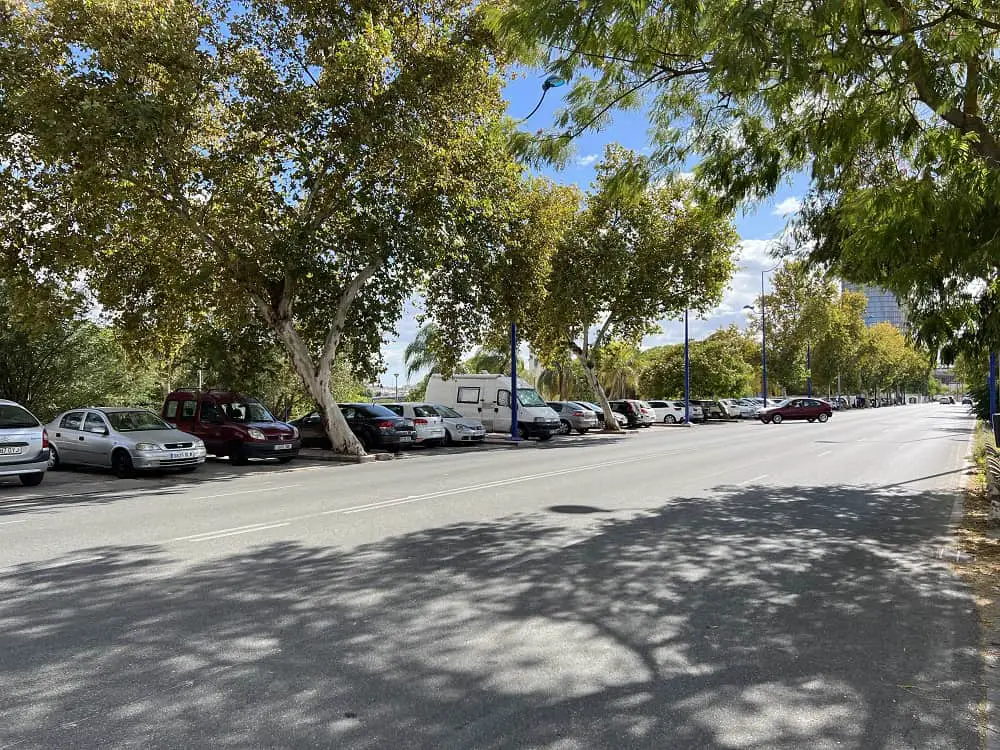 Do you still need to book your rental car?

Make sure you grab the best deals on Discover Cars. If you wait too long, the best deals might have sold out! Check availability here.
Reflections on free parking in Seville Spain
As you can tell, there's no need to pay for parking when visiting the majestic capital of Andalucia. There are multiple places with free parking in Seville where you can leave your car when exploring the city.
Even though you might have to walk a little to get into the historical center, parking in neighborhoods like Triana gives you the opportunity to walk through less touristy corners of the city through streets lined with orange trees and stop for a coffee break at one of the local bars.
YOU MIGHT ALSO LIKE: Free Things to do in Seville