In the shadows of Seville and the rising popularity of Cadiz, Jerez de la Frontera gets way less attention than it deserves. The quaint little city boasts energy and traditional character and is a popular getaway among locals from nearby cities and towns. Being mainly known for its sherry, Jerez de la Frontera has so much more to offer!
Whether you're on a day trip from Seville or want to spend a few days in the city, here are the best things to do in Jerez de la Frontera, or just call it Jerez, as it's locally known.
Disclosure: This post may contain affiliate links. That means that if you make a purchase through one of those links, I will get a small commission at no extra cost to you.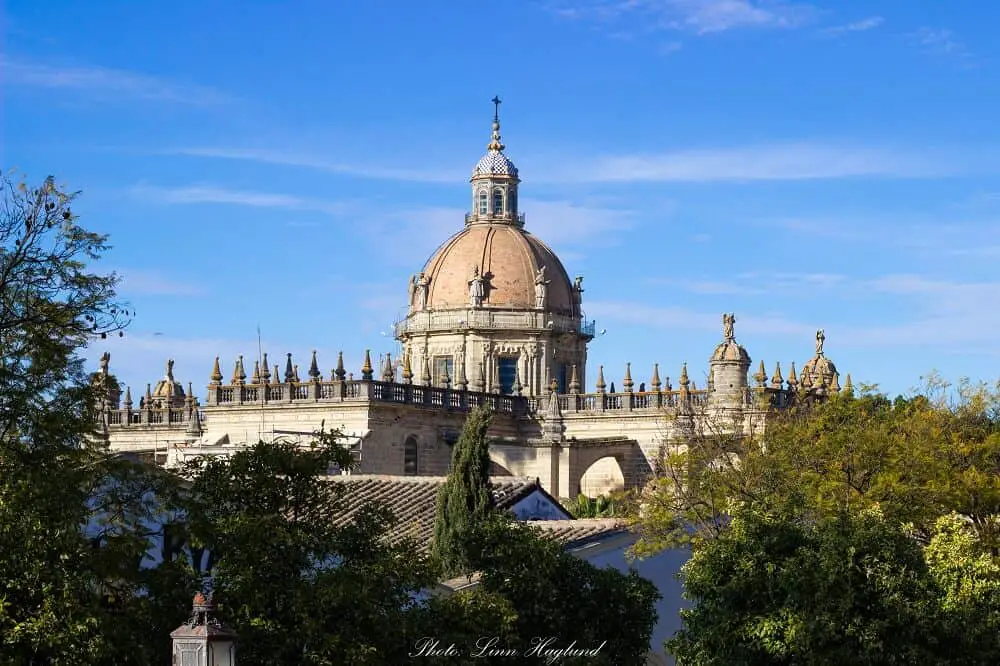 RELATED: Best towns and white villages in Andalucia
How to get to Jerez de La Frontera
Jerez de la Frontera is an easy day trip from Cadiz or Seville. However, the city has its own international airport too, Jerez Airport (XRY), though most people that fly there head straight to Cadiz.
If you prefer traveling by car or you're stopping by as a part of a larger road trip in Andalusia, there are several public parking places in the city for about 10 Euros a day. You can also find free street parking right outside the historic center with a little patience.
Make sure you book your rental car early to get the best prices. You can check availability and prices here.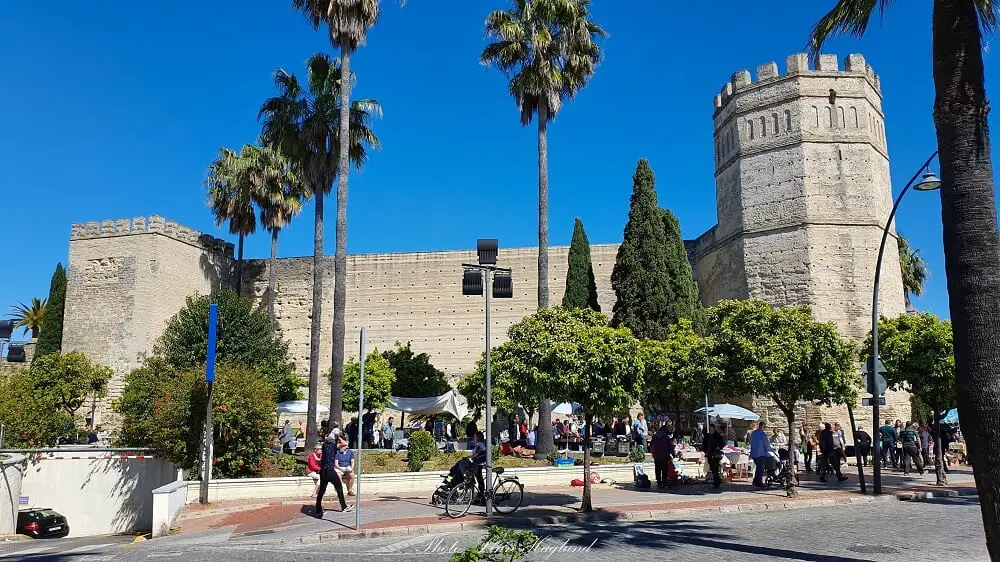 Seville to Jerez
There are frequent daily buses and trains from Seville to Jerez. Both the bus and the train take approximately 1 hour. All trains and several buses leave from Santa Justa station.
You can book a bus or train in advance here
Cadiz to Jerez
There are frequent buses and trains from Cadiz to Jerez and the journey is around half an hour depending on the route.
Where to stay in Jerez de la Frontera
There are many hotels to choose from in Jerez de la Frontera, but here are a few suggestions loved by visitors!
Pensión San Andrés I
Pensión San Andrés I is a cute little hotel in the historic center with free Wi-Fi and 24-hour reception. Super-friendly staff, clean, and reasonably priced.
Book your stay at Pensión San Andrés I here
Casa Museo Jerez Centro
Casa Museo Jerez Centro has apartments decorated with antiques and the garden is full of flowers and old artifacts. It's hard to believe you're only a stone's throw away from the Alcazar and the main Plaza is up the next street. The establishment offers free Wi-Fi, a kitchen, and a washing machine.
Book your stay at Casa Museo Jerez Centro here
Hipotels Sherry Park
15 minutes walk from the historic center you find Hipotels Sherry Park. A great hotel with outside and inside pools, a gym, a restaurant, and a bar. Free Wi-Fi and breakfast are included.
Book your stay at Hipotels Sherry Park here
When is the best time to go to Jerez de la Frontera
The best time to go to Jerez de la Frontera is during the winter months when you can expect daytime temperatures between 10 and 25 degrees Celcius.
Especially in February-March when the orange trees blossom and fill the whole city with a sweet scent, it is beautiful to walk around. However, the spring and autumn can be very nice too.
This can be a great time for a road trip around Andalusia visiting nearby white villages like Arcos de la Frontera or Vejer de la Frontera that get too hot to visit during summer.
The summer months, on the other hand, are extremely hot and better spent on the beach. But if this is the only time a year you are in the area, spend your days in El Puerto de Santa Maria or Cadiz and venture into Jerez in the evenings when it gets a little cooler. If you go in winter, make sure you take a day trip to Cadiz.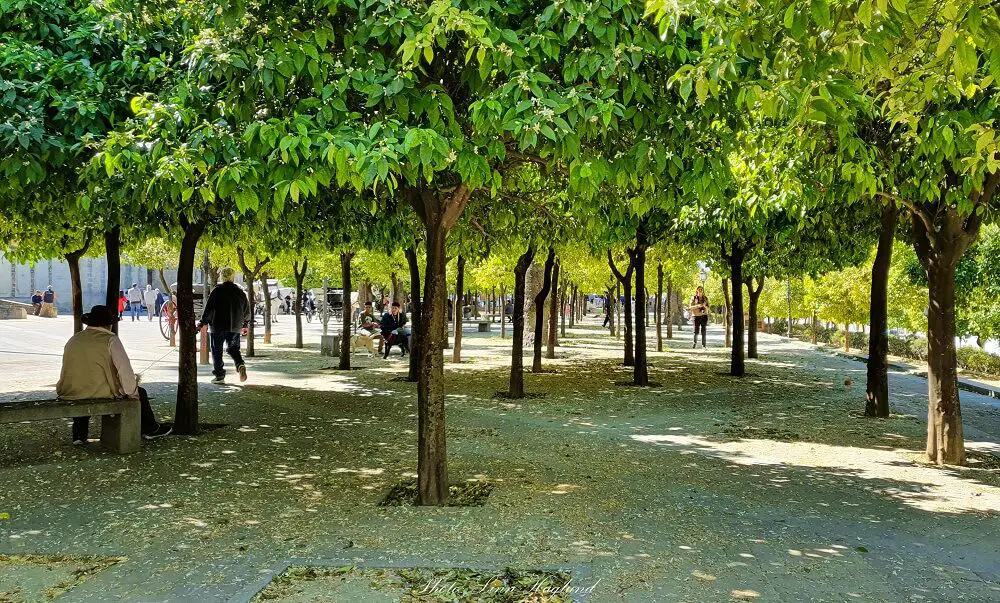 Things to do in Jerez de la Frontera
For being such an underrated city in Spain, Jerez de la Frontera is full of delightful surprises. With over 20 churches and convents, Jerez is the perfect place to stroll around and explore if you have the time.
However, there are also a few highlights not to miss, so I've pointed out what to do in Jerez de la Frontera before you let yourself get completely lost in the streets in what I believe is one of the most stunning cities near Seville.
Visit Jerez de la Frontera Cathedral
Visiting Jerez de la Frontera Cathedral is one of the must things to do in Jerez. The 17th-century splendid blend of Gothic, Neoclassical, and baroque-style churches is built on top of what used to be the Great Mosque of Jerez.
Today, the grand cathedral is one of the most outstanding buildings in the city both outside and inside. The bell tower stands individually from the cathedral and is said to be built on top of the old mosque's minaret.
Check out Jerez de la Frontera Cathedral's official site for up to date opening hours and entrance fees here.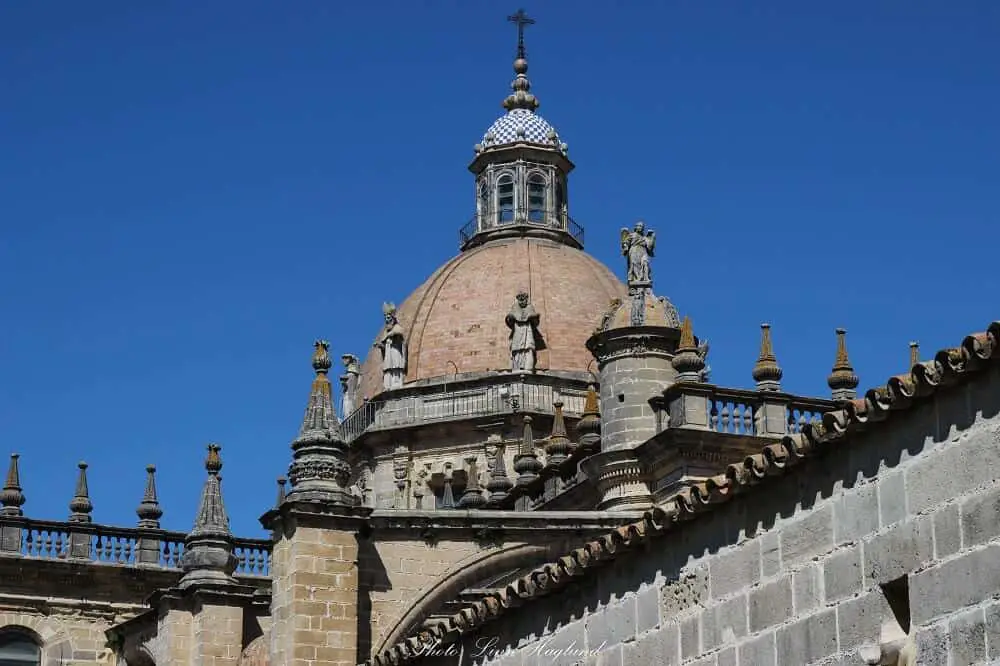 Visit the Alcázar
The Alcázar of Jerez was built in the 12th Century. Originally surrounded by a 4-kilometer wall that housed 16 000 people.
You can visit the Alcazár independently or join a guided tour of the Alcázar and the Dark Chamber which takes approximately an hour. Tickets to the Dark Chamber include entry to an exhibition of all dark rooms in the world and another one about Jerez.
See here for opening hours and prices.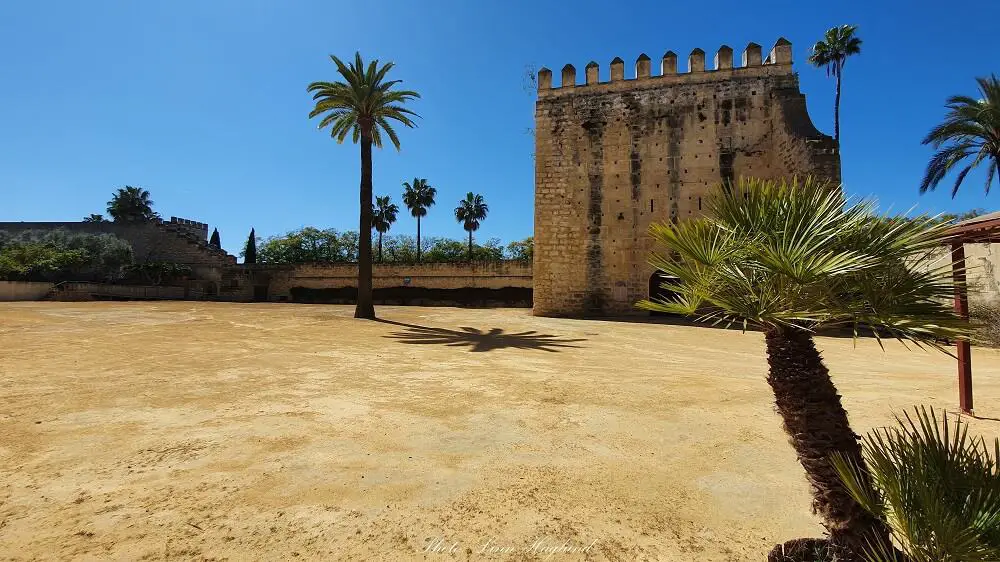 Stroll around Alameda Vieja
Alameda Vieja is a large park next to the Moorish Fortress. While it's quite calm on the weekdays, every Sunday it flourishes to life when locals mingle around the busy flea market. You'll find anything from antiques to toys and eager locals bargaining for the best price.
The park also holds a large area of orange trees which gives delightful shade on a sunny day. If you happen to be there during orange blossom, sit down and breathe in the sweet scent of Andalusia.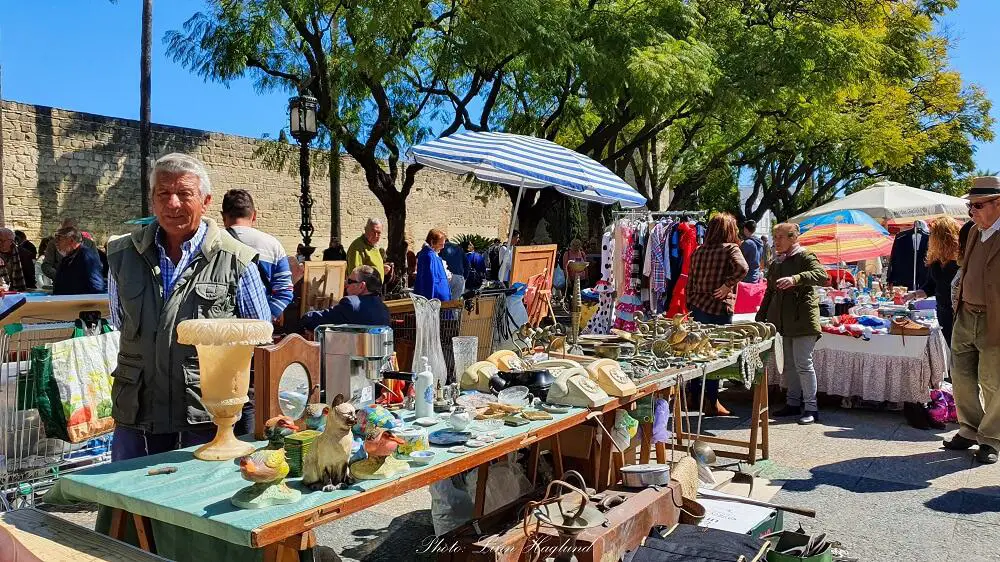 Visit Iglesia de San Juan de los Caballeros
This moderate church in the San Juan neighborhood has a moderate Mudejar style to the otherwise Gothic and Renaissance structure.
The inside is breathtaking with golden ornaments contrasting to the modest Gothic style, rays of sun illuminating the floor, and dramatic statues of virgins and Jesus Christ.
If you make it to this side of the city, make sure you take a peek inside Iglesia de San Juan de Los Caballeros outside of mass time.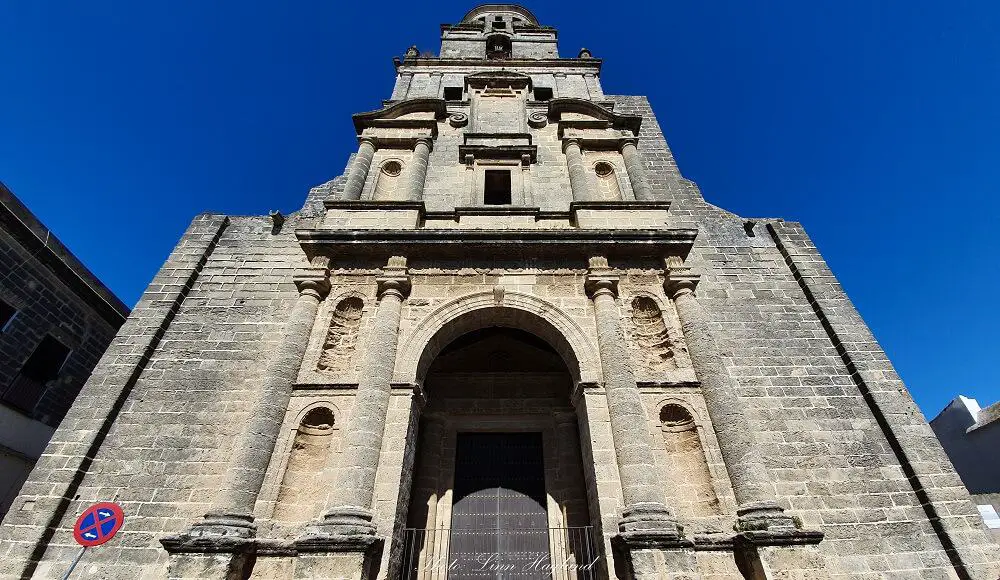 Go on a sherry tour of the city
As the world's sherry capital, Jerez is dotted with sherry factories and bodegas where you can go sherry tasting like a pro!
The most famous is Gonzáles Byass who also owns Tío Pepe which is another big name within Jerez sherry.
Tío Pepe (which stands for Uncle Jose, Pepe being a common nickname for people named Jose in southern Spain) is a local legend from back in the early-mid 1800s when he was often seen on the steps of the cathedral with his sherry and wine.
Bodegas Tradicion is one of the younger sherry bodegas in Jerez, though the founder is a descendant of the owners of a 17th Century bodega. Not only does Tradicion use traditional methods but it also houses one of Spain's greatest private art collections. Truly a must-visit while in Jerez de la Frontera.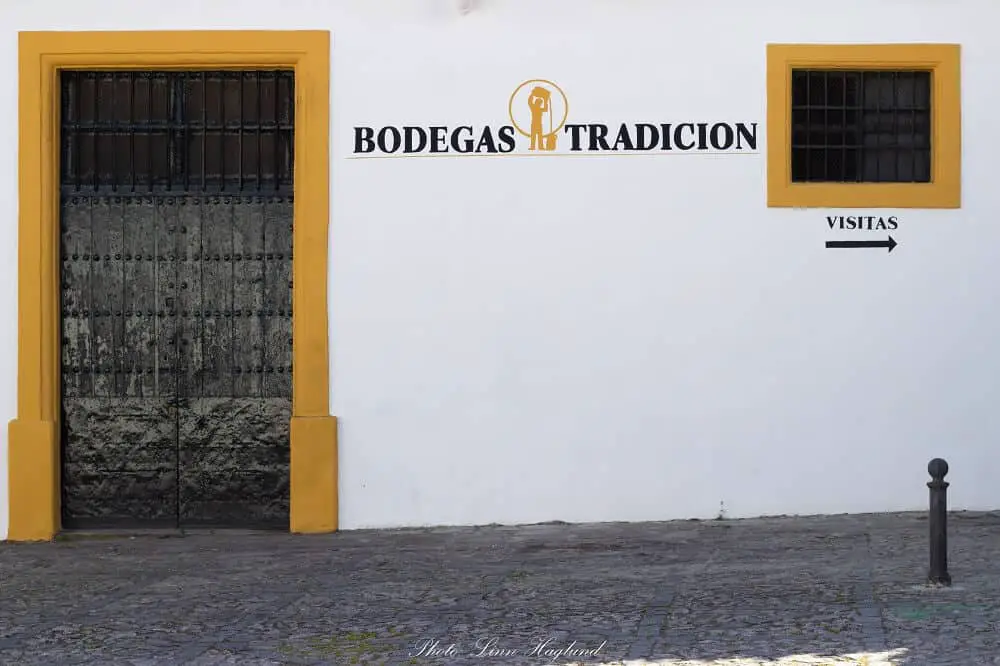 Watch a Flamenco show in Teatro Villamarta
The theater Teatro Villamarta in Jerez was built in 1926 and is today frequently used not only for flamenco shows but also for classical concerts and ballet shows. This is a great choice if you want to mingle with the locals at a cultural event.
The theater seats 1226 people. It has a magnificent interior and if you look up at the windows of the towers, you'll see that are shaped like wine bottles.
This is one of the first buildings in Spain to use concrete walls and still holds artwork from 1927 of the local artist, Teodoro Miciano.
There is also a cute cafe at the entrance with a couple of outside tables.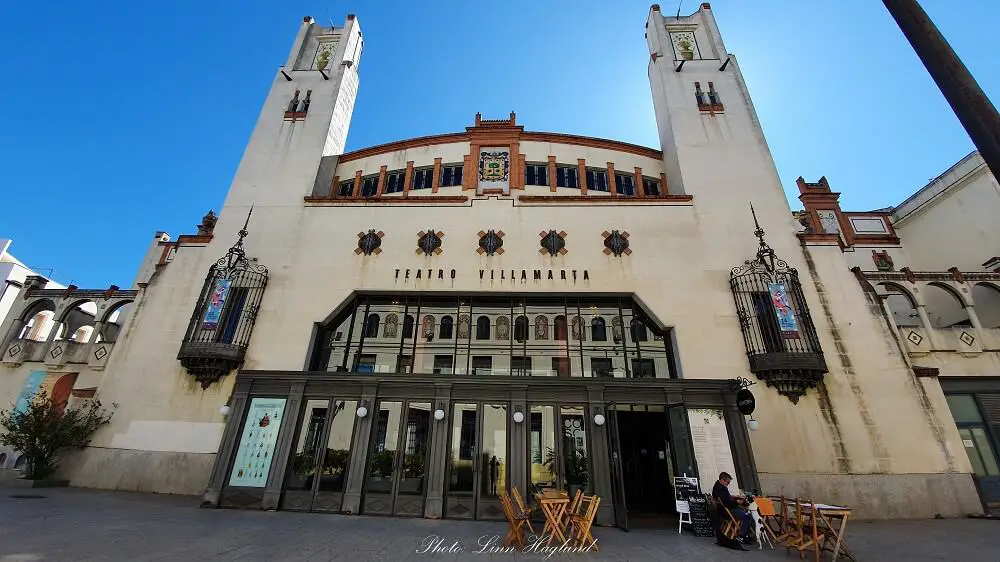 Get lost in the historical center
Spending a day getting lost in the historical center is one of the best things to do in Jerez de la Frontera. There are so many cute streets, and hidden bars, and did I mention all the beautiful churches?
There are beautiful squares and old structures everywhere you go so make sure you have your camera at hand!
You might even practice your Spanish by talking to locals in a park to learn more about the local traditions and history.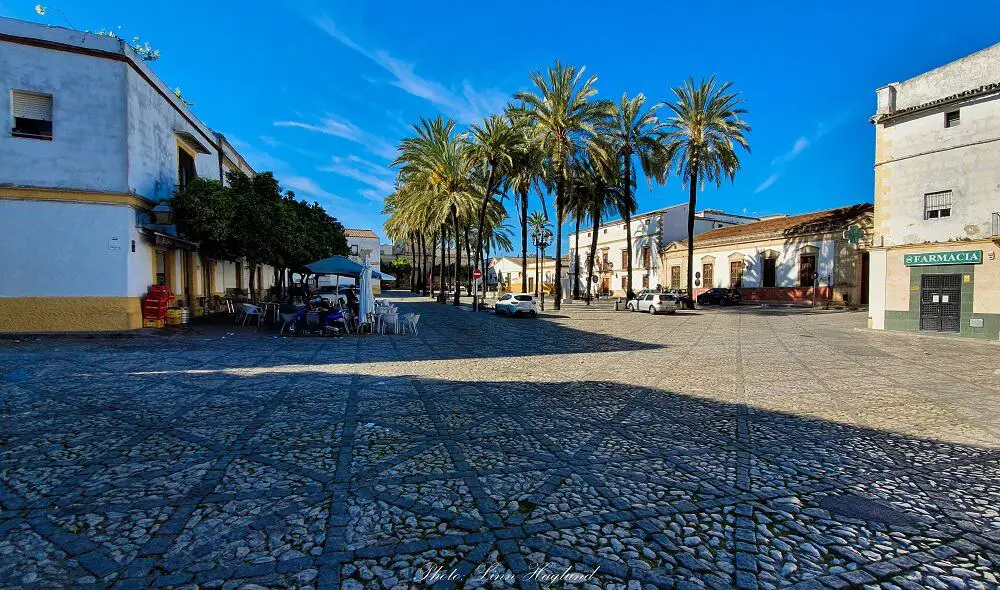 Visit the Mercado Central de Abastos
If you like wandering around markets, then it's a must to visit Mercado Central de Abastos, the main food market in Jerez de la Frontera.
While it is best known for its quality fish, you also find fruit, vegetables, and olive oil. The building housing the colorful and lively Mercado Central de Abastos is a stylish neoclassical artwork from 1885.
Opening hours: 8:00-14:45 Monday to Saturday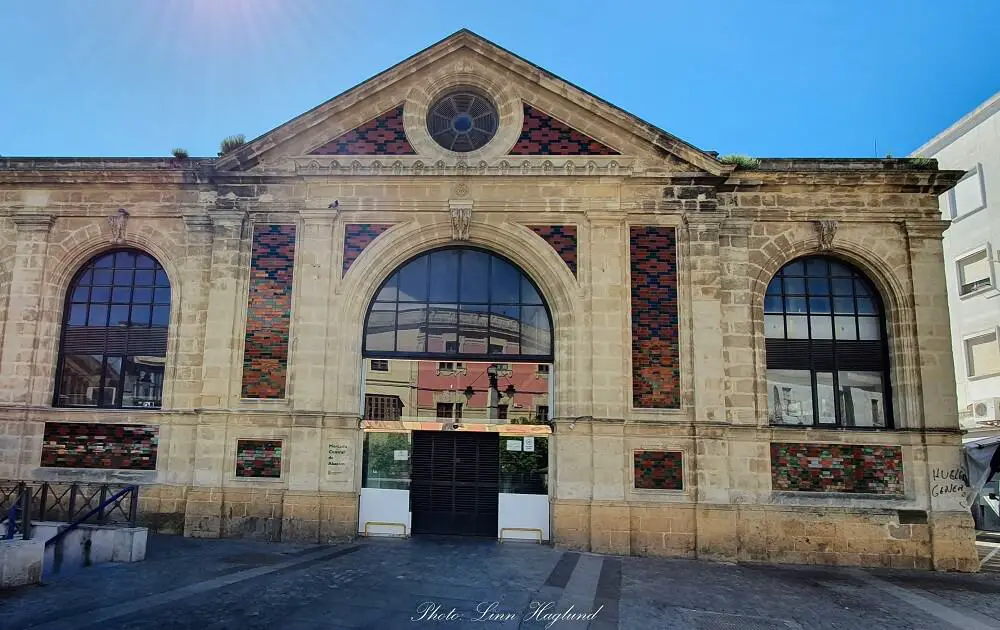 People watch at Plaza del Arenal
Plaza del Arenal is the main square in Jerez and is surrounded by restaurants and bars to have lunch or just a glass of Tinto de Verano on a hot day.
The square is usually full of people crisscrossing, kids playing, and buskers playing. Plaza del Arenal is a short walk from the cathedral and the gateway to the shopping street.
Whether you choose to sit down at a bar or at the edge of the fountain this is the place to people watch and enjoy the atmosphere.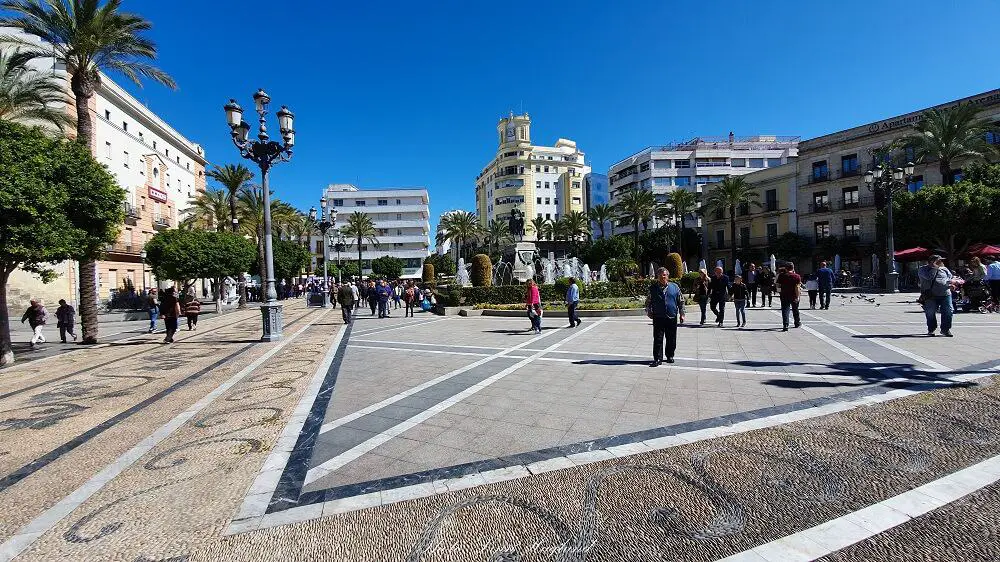 Visit Iglesia de Santiago
The Iglesia de Santiago church was built in the 15th and 16th Centuries. Starting off in a late Gothic style and is finished with a Baroque touch.
The church is situated right outside the old medieval walls where there used to be a chapel of the same name. It was a sign of the city's growth as they started building outside the existing city walls and expanding its size.
Though this attractive structure pulls you in, you'll be met by a surprisingly modest interior of light, large, plain arches. Iglesia de Santiago is truly a calm place of worship with an important history.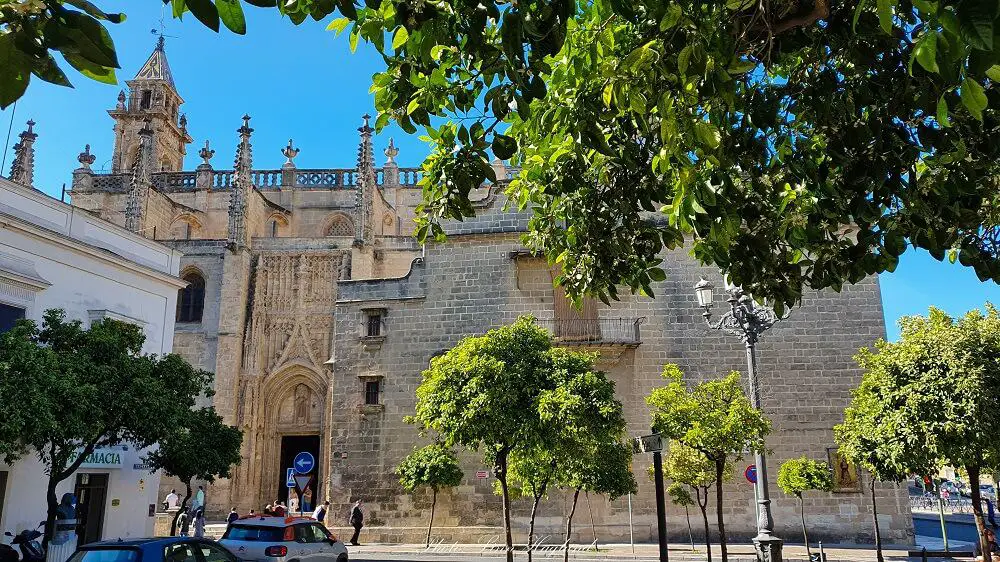 Monasterio de la Cartuja de Santa Maria
A short drive outside the city center of Jerez de la Frontera you find Monasterio de la Cartuja de Santa Maria. An outstanding late gothic structure started built in the 15th Century and finished off in the 17th Century with a Baroque finish.
The complex consists of the Arrayannes courtyard, monastery, and chapel. It is also worthy to note the spectacular Greco-Roman portico when you enter. There is no arguing that this is considered one of the structures with the greatest artistic value in the province of Cadiz.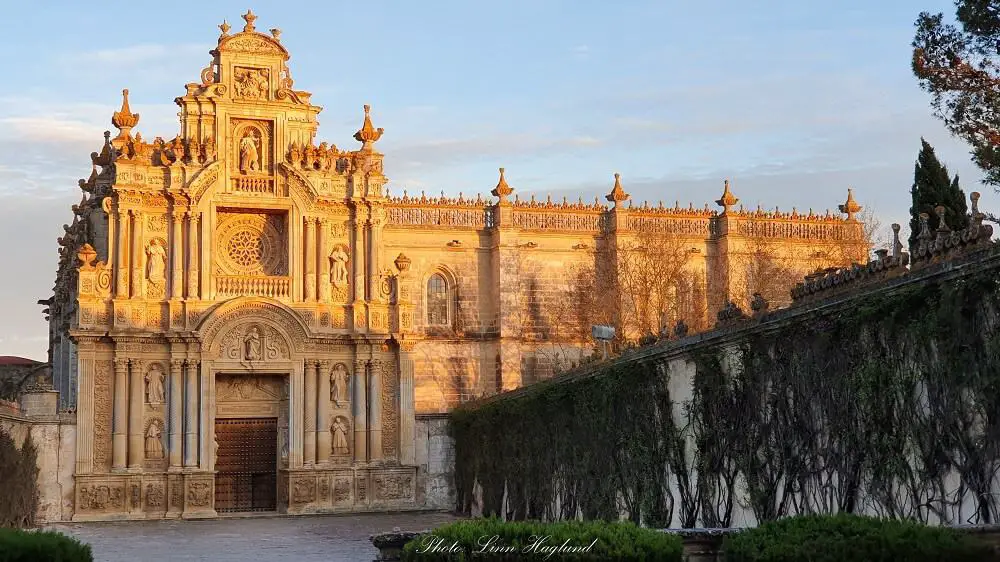 Responsible tourism in Jerez de la Frontera
As Jerez de la Frontera still isn't getting too touristy, it's important to respect their customs and traditions. Obviously, this should be done anywhere, but I think it's important to embrace the authenticity of this charming Andalusian city.
Another thing to pay attention to is that they have horse carriages hanging out in several places in town but please opt out of this activity. The horses are standing long hours in the heat of the day and it is just not an ethical activity. You can read more about unethical animal tourism here.
I also see that a lot of organized tours include dancing horses shows. Stand up against animal tourism and don't support it as a tourist attraction!