Whether you love to sunbathe for hours on a long, white-sanded beach with clear water or you're the active kind that gets easily bored, Bolonia beach in southern Spain will not disappoint.
There are plenty of things to do in Bolonia, with the untamed Bolonia Sand Dunes cascading down to the turquoise water offering mesmerizing views of Africa that are only an arms-length away. Roman ruins line the beach, snorkeling, walkways, and animated beach bars for a break in the shade.
Bolonia beach is one of the best beaches in Andalucia and truly one of the best things to do in Tarifa. In this post, I'll walk you through everything you need to know to spend the perfect day in this 4 kilometers long and 70-meter wide natural paradise.
Disclosure: This post may contain affiliate links. That means that if you make a purchase through one of those links, I will get a small commission at no extra cost to you.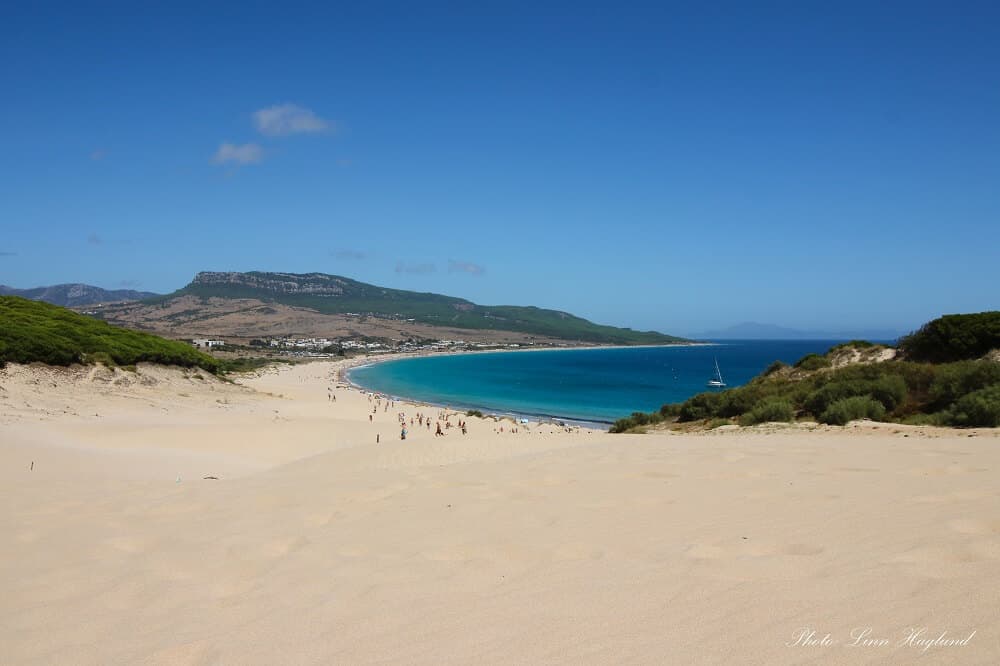 How to get to Bolonia beach
Bolonia beach and dunes are situated in the Cadiz province right west of Tarifa, one of the most popular surf towns in southern Spain. It's just before you reach Playa Los Alemanes, also one of the top beaches in Cadiz.
While visiting Bolonia is one of the best things to do in Cadiz, it also makes a perfect day trip from Seville or from Malaga with just over 2 hours of driving.
But it's also worth staying a few days in the area, exploring Tarifa, going whale watching in the Strait of Gibraltar, and maybe even making it a part of a larger road trip in southern Spain. Other places nearby worth exploring are, Los Caños de Meca, Conil de La Frontera, and Vejer de la Frontera.
In the summer months of July and August, there is a microbus from Tarifa to Bolonia, but your best bet is to drive. Even though it has turned into one of the most attractive beaches in Tarifa, it is still remote compared to other beaches in the area.
Turning down the CA-8202 from the N-340 coastal road, you'll drive through confounding nature before you reach the beach. If you write in Bolonia beach/Playa de Bolonia in the GPS, it'll take you straight there.
Once at the beach, there are several large parking lots where you might have to pay a small parking fee to the parking guards. If you travel by camper van, you can go in the evening after they've left and camp there directly to avoid the fees.
If you do so, make sure you leave no trace! It's extremely important to think about this as the wind can be unforgiving on the coast of Cadiz and anything left behind will fly miles away in no time.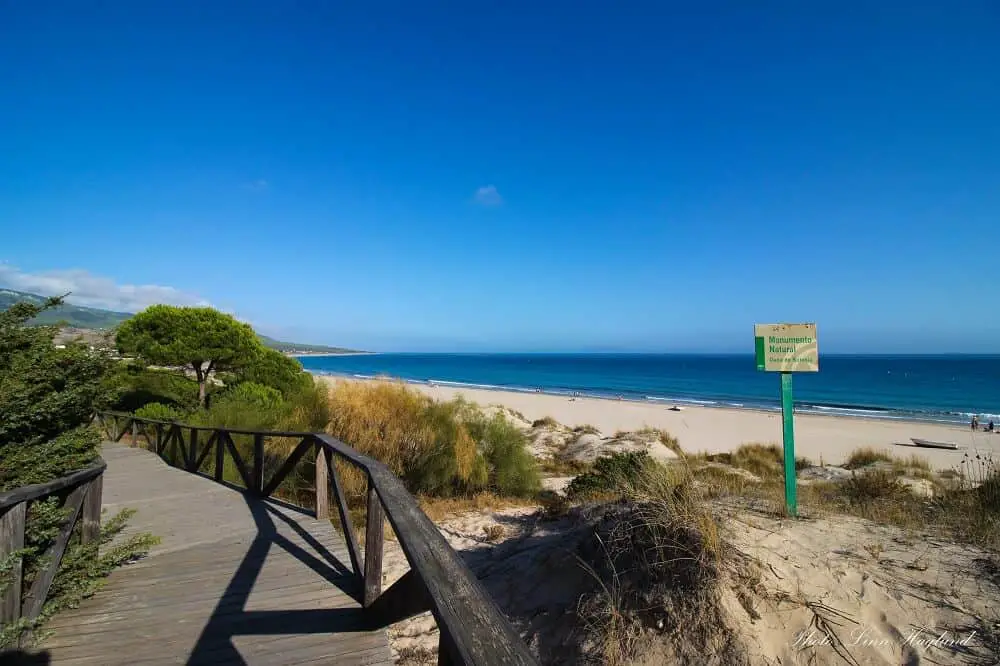 Where to stay near Bolonia, Cadiz
The best place to stay near Bolonia is either Tarifa or any of the hotels or campsites along the N-340 between Tarifa and Bolonia. You could also stay near Playa Los Alemanes. Though it's very close along the coastline, it's a 40-minute drive.
Here are a few great options in and near Tarifa:
Mesón de Sancho is an excellent place to stay where you can indulge in large, spacious rooms and bungalows with terraces. There is a nice outdoor pool there too with views of Africa. It's easy to get to as it's situated right off the N-340. The luxury of staying here is well worth the 30 minutes it takes to drive to Bolonia beach, and it's not much longer than from the center of Tarifa.
South Hostel Tarifa – Kite Service Center is a great budget hostel if you don't mind sharing a dorm. It's situated in Tarifa and perfect for kite surfers or anyone wanting to learn how to kitesurf. It's about a 20-minute drive to Bolonia beach from there.
High Flyers House is probably my favorite place to stay in the historic center of Tarifa. The colorful and Moroccan-inspired interior is super charming and I always feel welcome. There is a nice terrace too if you want to relax with a book and a cold drink.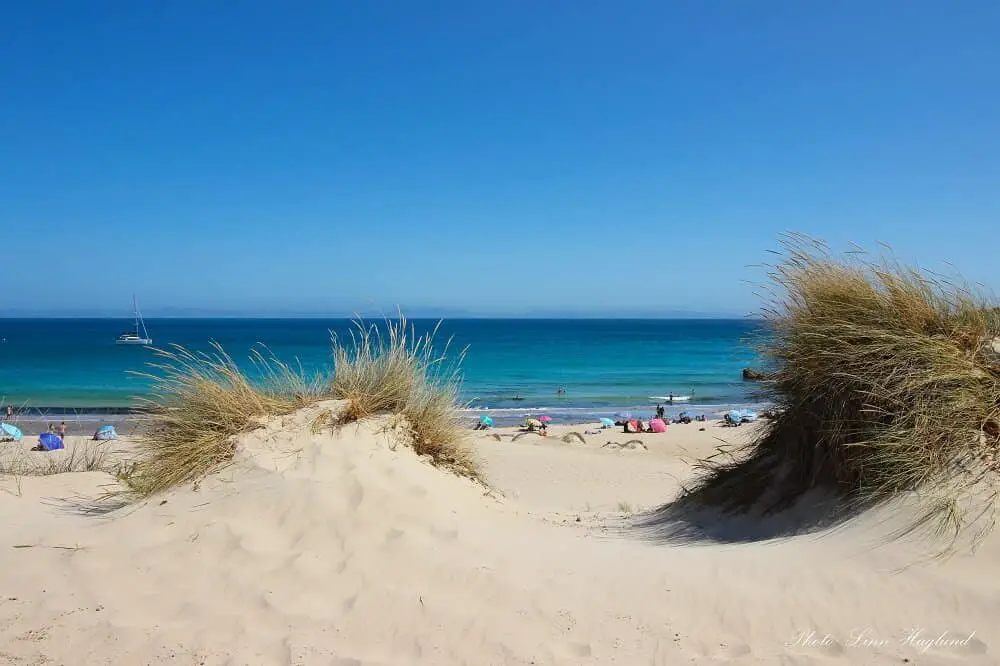 Facilities at Bolonia beach
Bolonia beach has gone from wild and untamed to semi-touristy. Its popularity has grown excessively the last few years, though mostly among the Spanish. With popularity, comes facilities. Which is good as long as they're not taking over the beach. In the case of Bolonia beach, it's just enough.
Here's an overview:
No sunbeds/parasols
Beach restaurants and bars
Toilets
SUP, bodyboard, kite, and windsurf rental
Lifeguards
Showers
Surprisingly, there are no sunbeds or shade for rent, so you'll have to take your own. And it's highly recommended to bring shade as the sun is scorching even if you don't feel it as much when it's windy.
There are a few beach restaurants and bars where you can get food and drinks. These are mainly towards the east, away from the dunes, with a couple of exceptions. These places have toilets for guests. There are also a couple of beach vendors walking around selling cold drinks in the busy summer months.
You can also rent SUP, bodyboard, kite, and windsurf equipment. If you're new to windsurfing, you can book lessons too.
Lifeguards are situated along the beach with watchtowers, but they also patrol the beach by foot which is soothing. With that said, the water at Bolonia beach doesn't get deep straight away so it's safe for younger children too.
Finally, there are a couple of showers where you can shower off saltwater and sand – one is situated by the parking lot.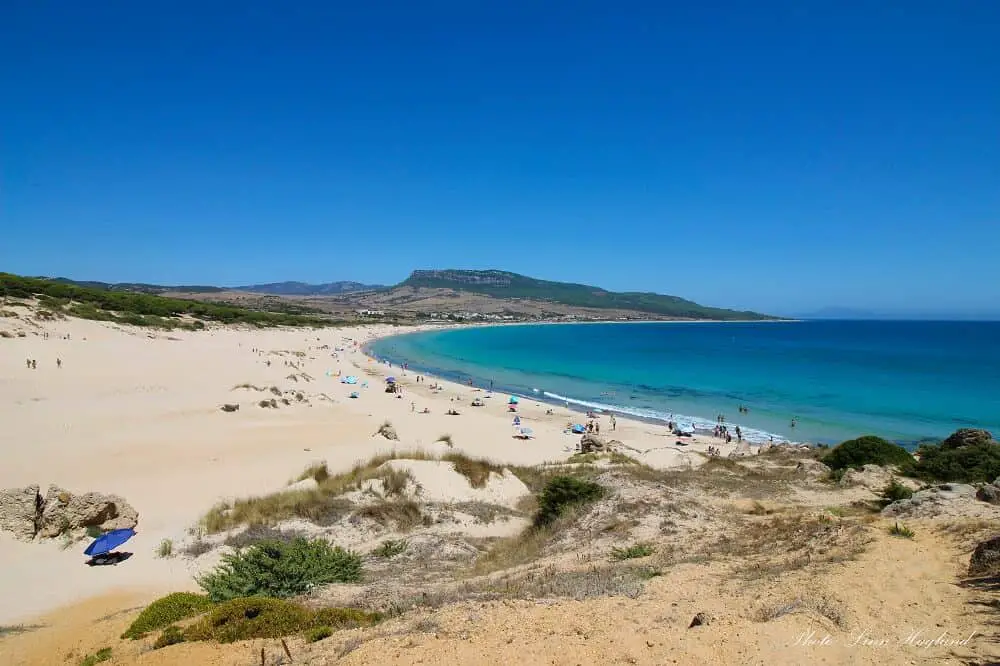 What to do in Bolonia, Spain
As I mentioned, there are plenty of things to do in Bolonia, whether you want to relax or stay active. As an active beach goer myself (yes, I do get seriously restless laying on a blanket all day doing nothing), I've done it all. Here are my top activities to spend a beyond-perfect day at the beach and dunes.
Relax on the beach
First of all, when spending a day in Bolonia, Tarifa, you might want to relax on the beach, if not the whole day, at least a little bit. If it's not too windy, this includes multiple dips in the ocean too.
Make sure you bring a good book to chill with.
Make sure you bring a big towel or blanket and a parasol so that you get shade for your things and your book if you plan to read.
Walk the dunes
Even if you plan on a relaxing beach day, make sure you at least walk the Bolonia dune. Head to the west side of the beach and from there, you'll have to walk up the sand dunes.
Bolonia sand dune is declared a natural monument and about 200 meters wide and more than 30 meters tall. Situated in the Estrecho Natural Park, it's a must-visit while in Bolonia.
I've seen people glide down on bodyboards and roll down the dunes, but if you don't like to get sand between your teeth, you can perfectly walk up and down on your feet.
Once you get to the top, you'll be rewarded with mesmerizing views of the 4-kilometer long beach and the mountains in Africa on the other side of the strait. Around you, there is wild, untamed nature as far as you can see. It's hard to think you're in Spain when you literally stand on top of a dune from the Sahara.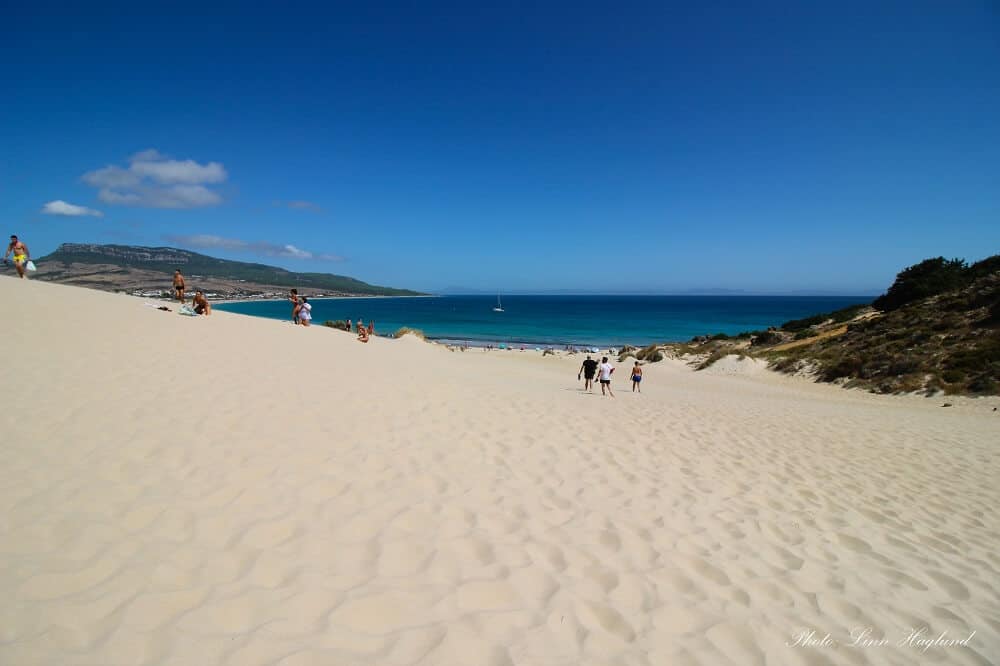 Visit the Roman ruins of Baelo Claudia
The Roman ruins of Baelo Claudia are among the most important Roman remains in Andalucia, together with Italica in Seville and the Acipino ruins in Ronda. Yet, it's one of the hidden gems in Andalucia that not so many know about.
What's especially impressive with these, is that you can admire them directly from the Bolonia boardwalk even after closing hours. So if you don't get the time to do the full tour of the archeological site, you can still get a pretty great glimpse of them from the outside.
Baleo Claudia was founded in the second century BC, partly because of its strategic proximity to Africa and partly to take advantage of the tuna migrations through the Strait of Gibraltar.
The entrance to the archeological site is through the Baleo Claudia Roman Museum where you among other things can see exhibits of how their life would have been in the city.
The site opens at 09:00 and closes between 15:00 and 21:00 depending on the time of the year. It's closed on Mondays and certain public holidays.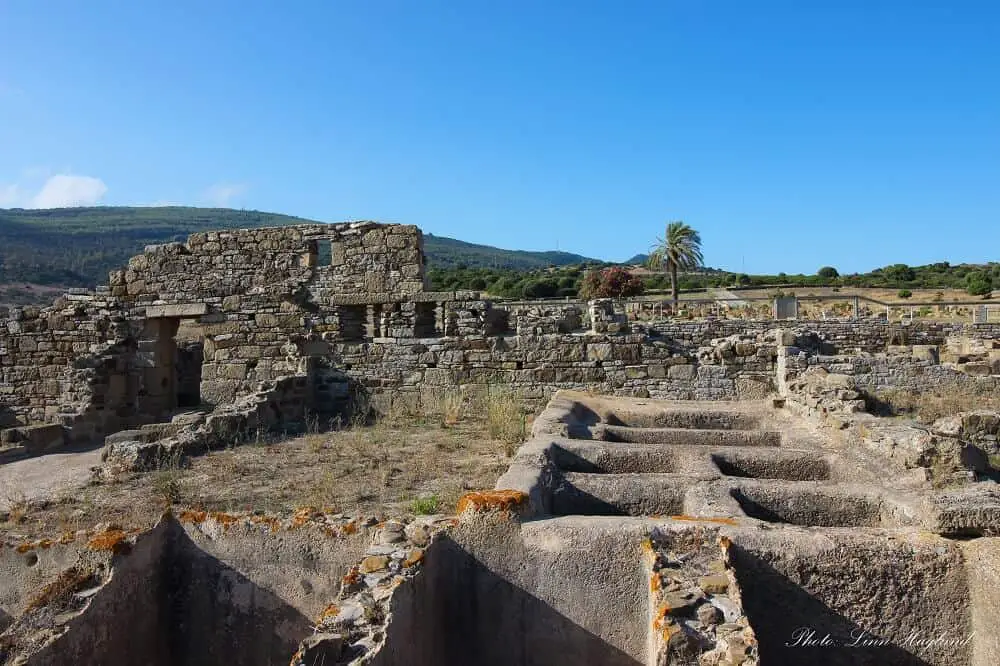 Drink Sangria at one of the beach bars
A good place to go for shade and a cold drink is one of the beach bars. And what better than a refreshing glass of sangria on a hot day on the beach?
Sangria is typical to Spain and Portugal and traditionally consists of red wine and chopped fruit served cold. If you haven't tried it yet, make sure you do.
You can get something to snack on too even if you're not up for a big lunch. It's still a great, cooling break to an active or not so active beach day.
Walk the Bolonia boardwalk
From the parking lot, towards the sand dune at the western part of the beach, there is a 1-kilometer long wooden boardwalk taking you past the imposing Roman ruins of Baleo Claudia.
While most of it is boardwalk, there are parts where it's covered in sand and other parts where it takes you down to the beach before it continues again. For this reason, it's not apt for wheelchair users.
The boardwalk ends with a viewpoint of the sand dune. Definitely worth the walk.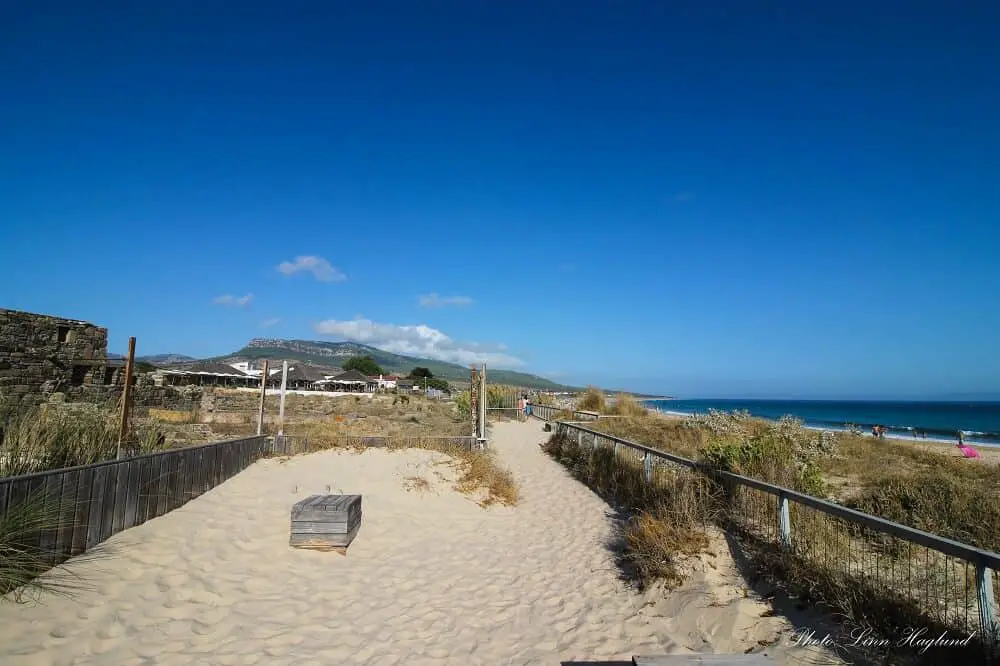 Go snorkeling
What better way to explore the underwater world on a day on the beach than snorkeling? Below the dune, there is great snorkeling as there's more rock and you can enjoy colorful fish for hours.
If you don't have your own snorkeling gear, I suggest you pick up some in Tarifa before heading to the beach. They're pretty cheap and a good addition to your travel kit.
Hike for the best views
Not only can you hike up the sand dune, but the whole rock outside the dune is crisscrossed with trails. Some are harder to climb than others, which can make them a challenge in flip-flops. But if you're a little like me, that's what you wear on the beach, so the challenge will have to be accepted!
The views are pretty awesome as you can see both the dune and the beach from higher up. But also the views of Africa on a clear day make you want to stretch your hand over and touch it.
This is one of the best things to do in Bolonia, especially if it's a bit windy so you can stay out of the water for a bit.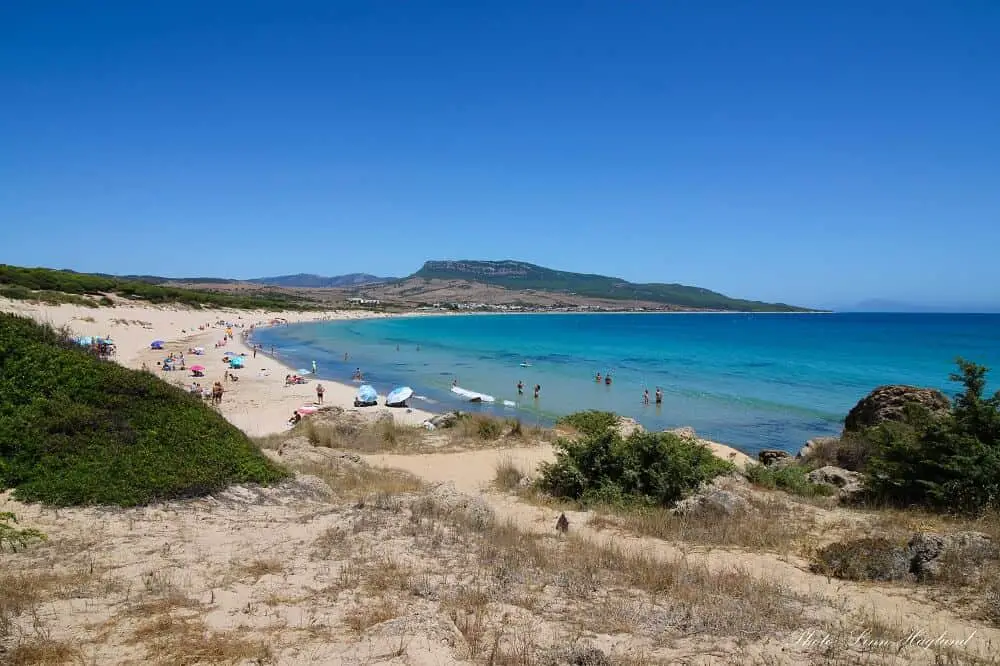 Stand up paddleboard
Close to Tarifa, Bolonia is a great place for water sports activities. When the sea is calm, there is no better way to spend the day than cruising on a stand-up paddleboard (SUP.) There is a rental at Bolonia Windsurf Center, situated on the east side of the beach.
The turquoise water is just perfect for this as it invites you to jump in as soon as the sun heats you up. One of my favorite beach activities for sure!
Walk along the beach
With 4 kilometers of beach, Bolonia beach makes for the perfect stroll. With clear, turquoise water to cool down whenever you get hot, there's no excuse.
Make sure you put on sunscreen before your walk, so you don't get burned. I recommend a reef-safe sunscreen so that you make the least impact on marine life.
It's also a good idea to bring some cash to get a cold drink in one of the beach bars so you stay hydrated.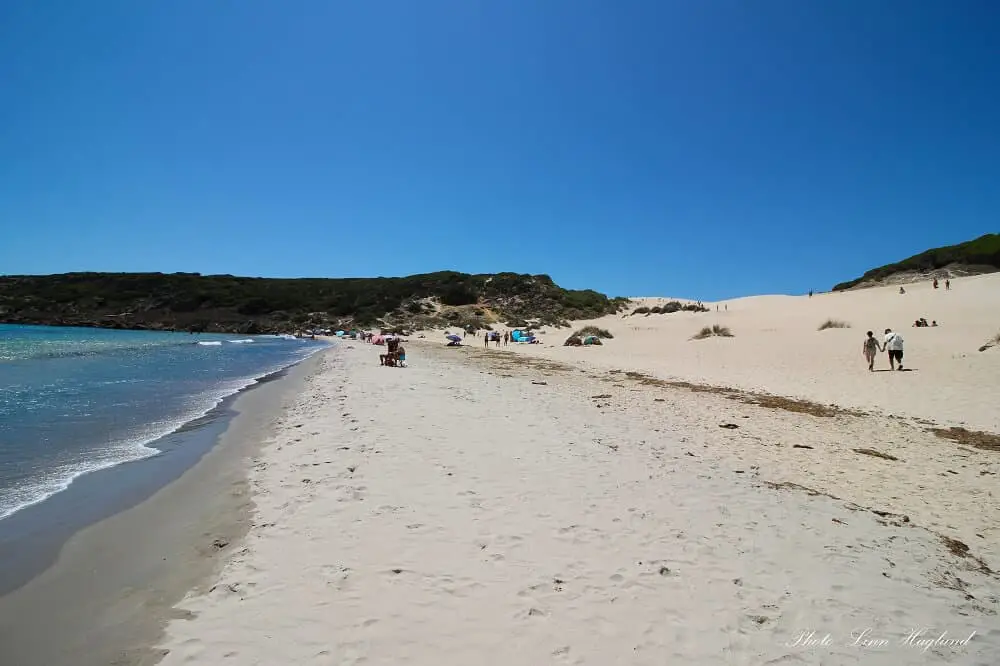 Wind/kitesurf
Bolonia Windsurf Center doesn't only rent out SUP. As the name suggests, they specialize in windsurfing and you can even take classes.
If you're already mastering windsurf or kitesurfing, you can rent equipment and ride the waves on your own. It's a lot of fun and if you haven't tried it before you should definitely go for it!
Reflections on Bolonia beach and dunes in Tarifa
With so much to do, and so impressive nature and history, there is no way you'll go bored at Bolonia beach. This is one of the few beaches I can stay for a couple of days without having to go to the next. And usually, on an Andalucia road trip, I skim 2-4 beaches a day when I go solo as I need a frequent change in my environment.
If you are a van-lifer, this is also the perfect place to base yourself a few nights.
Before you go to Bolonia, as with any beach in Costa de la Luz, make sure you check the wind forecast. It's not that fun to stay at the beach when it's too windy – which it often becomes in this corner of the country.
Pin it for later!