Barranco Blanco is a piece of calm and magic and feels like a world away from the busy sunshine coast and only a short day trip from Malaga in southern Spain. Walking through the thick bamboo forest to the sound of the clear stream of running water this could just as well have been in India or Thailand. But you're not. You've found a hidden gem in Andalucia.
On a busy summer day, what reveals that you are in Spain and not any other corner of the world, are the loud Andalusian high-speed conversations filling up the calmness of this paradise. To secure some peace, I prefer to go there in late spring or late summer.
In 2012 the area suffered a major fire that burned down most of its forest. Luckily, most of it has recovered and it is once again a true paradise.
Disclosure: This post may contain affiliate links. That means that if you make a purchase through one of those links, I will get a small commission at no extra cost to you.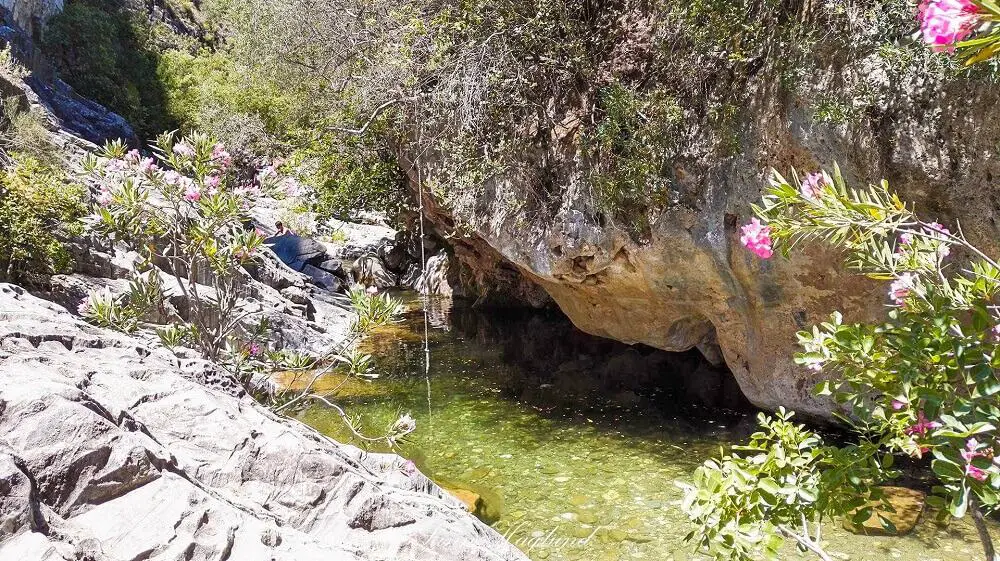 Wildlife at Barranco Blanco
Barranco Blanco has a broad variety of fauna and wildlife. Because of the constant water source from the Mijas mountains, the river has permanent water flow all year round. Among other species, an endangered kind of red mullet is still to be found in the river. Also, a few sea otters live in the stream, though I have never seen any.
During early morning or at dusk you might be lucky and see mountain goats roaming around. If you stand still you can appreciate the look of them eating from bushes or staring back at you before they disappear into the bush.  These are truly magical moments.
At the same time of the day, there are also wild boars lurking around. These can become aggressive if they feel pressed up against a corner without an option to run away. Otherwise, they normally won´t bother you but rather run away when they see people. They are quite impressive animals to witness in the wild.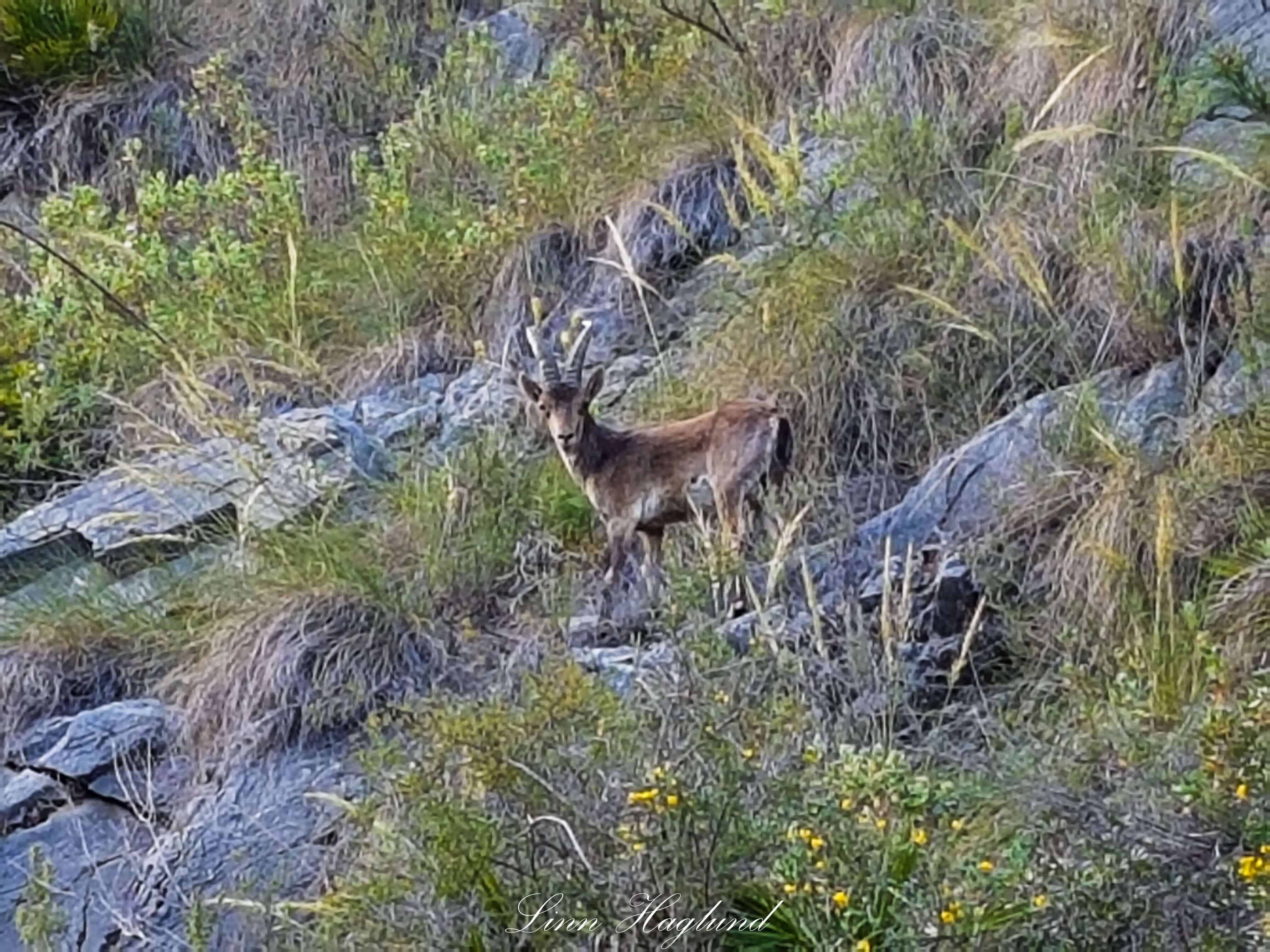 The river walk
The walk along Barranco Blanco is spectacular and one of the best things to do in Mijas. The name means "White ravine" and comes from the white limestone rocks covering the otherwise green vegetation.
It feels like a tiny jungle trek with all the lianas tangled in the green trees, bushes, oleander trees, and bamboo trees along the path.
The river, small and vivid, crosses through the wild forest. Smaller and larger rocks divide the course of the shallow water as it plays its way down.
For the first 10-15 minutes you can either walk in the river itself or along the path. To cross the river, you have to walk across the rocks to the other side.
When you get to the first water hole there is a rope you can throw yourself into the water with. On a hot summer day, there is nothing better than a cool swim in the crystalline pool surrounded by rocky mountains on both sides.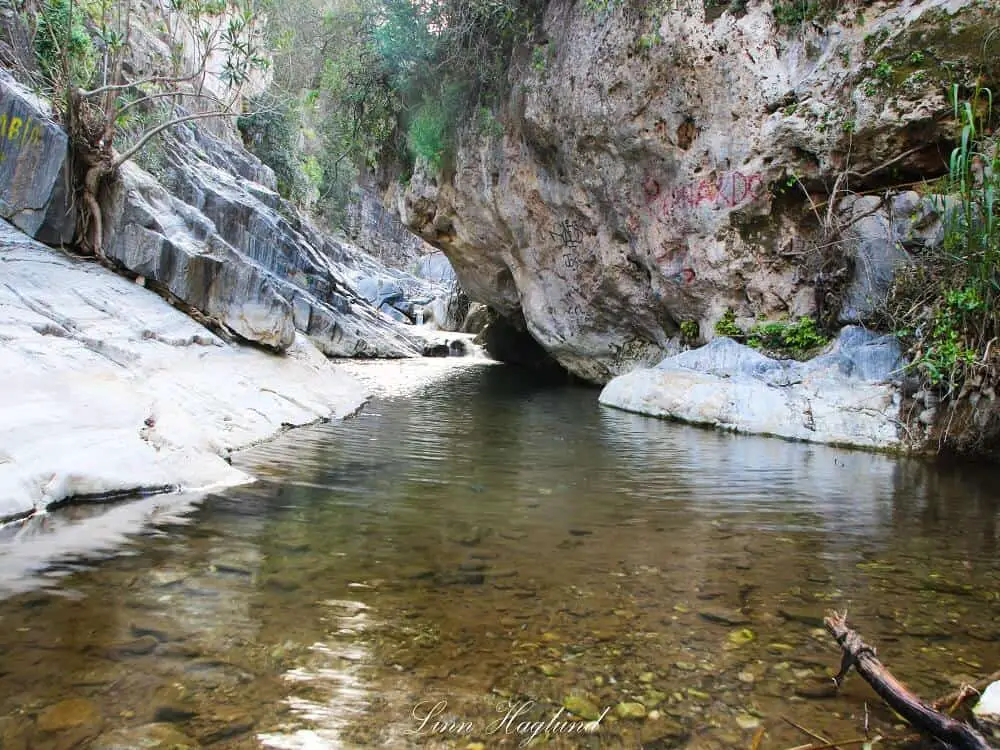 There are no comfortable places to sit down other than on the rock side that slides sideways towards the waterfront on one side of the water. However, this is a great place to have a snack and a drink either if your plan is to continue hiking or indulge in the beauty of this place before returning.
Only the more adventurous climb further and make the entire 4-kilometer hike. There are other water holes and small waterfalls you can get to, but it takes some effort to get there.
Unless you have good footwear, I suggest you be careful. However, it is totally worth going further. Also, be aware that jumping from the waterfalls can be rather dangerous as the water is not very deep, especially in periods with less rain.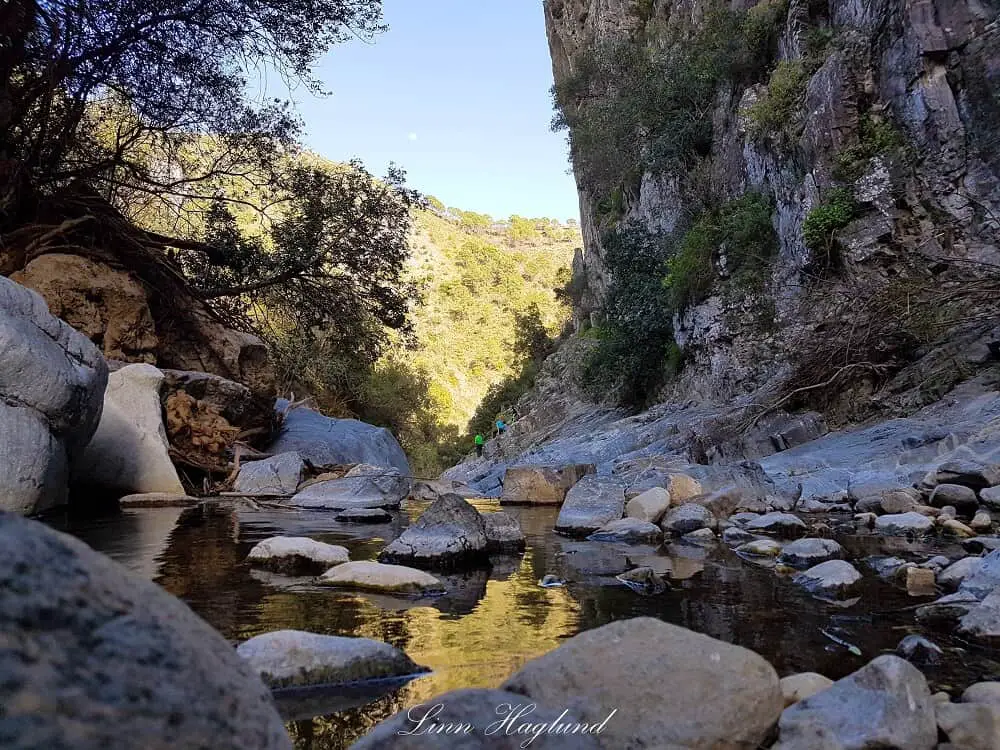 What to bring for your hike
If you want to go the whole way, you should bring good footwear that can get wet, but also that can handle a climb. The rock walls along the river are steep in some places and can be slippery without the right footwear.
You can also swim parts of the hike instead of climbing, so either this is your choice, or you just want to cool down in the clear water, bring your swimwear.
For the adventurous, I recommend bringing a waterproof bag for your valuables and dry clothes. For some amazing photos along the hike, bring your camera. A waterproof sports camera is a good idea if you plan on swimming along the trek.
If you plan on staying for a while, you should bring a lunch pack but most importantly, enough water. As mentioned earlier, there are no comfortable places to lay your picnic blanket.
There are, though, many places to sit on the rocks along the path and with these breathtaking surroundings, there is nothing to complain about.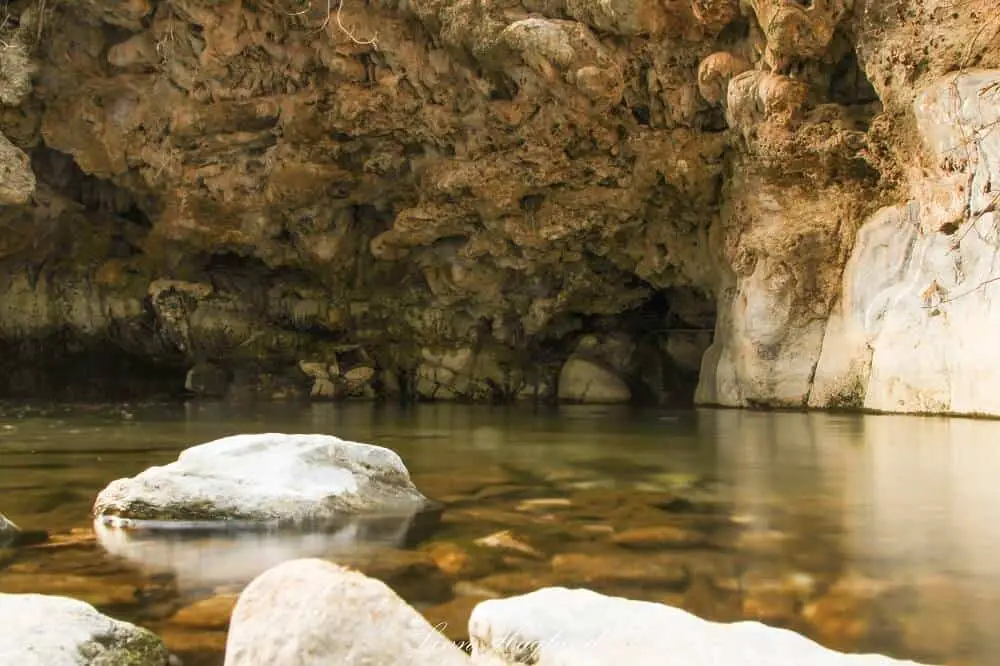 YOU MIGHT ALSO LIKE: Prettiest white villages and towns in Andalucia
How to get to Barranco Blanco
To get to Barranco Blanco you will need a car. Follow the GPS to this marvelous place between Alhaurín el Grande and Coín. The final drive crosses a partly paved partly dirt road through a forest where you definitely shouldn´t bring your lowered sports car.
The road signs say you are not allowed to drive through, but I always do as it takes at least half an hour or longer to walk on the road to get to the start of the trail.
At the end of this road, holding to your right the whole time, you get to a parking lot that fits around 5-10 cars. And there are always more cars. This means more cars drove past the forbidden signs before me.
At the parking lot, there is a sign showing the animals you can expect to see in the area. From there you walk further down the dirt road a couple of hundred meters (not across the first stone bridge at the parking lot) until the next sign with animal species. This is where the trail starts, by another stone bridge where the water runs beneath.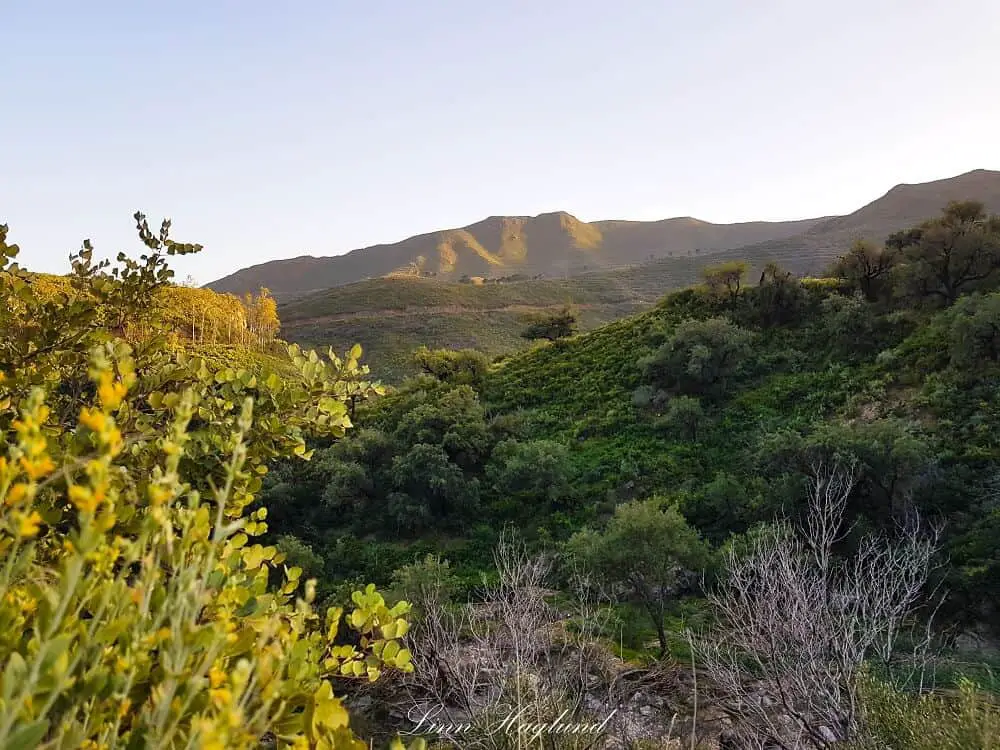 Keep nature clean
There are many people going to Barranco Blanco, especially during the summer months. This takes its toll on nature. It´s mostly locals visiting, though some tourists make their way.
In wintertime, I usually don´t see much of this, but in summer there are some days I think I could have filled an entire bin bag of the big black ones with rubbish.
The trek is popular on hot summer days and unfortunately, it seems like a lot of people don´t care to bring their own trash when they leave.
I usually bring a bag with me and collect what I can on my way back to the car. I think that if we all bring some pieces of rubbish that are not ours, in the end, we can make it cleaner.
For the reasons above and for the serenity of being alone, I believe the best time to go to Barranco Blanco is late spring/early summer or late summer/autumn starting from September.