When you've explored all the things to do in Cadiz, you might want to explore the surroundings too. And you really should. This part of Spain is one of my favorites. There are so many cute white villages, hillside towns, vibrant Andalusian coastal towns, and cities situated within a day trip from Cadiz that it can even be hard to decide where to go.
After living in nearby Seville, I've spent a lot of time in Cadiz and the surroundings, and in this post, I'll share the absolute best day trips from Cadiz that you should take based on my experience.
Get ready for mind-blowing views of the deep blue ocean, whitewashed houses ornated with colorful flowers, sand-blown beaches, historical sites, impressive architecture, sherry, more sherry, and maybe even a little bit of Flamenco.
Whether you spend a day in Cadiz and use the city as a base for day trips or you spend a week exploring all the hidden gems in Cadiz, you should definitely consider one or more of these places!
Disclosure: This post may contain affiliate links. That means that if you make a purchase through one of those links, I will get a small commission at no extra cost to you.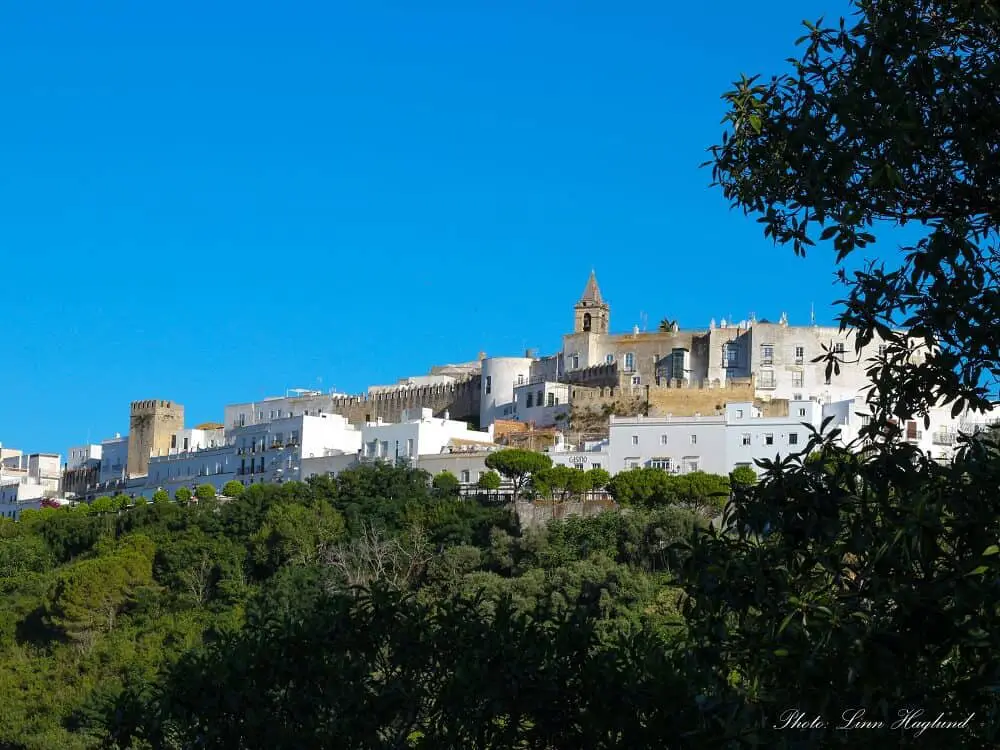 Day trips from Cadiz
The province of Cadiz is full of great towns and villages and here are some of the best day trips from Cadiz you can go on based on my experience.
El Puerto de Santa Maria
One of my favorite day trips from Cadiz is to the little beach town El Puerto de Santa Maria. A true piece of Andalusia. You can easily get there by boat or you can drive in half an hour.
The little town has so much to do and you can spend your day in El Puerto de Santa Maria wandering around the streets. Make sure you visit San Marcos Castle and the Major Church Prioral. If you're a wine lover, don't miss out on a visit to Bodegas Osborne where you can taste their finest sherries and brandies as well as tour the cellars.
You can also enjoy the beach at La Muralla beach or Valdelagrana beach in the summer months or on a hot winter day. These are some of the best beaches in Cadiz, so there's no excuse not to go to one of the best beach towns in Southern Spain.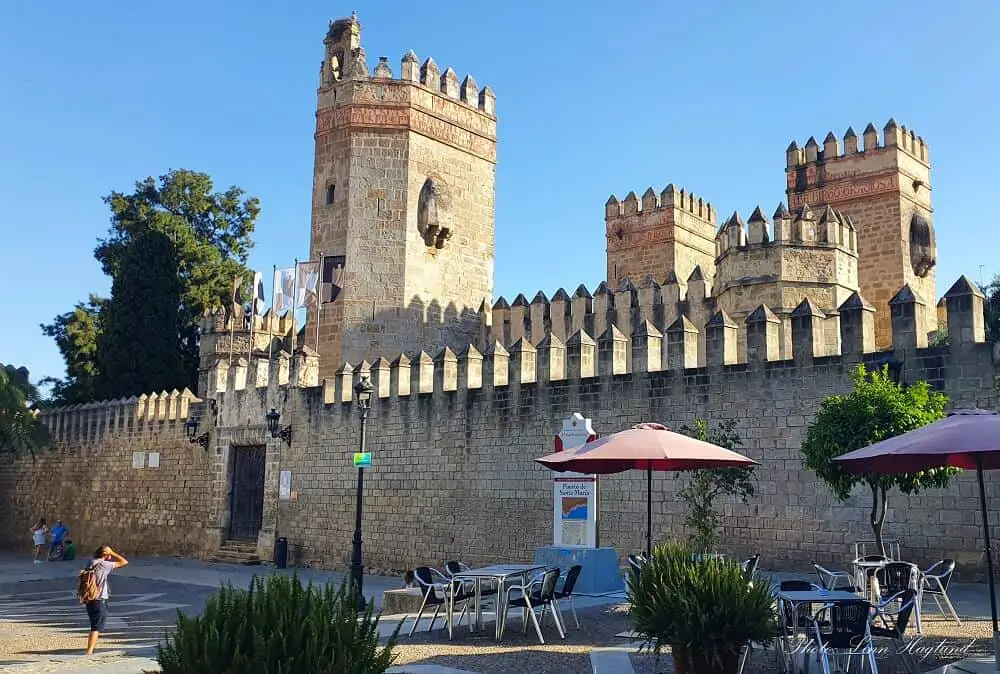 Jerez de la Frontera
Andalusia's sherry capital is only half an hour by train or car from Cadiz and should not be missed. There are plenty of things to do in Jerez de la Frontera other than sherry tasting too.
Wander around the wonderful streets and get lost among beautiful churches. Explore the narrow streets and you'll find sherry bodegas on every other corner. Visit the Alcazar and the great Cathedral which is one of the finest in the country.
Have tapas and drinks in the local bars and explore hidden corners of this charming city. Jerez de la Frontera is also home to more than 200 churches and convents, so you'll find numerous doors to peek in if you like churches.
Jerez de la Frontera is a great destination if you want to see fewer tourists than in Cadiz but still enjoy a city. It is also one of the most beautiful cities near Seville.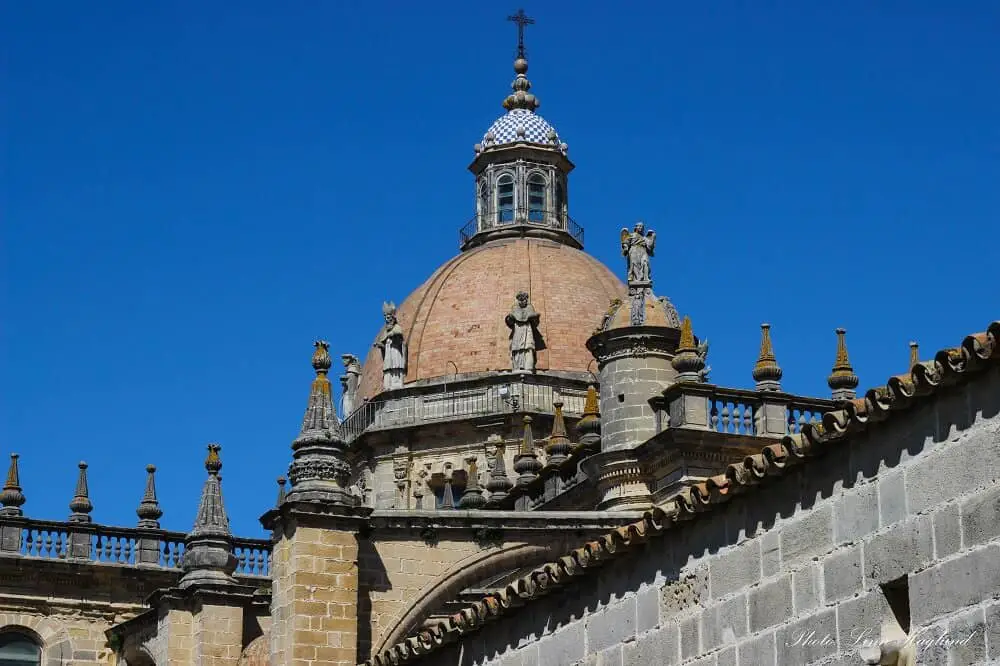 Arcos de la Frontera
One of the most beautiful whitewashed villages in Andalucia is only 40 minutes away by car. Arcos de la Frontera sits dramatically on a meters vertical hilltop. It has an interesting historical route walking you past astounding churches, mesmerizing views, and historical buildings.
The most prominent attraction is the Minor Basilica of Santa María de la Asunción which sits on the main square of Plaza del Cabildo. You also find one of the lookouts on the opposite side of the square where you get incredible views of the surrounding countryside from the top of the cliff.
It is just small enough to enjoy in a day and you can have tapas and drinks as you go. Arcos de la Frontera just has all you need from a white village.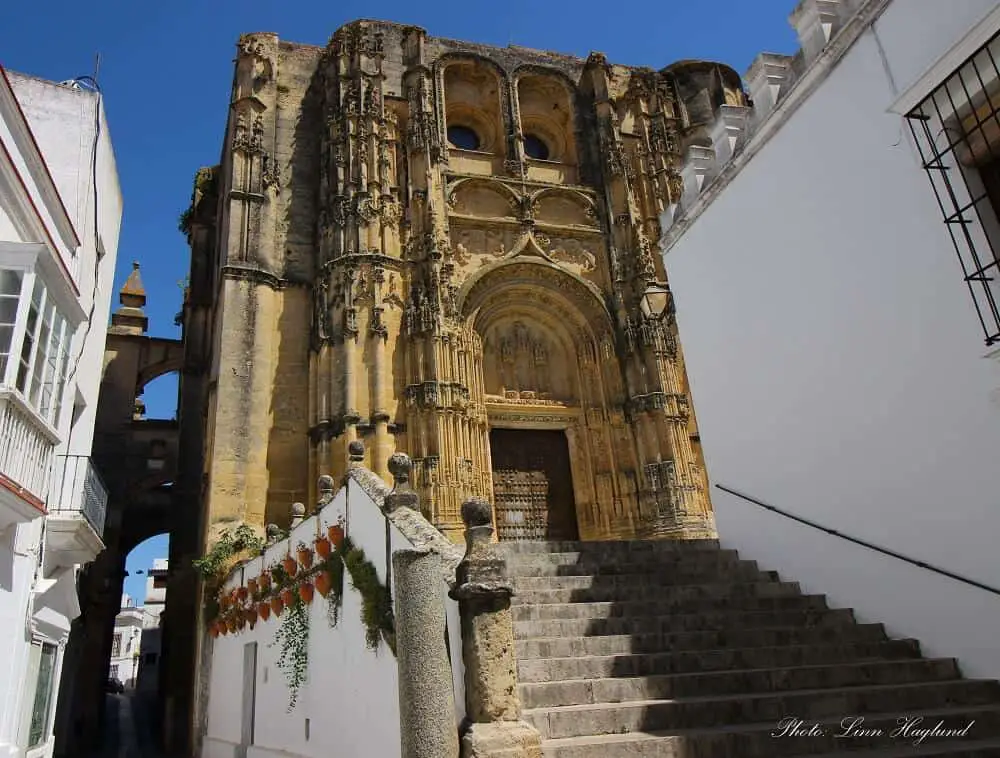 Seville
Though Andalusia's capital city deserves much more than a day trip from Cadiz, this is a must if you don't have planned for a longer stay in Seville during your Andalucia itinerary. By train, you can reach Seville in 1 hour and 40 minutes and by car, it takes 1 hour and 20 minutes.
Make sure you visit Seville Cathedral, Alcazar, and Giralda. Have lunch anywhere in the Santa Cruz neighborhood. These attractions are all concentrated in the same area, thus they are easy to do in one day.
Then if you manage to press in anything else to your Seville itinerary after lunch, I wouldn't miss out on Plaza de España and a stroll around the wonderful Maria Louisa Park.
If you choose to have dinner in Seville before returning to Cadiz, you can combine it with a flamenco show at one of the many flamenco bars that serve dinner too. The best ones are situated in the neighborhood of Triana on the other side of the river.
If you go there, make sure you walk past Torre del Oro and cross the Puente de Triana bridge to squeeze in another couple of attractions worth seeing.
I highly recommend visiting Seville in winter, spring, or autumn. Seville is one of the hottest cities in Spain together with Cordoba in the summer and can easily reach temperatures of 50 degrees Celsius.
Top tip! To get the most out of just one day in Seville, you can also book a private tour with skip-the-line tickets to the main attractions. See availability here.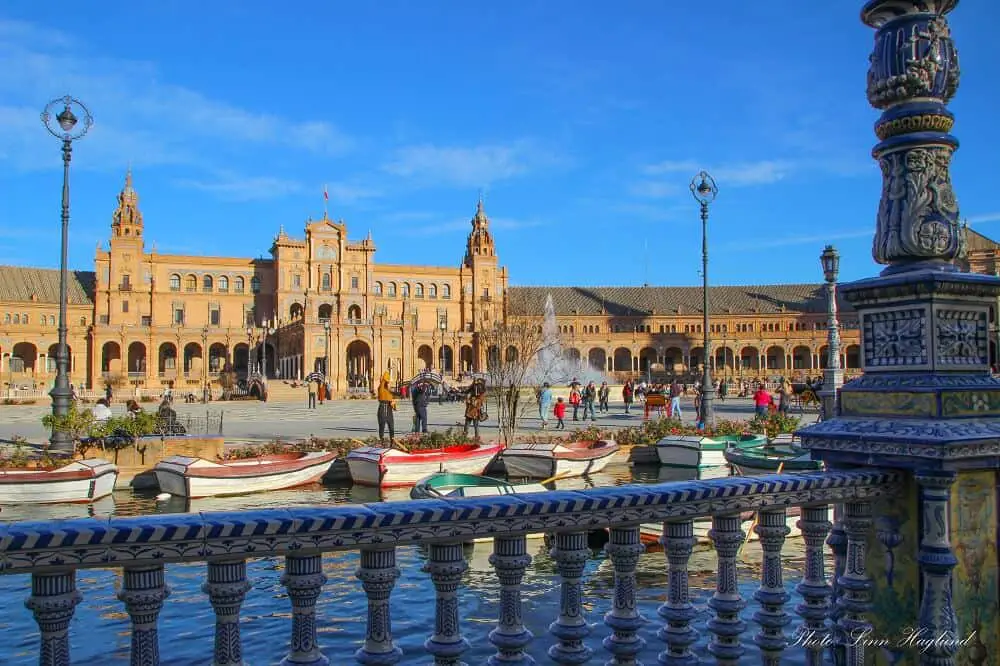 Conil de la Frontera
If you're looking for beautiful beaches and a cute fisherman town, Conil de la Frontera makes the perfect day trip from Cadiz.
The main beach is amazing and you can explore a stunning coastal cliff walk all the way to La Fontanilla Beach or you could drive to the mesmerizing Calas de Roche, which are some of the most spectacular beaches in Cadiz, nestled in little coves along the cliffside.
Wander the narrow streets in Conil de la Frontera and discover old watchtowers, churches, and stunning viewpoints of the long white beaches.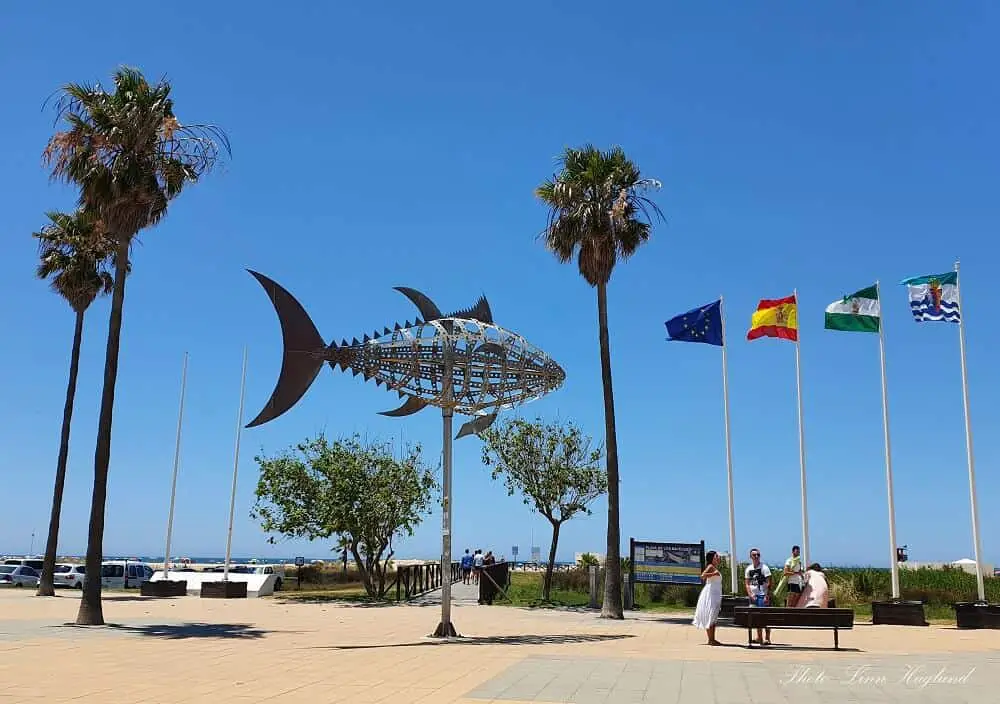 Los Caños de Meca
Los Caños de Meca is only about an hour's drive from Cadiz, but it's more complicated by bus, so I'd only go there on a day trip from Cadiz if you dispose of a car. If you do, you won't regret it as this is still a fairly hidden gem in Andalucia!
You won't only enjoy one of Andalucia's best beaches, but you can also walk back in time around Trafalgar Lighthouse on Cape Trafalgar where the bloody battle between the British, French, and Spanish fleets took place in 1805.
The protected cliffs at La Breña Natural Park are also wonderful for a stroll. The trail goes along mesmerizing views along the deep blue ocean and is the perfect activity in the winter months when it's too cold to swim.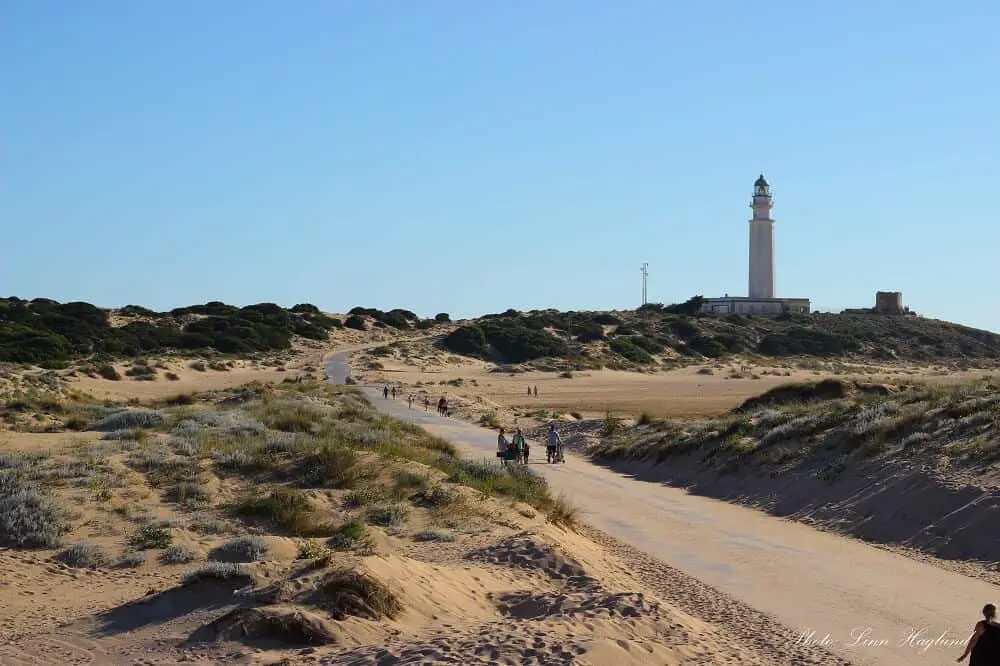 Vejer de la Frontera
Have you ever wanted to wander the Route of Love? Then the hilltop village Vejer de la Frontera is the place for you. Follow the signs along the love route and explore all the historical sites of this stunning white village.
You can start by the tourist information and walk up the stairs along its left side where you can take in the astounding views of the surrounding countryside.
In less than an hour from Cadiz, this makes a great day trip. Walk back in time, enjoy old fortresses and churches, and have tapas at the round square, Plaza de España.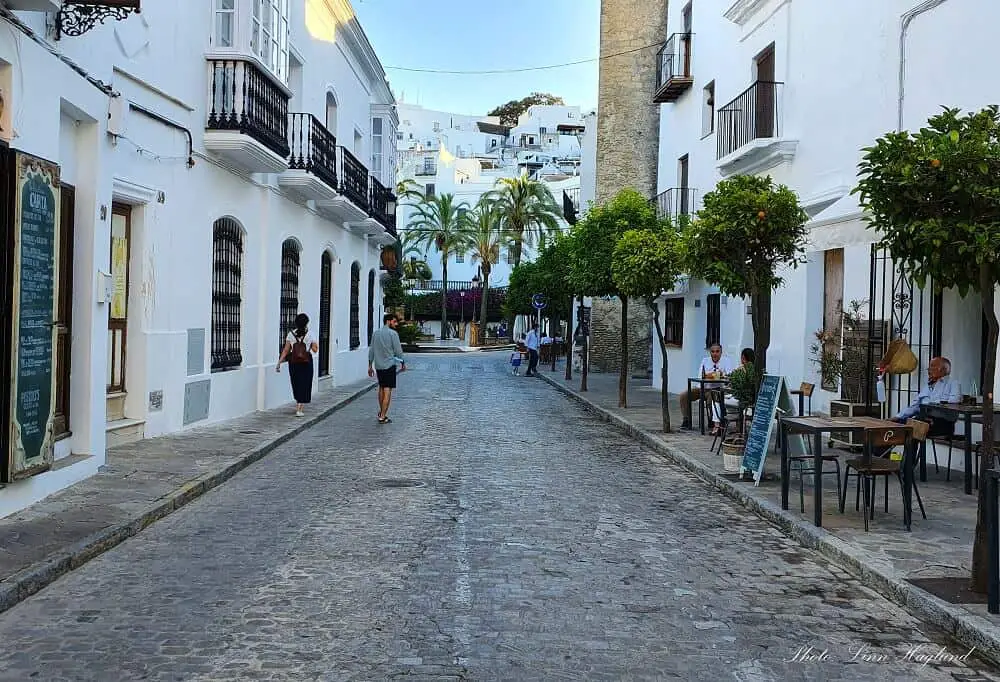 Punta Umbria
Punta Umbria is one of the most quaint beach towns in Huelva and can be reached by car as a day trip from Cadiz in just over 2 hours passing through Seville's ring road. Public transport will take too long, so I suggest getting a rental car if you don't already have one.
As an old fisherman's village, you can still see a whole lot of fishing boats nestled up in the Canal de Chate O Ciate that cuts Punta Umbria into a small peninsula with the other side of town facing the Atlantic Ocean.
It's not hard to imagine that Punta Umbria boasts some of the best beaches in Huelva with a spectacular natural area leading to other beaches like La Bota beach and other small beach towns like El Rompido.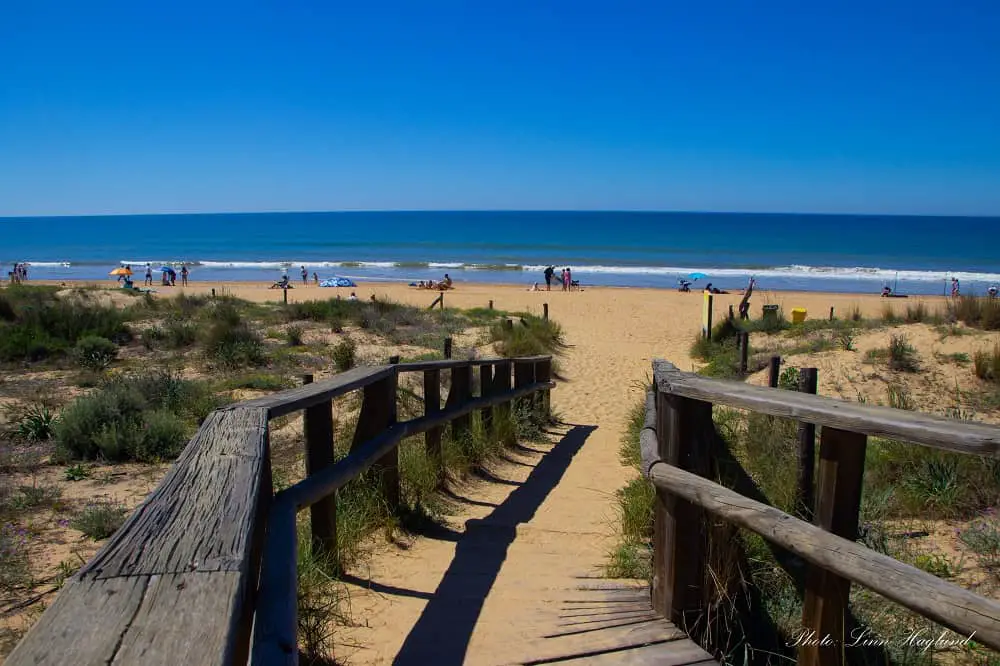 Huelva
The city of Huelva might not be the first place you think of when you're considering day trips from Cadiz. Yet, the lesser-visited city might surprise you. There are a lot of cool things to do in Huelva and it makes for a nice place where you can actually see the main sites in just a day.
Don't miss out on the unique Muelle del Tinto, formerly used to transport material from Rio Tinto. Go for a stroll at the charming Barrio Reina Victoria where the old English houses were built in the early 1900s.
Another popular tourist attraction is the Casa Colon with its modern exhibition and enchanting gardens. If you want to get out of the city for a bit, go for a walk in Zafra Park where you'll find a whole lot of interesting, quirky statues and colorful rose gardens.
You reach Huelva easily by car in only a couple of hours past Seville's ring road. There isn't any useful public transport since there isn't any coastal road between the two cities.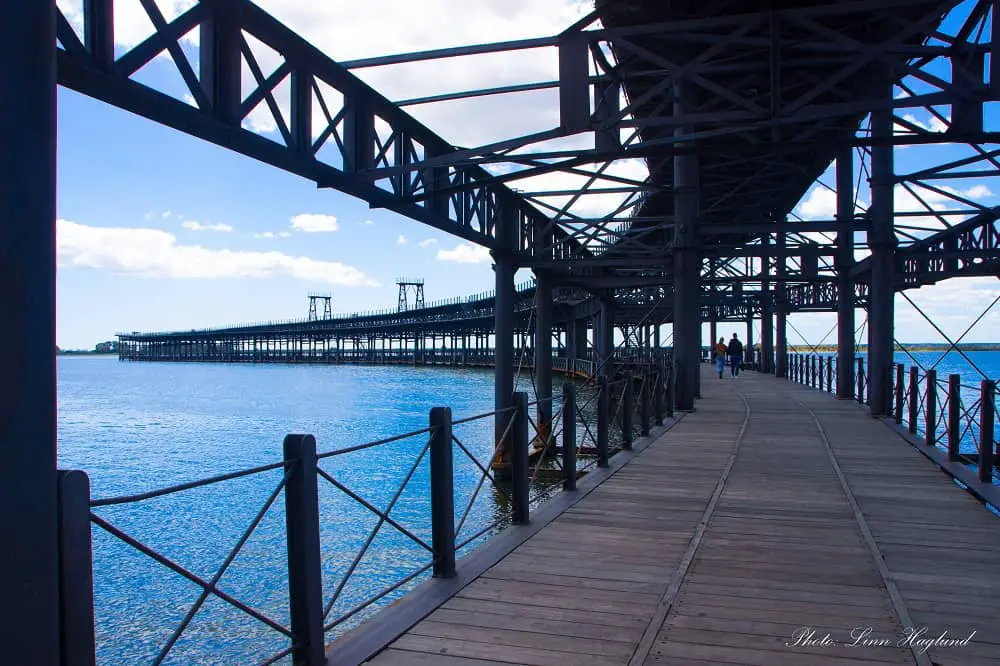 Reflections on Cadiz day trips
There is no doubt there are a lot of fun day trips from Cadiz to do. What I love the most with Cadiz as a base is that you have the beach and lots of nice bars to enjoy when you get back from your day trip.
It's also one of the Andalusian cities that really makes you feel that you're in Spain as it's not so infused by tourists and expats as other destinations. This means prices are still quite normal too. How long this will last, it's hard to say as it's grown to become one of the big cruise ports in southern Spain.
Make sure you always travel responsibly and think about the consequences of your actions for the locals, animals, and nature when you travel.
Finally, with so many beautiful places in this part of Andalucia, you'll have a blast no matter where you choose to go on day trips from Cadiz.
Happy travels!